Children's Book Page Art Prints
Free printable Dr. Seuss Quotes, Winnie the Pooh quotes, Velveteen Rabbit quotes and many more beloved children's book quotes in oversize book page format!
What price would you pay to own a little piece of your childhood memories?
Fifty dollars?
One hundred dollars?
Two hundred?
How about six hundred dollars for this Velveteen Rabbit quote printed on wood (ooh, fancy) and framed with "reclaimed barnwood" (ooh, so hip and trendy)?
If you're willing to pay that, please email me directly so I can convince you to part with more of your money. Actually, just cut out the middleman and send money here: paypal.me/Gregory
For those whose childhood memories do not command such a premium, have we got a deal for you today! We've got 10+ free printable children's book page art prints, including Dr. Seuss quotes, Roald Dahl quotes, Velveteen Rabbit quotes, Winnie the Pooh quotes and more! Did I mention they were free?
Whether you're trying to reclaim those halcyon days of innocence (it's easier than reclaiming barnwood, that's for sure) or wanting to decorate junior's or grandjunior's bedroom walls, there's nothing better than the printed wisdom of the Masters of Words for Wee Ones.
The greatest truths are simple and universal. The best children's authors knew this and used their words to create simple sentences of profound effect.
My writing is like cave scratchings compared to these giants of small words, so I'll shut up and let the book page art tell the story.
Before we begin, be sure to follow us on Pinterest, Facebook and Instagram, and also sign up for our email list (by clicking the subscribe button above), so you'll never miss a post!
Children's Book Page Art Prints
Oh, c'mon, you didn't really think I was just going to clam it for the rest of the post, did you?
Pfffffft, please!
Let's start with our Velveteen Rabbit quotes. Margery Williams wrote The Velveteen Rabbit in 1922, and it has graced the bookshelves of countless little ones ever since. I had it as a kid, and I'm pretty sure the edition I had not only had color illustrations, but the rabbit's pictures were covered in velveteen.
Or maybe the fog of childhood is sprouting false memories. I can't say.
Does anyone know what I'm talking about? Did they make an edition with velveteen pictures?
Here's another classic Velveteen Rabbit quote. I think mothers everywhere would agree.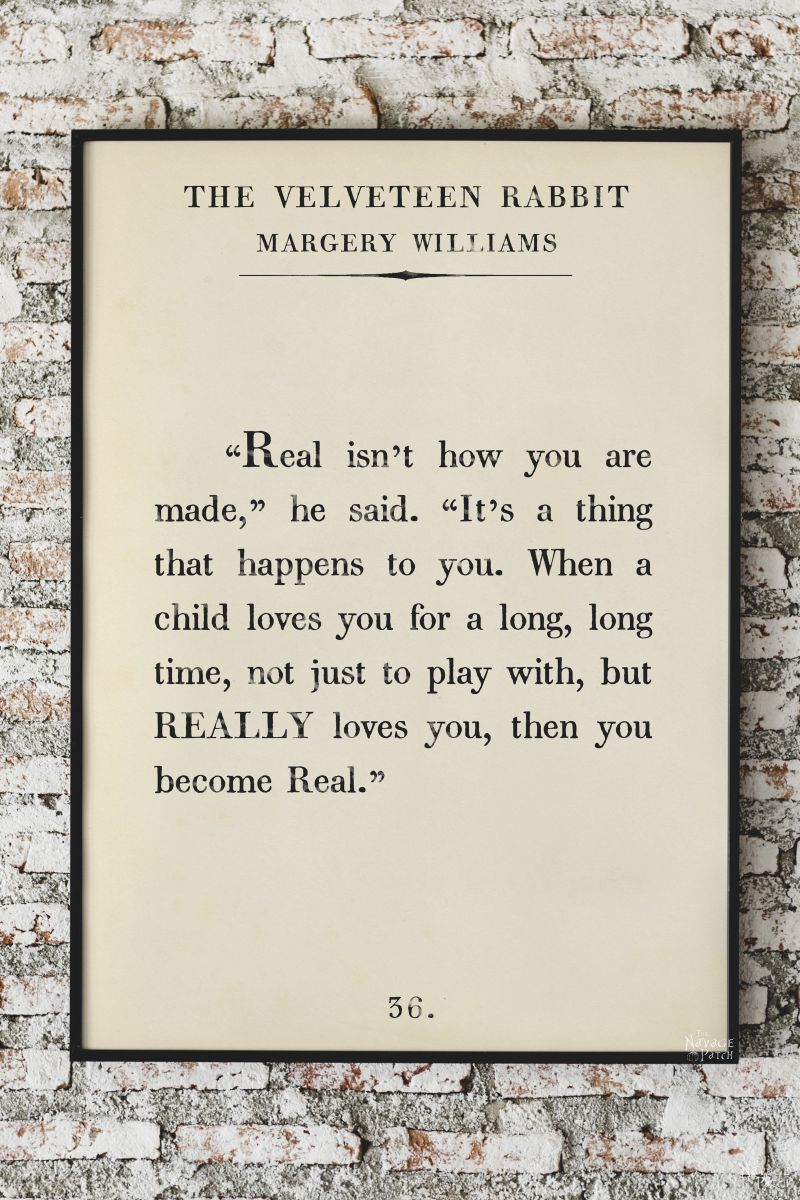 I must admit, I don't think I've ever read Winnie-the-Pooh. Or if I have, I don't remember it like I do The Velveteen Rabbit.
But regardless of my failing memory, A.A. Milne created some beloved characters and I love all of the Winnie the Pooh quotes I run across online.
This Winnie the Pooh quote is one of Handan's favorites.
But this Winnie the Pooh quote is the one that makes Handan go all gushy every time she reads it. Okay, so it's not technically a "Winnie the Pooh quote," but it's close enough. Joan Powers did borrow the characters from A.A. Milne, so we'll consider them the same thing 😉
Oh, Dr. Seuss was one of my favorites! I read his books over and over and over as a kid! I could spout Dr. Seuss quotes all day long!
Fun fact: he wrote one "adult" book with a bunch of naked ladies drawn in typical Seussian fashion. It was called The Seven Lady Godivas: The True Facts Concerning History's Barest Family.
My sister has that book, I think. She went to Dartmouth College, as did Theodor Geisel, and she went through a "Dr. Seuss collector" phase a few decades ago.
Funny book. Total Flop.
The book from which the following Dr. Seuss quote was taken did much better at the bookstores!
The following holds true until cloning becomes commonplace, and then we'll have to rethink it a bit.
Roald Dahl was a genius – a writer vastly more impressive to the adult mind than to a child's – though he is beloved by children everywhere.
Nothing more perfectly sums up all of childhood than the following quotation.
I was an adult when Nancy Tillman self published On the Night You Were Born in 2005.
My son was already 6 when I first met him in 2010.
So I can't speak to how it feels to be read this as a child…
…or how it feels as a new parent reading it to a child.
But it moved me when I first read it online, and I know that Handan feels the same, as her love for our son is boundless and eternal.
I have recently ordered a copy for Handan so that she may give it to our son.
Doesn't matter that he is 15.
Doesn't matter that he'll likely want nothing to do with it.
Doesn't matter that he'll think she's nuts.
It will be something he will carry with him, tucked away and likely forgotten, as he sets out on his own in life. Hopefully he will remember it, from time to time, and it will remind him that he is loved.
It will remind him that he is never alone.
It will remind him that he is himself of whom there is only one.
And someday, he will take it out of its dark and forgotten corner, he will wipe away the dust of decades, and he will open its cover and read to the small thing swaddled in blankets in his wife's arms.
*******
As usual, here is some information on the printables: we designed these free printable book page quote art in three colors and to fit into a 16×20 inch frame or a 24×36 poster frame, though you may scale them up or down as necessary. 24×36 inch scales down easily to 20×30 / 16×24 / 12×18 / 8×12 / 4×6 inches, and 16×20 inch scales down to 12×15 / 8×10 / 4×5 inches with no problems. If you need help with scaling down these printables so you can print them using your home printer, then check out our "How To Easily Resize Pictures" post.
Also, if you don't have a large format printer like the Canon i8720 Printer (prints up to 13×19 inches) and are wondering the best place to get these printables printed bigger than 8×12, we recommend trying Staples in your area or Amazon print shop. Both stores offer custom-sized prints on matte or glossy paper, and they both cost about the same. Staples also offers Engineering Prints, which are really affordable for large-format prints, but in some areas (like ours), they must be ordered from their online print shop.
Now it's time to click on the button below to download today's free printable book page quote art – they are all in the Book Page Art section of The VIP Patch.
If you're not a Navage Patch VIP, you won't be able to access our Freebies Library. But that can be easily fixed! Subscribe for free on the form below and become a Navage Patch VIP. Once you subscribe, a password will be sent to you in our Welcome email, and that will give you access to The VIP Patch [Freebies Library]. If you didn't receive our Welcome email, can't find the password or have any other questions on this process or on our free printables, please check our Printables FAQ page.
If you display our free printables in your home, be sure to take a picture and post it on Instagram! Don't forget to tag us @TheNavagePatch! We love to see our printables out in the wild!
We love it when you share our posts on Facebook and Pinterest!