Cork Art for the Cork Dork
Valentine's Day is approaching. Who cares, right? We don't celebrate Valentine's Day, so that makes it a perfect opportunity to surprise Greg with a gift! Hehehe… That said, buying a present for him has always been a great challenge for me. One might think what can be the challenge buying a present for a guy, just get a bottle of booze. Well, Greg is a wine lover Wine Professional… in fact calling him a Wine God wouldn't be much of an exaggeration! Therefore gifting him with a bottle of wine can't ever be an option for me, as I know nothing about wine.
Since I had a hard task in my hand, I thought I'd better start looking for a unique present as early as I can. After a little search online, I found this image with a link to Etsy. It was going to be the perfect gift, as it was related to wine and love. So I followed the link and saw that it wasn't available any more…bummer! It would have made the perfect gift.
Giving a second thought, it looked easy enough to do, so I decided to give it a try. I grabbed some wine corks, a hot glue gun, a pencil, white acrylic paint
, a black foam board to use as a background and a frame to display the cork art.
First I drew a wine bottle shape on the foam board, so I could have a form to follow. Then, one-by-one, I started hot gluing the wine corks. Since it was a surprise gift, I had to finish whole thing in hiding, so I don't really have a lot of progress photos on the cork art. But it is straightforward: I just kept hot gluing wine corks until the bottle shape was filled.
Then I painted the top of the corks with white acrylic paint
where the label would be.
With some corks, I used the written sides to personalize the cork art. Can you see them? 2010 represents the year we were married, and the three hearts represents our family of three. Since I made the piece, I also put one cork with my initial on it.
For the label part, I got Greg's help – of course without hinting at the surprise. I asked him of all the wines in the world, which one has aged the best. Thinking that I was picking up some interest in wine, he gave the answer to me just like that!
After printing the label, I pinned it to the cork art using decorative upholstery pins.
The cork art itself was finished, but I wanted to display it in a nice frame. The frame I found at Put & Take was the perfect fit, but it needed a redo. You can find the details of that redo "Ornate Frame Makeover"
After I completed the frame's redo, I placed the cork art in the frame and secured the back using the Logan Dual Point Driver
. I love this tool! It makes it so easy to finish your frames with a professional look.
Here is the finished cork art for the Cork Dork.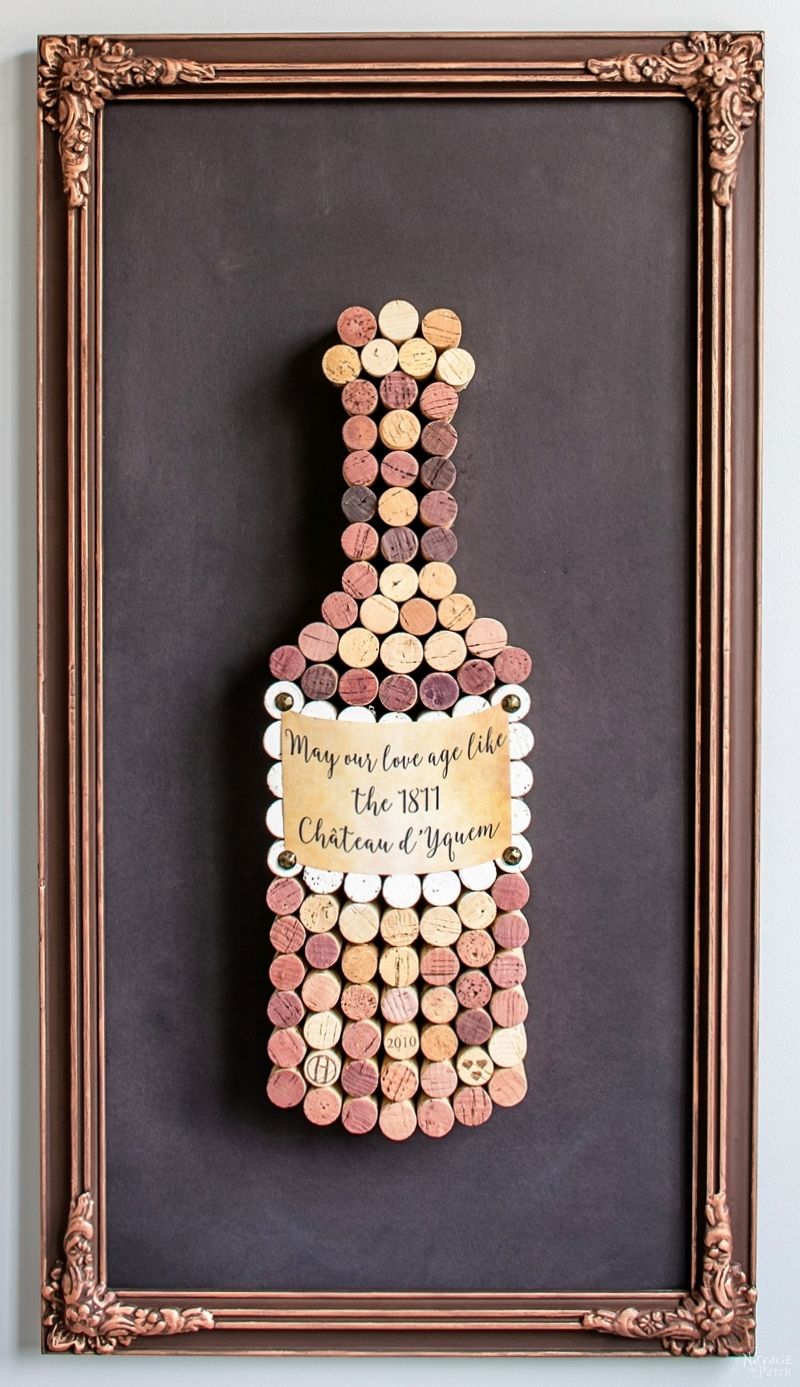 I love it! Not only is it a great wall decor, but also a perfect Valentine's Day or anniversary gift!
Handan, xo