Dining Room Decor Tips and Inexpensive Dining Chairs
You don't have to spend thousands to have stunning dining room decor (but you can if you want!). In this post, we'll give you dining room decor tips, plus we'll show you some inexpensive dining chairs, so all the elements work together to create a room you'll be proud to show off to your guests!
Choosing the right dining room decor and furniture can be a daunting task. From the table, chairs and rug to the chandelier, accent furniture and wall art, there's a lot to consider, and there are a hundred ways to kill your budget. When we started our dining room makeover, I built the dining table from measurements decided on a whim. That could have been disastrous, but either all the gods have smiled upon me…or I just got really lucky!
Most people looking to upgrade their dining room decor are going to start with the chairs, so I'm going to assume, for this post, that you've got your table situation settled. From there, we can decide on chairs and then move on to the other elements.
Before we begin, be sure to follow us on Pinterest, Facebook and Instagram, and click the subscribe button at the top of this page to sign up for our email list so you'll never miss a post!
The Dining Chairs
Assuming you didn't go out and spend several paychecks on a table from Restoration Hardware, the dining chairs can often be the most expensive element in a dining room. Don't believe me? Here's one for $14,000. One! Hmmm, that gives me an idea. Maybe we could buy that one and paint it white with chalk paint. That's all the rage these days, right? Hehehe, that would ruffle some feathers in the antique community. Oh, it would be worth it just to see the apoplectic fits suffered by crusty old antique dealers! What's that? Oh, yeah, I guess I don't have a spare $14,000 kicking around. But if I win the lottery, I know what I'm buying! With a little digging, though, you can find some really great deals out there on single chairs or pairs. Let's look at some factors to consider when buying dining chairs.
Formal or Casual
Is your dining room used every day, or is it just for special occasions and company? For everyday use, most people prefer a more casual chair, while those who reserve the room for special occasions may consider going a bit more formal. Chairs with taller backs generally give a more formal appearance, and they are often seen as more traditional. Chairs with shorter backs – closer in height to the height of the table – may be more modern in appearance and sometimes more casual. Many people choose to have arms on the chairs at the heads of the table, while the side chairs do not. This is personal preference, but also a space consideration, as armed chairs require a bit more room than armless.
Upholstered or Bare
Ahhh, the age-old debate. To pamper your splendid fanny on a fluffy cushion or to sit on wood (or metal) the way our ancestors did? My father is a traditionalist. He prefers a hard seat and a straight back. My mother, not so much. She has taken to adding a cushion to her wooden chair, much to my father's dismay. "Butt fluff!" he calls it, and one shall never touch his chair.
Besides the preference of your Royal Hiney, there are other factors to consider when deciding between the two. Price is one factor – upholstered chairs tend to run at a higher price point. They are also harder to clean. So if you are entertaining a daily coterie of small children with a penchant for spilling juice and throwing spaghetti, you may want to take a good hard look at simple wooden chairs.
If you do have a squadron of stain-makers running around your house, but you are also dead set on upholstered chairs, you may buy chairs with floor-length washable slip covers that not only protect your investment, but they look pretty dang fancy, too!
Price
This is probably the first consideration for most people. The sweet spot for affordable and stylish chairs seems to be $100-$150. There are some great options in this price range. But don't worry if that number makes you cringe, because there are also a few awesome chairs for as cheap as about $60 per chair. Since each of you will have a different definition of "affordable," we've also included a $150-$200 and a $200-$250 price range. You can certainly spend way more than that per chair (like these), but we're just going to focus on $60-$250.
If you are on a tight budget, you may want to consider going cheaper for the 4-6 side chairs and allocating a little more of your budget towards the two end chairs. The end chairs anchor the table and can really make a statement if chosen wisely.
When we were shopping for our dining room chairs, we found some great ones at Pier 1 Imports, Joss & Main, World Market, Wayfair, Ikea, Kirklands, Houzz and Walmart. All of them were equally nice, but since Pier 1 Imports is in our town, we were able to try out their chairs. There's nothing like actually plopping your butt in a chair to know if it's the one for you! You'll know right away if it's good enough or not. This weighed heavily on our decision, and it led us to buy chairs at the top of the price range we've listed below. It wasn't a decision we made lightly, but we were comfortable spending more on the chairs since we built the table ourselves and will be building a console and making-over another couple of pieces that are already in the room. If we had bought a new table, we certainly would have budgeted the chairs differently.
Since you've already seen our dining room chairs, we didn't include those among the ones compiled below. If you are on the hunt for stylish and affordable dining chairs, you'll find the links to the ones we found under the photo below. To make it easier for you, we've also sorted them by price range in the links below the picture.
one / two / three / four / five / six / seven / eight / nine / ten / eleven / twelve / thirteen / fourteen / fifteen / sixteen / seventeen / eighteen / nineteen / twenty
Dining chairs up to $100: four / ten  / eleven / twenty
Between $100 – $150: six / eight / twelve / fourteen / fifteen / sixteen / eighteen / nineteen
Between $150 – $200: two / three / five / nine / seventeen
Between $200 – $250: one / seven / thirteen
Space Requirements
Most dining tables today are 28-30 inches high. The chair seat should be about 18 inches from the ground, leaving about 12 inches between the chair and the table. If the chair has arms, there should be about 7 inches of space between the arm and the bottom of the table or the apron. The apron on some tables may make it difficult or impossible to have chairs with arms.
Each diner should have at least 24 inches of room. I'm sure we've all eaten in more cramped quarters than this at some point in our lives, but if possible, more space is always better.
For most rooms the table should be sited in the middle of the room, and there should be at least 3 feet of space between the edges of the table and the walls or any furniture against the walls. Our dining room is not "most rooms." Not by a long shot. It's not square. It's not rectangular. It's not even a circle. It is a senseless shape without a name, a room-sized amoeba that defies categorization and resists most efforts to decorate. Handan calls is "The Amorphous Room." So our dining table isn't exactly in the middle of the room, but situated in the best place that looks good to our eyes. When the room offers no symmetry, you just gotta pick a wall or a window and reference your table and the room decor off of that. Oh, if these walls could talk…it would be a bunch of psycho babble, because this house (and our dining room) is crazy town!
If any of the sides also serve as a passageway, then you should try to leave about 4 feet of space between table and wall or furniture, otherwise you risk dumping your lovely pot roast and green beans into Judy's lap when her husband, Fred, leans back as you're marching the meal to the table.
If your space is cramped, and the chairs are in danger of hitting the wall when someone stands up from the table, consider upholstered chairs. Your walls with thank you!
An area rug will make your table pop, and it will define the dining area. As with chairs, rugs run the spectrum for price. You can pay less than $100 for a simple synthetic, machine-made rug, or several tens of thousands of dollars for a hand-woven silk rug. The two top things to consider after price are pets and kids. Dogs will track mud on the rug and shed on it, cats may tear it to shreds, and kids will find a way to spill whatever is on their plate or in their cup onto it. Your rug (and all of your furniture) should be enjoyed, not fretted over. Buy accordingly.
Here are some of our favorite places to shop for affordable rugs online:
Overstock.com
World Market
Hayneedle
Joss & Main
Rejuvenate
Rug Studio
Rugs USA
Your dining room rug should extend at least 24 inches beyond the edge of the table in all directions. This ensures that everyone's chair stays on the rug, whether the chair is pushed in or out.
Other Furniture and Wall Decor
For those with large dining rooms or high ceilings, a tall hutch or display cabinet can be a great way to fill up some of that space and to show off your fine porcelain or china. But in smaller rooms, they can feel overbearing and make the space feel cramped. For smaller spaces, consider a low sideboard or buffet instead of taller hutches and display cabinets. Even large rooms with large pieces can benefit from some smaller and lower pieces to complement the main showpieces.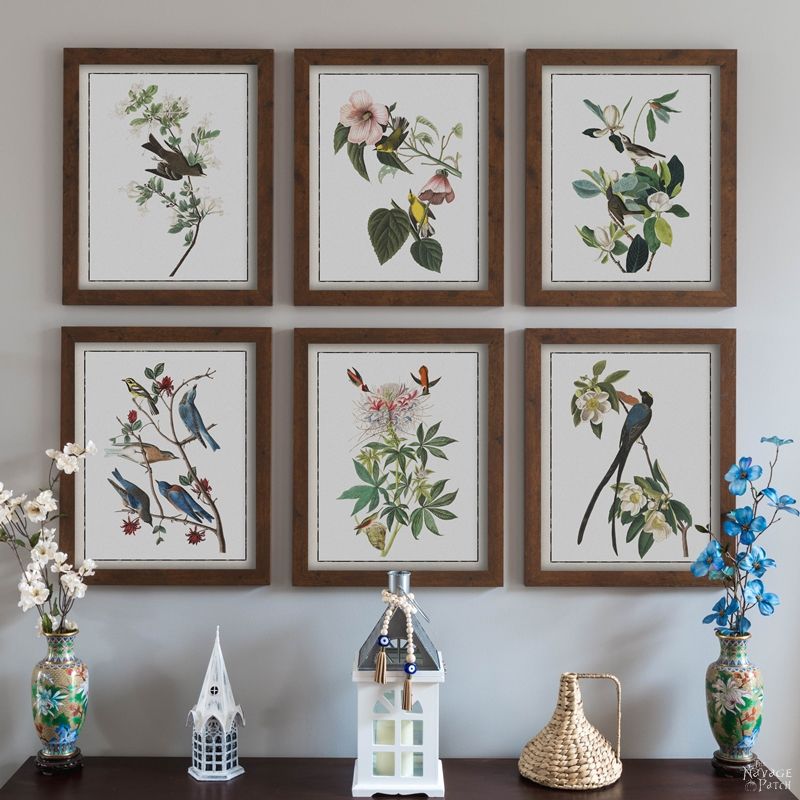 Wall art in a dining room can have a huge impact on the overall feel of the room. While your creativity may be somewhat limited by tables, chairs, hutches and sideboards, it is boundless when it comes to the walls. From photographs to paintings and ceramics to woven hangings, the sky's the limit. Play with color and contrast. What you put on your walls is what really defines you as a person and the room overall, so have fun with it!
If you're feeling particularly saucy, you can purchase this modern art *ahem* masterpiece *ahem* for a cool million dollars. Or, you can download some awesome free printables and DIY an easy gallery wall (we show you how!) for your dining room!
You should hang your new dining room wall art with the center of the picture (or piece) about 5 feet from the floor. If you are grouping multiple pieces, consider the group as a whole and center it 5 feet from the floor.
Aesthetic Considerations
If you have a chandelier, it should hang above the center of the table. The height of the chandelier (not its height above the table, but how tall the chandelier body is) should be the height of your ceiling (say 8 feet) multiplied by 2.5-3 (I'll use 3). The resulting number (24) is how tall your chandelier should be in inches. Our dining room ceiling is 12 feet high, so that gives us a height range of 30-36 inches. Our chandelier (it came with the house) is 30 inches, so they knew what they were doing when they bought it. Unfortunately, the placement is wrong, so we will be having it moved to a different part of the ceiling. You'll see pics of that in a later post.
The width of the chandelier should be 2/3-3/4 the width of the table. Our table is 42 inches wide, so our chandelier should be 28-32 inches wide. Ours is 30 inches, so we're good, even though I wasn't considering the chandelier when I built the table. Phew – got lucky again!
The chandelier should hang 30-34 inches above the dining table for a room with an 8-foot ceiling. For every foot of ceiling height above 8 feet, add 3 inches to the height the chandelier hangs above the table. Since we have a 12-foot ceiling, our chandelier (when we get it relocated) will hang 42-46 inches above the table.
We hope you've found these tips helpful, and we'd love to know about your dining rooms! Have you updated them recently? Do you have a piece of furniture or some wall art that you love? Are there things you'd like to change? Please share your thoughts in the comments!