DIY Dollar Tree Blue & White Porcelain Pumpkins
These DIY Blue & White Porcelain Pumpkins look worthy of a museum! You'd never guess they started as humble dollar store pumpkins!
My babes is a sucker for blue and white porcelain.
For years, she's been trying to fill our living room bookcases with blue and white porcelain pieces. It all started with a vase she painted. You can see it there all lonely in the corner of the far cabinet.
But you know Handan. She's not going to pay full price – even for the blue and white she holds so dear.
So we've been collecting pieces at a snail's pace.
One here from a secondhand shop.
One there from a tag sale a year later.
And so on.
It wasn't until this summer that we finally filled those cabinets with blue and white porcelain pieces.
But was it enough for my babes, the blue and white addict?
Well, kinda.
But then again, it wasn't.
I mean, she had her fill of actual blue and white porcelain. In fact, we now have a little bit more than we can display.
But my babes wanted just a wee bit more…you know, just for the season.
From pumpkins.
Dollar store pumpkins.
And tattoo paper.
She wanted DIY dollar store blue and white porcelain pumpkins!
And she wanted me to make them for her.
The woman was on to something.
I could sense it.
And when she's on to something, she won't let go until she gets it.
I gotta stop here and tell you two things.
Second, of all the hundreds of crafts and upcycles we've done, I think this one is my favorite!
It's top three at the very least.
DIY Dollar Tree Blue & White Porcelain Pumpkins
DIY Dollar Tree Blue & White Porcelain Pumpkins SUPPLIES LIST
Affiliate links are provided below. Full disclosure here.
These blue & white porcelain pumpkins hit all the right notes for a stellar crafting project: they're cheap, they're easy, and they would look right at home behind glass in a museum of fine art!
The moment the glaze had dried, I knew we had a winner on our hands, and I just couldn't wait to take pictures and start writing this post!
Let's see how it's done!
DIY Dollar Store Blue & White Porcelain Pumpkins Tutorial
Step 1 – Paint the pumpkins
First I removed all the pumpkin stems. That was easy – I just pulled them out.
We've been wanting to try Rust-Oleum's Chalked spray paint for a while now, but we haven't had the chance.
These pumpkins presented the perfect opportunity.
Now, normally, we'd mix up a batch of the best DIY chalk paint in the known universe, and thin it for our paint sprayer.
But this was a small project, and we wanted something a little quicker, so we turned to Rust-Oleum's Chalked in Linen White.
You all know how to spray paint, I trust, so I won't spend too much time on this step.
I will say, though, that I sprayed about 4-5 coats. I like to use thin coats with spray paint. It's not only better for adhesion, but you avoid drips that way, and the end result is much nicer than one thick coat. With spray paint, you only need to wait a few minutes between coats, so don't think that 5 coats of paint is going to take you all day.
If your pumpkins have green stems, I'd recommend spraying them some sort of dirty gold color or maybe silver. Ours came in a mix of green and aged bronze/gold color that was a perfect complement to the white and blue pumpkins.
When the paint was fully dry, we moved the pumpkins back inside to be tattooed.
Step 2 – Print and trim designs
We printed our blue floral designs on tattoo paper using our inkjet printer.
Then I cut out and trimmed around each design. Since cut these designs with scissors, there was no need to use the special backing that comes with the tattoo paper. That backing is only needed when cutting designs on the tattoo paper with a Cricut or Silhouette. It also protects the tattoo design from grubby fingers. As long as your hands are clean and dry, you won't need the backing. Trust us on this – we've tattooed lots of pumpkins already and dozens upon dozens of Easter Eggs without using the backing sheet, and we've never had a problem!
Step 3 – Tattoo the pumpkins
For this step, I first wet my microfiber cloth and then rung it out until it was nearly dry.
I positioned a tattoo facing up so I'd have a sense of how it would look.
Then I flipped it over and held the printed side against the pumpkin.
I carefully covered the tattoo with the damp cloth and pressed evenly all around without moving the tattoo.
Since the pumpkin has grooves, I used my finger to press the tattoo into those grooves.
It won't take long to transfer. After a minute or so, I slide the backing from the tattoo.
There will be areas where the tattoo didn't fully stick – usually in the grooves. To fix those areas, I wrapped the damp cloth around my finger and lightly dabbed and pressed the areas until the tattoo stuck to the grooves of the pumpkin.
I repeated this process with different designs all around the pumpkin.
Get creative here. Use as many or as few as you'd like!
Step 4 – Seal the blue & white porcelain pumpkins
When I was satisfied with the tattoos, I took my pumpkins outside for a gloss coat. Rust-Oleum's Triple Thick Glaze is perfect for this step, as it goes on clear, dries glossy, and stays clear.
As with the painting, applying several light coats is the way to go with Triple Thick Glaze. I gave each pumpkin 4 coats, waiting a few minutes between coats.
I used a coat hanger cut into pieces to hold each pumpkin while spraying, and then I stuck the hanger pieces in a box to let the pumpkins dry.
After letting them dry for a couple of hours, I stuck the stems back in and brought them inside.
So what do you think of our DIY dollar store blue and white porcelain pumpkins?
I think Handan hit it out of the park with this idea.
More Easy DIY Fall Decor Ideas
Wouldn't you agree?
And we're not finished with her tattoo method for pumpkins!
We love to see our DIY projects out in the wild! If you try this DIY project and take a picture and post it on Instagram, be sure to tag us @TheNavagePatch!
Next week, we'll have some more designs to share with you!
Oh, and if you're wondering how those bookcases are looking, now that they're full of blue and white porcelain, here ya go:
*******
DIY Dollar Tree Blue & White Porcelain Pumpkins free tattoo designs
Now click on the button below to download today's free blue and white porcelain tattoo designs. If you're a VIP, you can also find them in the Fall section of The VIP Patch.
take me to your
amazing freebies library
If you're not a Navage Patch VIP, you won't be able to access our Freebies Library. But that can be easily fixed! Subscribe for free on the form below and become a Navage Patch VIP. Once you subscribe, a password will be sent to you in our Welcome email, and that will give you access to The VIP Patch [Freebies Library] and today's blue and white porcelain tattoo designs.
Here are some more easy DIY pumpkin ideas for you!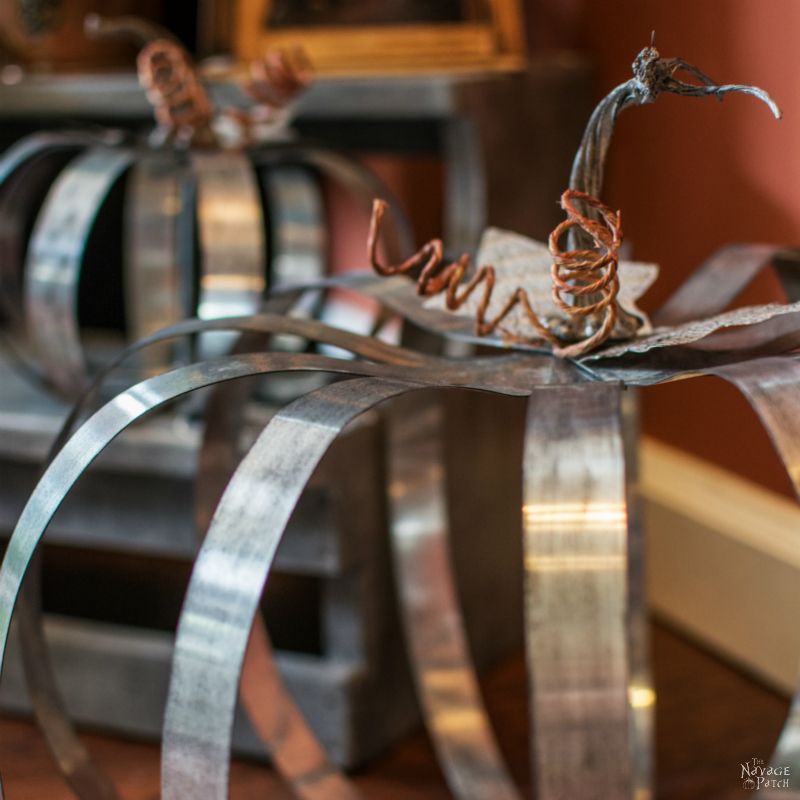 Share it on Pinterest & Facebook!