DIY Antique Brass Nutcrackers (Arhaus Dupe)
These simple DIY brass nutcrackers look just as good as their Arhaus inspiration for a tiny fraction of the cost!
What a world we live in when the antique brass nutcracker you just spent a small fortune on is not, in fact, brass nor is it remotely antique, vintage or even slightly aged.
But I suppose if you're the kind who drops Benjamins at Arhaus on the regular, such trivialities simply don't matter. It's expensive, therefore it's good.
My babes recently came across this admittedly beautiful "Antique Brass Nutcracker" on the Arhaus website.
And of course, she wanted me to dupe it. No problem! One dupe coming right up. But then I took another look at the item (it's a totally shrimpy nutcracker, by the way), and that's when my eyes began to roll uncontrollably in their sockets.
Two things jumped out at me:
Each nutcracker IS crafted, not WAS crafted. So antique is out the window. These things are about as antique as yesterday's news.
The Indian artisans toiling away with such artistry somewhere near the Nepalese border are making these "brass" nutcrackers out of aluminum and iron. Now, I may not be the sharpest potato in the tool shed, but even I know that brass is an alloy of copper and zinc.
So not only is Arhaus selling an antique brass nutcracker that is neither antique nor brass, but the dinky little thing would have trouble cracking open a peanut, let alone more macho nut like a walnut!
Still, a good dupe is a good dupe, and this nutcracker is a perfect subject for a quick, easy and inexpensive holiday dupe.
So let's get down to brass tacks, so to speak, and get on with our duping!
By the way, while making my antique brass nutcrackers (I'm not even going to bother with the word "faux," because apparently it's no longer necessary!) I had a Bob Ross moment – a happy little accident that makes my antique brass look even older and brassier than the lumps of iron coming out of India! More on that in a bit.
DIY ANTIQUE BRASS NUTCRAKER SUPPLIES LIST
Affiliate links are provided below. Full disclosure here.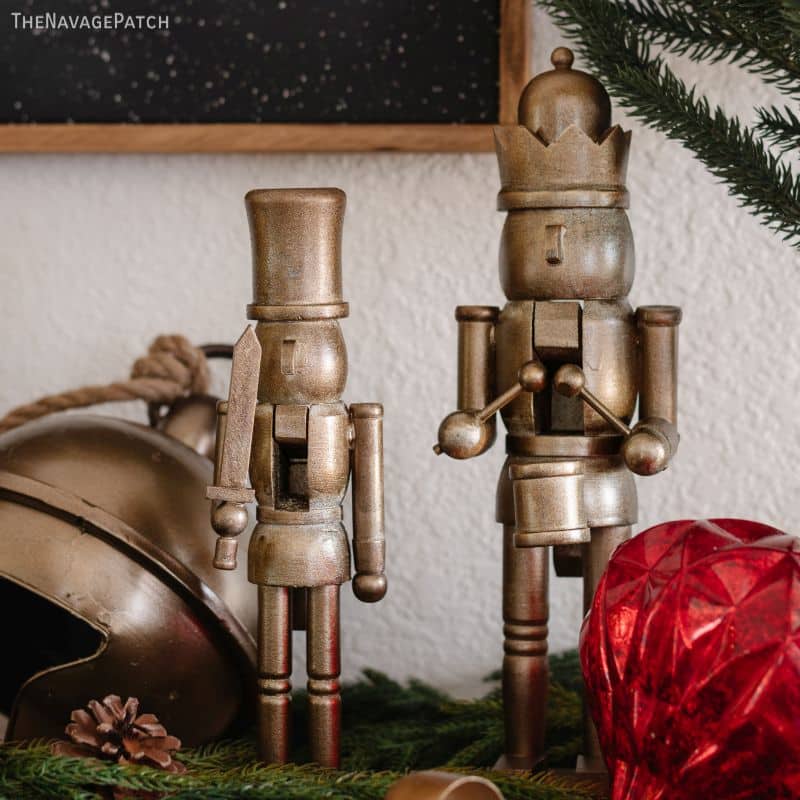 We love to see our craft projects out in the wild! If you try this seasonal craft project, take a picture and post it on Instagram, be sure to tag us @TheNavagePatch!
DIY Antique Brass Nutcrackers VIDEO Tutorial
Watch our short and fun video below for an overview of our DIY antique brass nutcrackers before you read the detailed step-by-step tutorial.
DIY Antique Brass Nutcrackers Tutorial
I made my nutcracker dupes over the course of two days. On the first day, I did the one really big nutcracker we had and one of the medium sized ones.
On that first day, I simply painted two nutcrackers with Rustoleum Metallic Antique Brass spray paint. There is no substitute for this paint color – it is absolutely perfect, and it's one of our favorite Rustoleum colors!
And they turned out beautifully! Check out the perfect color tone and nice, even coverage. It looks like meticulously maintained antique brass!
There was just one problem that I needed to fix on the first two and the ones that would come later: all the end grain areas sucked up the paint so the end grain was very visible.
I was aware of this issue while painting them, and I must have hit those end grain parts at least 10 times, up close with paint. But that end grain was thirsty! No matter how many times I drenched it, it just kept slurping in the paint!
I figured if I hit those areas the next day with some spray shellac, that should work to seal off the grain and allow me to get proper coverage.
Because remember, we're trying to make this look like realistic antique brass, and I wouldn't be fooling anyone with the end grain popping out like that.
I shellacked the end grain areas of the already-painted nutcrackers, and then on a whim, I shellacked the other nutcrackers, head-to-toe.
The Bob Ross moment is coming up…
The can of shellac said to wait at least an hour before painting, but I had no intention of waiting more than a minute. What could possibly go wrong, right?
Well, that impetuous decision led to an amazing discovery!
The spray paint reacted with the shellac in a weird way that seemed to push a silvery-metallic color to the surface here and there.
It was incredible to watch!
Whatever was happening amplified the antique aspect of the bronze. This was really looking like old metal!
So we now have two beautiful antique brass nutcrackers painted in the traditional manner, and five more painted with my Bob Ross Happy Little Accident method!
Aren't they incredible!
And you can't beat the price! You can make the little ones for just a few dollars!
Once you try Metallic Antique Brass spray paint, you just may start to use it on everything!
We also used it to paint all the frames for our recent guest bedroom makeover.
Let us know in the comments if you'll be giving this simple dupe a try, and also let us know if you'll use my wet shellac technique!