DIY Dollar Store Mop Wreath
This DIY Dollar Store Mop Wreath is a bargain beauty that no one will guess came from such humble beginnings!
It's like déjà vu all over again.
So a few years back we made a little post that we called a "throw-away." It was meant to be a space filler between "real" posts – ones that documented projects that we deemed far more important. It was just something to fill your eyeballs while I readied something bigger, better and (frankly) more difficult.
That post was our DIY Winter Loop Yarn Wreath.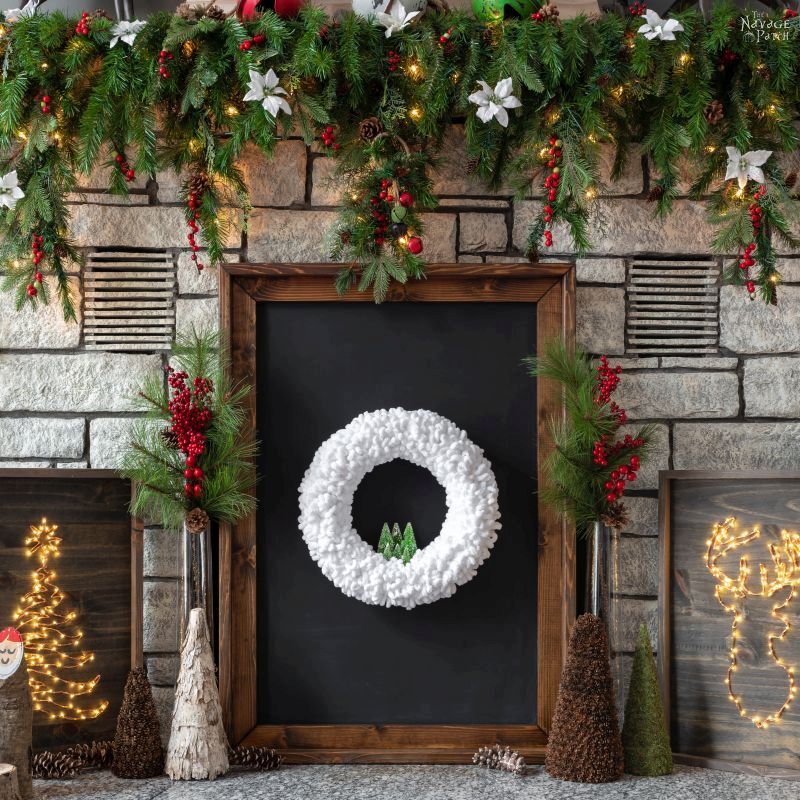 And it went on to become our most viral post ever! Just goes to show, you never know how a project will be received. There are projects I was absolutely certain would be viral sensations that did bupkis.
Just goes to show what I know about what crafty madams want.
(If your first thought was, he knows nuthin,' then kudos – you hit the nail on the head!)
So why are we doing it again?
Because we're like the Six Million Dollar Man…minus the six million dollars. But while he was "better, stronger, faster," we're all about showing you crafts that you can make "better, cheaper, quicker."
Our first loop yarn winter wreath was easy enough to make, but it will cost about $20-$30 depending on if you hit upon a good yarn sale or have to pay full price.
$30 for a beautiful wreath isn't so bad when compared to some other wreaths out there, but it's more than some people may be willing to spend.
Then how about a $5 wreath that looks just as good but is just a little smaller?
Now that might be of interest to more people, especially in times like these.
So my babes figured out a way to make a beautiful, soft and cloud-like winter wreath from simple and humble dollar store duster mops. You won't believe how easy it is to make, and you will be floored by how good it looks. Let's get started!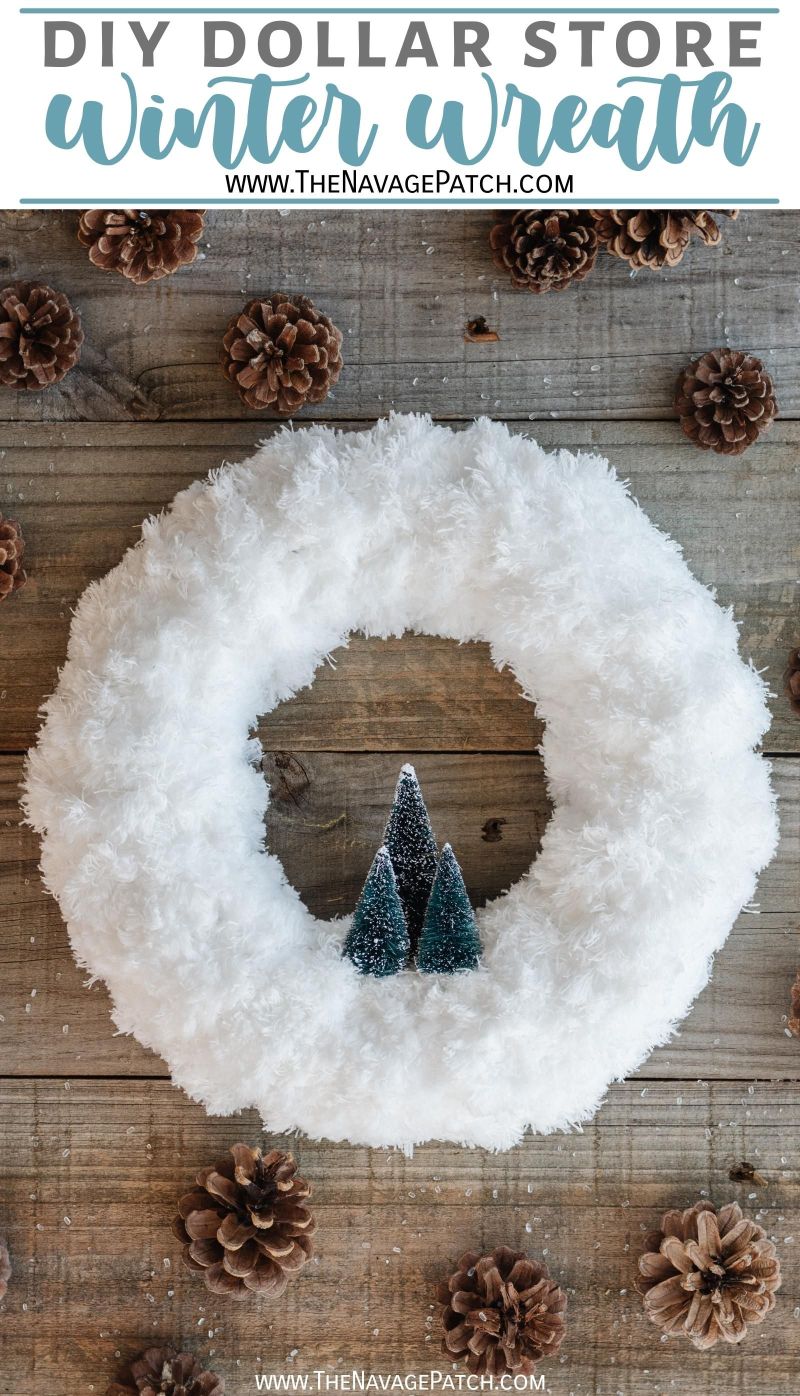 DIY Dollar Store Mop Wreath
SUPPLIES LIST
Affiliate links are provided below. Full disclosure here.
We love to see our craft projects out in the wild! If you try this seasonal craft project, take a picture and post it on Instagram, be sure to tag us @TheNavagePatch!
DIY Dollar STORE Mop Wreath VIDEO Tutorial
Watch our short and fun video below for an overview of our DIY Dollar Store mop wreath before you read the detailed step-by-step tutorial.
DIY Dollar Store Mop Wreath Tutorial
Three microfiber dust mop heads are that's needed to completely cover the wreath form. But first we need to cut them in half. I simply folded one in half…
…and cut.
The mop heads will shed where you cut them. I cleaned a little at first and then more when the wreath was finished.
I placed the wreath form onto one of the mop halves as shown in the picture below. The cut side should be on the outside of the wreath form.
Then I put a line of hot glue across the top part of the mop head.
Then I folded the mop over onto the wreath form.
Next, I ran a line of hot glue along the bottom edge.
And folded the mop up onto the form, making sure to pull the corners tightly outward.
I put the next mop half under the wreath form and ran a line of glue across the top just like I did for the first piece.
And again, I folded it over just like I did with the first one.
For the bottom piece, I found it worked best if I put a dab of hot glue on one corner…
…and then pulled that corner up and over as close to the first mop piece as I could.
Then I continued with the hot glue along the rest of the mop.
Followed by folding the other corner up and pulling it tight.
I followed these steps for the remaining mop halves.
It's a perfect fit – six mop halves entirely fill the wreath form.
First one side.
And then the other side.
The wreath was finished, but first I gave it a check to make sure all was covered. I found a loose area where I had glued the first piece, so I glued it down.
At this point, my babes took over and cleaned up the loose fibers with her fingers and in a few spots with scissors. [I used to be the crafter in the family and now I get called for the clean-up LOL – Handan]
Next, I gathered a few bottle brush trees. Since this is a smaller wreath than our original loop yarn winter wreath, I went with 3 instead of 5.
First, I cut off their bases.
And then I hot-glued them in place. If you'd like to swap the trees out during the year, you can use double-sided tape to hold them in place. With the loop yarn wreath, I was able to nestle the trees into the yarn, but with this mop wreath, I needed a little something to help them stay in place.
And that was it! My dollar store mop wreath was finished and ready for my babes to hang it on the wall. I can't believe how good it looks, and it's even softer than our original loop yarn winter wreath!
We taped some fairy lights to the back for a little added effect. We think it looks amazing! I actually like it better than the original. It looks more like a cloud…and it feels like it, too!
Can you believe this beauty came from such lowly beginnings and only cost five dollars to make??
We love it when you share our posts on Pinterest!