DIY Iron-On Mugs with Cricut EasyPress Mini (& Free SVGs)
Let your mug do the talking with Cricut EasyPress Mini! Have your morning coffee with sass & style with dishwasher safe DIY iron-on mugs!
What's in Your Mug?
Let's face it – without coffee, most of America probably wouldn't make it out of bed each day.
The promise of coffee is quite literally the only thing that drags my creaking bones out of bed in the morning.
But first, my mind cycles through the same excuses it has since I was a kid, as it searches desperately for a way to stay in bed.
Am I sick? I think I'm sick! Woohoo – sick day!
Is it snowing? It's probably snowing. WooHoo – snow day!
Is it Saturday? It's gotta be Saturday! WooHoo – weekend!
Zzzzz.
But the realities of Dad Life intrude, and coffee's promise lures me out of bed, stumbling and lurching like a drunken zombie.
Well, that and the fact that if I don't wake up, there's a good chance that no one would wake up, and Handan and Barish would sleep straight into next week!
Anyway, all movement and motion from the time the alarm sounds is geared towards relocating my mindless and drooling body into the kitchen where it can finally attend to the serious business of coffee preparation.
Full mug of coffee in hand, the day can truly begin.
That coffee mug is my lifeline. From daybreak until sundown, it is rarely out of reach. The same goes for my babes. She's as much a slave to the (coffee) grind as I am.
And I'll bet the same is true for most of you!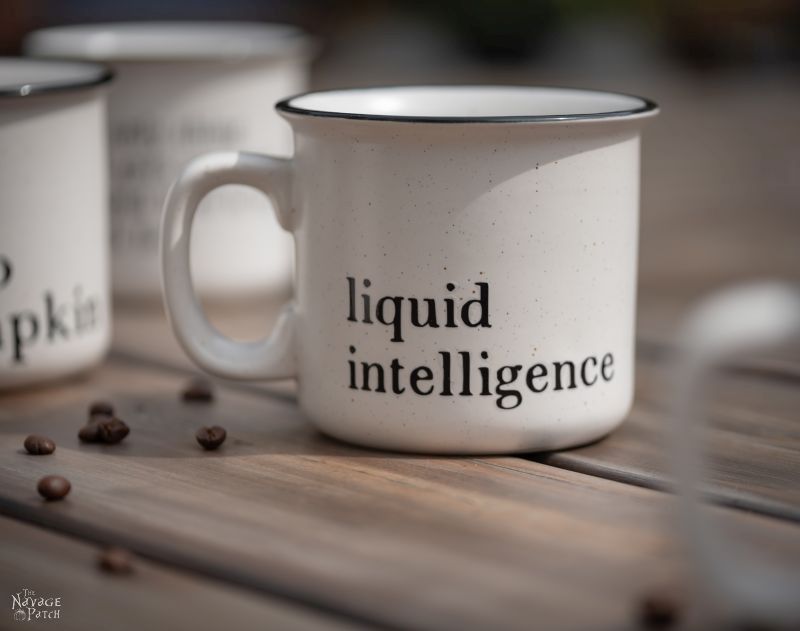 Coffee is king here at The Navage Patch, and our mugs are like extensions of our arms. It stands to reason then, that our mugs should reflect our personalities.
It's Time For a Personalized Mug!
Handan and I have been wanting some personalized coffee mugs for a while now, but we're not keen on buying things that we can make ourselves. Plus, I prefer to write my own little sayings (that shouldn't surprise you).
So, yeah, we wanted our own personalized mugs, but other projects kept getting in the way, so we had to keep putting the idea on the back burner.
Plus, we weren't sure how to go about doing it.
Heat transfer vinyl seemed like a promising avenue to explore, but what the heck would we use for a heat source?
Our Cricut EasyPress 2?
LOL, I don't think so, Tim.
Lucky for us (and you!), Cricut has a new entry in the EasyPress lineup, and it seemed perfect for the job.
Meet the Cricut EasyPress Mini. It's the Little Heat Press That Could!
Cricut EasyPress Mini
Cricut is touting this half-pint heat press for HTV transfers to shoes, hats, sleeves or anywhere a traditional heat press or full-size iron wouldn't fit.
I'm sure it's great for all of those things, and we will be fully exploring its capabilities in future posts.
But first?
We had other plans for it.
Plans I don't think even Cricut has thought of.
Fashion applications would have to wait.
We needed coffee, and we wanted to drink it from mugs that made a statement!
Handan and I had a blast designing and making these little coffee mug gems, and we so enjoyed the Cricut EasyPress Mini. It's a versatile little guy that's already been used to make these mugs, to fix a flawed transfer on a pillowcase, and just the other morning, I caught Handan ironing a blouse with it in the craft room! [well, what can I say – it's such a light and cute little thing, it sure is easier to handle than our iron! – Handan]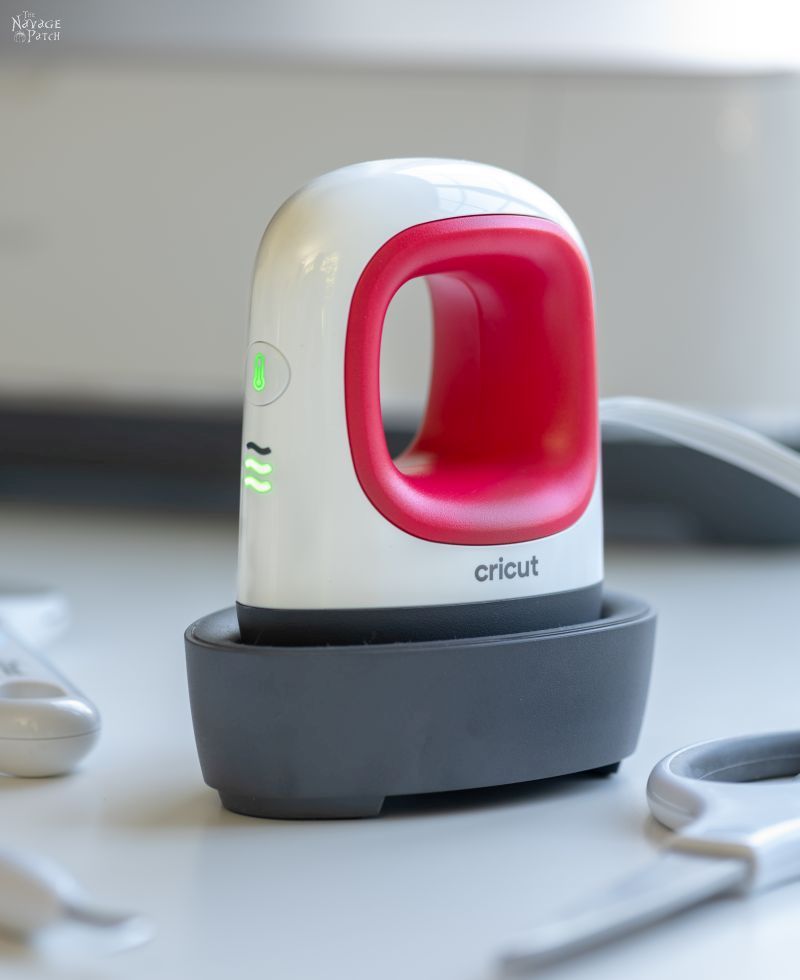 DIY Iron-On Mugs with Cricut EasyPress Mini
SUPPLIES LIST
Affiliate links are provided below. Full disclosure here.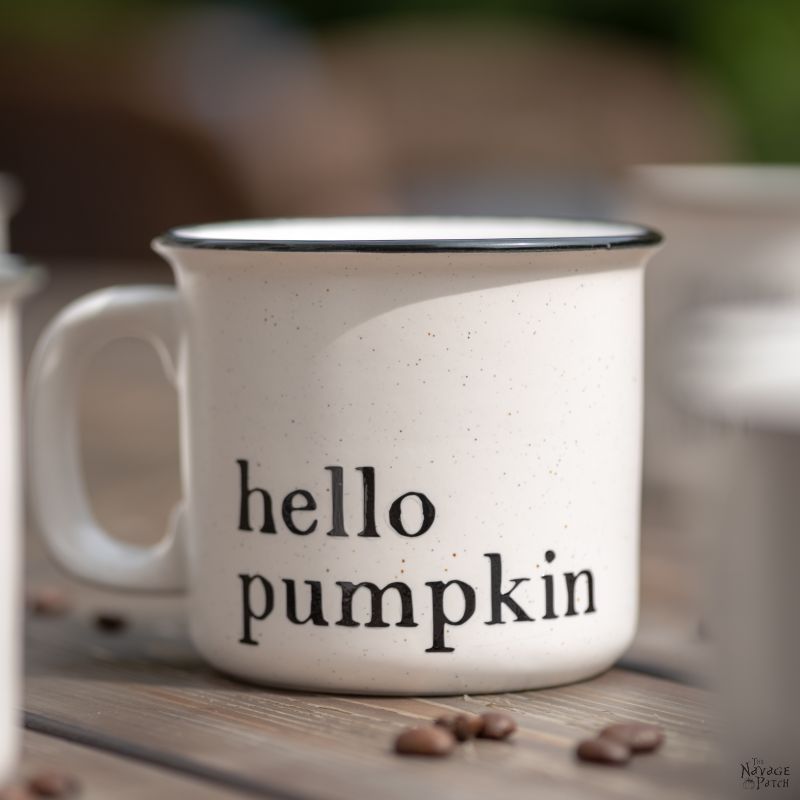 This is a sponsored conversation written by me on behalf of Cricut. The opinions and text are all mine.
Okay, before I get into the tutorial, let me explain why we used iron-on foil.
Why not everyday vinyl? Or glitter? Or Sportflex?
Well, we tried it all.
I spent a full day cutting, weeding and ironing much of Cricut's iron-on product line onto our mugs.
We wanted mugs that would survive the dishwasher, so after I applied our designs, I put them right in the dishwasher.
They all failed.
Some washed off completely.
Only foil fared reasonably well, though a few of the letters washed away. But the ones that remained were stuck on there good! We felt like we were onto something…
So we thought about it a bit and decided to try putting one of the mugs made with foil iron-on in a 300 degree oven for about 20 minutes.
And that was it! The oven heat set the iron-on firmly on the mug.
The mugs then survived the dishwasher with flying colors.
We had our formula for success.
Let's check it out!
Step 1 – Load your designs into Cricut Design Space
Don't forget to reverse the images!
Step 2 – Prepare the iron-on foil for cutting
I positioned the foil on a standard grip mat and used a brayer to flatten and secure it. Remember – with iron-on transfer sheets, the backing goes face-down on the mat. And here's the part that trips people up (including us): the backing is actually the side your brain wants to think of as the front – it's the shiny side with the color. The backing is a clear plastic layer over that colorful shiny side.
Yeah, we goofed up on that a couple of times when we weren't paying close enough attention. (Okay, look, don't tell anyone, but it was totally Handan who screwed up with putting those sheets on backwards! Shhhhhh!!!)
Hey, at least this time we always remembered to reverse our images!
Step 3 – Cut the designs with a Cricut Maker, Explore Air 2 or other smart-cutting machine
This will take anywhere from a few to several minutes, depending on how many designs you're cutting at once.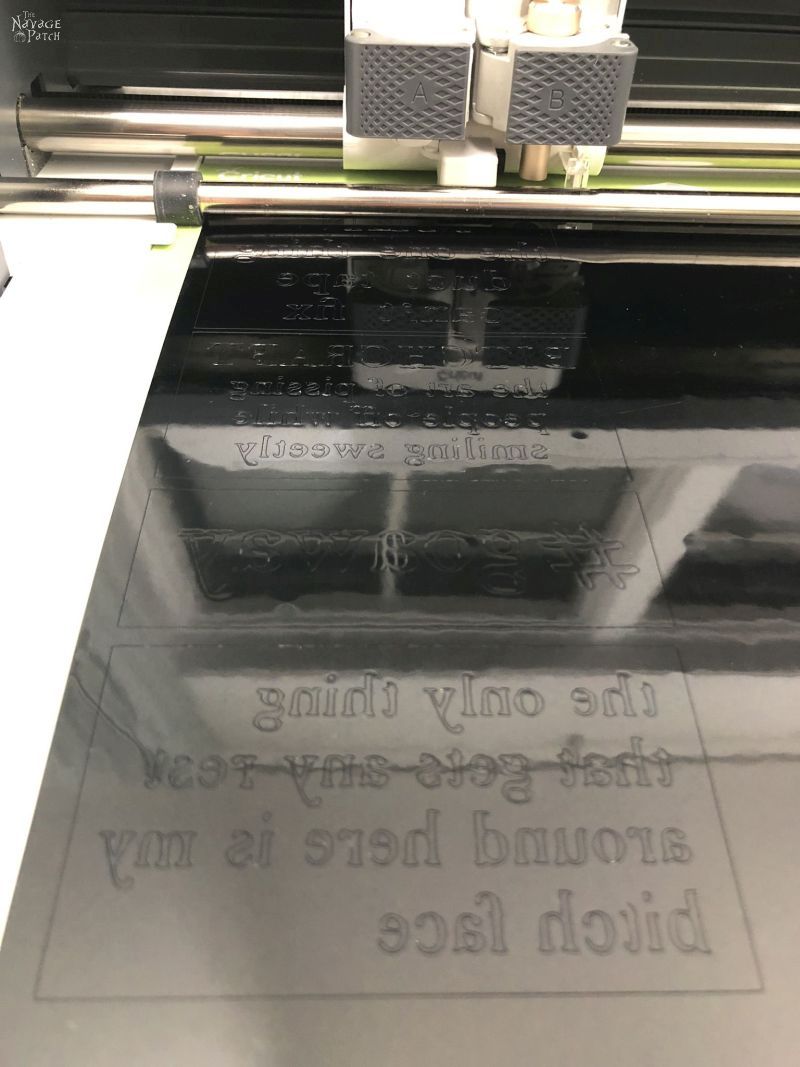 Step 4 – Peel, trim and weed
I peeled the mat from my iron-on foil.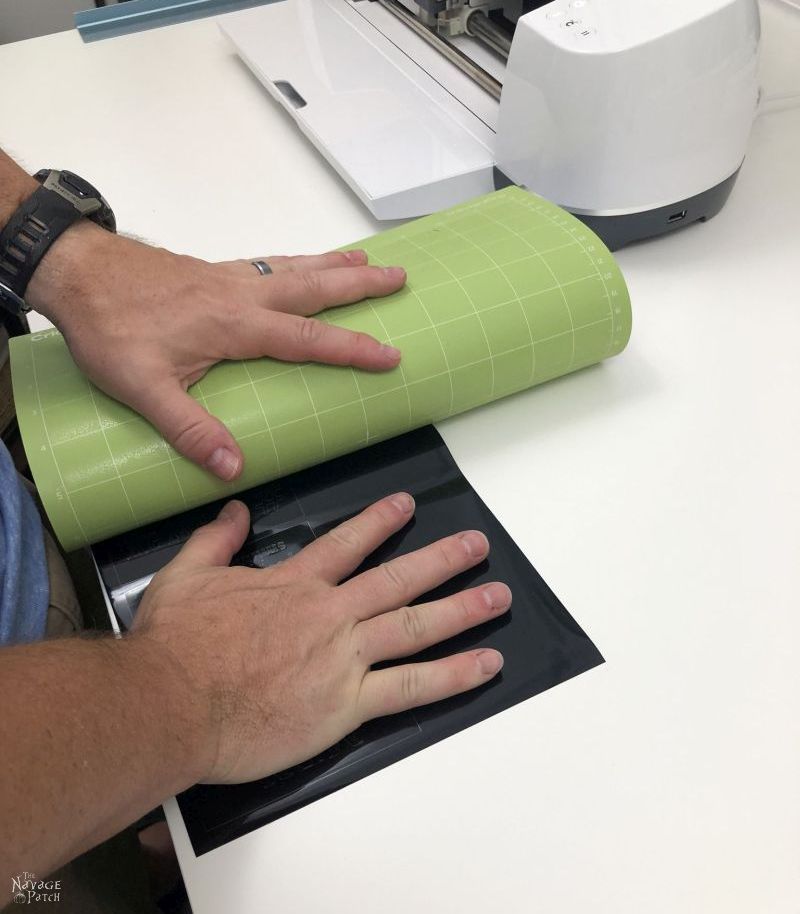 Then I trimmed the excess HTV from the designs.
Weeding iron-on foil is very easy, though some smaller elements like periods and commas gave some occasional difficulty.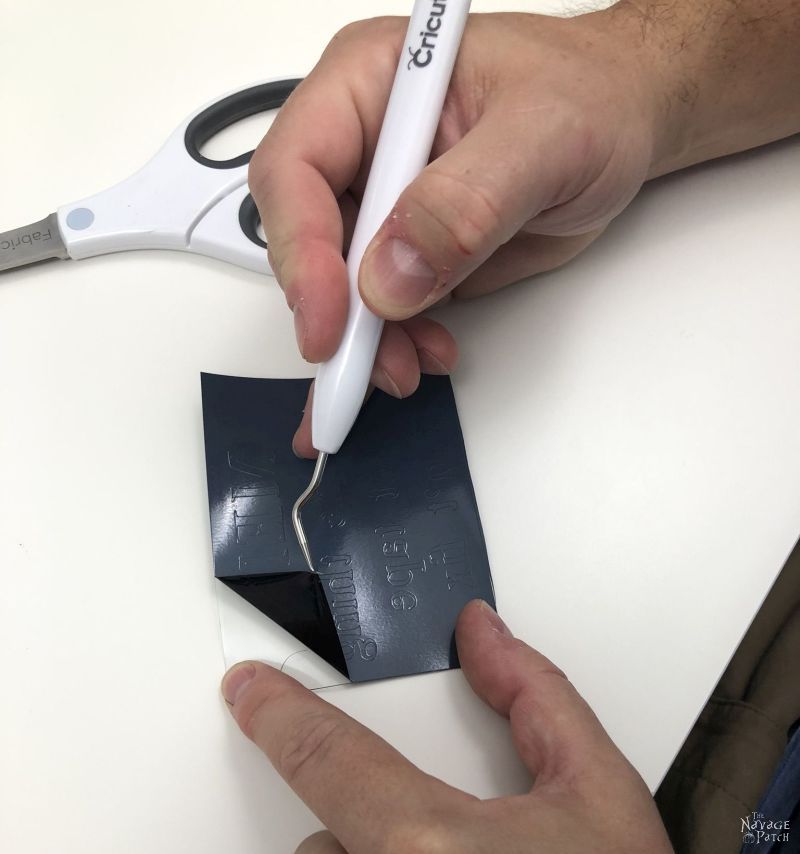 Step 5 – Clean the mug
After washing the mugs with warm soapy water and drying them thoroughly, I further cleaned each one with rubbing alcohol. I didn't want the slightest trace of dirt or oil!
Step 6 – Position the design on the mug
The iron-on foil backing is less sticky than the other iron-ons I tried, and to keep the design in place, I had to use a couple of pieces of heat-resistant tape.
First I positioned the design, and then I taped the sides with heat-resistant tape.
Step 7 – Transfer the design with Cricut EasyPress Mini
The Cricut EasyPress Mini has 3 heat settings. The highest of these is 400 degrees (that's enough to transfer Cricut Infusible Inks, but that's a different story for a different post!) For these iron-on foil transfers, I chose the hottest setting.
I worked slowly around the design, spending about 20-30 seconds on each letter. Patience is key when transferring iron-on foil to mugs, but it's an easy process, and there's no need to press beyond the weight of the Cricut EasyPress Mini.
This short video shows how fast I moved the Cricut EasyPress Mini over the mug.
Step 8 – Peel and bake
I peeled the backing right away.
And then I placed the mug in a 300 degree oven for 20 minutes.
After 20 minutes, I removed the mug with oven mitts and placed it on the counter to cool completely.
DIY Iron-On Mugs Made with Cricut easyPress Mini
We couldn't be happier with how our iron-on mugs turned out!
Those who've watched Game of Thrones will get this mug. For those who haven't, I'll give you the original quote: "That's what I do – I drink, and I know things."
I've modified it a bit, and in the VIP Patch, we're giving you three versions. I like the one below the best!
We all know (well, those of you who've been around for a while, at least) that I've got a pretty mean Resting Bitch Face going on. But it's all good! There's no anger behind the RBF! 🙂
This is my babes when the situation calls for it!
Well, duh. You don't fix what ain't broke!
Seriously, though. No project starts without coffee.
You can have this mug when you pry it from my… Well, you know the rest. 🙂
Oh, and before I forget – even though these are foil iron-ons, they're perfectly microwave safe. We've reheated several mugs of coffee with no problems. That said, if you put one in the microwave and see sparks, you may want to press "Cancel." 😉
*******
If you'd like to find out how we made some awesome dishwasher-safe mugs with Cricut Infusible Ink, then click on over and check it out!
Check These other Posts for More Free SVGs!
And if you need more mug SVGs, don't forget to check our DIY Cricut Infusible Ink personalized dishwasher safe mugs…
and our free Star Wars SVGs for mugs and tumblers!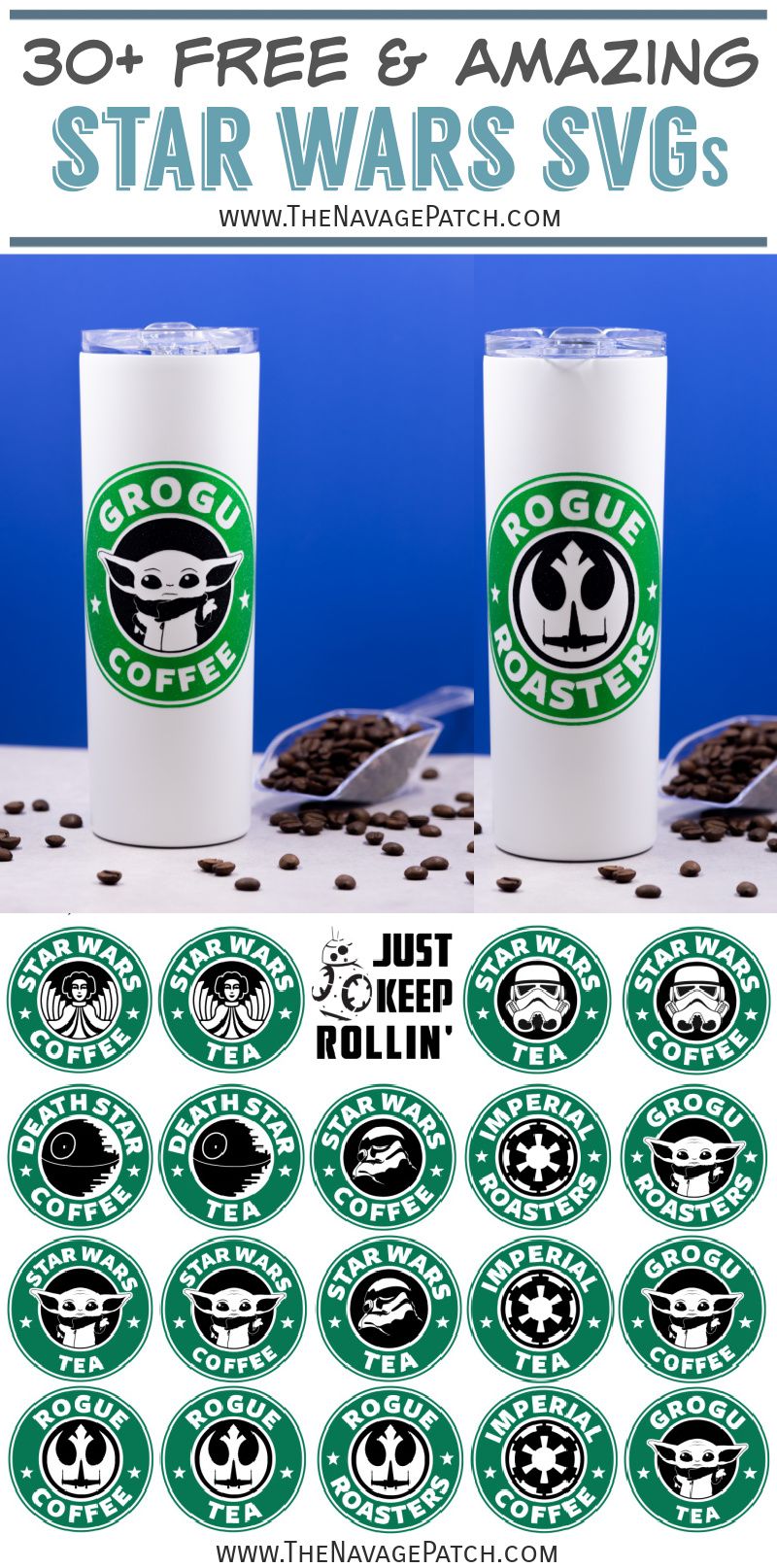 Free Downloadable Iron-On Mug SVG Designs
As usual, here is some information on these free iron-on mug designs: we created today's freebies as JPG, PNG and SVG files which are resizable and compatible with Cricut and all other cutting machines.
Now it's time to click on the button below to download today's freebies – they are all in the "SVGs – Stencils" section of The VIP Patch.
take me to your
amazing freebies library
If you're not a Navage Patch VIP, you won't be able to access our Freebies Library. But that can be easily fixed! Subscribe for free on the form below and become a Navage Patch VIP. Once you subscribe, a password will be sent to you in our Welcome email, and that will give you access to The VIP Patch [Freebies Library].
Love free SVGs? Then check out our guide on Where to Find the BEST Free SVG Files!