DIY Cricut Infusible Ink Valentine's Mugs (No Mug Press Needed!)
These Cricut Infusible Ink Mugs are the perfect Valentine or anniversary gift. Dishwasher safe forever and no mug press required!
Jeezum Crow, it's been ten years!
If you told me eleven years ago that I'd soon quit my job, sell everything I own and move to Qatar to be with a Turkish woman I met on Facebook but never saw in person, I'd probably have handed you a rumpled dollar bill, told you what a funny gal you are and then asked for tickets to your next stand-up comedy show.
I sure didn't see that one coming, but then again, I tend not to see anything coming.
If I had that kind of foresight, I wouldn't be sitting here writing this – I'd be beached on a tropical island with my toes in the sand and a coconut cocktail in my hand.
*Sigh*
Someday…
Anyway, back to reality.
Ten years!
This is going to be our tenth Valentine's Day together.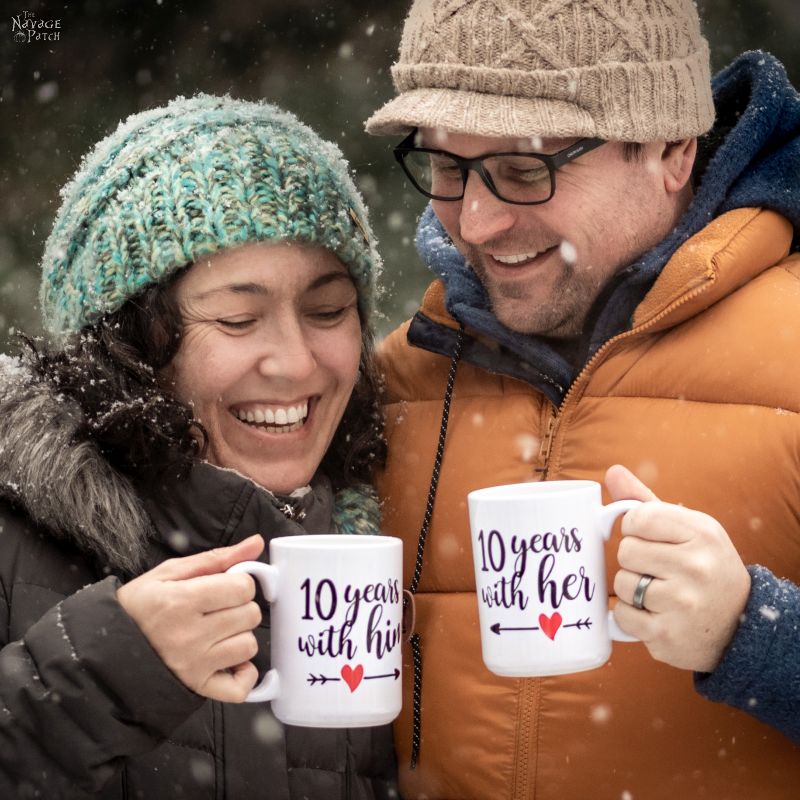 Okay, look, if you've been reading this blog for a while, you know my feelings towards V-Day.
And you know my feelings towards cutesy, saccharine, vomit-inducing Valentine's projects.
For three years, I managed to avoid V-Day at The Navage Patch, but last year, Handan informed me in no uncertain terms that we'd now be making Valentine's projects and writing about them.
And when I say "we," I of course mean "I."
Remember these cutesy heart candle holders?
Yeah, that was my first Valentine's Day post.
It wasn't so bad, I guess.
I mean, my eyes didn't start bleeding or anything, and I still had all my man parts after all was said and posted.
But it was enough for one year.
And how quickly time passes, because here we are again, and here I am about to show you another Valentine's project!
But here's the thing.
Whereas with last year's post, I approached it like a kid who's forced to eat a bowl of lima beans, this year, I'm totally stoked about it!
Why?
How?
What could possibly have happened in the past year to turn a rock-chewing, chest-thumping, fire-breathing hunk of manliness like me [insert laughter here] into a gentle Milquetoast who's looking forward to his Valentine's Day project and post??
I'll tell you what happened.
Cricut happened.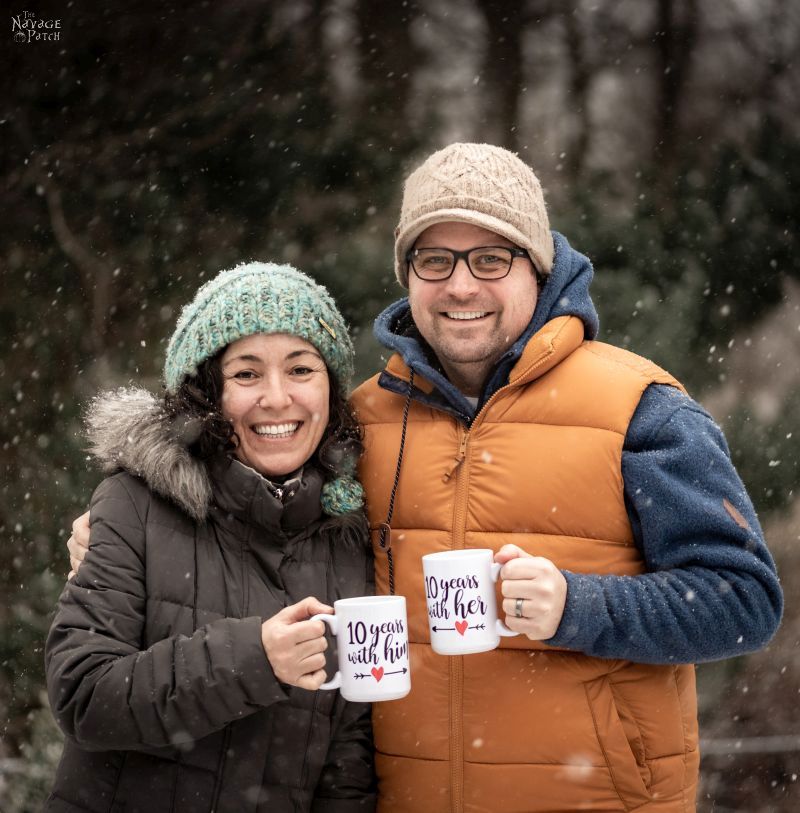 About those heart candle holders above?
Yeah, yeah, they're pretty cool and all, I admit it.
But they took a fair amount of work.
Not that work's a bad thing.
But simpler is usually better, especially when it comes to holiday and gift crafting.
Simple has become somewhat of a mantra around The Navage Patch in the past year or so.
Simple Stupid rules the day!
Now here's a new motto:
Craft Simple.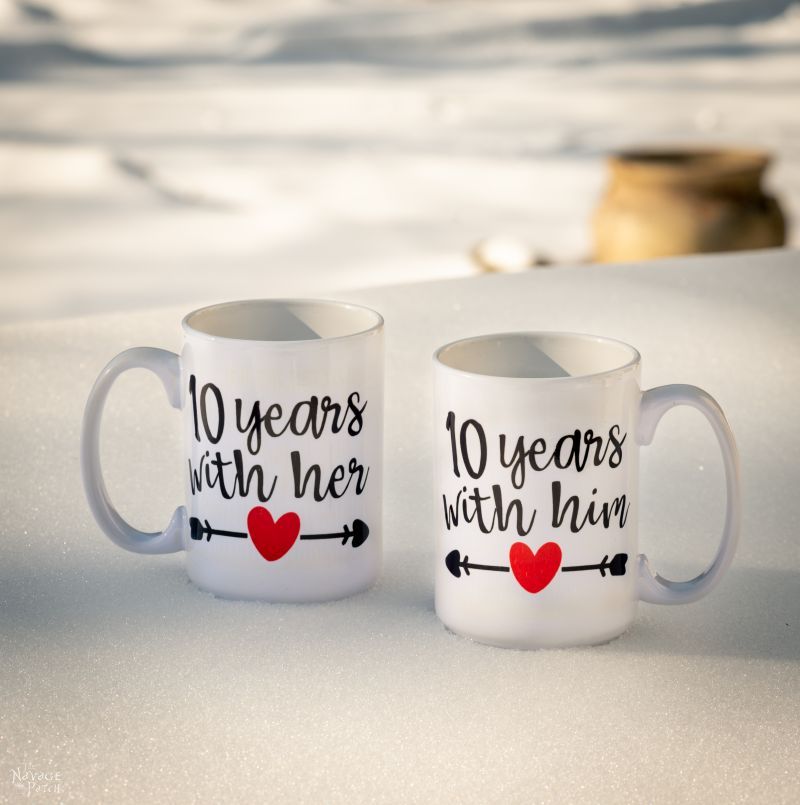 Or if you want to get all hipster about it:
craft. simple.
Or…
craft.simple
Companies should hire me to write slogans for them. I could do this all day (and get paid for it)!
Anyway, nobody does craft.simple like Cricut.
Here's another one for you:
This Valentine's Day, spend less time making and more time baking!
Erm, okay, maybe that's a tad too 1950s.
Okay, how 'bout this, then (for the fellas):
This Halloween, spend less time making and more time raking!
Hmmmm, okay, okay, so my slogan skills may need a little work.
Oh, let's just get on with the post, shall we?
This is a sponsored conversation written by me on behalf of Cricut. The opinions and text are all mine.
Seriously, do you think I'd let anyone else write for me? And look, the only opinions I have that aren't mine belong to Handan. Any sensible husband has his wife's opinions if he knows what's good for him.
Valentine's Day Infusible Ink Mugs with Cricut Explore Air 2
Today, I'm going to show you a trick with Cricut Infusible Ink that no one else has done.
(For those of you unfamiliar with Infusible Ink, have a look at this post for an introduction.)
I'm going to show you how to make Cricut Infusible Ink mugs…
[drum roll, please]
…without a mug press!
Yep, you're reading it here first, folks. This is a Navage Patch World Premier!
My babes and I came up with an editable mug design that works perfectly for Valentine's Day (or your anniversary), and we figured out how to do it without extra expensive equipment!
And these mugs will last forever.
Put them in the dishwasher as many times as you like – you'll never, ever, lose the writing.
Craft Simple.
It's what Valentine's Day crafting is all about!
Let's have a peek at what you'll need to make these Valentine's Infusible Ink mugs.
SUPPLIES LIST
Affiliate links are provided below. Full disclosure here.
Infusible Ink Mugs Tutorial
Look, I've been rambling on and on about Infusible Ink, but (almost) all Cricut projects start with a smart cutting machine, and for these mugs, I used our Explore Air 2.
If you're interested in an Infusible Ink project that doesn't require a Cricut Maker or Explore Air, check out these sugar skull totes and pillows we made with Infusible Ink markers!
Okay, back to the Infusible Ink mugs and our Explore Air 2…
Step 2 – Decide which way you'd like the arrows to face and delete or hide the other two
Step 3 – Edit the year
From here, to edit the year, first click on one of the four designs and then click UnGroup (circled in red below).
Next, double-click the "10."
You'll see a text box appear.
Change that "10" to whatever number you'd like. Kudos and congratulations, madam, if that number is 50 or more!
Press enter, then repeat with the rest, and you're ready to go!
For these mugs, I used a black Infusible Ink transfer sheet for most of the writing and a red Infusible Ink transfer sheet for the heart.
Infusible Ink transfer sheets are stiffer than iron-on vinyl, and I find it helps to use a brayer to really secure the sheet to the mat.
Pro tip: when working with Infusible Ink transfer sheets, always wash your hands first and dry them thoroughly. Sweaty hands will ruin a perfectly good transfer sheet. Ask me how I know!
We have this design sorted into two mats – one for the black writing and arrow and one for the red heart.
I first set the Explore Air 2's material selection knob to Custom and then selected Infusible Ink Transfer Sheet for the material in Cricut Design Space.
When cutting text with Infusible Ink, remember to mirror the image. Ask me how many projects I've botched because I forgot to do this step!
Time to cut!
Cutting the first mat…
Besides black, I think we've got the most manly-looking Explore Air 2 on the block. There was a time back around the turn of the century (I've been waiting at least a decade to say that) when nearly every shirt I owned was this color blue. Man, I was obsessed with this color!
Once our Explore Air 2 had finished its job, I peeled the Infusible Ink transfer sheet from the mat.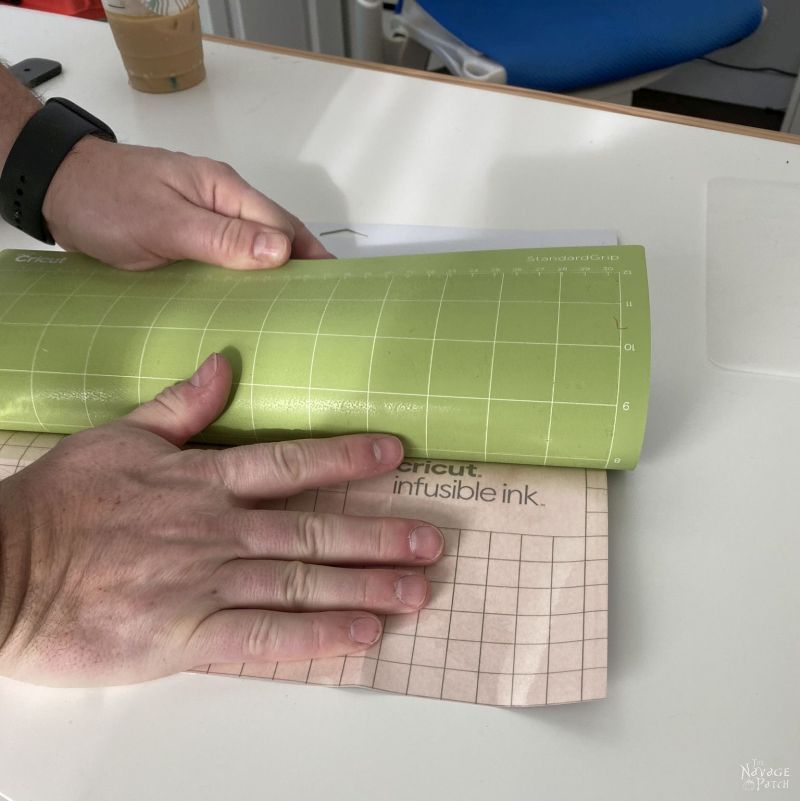 Next, I loaded the red transfer sheet for the two hearts.
This is an easy design to weed.
Translation: even my fat sausage fingers could do it with minimal need for the weeding tool.
I peeled the red heart from its transfer sheet and positioned it on the main design transfer sheet.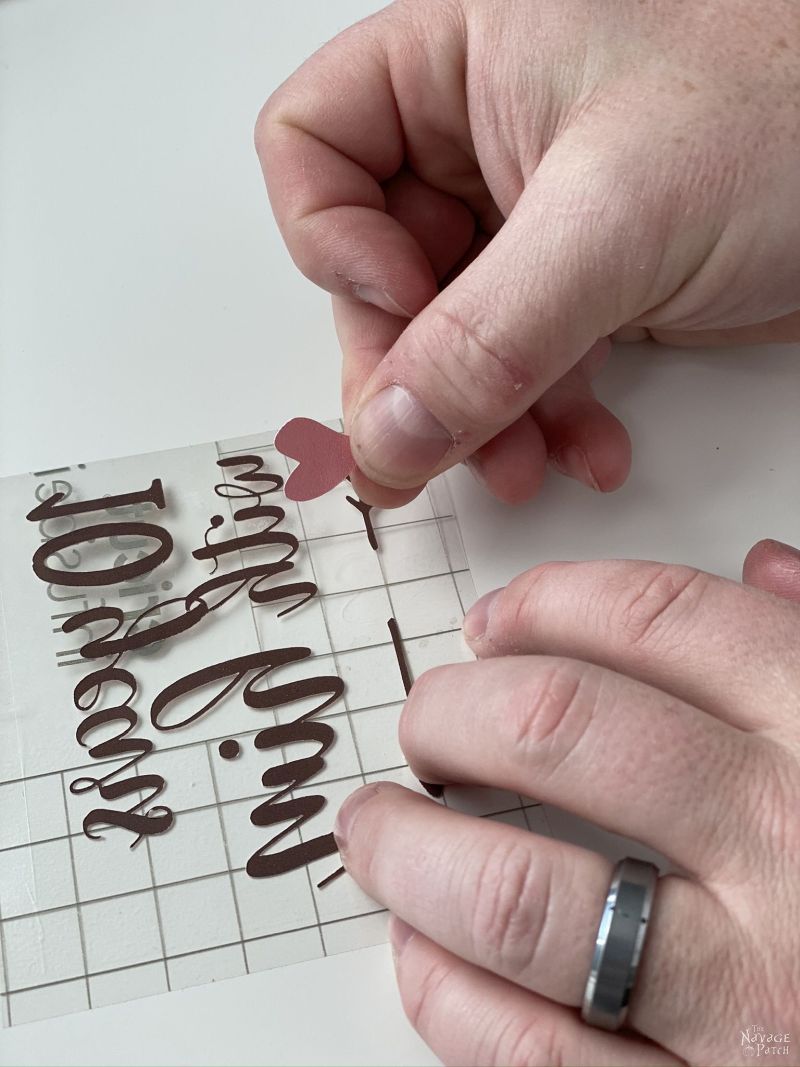 Update February 2021: to lessen the chance of grid lines getting transferred to your mug (as can happen if your oven is too hot), we recommend trimming your design as closely as possible.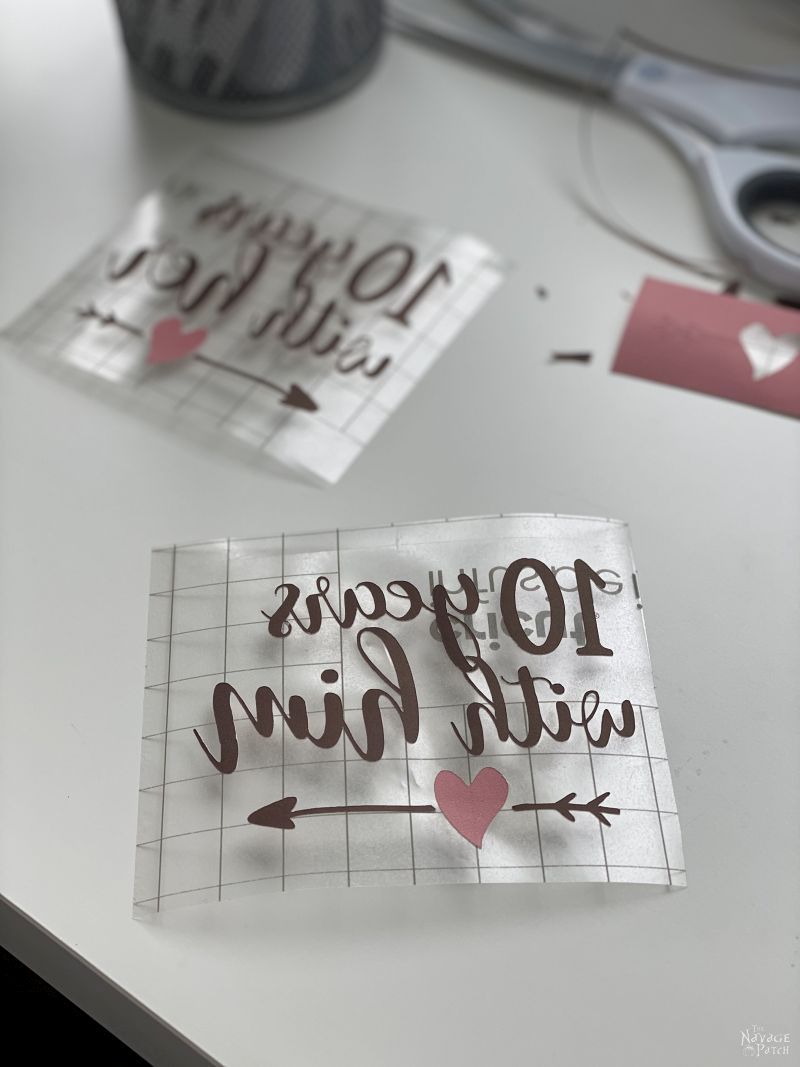 Infusible Ink works best on a dry, oil-free, lint-free surface, so I wiped the mugs with rubbing alcohol before applying the transfer sheets.
I just eyeballed the placement.
To keep the transfer sheet perfectly stable, I put heat-resistant tape along the top and bottom edges.
Then I secured the transfer sheets in place with sublimation silicone mug wraps.
The wrapped mugs went into a 400 degree oven for 15 minutes.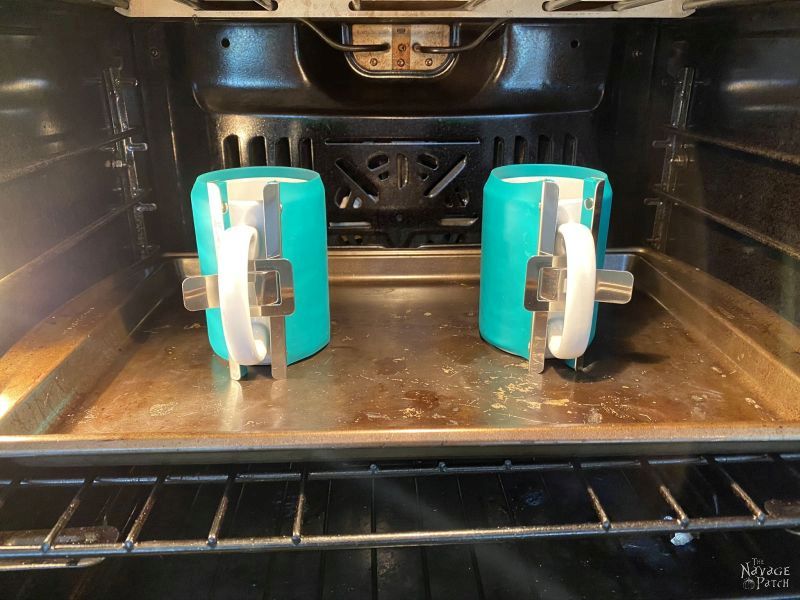 Some people have the notion that the gases given off during the sublimation process are toxic. They are not. But if you're concerned about the fumes, you can first put the mugs into an oven roasting bag.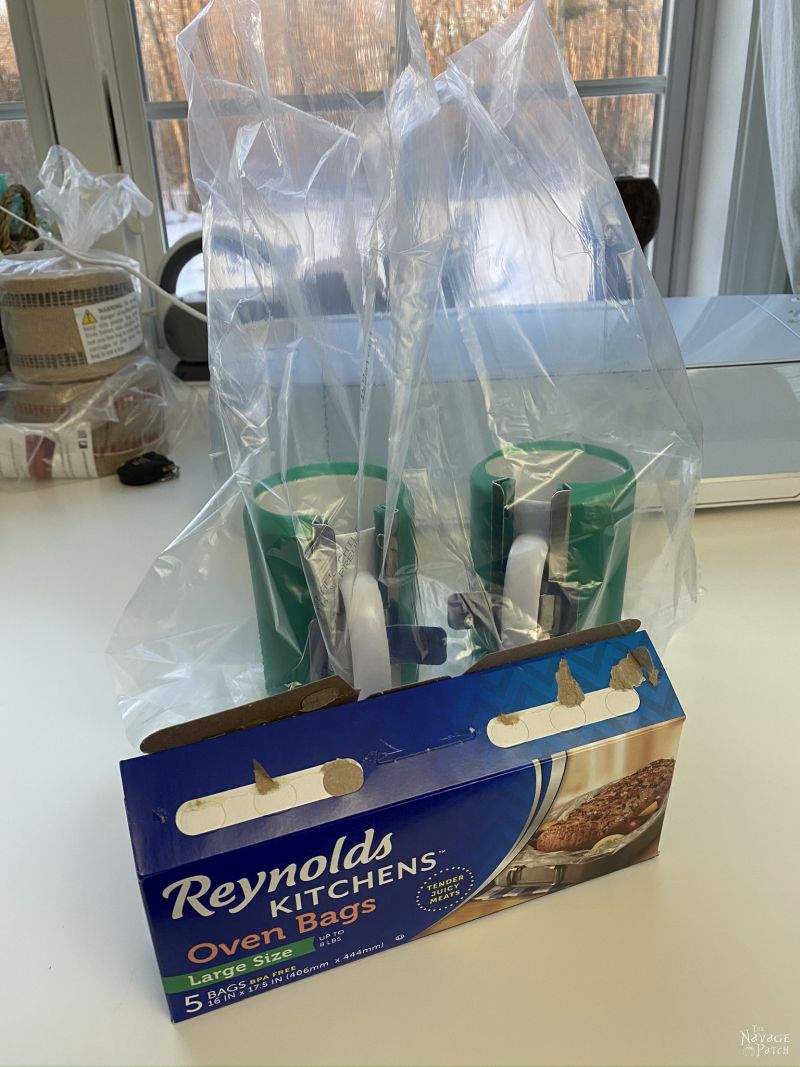 Just seal the bag with heat-resistant tape, and you're good to go.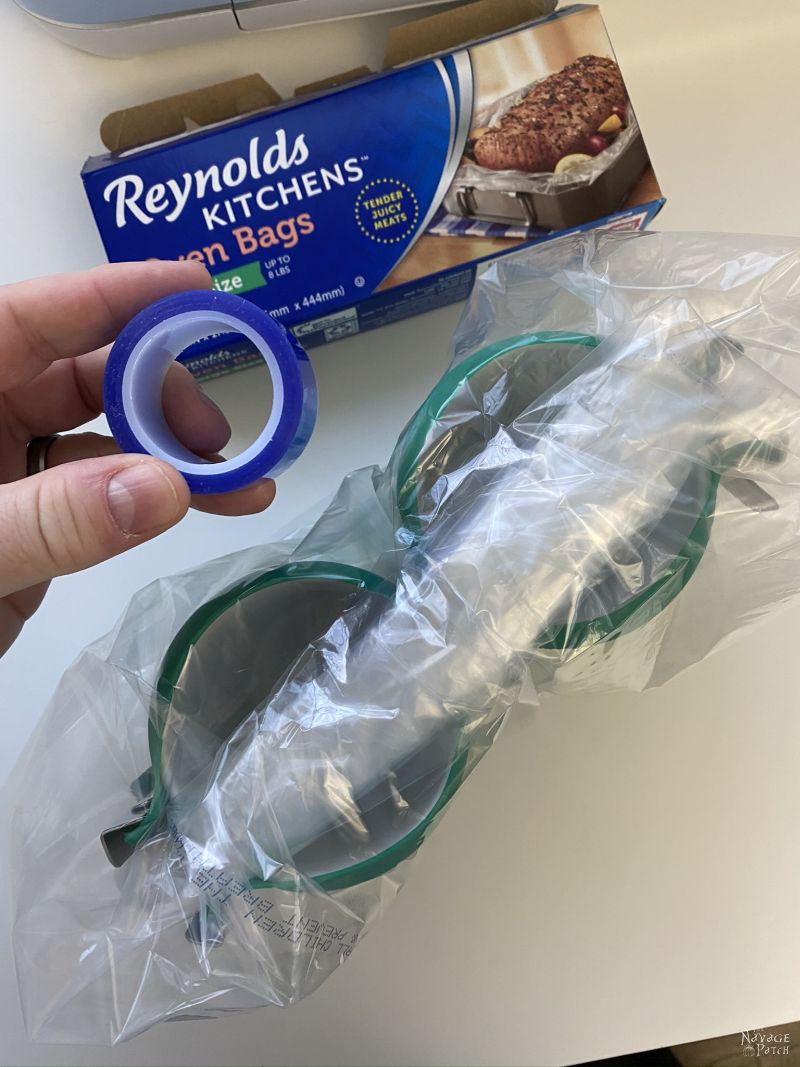 After 15 minutes, I took them out and let them cool for 30 minutes.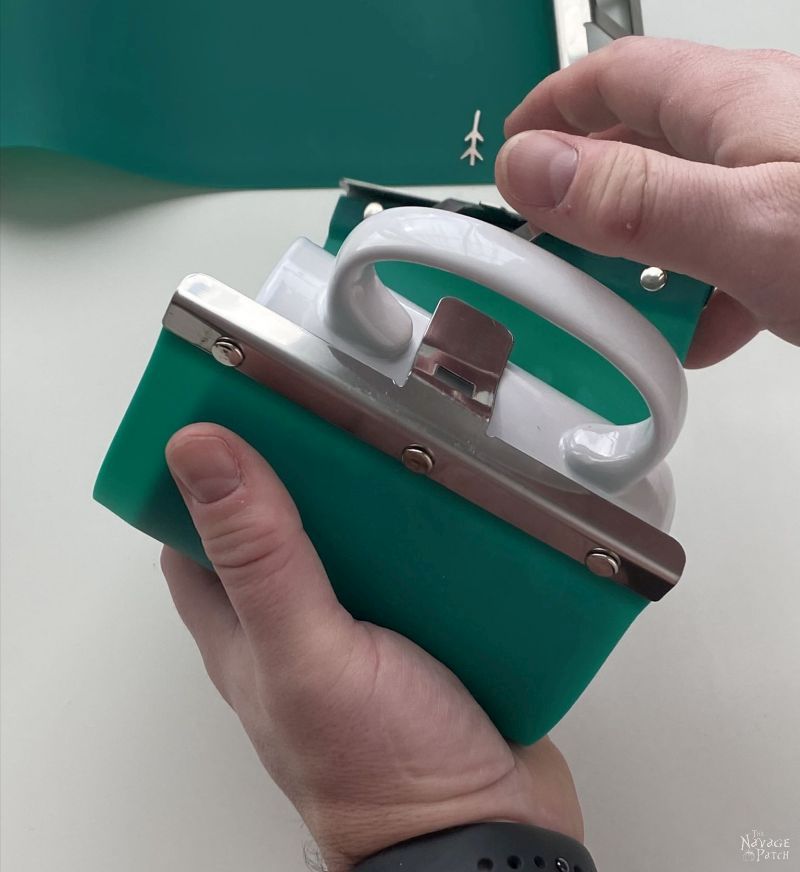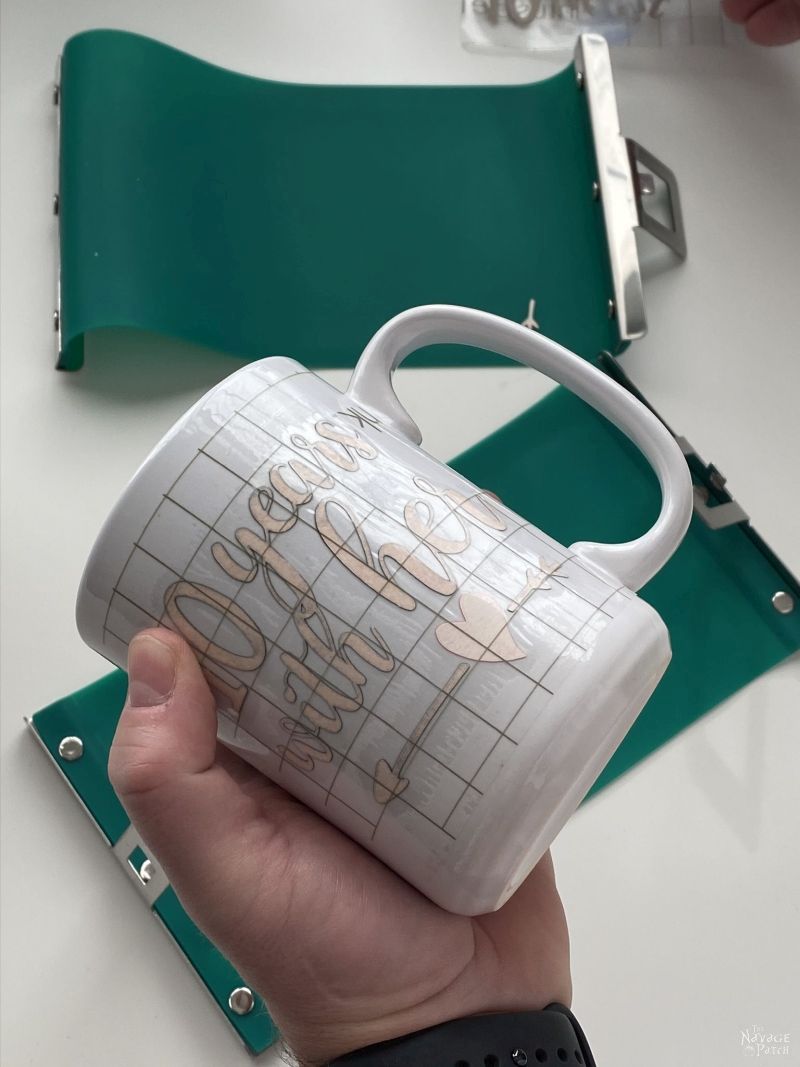 The moment of truth…
A perfect transfer!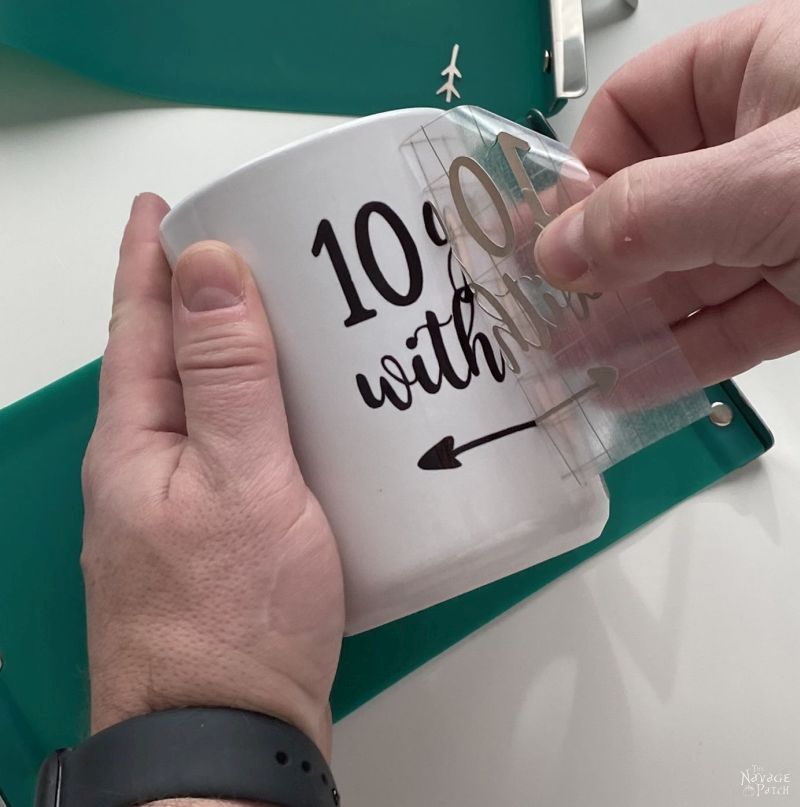 And a perfect mug.
Let's just talk about Infusible Ink for a second.
Before Cricut's Infusible Ink, any sort of dye sublimation project required a dye sublimation printer (starting in the hundreds of dollars and going much higher from there), a compatible blank and a heat press. If that blank was a mug, it required a special mug press which starts at about $75 and goes up from there.
Infusible Ink has freed us from the sublimation printer.
Our oven technique frees us from the mug press.
We can now make perfect and permanent personalized mugs with just our Cricut cutting machines and a household oven!
More FREE Infusible Ink Mug Designs
I don't know about you, but of all the personalized doodads I've made with Cricut (whether Infusible Ink or vinyl) – mugs, T-shirts, totes, pillows, coasters, onesies(!) [I blame you for that one, Cricut!] – Infusible Ink mugs are by far my favorite.
Most of us use mugs every day, and some of us are practically tied to them! There's rarely a moment between 6am and 10pm that one of our personalized mugs is not in or near my or Handan's hand.
And when I think of all the personalized gifts, Infusible Ink mugs again reign supreme.
Would you rather get a personalized t-shirt or a personalized mug as a gift?
That's what I thought.
Craft simple Cricut Infusible Ink mugs – an all new way to make 'n' bake!
*sigh* I guess I can't quit my day job just yet…
We love to see our DIY projects out in the wild! If you try this DIY project and take a picture and post it on Instagram, be sure to tag us @TheNavagePatch!
We love it when you share our posts on Pinterest!