Personalized Holiday Mugs: Gifting with Cricut Joy (& 25 Free SVGs)
When it comes to holiday gifting, let Cricut Joy be your Santa's Little Helper! We used ours to make awesome personalized mugs for everyone on our "nice" list, and we're gifting you with free SVGs!
Maybe it's just me, but the older (and busier) I get, the less time I have to troll through malls and stores and websites looking for the perfect gifts for family and friends. Fortunately, Handan and I are DIYers and crafters, so in the past few years, it's been easier for us to make gifts for those we care about. And that suits me just fine. Less time spent in stores (unless it's a wine or electronics store) equals a much happier me, especially around the holidays!
Seriously though, does anyone actually like shopping in November and December? The stifling crowds. The incessant din of pushy shoppers. The canned Christmas music on forever-loop. Raise your hands if you're into that kind of thing.
I know some hands went up there, but yeesh, it's really not my thing.
It's almost bad enough to make a guy wish for a pandemic or something…
Oh, wait…
But hey, look on the bright side! The malls may be emptier than your bank account on December 26, but your house is full of family and cheer and joy, amirite?
Hasn't it been just perfect heaven to have the kids home 24/7 and your husband putting down literal roots into the sofa like some strange new breed of potato?
Hasn't it?
Hello?
*tap tap tap*
Is this thing on?
Okay, so what's a crafty crafter to do when the world has shut down and the holidays are just around the bend?
That's right – Get crafting!
And what better way to do it than with a Cricut Joy?
(If you're not familiar with Cricut Joy, please see my introductory post, here.)
This year, Handan and I are giving the gift of coffee. Well, not actual coffee. We're giving the mugs from which the perfect black nectar flows. Coffee is life, people, so these mugs are sacred! 😆
Handan designed a whole bunch of fun SVGs, and we used our Cricut Joy to make beautiful and colorful Infusible Ink personalized mugs.
Back in January, we showed the world how to make mugs with Cricut Infusible Ink.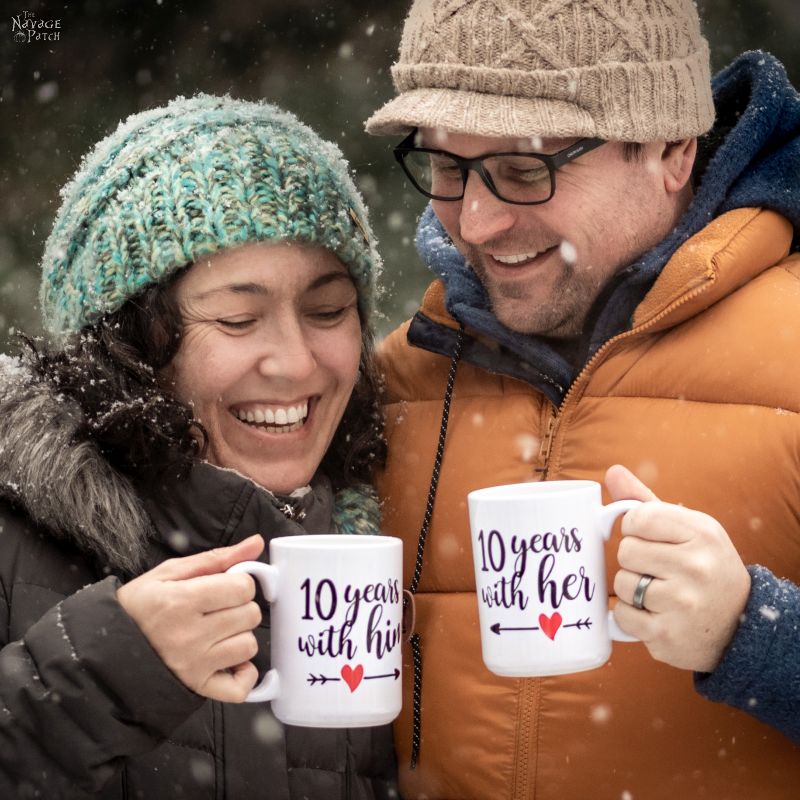 Normally this type of mug would require a heat press, but we pioneered a technique that allows anyone to make them in an oven.
The only issue with that post (and it's a small one), is that we only gave away 2 measly SVGs, and they were geared towards Valentine's Day (or anniversaries).
We wanted to give you guys some more SVGs for the holiday season, and we wanted to try a couple of new things with the transfer process.
(For a primer on Infusible Ink, please see Cricut Infusible Ink: A Heat Transfer Game-Changer.)
Now, listen up.
Covid has hit the world in ways that go far deeper than the sickness itself. So many small businesses are struggling, including many professional crafters and Etsy sellers.
Handan and I want to help in whatever small way we can. On our daily walk through our beautiful town of Suwanee yesterday, Handan told me that she'd like us to include a free commercial license with these personalized holiday mug SVGs. It's not much, but it may help some small craft sellers to get a leg up this holiday season.
But that's not all!
You guys have been so kind to us with your contributions to our Coffee Fund. We can't tell you how much that means to us! When we moved into our new house, we decided to set some of those contributions aside so we could give something back to you.
Well, to one of you, at least.
We used the money from our Coffee Fund to buy a Cricut Joy, and we're going to raffle that off one week from the date of this post.
It is our heartfelt thank you for your support.
Details on the free commercial license and the Cricut Joy giveaway can be found at the end of the post.
Okay, enough of my lip-flapping! Let's get to the SVGs and a tutorial on how to make these holiday personalized mugs with Cricut Joy!
DIY Personalized Mugs with Cricut Infusible Ink
This is a sponsored conversation written by me on behalf of Cricut. The opinions and text are all mine.
SUPPLIES LIST
Affiliate links are provided below. Full disclosure here.
How to Make Personalized Mugs with Cricut Infusible Ink
Upload your design to Cricut Design Space and select the option "On Mat."
Okay look, this isn't a Design Space tutorial, and I am by no means an expert on this software. But hey, if old clam-head here can figure out how to make a personalized mug with his Cricut Joy, two chubby hands and a questionable intellect, then anyone can do it!
Next is the all-important step of reversing your image. Ah, to think how much Infusible Ink has been spilled for not reversing! Be sure to do this with all layers – in this case, 3. Seriously, though. I can't tell you how many times I've spaced on this step, only to have it dawn on me as I'm applying the image to the mug.
What can I say? I have an inner idiot who frequently asks to be released.
Yeah, that's the button right there. It mocks my existence. I'm hoping in a future release of Design Space, Cricut's Egghead Department will implement some sort of failsafe or dire warning about reversing your image. Oh, I don't know, like when you press GO, lights flash, klaxons pierce the air and a female A.I. with a British accent asks, "Have you remembered to reverse your image? You may not continue until you reverse your image." The British A.I. would have to be smart enough to realize if a design needs to be flipped, of course. Maybe I can train Siri or Alexa to figure it out for me. It's about time those two digital divas start carrying their weight around here.
Cut a piece of Infusible Ink transfer sheet that will accommodate the entire design. I cut 4 inches square. You'll notice I'm using Cricut's TrueControl knife. Two things about Cricut:
They like to smash words together for their product names. I guess they think it LooksCool.
They make a mean knife. I've been using X-Acto knives since my years numbered in the single digits, but man, nothing is as comfortable as this TrueControl knife. TrueStory.
A brayer helps flatten the stiff Infusible Ink transfer sheets. It's also good for making miniature pie crusts, but don't tell Cricut that. They hate it when I keep finding "off-label" uses for their products!
See that green button? Press it and go forward. Or don't press it and go nowhere.
Really! Now I feel like I'm just talking down to you. A smart madam like you doesn't need a sweating mug-monkey like me to tell you to select "Infusible Ink Transfer Sheet" from the materials list. As if you'd press any other button!
DS will kindly request that you load your mat. Then, because it is likely more intelligent than I am, Cricut Joy will shuffle your mat a bit, jerk it back and forth and generally appease itself that you have, in fact, put the correct amount of material on your mat.
When your Santa's Little Helper has finished slicing up your mug masterpiece, he'll spit it back out at you. This is your cue to remove the mat, peel the transfer sheet and start weeding.
Now for each color you want to include, you'll generally need to run another transfer sheet through your Joy. Okay, as I said earlier, I'm not the wizard on DS that Handan, but she tells me that you capable lot understand how Design Space works, so you'll know how to group parts of the SVG to cut different colors.
Repeat the steps for all the colors in the design. For the word "BRIGHT," we wanted something a little more fun than standard green, so I cut a piece of transfer sheet from one of the rainbow-colored Infusible Ink selections.
With Infusible Ink, the whole transfer and all the colors has to happen at once. Re-heating a mug with an Infusible Ink transfer already on it will end in tears of despair, so don't do it! (More on that below.) To create a multi-colored transfer just takes a bit of assembly. In this case, I cut out the word "and" and the word BRIGHT and stuck them onto MERRY's transfer sheet. There are other times when you'll need to weed individual letters or shapes and position them on a different transfer sheet.
Before sticking the transfer sheet to the mug, clean the mug with rubbing alcohol. Grease is the sworn enemy of Infusible Ink. I wash my hands like Jack Nicholson in "As Good as it Gets" when working with Infusible Ink. I apply the same strict standards to the blanks I use. Cleaning with rubbing alcohol removes grease and any little specks that might ruin your otherwise-perfect personalized mug. I know rubbing alcohol in stores is harder to find than a turkey in a tuxedo, but you can find it online, and you can get it at 99% strength. I never knew such a beast existed until this pandemic forced me to look online for all of my isopropylic needs. Imagine the fun you can have making fired alcohol ink wall art with 99%!
Give the transfer sheet a check before applying it to the mug. Stray bits of Infusible Ink can ruin your transfer. I found a little dot on mine, and I picked it off with a pair of tweezers. What I didn't find was the little bits that were infecting another of my transfer sheets.
No one's as good as me at ruining perfectly good stuff through carelessness and stupidity! Don't believe me? Just ask my babes! 😆
*Update February 2021: to lessen the chance of grid lines getting transferred to your mug (as can happen if your oven is too hot), we recommend trimming your design as closely as possible.
I like to put the mug handle on the brayer – it's the right height to keep the mug face square to me while applying the transfer sheet. I'm not sure "square to me" is the correct terminology for a cylindrical mug, but I'm sure you catch my drift.
A wee bit of heat-resistant tape to keep everything in place…
And now, the silicone mug wrap.
This handsome green sheet will ensure that all of the design is in contact with the mug.
Another job well done, silicone! This one's ready for the oven, but first let's have a quick peek at another design.
This beauty has 5 colors of lights and black writing. It may look a little intimidating, but it's really quite easy, even for Yours Gruntly over here.
"It appears you have forgotten to reverse your image. The authorities have been summoned to your house." Waste enough Infusible Ink, and your SO will be calling in the heat!
After the words come the 10 lights. They can easily be cut in one pass by arranging them in Design Space and then sticking 5 small pieces of transfer sheet on the mat.
My fingers were too big to manipulate those little bulbs, but with tweezers, it was no problem.
A man did this without a single shred of help from a woman. Miracles do happen, madam.
You know this part…
Another one is ready to bake.
Now, Infusible Ink, like all sublimation ink, lets off some stinky gas during transfer. There are those who would prefer to keep these potentially toxic gases from commingling with the same surfaces that their food is exposed to. Fortunately, there is an easy and inexpensive solution that will allow you to sublimate to your mug-making heart's content while keeping your oven (and your curried chicken broccoli casserole) free from harm.
Yes, the humble oven bag. Locks in flavor, chicken juice and sublimation gases with equal ease.
In they go at 400 degrees for 15 minutes.
And out they come…
The temptation is great, but try not to touch them before 30 minutes has passed, or you might get a little "heat transfer" on your skin as well.
Ooooh, the anticipation!
It's like unwrapping a Christmas gift!
While these personalized mugs make perfect gifts, you'll also want to make a whole batch for yourself, so plan ahead and buy more sublimation mugs than you think you'll need!
What NOT to Do When Making Infusible Ink Mugs
Okay, so we're always up for trying new things here at The Navage Patch. That's how we came up with this Infusible-Ink-in-the-oven thing in the first place!
And how we came up with our zany idea of making iron-on mugs with a Cricut EasyPress Mini!
Heat Gun Infusible Ink Transfer
So we thought we'd give a heat gun a try to see if we could get a decent transfer.
For my first go, I really clamped the transfer sheet in place with a whole mess of heat-resistant tape.
I then gave it the gun for about 4 minutes on high. Since there's no way to control the temperature (and it's waaaayyyyy over 400 degrees at the nozzle), I just held it about 4-5 inches away and kept it moving all over the surface.
This produced results that could most accurately be described as…oh, I don't know… a turd in the Christmas punchbowl, I suppose.
Never one to be deterred by failure (seriously – otherwise I would have given up on DIY years ago), I tried again – this time with a silicone wrap. I also increased the time to 8 minutes, and I held the gun between 1 and 2 inches from the mug.
Though the results were orders of magnitude better than my first attempt, they just wouldn't cut it in the Big Leagues of Infusible Ink mug-making.
Transfer too Hot
The problem with trying to use a heat gun with Infusible Ink is that there's such a narrow temperature window of success. Too little heat, and your design is going to stay on the transfer sheet. Too much heat, and you'll end up with weird artifacts like transfer sheet lines on your mug.
Evidence of that can be seen on the following failed mug:
Putting an Infused Mug Back into the Oven
This one was actually done in the oven, and it's what led me to discover that my new ZLINE oven runs hot! Not a problem, as I was able to compensate with the help of a digital oven thermometer, and all was well again.
Now, because we had a failed batch due to oven temperature, I decided to use the other side of those mugs for some test runs while I calibrated my oven, and that's when I learned that an infused mug cannot go back into the oven! This meant that the silicone wrap covered not only a transfer sheet, but also an already-infused design.
When I took it out of the over and unwrapped it, I noticed that the infused design had re-infused into the silicone wrap, leaving a somewhat faded design on the mug.
Curious to see if that now-infused silicone could transfer its image back to a mug, I wrapped another failed mug – again with the infused silicone covering a different design.
As I guessed, the mug now had two infusions, as did the silicone.
That's a red jingle bell below the failed Nightmare Before Coffee design. The scratches are from a scrubby sponge as we tried to understand what went wrong.
And there are the two designs infused into the silicone. Interesting that silicone is infusible!
25 FREE SVG Files
We created today's 25 FREE Christmas SVG designs as JPG, PNG and SVG files which are resizable and compatible with Cricut and all other cutting machines.
Now it's time to click on the button below to download today's freebies – they are all in the "Christmas" and "SVGs – Stencils" section of The VIP Patch.
If you're not a Navage Patch VIP, you won't be able to access our Freebies Library. But that can be easily fixed! Subscribe for free on the form below and become a Navage Patch VIP. Once you subscribe, a password will be sent to you in our Welcome email, and that will give you access to The VIP Patch [Freebies Library].
Get free access to our incredible library of
Free Printables and SVGs
Free Commercial License for these Personalized Mug SVGs
If you would like a free Commercial License good for you to make and sell up to 500 items, you can find and download it in The VIP Patch from the same folder in which these Christmas SVGs are stored. We hope it proves beneficial for some of you!
Cricut Joy Giveaway – for a Joyous 2021!
Here it is folks – the Cricut Joy Giveaway – just in time for the holidays! The drawing will be held at 10pm EST on Sunday, November 8. Subscribe to our email list below for one entry, to our YouTube channel for a second entry, follow us on Pinterest for a third entry, and pin the image below for a fourth entry.
If you are already subscribed to our email list or social channels, you will need to do so again below to be entered. But don't worry – you won't receive duplicate emails from us!
Open to residents of the US and Canada only.
Congratulations to Cheryl Sodomka of Illinois! Enjoy your Cricut Joy!
We love it when you share our posts on Pinterest!