Free Printable Book Page Quote Art
We're back with more free printable book page quote art for you! This time, we've got a collection awesome passages from 8 amazing books! Free, as always!
In my last oversize book page wall art post, I asked you guys to give me some of your favorite quotations for my next book page post.
I'll bet you thought I forgot about you!
Please, ladies. How could I forget any of you? You guys are the wind in my sails!
You gave some awesome quotations! Some came from books, some from poems, and others were just musings on life by authors and other famous folk.
For this post, I used some of the quotations from books and poems.
For my next post, I'll use some of the musings on life, and we'll give those in a different format, free from the constraints of a book page.
Before we begin, be sure to follow us on Pinterest, Facebook and Instagram, and also sign up for our email list (by clicking the subscribe button above), so you'll never miss a post!
Let's get on with it!
Free Printable Book Page Quotes
Our first quotation comes from Gale, who has it hanging in her office.
Remember that life is not measured by the breaths we take, but by the moments that take our breath away!
Have you seen this one before? Who is credited? Almost the entire world has this one wrong.
No, it wasn't ever said or written by Maya Angelou.
Nor was it penned by legendary comedian, George Carlin.
This incredible sentence was written by an unknown and unheralded woman named Vicki Corona in 1989 in a small book she wrote called Tahitian Choreographies. She must love to dance, as she published books on the dances of Indonesia, Melanesia, Italy, Hawaii, Tonga and the Middle East, just to name a few.
It just goes to show – you never know when fame will find you! Unfortunately for Vicki, some early internet dummies wrongly attributed her awesome quotation to both Maya and George, and once that disinformation was spread, well – you just can't reel it back in.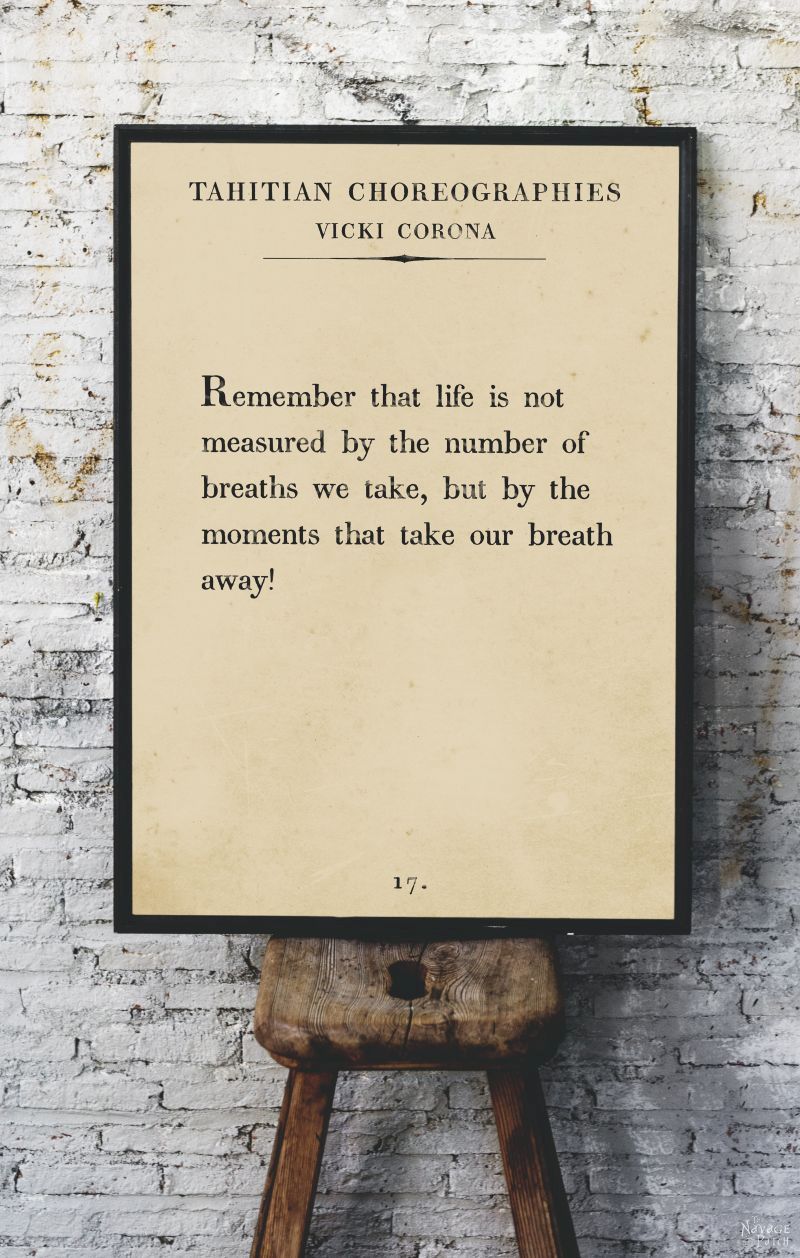 Whereas Vicki Corona's quotation was wrongly attributed to others, our next one is almost always found online in a butchered and shortened form that is just too far from the original for my taste. Sure, we can take liberties here and there with a word or two to give the statement more impact or to clarify it, but this is the sentence you'll find everywhere online, attributed to Walt Whitman (one of the greatest poets of all time, by the way):
We were together.
I forget the rest.
This drives me bonkers! These are the actual words that Whitman wrote in his poem "Once I Pass'd Through a Populous City" from the collection, Leaves of Grass:
Day by day and night by night we were together – all else has long been forgotten by me.
Whitman's words are haunting and beautiful and evoke the feeling of a love long lost. The other sounds like a grunting dope being interviewed by the police.
As I mentioned before, subtle paraphrasing is okay in certain circumstances, but I don't want to see that the opening to the Gettysburg Address:
Four score and seven years ago our fathers brought forth on this continent a new nation, conceived in Liberty, and dedicated to the proposition that all men are created equal.
has been changed to:
87 years ago some dudes started a country and said, "Don't be jerks!"
Actually…that has a nice ring to it. I think I'll ask Handan to make a printable out of it!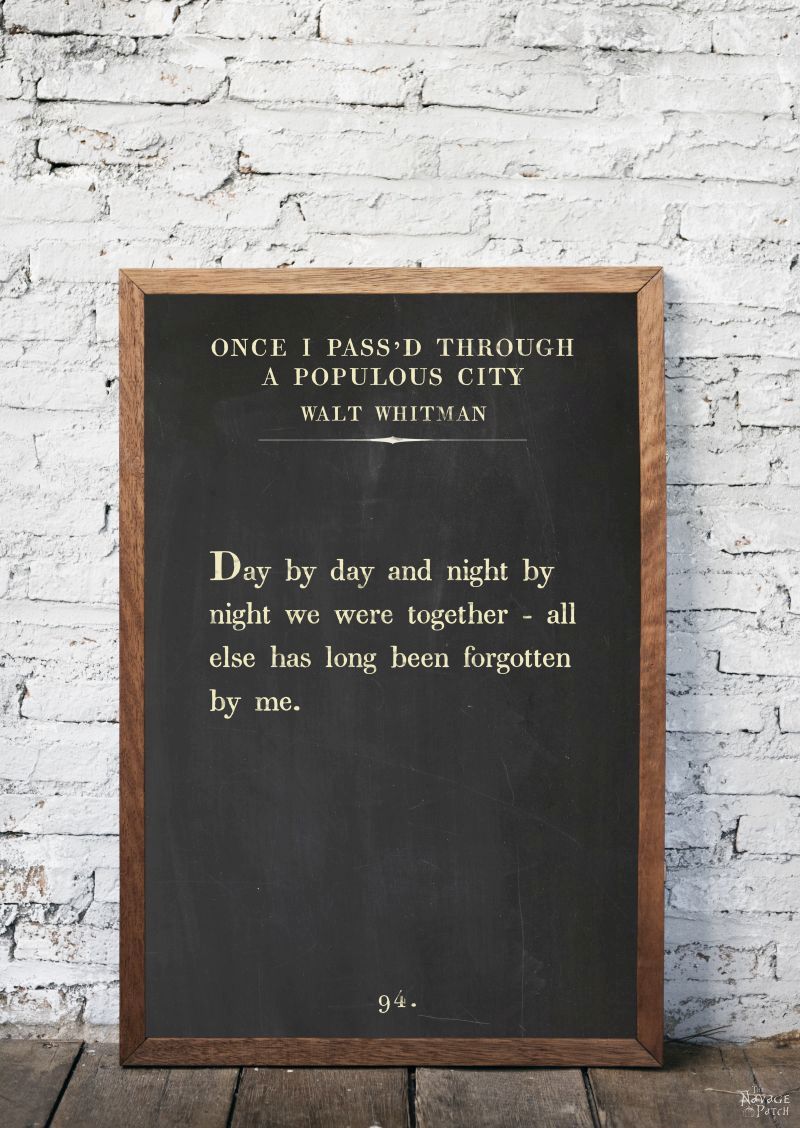 What can I say about Harry Potter that hasn't been said a thousand times in a thousand languages? If you haven't read the books, just go do so. I don't care if you're a hundred and eleventy years old (that's a reference to The Hobbit by JRR Tolkien, by the way), you'll enjoy those books. There are countless shareable quotations from the Harry Potter books, but this one comes from Patch reader, Jenny, and I think it is an excellent choice.
Harry had just defeated He-who-must-not-be-named (well, partially, anyway), and he was feeling all mopey at the Sorting Ceremony because he thought his powers, being so similar to Voldemort's, would lead him down the path towards dark magic.
Dumbledore was having none of Harry's mopery and utters the following words of reassurance to cheer up the sad little spellcaster.
Back in the spring we gave out some book page printables featuring women authors. Obviously, there are too many good quotations to fit into one post, and one of the best is this gem, written by Louisa May Alcott in her wildly popular 19th century novel, Little Women. Thanks again to Jenny for this wonderful sentence. I think this is my favorite of the bunch.
I am not afraid of storms, for I am learning how to sail my ship.
It's a beautiful sentiment!
Without challenges, we cannot learn, and we cannot grow.
It was only a matter of time before Shakespeare showed up in one of these printable book page quote posts. Thank you, Barb for giving us a little something from The Bard today!
Doubt though the stars are fire;
Doubt that the sun doth move;
Doubt truth to be a liar;
But never doubt that I love.
Shakespeare wrote these lines in Hamlet.
We all know the "To be or not to be…" line from that play, but my favorite is uttered by Hamlet as he holds the skull of the court jester, Yorrick, one night in the graveyard. He speaks to Horatio on the fragility of life and the end we all must face.
Alas, poor Yorick! I knew him, Horatio: a fellow
of infinite jest, of most excellent fancy: he hath
borne me on his back a thousand times; and now, how
abhorred in my imagination it is! My gorge rims at
it. Here hung those lips that I have kissed I know
not how oft. Where be your gibes now? Your
gambols? Your songs? Your flashes of merriment,
that were wont to set the table on a roar? Not one
now, to mock your own grinning? Quite chap-fallen?
Now get you to my lady's chamber, and tell her, let
her paint an inch thick, to this favour she must
come; make her laugh at that.
Let's have another Walt Whitman, shall we? This one was also sent by Jenny (she's a librarian and a voracious reader). She sent me a ton of great material, and I'll be including more of her suggestions in future posts.
"The Song of the Open Road" is Whitman's call to arms for people to get the hell out of their houses, get outside and experience life in the Great Outdoors in general and on the open road in particular. All men are equal out of doors, when the trappings of civilized life are set aside. Walt Whitman loved life and loved living life. The Song of the Open Road should be required reading for today's plugged-in-but-disconnected youth. Perhaps they'd set aside their brain-sucking iPhones and head outside and see what all the fuss was about.
I included two quotations from Anne of Green Gables by Lucy Maud Montgomery in my Women of the Word post, but she's worthy of one more! This one's again from Jenny (I told you she sent me a ton of material!)
Alfred, Lord Tennyson was and is one of Great Britain's most famous and beloved poets. He wrote "Ulysses" about 20 years before Whitman wrote "The Song of the Open Road", and they share many of the same themes. Tennyson tells the story of Ulysses, a traveler and adventurer who cannot stand to be still. He craves movement and action and believes that people, like swords and metal tools, shine through constant use but rust through inaction. Thanks to Erinanne for suggesting this one!
I hope you guys enjoyed our free printable book page quote art! Be warned, though – we're going to be hitting with you with a lot of free printables in the coming weeks! We've got more quotations and some incredible Star Wars blueprints (patent art) that would make an awesome gift for the Star Wars fan in your life. Everybody has one of those, right?
If you display our free printables in your home, be sure to take a picture and post it on Instagram! Don't forget to tag us @TheNavagePatch! We love to see our printables out in the wild!
*******
As usual, here is some information on the printables: we designed these free printable book page quote art in three colors and to fit into a 16×20 inch frame or a 24×36 poster frame, though you may scale them up or down as necessary. 24×36 inch scales down easily to 20×30 / 16×24 / 12×18 / 8×12 / 4×6 inches, and 16×20 inch scales down to 12×15 / 8×10 / 4×5 inches with no problems. If you need help with scaling down these printables so you can print them using your home printer, then check out our "How To Easily Resize Pictures" post.
Also, if you don't have a large format printer like the Canon i8720 Printer (prints up to 13×19 inches) and are wondering the best place to get these printables printed bigger than 8×12, we recommend trying Staples in your area or Amazon print shop. Both stores offer custom-sized prints on matte or glossy paper, and they both cost about the same. Staples also offers Engineering Prints, which are really affordable for large-format prints, but in some areas (like ours), they must be ordered from their online print shop.
Now it's time to click on the button below to download today's free printable book page quote art – they are all in the Book Page Art section of The VIP Patch.
If you're not a Navage Patch VIP, you won't be able to access our Freebies Library. But that can be easily fixed! Subscribe for free on the form below and become a Navage Patch VIP. Once you subscribe, a password will be sent to you in our Welcome email, and that will give you access to The VIP Patch [Freebies Library]. If you didn't receive our Welcome email, can't find the password or have any other questions on this process or on our free printables, please check our Printables FAQ page.