Beautiful Free Printable Vintage Rose Illustrations
You'll not find a fairer rose than those depicted in our 16 beautiful free printable vintage rose illustrations!
Last spring, I planted my very first rose.
It was really just a stick with a ball of dirt on one end, but the box it came in promised a red tea rose. I'd never owned a rose, so I thought they all started out as sticks from Home Depot.
With great care, I brought the stick home and prepared a hole for it. After tossing in a few coins for luck, I plunged the stick into the hole and filled it in with brown earth.
Like a good gardener, I dutifully watered it each and every day and waited for some magic. It was hard during those early days.
I kinda felt like an ass, throwing away good water on a thorny stick like that.
After all, The Internet said that sticks like mine rarely grow at all.
The Internet said that even if my stick favored me with growth, it would never bloom the year it was planted.
You know something? The Internet says a lot of things, and very often, The Internet is full of crap.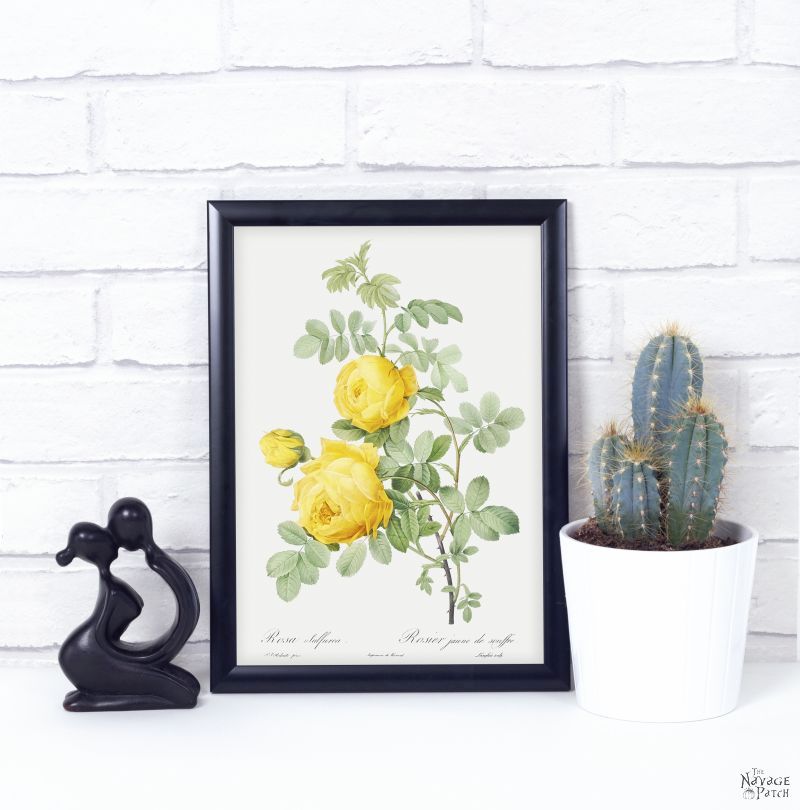 Such was the case with my stick.
Despite what the "experts" claimed, my stick flourished and flowered, and I thumbed my nose at the collective wisdom of The Internet.
I had won! I had created beautiful life from a stupid barbed stick!
But then something happened over the winter.
Or perhaps it was our biblically wet spring that robbed me of my rosemary plants, murdered my asparagus and brought death to our delightful little dogwood.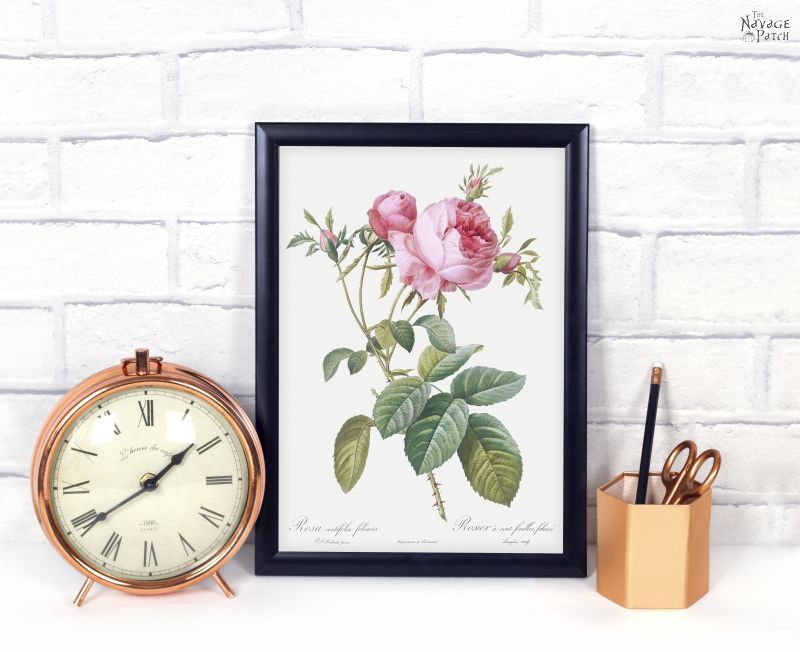 Whatever had happened, be it the cold of winter or the rain of spring, my proud and noble rose became a stick once more.
But this time, there would be no miraculous bloom.
My stick was going to stay a stick forever.
If there's one thing my short-lived stick taught me, it's that growing roses isn't for the casual gardener or the faint of heart.
They are demanding and unforgiving, and they require a level of knowledge that I don't have and a level of dedication I'm not prepared to invest.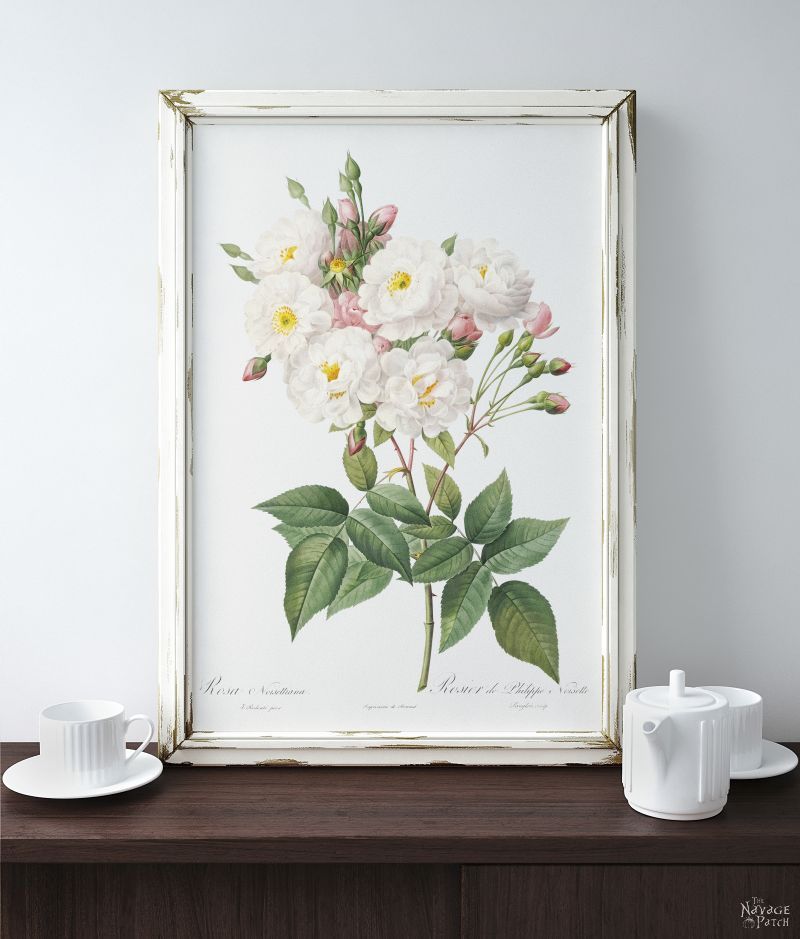 So when I look at the beautiful vintage rose illustrations we're offering you today, I am awed by their perfection. Such specimens in nature would be a sight to behold!
I know there are people out there who can grow roses like these, and I salute them! However, I shall never be one of them.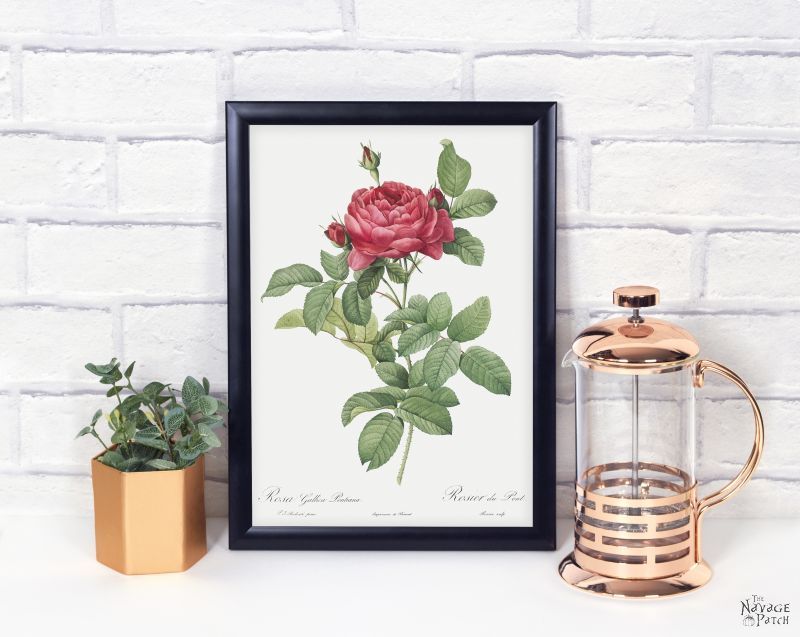 So for all those like me who can turn a rose into a stick, we must content ourselves with these gorgeous vintage rose illustrations and leave the real roses to those with a clue!
Happy printing!
We love to see our printables out in the wild! If you display our free printables in your home or use our free SVGs in your projects, and take a picture and post it on Instagram, be sure to tag us @TheNavagePatch!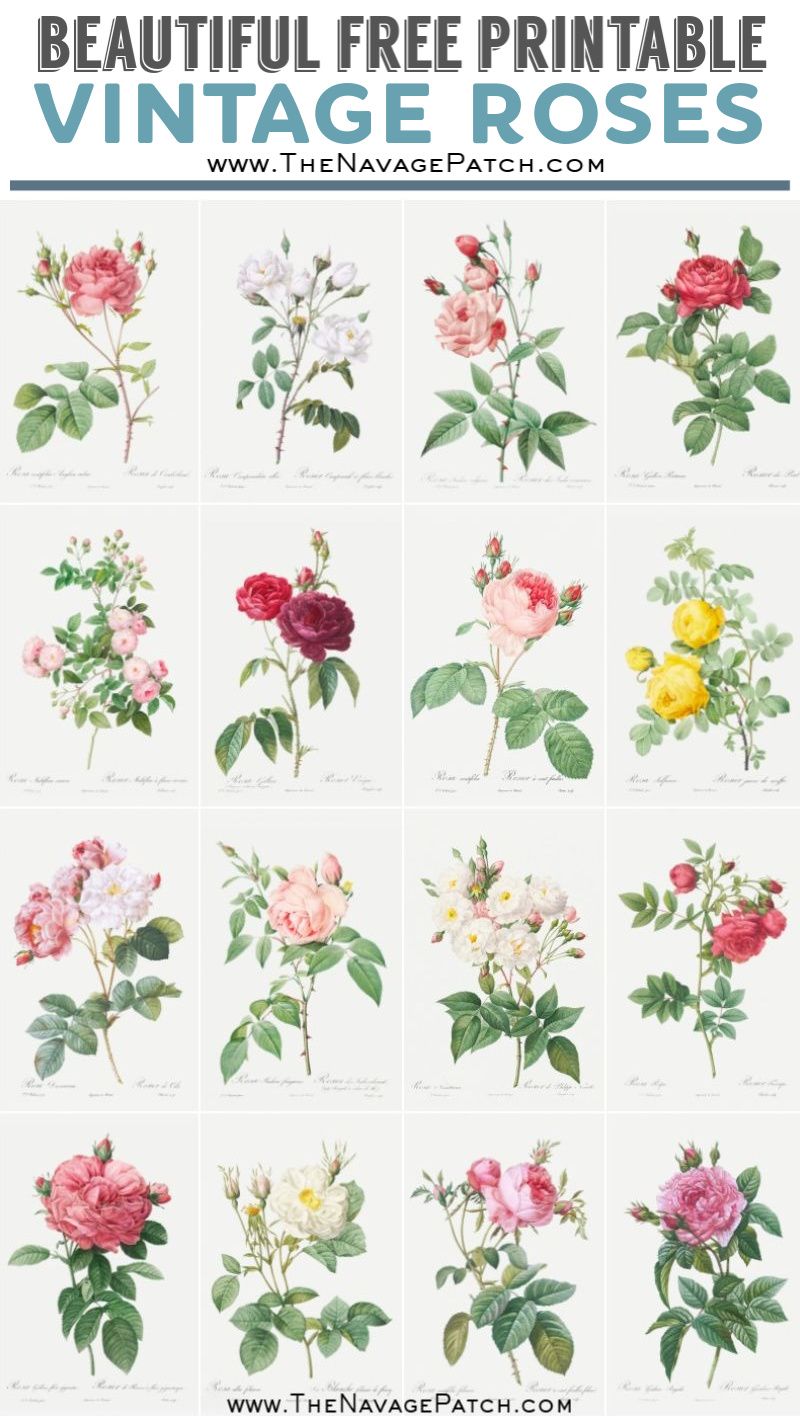 Free Printable Vintage Rose Illustrations
As usual, here's some information on these free printable vintage rose illustrations: we designed today's free vintage botanical prints in three sizes: 8.5×11 inch, 16×20 inch and 24×36 inch. The 8.5×11 inch printables are PDFs, so they are not scalable. But the 16×20 inch and 24×36 inch printables are JPGs, so you can scale them up or down as necessary. 24×36 inch scales down easily to 20×30 / 16×24 / 12×18 / 8×12 / 4×6 inches, and 16×20 inch scales down to 12×15 / 8×10 / 4×5 inches with no problems. If you need help with scaling down these printables so you can print them on your home printer, then make sure you check out Handan's "How To Easily Resize Pictures" post.
Now it's time to click on the button below to download today's free printable vintage rose illustrations – you'll find them under the Vintage Illustrations section of The VIP Patch.
take me to your
amazing freebies library
If you're not a Navage Patch VIP, you won't be able to access our Freebies Library. But that can be easily fixed! Subscribe for free on the form below and become a Navage Patch VIP. Once you subscribe, a password will be sent to you in our Welcome email, and that will give you access to The VIP Patch [Freebies Library].
Share it on Pinterest & Facebook!