Garage and Workshop Makeover Plan
At long last, it's time to take on the beast attached to our house. In this garage makeover plan I'll show you what we have in mind.
We're almost a year into our Emerald Coast, Florida life, and as far as I'm concerned, I see only one drawback compared to life up North, but it's a doozy.
How on earth are we supposed to live without a basement?
Well, obviously we're still alive, so it's technically possible, but man what a pain!
I guess if you grow up down here, it's just the way life is and always has been – kinda like eating mopane worms is totally normal in Zimbabwe. But for those not from Florida (or Zimbabwe) – damn! It's a tough nut to swallow!
Our previous two homes in Connecticut and then Georgia had open, unfinished basements that were perfect not only for my workshop but for storing any and all craft and DIY supplies and seasonal decor.
And then, Florida – a big house with a big garage…but no basement.
We were screwed. Don't let the photo above fool you. Immediately, we had to rent storage units for the overflow. Even a 3-car garage was no match for our dragon's horde.
But that still left the question of where to put my workshop. A craft room is one thing, but I had some big machines that needed a place to live, and I needed the space to be able to build furniture and cabinets and all those things on the DIY/Home Improvement end of the DIY/Craft blog spectrum. A crafting table might get me through Halloween and Christmas, but I need More Power and More Space to build the other stuff.
Quickly, our garage became clogged with not only all my machines and a few dozen unopened boxes of tools, but the rest of it became littered with an assortment of seasonal craft supplies, still-packed house decor and various other ends and oddities that hadn't yet filtered inside.
Oh, and as for cars? 😂😂😂
Please. We couldn't fit a bicycle in there, let alone a car!
Then, along came Hurricane Ian – or at least the threat of Hurricane Ian. A week before landfall, we were the projected target, and that send my babes and I into a tailspin. We were by no means ready to handle a hurricane. But it spurred us into action – we at least needed to clear 2 of the 3 garage bays to fit my pickup and Handan's Mazda should the worst come to pass.
So we took a weekend and got down to some serious work. This is how the garage looked when we heard about the approaching storm.
There are some unfinished cabinets in there that we bought for the lanai. There's also a whole lotta grout for the dining room brick wall that I swear I'm going to get back to before the month bleeds out. There's some seed straw from my Bermudagrass Extravaganza earlier in the summer. And all the other random things you might (or might not) expect to find in a garage that moonlights as a storage unit.
Here's a look at the far bay – the one earmarked for my workshop. By the way I took this photo while my workshop table was in the driveway, so it wouldn't look more crowded than it already is.
And the worst part – the Wall of Wood that only knows how to grow.
Well, in two days, we whipped that garage into shape – at least, enough to fit the truck and car.
And my "workshop?" Well, let's just say that I wouldn't be getting much work done there.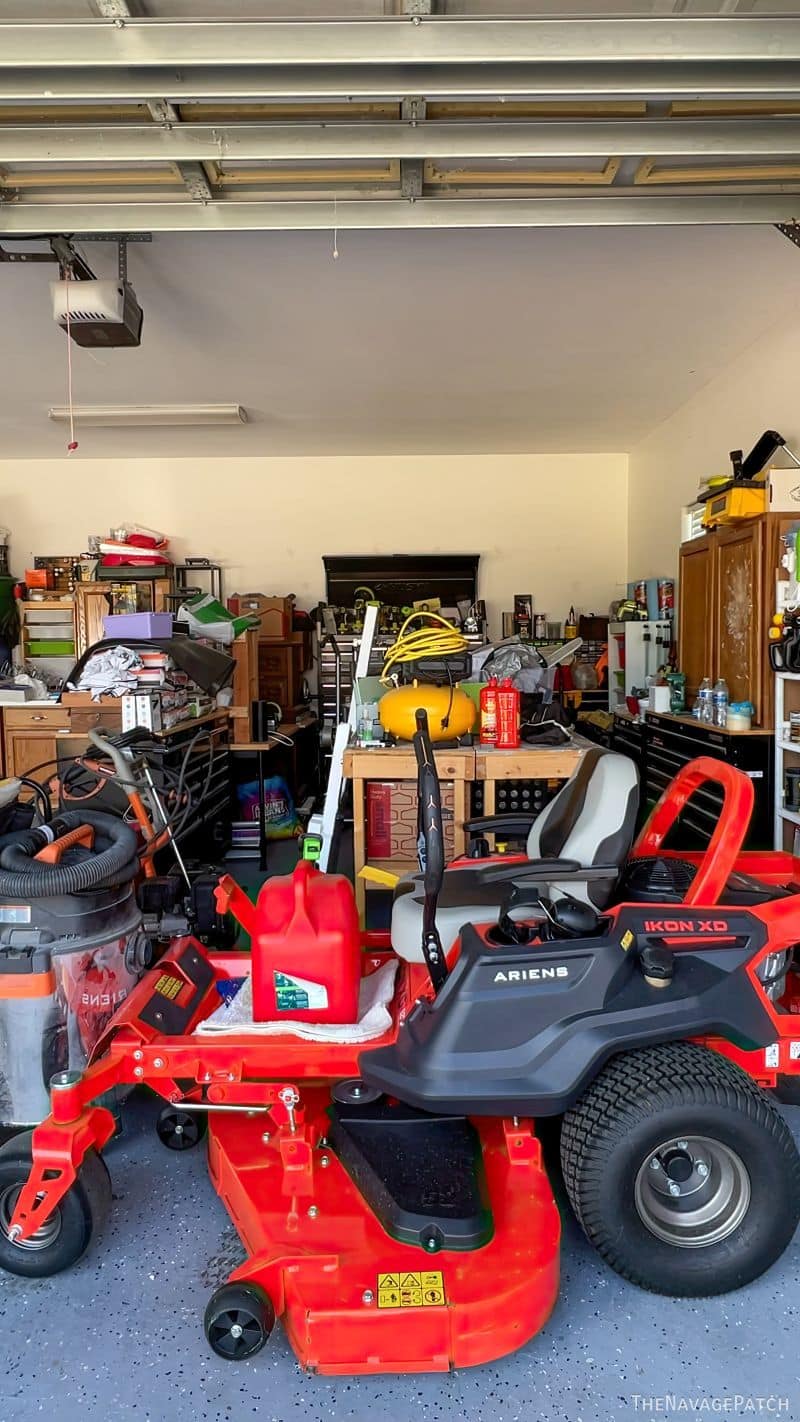 But as I mentioned, the point of the September cleaning was to make room for our cars in case we got a direct hit from Ian.
Well, we didn't, and lest you think we kept the garage as clean as you just saw (you silly goose), along came the Halloween and Christmas crafting season, and those 2 bays filled right back up!
And filled was how it may have stayed were it not for a swift (and much-needed) kick in the pants from no other than HART Tools. They were looking for creators to showcase some of their organization tools specifically for a garage makeover. It's the perfect new year campaign – everyone jumps on the organization bandwagon in January!
We didn't need any more signs from the heavens – it was time. So under the flag of a "garage workshop organization" sponsored by HART Tools, my babes and I embarked on one of the biggest and most grueling makeovers to date. The workshop is only one bay – this garage makeover will ultimately comprise all three bays with a few side projects along the way.
The end result will be a clean and organized garage and workshop with tons of storage that will comfortably house my truck and Handan's car. Oh, and we're also going to move the laundry room into the garage as well! Let's have a look at how all this breaks down.
Garage and Workshop Makeover
Phase 1 – The Workshop
The workshop (aka Bay 3) can be further broken down into the following projects:
Empty, repair and paint the walls
Install wood storage racks
Build and install storage cabinets
Install HART Garage Organization Systems on free wall space
Build a housing for my belt sander so we can put a cabinet on top of it
Build rolling mobile workstations for:

HART 10-inch miter saw
Bosch 12-inch miter saw and Kreg jigs
DeWalt table saw and Bosch router table
Join two rolling tool chests into one larger rolling worktable/tool storage
All of the above (except the back wall cabinetry which will span across Bay 2) must fit in an area 8 feet from the double garage door opening. In other words, the workshop, including all mobile workstations, must fit into the space normally occupied by one car.
Phase 2 – Bays 1 & 2
With the workshop settled, we will turn our attention to Bays 1 and 2.
Back wall cabinetry (spillover from Phase 1)
Move refrigerator and freezer from Bay 1 side wall to the back wall of Bay 2
Build a rolling pull-out cabinet for spray paint storage
Build a housing for the generator – this will allow us to put a cabinet on top of it for more storage space
Phase 3 – Move the laundry room to the garage
This house has laundry hookups in the garage and right inside the house when entering the garage. The original hookups – the ones built when they built the house – are in the garage. We know this because from the garage, the dryer vents outside the house.
Inside the house, the dryer vents under the stairs leading up to the craft room. We currently have our machines inside the house, but that space will be much better for storage, so we're planning to move the machines back into the garage where they were originally intended to be. There's more than enough space, and after two houses in which we created jaw-dropping laundry rooms destinations (here in CT and here in GA), I'm ready for a simpler (but just as functional) space to wash my Calvins.
Oh, don't get me wrong – we'll make the garage laundry nook look amazing, but the laundry room will no longer have its own zip code and time zone.
Phase 3 probably won't finish until April, as we'll be busy with spring-related projects, but Phases 1 & 2 will be finished lickety-split. My babes and I are so excited to have a clean and clear garage that will not only have a beautiful workshop but that will also hold real actual cars! What a concept!
Follow along as this adventure unfolds.