Call it a laundry room makeover or a renovation – this project was massive and took way too long, but it was soooo worth it in the end!
Some things were just meant to be together.
To deny their pairing would cause disharmony, and the world would be just slightly out of balance.
I imagine the world was a little off before Marcellus Edson invented peanut butter (no, it wasn't George Washington Carver as you may have learned in grade school), but then some intrepid soul paired it with jelly between two slices of fresh bread, and balance was restored.
I shudder to think of the time before ice was readily available, when British sailors had to drink gin straight up and warm from a cask. Those must have been grim voyages into the heart of Africa. I don't know what's worse – malaria or warm gin. Blech!
And think of a universe where Handan and Greg remained on opposite sides of the Earth, their paths never crossing because one or the other chickened out and didn't respond to that first tenuous electronic connection made just over ten years ago.
There was also an unbalance in our house – a pairing denied – that we only discovered when we embarked upon our laundry room renovation project. When the union was allowed (at last!) after 20 years, the window that had been framed-but-never-installed brought light and warmth into the darkest and bleakest corner of our home.
Do you remember how our laundry room / mudroom looked before the project? Bear in mind, I cleaned that counter over the machines before I took this picture. It never looked that good in real life! The room was dark, and the ceiling light cast a sickly yellow pall over all who entered. Handan totally hated it, and she'd find any excuse not to be in there. It was bad enough that she had to walk through it twice a day on her way to and from work!
We tore out walls, we ripped up the floor and laid a new one, we installed a pocket door, we rerouted the plumbing, we built custom cabinets, we put up faux brick and painted, and we did the greatest thing of all – we installed a window where one should have been in the first place. It was already framed and waiting when we tore down the drywall!
After all of our work throughout all of those months, Handan and I are proud to present to you our completed laundry room renovation!
But first, be sure to follow us on Pinterest, Facebook and Instagram, and also sign up for our email list (by clicking the subscribe button above), so you'll never miss a post!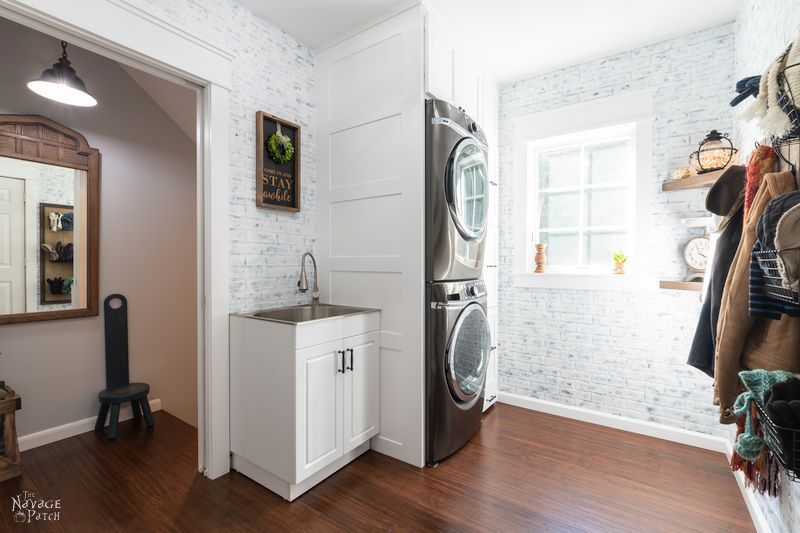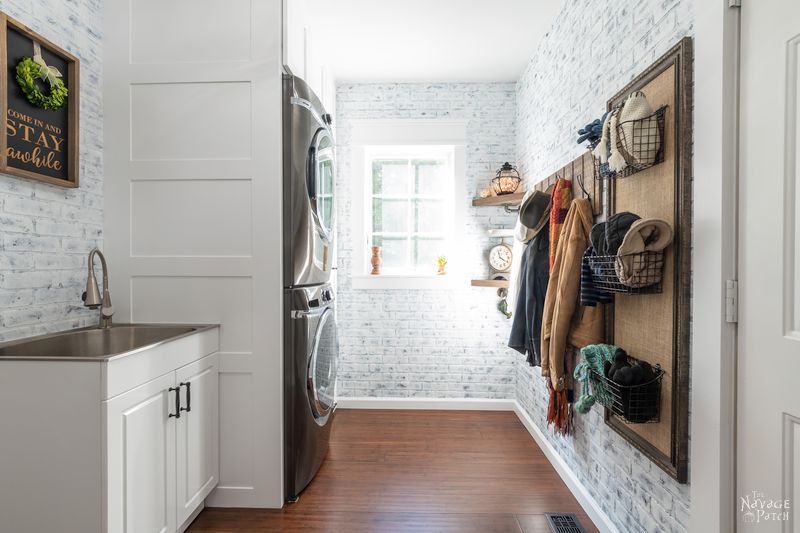 It's hard to believe it's the same room!
Let's have a closer look at all of the elements that we brought together for this renovation. The complete source list will be at the end of the post.
The Floor
Though our original thought was to install some sort of laminate flooring, the moment Handan and I saw the Cali Bamboo flooring display, we knew it was the one we had to have. And we love the way it looks and feels, make no mistake, but let's get real here. Though Cali Bamboo claims this stuff is like a gazillion times harder than oak, it still scratches (yes, we've I've already scratched it while trying to slide the cabinets in place without any sliders). There's not a wood floor out there (or wood composite, for that matter) that doesn't scratch. It's a fact of wood floor life, and you can either accept it or go buy some groovy linoleum that won't get your knickers in a bunch if it gets scratched. I suppose you could walk around in socks, declaw your pets and forbid anything from touching the floor, but then everyone will think you're batty, and they won't ever want to visit. Your pets won't be happy either.
The Walls
Whenever we do a room makeover or renovation, there are always elements we incorporate that have been on Handan's wish list. You'll often hear me saying (or read me writing) that "Handan always wanted so-and-so, and now she has it!"
Well, Handan has always wanted a faux (or real, I suppose) brick wall that she could whitewash.
And now she has it! Huzzah!
Installing these panels couldn't be simpler. Just squeeze on a little paneling adhesive, place them on the wall, and tack them in place with brad nails or finish nails. Once painted they look amazing!
The Pocket Door
This is the second pocket door we've installed, and if I could, I'd install even more! They are perfect space-savers, and they give a clean look to any room. We bought beautiful locking hardware with an oil-rubbed bronze finish to match all the other hardware in the room.
The Door and Window Trim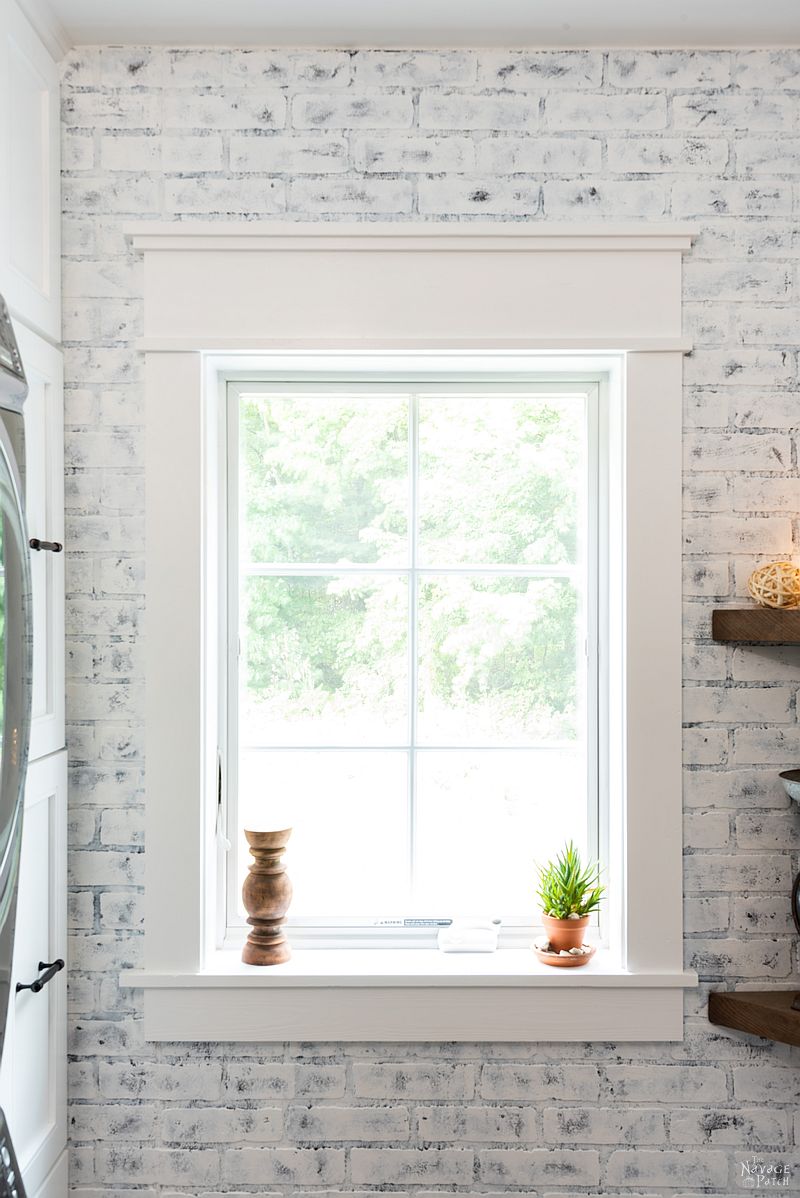 Handan has always loved and wanted Craftsman-style door and window trim (see, I told you I write that a lot), and guess what?
Now she has it! (I told you…)
Also, Huzzah!
I came up with the design based on some examples Handan showed me online. They are simple to build using 1×6, 1×4 and 1×2 pine boards from Home Depot or Lowe's. Soon, we'll be installing them around the rest of the house, so I'll do a proper tutorial at that time with cut sheets and more pictures of the process.
The Utility Sink
After eyeballing dozens of utility sinks in the $500+ range, we decided to keep it simple (stupid) and go for a cheap Hampton Bay model from Home Depot. It looks almost as nice as the expensive ones, but it's a fraction of the cost. Handan loves the fact that the faucet has a hose attachment. Not sure what we'll use it for, but if it makes her happy, it makes me happy. Let's hear it for the hose!
Huzzah!
We swapped out the door pulls with ones that match cabinets I built.
Inside the cabinet…
…we added a little garbage can upcycled from a dump-found lantern for dryer sheets and lint. It's held in place by two small screws.
The Washer/Dryer Enclosure and Cabinet
This was the hardest part of the project, as every square inch was custom-designed and built. I had such a small space to work with that every fraction of an inch counted, and I had to redesign the whole thing several times before getting it just right. The cabinet was a months-long thorn in my side, and I was just about the happiest guy alive when I finished them. And as usual, all that hard work and aggravation were worth it to see Handan's smile at the end!
It was always Handan's wish to get the dog food bowls out of the kitchen. Wish granted!
Huzzah!
Along with dog food storage, we're using the side cabinet to store our laundry detergent and fabric softener – but not in the way you may imagine. Handan found an inexpensive mason jar drink dispenser set on Amazon, and it's perfect for the detergent and softener.
The Mudroom Organizer and Upcycled Coat Rack
Our DIY mudroom organizer was born from a much older project that Handan had hanging in our main entrance for years before The Navage Patch was born. She wanted to upcycle it by removing the artwork and adding baskets for hat and glove storage. The only problem was that it was a little too small, and since we built it so long ago, we didn't have any pictures. What to do?
You guessed it! Send the grunting ape into the basement to build another one.
Oh, by the way, I meant me, in case there was some confusion about who the grunting ape was…
Oh crap, she heard me…RUN!
Anyway, we ended up with a pretty sweet storage solution for our hats and gloves. As a nod to our renting readers, we attached our mudroom organizer to the wall with Command Picture Hanging Strips. So far, so good! And speaking of those Command Strips, we also used them to hang our upcycled coat rack that I made from an old piece of grooved plywood siding. Though there's more weight on the coat rack, so far it's holding just fine. A lot of people have shown interest in that little rental hack, so I'll be sure to update this post if the Command Strips fail.
DIY Pipe Shelves
This was the project that introduced our new philosophy of Simple Stupid. The world needs more simple stupid, I think. Or maybe that's exactly what it doesn't need. Who knows? Not me. I know nuthin'!
Handan has it decorated with a vintage scale-shaped table clock and a lantern we found at the dump. We bought the fish padlock in Afghanistan, but Amazon sells the exact same thing. And we thought we were buying some rare treasure of Central Asia!  😆 There's a moron born every minute, but I'm pretty sure it took more than a minute for this moron to be born!
Here is a before and after of the dump-found lantern. What a difference, right? I remember when we brought that filthy thing back from the dump. Handan told me she wanted to clean the glass, and I was like, "Pffft, that's amber glass! You can't clean that!"
She looked at me like I had just plopped out of the backside of a goat and then informed me it was just dirty.
I told her she was battier than a loon. Or maybe I told her she was loonier than a bat. I don't know. My point is, the woman was nuts to think she could clean that filthy thing.
Aaaaand then she cleaned it in soap and water and gave me that look again. That look. The one that made me feel dumber than a mound of moldy cream cheese.
Well, how the heck was I supposed to know that it was just dirt? I don't know nuthin'!
The Arched Mirror
By installing the pocket door and extending the flooring into the basement stair landing, we effectively annexed that area into the laundry room. The arched mirror that now hangs there makes the whole space appear bigger. But don't worry! It won't make you look bigger! I hung it in just such a way that women look smaller, men look beefier and the room looks bigger. That was a simple project that required nothing more than a little sanding and a tiny bit of stain. Sometimes the simplest solution is the best one.
I built the carboy crate in the corner from new pine and gave it that beautiful weathered look. It's easier than you think, and the results are amazing! It was another one of those Handan's-always-wanted deals. And now she has one!
HUZZAH!
Do you remember that stool? That was one of our first projects of 2018, and in that post, we also give away 6 free printable mandala stencil designs, so go check it out if you haven't already!
The Lights
We replaced the recessed light in the ceiling with a beautiful Kichler light. It came with Edison bulbs that were way too yellow, but Handan found perfect Edison-style LED bulbs on Amazon that have a  temperature of 4000K, which is the softer end of the daylight spectrum. Normally, I wouldn't want daylight bulbs in the house, but they are perfect for the bright and clean laundry room.
In the laundry room annex (formerly known as the basement stair landing), I installed a hanging lamp that we found at the dump and then gave a quick makeover.
Free Laundry Room Printables
Oh, I almost forgot to mention Handan's "Stay Awhile" sign.
You may remember the original one we posted about looked a little different. That black frame didn't look right in this white room, so I made a new frame for it, and now it's perfect in its new place. Head on over to that post, if you'd like the printable.
And speaking of printables, we have a whole bunch of free laundry room printables for you right here! And kindly drop your pants…I promise I won't peek!  😯
Not enough for you? Well how about a beautiful selection of free laundry room vintage patent prints?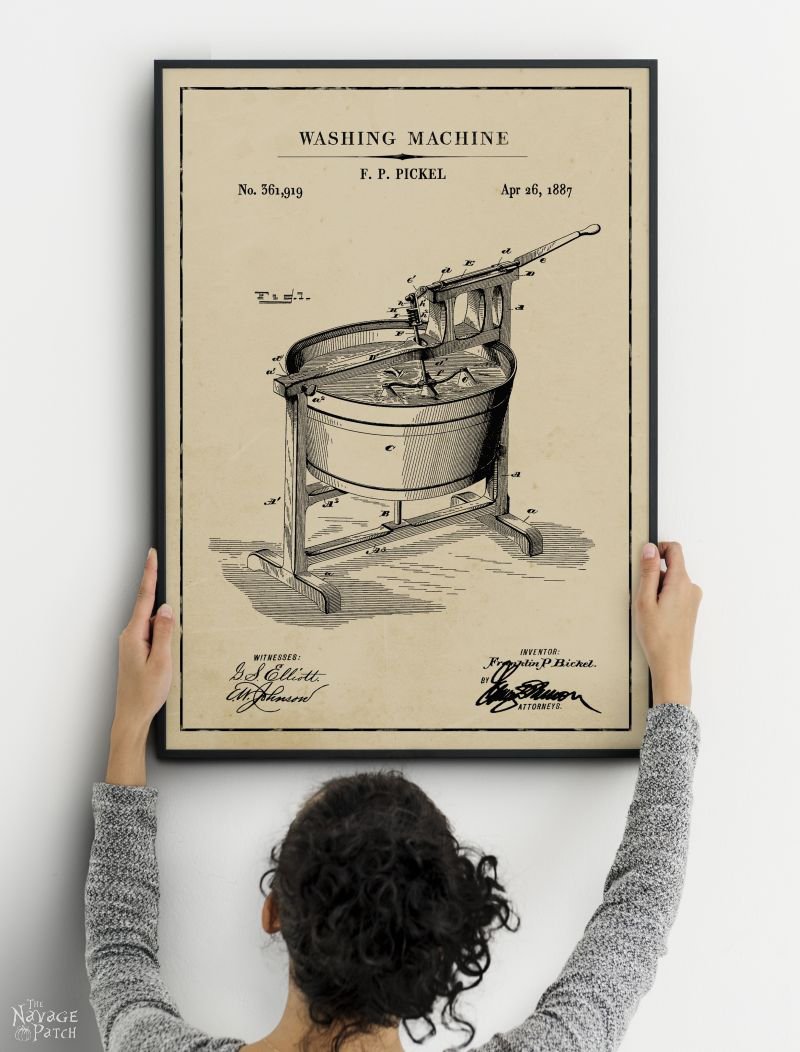 I hope you enjoyed this small tour of our little laundry room.
Do you know that Handan doesn't avoid this room anymore?
Quite the contrary.
Now, she often wanders in for no reason at all except to look at what we've created.
And when she walks back into the kitchen?
She's wearing that smile.
The one I can't live without.
*****
Source List
We love it when you share our posts on Facebook and Pinterest!