Our garage and workshop makeover is in full swing, and with these DIY garage cabinets, we now have tons of useful storage space!
At first, I thought she was nuts.
It wasn't the first time I'd thought my babes was nuttier than a squirrel convention, and it almost certainly won't have been the last.
She has a long history of batty notions, hare-brained schemes and loony ideas that I was always sure would be followed by men in white coats with butterfly nets.
Alas, no men in coats, no butterfly nets, and the most galling thing of all, my babes' ideas almost always worked or at least made sense in the end.
So you can imagine my perplexion (that bordered on apoplexy) when my babes informed San (our fabulous Georgia cabinet guru) that she wanted to keep more than half of the kitchen cabinets we were paying him to remove from the kitchen walls and (presumably) from the house.
Half.
And she wanted me to carry them to the basement.
The basement.
The Georgia basement was already fast approaching "blivet" status, or as my father once explained it to me in the 80s:
Dad: Do you know what a blivet is?
Me: no.
Dad: Ten pounds of shit in a five pound bag! [laughs]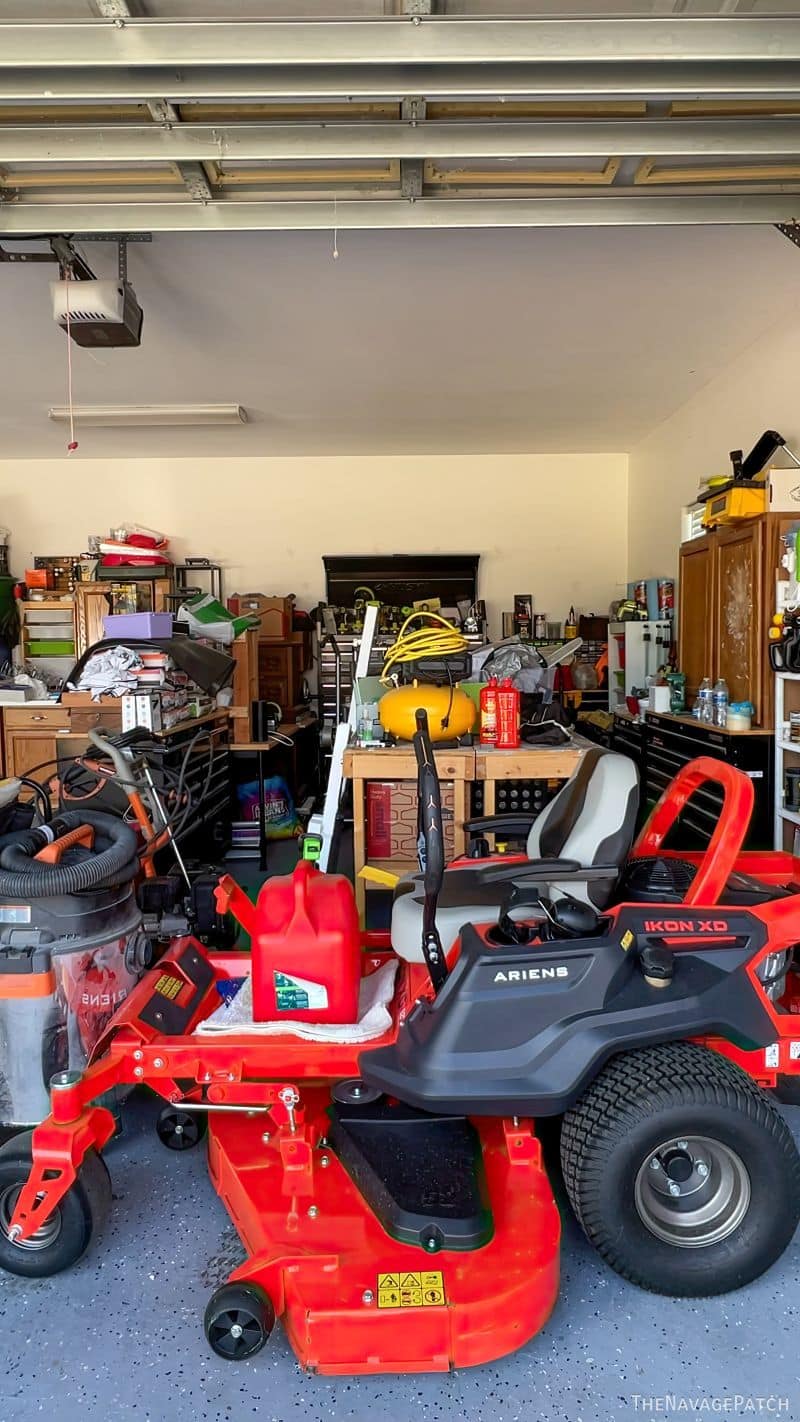 So back to Georgia and the kitchen cabinets. The Loon (aka, my wife), wanted Yours Sufferingly to haul 12 cabinets of various sizes down the stairs and somehow fit them into the general mayhem of the basement.
My protestations fell on deaf ears. She just kept reminding me that cabinets were expensive – even used ones – and that (don't worry), we'd be using them.
Well, to her credit, I did use them. Seven remained in the basement and held paints, stains and other odds and ends.
Then, the summer we moved out, I employed a few more in our Georgia garage mudroom. I used the last two cabinets in the garage locker makeover.
Though I suppose I should have expected it, I was nevertheless surprised and dismayed when my babes informed me we'd be taking those greasy old carcasses with us as we headed south to Florida.
It seemed there was no escaping them.
But (as you all know by now), my babes was right.
Again. (god, it's so annoying!)
For here we are at the precipice of yet another garage makeover, and (wouldn't you know it), all those cabinets have come back into play.
But not just those Georgia cabinets! Oh no! They aren't nearly enough! We had to beef up their numbers with some freebies we found on Facebook Marketplace, and we had to buy some cheap Project Source unfinished cabinets from Lowe's.
Now, before we open up this cabinet of curiosities, let's rewind a bit and look at the first steps of our garage and workshop makeover.
The biggest space-gobbler and eye sore was the scrap wood, plywood and foam that took up almost half of one wall and intruded out into the garage itself. Since there was no other obvious place for storage that wouldn't be encroaching on proposed cabinet real estate, the only place left for wood storage was…up.
Step one was to clear out all that wood and temporarily clog up the back wall with it.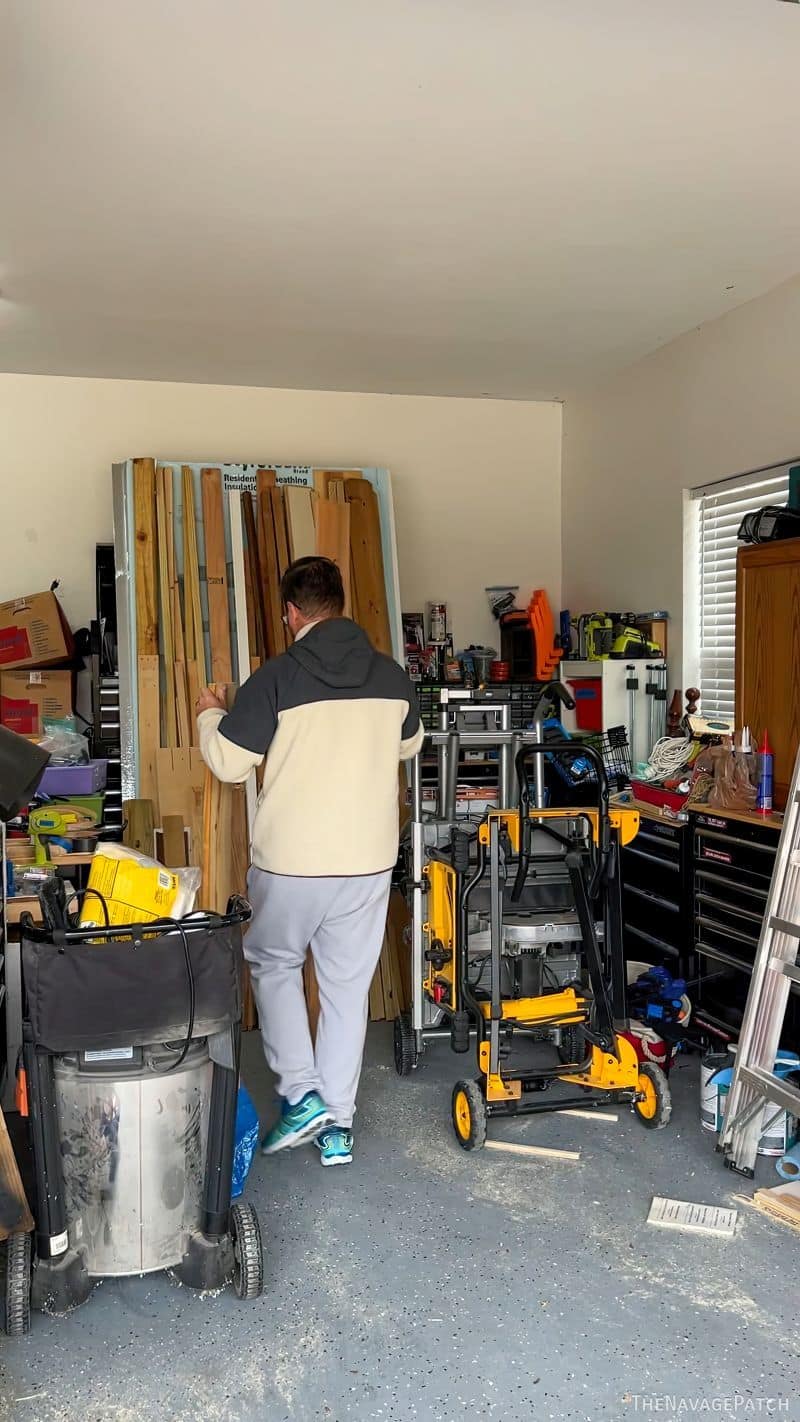 The garage looked better already just by moving all the crap away from the window and door!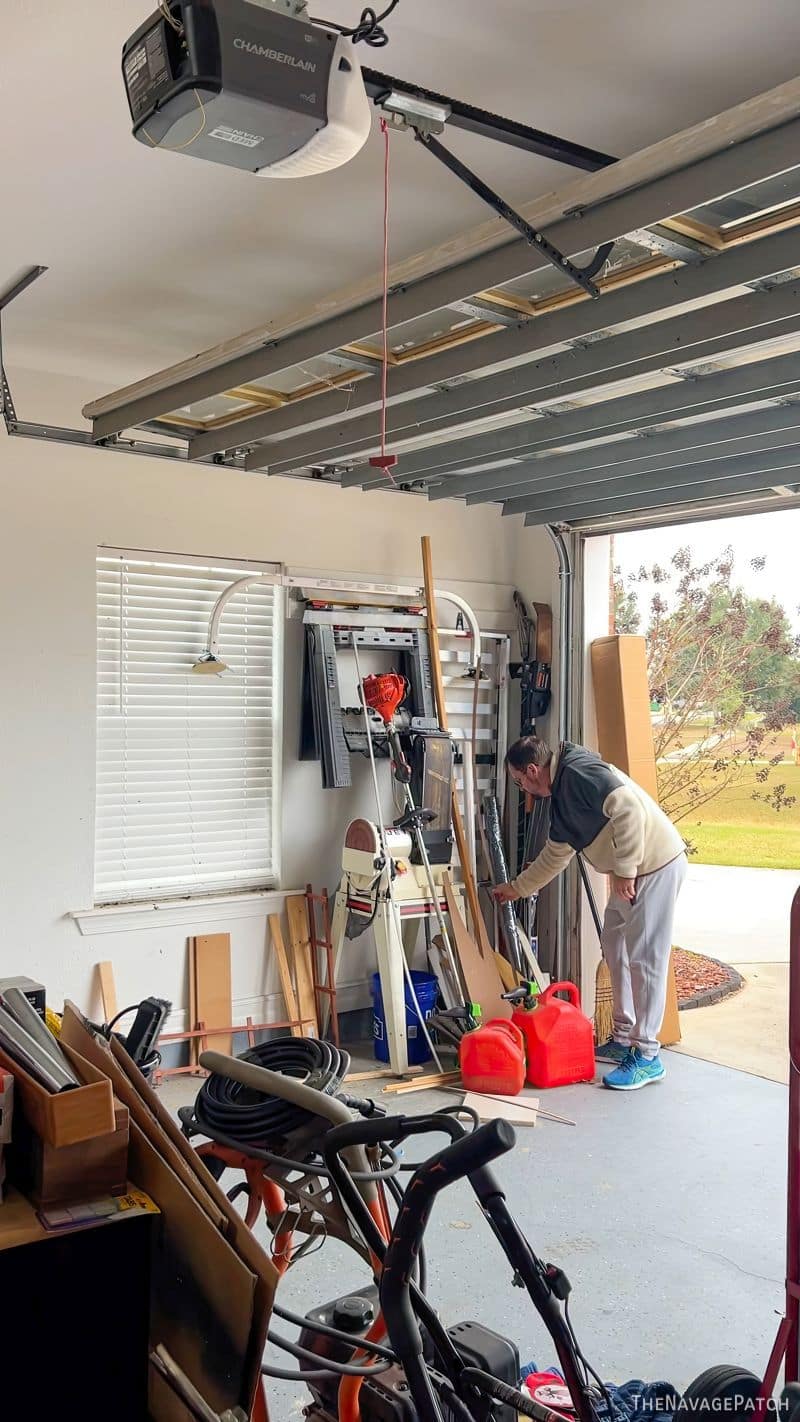 When I'd excavated enough to expose a reasonably large patch of wall, I slapped on two coats of paint. All the painting will need to happen piece-by-piece.
When the paint had dried, I installed a few wood storage racks as high up and out of the way as I could.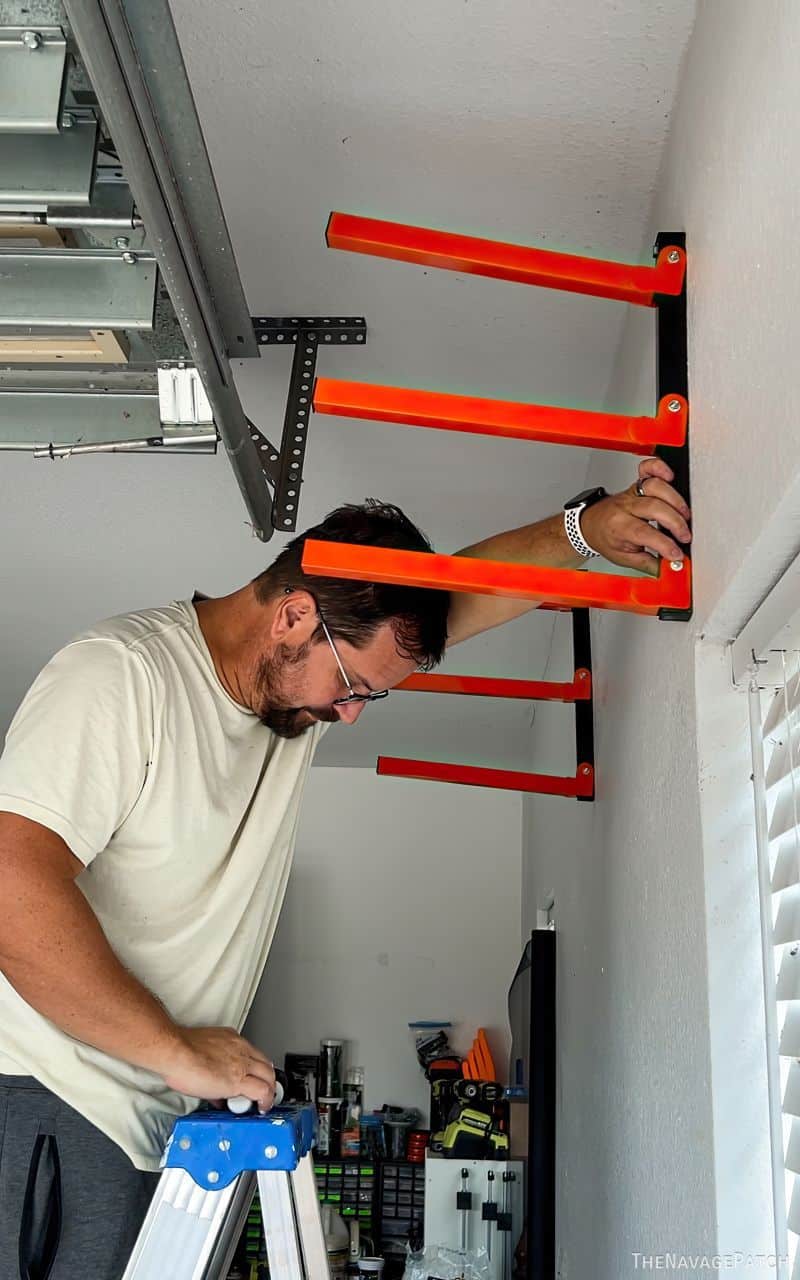 These racks are perfect for clearing the useful scrap off the floor and keeping them out of the way.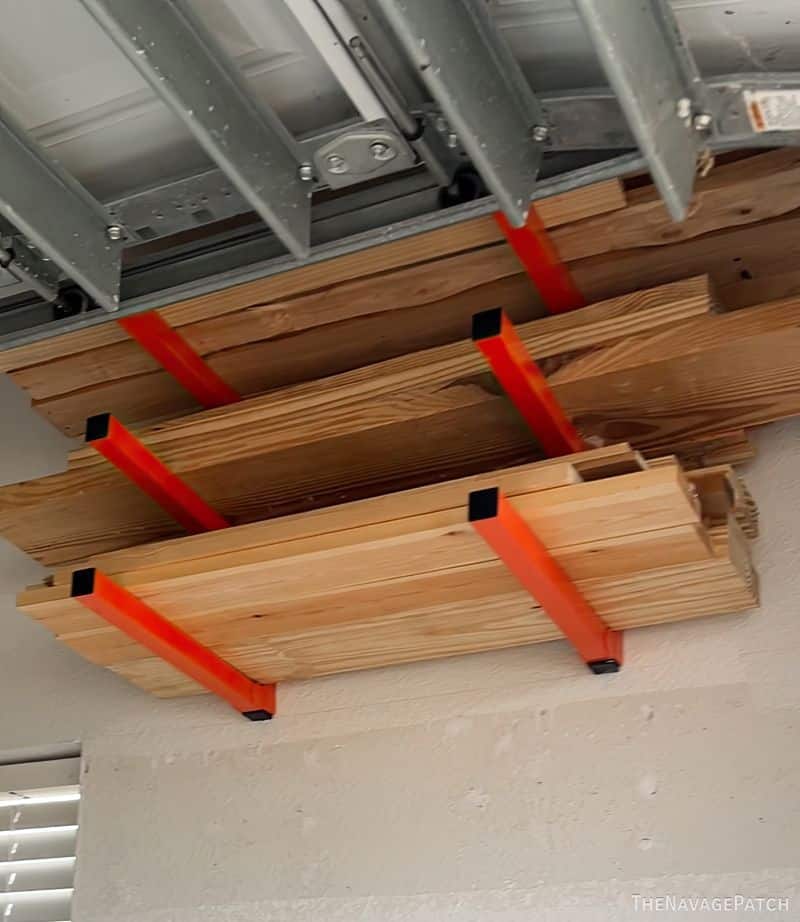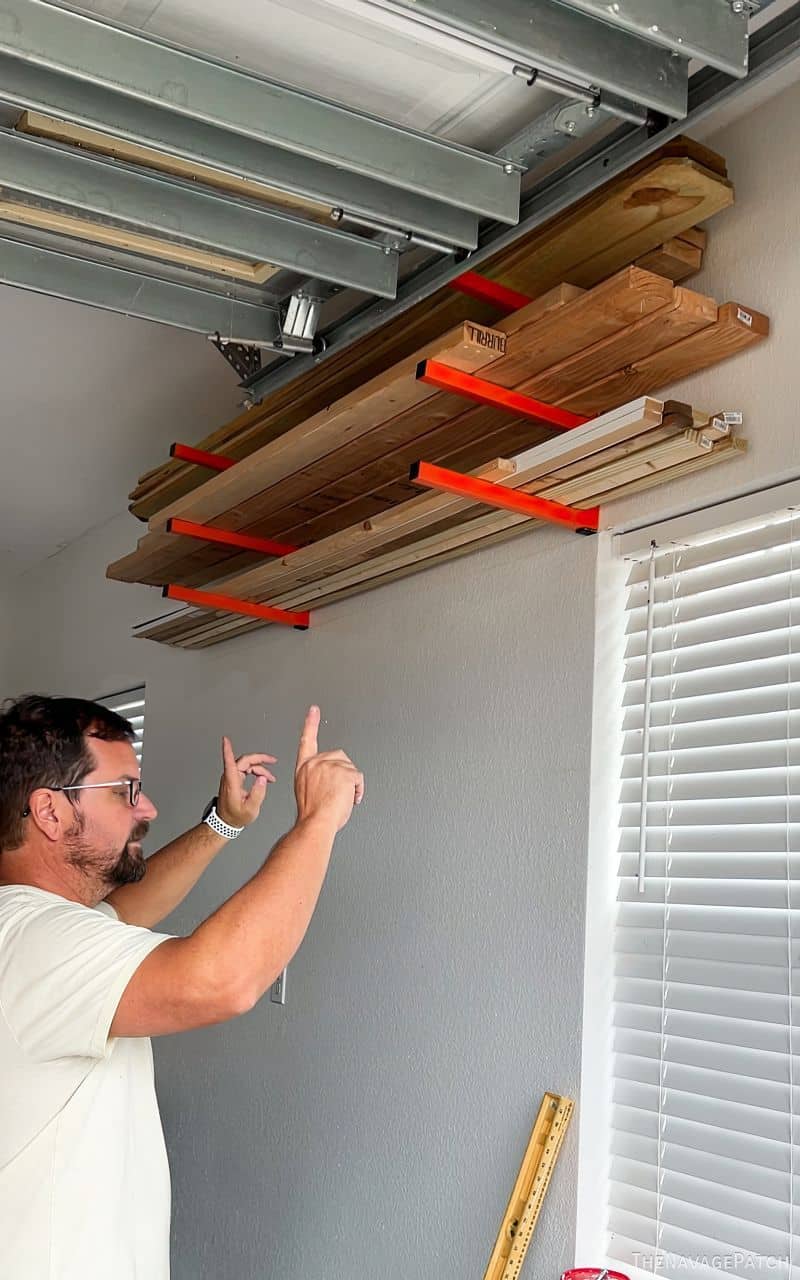 For my first cabinetry trick, I'd be installing these kitchen cabinets we scored for free from a woman in Shalimar who was demoing her kitchen. They may look dated, but these buggers are heavy as heck because they're made from real hardwood, not MDF and composite.
They only needed a little modification, and then they were ready to press into service.
Though they were upper cabinets in their previous home, they'd be shallow base cabinets in their new garage home. I made a countertop from plywood.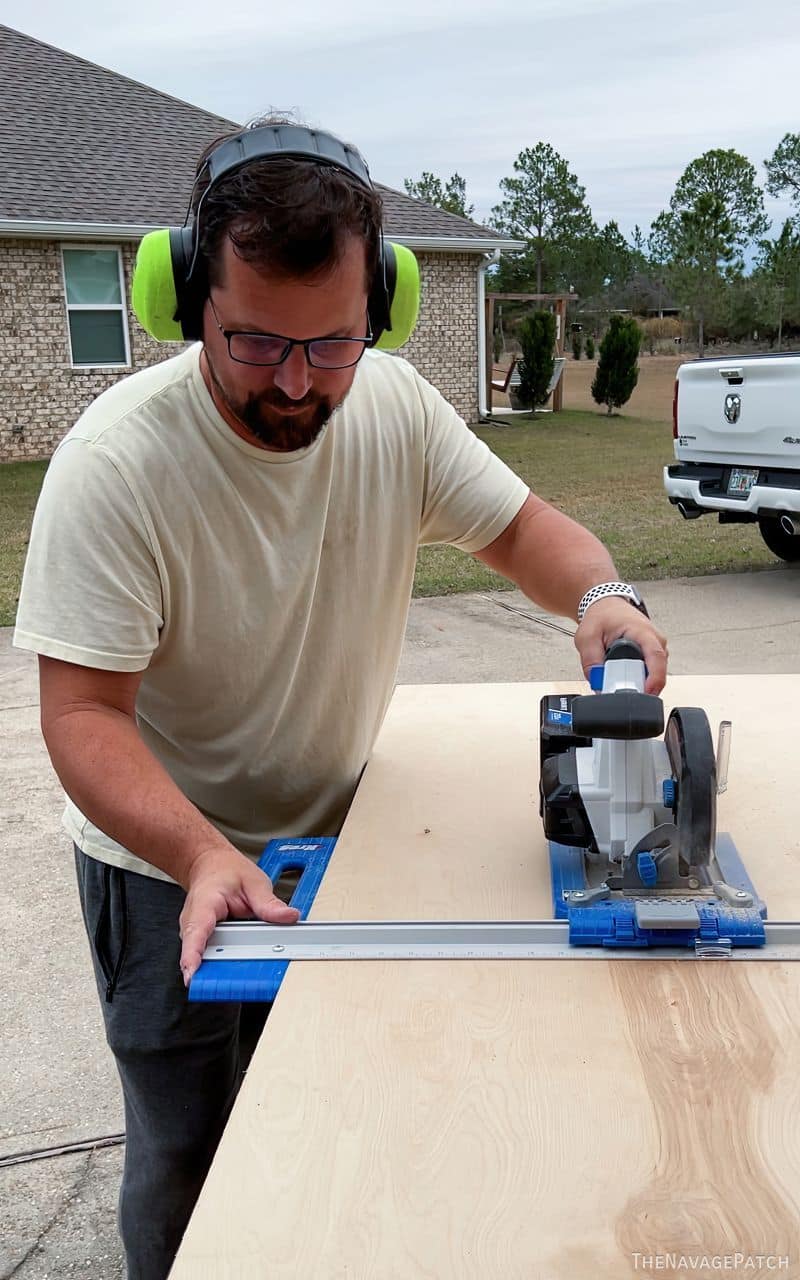 I placed the cabinets where I'd be installing them to see how tall a base I'd need to build to bring the countertop level with the window sill.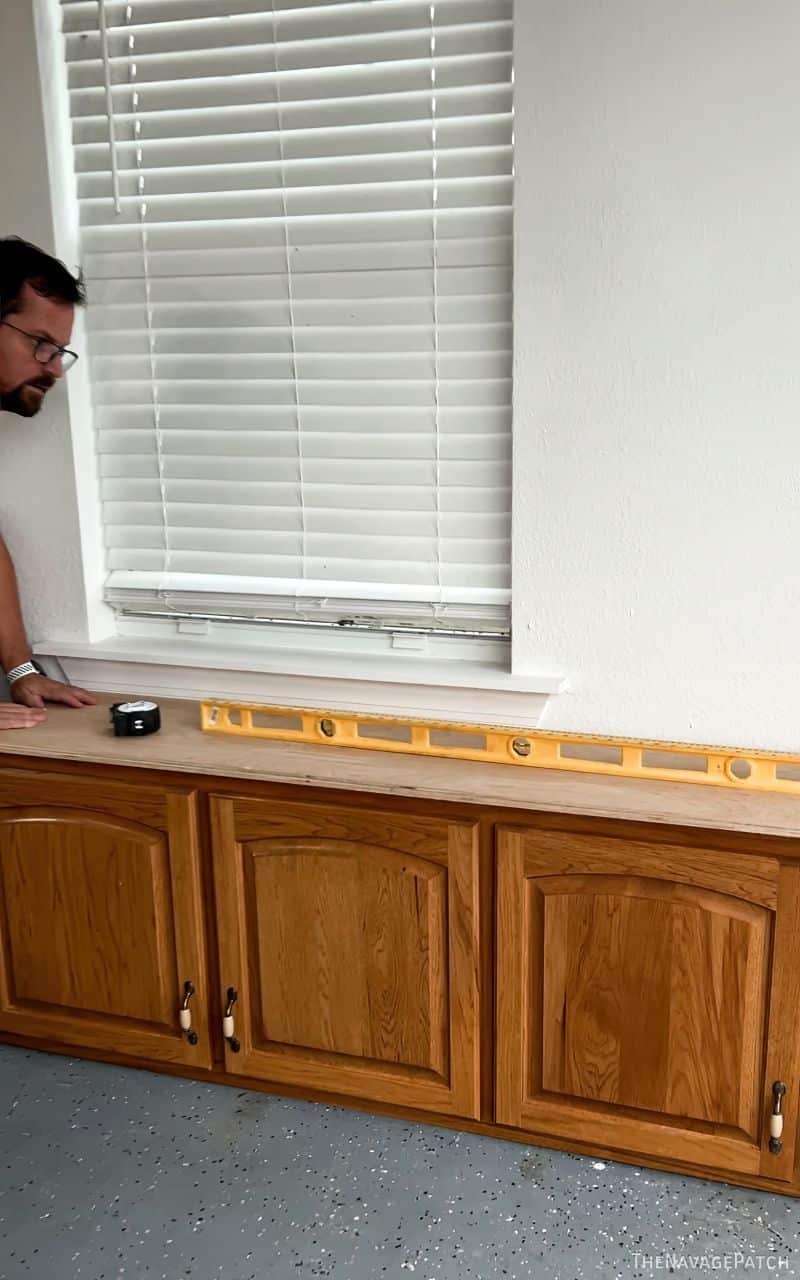 I removed the trim from underneath the window to gain more space for the cabinets.
Darkness was no match for my base-building skills, as Handan and I worked into the night to get the garage makeover rolling.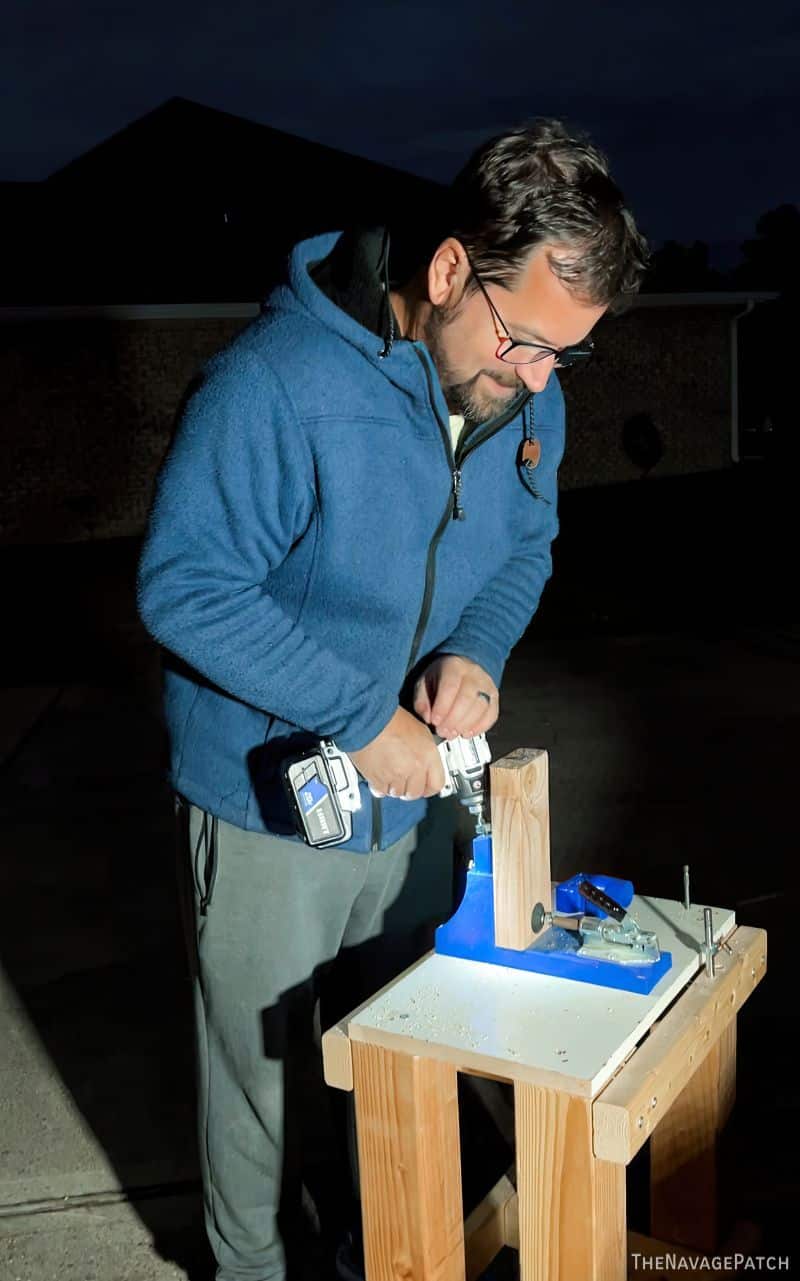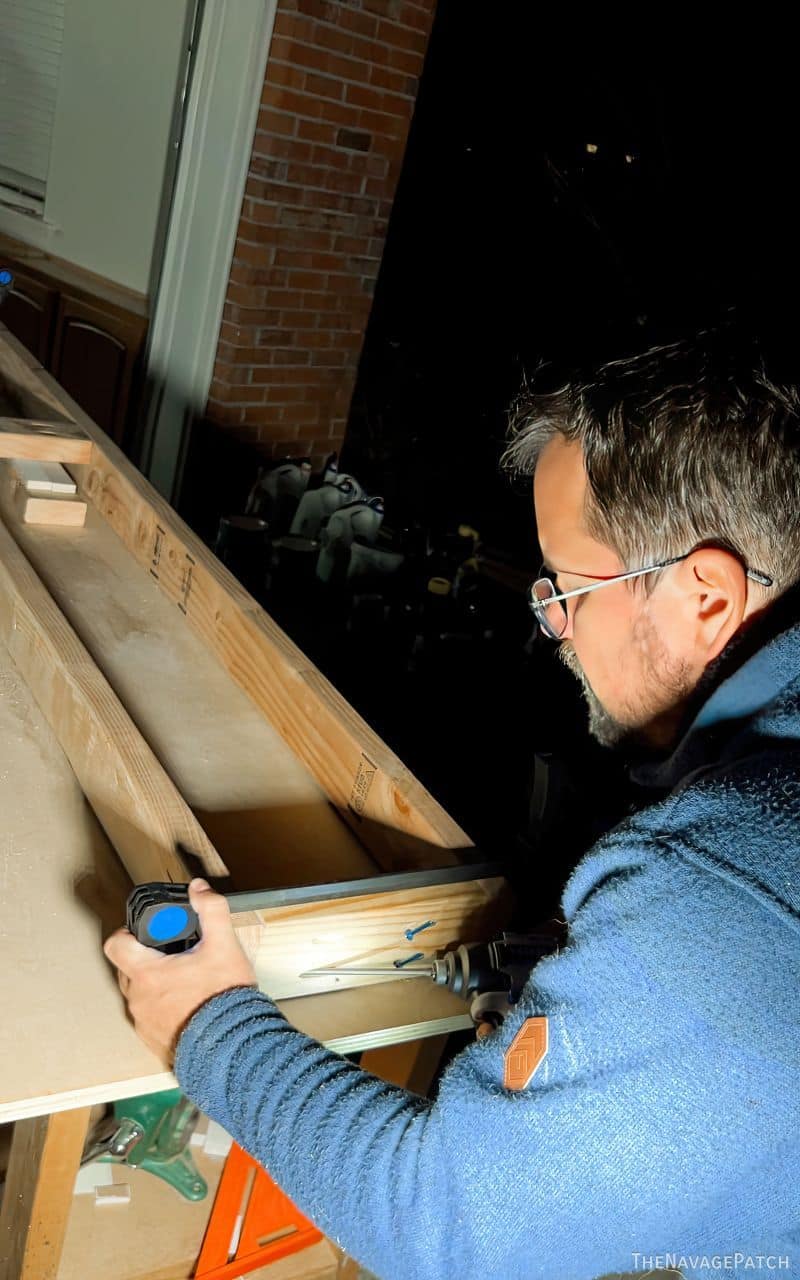 Once the cabinets and countertop were installed under the window, I started in on the next area.
The space between the two windows would get three levels of cabinets – the first level would be four old upper cabinets from Georgia, the middle cubby-cabinets I'd build from plywood, and the upper cabinets would be Project Source unfinished cabinets from Lowe's.
But first, my babes and I installed a garage storage system made by HART Tools above the cabinets I'd just installed. We'd earmarked this little area by the garage bay door to keep some of my most-used items, so I'd always have them at hand.
HART's garage storage system is perfect for any-size garage, though for us it was just one part of a much bigger solution. For some – especially those just starting out in DIY – it may be enough on its own. But for those of us who've been DIYing for years and years and years, a wall-mounted storage system would never be able to handle the tsunami of accumulated crap that comes with the territory.
The storage rails install easily into studs, and the included accessories make hanging your most useful tools a breeze.
This was the first of a few different storage configurations we tried since installing the storage system.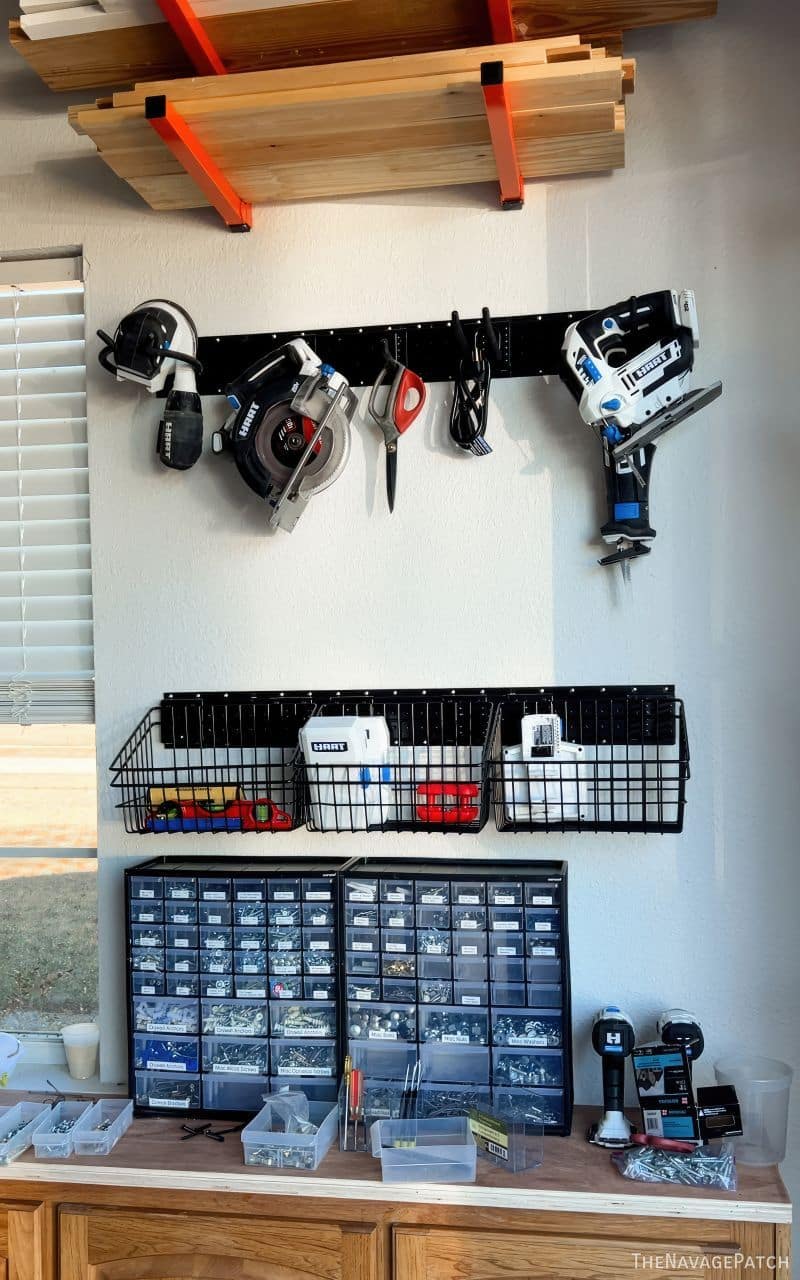 I carried on with the cabinet install between the windows. Before placing upper cabinets, we wanted an open cubby area. This would give more storage raise the upper cabinets to just below the wood storage rack.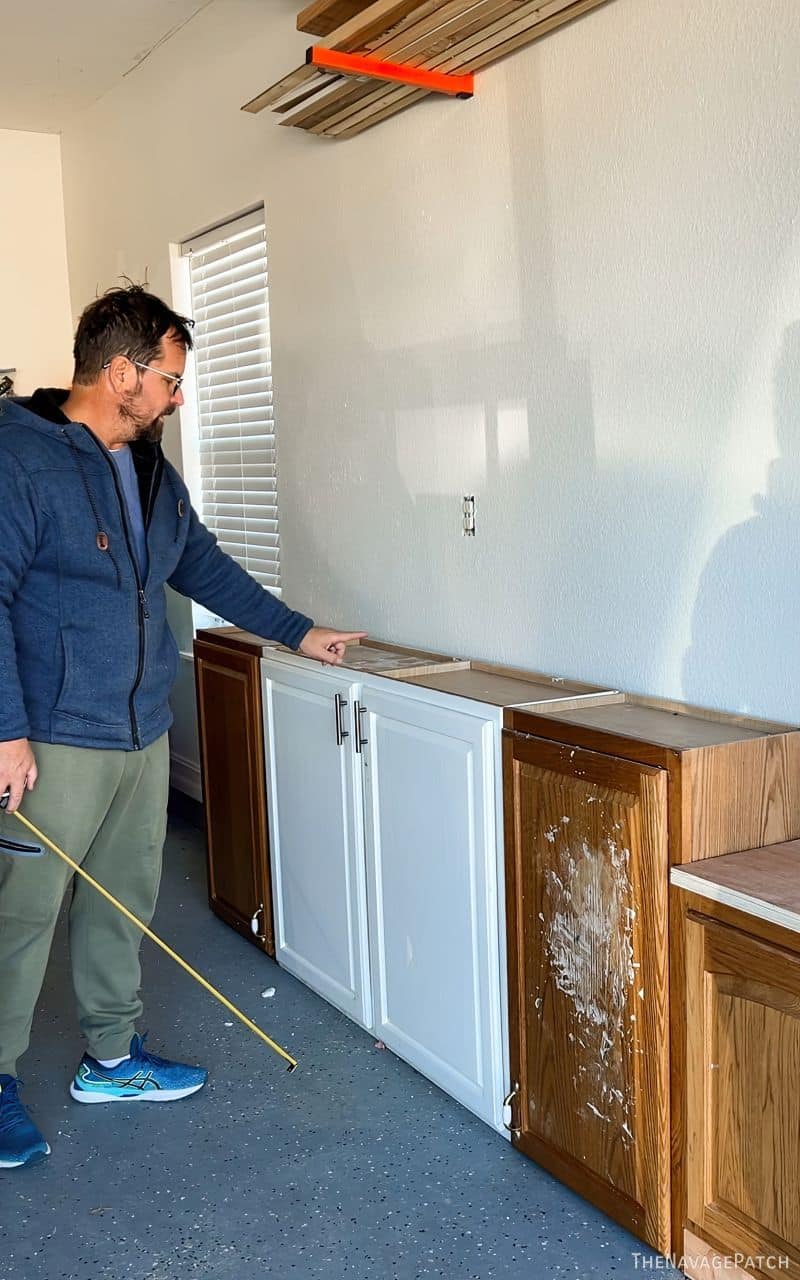 Before installing the cubby, I built a base for the 4 new cabinets, leveled them and then screwed everything together. Penny and Pepper seemed interested but stopped short of offering any useful assistance.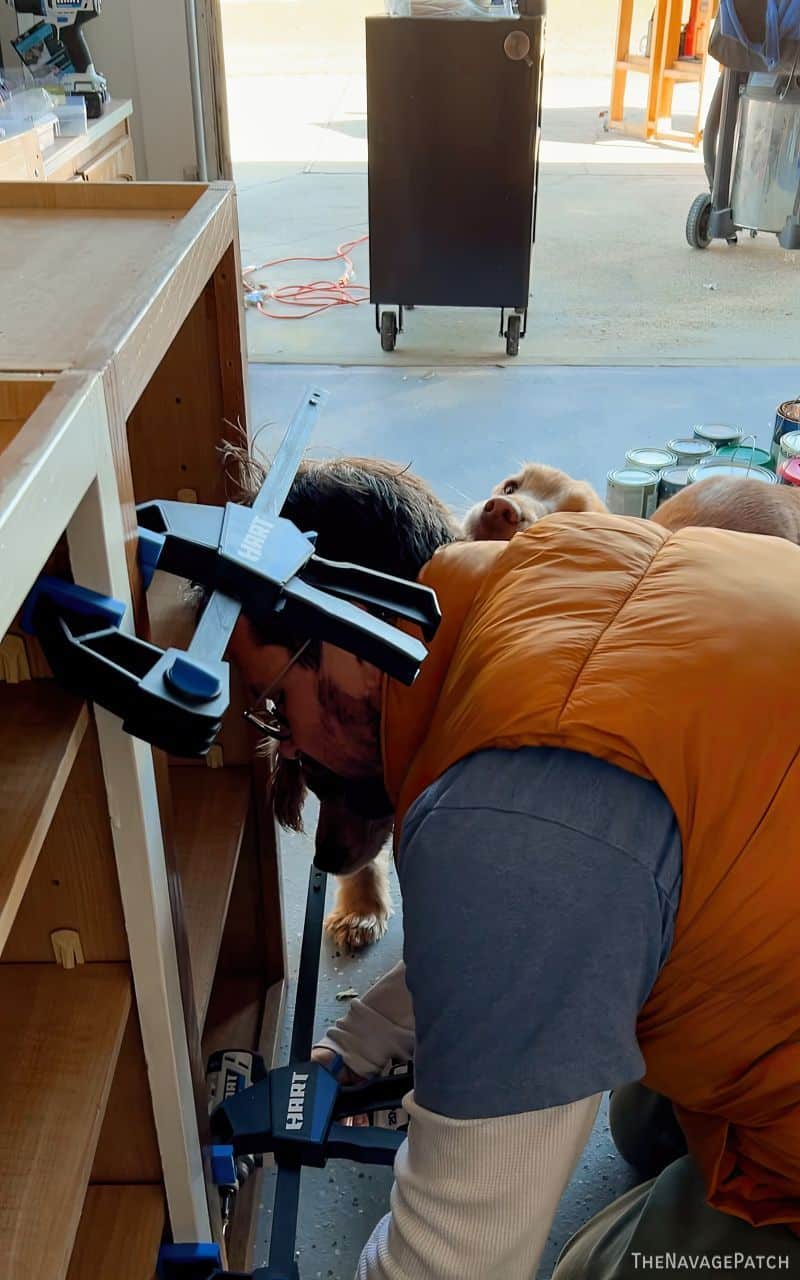 When screwing cabinets together, I clamp them first to make sure they don't shift at the last minute.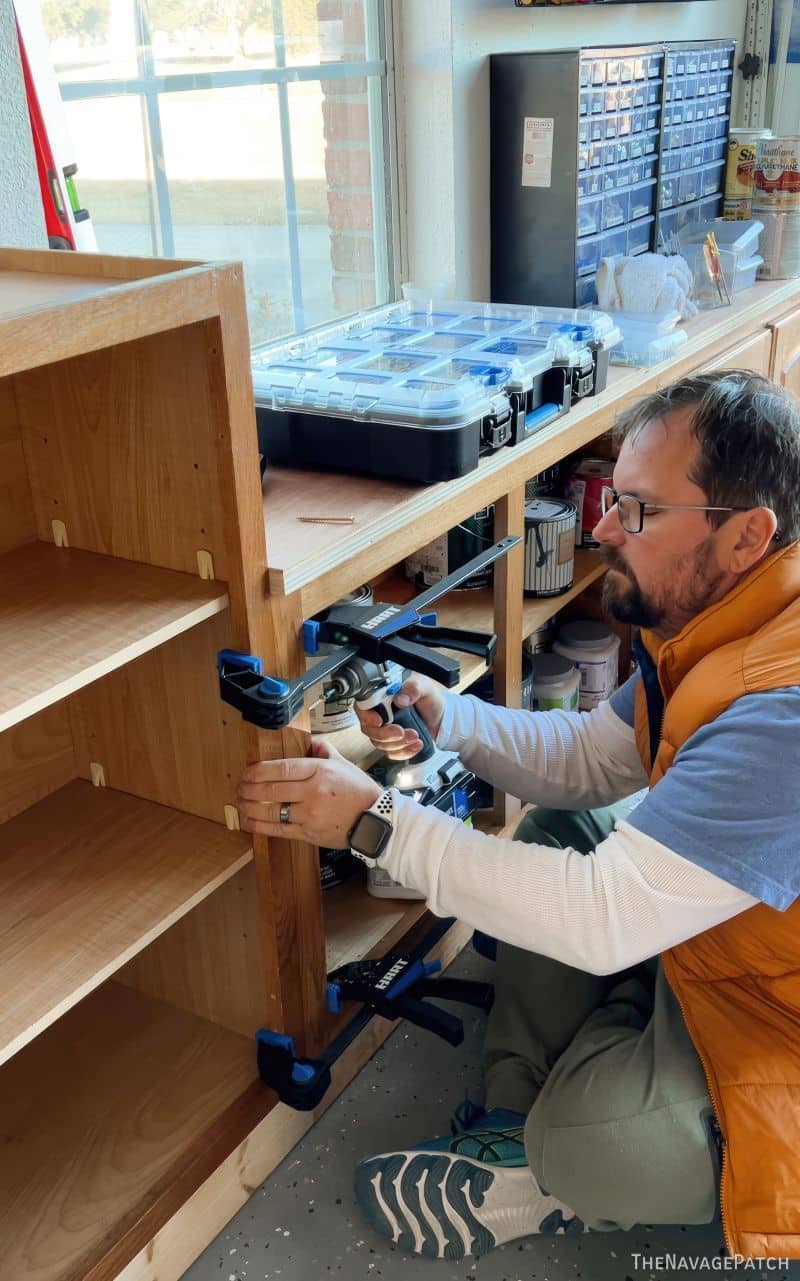 I built the cabinets while my camerababes was elsewhere, but they're simply two long pieces of 3/4 inch plywood with 4 pieces between them all held together by Kreg pocket screws.
I then placed three Project Source unfinished cabinets on top.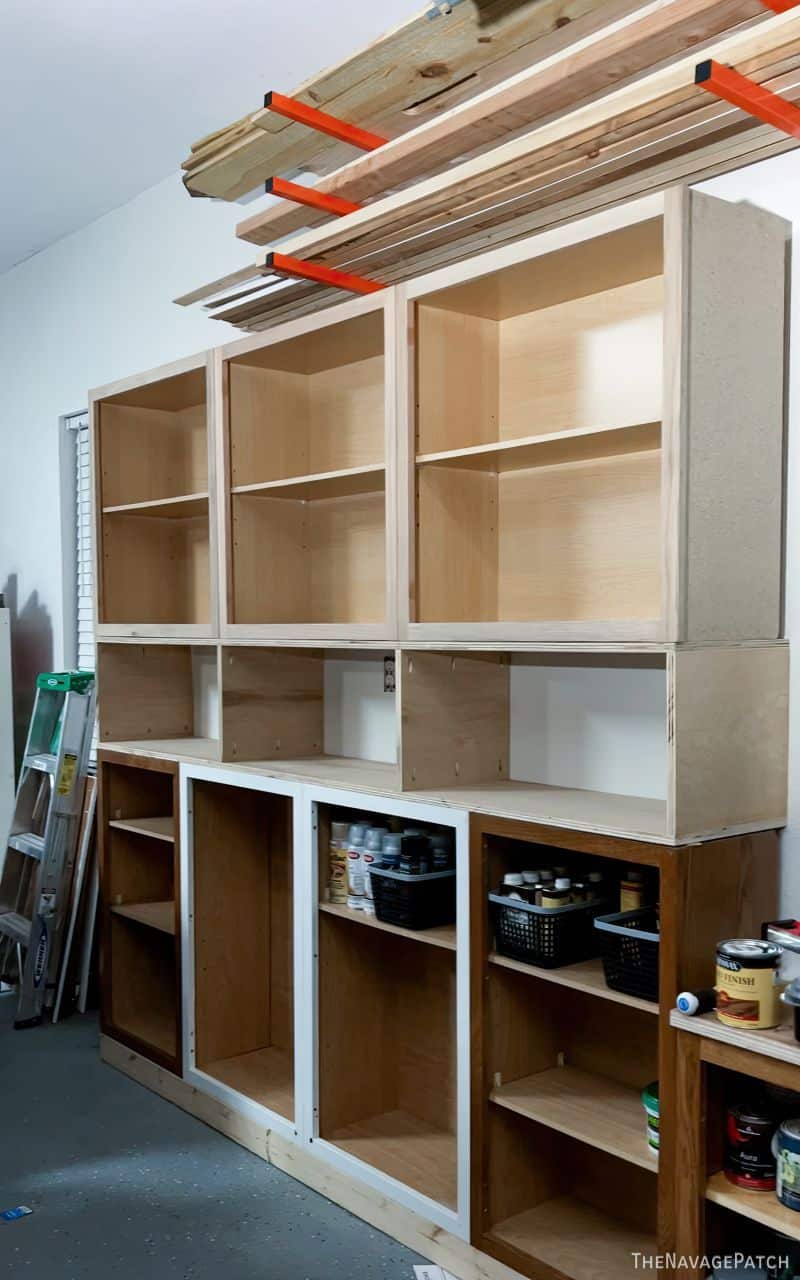 This is Frankenstorage at its finest, and I think it really captures the essence of what it is to be a DIYer.
In addition to screwing all the cabinets together, I also secured the upper cabinets to the wall. These cabinets ain't going anywhere!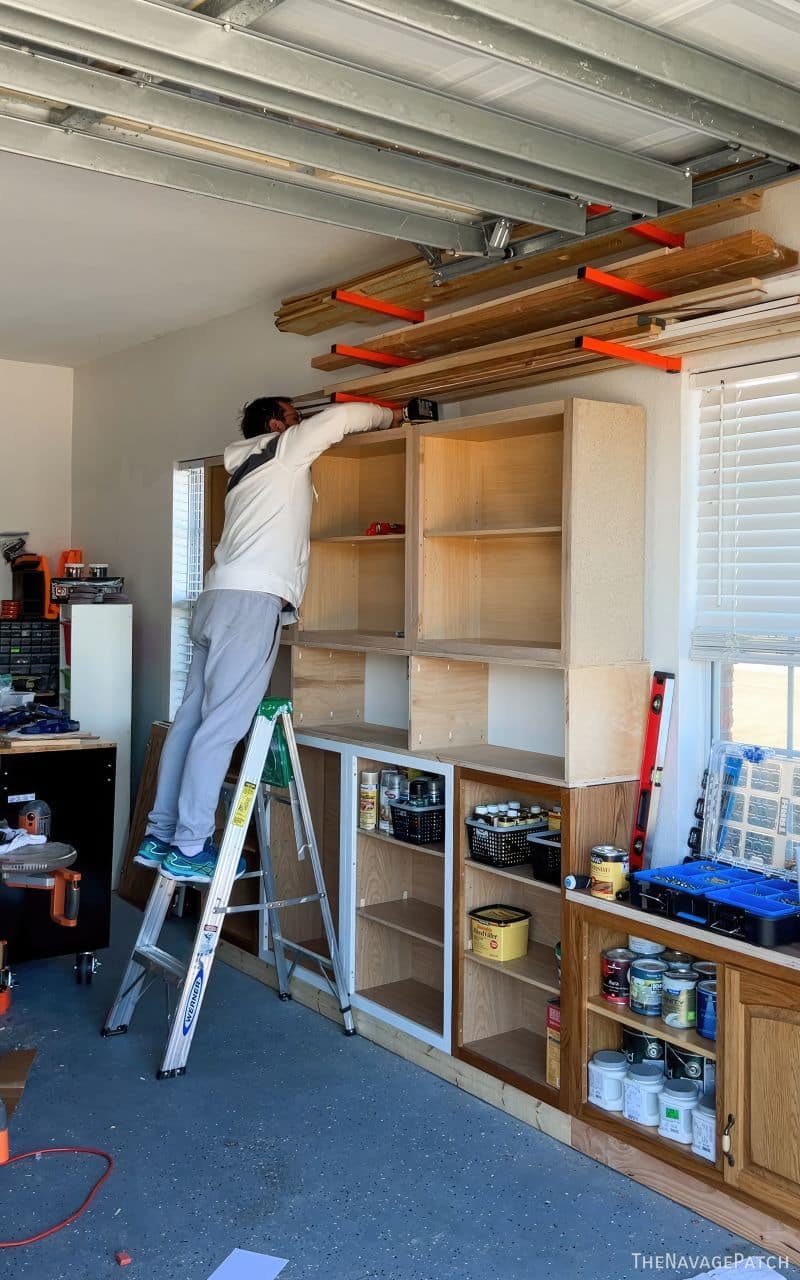 Though this is Frankenstorage, it doesn't have to look like Frankenstein's monster. I used wood filler on all the gaps before painting. Hey, you can't have a true garage mahal if your cabinets have more gaps than my memory.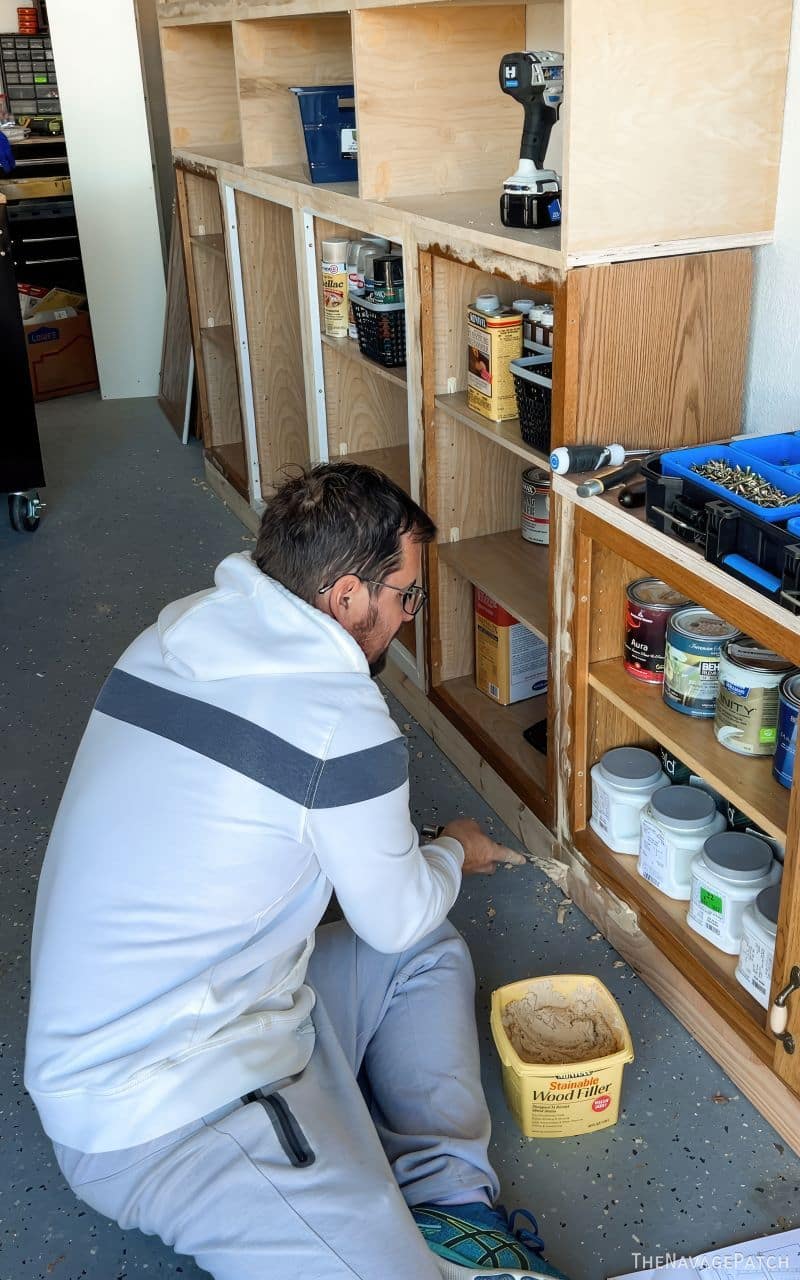 Sanding the wood filler…
I cut some side panels from hardboard. You may have noticed HART Tools in a lot of these shots. I'm switching over to them, as I'm very impressed with their price/performance ratio. This is a brand I'm proud to promote. As with all the other tools I've used, their jigsaw cuts like butter.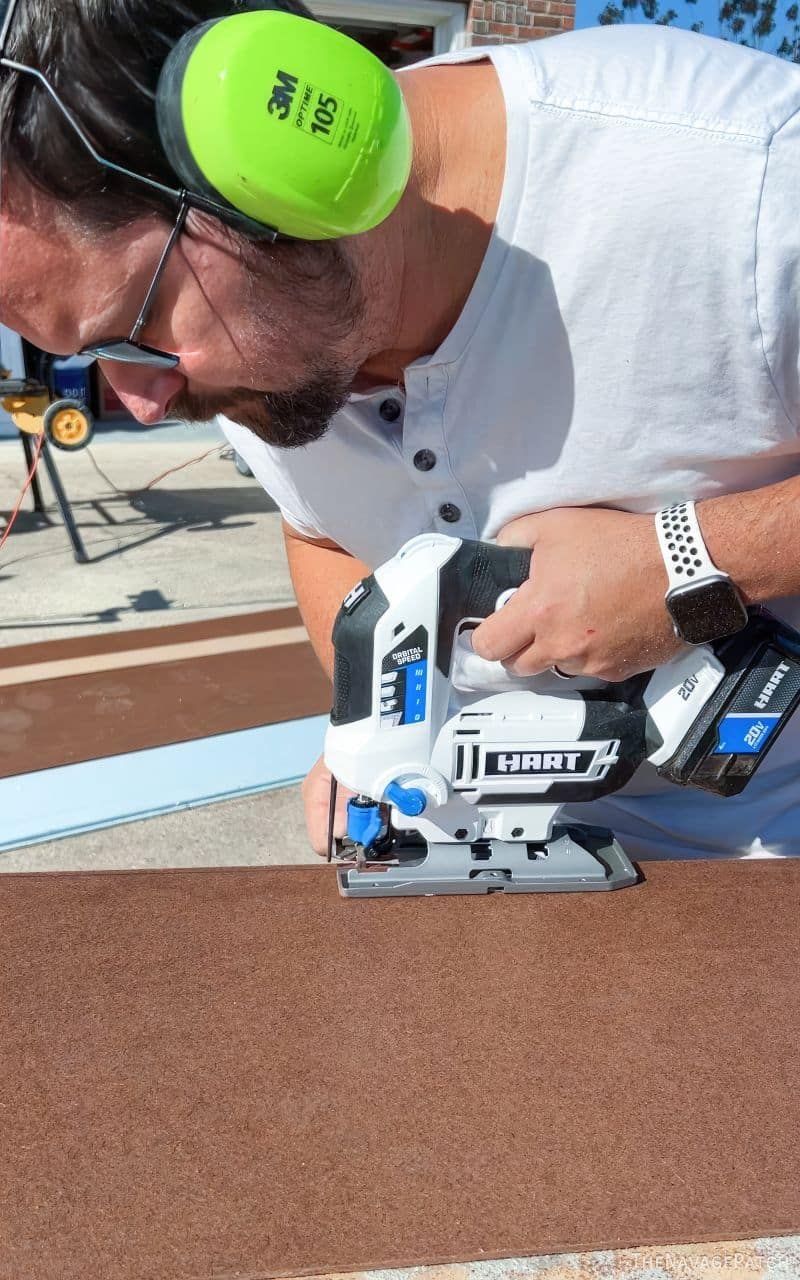 I slathered construction adhesive on the cabinet sides and then installed the hardboard side panels.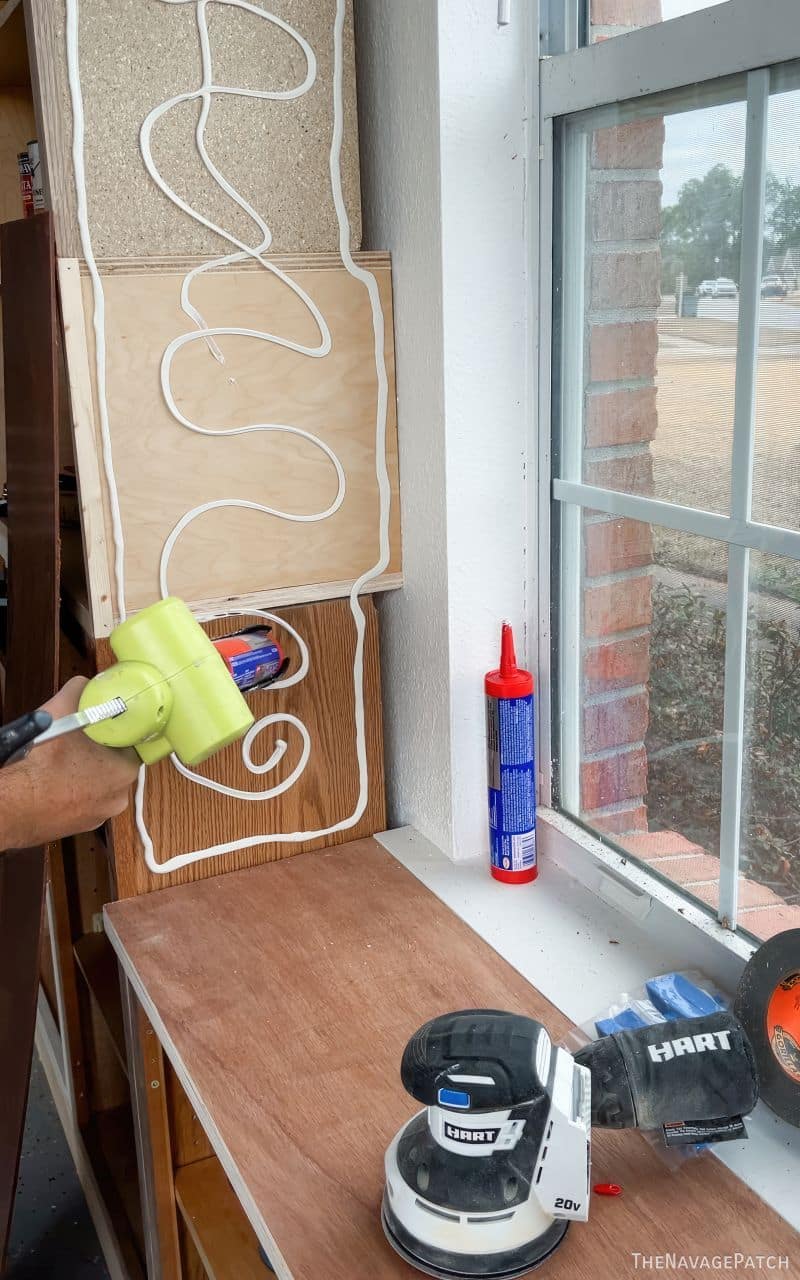 Handan couldn't abide the three different door styles from the three different cabinets we used. To help ease her OCD, we decided to cover the Georgia cabinet doors and the free cabinet doors with hardboard and leave the Project Source doors alone.
I squeezed on some construction adhesive and spread it around.
Then I pressed on a piece of hardboard I'd cut to size.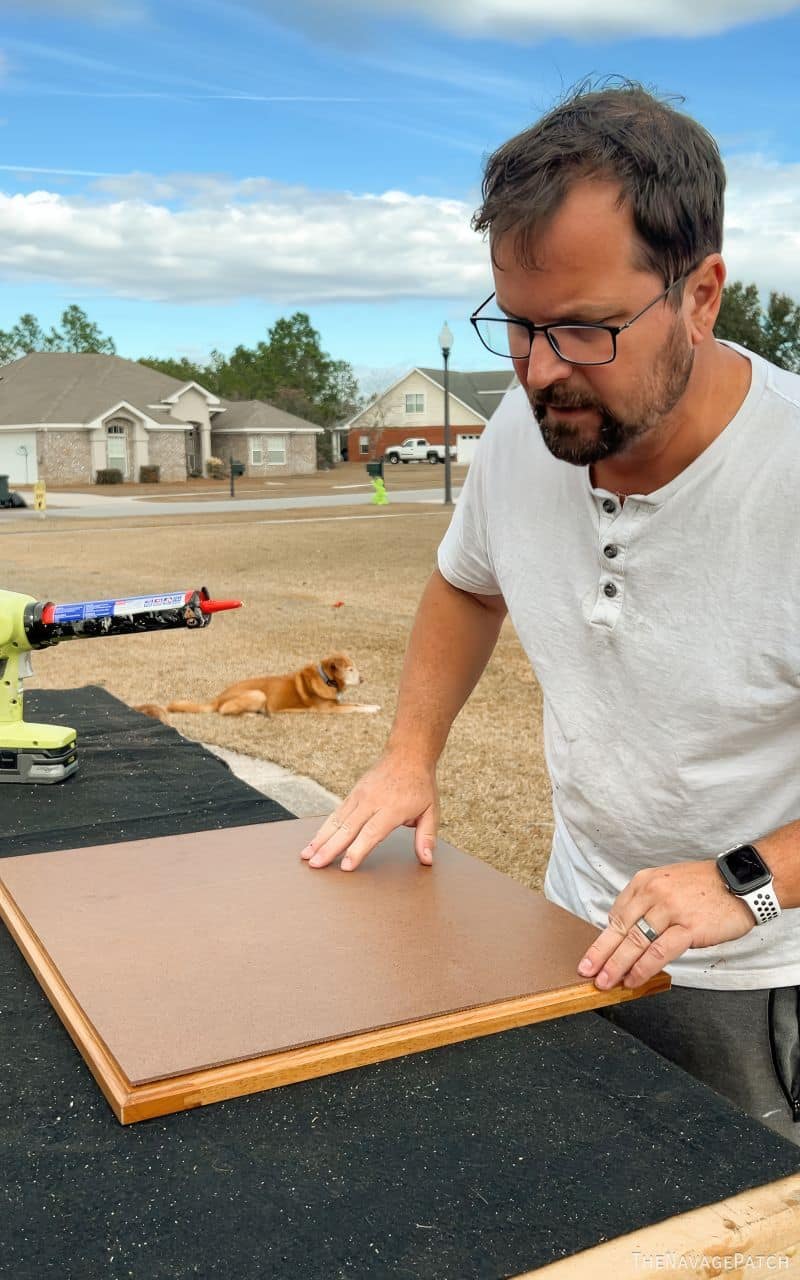 A clean and simple solution to mismatched doors!
Next, I primed the cabinets and doors with oil-based primer (a must due to the pre-existing finish on some of the cabinets and the oily, stainy wood of the Project Source cabinets), and then I painted everything with a few coats of Sherwin-Williams Swiss Coffee.
I reinstalled the cabinet doors and this part of the garage makeover was almost finished.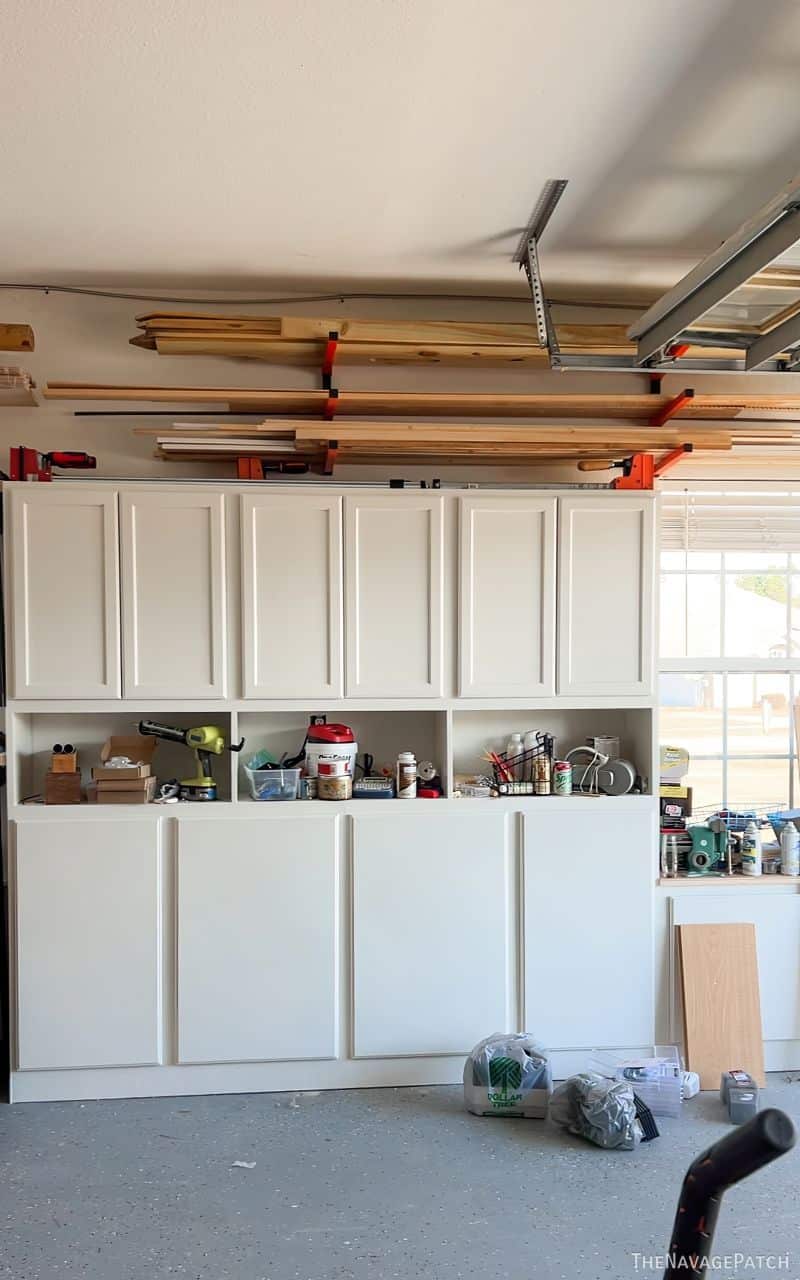 Like I did on the side wall, I first built a 2×4 base for the back wall cabinets. These are actual base cabinets, so they're 24 inches deep, not 12 like the side wall cabinets. Since these cabinets stretched 99 inches, I couldn't use a single piece of plywood for a countertop, so instead, we chose the cheapest composite counter we could find…in faux marble.
Hey, you can't have a garage mahal without marble, right?
As before, I build a series of 12-inch-deep cubbies to go on top. This job was made so much easier by my Christmas gift from my babes – a Kreg Foreman pocket hole system. All I can say is WOW, this thing is a gem!
I screwed the cubbies together and then placed Project Source cabinets on top.
I screwed all the cabinets together to form one cohesive unit.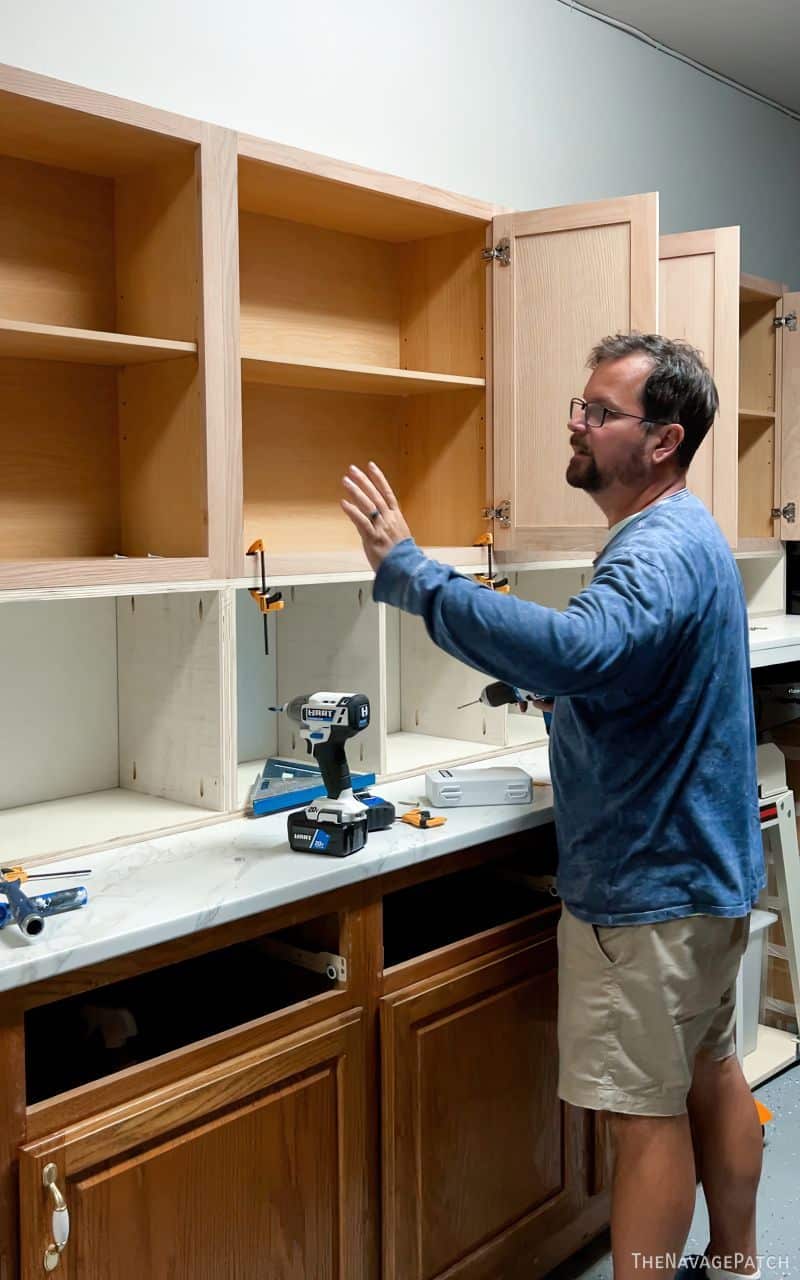 Ahh, the joys of abundant storage!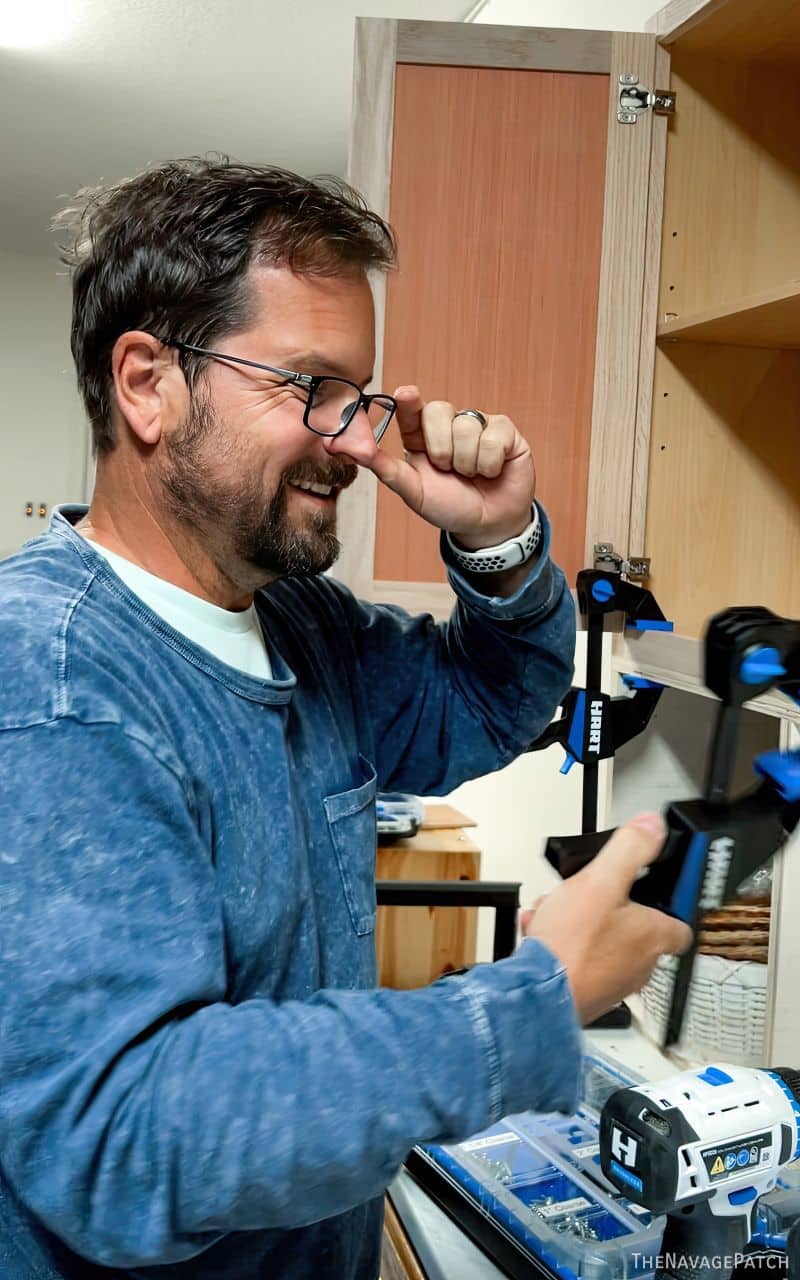 And here's is where we stand with the garage cabinets and wood storage.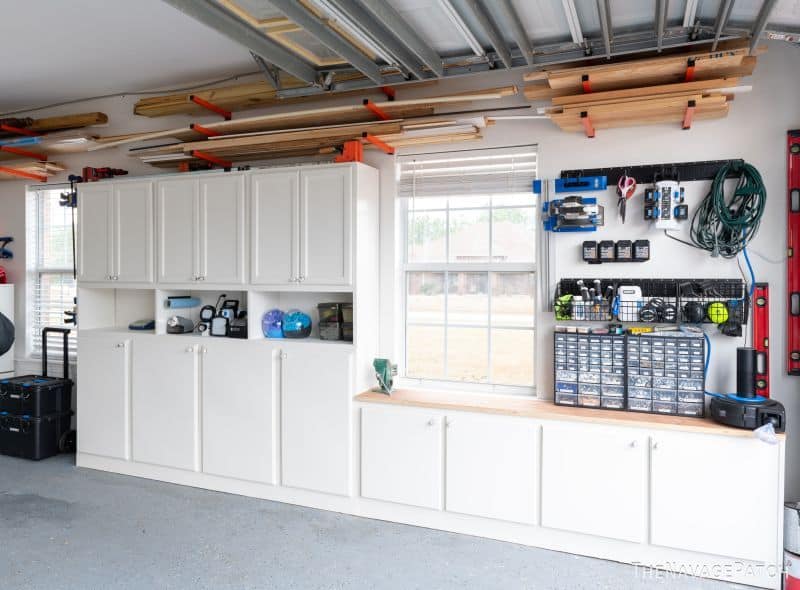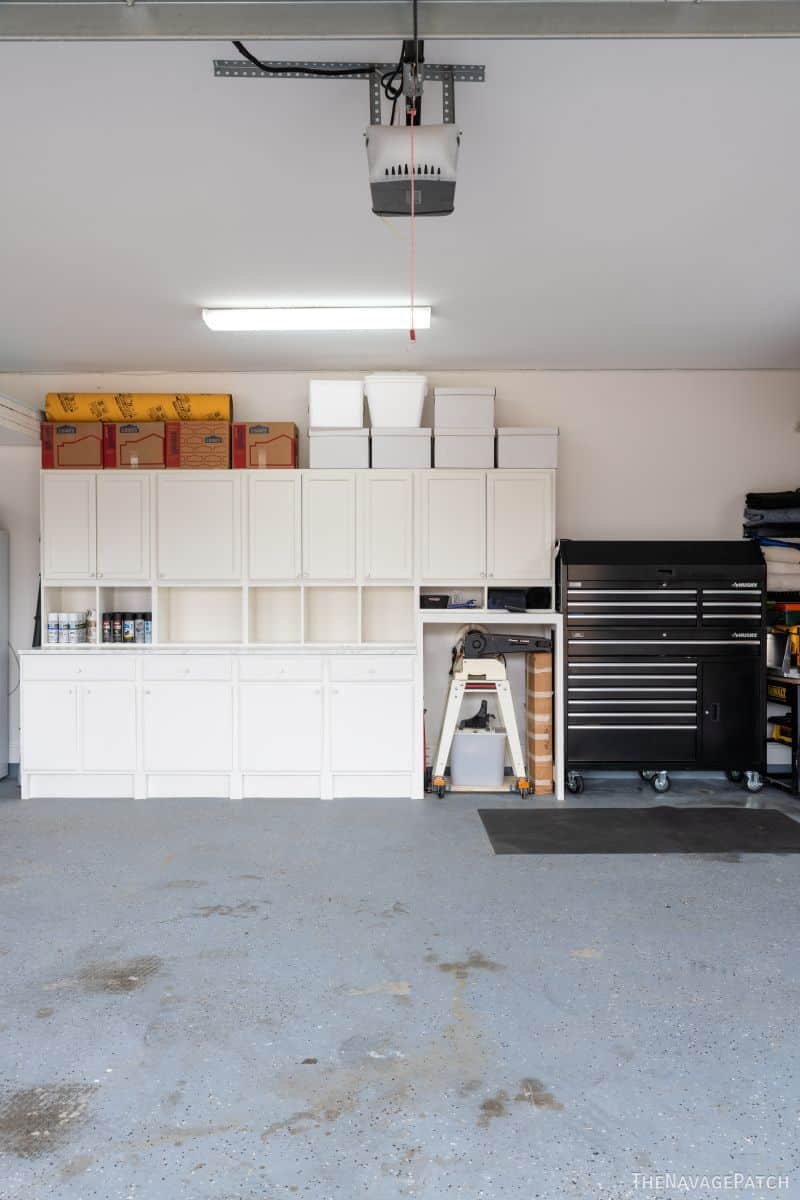 I love this little area by the bay door. It has almost everything I need!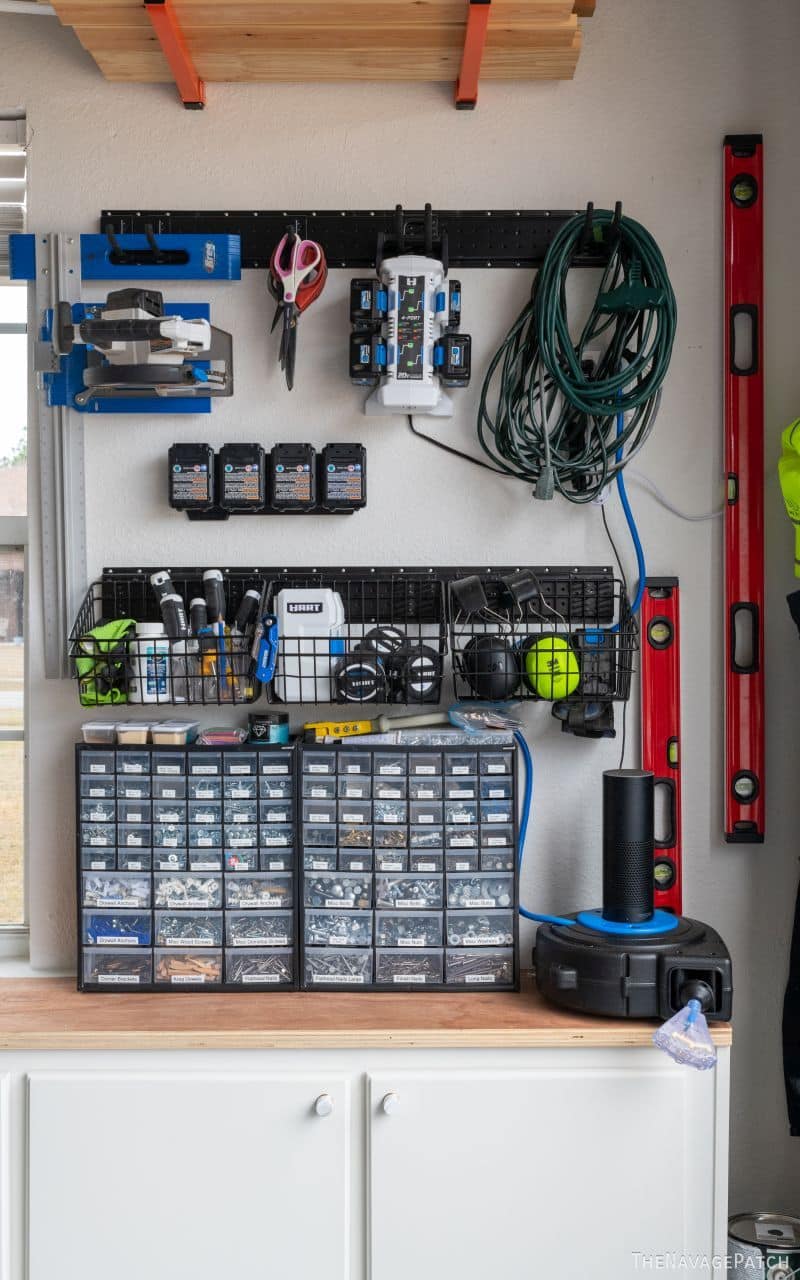 The HART charging station and battery storage is a life-saver with all the cordless tools I use these days!
And I've never…
In my life…
Been this organized!
This retractable extension cord makes life much easier when I'm working outside!
And my babes has been organizing up a storm. Just look at all these adhesives and caulk!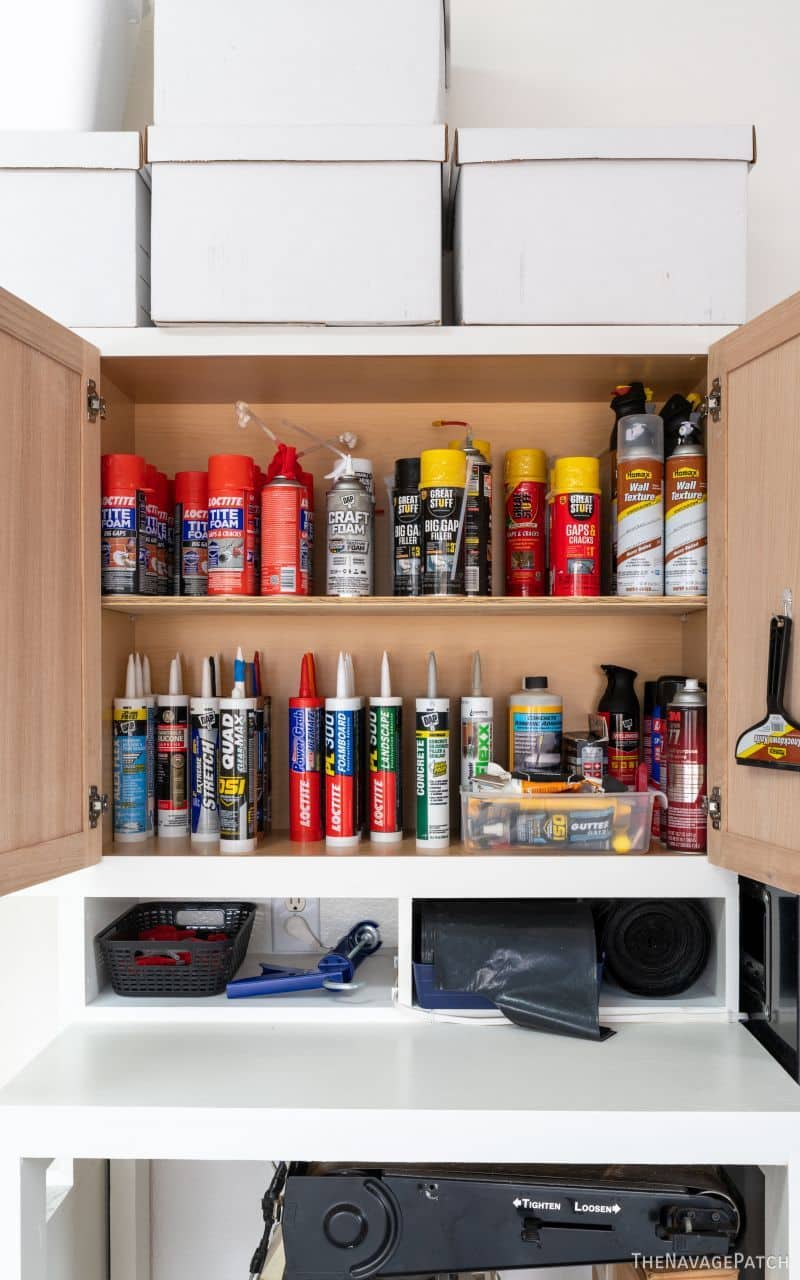 The longest part of this makeover is creating a space for every little thing. Fortunately, Handan is the Zen master of organization!
Aren't' those knobs sweet? They add a touch of class, and they're only $2.90 each – that's about a buck more than "regular" knobs. Well worth it, in my opinion!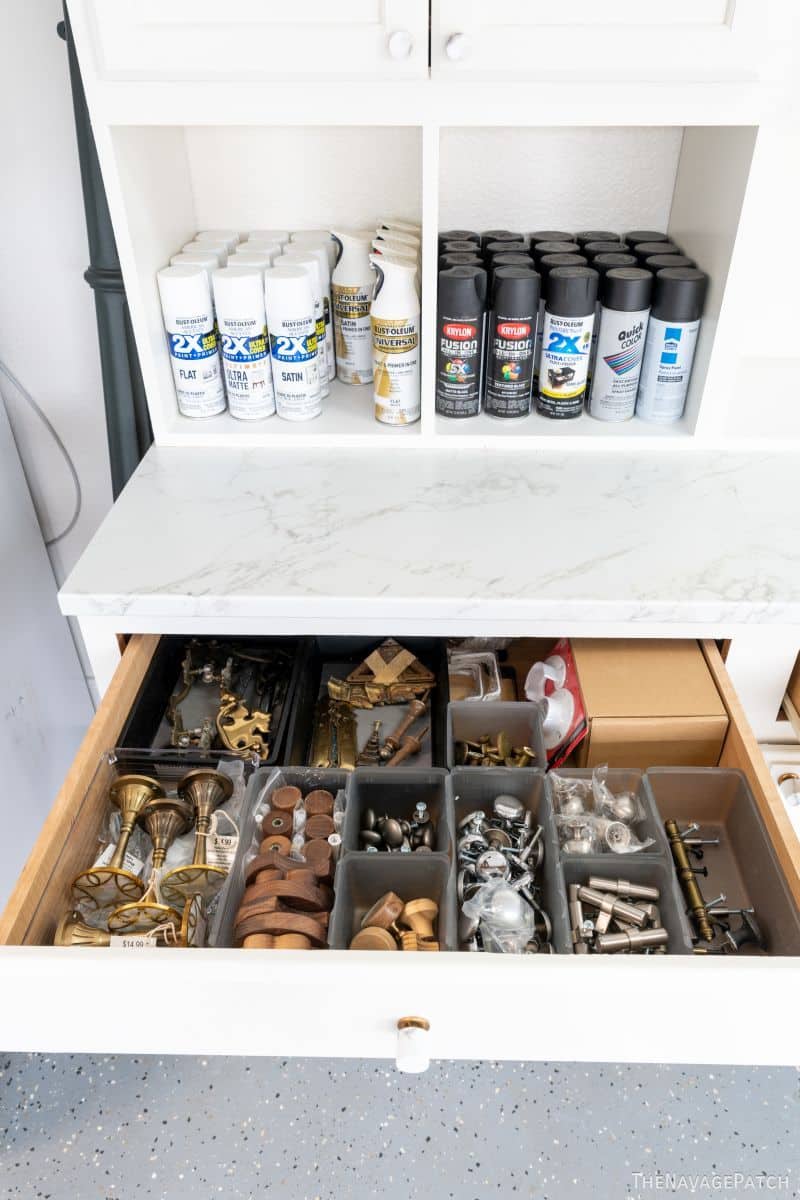 Soon I'll be building a roll-out spray paint cabinet in that space next to the fridge.
Yes, that's a mailbox post. So what? Don't you have a spare one lying around in your garage??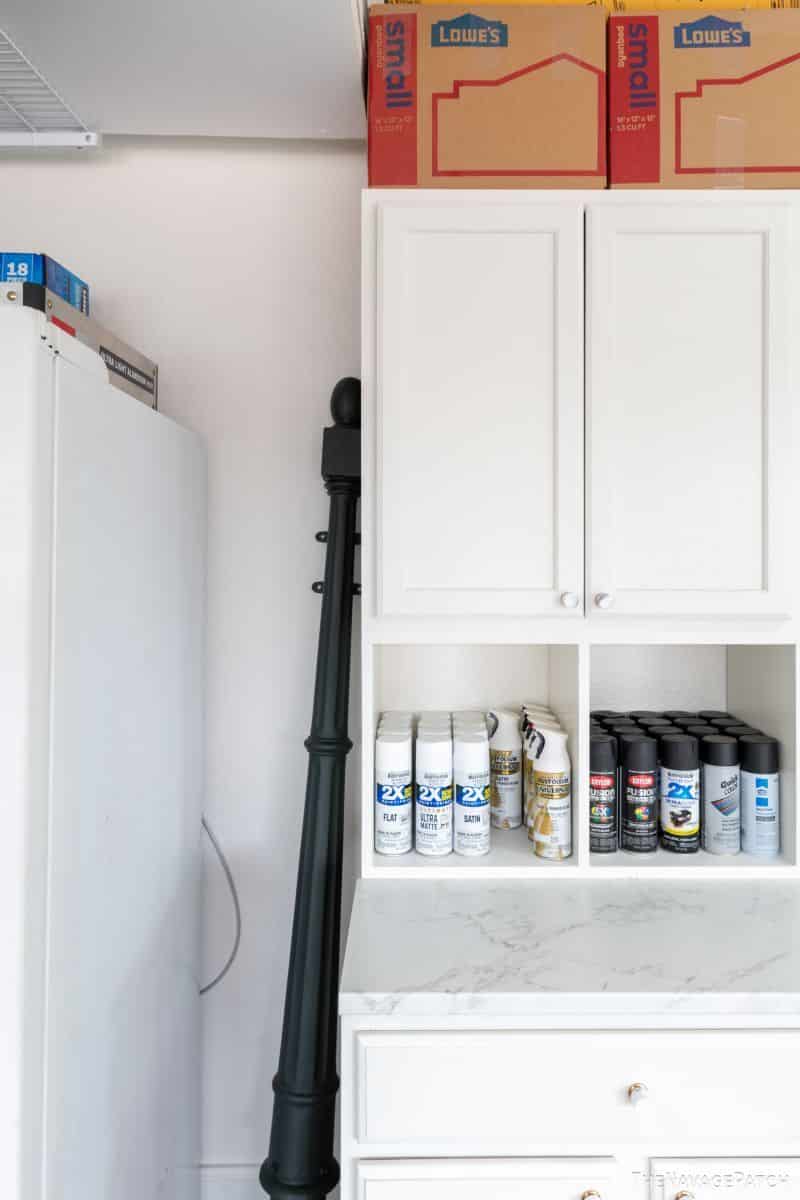 That's it for now! In my next update I'll show you what I've done with all the big power equipment – miter saw, table saw, router table, etc.
This garage makeover is coming along beautifully! We can't wait to finish it and show you our very own Garage Mahal!