Halloween Apothecary Jars and Free Printable Labels
Our best Halloween display has to be our creepy apothecary cabinet, filled with all sorts of nasty potions and powders and spells. We'll show you how to make your own spooky display of Halloween apothecary jars, and we have tons of high-quality free printable labels for you, too!
The time has come. The wait is over! After months of gathering and weeks of work, we've finally finished another batch of Halloween apothecary jars & potion bottle labels for our Toad & Broomstick Apothecary Shop display!
Our humble little spice shop has grown since last year, so we had to extend the display space a wee bit. Looks good, doesn't it?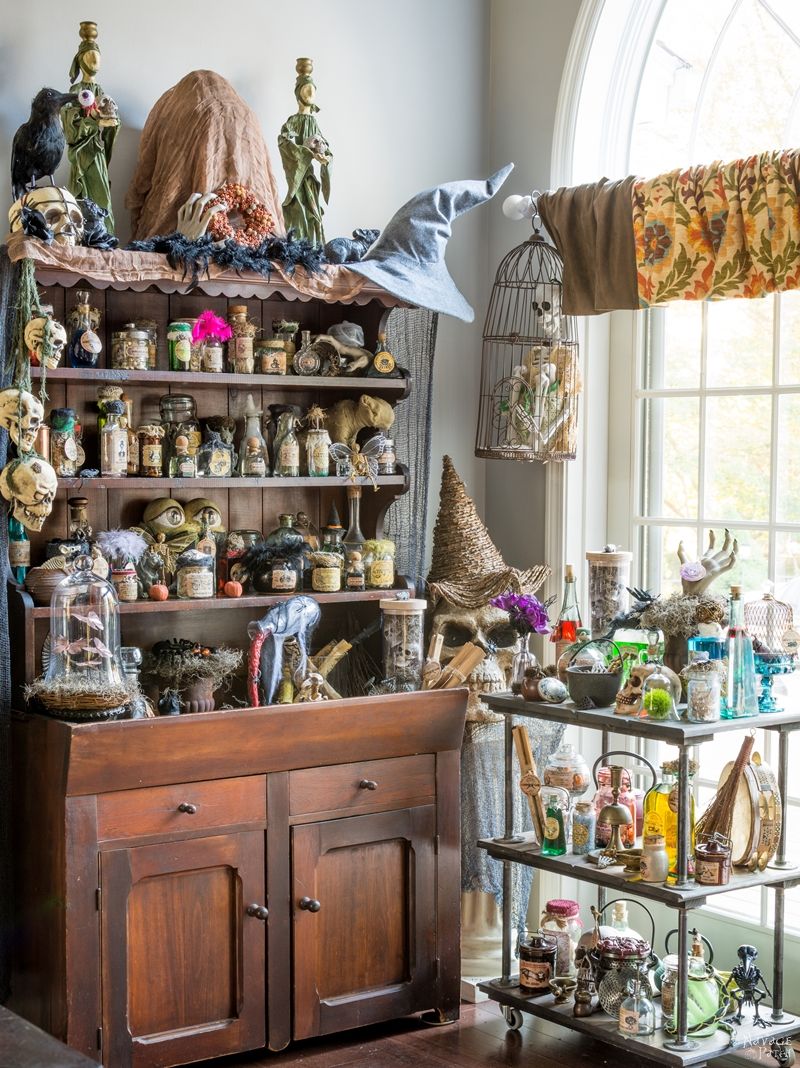 Just like last year, this was quite a bit of work, but I have to say, it was worth it! And just like last year, we're sharing all of these potion bottle labels with you, free for your personal use! Do you remember last year's free jar label printables? [Click here to see last year's free printable jar labels.] Well, this year we've added 55+ new jar labels for over 40 gross and creepy potion bottle ingredients, and we're offering them in two different sizes 😀
Before we begin, be sure to follow us on Pinterest, Facebook and Instagram, and click the subscribe button at the top of this page to sign up for our email list so you'll never miss a post!
And since we're all in the mood for fall, don't miss out on these cute and easy little DIY sisal twine pumpkins!
Ok, let's get back to the Halloween apothecary jars and potion bottle labels!
Now, if you're ready for a long and difficult journey through swamps and mountains and forests as we gather our roots and herbs for our potions and poisons, then let's begin…
[okay okay, what she's really warning you about is a long and difficult journey with her non-stop babbling. Yeesh, woman! Put a cork in it and get to the labels, already! They're not here to listen to your yammering – they're here for the POTION BOTTLE LABELS! So get to it! -Greg]
*Sigh* My babes can be such a jerk, but still, I love him so much! And he's right…you're here for the labels…
[And my pictures! Don't forget my photographs, woman! – Greg]
Yes, and you're here also for the awesome pics my babes took 😉
Oh, and one last thing before we start: if you remember, in last year's Apothecary Jars post, I talked about the prep work for the jars, bottles and lids. I also talked about how I made my potion bottle labels look torn and aged. So if you need a refresher on how to do that prep work, you can always refer back to that post for the info, as I won't be covering it again.
Ok, enough of my yapping! Let's get familiar with our new jar fillers, shall we?
As you can see, I again used all kinds of jar fillers: some from Amazon.com, some from Dollar Store but mostly from our backyard. A little hint here: I try only to use fillers that wouldn't spoil over time, so I can use the same jars year after year.
Mini Truffula Trees Apothecary Jar
Greg named this jar, and it has to be my favorite one of all! I mean, who else can combine Dr Seuss with Halloween, right? Hahahaha 😀 Well, I bet you know, after seeing this, you should expect to see anything here at The Navage Patch. LOL. Anyway…back to the subject: can you guess what they are? Come on – give it a try. Maybe this close-up picture will help.
Could you guess? They are dried clematis flowers! No kidding! Do you see the swirly things in the picture below? Those are what used to be clematis flowers in full bloom. But after the flowers drop their petals, the vines are left with these swirly things.
This year I picked a bunch and tried drying them – you know, just to see what they would look like. And apparently they make the best mini Truffula trees!
Now if you don't have clematis in your backyard, you can always use pompoms instead. Just hot glue a little stick to handmade or store-bought pompoms, and there you have your own fully grown mini Truffula trees in minutes. 😉
Goblin Gallstone Apothecary Jar
 The Halloween apothecary jar that looks like Lawrence of Arabia holds the Goblin Gallstones. For this one, I used glittered hot glue sticks. I have to say these glittered hot glue sticks are very handy. If you remember, I used the red ones in my Floating Potion Bottle project, and now the green ones turned into Goblin Gallstones.
To create the goblin gallstones, I simply squeezed some hot glue on a metal sheet. If you don't have a metal sheet, any stone surface or glass surface would also work. Once the hot glue dried hard, I picked each piece and cleared them of the hot glue strings.
Fairy Scat Halloween Apothecary Jar
Did you know that these glittered hot glue sticks also make great Fairy Scat? Hahaha – no kidding! And having a quick/careless hand is a plus, as you get more realistic shapes. LOL.
After filling the bottle with these fairy poops, I cut a small piece from a hot-pink boa and hot glued it on the bottle cap. You know – just to give the whole thing a bit more of a sparkly 'fairy' feel 😉
Octopus Head Apothecary Jar
I used Dollar Store decorative bowl fillers for this one. I think they have the perfect shape for an octopus head, don't you think?
If you don't have similar bowl fillers, balloons can make a great substitute.
Scarecrow Hair Halloween Apothecary Jar
"It looks even worse in the morning!" As this pretty much sums up my mornings, I was really tempted to use my own hair for this. But the problem is, I have curly hair. So I had to make  do with adding raffia into this jar. 😉
But really, anything from shredded paper to dried grass clippings will make a great filler for this jar.
Click on 'Next' to see more Halloween apothecary jar filler ideas and go to 'Page 3' to download the free printable potion bottle labels.