Apothecary Jars and Free Printable Labels
Apothecary Jar and Bottle Fillers
Ok, here is the fun part! Let your imagination run wild, so you can invent wacky, weird and wicked fillers for your apothecary jars. Always start with Mother Nature and your pantry, as they both have a lot to offer. Ok, maybe I also used a bit of what Dollar Store and Amazon had to offer, but you don't necessarily need to go that route. My excuse for using some Dollar Store and Amazon items was totally because I was in the "Halloween apothecary jars" mood and just couldn't help myself I didn't want to empty and refill the jars year after year. If you use only pantry items, they may go moldy or yucky after a time, so you might need to empty your jars before you store them away for next Halloween.
Poison Apple Apothecary Jar / Cloche
You can use a real apple or go for a Dollar Store one like I did. If you have a small glass dome or cloche to put over it, then it will be perfect, as glass domes/cloches turn anything into a "showcase" piece.
Screaming Grass Apothecary Jar
Hahaha…This is one of my favorites! I think every household should have a jar of Screaming Grass :-D. For this one, I simply dried some lemongrass clippings and filled my jar with those, but any dried grass clippings will do.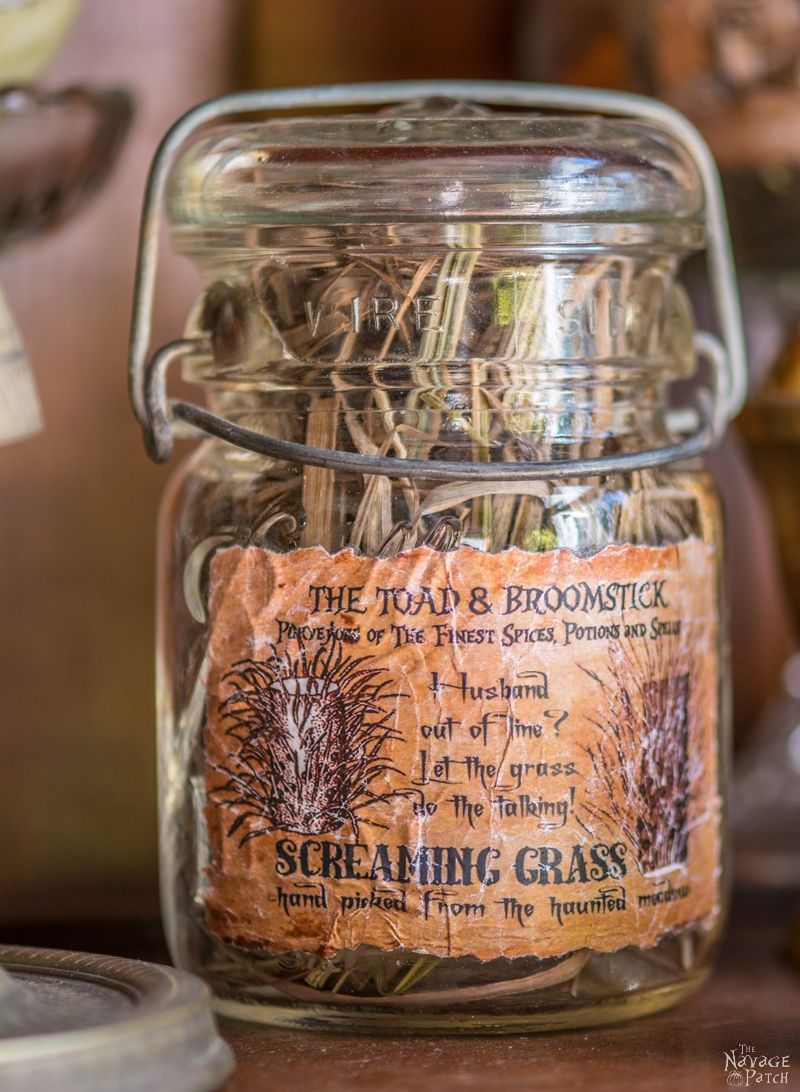 Coffin Nails Apothecary Jar
Ok, maybe this is not a pantry item nor a garden find, but almost every household would have some nails, right? Any length is fine, but the thicker the nails are, the better your coffin nails apothecary jar will look. To make it more authentic, you can even sprinkle a bit of dirt into the jar.
Corpse Breath Apothecary Jar
This is the easiest one of all. Just glue the label on an empty jar, bottle or a vintage spritzer bottle like I did, and you are good to go.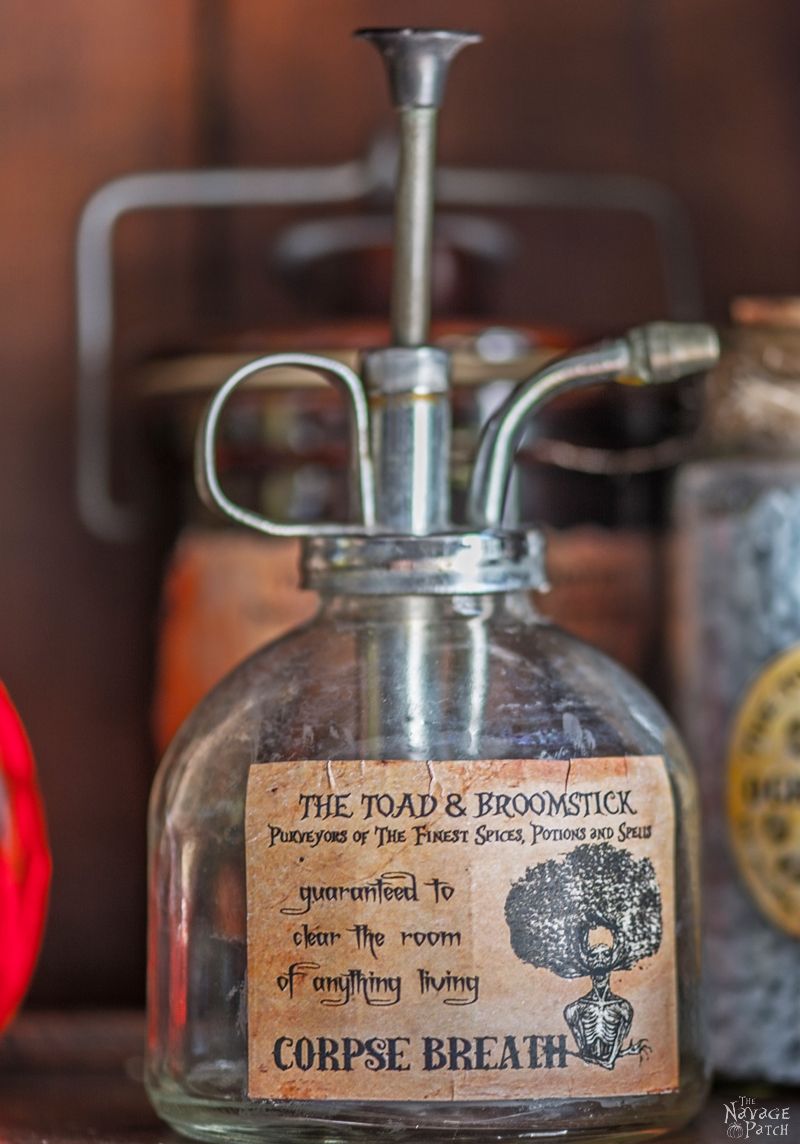 I also prepared another corpse breath, which makes these two a good example for using different methods with the label placement. The difference between the upper one and bottom one is that I crumbled the label before gluing it. By doing so, you get those old-looking, white crease-marks on the label.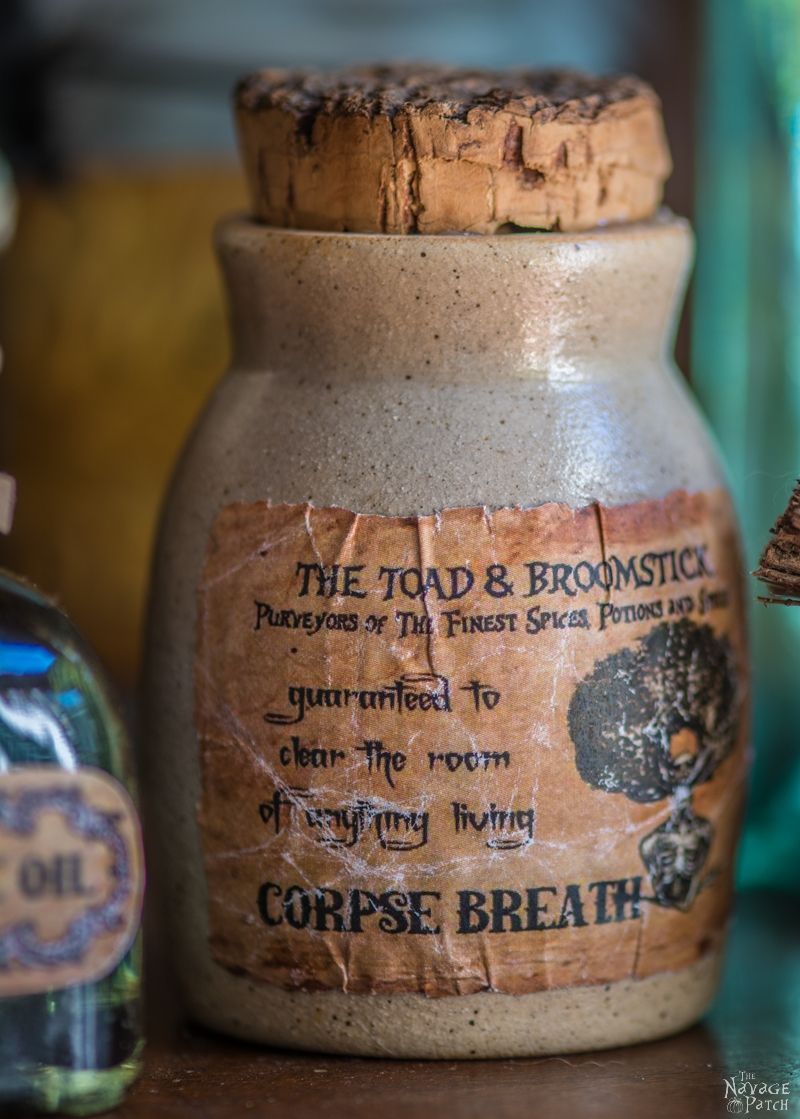 Vampire Blood Apothecary Jar
I used a mixture of fake blood and water, then poured that mixture into a cheap decanter I bought from our local thrift store. You can get the same effect with a mixture of water, red and brown paint.
Ogre Brains Apothecary Jar
I used some squishy brains I got from Amazon and added a bit of fake blood. But also walnuts or pecan nuts would make excellent ogre brains. 😉
Snake Venom Apothecary Jar
Although just simple water would do, I also used a Dollar Store grow-in-water snake for this one.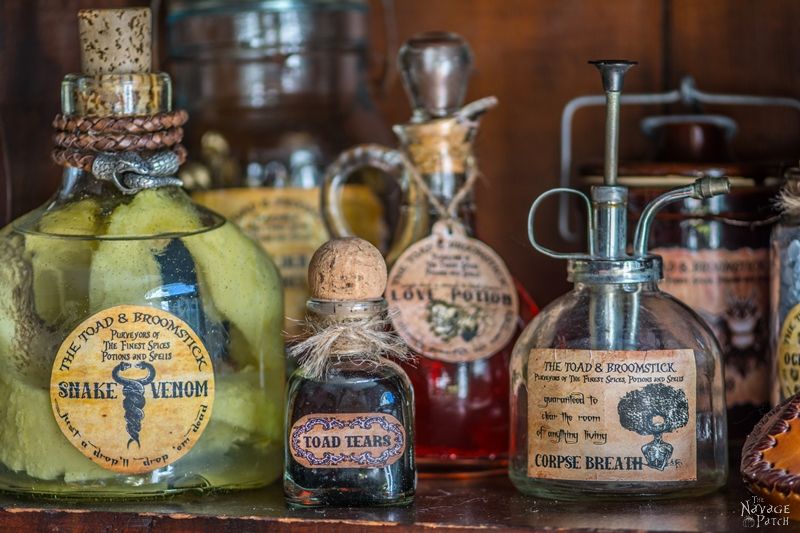 I know the pictures below show a different grow-in-water toy, but I just wanted to show the principle to you. First I placed the grow-in-water toy in the bottle…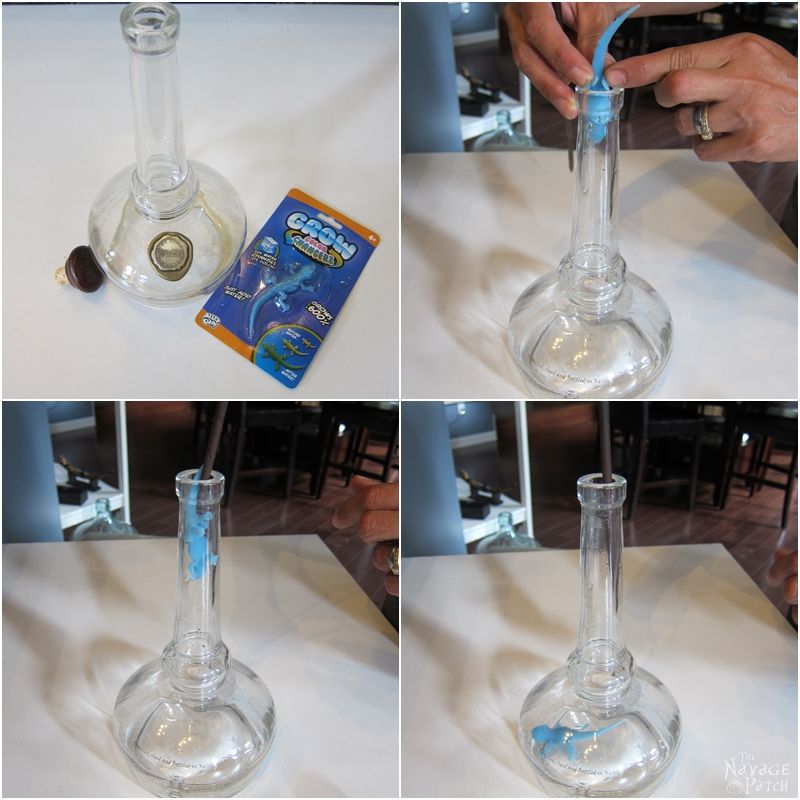 …then filled the bottle with water.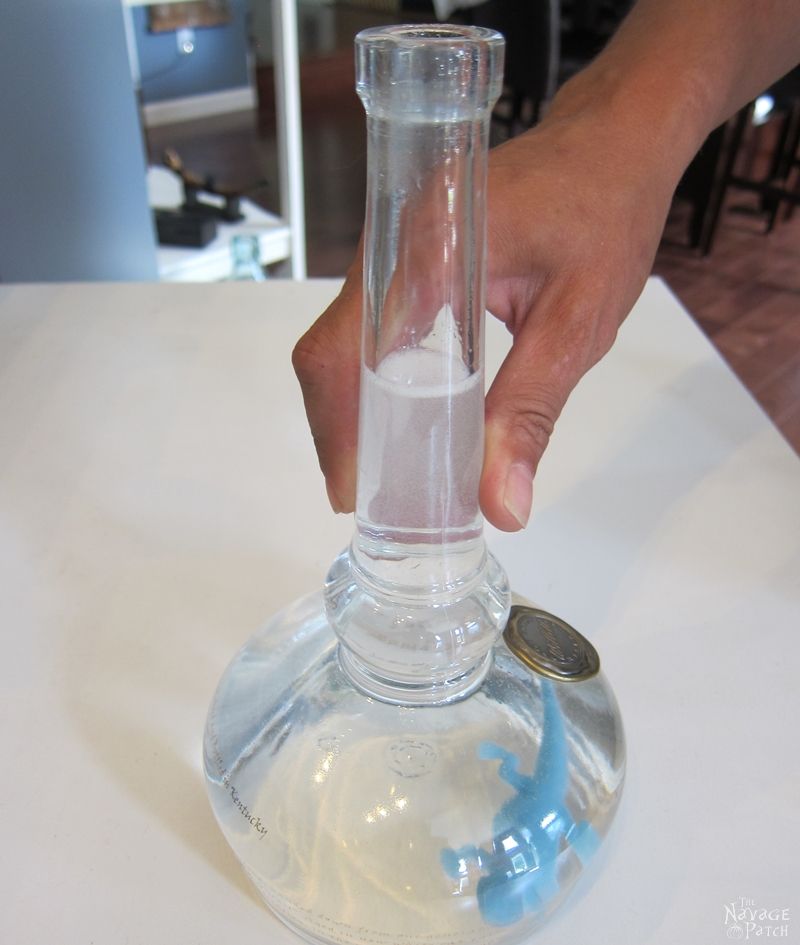 After putting a lid on the bottle, I let it sit for a week. Good god, do these things grow! Especially if you keep the bottle shut, these toys won't ever shrink back, and eventually you end up with a bottle that'll resemble a lab specimen jar.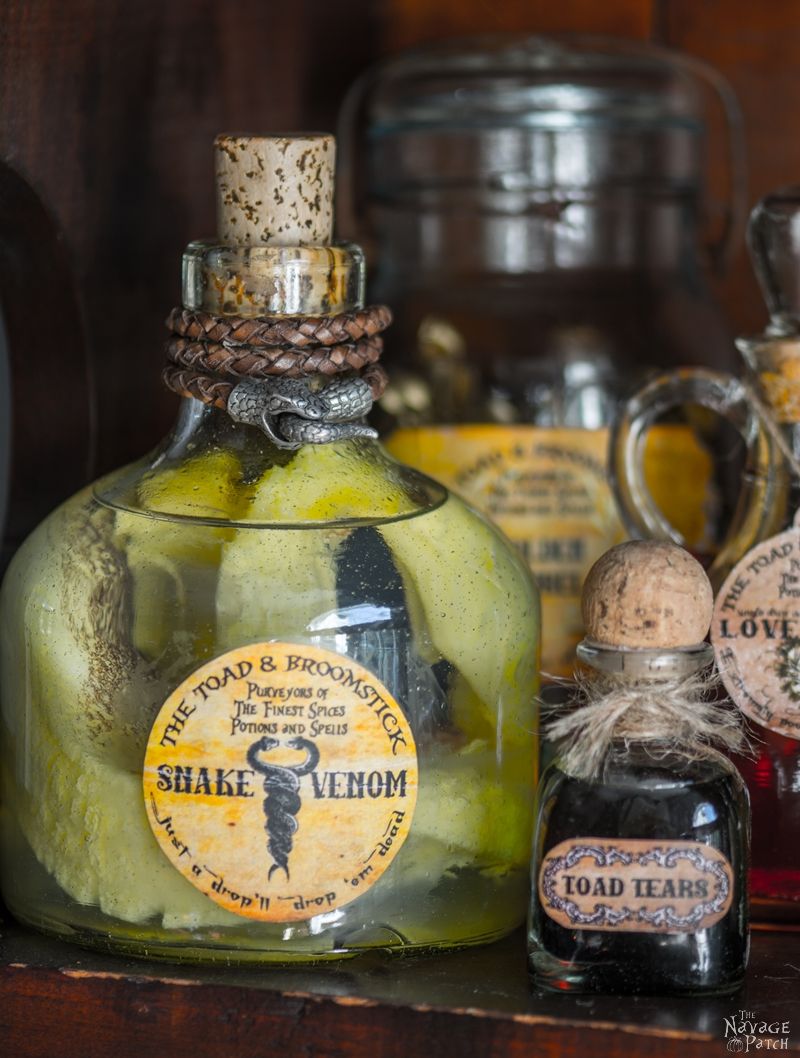 Croc-in-a-Crock Apothecary Jar
This has the same principle as the snake venom. The only difference is that I used a grow-in-water crocodile in this one. And yes, this one is also from the Dollar Store!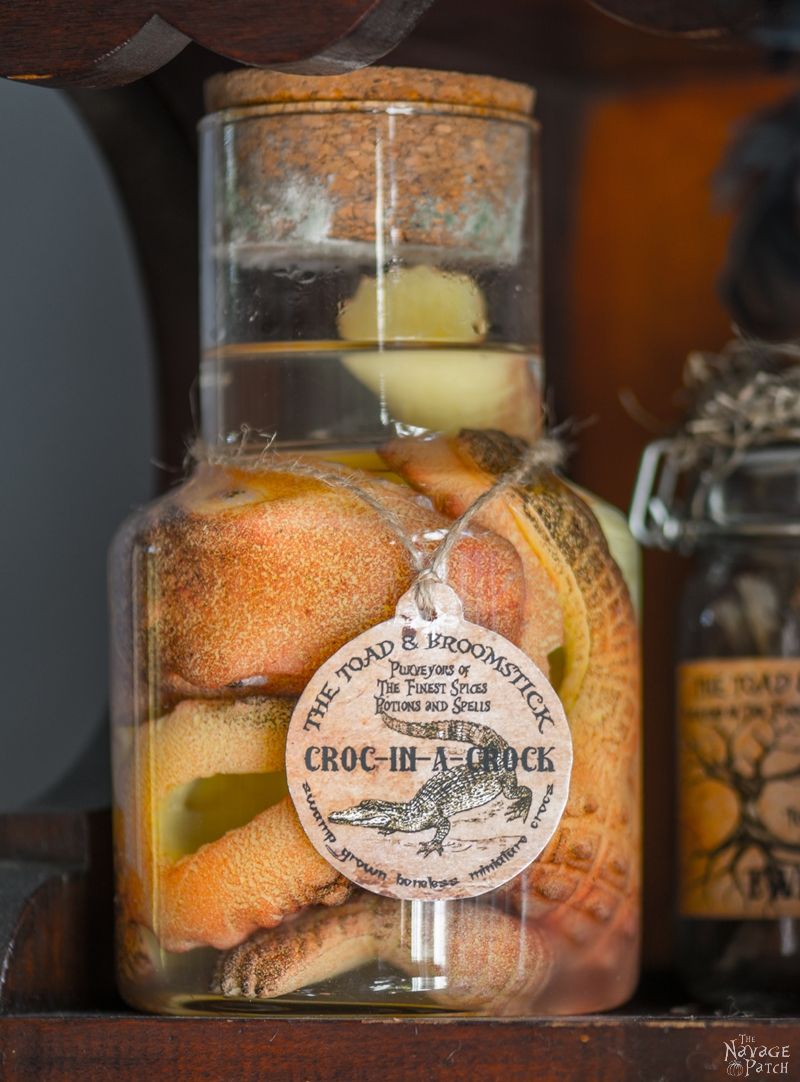 Potions and Liquids Apothecary Jars and Bottles (Toad Tears, All Purpose Poison, Cloning Potion, etc)
These really depend on your choice. While I filled some bottles with water, I filled the rest with vegetable oil.
Then for the coloring, I either used food coloring or Rit powdered fabric dye.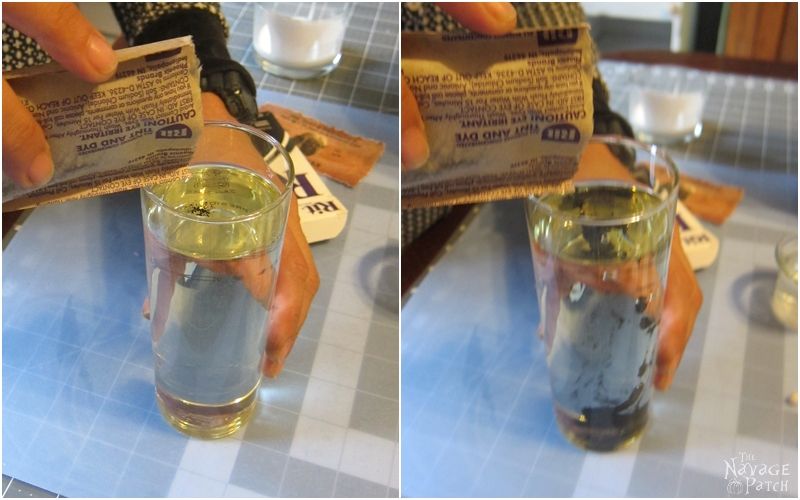 Food coloring and powdered fabric dye don't tend to dissolve in oil. Instead, they stay in suspension, and that gives an interesting look to your potion bottles.
Do you see the beetle oil? When I shake that bottle all the fabric dye starts moving around slowly and creates a black trail. It looks as if some crushed beetle parts are dancing in the oil.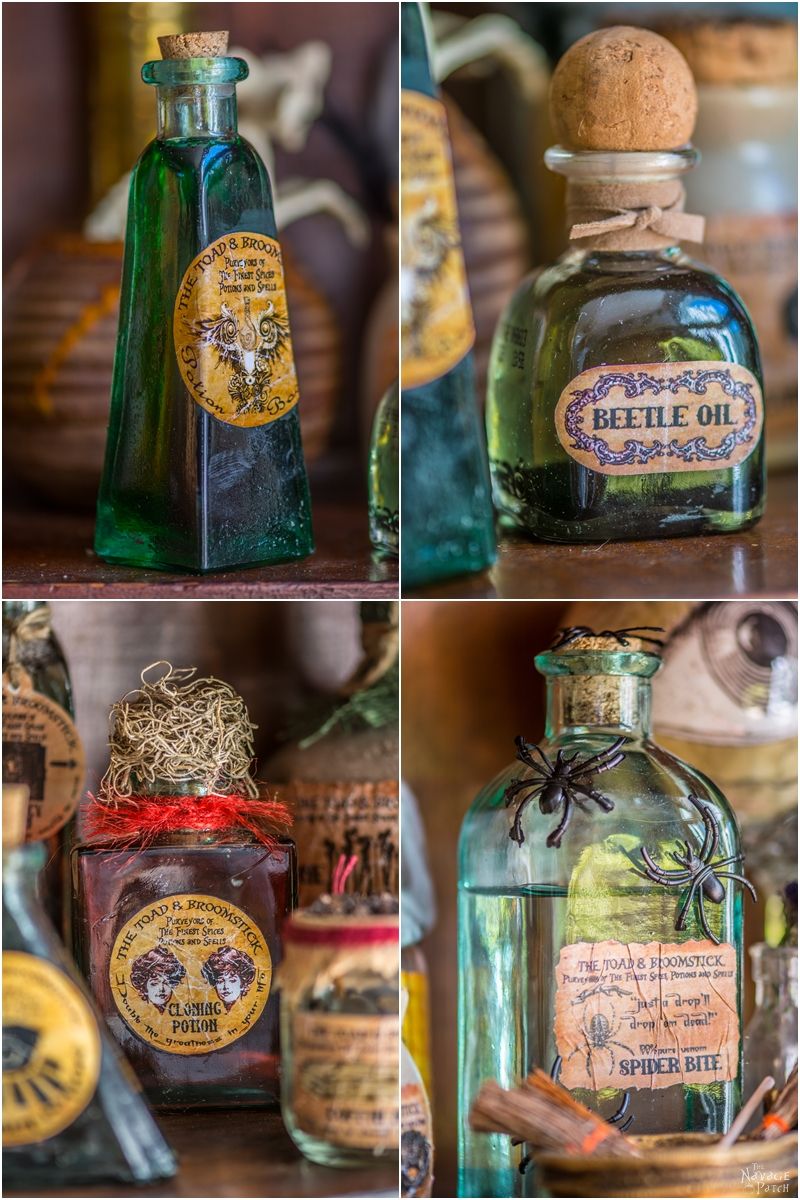 Hahahaha… Here is another favorite of mine: the cloning potion! "Double the greatness in your life!" As you may guess, I was inspired by Greg, so much that while designing it's label, I almost put Greg's picture instead of the Victorian lady! No kidding! If it wasn't for his protestations, you would be seeing his face on your cloning potion. LOL. [You can double greatness, but you can't double perfection! -Greg ]
Raven Feather Apothecary Jar
I used a black feather boa, but any feathers you have will work, since you can always paint or dye them black.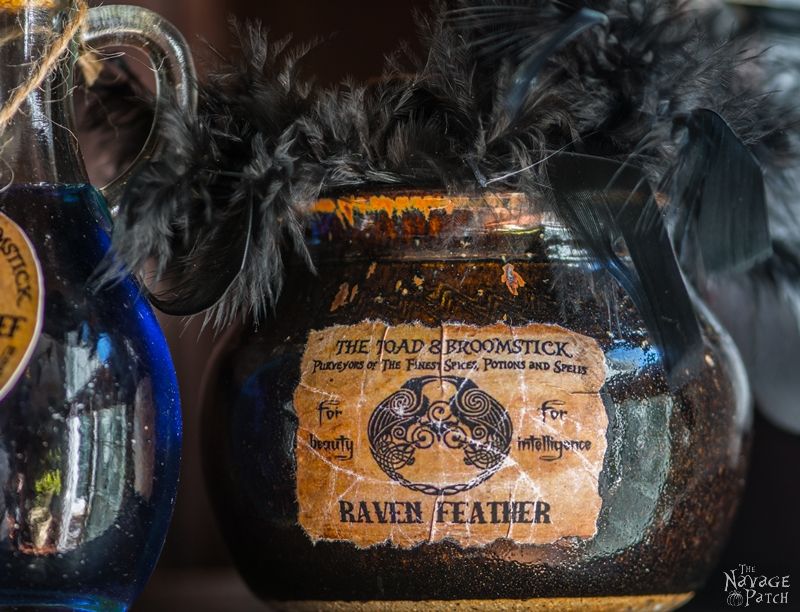 Golden Laurel Apothecary Jar
To fill this jar, I dried some boxwood branches, then spray painted them gold. Similarly, any dried leafy branch could be used as filler.
Instant Uber Apothecary Jar
As you may guess from the name, any vase-filler-size pumpkin or gourds can be used for this one. I used a bunch of miniature pumpkins (which I bought a while ago from FactoryDirectCrafts.com) together with some moss. As another idea, you can also use small gourds or pumpkins (real ones) in a setting like the one I did for the poison apple.
Bone Dust Apothecary Jar
Flour or any powder will make a good filler as bone dust. As I was cleaning and readying our fireplace for winter, I used last winter's ashes for this one.
Instant Pointy Hats Apothecary Jar
As I used my last miniature pointy hat for our handsome skeleton crow…
…I had to use a stoneware jar for this one so it wouldn't show inside. But you get the point, right? Miniature witch hats or an empty stoneware jar would be perfect for instant pointy hats.
Click on 'Next' to see more apothecary jar filler ideas and to download the free printable jar labels.