How to Secure Artificial Plants in Tall Planters
Learn how to secure artificial plants in tall planters with this simple hack. No heavy weights, no glue, and no more plants falling over!
It's the burning question of our times, up there with "what's the meaning of life" and "I wonder what's for dinner?"
It's the question that keeps homeowners and renters alike tossing and turning all night. How do you keep fake plants from falling over? Men and women, young and old, blond, brunette, redhead and bald – all of them fretting over how to secure artificial plants in tall planters.
Because an unsecured plant in a tall planter is a recipe for crooked misfortune. Can you imagine the shock and horror on Agatha's face if she came over for afternoon tea and your delightful faux ficus had fallen over in its pot?
And what about you? Yes, you – the one with the cats. What are their names? Oliver, Leo, Mittens and Mr. Socks? Well, wouldn't it be nice if your fiddle-leaf fig tree could stand up to their sneak attacks?
Well, I'm here to tell you how to keep those fake plants standing straight in the tallest of planters.
This is a hack primarily for artificial plants, mind you – silk trees and silk plants, plastic ones, or any other faux. Real plants generally wouldn't need this hack, but you could modify it for use with them. Handan developed this trick for how to secure artificial plants back in Connecticut, and it hasn't failed us once!
How to keep fake plants from falling over
There's really two components to this hack. Yes, I'm going to show you how to keep those plants from falling over, but at the same time I'll be showing you how to elevate your plants when displaying them in tall and deep planters.
On a recent trip to Panama City Beach, we drove past a roadside outdoor planter store with beautiful, colorful planters, fountains and statues that practically begged us to pull over and have a look.
Well, we pulled over, had a look, and several planters later, we were back on the road towards Home Depot with a full load and a happy wife.
One of the planters we bought was tall, narrow and deep, and anything we put in it would need to be raised about 2 feet. After trying out some of the fake plants we had on hand, we decided that a rather small one with a slender trunk was the perfect complement.
The problem:
In the world of real plants, that planter would be filled with soil, or some combination of filler and soil. The decorative plant or tree would be planted in the soil, and all would be well with the world.
But for our waifish tree, we would need a whole lot of filler to bring it up to the top of the planter.
Obviously, there are many ways to do this: blankets, pillows, packing peanuts, plastic bottles, crumpled up plastic bags, wadded up paper, etc. The list goes on and on.
We've tried our fair share of those methods, but none seemed to excel at elevating the plant and securing it. So we (by which I mean Handan) came up with our own method.
We're typically well stocked with either moving boxes, Amazon boxes or both. Thus, cardboard is what we use to elevate and secure our artificial trees and plants.
You may want to watch the short video below for an overview of this simple planter hack before you read the more detailed 4-step tutorial.
How to Secure Artificial Plants in Tall Planters – Video Tutorial
And for a shorter take, here's our Instagram video.
Now let's have a look at how it's done in 4 simple steps.
Step 1 – Cut the cardboard to size
Cut a piece of carboard about an inch shorter than the inside height of the planter.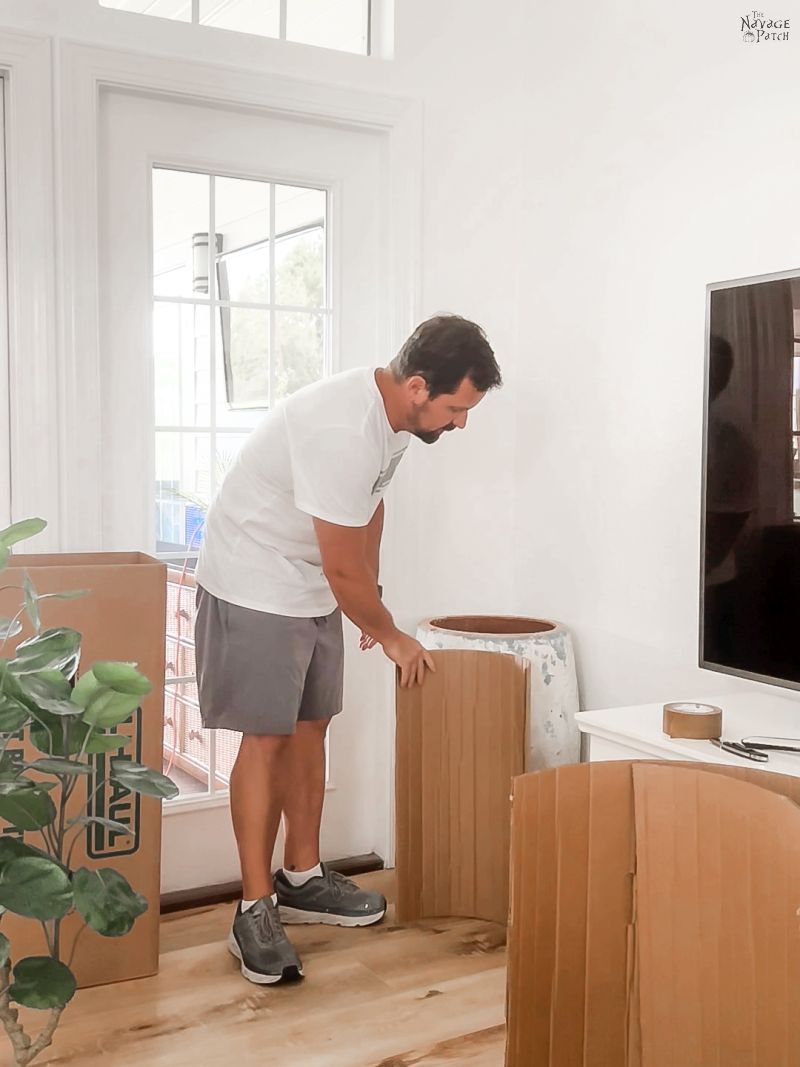 Wrap the cardboard snugly around the pot of your faux plant or tree. Overlap slightly and then trim the excess cardboard.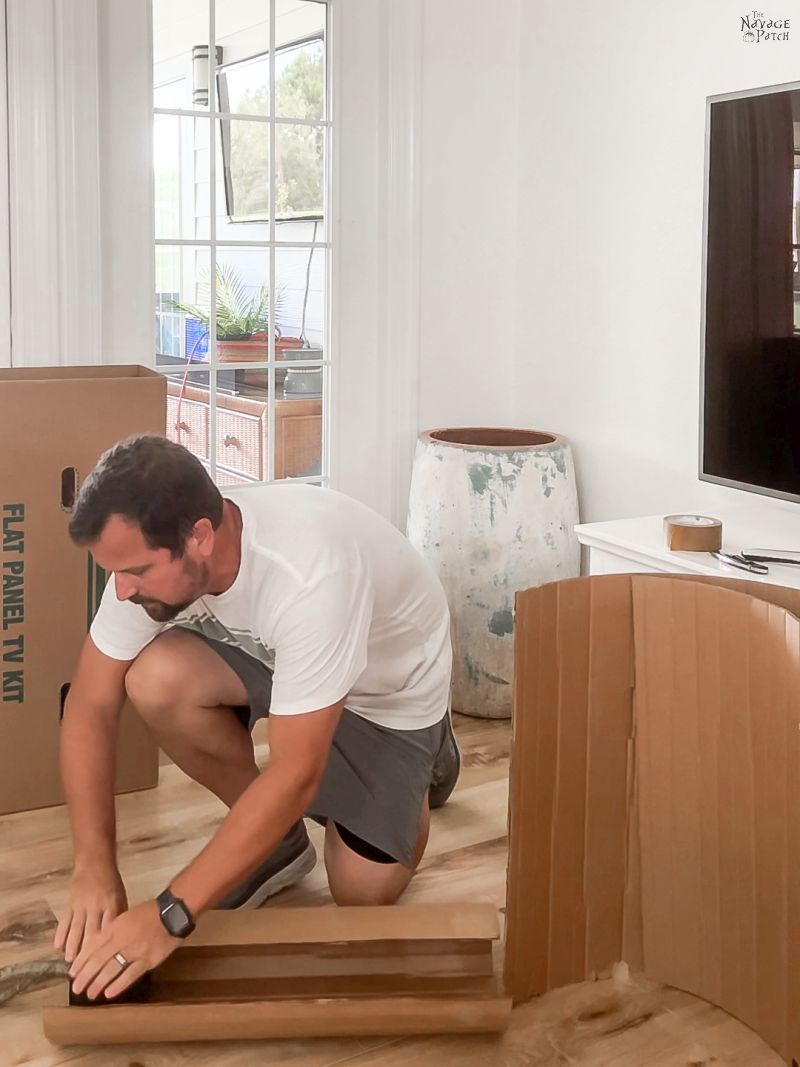 Cut two more pieces of cardboard the same height as the first. The second piece should be a little longer than the first. The third piece should be a little longer than the second.
Step 2 – Tape the cardboard
Pull the pot from the cardboard and secure the cylinder with tape on both ends.
Obviously, this cylinder alone is not stable.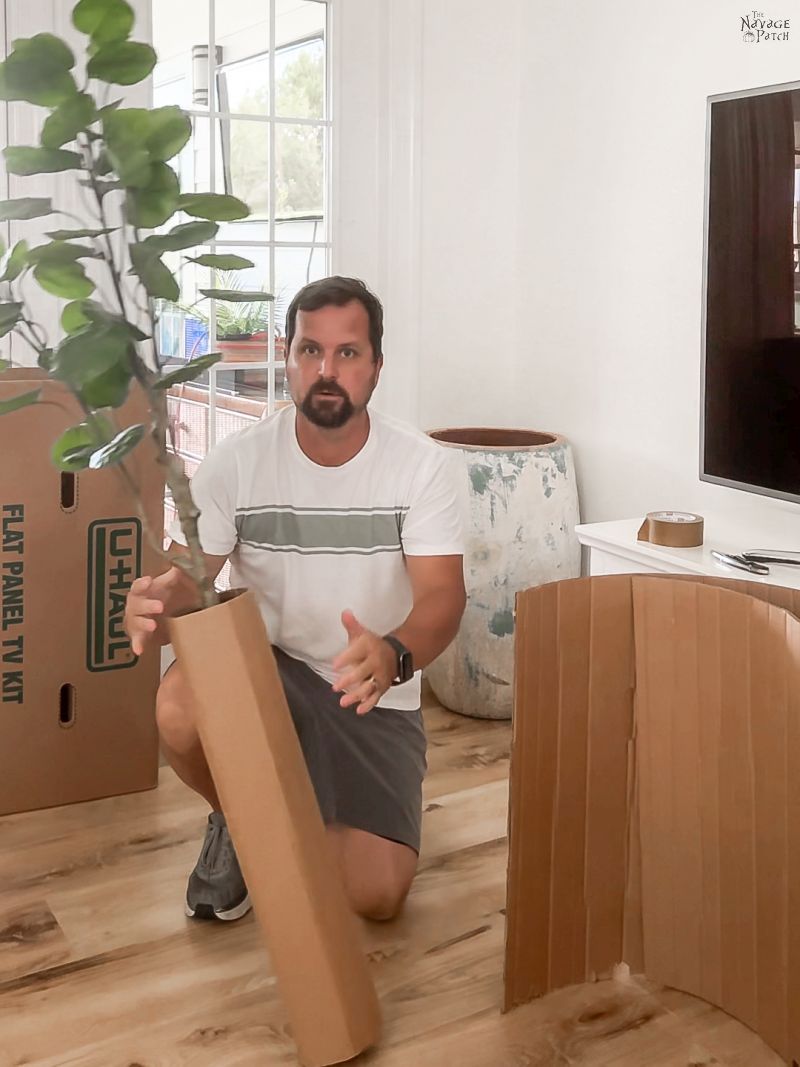 This is where the other two pieces of cardboard come in. Wrap each of them into cylinders and tape them like the first one.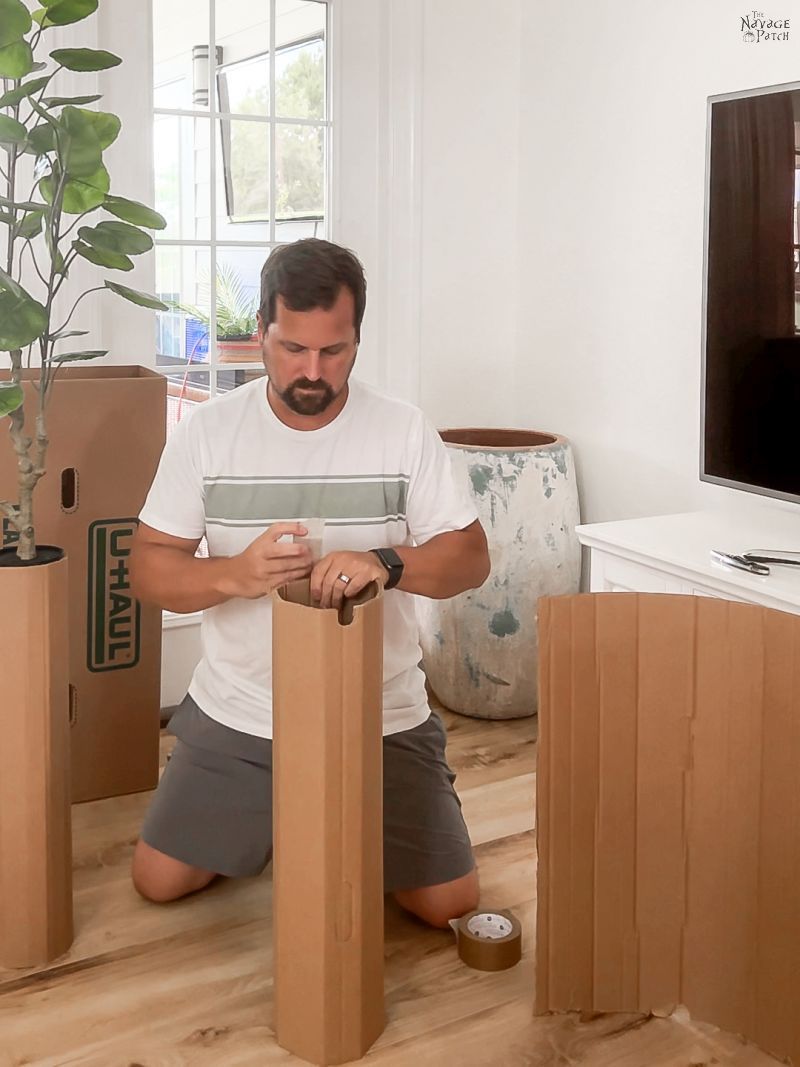 For reference, here are the relative sizes of the nested cylinders.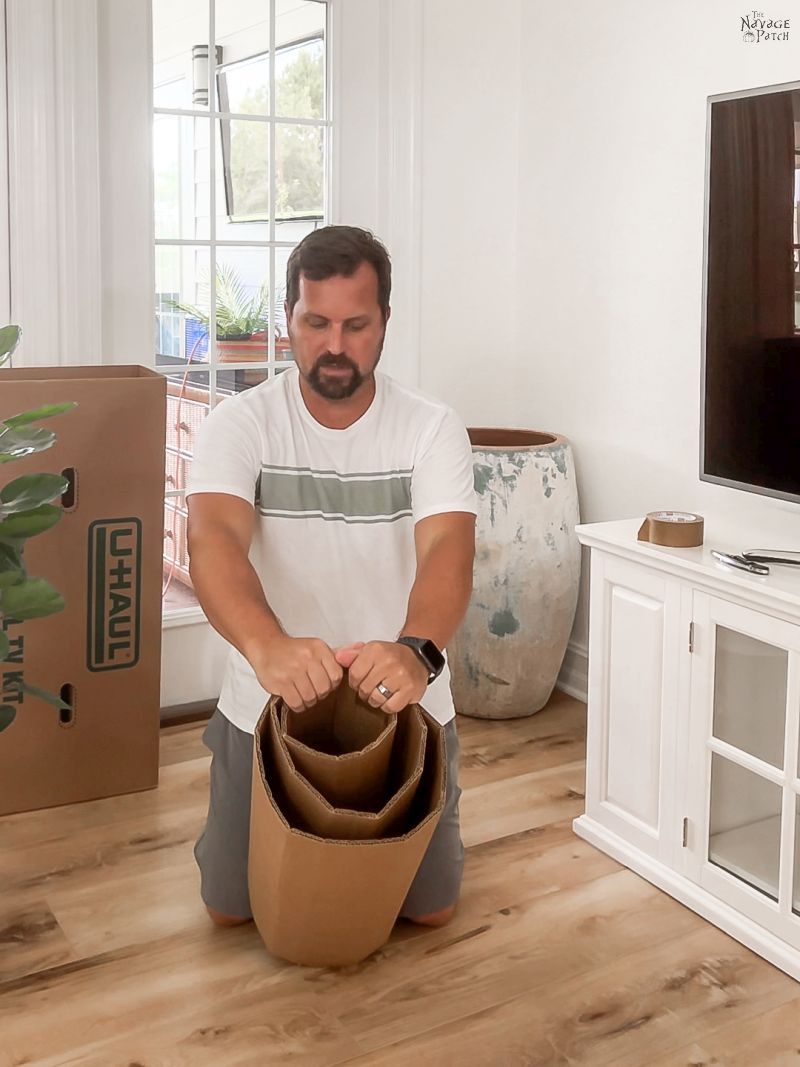 Step 3 – Place cardboard cylinders into planter
Starting with the largest, place the cardboard cylinders into the planter.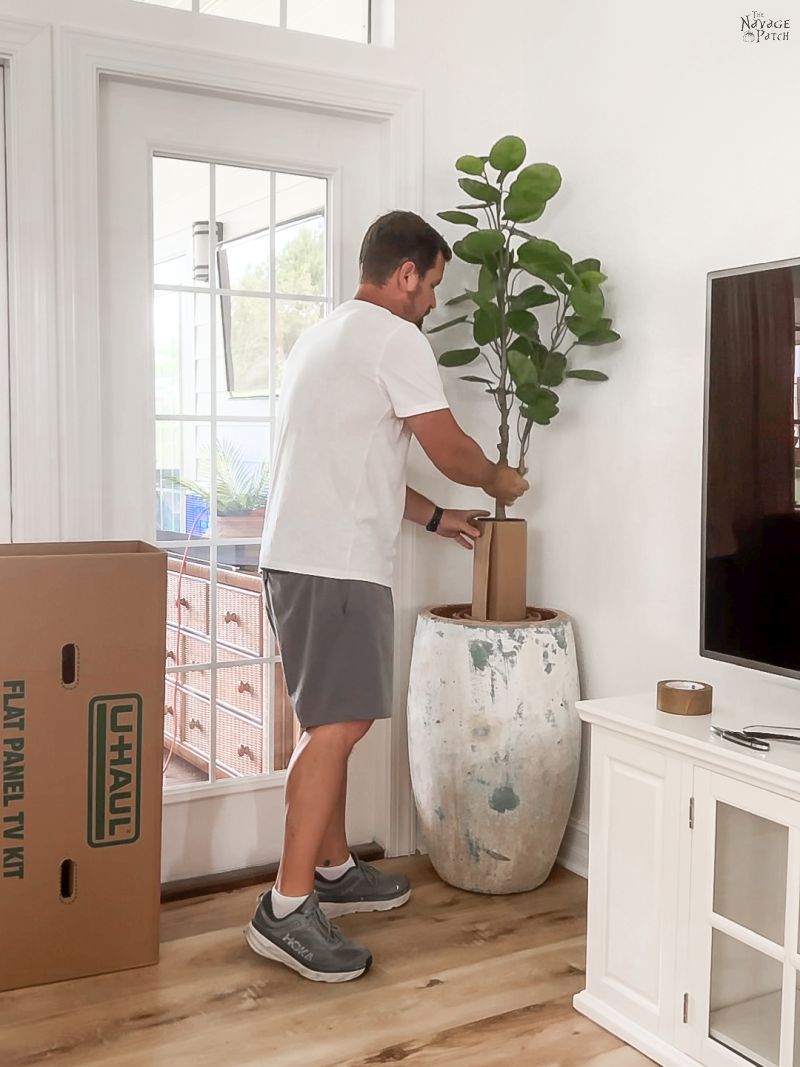 Step 4 – Hide the cardboard
Your tree is now secure! But let's do something about that unsightly cardboard. Artificial moss is always a popular choice when it comes to hiding the ugly parts of fake plants, but for this particular faux tree, we thought faux ferns would look even better.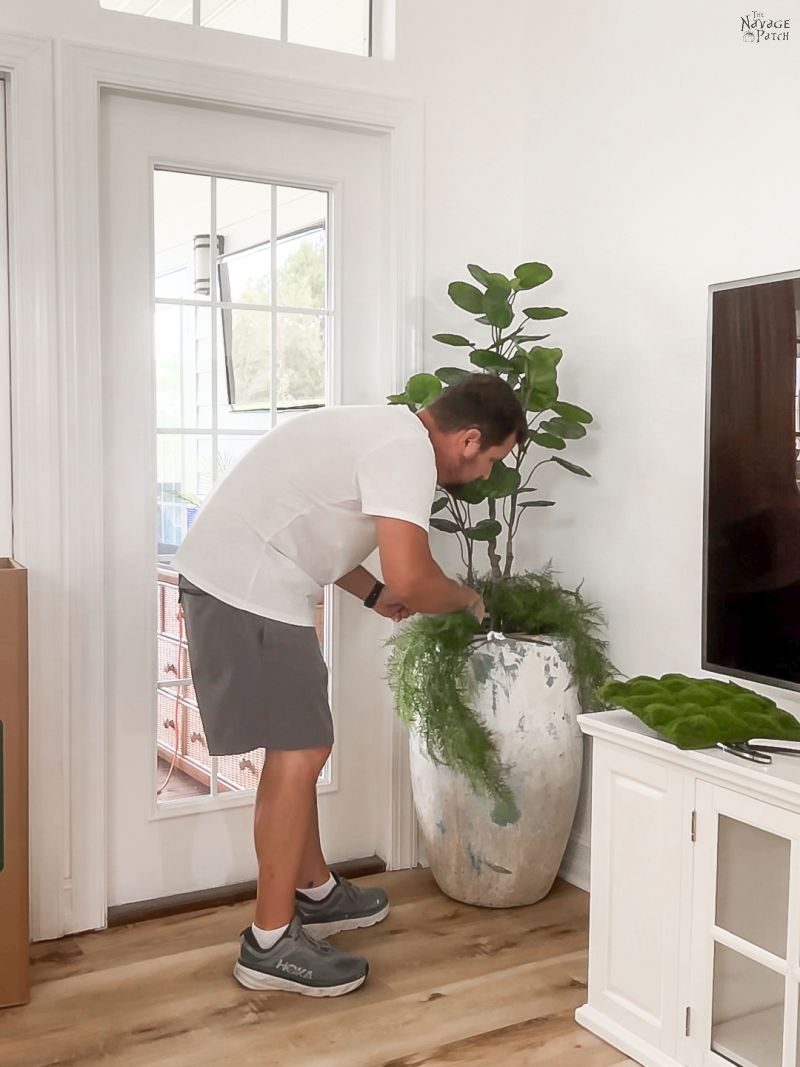 Our new planter looks stunning with its new inhabitant. That little tree is perfectly elevated and entirely secure. It is not rigid – it will sway slightly from side to side if pushed or pulled. But like a Weeble-Wobble, it'll always return to center.