Best Realistic Faux Plants
Faux plants can breathe new life into any room, but they must look real. Here's where to find the best and most realistic fake plants.
If you've spent any time here on The Navage Patch, you've seen scores of artificial plants in every place we've lived. My babes collects faux plants like they're fine wine or old baseball cards. She scours the internet daily and roots around every store we visit for new additions to her ever-expanding Artificial Army. You can't turn your head in this house without a fake plant of some sort sprouting up in your field of view.
But unlike the faux greens of yesteryear that rivaled Jell-O molds and beehive hair-dos for subtlety and grace, today's best artificial plants are virtually indistinguishable from the real thing.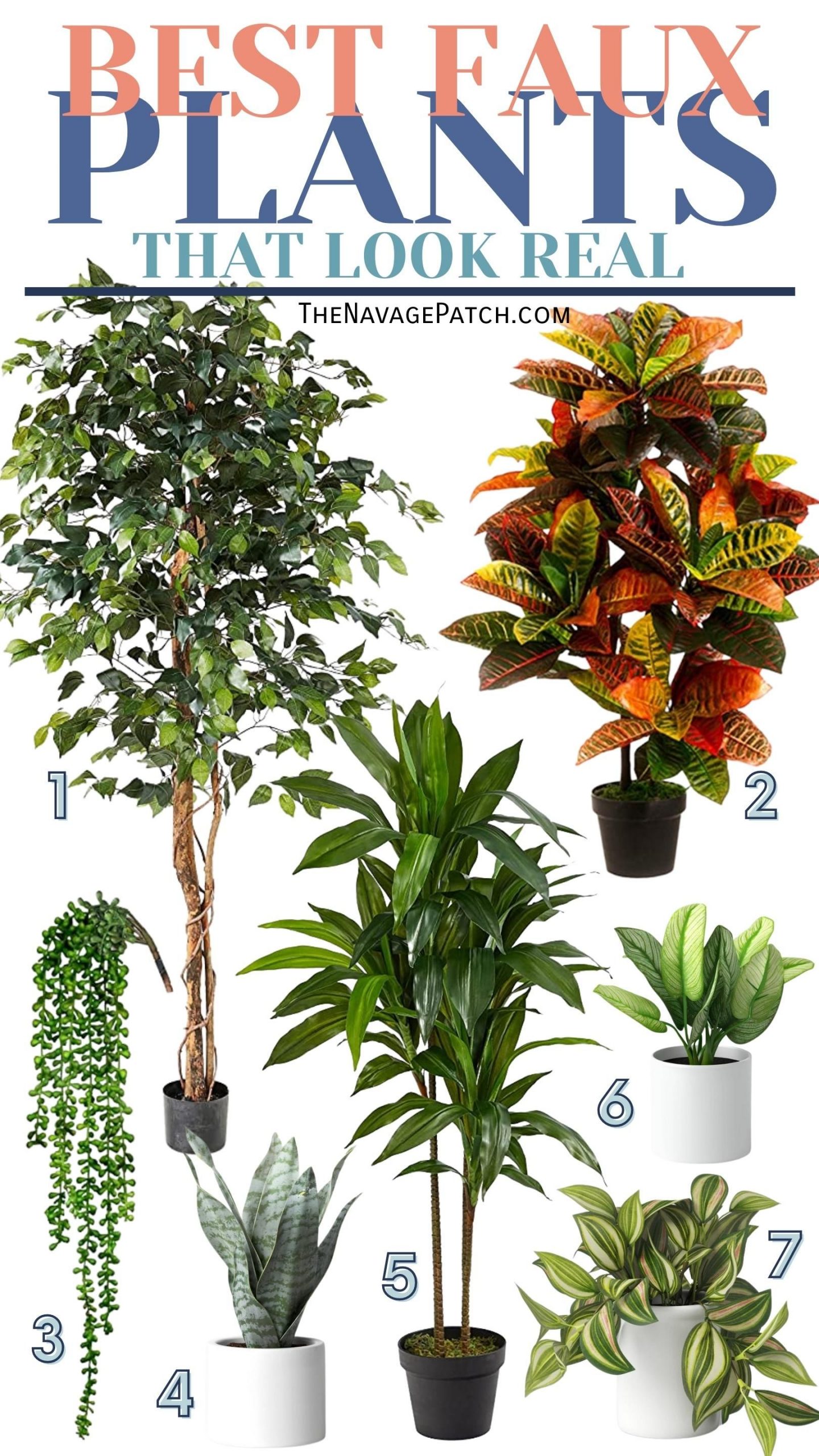 1. 6 ft. Ficus Artificial Tree // 2. 3 ft. Indoor Outdoor Artifical Croton Bush // 3. 4 pcs. Artifical Succulent – String of Pearls // 4. 8″ x 5″ Artificial Snake Plant // 5. 43″ Dracaena Silk Artificial Plant // 6. 9″x11″ Artificial Variegated Leaf Arrangement // 7. 9″ Artificial Trailing Zebrina
And that reminds me of a story from our Connecticut house. I told this one on the blog several years ago, and it came to mind when answering a comment on Baris's young adult bedroom makeover plan post.
When we moved into our Connecticut home on a clear and breezy Halloween in 2013, we discovered the previous owners had left a few possessions behind. There was a shelf littered with old tools and fragments of hardware in the basement, there was a Budweiser sign that hung askew in the garage (the only bit of house never to be touched in the seven years we lived there – it hung crooked until our departure in 2020), there was a half-working toaster in one of the kitchen cabinets, and in the guest bathroom next to a sink full of black stones there stood a solitary white orchid in a white ceramic vase.
I wondered why they would leave such a delicate and beautiful thing, but then again, it really tied that guest bathroom together. I guess they thought removing it from its place next to the sink full of black stones would somehow dishonor the room.
Not wanting to disrupt the noble aura of the precious white bloom, I took great pains to keep the thing alive.
I read that orchids could be fed with ice cubes left to melt into the soil, so I placed three oblong cubes atop its roots from time to time.
I read that orchids enjoyed warm water, as it reminds them of their native tropical rainforests, so I indulged it with an occasional hot draught from the tap. It wouldn't do for my lone little buddy to get homesick!
For months…literal months…I cared for that damn orchid. And in case you were wondering just how colossally stupid I can be from time to time, this should clear up any misconceptions you may have: I never realized I was pampering a friggin' fake plant – the thought never once crossed my mind.
I remember the day I figured it out. I was watering the wretched thing from the guest bathroom faucet, and two thoughts occurred in rapid succession, presented below in no particular order:
This flower hasn't changed one bit in months!
Why isn't the water soaking in?
All at once, like a bolt of searing white lightning striking and activating some long-dormant region of my brain, I became acutely aware of two things, presented below in no particular order:
It's a fake, you dingaling!
Ohmyeffinggod…I'm a moron.
These last two thoughts were quickly ushered off stage by another:
No one knows! Just shut up, keep it to yourself, and go about your business. No one knows!
But as my babes can attest, one of my biggest problems is that I just don't listen.
1. Golden Cane Palm Silk Tree // 2. Small Asparagus Fern // 3. 9″ Artifical Zebrina, Dark Green/Purple // 4. 14″x28″ Artificial Pothos Plant // 5. Large Variegated Plant
Why Go Faux?
I mean, it's tacky – like lawn flamingoes, fuzzy wallpaper or a velvet Elvis, right?
Not anymore, sister! These ain't your granny's falsies! Today's artificial plants are (in my not-so-humble opinion) even better than the real thing. Now, I know that's an opinion sure to raise a lot of dander, but I kindly ask that you lower your dander while I lay out my argument.
Price
Have you shopped for houseplants lately? Though we're not in the market for any real plants, my babes is a price snooper by nature, so every time we're in Home Depot or Lowe's garden center, she's always pawing at the price tags of each and every specimen on display. And Jeezum Crow, the houseplant market has a front row seat on the Inflation Train!
We've done a pretty detailed comparison between like-sized plants, and there's no denying that faux is the way to go for us when it comes to price. I'd rather spend the same money on fake because…
1. 5 Ft Artificial Silk Bird of Paradise Palm Tree Potted Plant // 2. Small Maidenhair Fern // 3. Potted Sansevieria Plant // 4. Green Leaf in Basket // 5. 5.2 Ft Artificial Areca Palm Plant
It Just Won't Die
I'm married to the only woman on earth to have a confirmed kill of a wisteria plant.
Wisteria, madam.
This is the invasive weed we were warned never to plant within 100 square miles of another property, because before we knew it, the plant would tunnel underground and take over the neighbor's land, inhabit his house, steal his car, romance his wife out from under him and win the adoration of his children – all while pumping out bloom after gorgeous bloom of pillowy purple flowers.
So having living things in the house besides me, Baris and the dogs is bad news…for those living things. Unless, of course, I take care of them. But I have enough on my plate. I'm currently keeping a bucket brigade of plants alive around the yard, a small vegetable garden, and I just planted almost 1/2 an acre of grass seed. I don't want the added responsibility of indoor plants!
They don't go out of style
Plants – real or artificial – don't go out of style and they never will. Planters on the other hand…yeesh, people throw good money at hideous planters only to have that "style" fall by the wayside after a few years. We prefer to spend a little more for good quality faux plants and skip the fancy planters.
The penchant for people to fall into stylistic traps and sinkholes never fails to amaze and amuse me. Take a look at this:
I wouldn't fault you for thinking this was made by sticking a pencil in a chicken's beak and plopping it in front of a grocery bag. But nope. This is High Art, made by some buffoon contemporary artist named Ty. The price for this chicken scratch is $425.
And people buy this crap! The same goes for ornate and gaudy planters. Gah! Apply that money towards good quality fake plants instead. You can't go wrong.
Or maybe I'm wrong. Maybe Ty's got it all figured out. Maybe Ty is out on a yacht somewhere with bikini babes and tropical drinks while I toil and swelter under the panhandle sun. Maybe I should change my name and start pumping out useless artistic crap (wait, don't you already do that??). These bozos swankmeisters never have normal names. I'd have to change mine to, I don't know…Gregoir? Nah, too impressionist. Ah! I know!
Grüg. Just Grüg. No last name. No history. Just Grüg.
And my $1000 pencil drawings.
1. Artificial Large Bamboo Plant // 2. 48″ Natural Touch Pothos Artificial Plant // 3. Medium Dasheen Leaf in Wood Pot White // 4. 52″ Nearly Natural Large Leaf Philodendron Decorative Silk Plant // 5. 6″ Artificial Trailing Succulent in Ceramic Pot // 6. 3.4 Ft Artificial Aralia Balfour Tree
How to style faux plants
A realistic artificial plant will look good anywhere, but there are a couple of tricks to make them as realistic as possible.
Place larger plants near a window
Handan is the faux plant stylist in the house, and one of her tricks for bigger plants is to place them near a source of natural light and arrange the leaves to look as if they are reaching for the sun. It's a subtle but effective trick that brings a little life to a lifeless thing.
Group smaller plants together
My mom has a big bay window sill on which she keeps almost all of her houseplants. Not only do the plants look good in their own miniature jungle, but they are far easier to water and maintain when they are all together. Grouping small fake plants in the same manner gives the feeling that they are real. Handan did this perfectly in my new craft studio.
Faux plant care
Many of our plants don't require any care at all, but for those that might benefit from an occasional dusting, here's how we do it. Small plants can be rinsed in the sink – it's much easier than trying to wipe each leaf.
And we've found that medium sized plants can be cared for in the same manner, but instead of the sink, we use the shower!
For the big plants with big leaves, and occasional dusting is all that's needed.
With fakes, there are no bugs, no weird infestations that have me running to Google, no rot, no mold and no mysterious deaths to puzzle out and prevent in the future.
1. 86″ Decorative Faux Fiddle Leaf Fig Tree // 2. Artificial Medium Olive Plant in Ceramic Pot // 3. 5.9 ft OSOS Artificial Korea Bamboo Potted Plant // 4. Trailing Plant // 5. 93″ Artificial Olive Tree // 6. 28″ x 24″ Artificial Palm Plant Arrangement in Pot
Over the years, we've gone from a 100% real plant household to a 100% faux plant haven. I know there will always be a place for real plants, and yes, I'm aware that they clean the air and have feelings and all that. But for those of us who love the look but not the care, fake is the way to go.
I know there are places that mail order live plants, but that is risky business. With artificial plants, you never have to worry. Twenty below zero or one hundred above, they won't die in transit. Though we've bought dozens of plants while shopping in physical stores, Handan loves to buy them online, too. Here are a few of her favorite places, ranked in order of preference.
Best Places to Buy FaUX
Plants Online