Add some magic to your garden this summer with these DIY Waterdrop Solar Garden Lights. This is a fun and easy project that will make you smile every warm summer night.
Hi, I'm Handan! Remember me? I'm the other half of this blog: the better half! [You're delusional, woman! You're only one third of our combined weight! -Greg] 😀 Joking aside, I can't thank my babes enough, because if it weren't for him taking the lead for the past two months on our blog, I wouldn't have been able to get our back yard summer-ready…nor would I have had the time to finish our side yard makeover. Oh yes – our side yard is also done. And oh boy, did it turn out beautifully! Hopefully, Greg will share the reveal pictures soon, but until then, I wanted to share something unique from our side garden: our new DIY waterdrop solar lights!
What do you think? Don't they look lovely? You'd be surprised to learn how easy and quick it was to make these beauties. But before going into the tutorial, let me tell you how this little project started: early last Saturday morning, I went to our basement and as usual, I started going through my never-ending stash of junk and useless stuff. But this time, my purpose was to gather some of that junk we will never use and take it to Put & Take…for the first time ever!…I know, right?…that doesn't sound like me at all! But since I quit smoking in January, I haven't felt like my usual self anyway, so it must be a passing phase due to that. Or maybe I wasn't thinking clearly as I hadn't had my coffee…I am not sure which, but anyway. I was really into clearing out our basement, and the first couple of things I found suitable for Put & Take were these useless watering globes I bought a couple of years ago.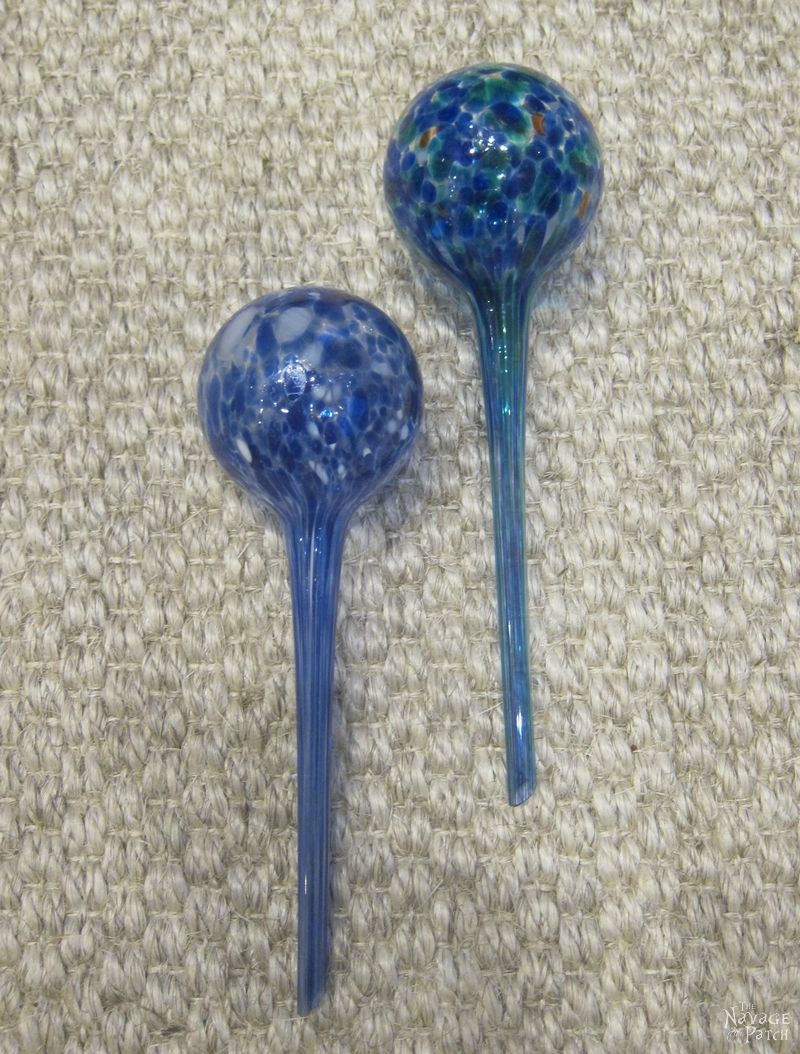 I say they are useless because they never worked for us. Every time I tried them with a house plant, the plant would die, while these little buggers sat there, stuck in the dirt and full of water. [In their defense, she kills every house plant she tries to care for 🙂 -Greg] They were a constant reminder of wasted money and they really deserved to be left at Put & Take! Greg was delighted seeing me there gathering stuff for Put & Take. After all, I never get rid of anything ever 😉 [Ever. Ever. Ever -Greg] But a few minutes later, my babes brought me a cup of coffee. Believe it or not, with the first few sips of that heavenly brew, my world view changed, and not only did I stop what I was doing, but I also asked Greg to take to me to Home Depot to buy  two hose bibs. hahahaha :-D. Can you picture the look on Greg's face right at that moment? Oh yes…it was priceless!! LOL. [We were this close to actually throwing something away! Curses! Drat! Foiled again! -Greg]
Once we were back from Home Depot, I gathered all the supplies for this project.
I started by screwing the 1/2 inch 90 degree elbow onto the 1/2 inch black pipe nipple.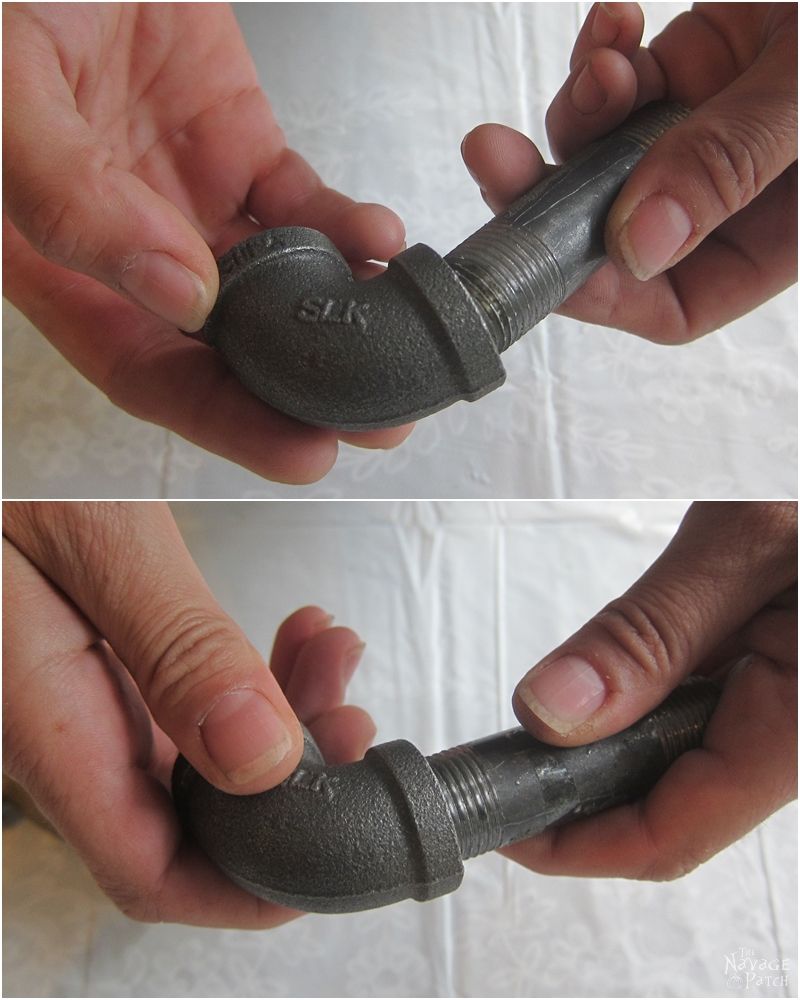 Then, I unscrewed the handle from the hose bib. This was to ease my job while pulling the lights through the hose bib.
Next, I started pulling the string lights, first through the black pipe and then through the hose bib.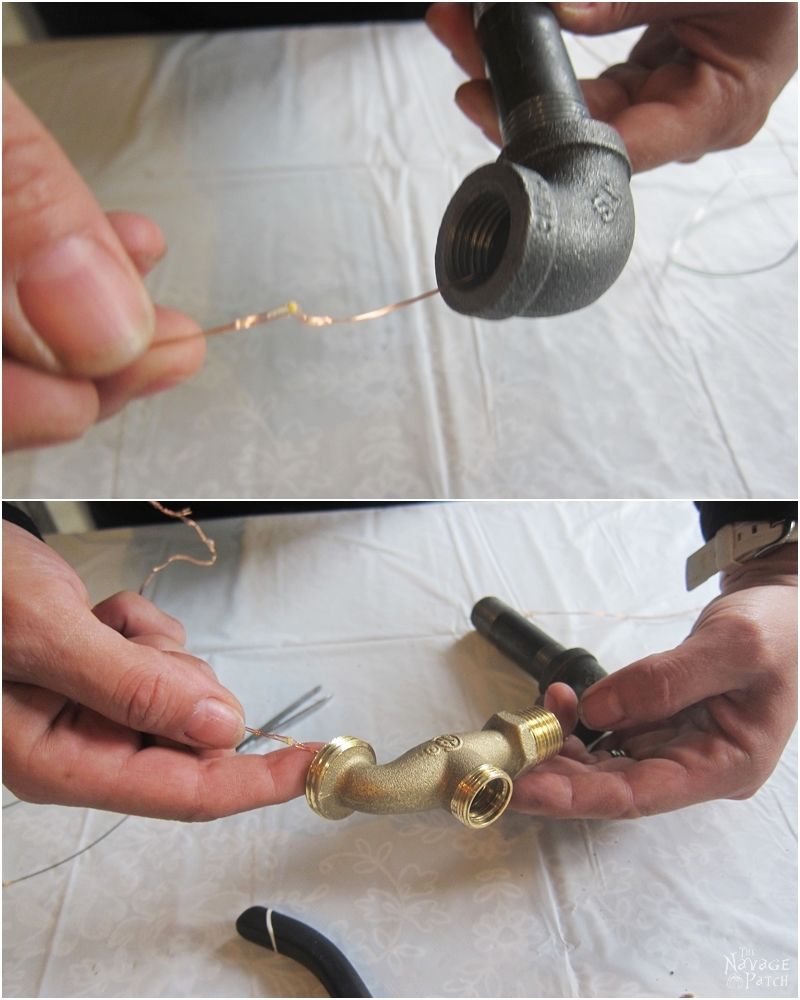 Once I pulled all the lights through the hose bib and reached the cable, I screwed the hose bib into the pipe.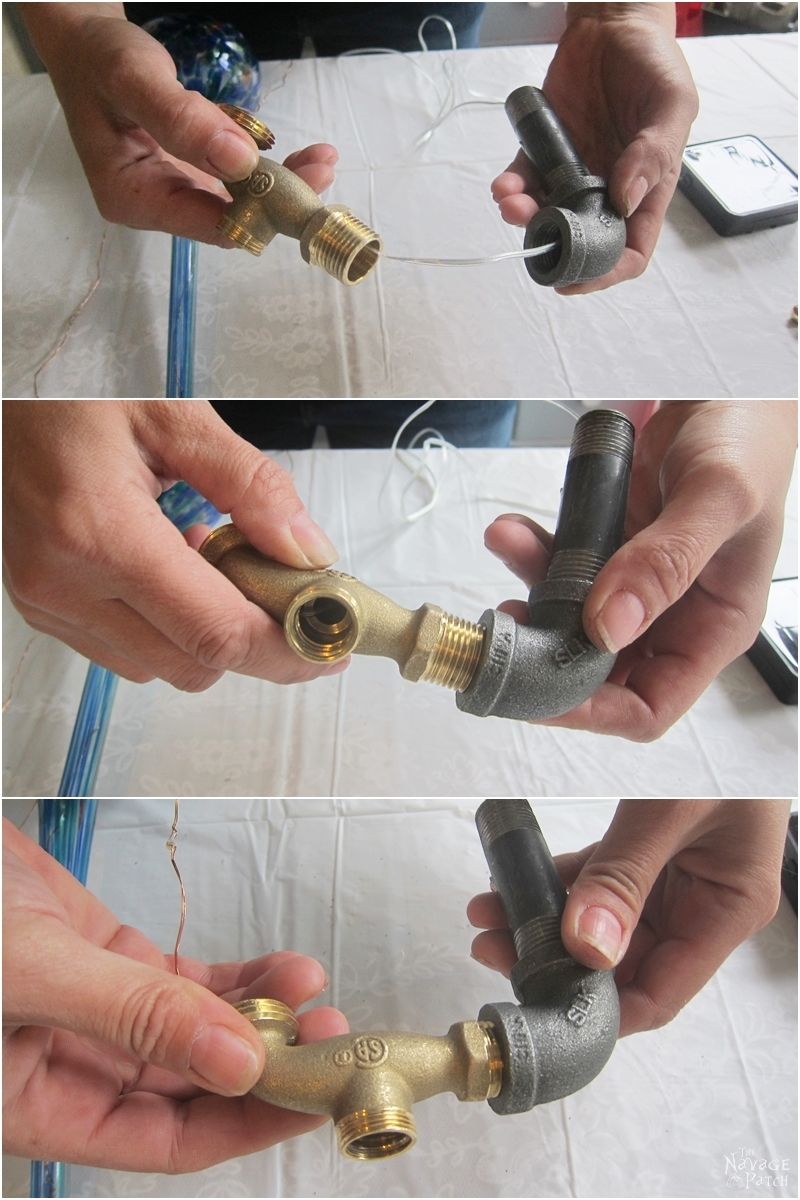 Now it was time for the most tedious part of the project: filling the watering globe with string lights. But even that didn't take longer than 10 minutes. 😉 I know, right? I wasn't lying when I said it was a really easy and quick project! Considering how beautiful it turns out in the end, that little time spent on these lights was totally worth it 🙂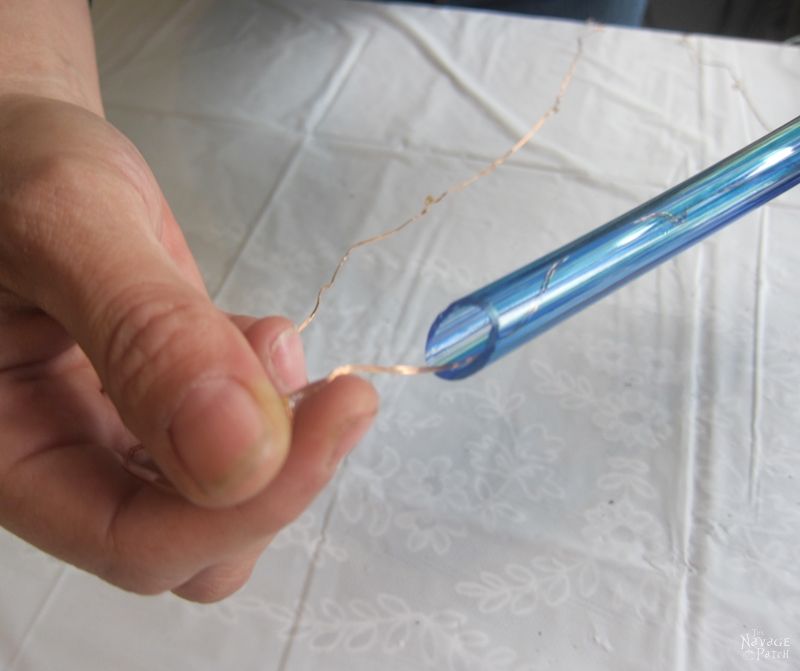 Once I filled the watering globe with a good amount of lights, I started coiling the rest of the lights around a very thin dowel. You see, the string lights I had were 33 ft long and had 100 LED lights – meaning that only every 4 inches there was a LED light. So to place enough lights also in the neck of the watering globe, I had to shorten that 4 inches. And the easiest way to do that was coiling the lights 😉
After coiling the rest of the string lights, I pushed those coils into the neck portion of the watering globe.
Now that I was happy with the amount of lights in the neck of the watering globe, I tested the lights to see if all the connections were good.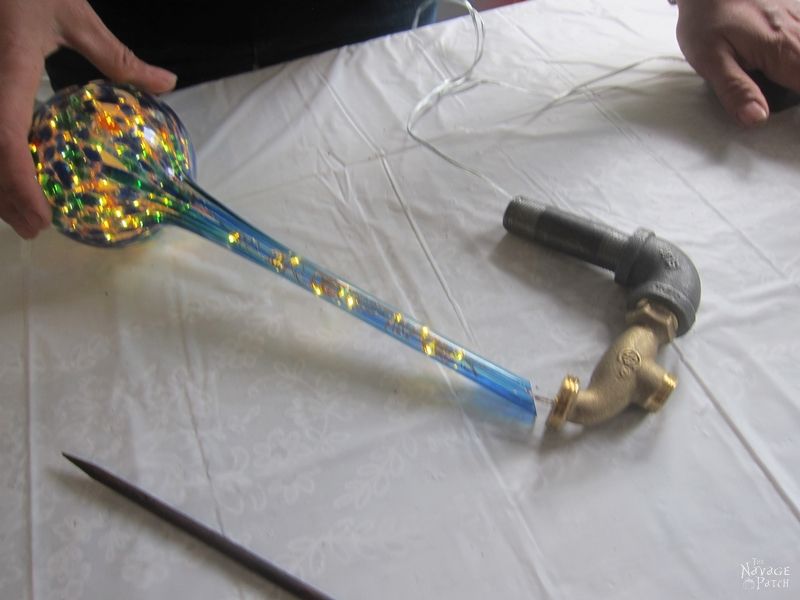 After seeing that everything was functioning as they should be, I moved on to the next step.
Click on "Page 2 of 2" below to continue.
We love it when you share our posts on Facebook and Pinterest!