DIY Waterdrop Solar Lights
DIY Waterdrop Solar Garden Lights will bring some magic to your garden and look incredible when the sun goes down!
Are you looking for the perfect addition to your garden?
Something that will really make a statement and stand out from the crowd?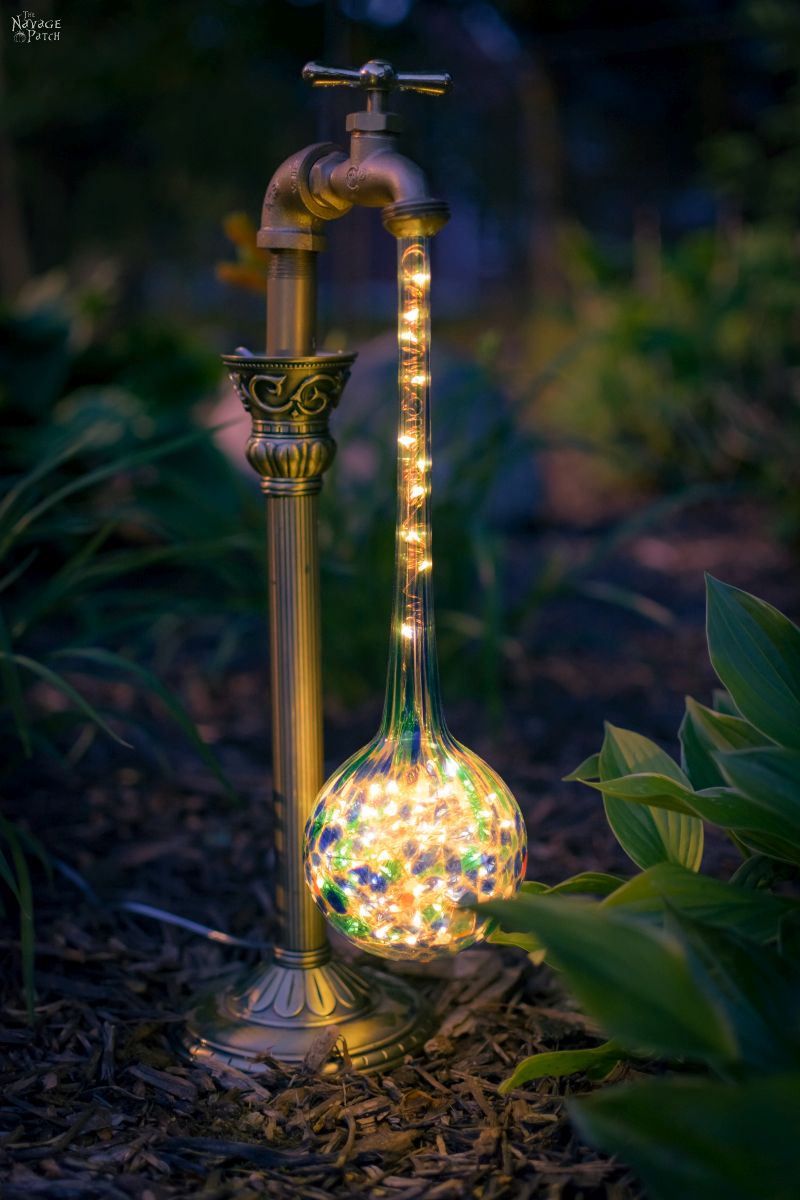 Then you're going to want to make some of these DIY waterdrop solar lights!
Interested?
Good! I'll show you how!
A Different Kind of Solar Garden Light…
You'd be surprised to learn how easy and quick it was to make these beautiful waterdrop solar lights. But before going into the tutorial, let me tell you how this little project started. Early one Saturday morning, I went to our basement, and as usual, I started going through my never-ending stash of junk and useless stuff. But this time, my purpose was to gather some of that junk we would never use and take it to Put & Take – for the first time ever!
I know, right? That doesn't sound like me at all! Greg's jaw hit the floor when he discovered what I was up too, LOL!
So I was really into clearing out our basement, and the first couple of things I found suitable for Put & Take were these useless watering globes I bought a couple of years ago.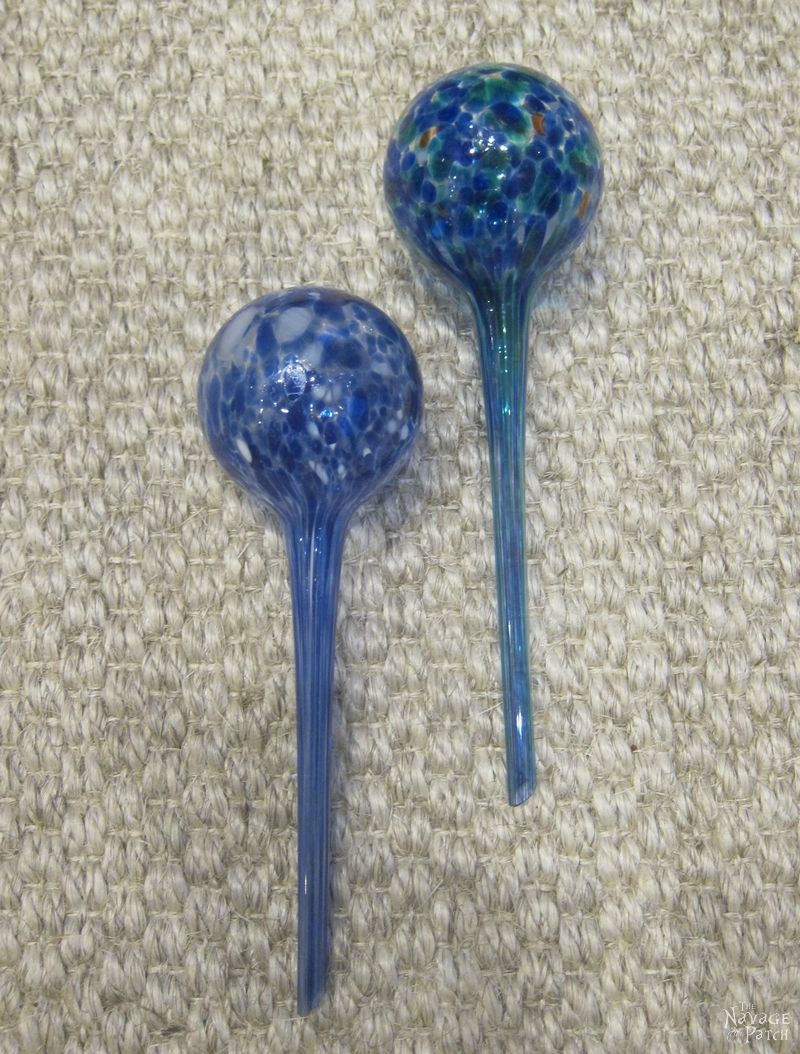 I say "useless" because they never worked for us. Every time I tried them with a house plant, the plant would die, while these little buggers sat there, stuck in the dirt and full of water. [In their defense, she kills every house plant she tries to care for 🙂 -Greg]
They were a constant reminder of wasted money, and they really deserved to be left at Put & Take! Greg was delighted seeing me there gathering stuff for Put & Take. After all, I never get rid of anything ever 😉 [Ever. Ever. Ever -Greg] But a few minutes later, my babes brought me a cup of coffee. Believe it or not, with the first few sips of that heavenly brew, my worldview changed, and not only did I stop what I was doing, but I also asked Greg to take to me to Home Depot to buy two hose bibs. hahahaha :-D. Can you picture the look on Greg's face right at that moment? Oh yes…it was priceless!! LOL. [We were this close to actually throwing something away! Curses! Drat! Foiled again! -Greg]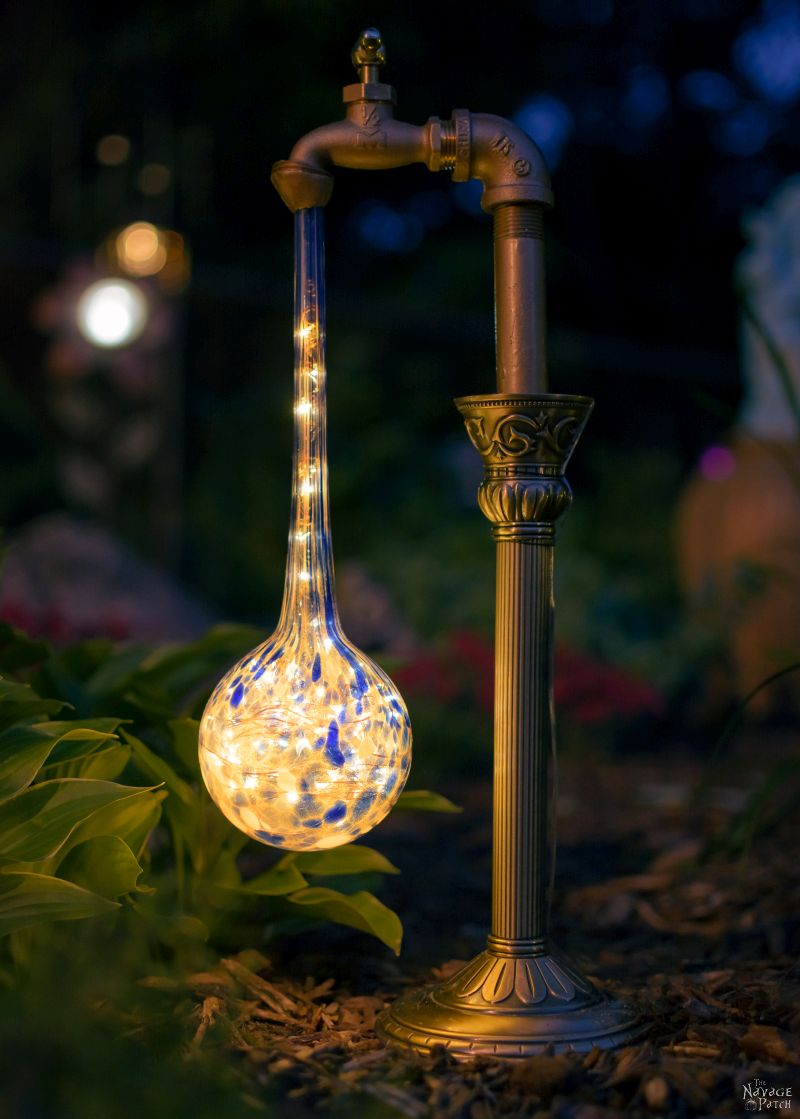 Once we were back from Home Depot, I gathered all the supplies for this project.
DIY Waterdrop Solar Lights
SUPPLIES LIST
Affiliate links are provided below. Full disclosure here.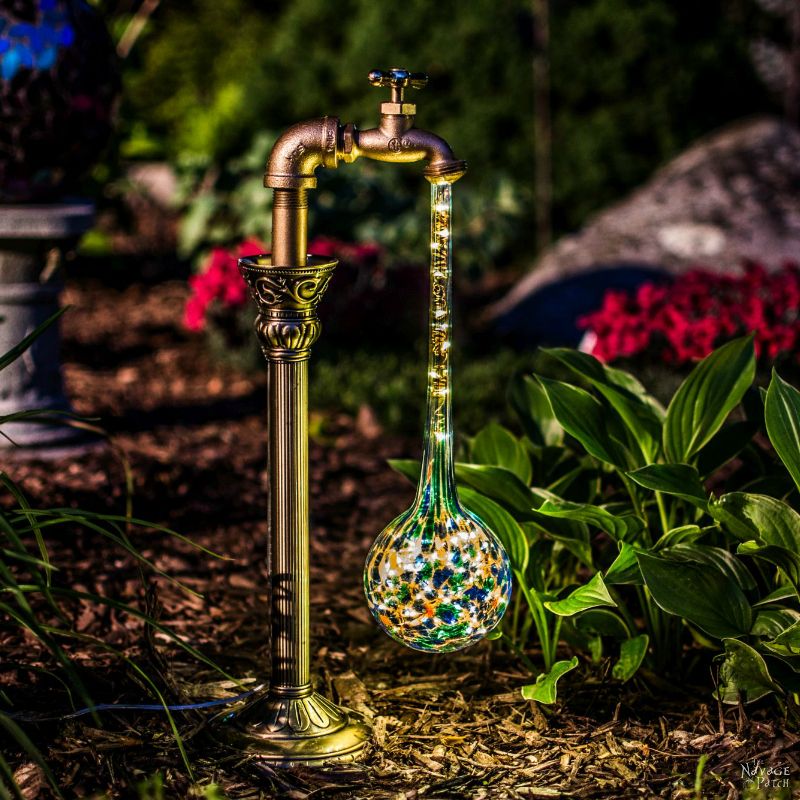 DIY Waterdrop Solar Lights Tutorial
I started by screwing the 1/2 inch 90 degree elbow onto the 1/2 inch black pipe nipple.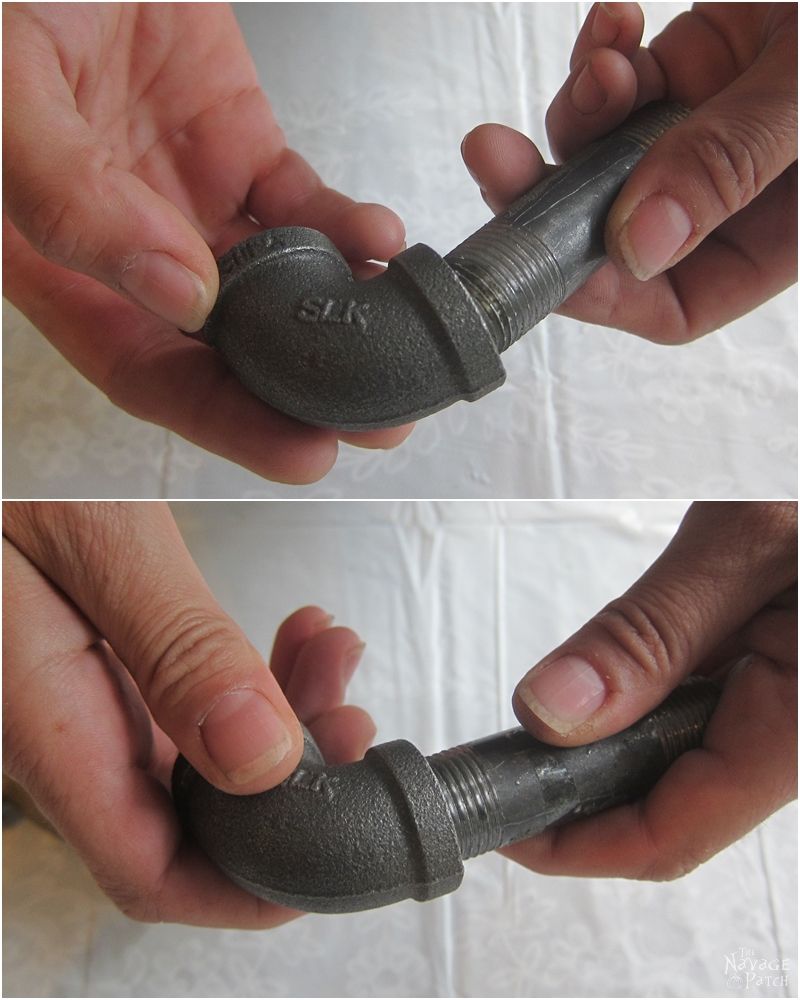 Then, I unscrewed the handle from the hose bib. This was to ease my job while pulling the lights through the hose bib.
Next, I started pulling the string lights, first through the black pipe and then through the hose bib.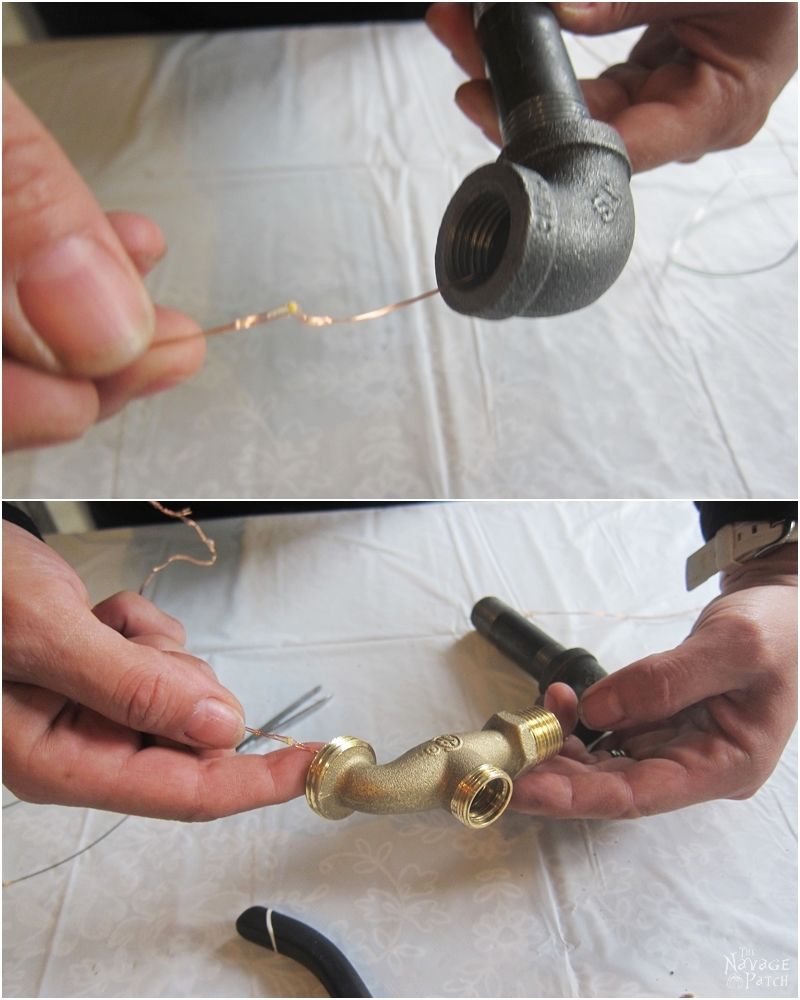 Once I pulled all the lights through the hose bib and reached the cable, I screwed the hose bib into the pipe.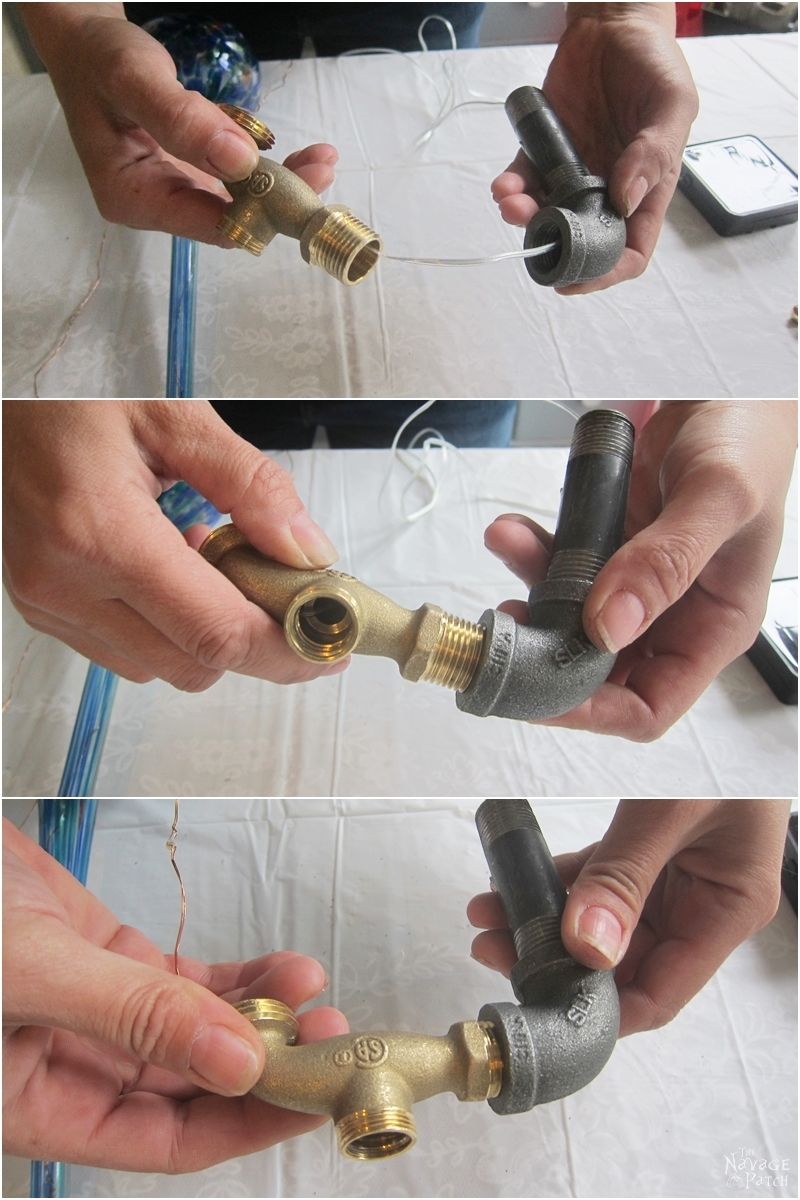 Now it was time for the most tedious part of the project: filling the watering globe with string lights. But even that didn't take longer than 10 minutes. 😉 I know, right? I wasn't lying when I said it was a really easy and quick project! Considering how beautiful it turns out in the end, that little time spent on these lights was totally worth it 🙂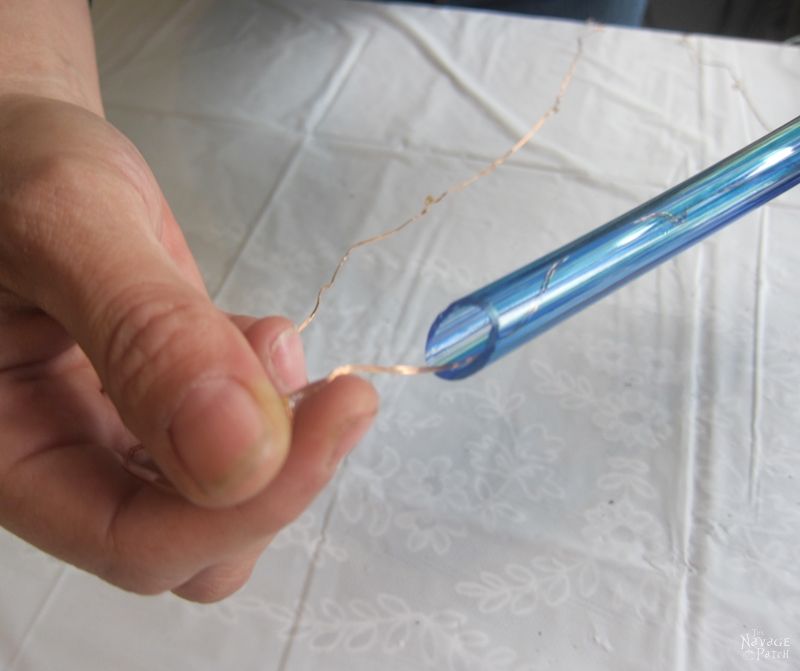 Once I filled the watering globe with a good amount of lights, I started coiling the rest of the lights around a very thin dowel. You see, the string lights I had were 33 ft long and had 100 LED lights – meaning that only every 4 inches there was a LED light. So to place enough lights also in the neck of the watering globe, I had to shorten that 4 inches. And the easiest way to do that was coiling the lights 😉
After coiling the rest of the string lights, I pushed those coils into the neck portion of the watering globe.
Now that I was happy with the amount of lights in the neck of the watering globe, I tested the lights to see if all the connections were good.
After seeing that everything was functioning as they should be, I moved on to the next step.
I pulled the gasket off of the bib handle and screwed the handle back into its place. Here is an important note here: before screwing the handle back in make sure you position it to "open," otherwise it could hurt the wire of your string lights.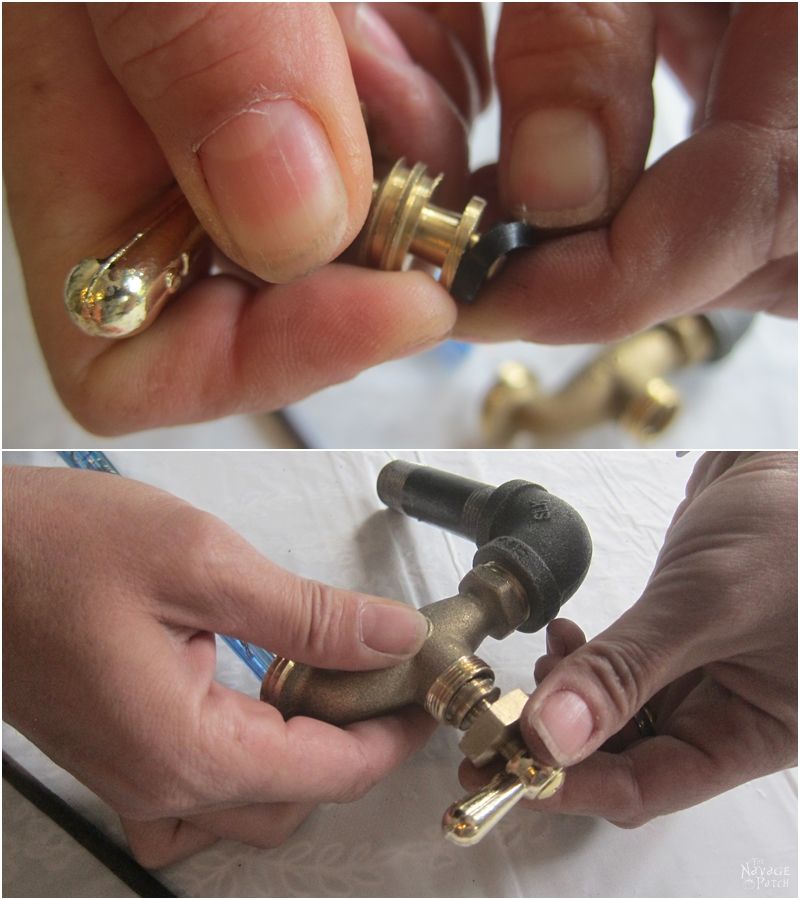 Next, I was going to connect the watering globe to the hose bib. Since I wasn't sure if hot glue would hurt the copper of the string lights or not, I opted for my handy dandy apoxie sculpt. If you can't find apoxie sculpt, Sugru or any other moldable glue could also work for this part.
I took equal small amounts from each part of the apoxie sculpt and mixed them until it was ready to be worked with.
I put the apoxie sculpt mixture around the opening of the watering globe and connected the watering globe with the hose bib. Next, I propped the whole thing until I was happy with it's appearance and let the apoxie sculpt cure overnight in that propped position.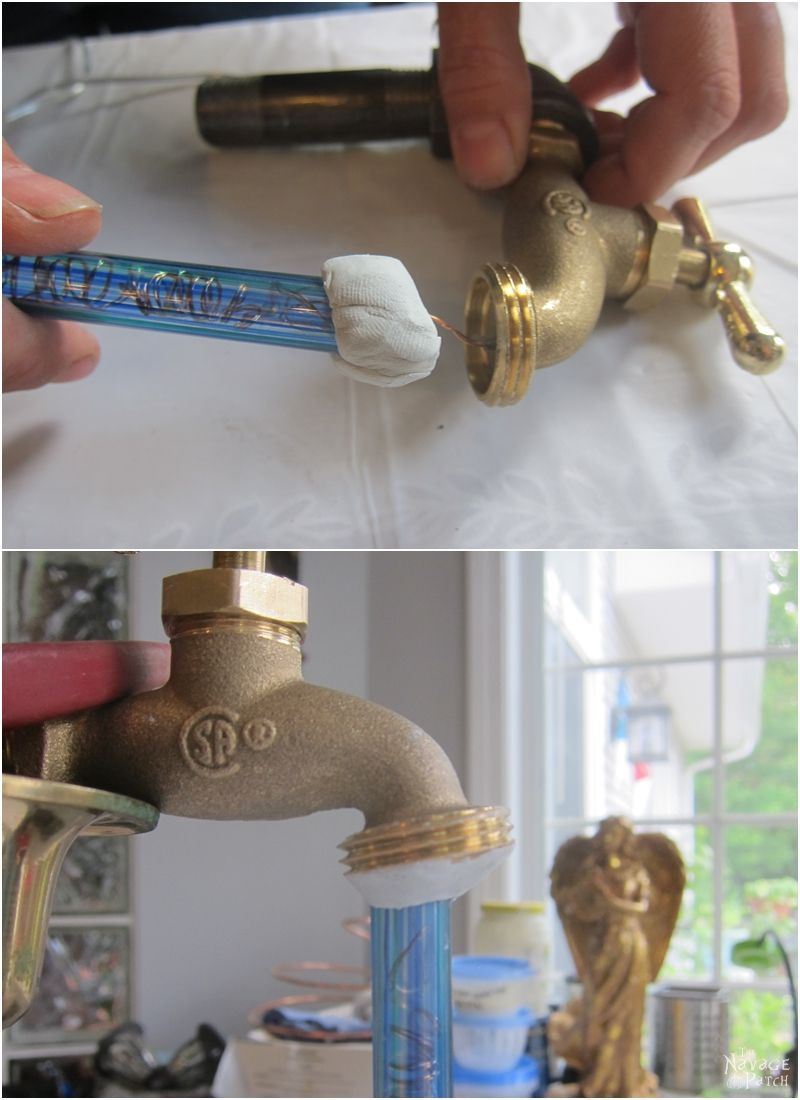 The next morning, I spray painted the dried apoxie sculpt with Rust-Oleum metallic antique brass spray paint.
After the paint dried, I put the entire thing together with the help of hot glue. Normally 1/2 inch black pipe sits in a tapered candle holder pretty good. But I wanted more of a snug fit, so I put a little bit of hot glue to the front side of the pipe and placed the pipe into the candle holder.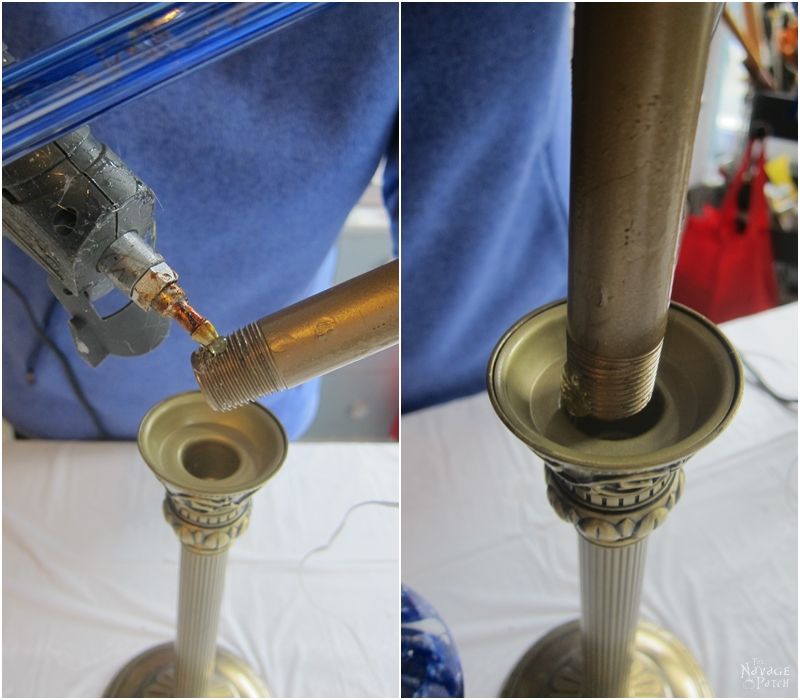 As the final step, I cut some wire and tidied the lights' cord as seen in the pictures below. This last step is optional, but trust me, your DIY waterdrop solar lights will look much better with the cord tidied 😉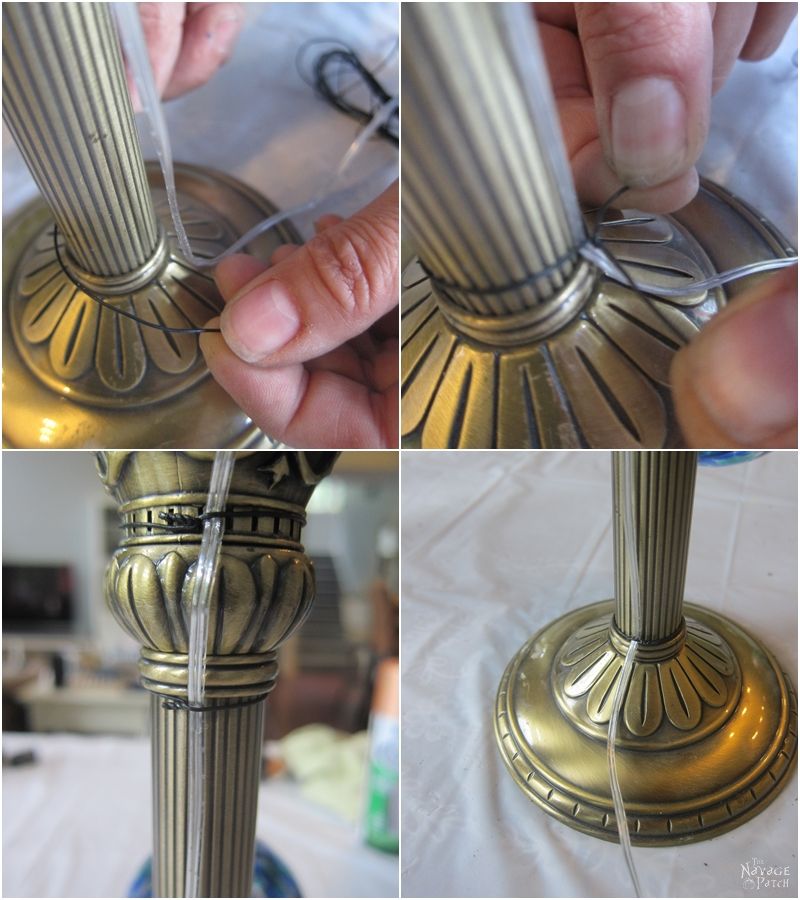 DIY Waterdrop Solar Garden Lights
Are you ready for the beauty shots? Ok then, let me warn you: I again put quite a lot of final photos! But this time it is to give you a better idea how our DIY waterdrop solar garden lights look all throughout the day & night, so yes the photos are all in different lighting 😉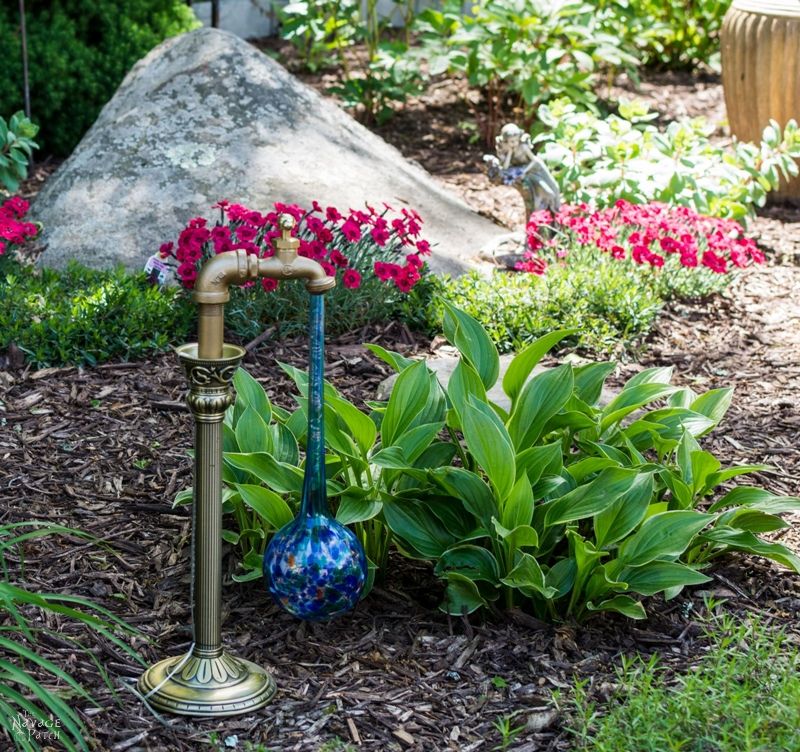 This is how they look in the early evening hours (when the solar garden lights just turned on):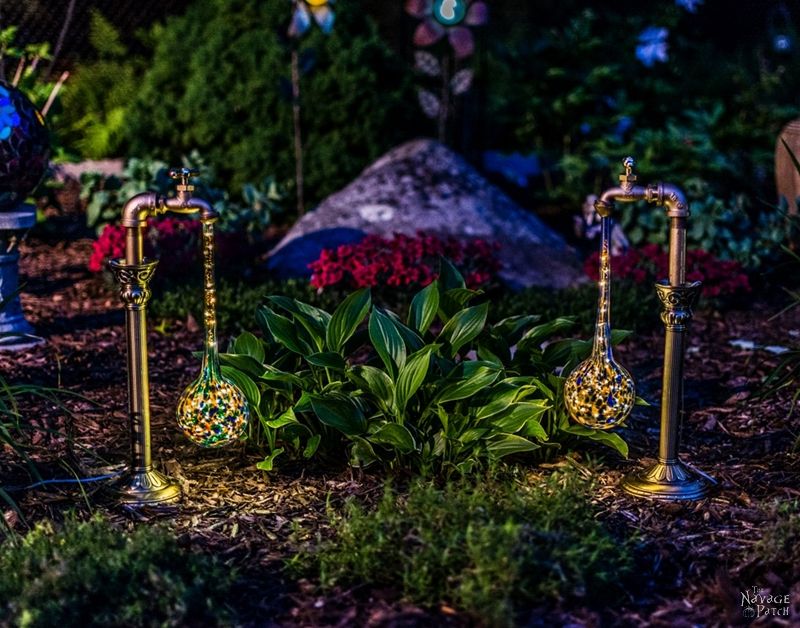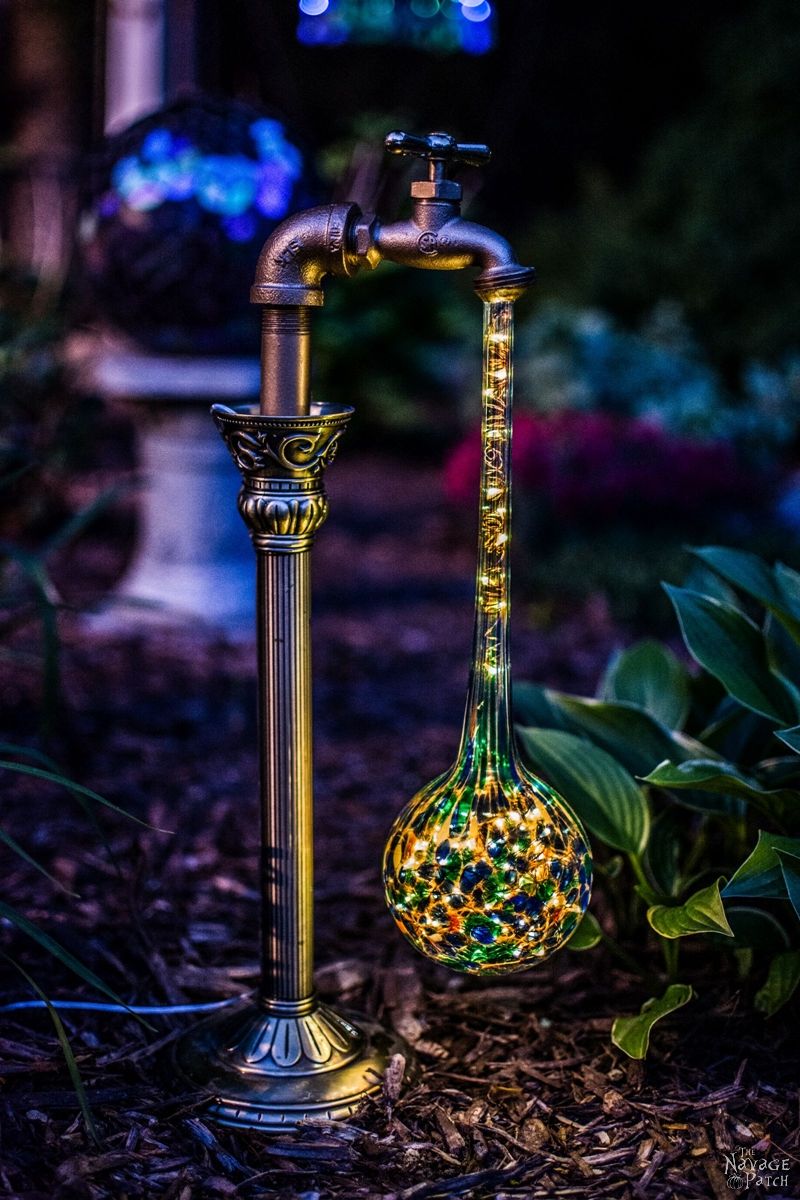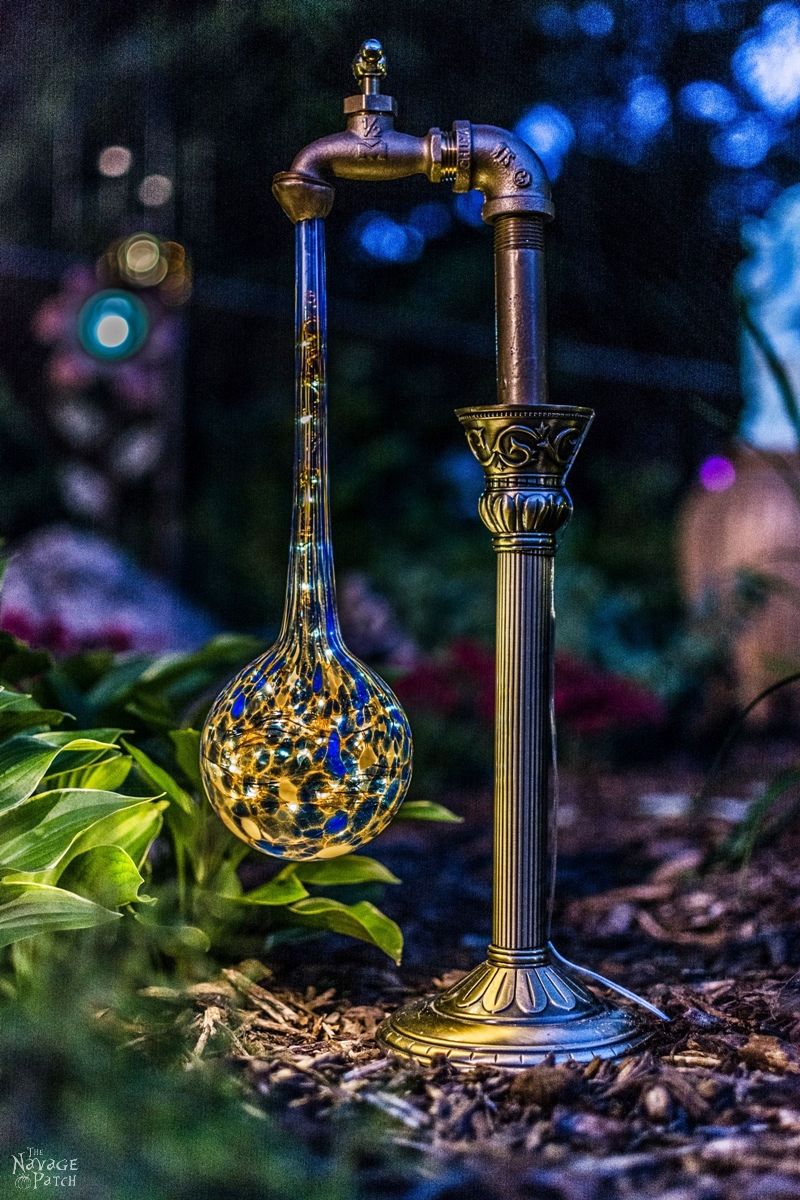 Then later in the evening, when it is a tad darker…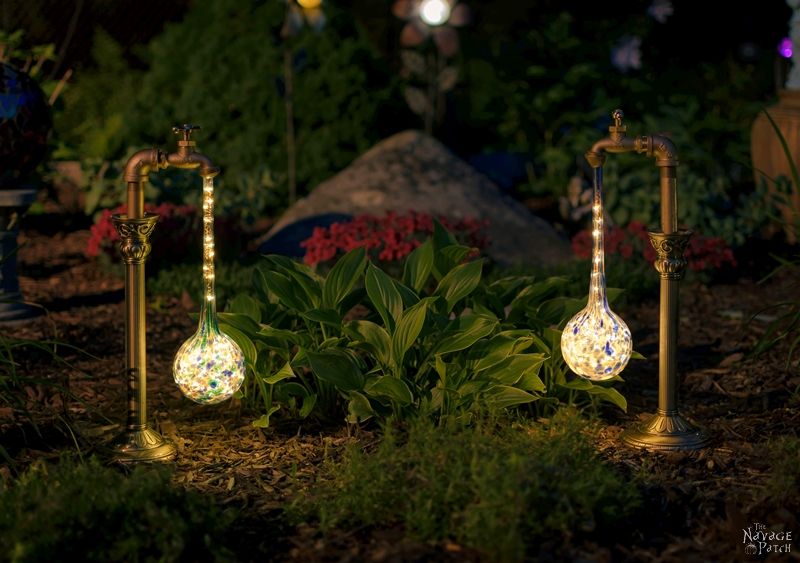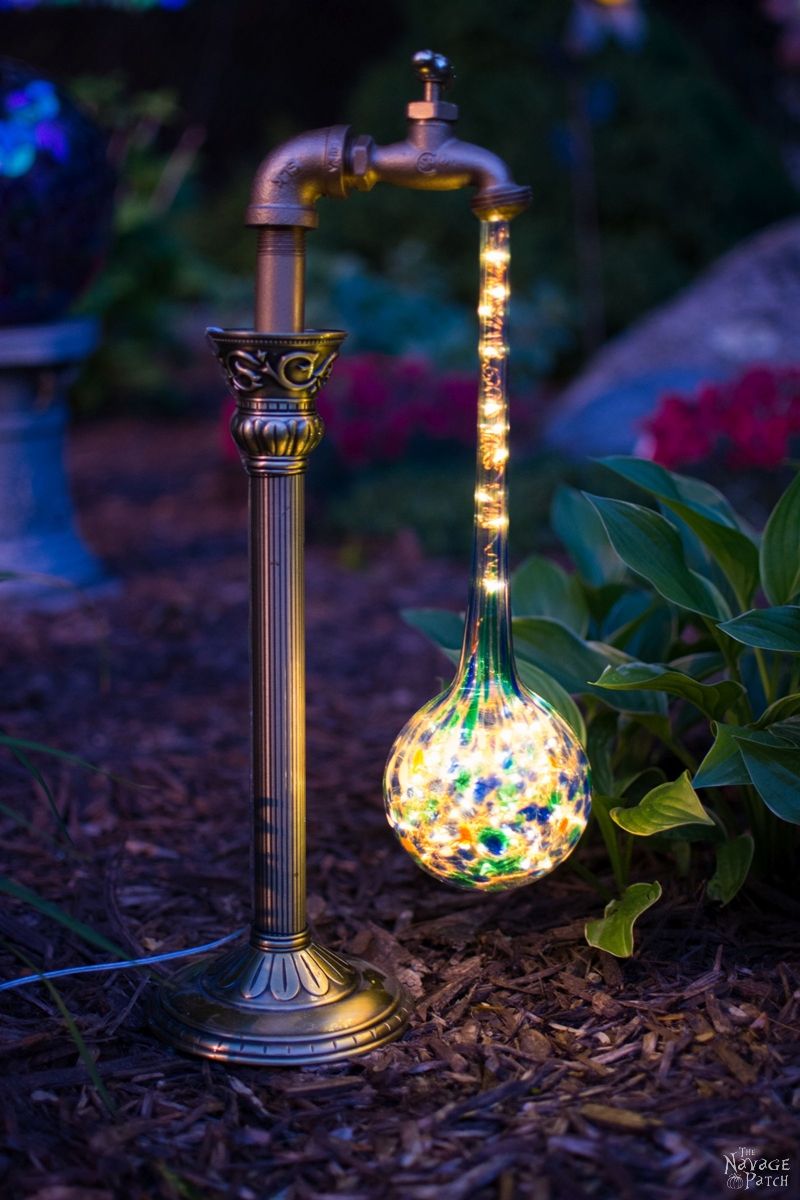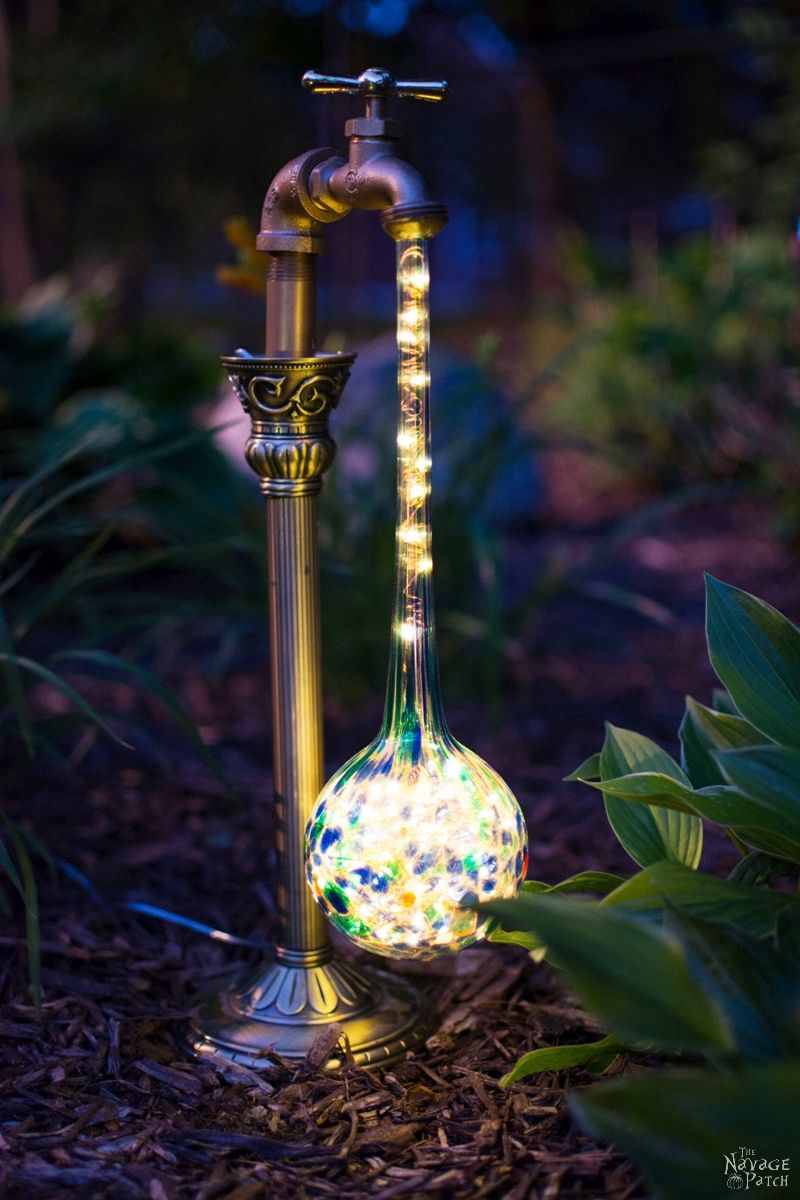 And well into the night…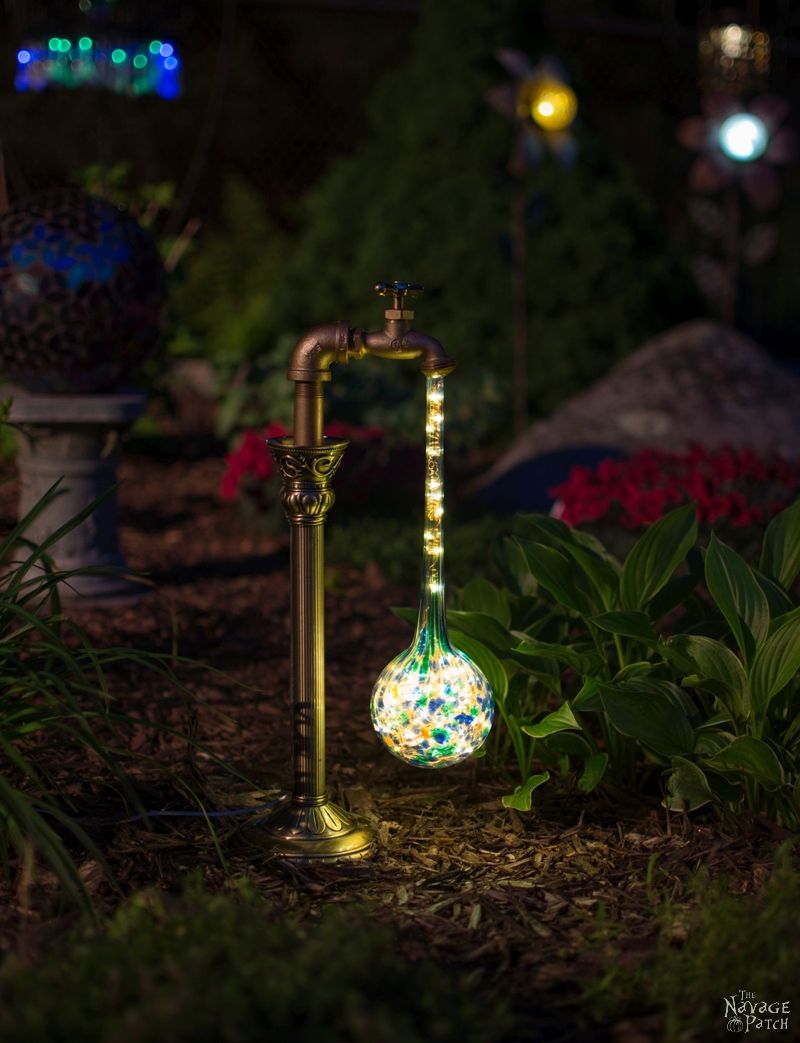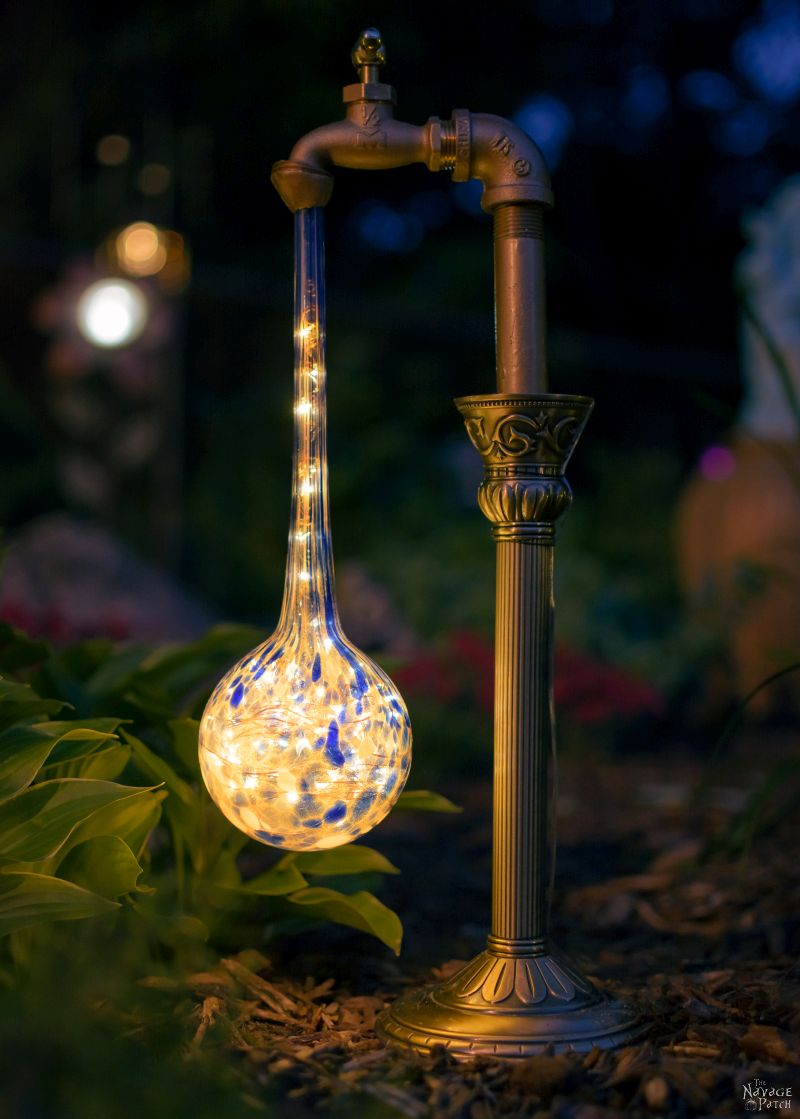 I really love our DIY waterdrop solar lights, and I hope you liked them too!
Handan, xo
Here are some more Garden Decor and Lighting ideas for you!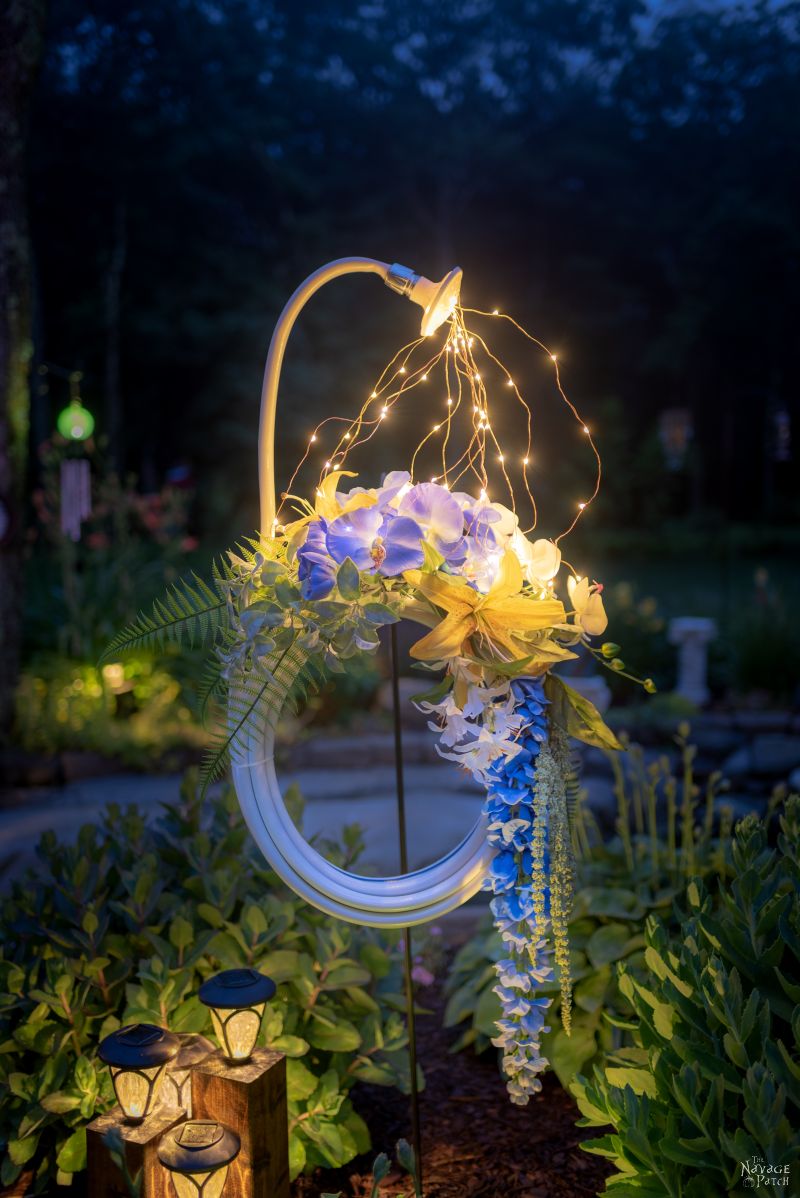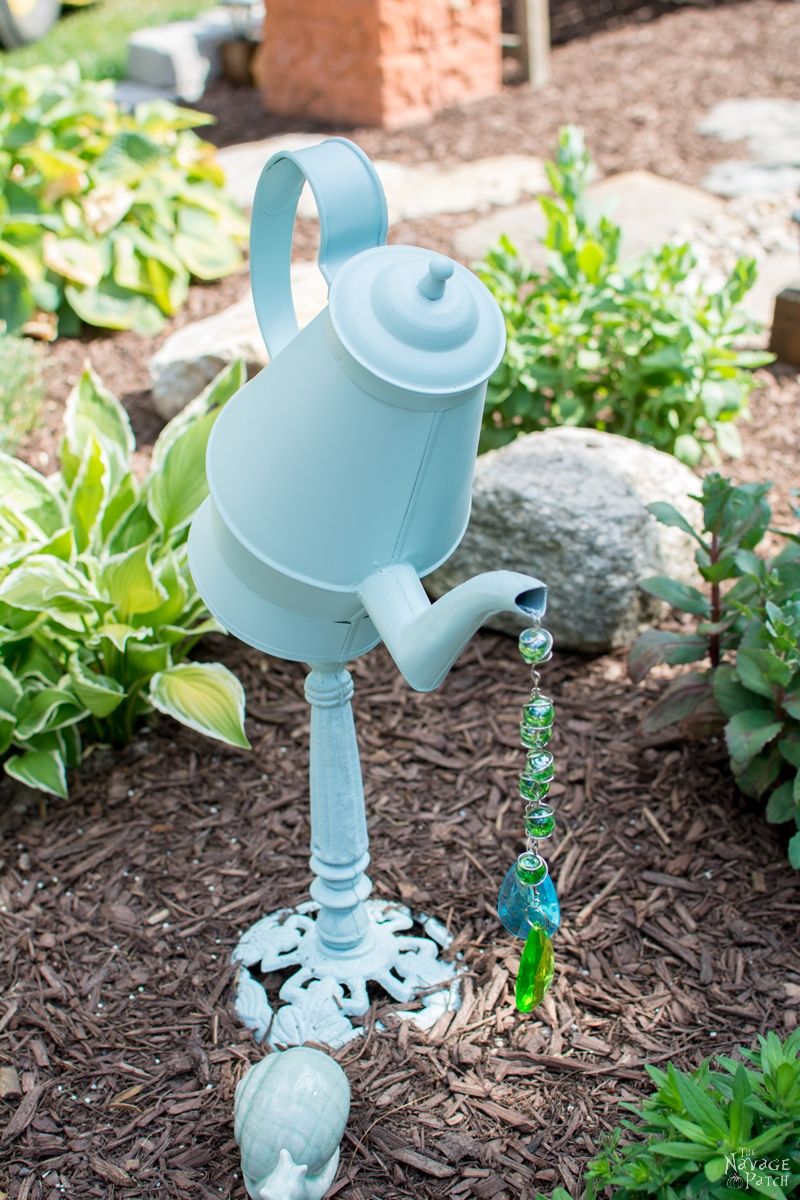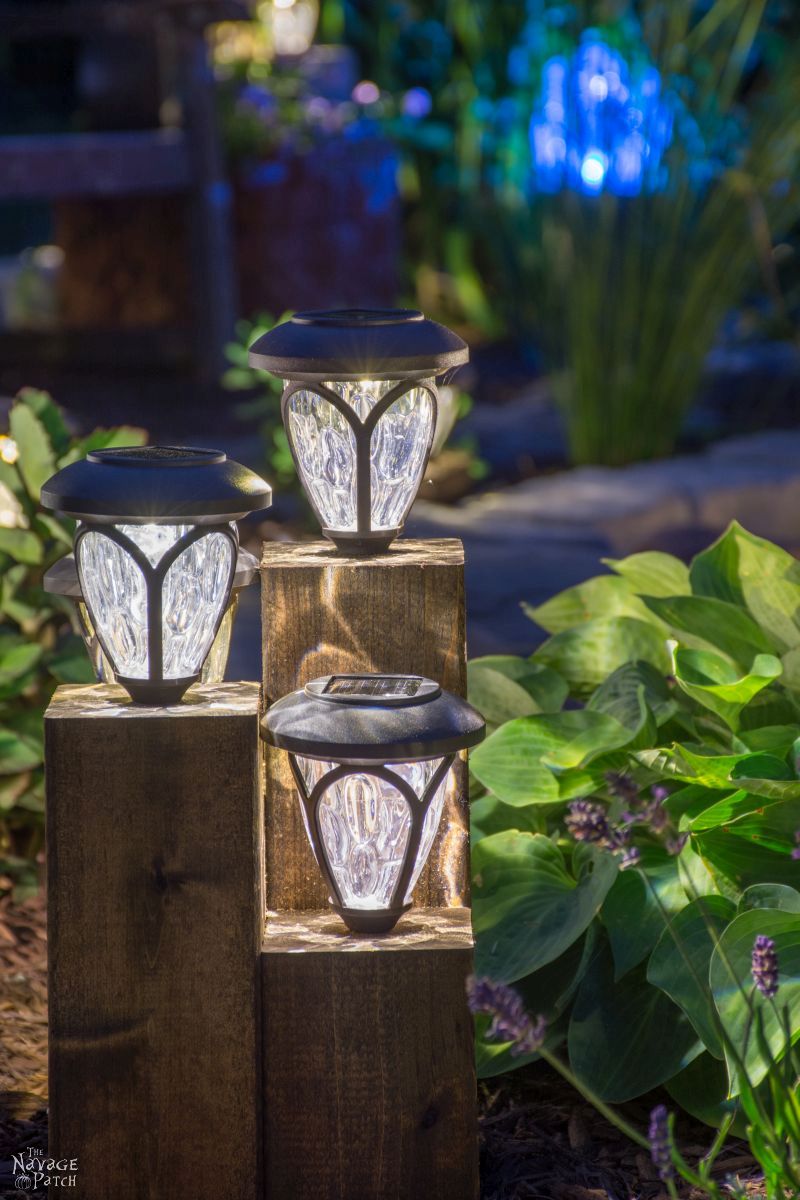 We love it when you share our posts on Pinterest!