Printable Halloween Garlands
These free printable Halloween garlands are perfect to hang above your creepy displays, across your cobwebbed windows or over your haunted mirrors!
So.
As you know, Handan has a new antiqued panel mirror.
Of course, when I say "new," I mean that in the sense that the mirror is newly in her possession.
We did not buy that mirror—perish the thought!
Nope. That mirror was built, panel-by-antiqued-panel, by a local artisan troll who toils alone in a dank and dark workshop at the very top of the very tallest hill in town.
And you may remember that I told you my babes can't wait to start festooning her newly acquired mirror with all sorts of seasonal doodadery. There will be Halloween garlands, Christmas banners, Easter pennants and lord knows what else.
You know, I have a sneaking suspicion that she didn't actually want a mirror per se. I think she just wanted something pretty to hang stuff from.
It reminds me of my old college friend, Tom. He considered french fries to be nothing more than delivery vehicles for ketchup. Tom didn't order fries to enjoy their crisp, salty, potatoey goodness. He would order them so he had a justifiable excuse to shovel ketchup into his face.
Our antiqued panel mirror is the french fry.
The garlands are the ketchup.
And my babes is in it for the ketchup.
Okay, we've established what the mirror is and what role it plays in our home decor. Now let's talk a little more about today's printable Halloween Garlands.
Going Vintage
This holiday season, The Navage Patch is rolling back the decades and going for a cozy and comfortable vintage feel. Handan's printables are no exception.
Starting with these garlands and carrying on through our Christmas printables, we're going a little vintage. Handan's aim is to capture the colors, textures, images and the overall feel of decades long since passed.
Printable Halloween Garlands
Some of you have already spied one of today's Halloween garlands in our DIY Halloween candles post…
…but we've got two more designs for you and a couple of different background options to choose from.
So enough of my yapping. You didn't come here for cheap talk—you came for free printables!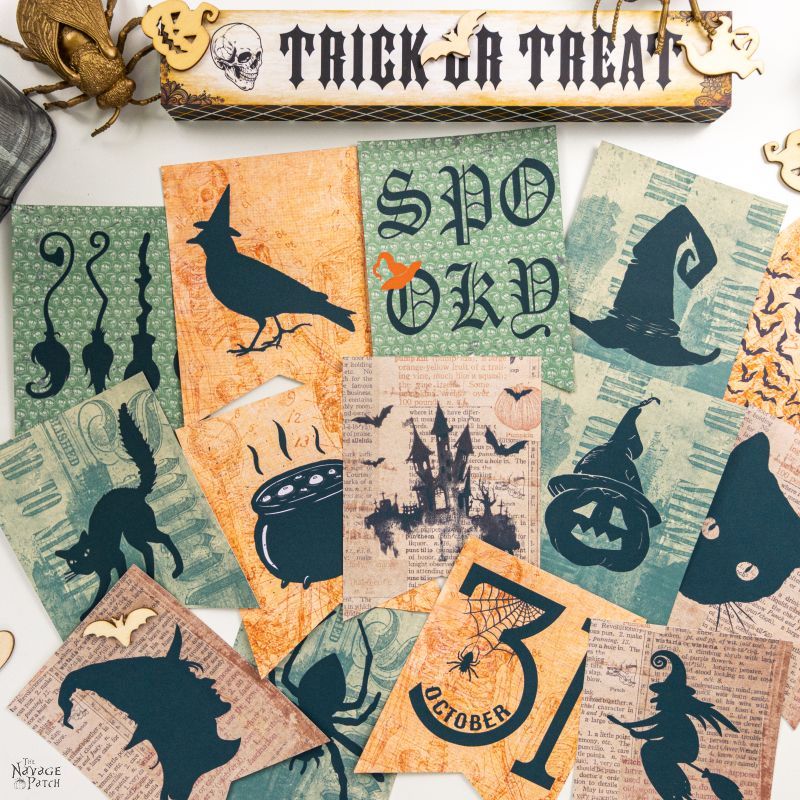 Enjoy your Halloween garlands, and may your October be full of bubbling cauldrons and good cackling fun!
*******
As usual, here is some information on the printables: we designed these free Halloween garlands in several colors and in two formats: PDF and JPG. As you know, PDF is not scalable, but the JPGs can be scaled up or down as necessary. If you need help with scaling these Halloween garlands, then make sure you check out Handan's "How To Easily Resize Pictures" post.
Now it's time to click on the button below to download today's free printable Halloween garlands – they are all in the Halloween section of The VIP Patch.
If you're not a Navage Patch VIP, you won't be able to access our Freebies Library. But that can be easily fixed! Subscribe for free on the form below and become a Navage Patch VIP. Once you subscribe, a password will be sent to you in our Welcome email, and that will give you access to The VIP Patch [Freebies Library]. If you didn't receive our Welcome email, can't find the password or have any other questions on this process or on our free printables, please check our Printables FAQ page.
If you display our free printables in your home, be sure to take a picture and post it on Instagram! Don't forget to tag us @TheNavagePatch! We love to see our printables out in the wild!
We love it when you share our posts on Facebook and Pinterest!