Super Simple Fairy Light Ideas
Nothing adds beauty and charm to an outdoor space as quickly and easily as fairy lights! Here are 3 super simple fairy light ideas for your back yard.
The Simple Stupid train is running full steam ahead here at The Navage Patch! (For those not familiar with our new motto, please read about it here.) Since our deck reveal post, we've received a lot of inquiries about the lighted side table in some of the pictures. Today, I'll show you how to make that table and give you two other super simple fairy light ideas that you can finish in about a minute (okay, I'll give you 5 minutes, in case you want a tea break). They may be quick and easy (Simple Stupid), but they look incredible at night, and they'll make your backyard living area pop!
Super Simple Solar Mason Jar Wine Rack
For our first project, you'll need a simple 3-bottle wine rack. We found ours at the Put and Take section of our town dump.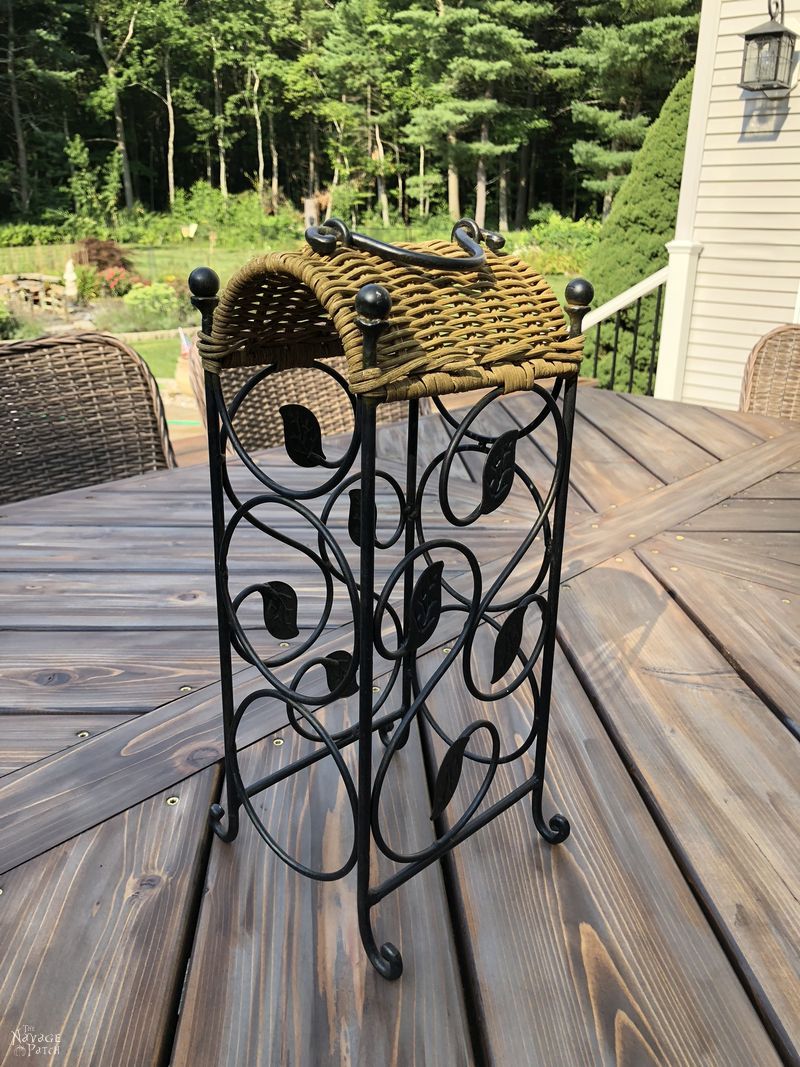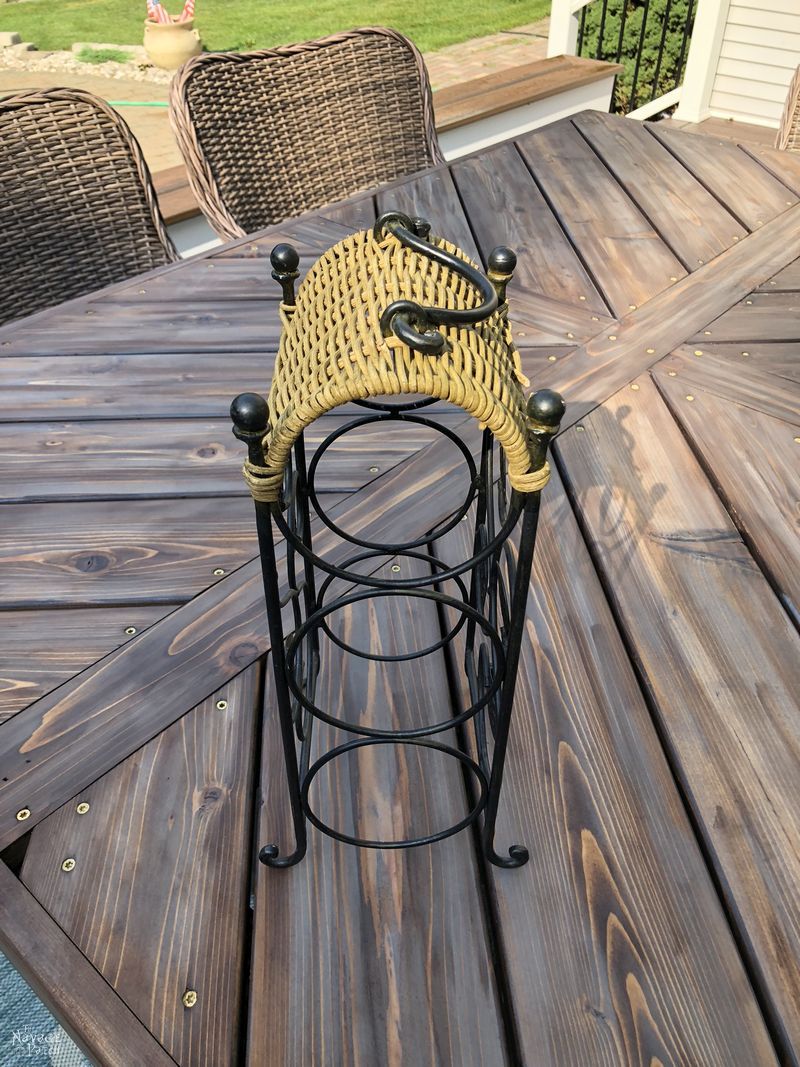 You'll also need some 24 ounce Mason Jars.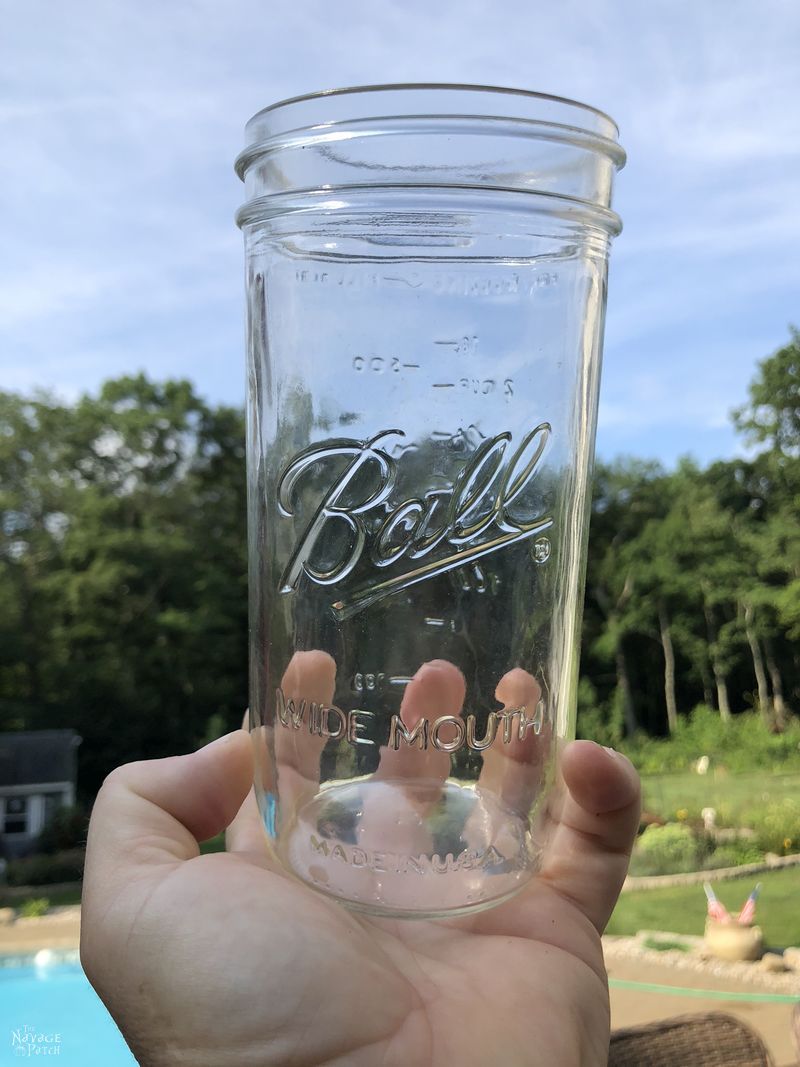 And finally, you'll need some wide-mouth mason jar solar lights.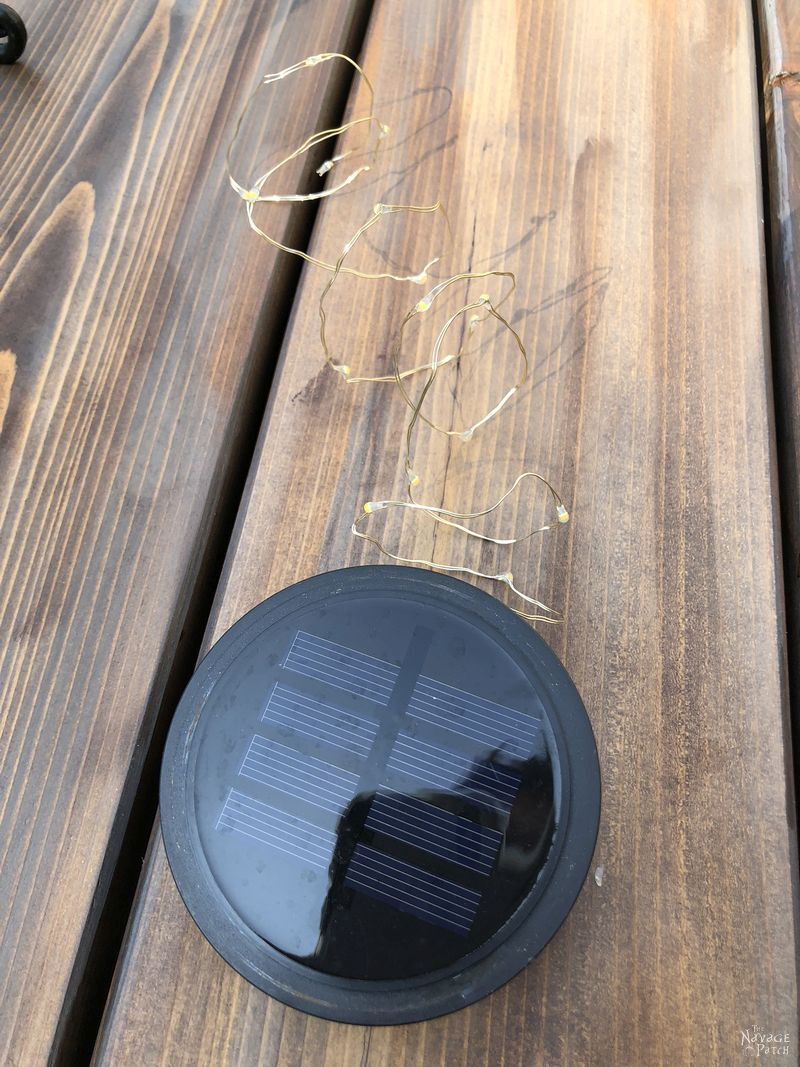 Now this is tricky, so pay close attention.
I'm kidding, a blind monkey could do this.
Push the solar mason jar lights into the screw ring…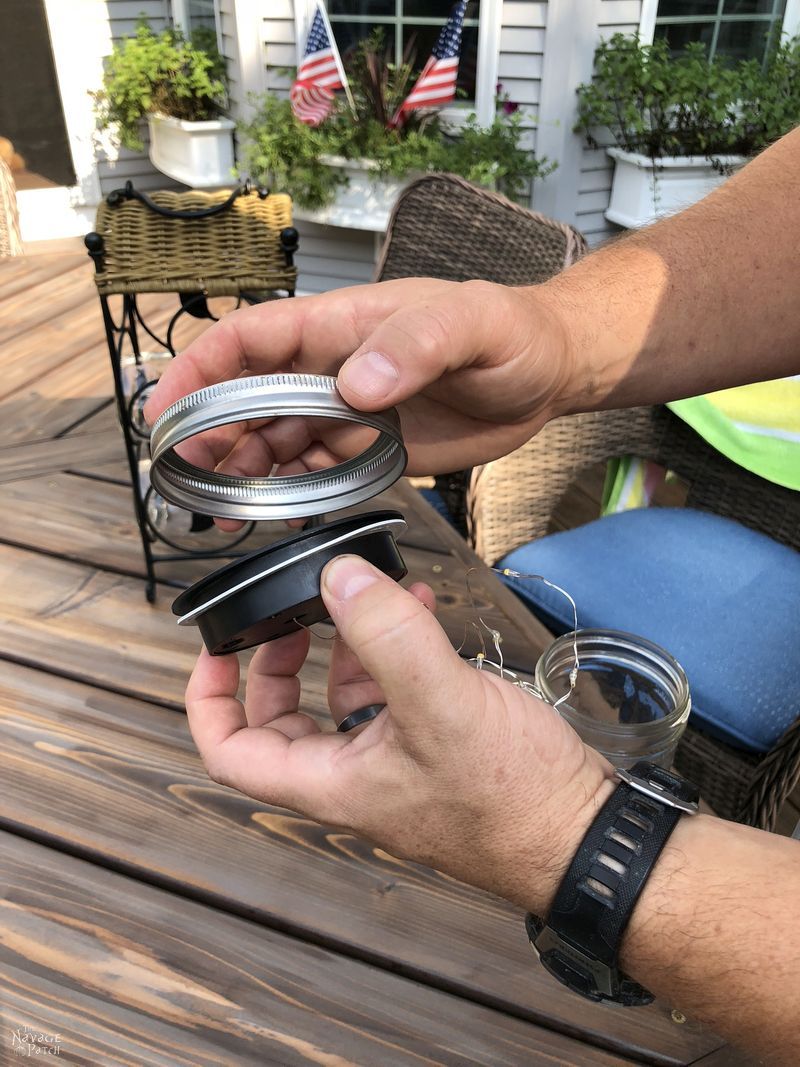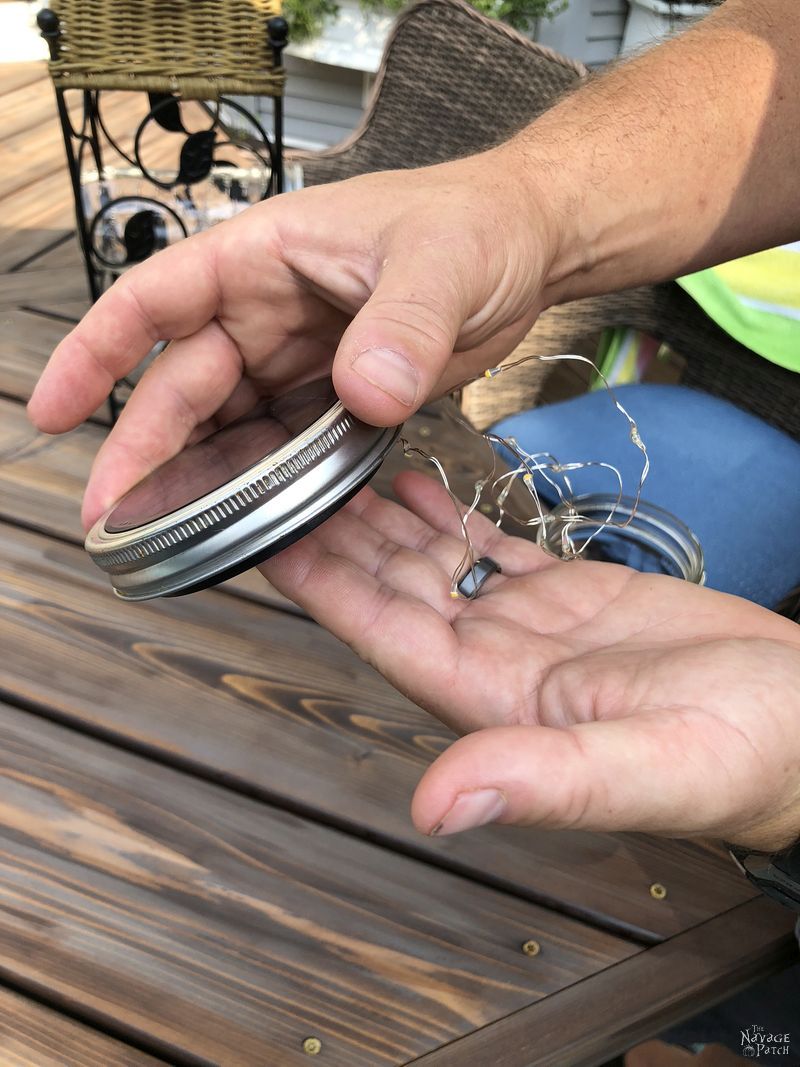 Put the lights in the mason jar and screw on the lid.
Fill your wine rack, and you're done!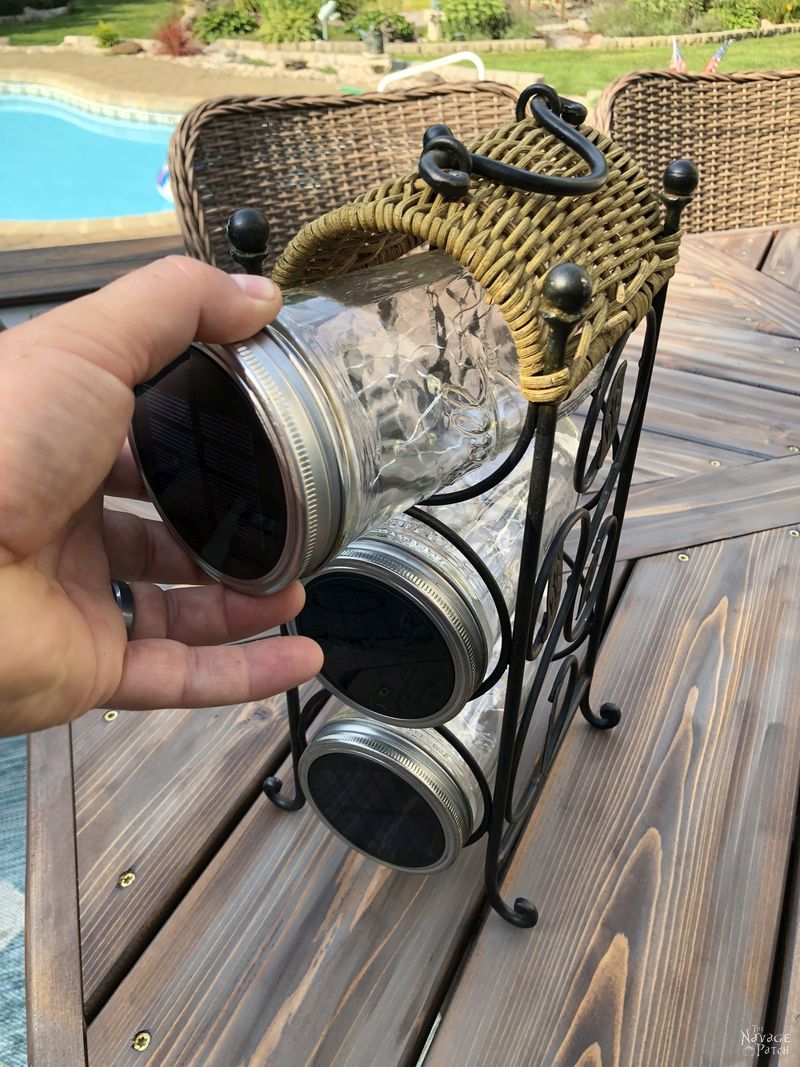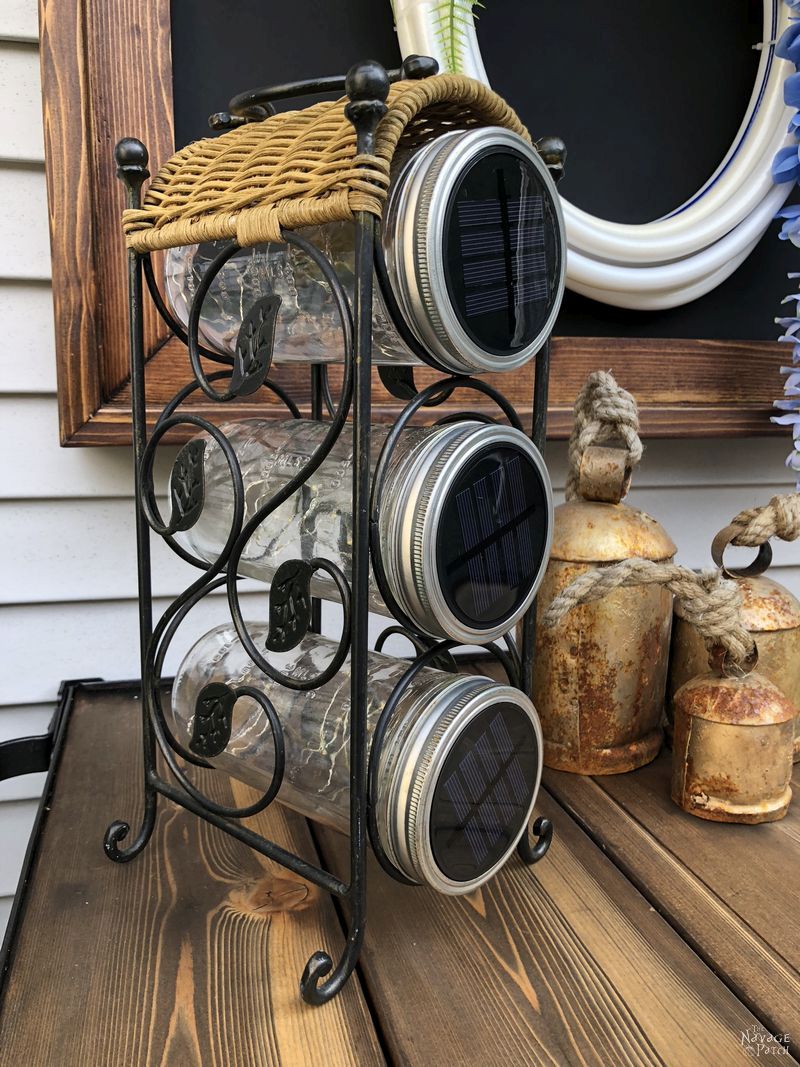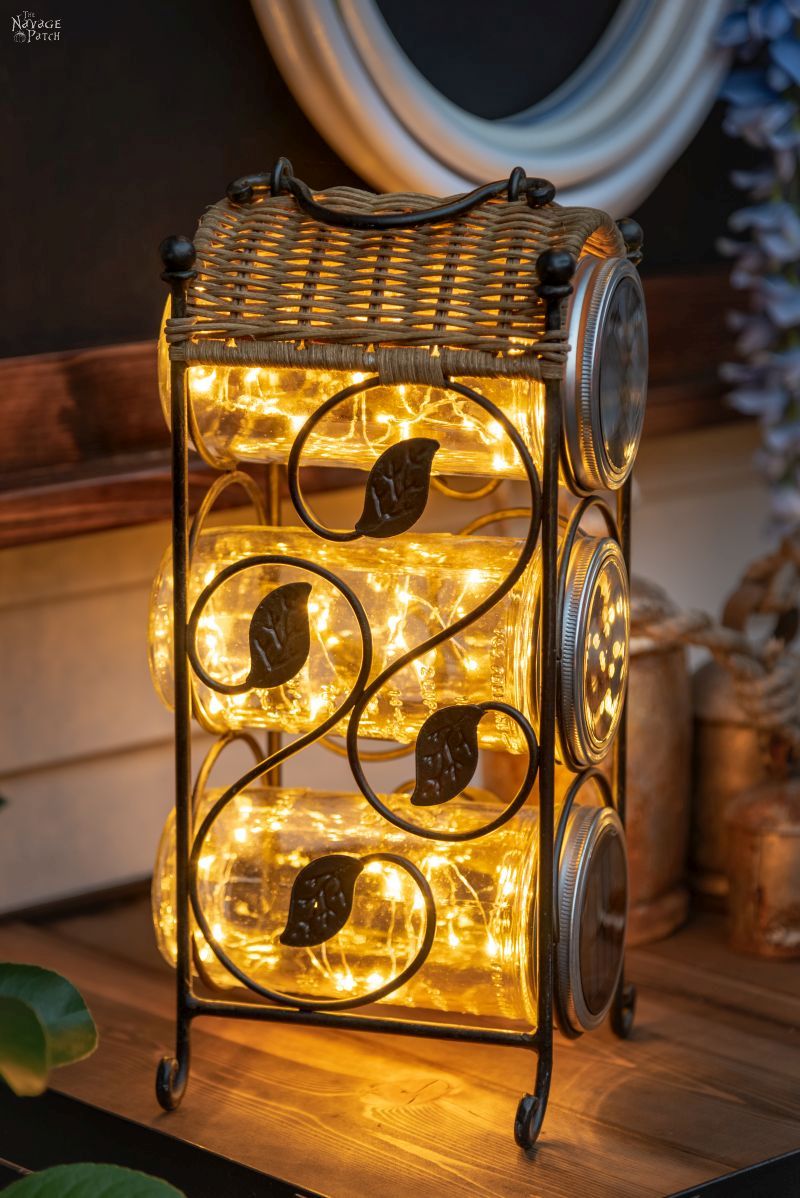 Phew! I bet you really worked up a sweat on that one! Let's move on to the side table…
Super Simple Fairy Light Side Table
For this one, you'll need some sort of big planter, solar fairy lights and a round glass top that's wider than the mouth of the planter.
We used a metal, copperish planter, but feel free to use any outdoor planter. If your planter is not metal (or copper colored), you can spray paint the interior with this copper paint. It really helps to give the table a warm glow at night.
Step 1- Put the solar fairy lights in the planter.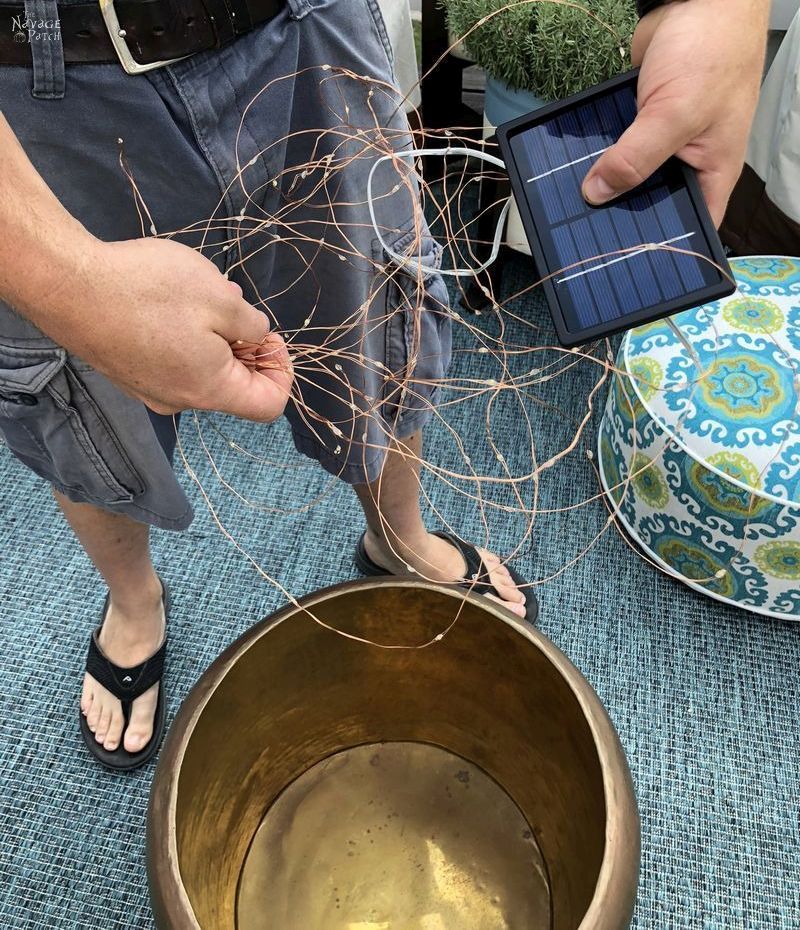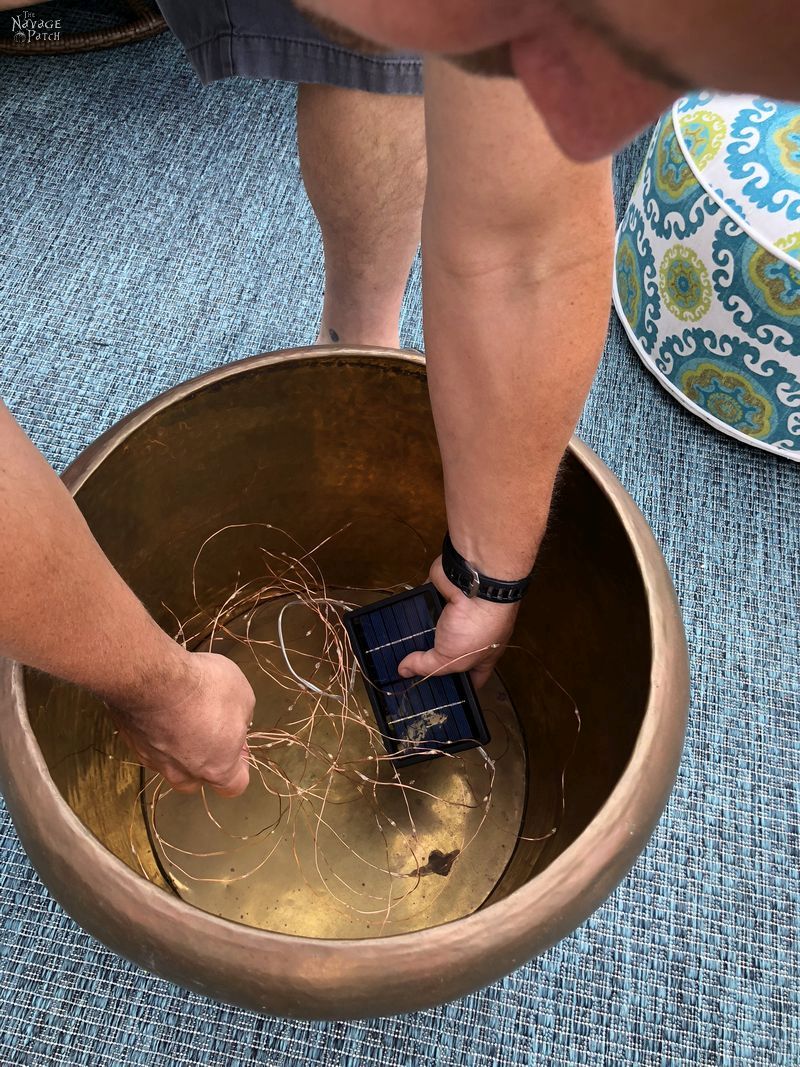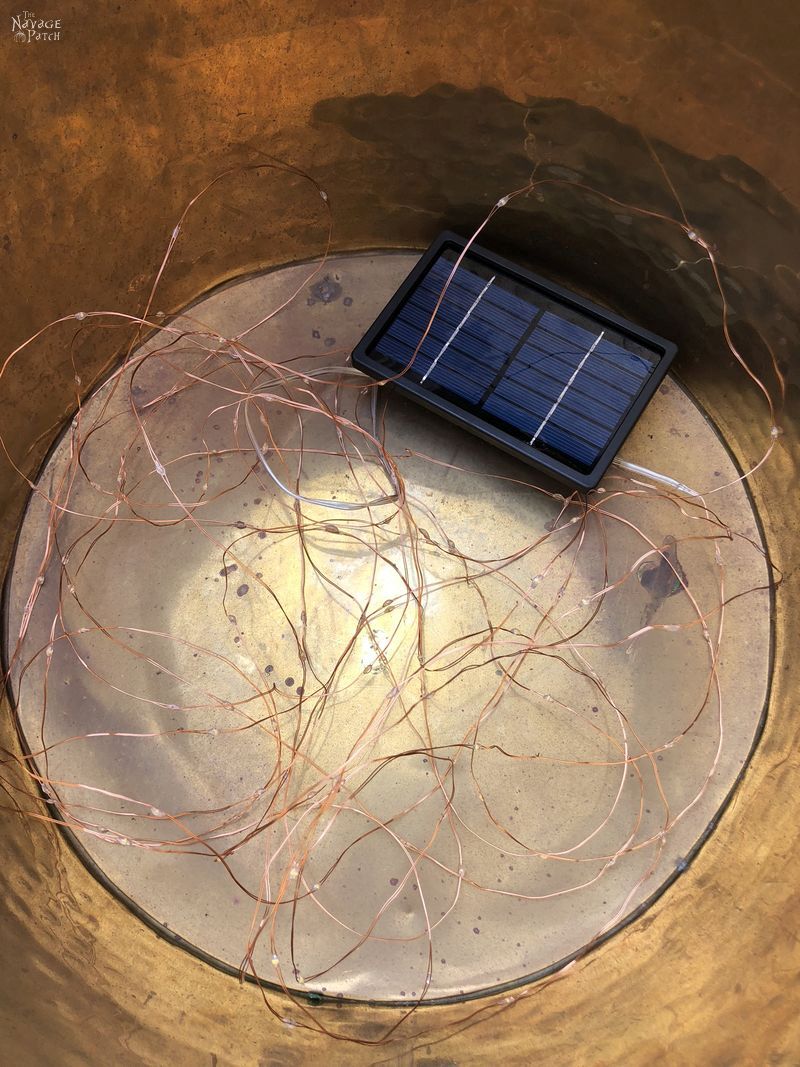 Step 2 – Go take a break and eat some pie to celebrate how awesome you are!
Step 3 – Put the glass top on the planter.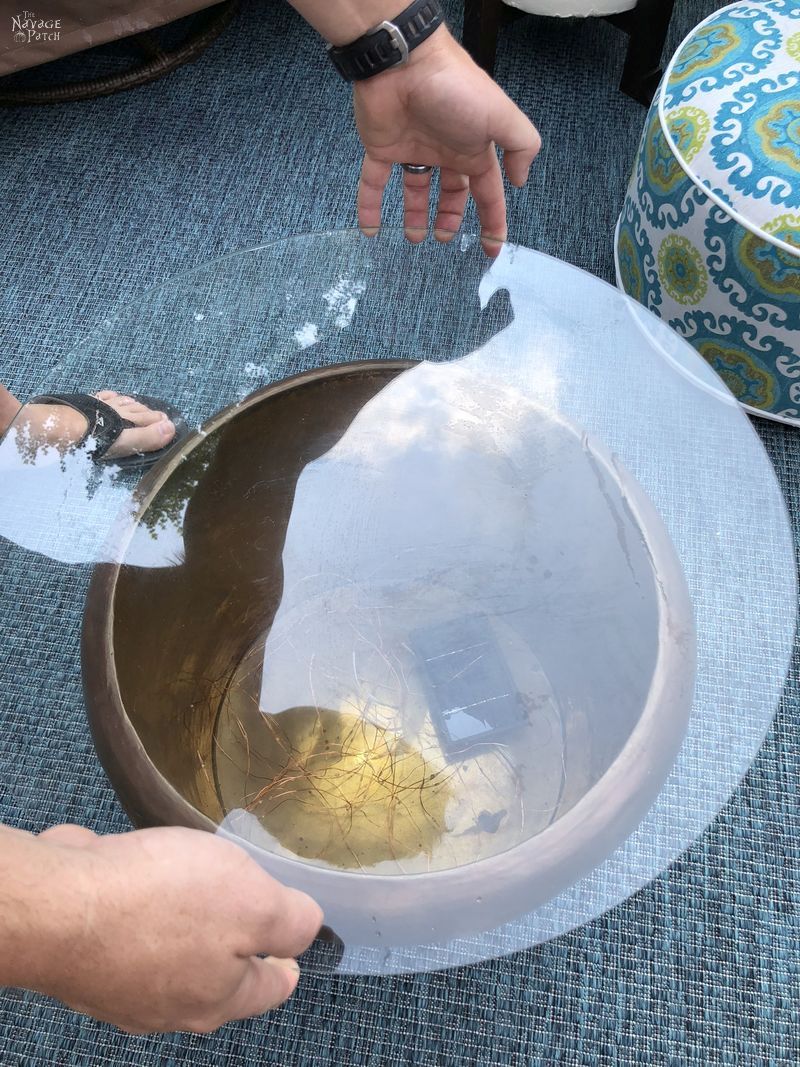 Step 4 – Call your local newspaper and tell them to send a news crew to your house, because you're a superstar!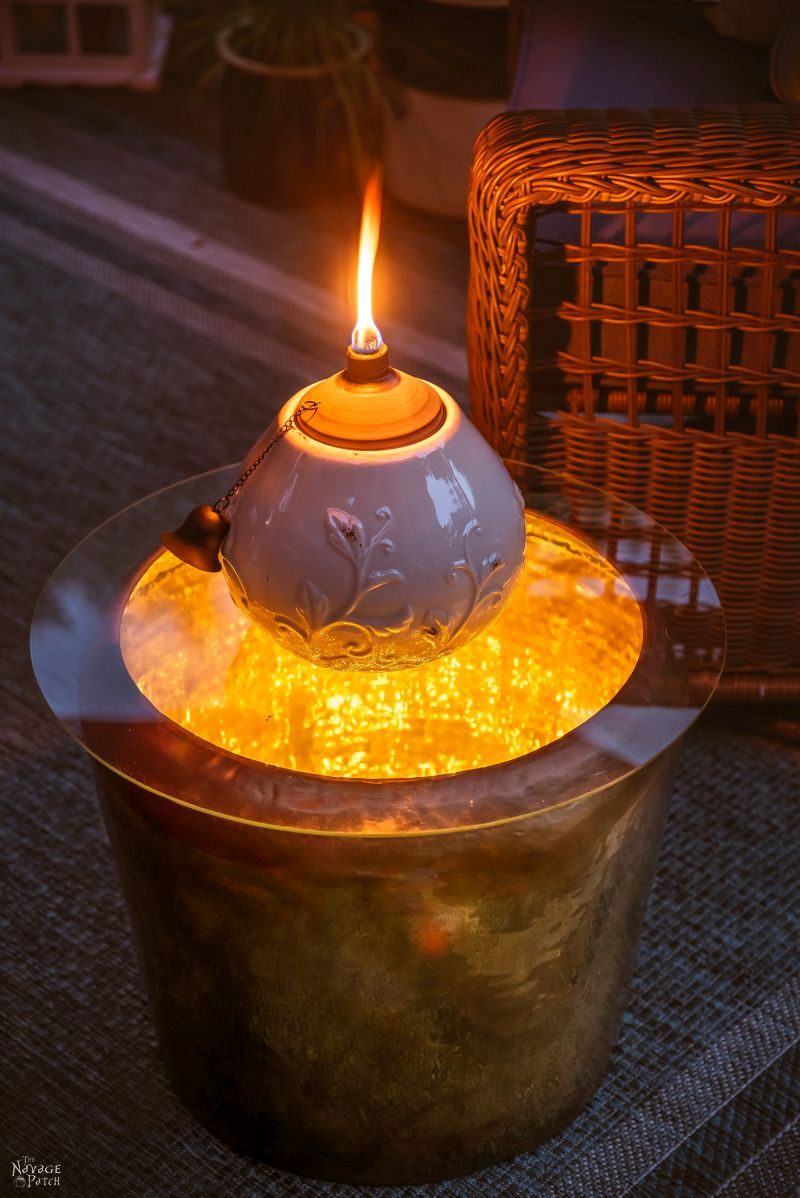 Here's a bonus project just in case those first two were a bit too challenging.
Super Simple Fairy Light Cloche
Throw some fairy lights on a table and cover them with a glass cloche. Yep, that's it! Sounds too simple and stupid to be true, but it looks fantastic!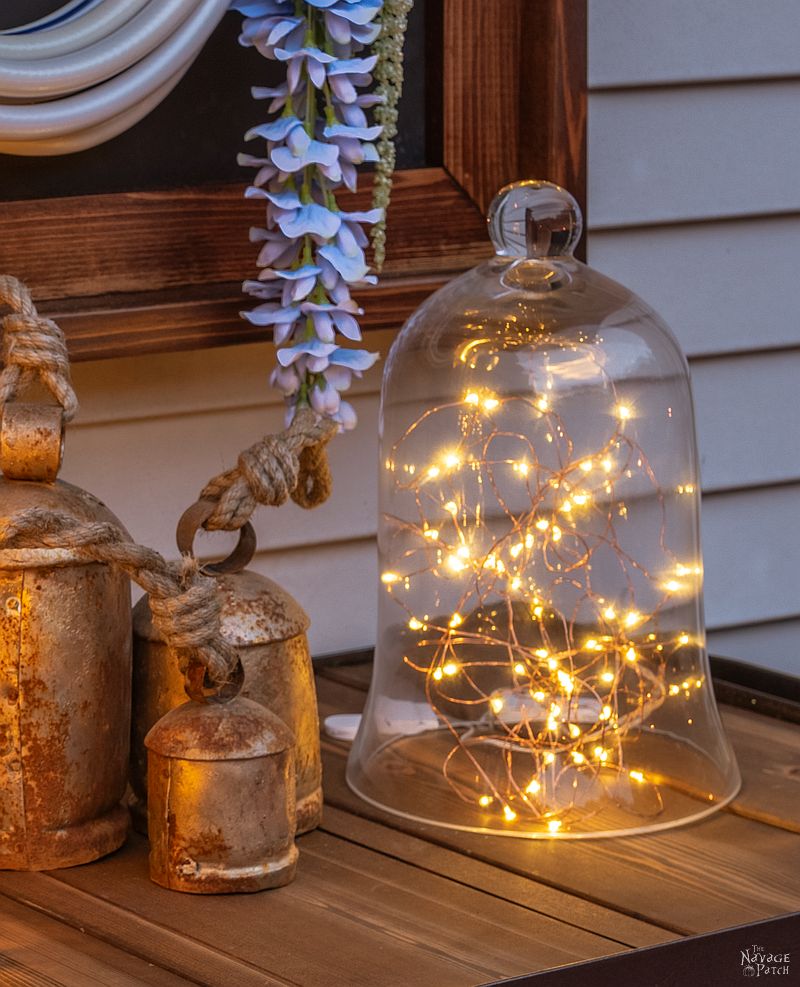 Those cloche lights pictured above aren't solar – they're battery-operated fairy lights. But that's only because we used up all of our solar fairy lights and had those lying around. The project works just as well (or better, actually) with solar fairy lights.
Now go out there are make your backyard sparkle as brilliantly as your soul!
We love it when you share our posts on Facebook and Pinterest!