This buffalo chicken salad will satisfy your craving without all the prep, mess and cleanup of traditional buffalo wings!
Jump to Recipe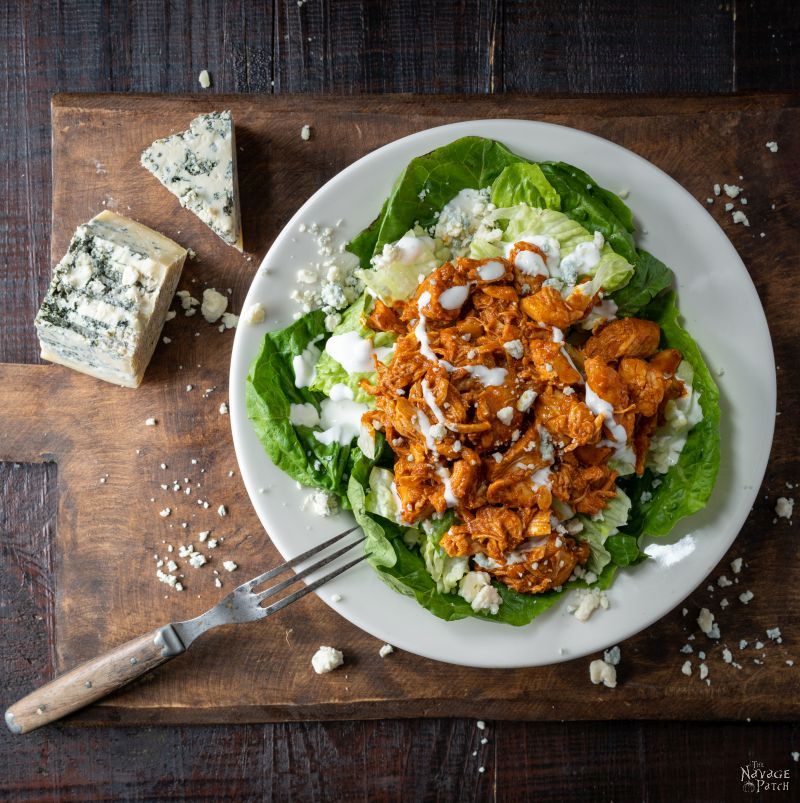 We love buffalo wings in this house (or just "wings" for all you Buffalonians out there). The more, the better! For an indulgent keto meal, they really can't be beat!
But since I'm a traditionalist, I do things the hard way. I cut up my wing sections from full wings, and I deep fry them in oil. Then, because the best wing is a Dirty Wing, I do it all over again. It's a labor of love I'm happy to do, but on a weeknight, I don't have the time or energy for all that prep, cooking, and cleanup. I needed a solution that would allow us to get our buffalo fix any night of the week.
Enter my super-easy buffalo chicken salad.
On a plate or in a bowl, it's all the taste of the real deal without all the effort!
Buffalo Chicken Salad
For the chicken, I use either boneless, skinless breasts or tenderloins, but you can use any cut you'd like. The breasts are just easier to work with for a weeknight meal.
I almost exclusively serve my buffalo chicken salad in bowls, which makes it easy to eat while Handan, Baris and I binge whatever show is on our menu – currently, it's Stranger Things. For Handan and me, this is our third go-around, but it's the First Time for Baris, which makes it all exciting and new again. We're a dinner-in-front-of-the-TV family, and I'm not ashamed to admit it. Times have changed, and we changed with them. Because of this, I cook a lot of easy meals-in-a-bowl during the week, which I'll be sharing with you guys in the future.
For the greens, I use either iceberg or romaine – whatever I have on hand, but this buffalo chicken salad would also be awesome served in Boston lettuce cups.
I'll occasionally add some carrots and celery to Baris's salad or just celery for Handan and me (no carrots, though – they're full of sugar). Celery and carrots are not necessary, and I usually serve this salad without them, but the option is there, should you want to add them.
And you just can't have "buffalo" without blue cheese dressing, and IMHO, there's no better blue cheese dressing than Greg's Blue Cheese Dressing! 🙂
But if it's too much work to make blue cheese dressing from scratch, by all means, use your favorite bottled. I won't judge…much.
For the sauce, I make a slightly modified version of my traditional buffalo wing sauce. It's the same thing without any added cayenne pepper. We like our wings with a big kick, but this buffalo chicken salad is better with moderate heat. If you want more heat, either add cayenne to the sauce or dial back the butter. If you like it a little tamer, dial back the Frank's hot sauce and amp up the butter a bit. Fat tames heat, so anytime something is too hot, just add more fat.
This buffalo chicken salad will satisfy your craving without all the prep, mess and cleanup of traditional buffalo wings!
Ingredients
2

pounds

chicken breasts or tenderloins

2

Tbsp

vegetable oil

6

cups

hearts of romaine

-

torn or cut salad size

4

Tbsp

blue cheese crumbles

-

(optional)
For the Buffalo Sauce
½

cup

Franks Red Hot Sauce

4

Tbsp

unsalted butter

-

½ stick

4

Tbsp

salted butter

-

½ stick

1

tsp

Worcestershire sauce

¼

tsp

garlic powder
For the Blue Cheese Dressing
Instructions
Combine all sauce ingredients in a small saucepan and simmer until butter is melted, stirring occasionally. Remove from heat.

In a large frying pan over medium high heat, saute chicken in vegetable oil until browned on both sides.

Using tongs and kitchen shears and working over the pan, cut the chicken into bite-sized pieces and return them to the pan.

Increase heat to medium-high and continue sauteing until the watery juices have evaporated, and the cubed chicken begins to brown. Keep cooking until the chicken pieces at the bottom of the pan begin to get a little stringy.

Turn off heat and add buffalo sauce to chicken in pan. Stir to combine.

Add lettuce to bowls or plates.

Garnish with blue cheese crumbles, if desired.
Notes
I always make more buffalo sauce than the recipe calls for, so we can have extra, if desired. I use the recipe from my Dirty Buffalo Wings post, but I leave out the added cayenne.
Nutrition
Calories:
667
kcal
Carbohydrates:
5
g
Protein:
53
g
Fat:
48
g
Saturated Fat:
25
g
Trans Fat:
1
g
Cholesterol:
220
mg
Sodium:
1714
mg
Potassium:
1204
mg
Fiber:
2
g
Sugar:
2
g
Vitamin A:
10294
IU
Vitamin C:
8
mg
Calcium:
160
mg
Iron:
3
mg
Okay, okay, you can only take so much salad! If you're ready to put in the effort, do you want to taste the best damn buffalo wings on planet Earth? Look no further than Greg's Dirty Buffalo Wings!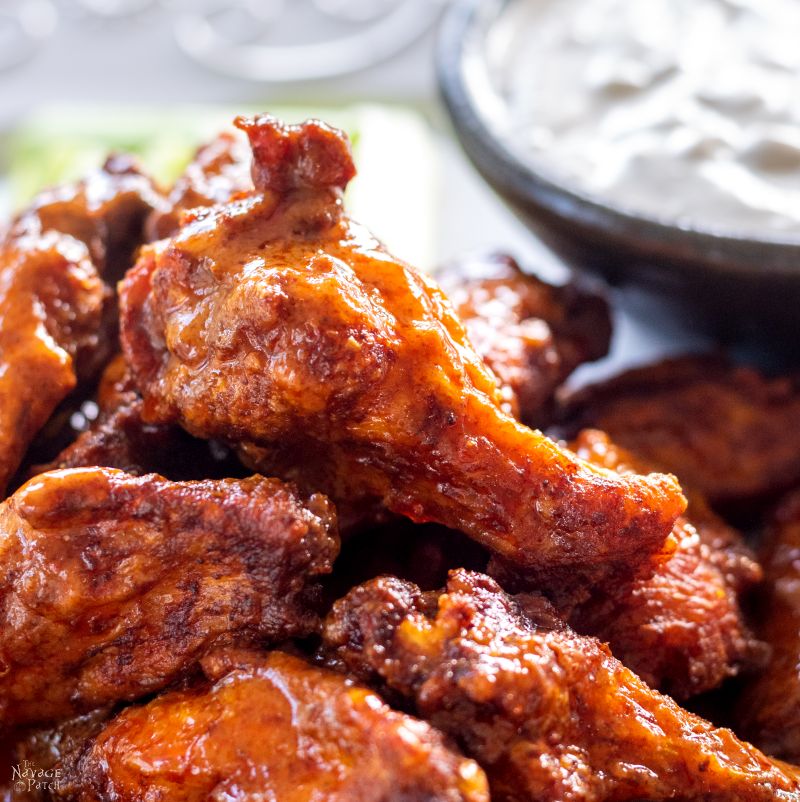 Eat well, stay healthy. Real food is the best preventive medicine.