Greg's Dirty Buffalo Wings
Dirty Buffalo Wings are the absolute best wings on the planet! Learn the secret to making these crispy, lip-smacking wings and become the hero of the house!
Jump to Recipe
I know, I know.
Everyone thinks their recipe for buffalo wings is the best.
But look, we all know there can be only one number one, so you know what that means, right?
Yep, it means they are all wrong!
And the ones who claim you can get a decent buffalo wing from the oven?
Please, madam. If anyone tries to sell you that load of stinky cheese, feel free to slap them in the face with a wet noodle.
I mean, oven-baked wings are edible, sure. But they have never been, nor will they ever be, better than good ol' deep fried wings.
Okay, on the subject of deep frying…to make the absolute best buffalo wings on the planet, you will need a deep fryer.
Now hang on a second! Don't go closing your browser and cursing my name (just yet).
Deep fryers are not very expensive, and they can be used to make all sorts of delicious food (french fries and onion rings, anyone?) But even if you never make anything else with it, if you love buffalo wings as much as this family, then a deep fryer still makes perfect sense.
Once you taste your homemade crispy buffalo wings, you'll wonder why didn't buy one sooner.
And once you make my Dirty Buffalo Wings (and my blue cheese dressing), you'll never go to a wing restaurant again.
Okay, so what makes my Dirty Buffalo Wings the best? And what's with the whole "dirty" thing?
I'm glad you asked, because "dirty" is the key.
We're going to make our wings (deep fried, of course), and we're going to sauce them as usual (with the sauce recipe below). In this house, that means 4 batches of 15 wings. By the time the last batch is fried, the first two batches will have cooled. Now…
(Here's the secret)
…you're going to put those cooled wings back into the fry basket and give them another hot oil bath (a little shorter this time).
This second fry will brown the butter in the buffalo sauce and will release irresistible aromas and unlock incredible flavors!
But that's not all!
When they come back out from their second fry, we're going to sauce them again.
With this method, you can make a whole mess of wings beforehand – fried once and sauced, then refrigerated – then take them out of the fridge (or freezer) and give them a second frying and saucing.
You're going to love this method!
Greg's Dirty Buffalo Wings
A note on chicken wings.
Buying whole wings and breaking them down yourself saves a ton of money, plus you get bigger wing pieces! Pre-cut wings can run north of $5/pound around here, but whole wings are just $2.99/pound at Kroger.
Breaking them down is a cinch. Just spread open the wing, and cut off the tip at the joint.
Then find the drumstick joint.
And slice through that.
Easy Peasy Chicken Squeezy!
Soon you'll have a nice mountain of wings ready to fry.
Cooking Greg's Dirty Buffalo Wings
I arrange 15 pieces in the fry basket.
Then carefully lower the wings into the oil. I normally have the basket covered while lowering it into the oil to prevent hot oil splashes.
But I just wanted to get a good picture of the wings in the hot oil. I covered it immediately after this photo was taken.
While that first batch cooked, I made the sauce.
I transfer each batch to a medium mixing bowl.
Than I add about 1/4 cup of sauce (two ladles).
And then I toss the wings until they are all coated with my buffalo sauce.
Sixty wings – ready to get Dirty!
Back into the basket they go. Since they've lost some weight after the first fry, I put 20 at a time for the second fry.
After about 8 minutes, they are looking beautiful, and they are so incredibly crisp!
I sauce them one more time, and then it's time to eat!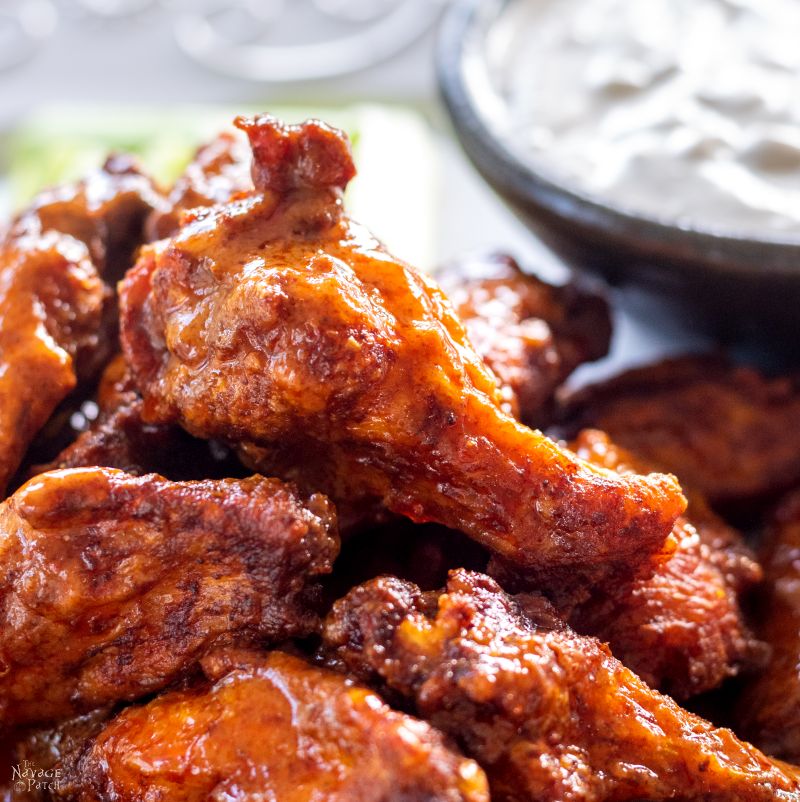 Dirty Buffalo Wings are the absolute best wings on the planet! Learn the secret to making these crispy, lip-smacking wings and become the hero of the house!
EQUIPMENT
Deep Fryer

2 large mixing bowls

1 medium mixing bowl
Ingredients
For the Wings
60

pieces

Chicken wings

-

About 5 lbs, depending on wing size

Sunflower or vegetable oil

-

Enough to fill deep fryer to its recommended max level
For the Buffalo Wing Sauce
1 ½

cups

Franks Red Hot Sauce

½

cup

unsalted butter

-

1 stick

½

cup

salted butter

-

1 stick

1

tablespoon

Worcestershire sauce

½

teaspoon

Garlic powder

¼

teaspoon

Cayenne pepper

-

or more, depending on how hot you like it
For Serving
Celery sticks

Carrot sticks
Instructions
Preheat frying oil to 375 degrees Fahrenheit.

While oil heats, combine all sauce ingredients in a small saucepan and simmer until butter is melted, stirring occasionally. Remove from heat.

Deep fry wings in batches of 15 (if using the T-fal fryer) for 10-12 minutes per batch.

Transfer wings to a medium mixing bowl. Pour about ¼ cup of sauce over the wings and toss to coat. Transfer sauced wings to a large mixing bowl.

Repeat steps 3 and 4 until all wings are cooked and sauced.

If time allows, let wings cool in the refrigerator for a bit. If not, carry on with the next step.

Working 20 at a time, place cooked and sauced wings in the basket and fry for an additional 5-8 minutes. Wings should be dark reddish brown.

Transfer wings to a large bowl after each batch.

When all wings have been fried twice, Sauce them all at once with as much sauce as you like.
Nutrition
Serving:
10
wings
Calories:
700
kcal
Carbohydrates:
5
g
Protein:
69
g
Fat:
45
g
Saturated Fat:
15
g
Sodium:
2500
mg