This lamb shish kebab is so flavorful and tender! The secret is in the marinade. You've probably never made a marinade like this before, but Turks have been making it for centuries!
Jump to Recipe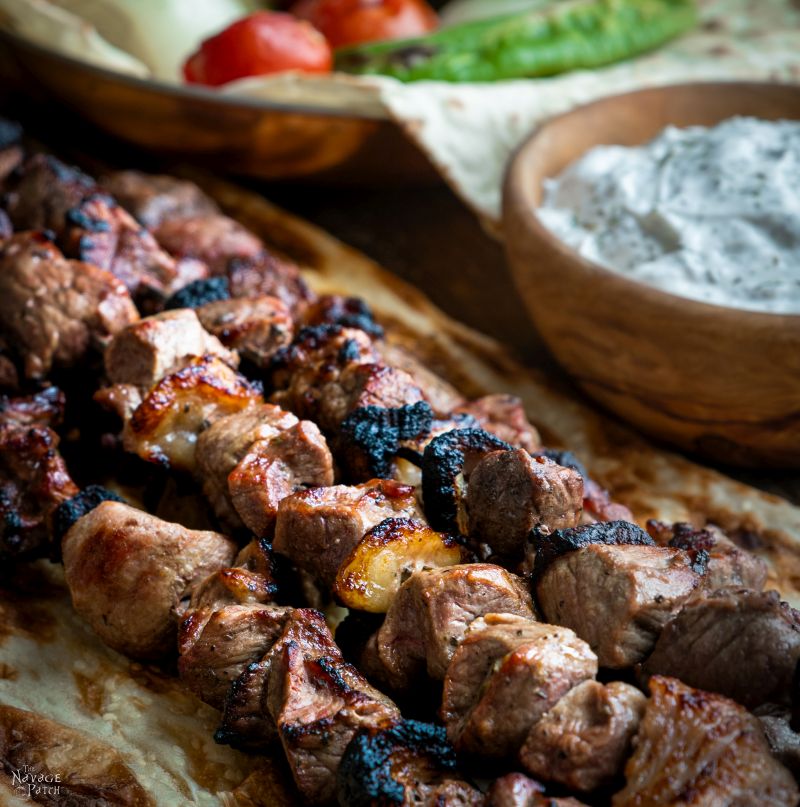 To say that roasting meat on a stick over fire is an ancient tradition is a vast understatement. We've been cooking with fire for about a million years (give or take a few hundred thousand), and we've unearthed evidence of meat cooked on sticks or bone shards dating back about 250,000 years. To put that first number in perspective, we weren't considered to be "anatomically human" a million years ago, so let's give props to our forebears for figuring out that meat + fire = unga bunga!
Now as for that second number – the one where we figured out that meat + stick + fire = unga bunga BALUNGA!! – well, considering we only figured out how to farm and domesticate animals about 10,000 years ago, once again, we gotta give credit to the grunting geniuses who pushed the culinary envelope to delicious new heights.
All this is to say that while my dearest Turkish wife would love for me to tell you that ancient Turks invented the kebab, they didn't. Not really, since the concept of Turks (or even Ottomans or Anatolians) was a couple hundred thousand years in the future.
Still, if any modern societies could make a claim to the Throne of Kebab, it would be Turkey and Iran. Extra points to Turkey for coining the word "shish," which means "skewer."
Today, I don't think there is any other country with as many regional variations on the humble kebab as Turkey. Every region, every city seems to have its own take on the kebab and its own name to boot!
From the glorious and spicy ground-lamb Adana kebap (kebab) to the shaved-meat-and-tomato-sauce-over-butter-soaked-bread-cubes Iskender kebap to the ubiquitous şiş (shish) kebap, the Turks have elevated the kebab to an art form.
Today, we're going to learn how to make the world-famous lamb shish kebab. It is a simple meal with simple ingredients, but there's a secret.
Lamb leg is a tough cut of meat, and the time it takes to cook shish kebab is not enough to tenderize it. There are, of course, any number of marinades that can be used to help tenderize the lamb chunks, but Turks (and other Middle Eastern and Persian cultures) have been using a method almost unheard of in America: onion juice.
Though it may sound smelly and weird to Americans, it really makes a lot of sense. Onions are cheap, acidic, and they pack a ton of flavor and aromatics within their paper-skin wrappers. For this recipe, I use a combination of onion juice and yogurt, along with a little olive oil, some dried thyme, black pepper and just a pinch of salt.
It was the lack of salt that really got me wondering. Handan assures me that this is the way the Turks marinate kebabs – with very little or no salt. They believe that salt dries out the meat when working with such small pieces.
As someone who uses salt as a main method of tenderizing steaks and large cuts, I had a hard time swallowing the Turks' reasoning. But after tasting the results, I'm a convert!
Of course, eating saltless kebabs would be a travesty, so the Turks add it liberally after the meat is cooked. There is a popular mixture of equal parts salt, ground cumin and sumac that goes amazingly well with lamb shish kebab, and that's what we'll be using to season our kebab. Sumac is a tangy, citrusy spice generally not found outside of Turkish and Middle Eastern grocery stores, but you can order it online. It's something you should keep on hand – it's also incredible on tomatoes!
There are some traditional accompaniments to shish kebab – grilled hot peppers, grilled onions, grilled tomatoes – as well as a sauce made from yogurt and mint (and cucumber, if you so desire). In restaurants, shish kebab is usually served with pilav (rice) and/or bulger, but when eating at home or grilling out with friends, it is best served with lavash bread.
As a final accompaniment, I serve lemon-pickled red onion. This is my adaptation of the Turkish red onion sprinkled with sumac. I love my lemon-pickled onions so much, that I make sure they are on every bite of lamb!
How to Make Authentic Turkish Lamb Shish Kebab
The lamb
Lamb leg is the best choice for shish kebab. It has a good ratio of fat to meat. Though the recipe calls for 2 pounds (enough for 4 people), I used a whole boneless leg that weighed in at 6.5 pounds (3 kilograms). This gave us 3 meals of 8 skewers each – way more than enough for 3 people!
When working with a chunk of leg, I like to cut it into a few smaller pieces and work from there.
The best size pieces for lamb shish kebab is about 1/2 inch, but don't worry too much about making them into perfect cubes. You just don't want pieces that are too big.
This is the perfect piece for lambs shish – 2/3 meat and 1/3 fat. If every piece looked like this one, you'd have a perfect skewer. But you're going to have some pieces all meat and some that are all fat. Don't worry, it's all good!
Turks usually add lamb fat to the mix to keep things juicy. Since lamb fat isn't widely available here (most lamb is brought to stores pre-packaged), I keep a supply of beef fat in the freezer that I use for shish kebab. It's not strictly necessary, but it does add a little more juiciness and flavor.
The marinade
As I mentioned earlier, the key to this marinade is onion juice. I pureed the onion in a food processor, and then I squeezed out the juice with a strainer bag. For those without a strainer bag, you can press the juice through a strainer or do what the Turks do: grab handfuls of puree and squeeze!
To the onion juice, add the yogurt, oil, black pepper, thyme and pinch of salt, then combine the meat with the marinade.
Cover the mixture and marinate in the fridge for at least 4 hours and up to 24 hours. You can actually go even longer than this – it won't harm the lamb one bit.
Lemon-pickled red onion
While the lamb marinates, I make my lemon-pickled red onions. I halve a red onion and then cut very thin slices.
I add a big pinch of kosher salt.
And the juice of one lemon. Lemon-pickled red onion can be easily made in a lidded tupperware container – just add all the ingredients, cover, shake, and store in the refrigerator until needed.
Prepare the lamb shish kebab
When putting meat on the skewer, I like to put a chunk of fat between every 2 or 3 pieces of lamb. You don't want to cram too many pieces on each skewer. The more surface area of lamb exposed, the better.
Grill the shish kebab
Depending on the size of your grill, you can cook everything at once or do it in batches. My grill isn't huge, so I first cook the peppers and veggies. They don't need to be hot to be enjoyed.
This is a good amount of char for pretty photos. If you want the pepper to be cooked inside, you need a little more.
Like this! We'll be peeling off the skin later when they cool, so don't worry about that char!
Put those peppers aside, and let's get to the meat!
Depending on how long your skewers are, you may put the meat directly on the grill grate, or you can suspend the meat above as shown below.
Turn the skewers often to prevent burning, but you will get some char on the fat and the edges of the meat, and that is good!
Depending on how hot the grill is, lamb shish kebab will take anywhere from 10-20 minutes to cook. Near the end, you can lay pieces of lavash over the lamb to warm and soak up some flavor. Don't leave the lavash on too long or it will burn. Flip it after 5-10 seconds.
Almost there! These kebabs are just about done! Now's the time to sprinkle on some of the salt/cumin/sumac mixture, or you can wait until you take the skewers off the fire.
Yum!
This lamb shish kebab is so flavorful and tender! The secret is in the marinade. You've probably never made a marinade like this before, but Turks have been making it for centuries!
EQUIPMENT
Skewers

Grill

Food processor
Ingredients
For the lamb shish kabab
2

pounds

lamb leg

-

cut into ½ inch cubes

½

pound

beef or lamb fat

-

cut into ½ inch cubes (optional)
For the marinade
1

large onion

-

pureed (and strained if desired)

½

cup

plain yogurt

2

tablespoons

olive oil

1

teaspoon

dried thyme

1

teaspoon

black pepper

1

large pinch of salt
To grill with the lamb kebab
8

long hot peppers

tomatoes

onions
To season the cooked lamb
1

tablespoon

salt

1

tablespoon

ground cumin

1

tablespoon

sumac
Yogurt sauce
1

cup

plain yogurt

1

tablespoon

dried mint

1

Persian cucumber

-

grated (optional)
Lemon-pickled red onion
1

red onion

-

sliced thin

1

lemon

1

teaspoon

salt
Instructions
Cut lamb leg into ½ inch cubes.

In a large mixing bowl, mix together marinade ingredients.

Add lamb to marinade, mix, cover, and refrigerate for a minimum of 4 hours and up to 24 hours.

Make onion garnish by mixing sliced red onion, lemon juice and salt. Combine well and let stand, covered, while lamb marinates.

Before grilling, make yogurt sauce by combining 1 cup plain yogurt, mint and grated cucumber. Set aside.

In a small bowl, combine salt, cumin and sumac.

Prepare grill for charcoal or preheat gas grill.

Prepare skewers by alternating 3 pieces of lamb with 1 piece of beef or lamb fat

Grill peppers until nicely charged, then remove from heat and put aside.

If desired, grill onion halves and small tomatoes.

Place skewers on the grill or suspend them over the coals.

Grill, turning often, until lamb is cooked through and lightly charred in places, about 10-20 minutes, depending on how hot your grill is.

Near the end of cooking, place pieces of lavash bread over the lamb. Heat for 30-60 seconds, turning often to prevent burning. Remove from heat and place on a baking tray.

Remove skewers from grill and place on the lavash bread on the baking tray. Sprinkle meat with the salt/cumin/sumac mixture to taste.

Peel charred skin from hot peppers.

Remove meat from skewers and serve with lavash bread, yogurt sauce, lemon-pickled red onions, grilled hot peppers, grilled onions, and grilled tomatoes. Top with fresh parsley, if desired.
Nutrition
Serving:
2
skewers
Calories:
183
kcal
Protein:
29
g
Fat:
6
g
Saturated Fat:
2
g
Cholesterol:
91
mg
Sodium:
89
mg
Potassium:
413
mg
Calcium:
9
mg
Iron:
3
mg