We love cherry tomatoes. We grow several cherry tomato plants. We stake them. We nurture them. We have too many damn cherry tomatoes.
Midsummer, when the first cherries throw off the green mantle of immaturity and wrap themselves in the fine red raiment of ripeness and the first Sun Golds explode with the yellows and oranges of a Balinese sunrise, not a single sweet fruit escapes our greedy clutches. We devour them nightly, though our demand vastly outstrips supply, and our hunger is never sated.
But the tomatoes continue to grow and ripen, and each day brings more to the table than the previous. The supply curve rises as the demand curve falls. Eventually they intersect. On that day we eat all the tomatoes we pick and feel sated and satisfied. The next day, and all that follow, we have a surplus. The surplus ripens quickly on the vine and in the basket. Tomatoes split. Tomatoes rot. We eat, but the fruit brings no joy. We eat out of a sense of duty. Wasting is wrong. It is to be avoided. But how can we avoid it when we have German Queens to eat and Romas and San Marzanos to cook and can?
Soup.
Simple cherry tomato soup.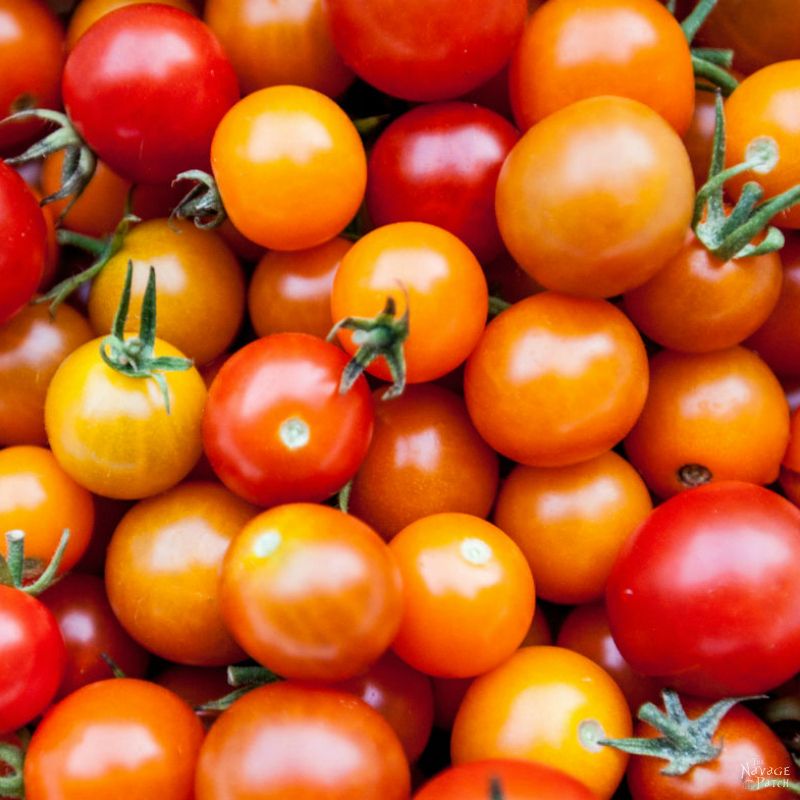 Their sweetness and acidity are a perfect pairing.
Now before we go any further, let's make sure we have everything we need:
Leftover unloved cherry tomatoes, pariahs of the late-summer vegetable basket. They may be split open and dripping (don't worry, this is just the tomato's way of crying because you have forsaken it, you heartless bastard).
Food Processor or blender. Or your hands, if you are so inclined.
Big pot. Non-stick, stick, who the hell cares? Should be relatively free of holes.
Food Mill. Whoa there, what? Can't I get by without it? The short answer is "no." The long answer is "no way." I was like you once, you know – blithely ham-fisting my way around the kitchen, so big in my shoes. Then I bought a food mill and discovered what a fool I'd been. Such a simple machine. Such profound results! So, to all you Sally Stroganoffs and Johnny Pancakes out there, stop your dithering and get with the food mill program!
Salt, preferably from the ocean. Or an underground mine.
Cream, from a cow, with all the fat.
Okay, here we go:
Puree the tomatoes, put them in the pot, boil them. Do this until the volume is reduced in half.
Run the goop through your shiny new food mill (I have the OXO Good Grips Food Mill
. It is excellent).
Let it cool a bit before adding cream. You'll see what happens if you don't. Add some cream. Add a lot. Add a little. Totally up to you. Salt to taste.
You're done! You've just made the simplest and perhaps the best tomato soup ever. Now here's a variation:
When you put your tomatoes in the pot, add 2 pureed sweet onions and 4 bay leaves. Carry on as before until volume is reduced in half. Run the goop through the food mill. In a new pot, melt some butter. A stick is good, but you melt what you think is good for you. Add a couple tablespoons of flour. Stir it up. Keep stirring. What you have there is a roux. Cook it for a minute or two. No, don't burn it! Okay, now add your soup one ladle at a time, whisking as you go. Eventually you will tire of this and just dump the rest of the soup in the pot. This is fine. We all do it this way. Before the soup boils, add some cream. Now add some salt. Taste it. Is it good? Maybe some more salt? Tomatoes love salt, you know. How about one or two teaspoons of sugar? Since you're taking the decadent route, why not go all the way?
Enjoy.