Finally, fall is here. Not that I enjoy watching my poor babes struggling with the leaves, but this is the time when we start the countdown for Halloween. All Hallows Eve is Greg's show time for home decoration. I know what you're thinking: I let a man do the house decoration?? Well, what can I say… He is way better with creepy décor than I can ever be. [I'm a connoisseur of creep -Greg]  Besides, whenever I decorate the house, I love humming Christmas Carols, regardless what time of the year it is. That weird habit alone is enough to kill the Halloween spirit in our family. This is why the Halloween decoration task will always be on my babes. That being said, I must be doing a somewhat decent job with my hand-crafted Halloween props, because Greg likes them and uses them for our Halloween house decor. So I still get to keep my little action in the show.
Last year, I started my Halloween projects right at the beginning of September. This year, I am yet to start any Halloween projects, as I am still floating in the dreamland trying to decide what kind of props I should go with. Seeing so many good ideas out there is not helping my situation either, because I want to do them all, but I don't have enough time. So this year, I guess I will end up doing some apothecary jars, since that will look excellent together with The Book of Shadows I prepared last year.
I got the initial idea for the Book of Shadows from Pinterest. But the pins I saw were either about how to transform only the cover of a hardcover book or about 1-2 pages of spells and incantations to stick in a notebook. I couldn't find any pins on how to prepare a full spell book Halloween prop, inside and out, with the hardcover and all. So I became determined to make one for us. After searching for 3 days online, I happened to land on some excellent illustrations and prop pages that I could use for my project. Preparing the page layouts for book-page printing took me a whole weekend. I used card stock paper for the printing to give the book an authentic old feel.
Once all the pages were printed out, I used this excellent tutorial on Instructables.com for making a hard cover book. As excellent as the tutorial was, trust me this part was the most tedious part of this project. So have some patience if you are attempting to make one, because you will love the end product.
When I got that tedious hardcover part nailed down, the rest was easy and fun. First, I glued some embellishments on the hardcover, choosing from whatever I had on hand. This part is totally up to your imagination: you can use skeletons, snakes, spiders, thumb tacks, lettering, or you can even make a spider web using hot glue. The possibilities are endless. Once I was done with the embellishments, I used Mod Podge to glue some paper towels all around the hardcover. This makes creases on the hard cover. This step is a must if you want that leathery look on your book.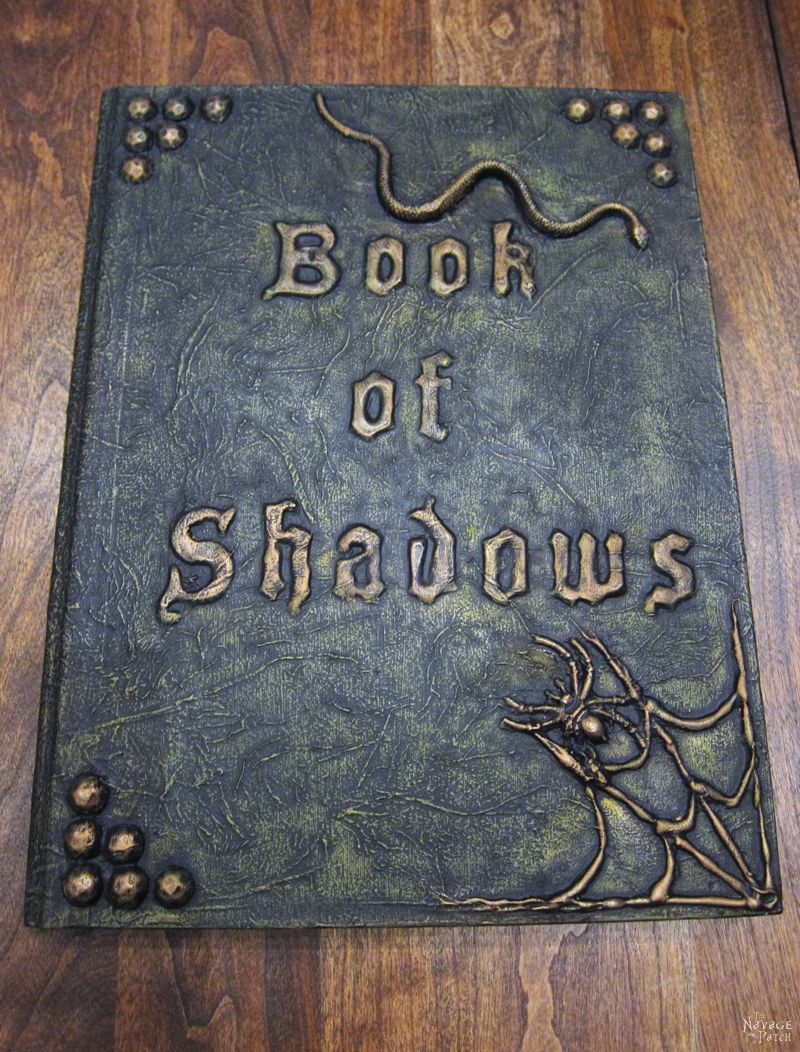 In all the tutorials where the books had raised lettering on the cover, 3D letters from craft stores were used. With my hard cover, I used glass leading paint. Glass leading paint has a softer feel than the 3D letters when touched. So for me it works better than the 3D letters and feels exactly the same as the rest of the plastic toys I used as embellishments.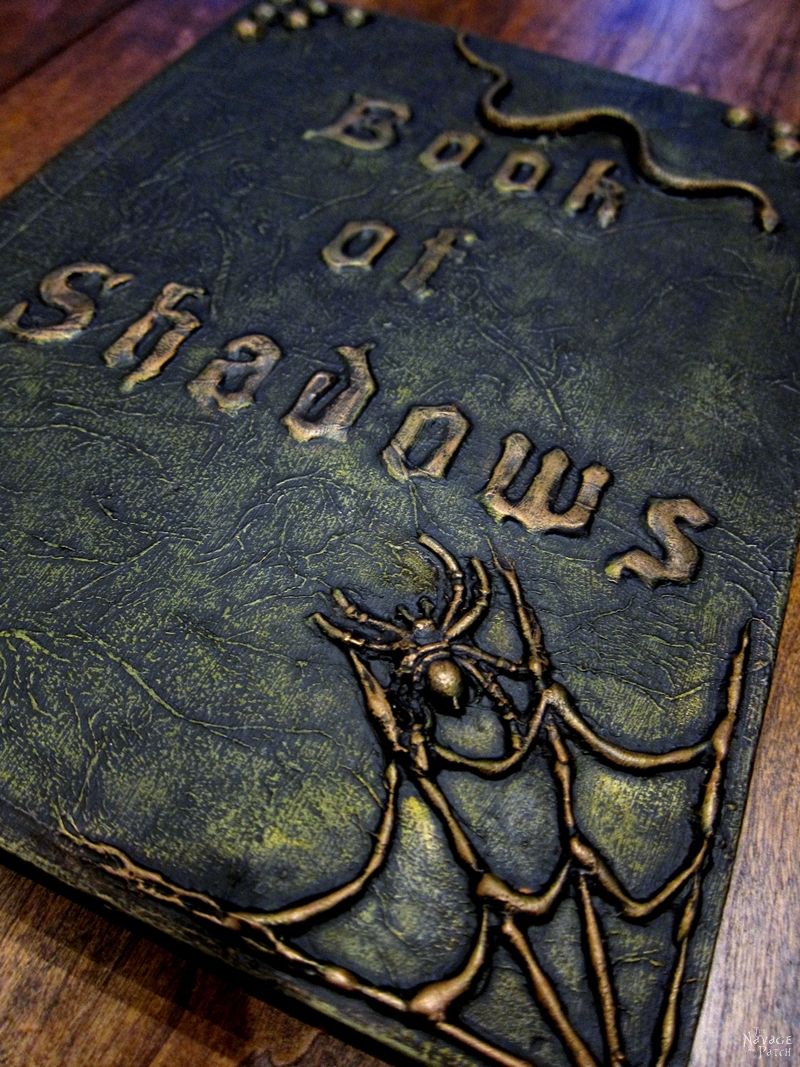 Glass leading paint
is very similar to 3D paints but specifically used for glass painting. Since it is used for glass, it basically sticks well to any kind of surface. Amazon sells these glass leading paints, and they come in all colors, but I prefer black, even when I use it for its real purpose, glass painting. So to put the name of our book, I prepared a stencil with my Silhouette Cameo and used that stencil to apply the glass leading paint. About 30 minutes later, the paint dried, and I applied a little more on top of the first application. This allowed me to give a better height to the name.
After I completed dressing up the book cover, the book was ready to paint. You can use any type of paint, including craft paint. I used latex matte black paint, as I already had it on hand. After 2 coats of paint, I let the whole thing dry overnight. The next day, using gilders paste in Celtic Bronze, I gave some highlights to those raised areas and creases on the cover, and voila!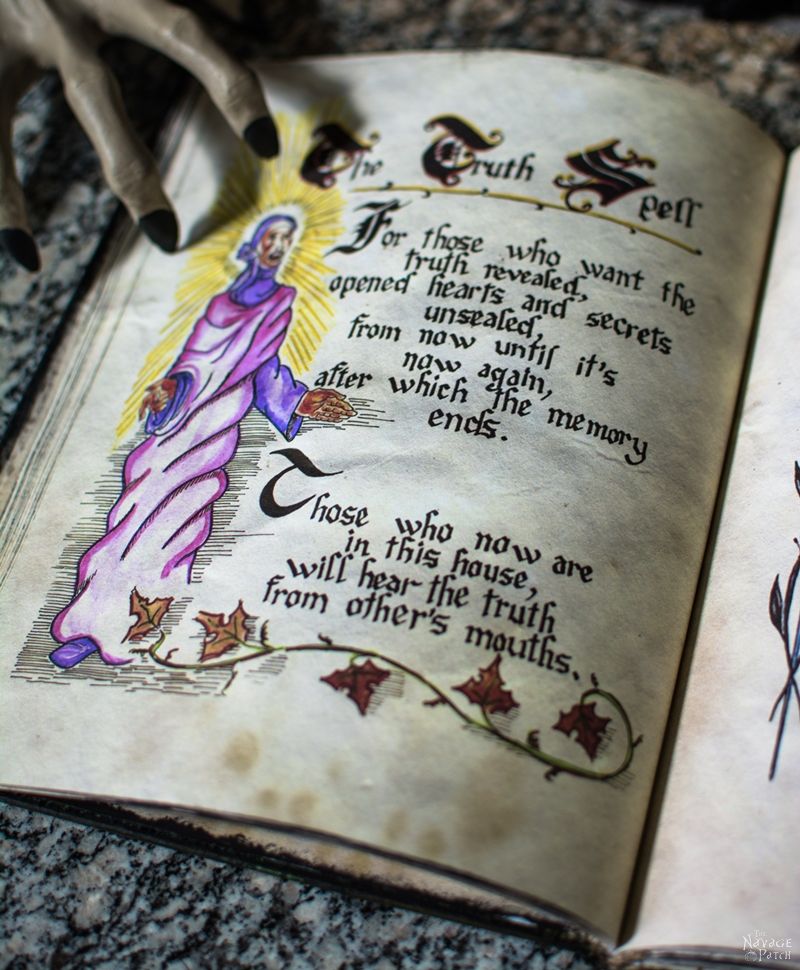 Since I finished our Book of Shadows, I have a great appreciation for the old hardcover books and the workmanship put in them. Though making the hardcover was a bit tedious, certainly our Book of Shadows makes a great Halloween prop, as it looks very realistic!
Handan, xo
We love it when you share our posts on Facebook and Pinterest!