Once she finished, I started monkeying around with some LED light strips we picked up from IKEA a few years ago. (Want to know how I really feel about IKEA? Click here.)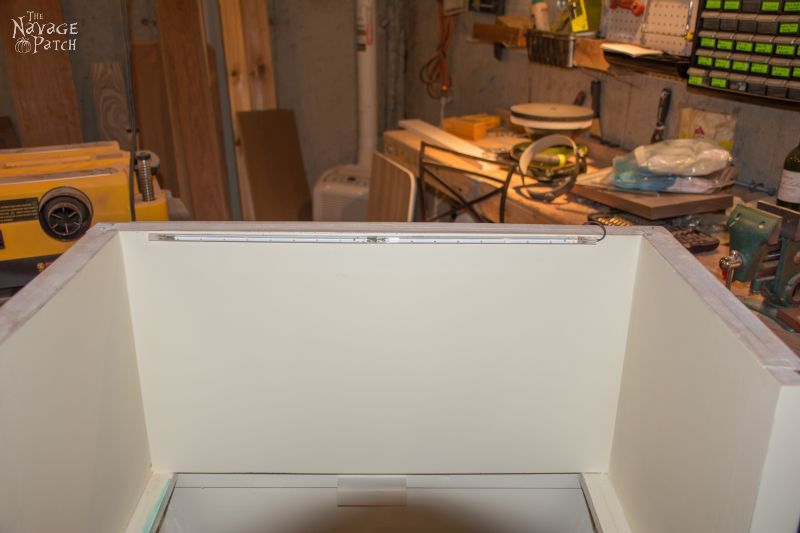 I wanted a bar of lights across the back and on each side. What to do with the cords though?
I could have drilled a hole. That was my first instinct. Got a problem? Drill a hole in it! Almost always works. Handan had other plans. She suggested I cut a groove in which to lay the cords. My babes wants a groove? Who am I to say no? I retrieved my hand-held crosscut dovetail saw, and cut a groove.
The next steps involved final assembly, but this thing was going to be heavy when built, so Handan and I carried the carcass up to my office, where final assembly would happen.
While I got ready to attach the bar tops, Handan worked on the drawers. Since they would be holding precious cargo, we decided to make a padded base. I first cut pieces of 1/4 inch plywood to the interior dimensions of each drawer bottom. Handan then cut and glued a piece of foam to each piece of plywood.
She secured the foam pad with clamps and let it dry.
When dry, she laid the foam pad over some velvet fabric we bought at Hobby Lobby. I'm no fabric expert, but I know at least two things about the fabric we chose:
If I were a king, I would make all of my clothing, including underwear, out of this fabric.
You really need to be a king to afford this fabric.
I strolled up to the cutting counter at Hobby Lobby with a 5 foot roll of this heavenly textile and started waving it around like I owned the joint. The girl with the scissors appeared.
"Hi there. How'd you like to slice me off a couple yards?" I glanced around with sly smirk, then winked at her. [Pfffft. Please. -Handan] Just then, I noticed the price-per-yard at the end of the roll. My eye un-winked. My mouth un-smirked. "Oh God, Handan's gonna kill me!"
"Excuse me, sir?" the young lady asked, oblivious to my manly charms and husbandly terror.
"Nothing. Never mind. Just cut it quickly!"
Where was I? Ah yes. The fabric on the board. Handan stapled it in place.
We laid them in place at the bottom of each drawer, and I carried on with the bar tops.
Before installing the bar tops, I waxed and buffed them.
I placed the lower bar top in its place and drilled pilot holes for the screws.
Next I used a countersink bit followed by the wood screws. I wanted the bar top to be removable…just in case.
I cut small strips of double-sided tape to mount the LED light strips. My initial plan was to mount the back light to the underside of the upper bar top and mount the side lights to the side walls of the bar.
Once the lights were installed, I secured the upper bar top to the frame using a thin bead of construction adhesive. There was no easy way to screw it on, so I decided to use adhesive. If I ever need to remove it, a quick bop with a mallet should do the trick. I used some heavy books to press the bar top into the adhesive. Then I decided that I wanted all of the lights to be mounted to the underside of the upper bar top, so I yanked the lights off of the sides and stuck them under the bar.
While that was drying I installed the drawer pulls we got from Hobby Lobby and put the drawers into their places. And then, 10 months after I started, I found myself staring at my completed wine bar. I was done. Done! Holy crap!
Here are some close-ups of the wine labels. There are some gorgeous wines represented by these labels. One is made by my friend, Elaine Villamin Blackaby!
A few closeups here and there.
"But wait!" You're saying to yourself. "It's supposed to be a wine bar! Where the heck is the wine?" Fair point, madam. Wonder no more.
But, you know what? It looks even better when the sun sets.
Did you notice that banjo clock a few pics back? You did? Oh, you're an observant one! That's my next post 😉