DIY Christmas Gnomes are a cheap & easy craft that anyone can do! Place these cute little guys on your mantel, on a shelf or in your Christmas display!
Usually when it comes to blog projects – and especially when it comes to cutesy crafty projects – I'm the one dragging my feet, while Handan cracks the whip and drives me forward.
But not this time!
This time we both dragged our feet.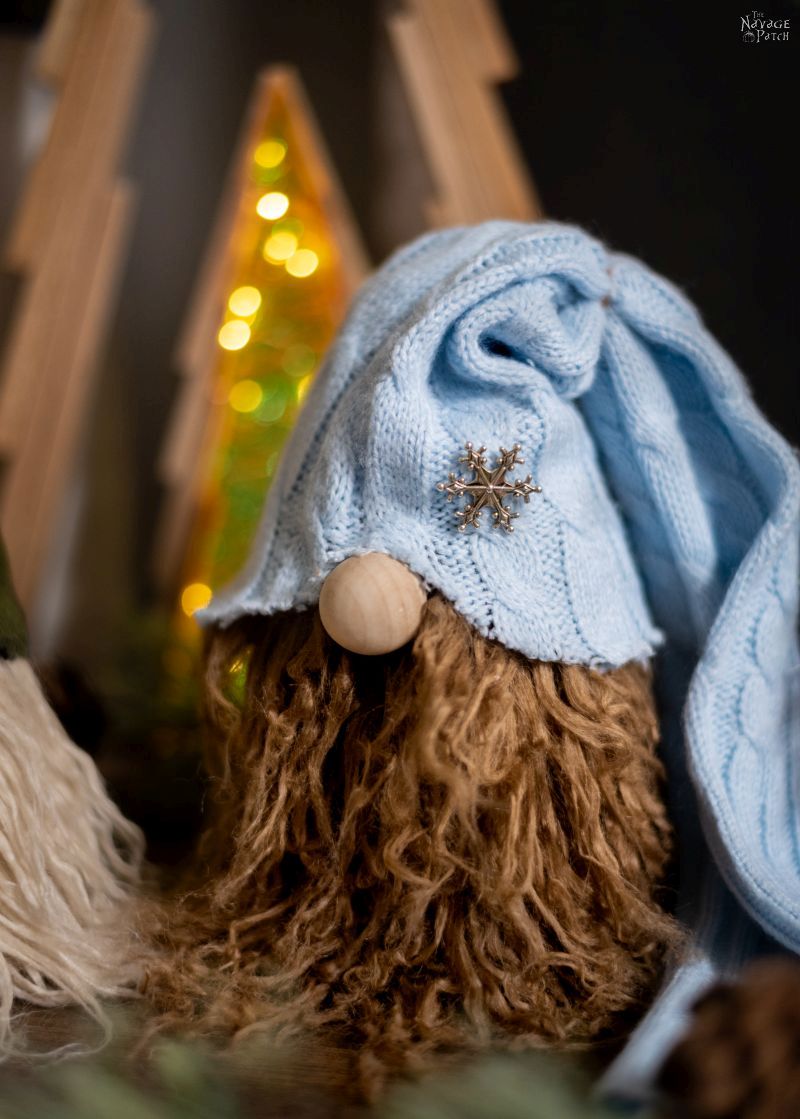 We had the materials for this project months ago, and Handan had been blathering on about DIY Christmas Gnomes since the flowers were in bloom and my feet were in flip-flops.
So why the delay?
What was the holdup?
Well, for me, it was the usual excuses and avoidances:
It was a cutesy craft, and even after disproving the notion that I'm not a crafter here, here and here, I still consider myself a manly man who should be tearing apart oak trees limb-by-limb instead of inhaling hot glue fumes while discussing the merits of Mongolian fur over craft fur.
This isn't our most original project. Every Rhonda, Phyllis and Gertrude has made gnomes and posted them on their blogs and YouTube channels, so why should I bother?
Did I mention my manliness? Do crafters eat 3 bricks and a tree branch for breakfast like I do and then wash it all down with a glass of motor oil? I don't think so, Tim!
Now, normally my excuses would have all the weight and impact of a feather in a windstorm, because Handan would gather the supplies and inform me (in no uncertain terms) that I'd be making DIY Christmas Gnomes.
"Yes, dear" I'd say, and then carry on my merry gnome-making way.
But it never happened!
We made all sorts of crafty trees and stars, and we gave you more printables than you can shake a peppermint stick at, but we never made the gnomes.
I never questioned it of course, but the reason for Handan's procrastination became clear the moment we assembled our supplies for this project and switched on the glue gun…
DIY Christmas Gnomes
SUPPLIES LIST
Affiliate links are provided below. Full disclosure here.
Bags of beans (we used lentils and navy beans). You could also use rice, but bean bags are a dollar or less and the beans are already bagged.
Rubber bands
Mongolian fur, alpaca fur or craft fur. Mongolian and alpaca fur look better, but they're more expensive, so you may decide according to your budget. Here are what we used: this two-tone gray Mongolian fur, these taupe and latte color alpaca furs, and this beautiful white fur.
Razor blade or X-ACTO knife
Scrap fabric for hats. We used everything from fabric scraps to old sweater sleeves. Anything goes, really. Nordic-patterned socks or leg warmers would look great, too!
Wood balls for their noses. If you don't have beads and don't want to buy them, you could make them from air dry clay or use anything you'd like.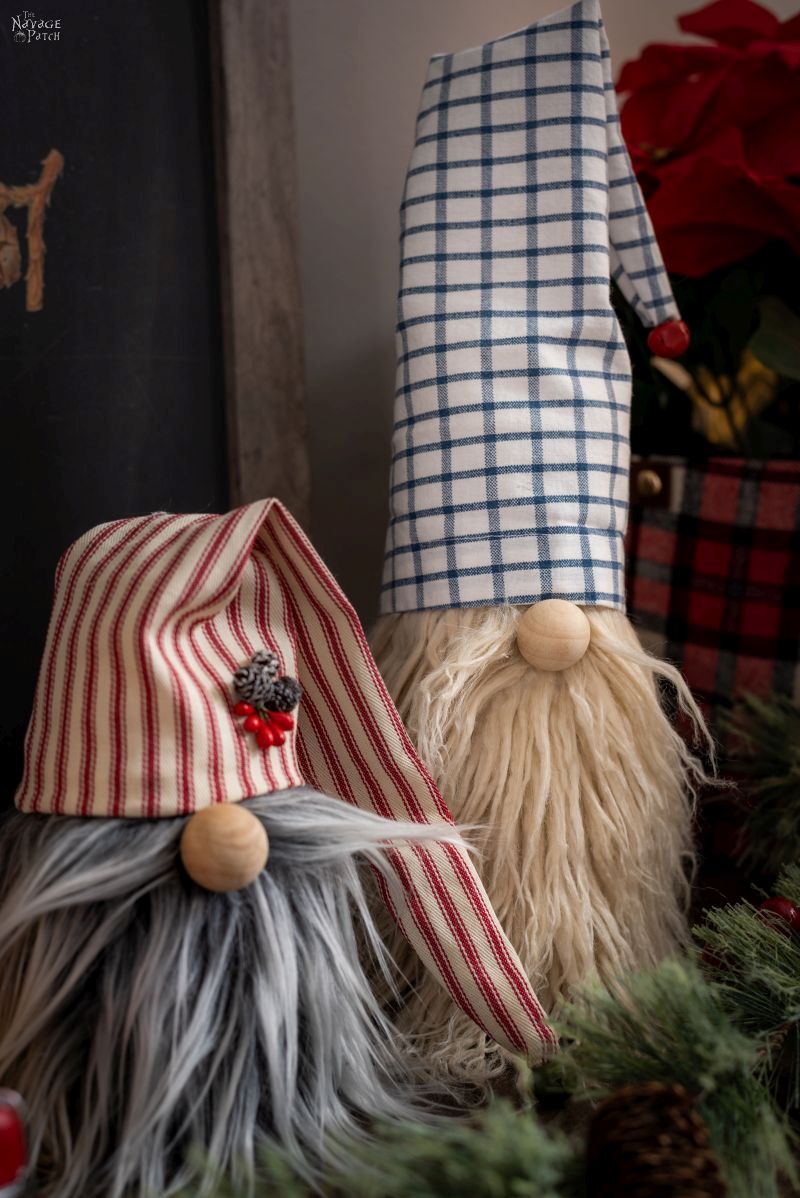 When it comes to craft projects for the blog, Handan usually gives me a quick rundown on what I'll be doing. If it's something she's done before, like say, making mambo yarn trees, she'll show me how it's done and then let me take the reins.
But neither of us had made DIY Christmas Gnomes before.
Still, she sat at our crafting table and attempted to show me how to make one. When she got to the hat, things went off the rails.
Don't ask me what she did – all I can say is that the engineer in her took over and things got real complicated real fast.
If you love gnomes as much as we do, be sure to check out our other gnome tutorials!
I stood above her and one of those wtf looks spread across my face.
"My babes," I said, "What the hell are you doing?"
Handan yammered about this and that and how hard the hat part was going to be.
"My babes," I said. "Put down the fabric. You're overthinking this. There's nothing hard about this project." I took the fabric and scissors from her hand. "C'mon. Get up. I know what to do."
And then I learned why my babes had delayed these DIY Christmas Gnomes for so long.
She thought they were going to be hard, so in her mind they became more and more difficult as the weeks and months rolled by.
So when it came time for her to make one for the first time, her "normal" brain panicked and her "engineer" brain took over, and that part of her made it into a convoluted mathematical mess.
She expected it to be hard, therefore it became hard.
I shooed her away and told her I knew everything I needed to know to make the damn things.
(Which was nothing, by the way.)
I knew nothing.
And it turns out that knowing nothing is more than enough knowledge to make these little gnomes.
So enough of my yapping – let's make some Christmas Gnomes!
DIY Christmas Gnomes Tutorial
The best part about using dried beans is that I didn't even have to take them out of the bag!
I just shoved the beans into one of the Dollar Store socks…
And presto! A perfect gnome body!
I put a rubber band on the sock to keep everything in place, and then I trimmed off the excess sock.
Couldn't be easier, right?
We used Mongolian fur for the beard – the kind shown in the pictures below, plus two other styles that you'll see in the final photos. We also had some craft fur on hand, but I decided to stick with all Mongolian as it has a better look and feel.
I wrapped the fur around the sock to measure for size.
A little overlap…
My fingers show the length and height I'd make my cut.
Now, I didn't want to cut the Mongolian fur with scissors, otherwise I'd cut right across the beautiful fur. Instead, I flipped the fur over and carefully cut just the backing with a razor blade.
I cut the fur in a U-shape.
See how the fur pulls away? If I had used scissors, I would have cut off all that fur that's hanging below the cut line.
I laid it on the sock to check the fit.
Then I put a little dab of hot glue in the center and attached the fur.
And then I hot glued the rest of the fur onto the sock.
I used 1-inch wooden balls for the nose, but you can go bigger or smaller, or use something else entirely.
First I made a little space by pulling apart the fur…
Then I added a dab of glue…
And then I stuck the nose in place.
Now here's the part where Handan had trouble. She's an engineer, and sometimes she overthinks things with her finely-tuned and hyper-mathematical engineer's brain.
Fortunately for her, she had a good ol'-fashioned dope standing next to her who was just smart enough to see she was overthinking the problem.
I (aka, The Dope) grabbed a piece of fabric and set to work on the hat.
I measured it…
And then I trimmed the excess.
I then cut it to a height that seemed good to me.
There are no rules when it comes to these DIY Christmas Gnomes.
Use whatever you want for the hat.
Make it as tall or as short as you please.
No one will judge you!
Well, your kids and grandkids might.
But you just stick a glue gun in their little hands and dare them to do better!
Since I wanted a pointy hat, I cut the fabric into a triangle shape.
Looked hattish enough to me!
Now look, if any of you ladies are into sewing, you'll know that when I wrap this thing into a circle, it's not going to be a perfect cone. Maybe this is where Handan's brain went haywire. Just don't worry about it, okay? You'll never notice it when the gnome is finished!
Sometimes ignorance is bliss, especially when it comes to me and crafting (or sewing).
Okay, to turn this sucker into a hat, I just laid a bead of hot glue down one side…
Folded it back over onto the glue…
And when the glue had cooled, I turned it inside-out…which was actually making it rightside-out. Or outside-out.
Whatever. You get my drift.
Ta-da!
(I can feel your eyeballs on my gnome hat, madam. And I can hear you groan as you look at that little point in the back.)
Like I said, ignorance is bliss when it comes to crafting, and they don't get much more ignorant than Yours Truly here.
Must be why I was so blissful while making these DIY Christmas Gnomes!
Anyway, I folded the rim up inside the hat to even things out and get rid of the rough edge.
Then I fit the hat onto my gnome.
Satisfied with the fit, I put a small dab of glue under the front of the hat.
Then I put a dab under each side and under the back.
I adjusted the fur to make a moustache.
Then I added some embellishments by gluing on some tiny pinecones and red berries onto the hat and adding a jingle bell to the tip.
And that's it!
These DIY Christmas Gnomes are super easy to make, and they're really fun!
Yeah, I admit it. They're fun.
Look, if a manly specimen like me can have a blast making these (I even woke up early on Sunday and made more while the rest of the household slept), then I'm sure you'll enjoy them, too!
(Just don't tell anyone that I said they're fun, okay? I've got a reputation to protect!)
[A reputation? LOLOLOL – oh you make me laugh my babes! I'm sure your "reputation" will survive! LOLOLOL! – Handan]
Here are the rest of them.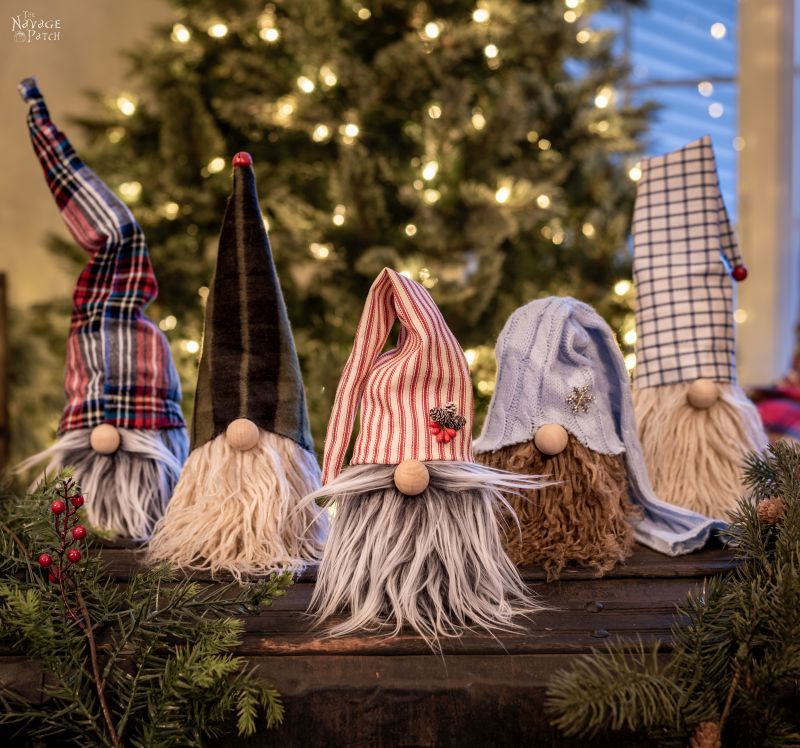 So what do you think of our Christmas Gnomes?
You can also add a wire underneath the hat so you can bend it into interesting shapes.
Or you can use wire to make a floppy hat stand up straight.
I asked earlier why I should bother making these DIY Christmas Gnomes when so many others have done so already.
Well, the answer is simple.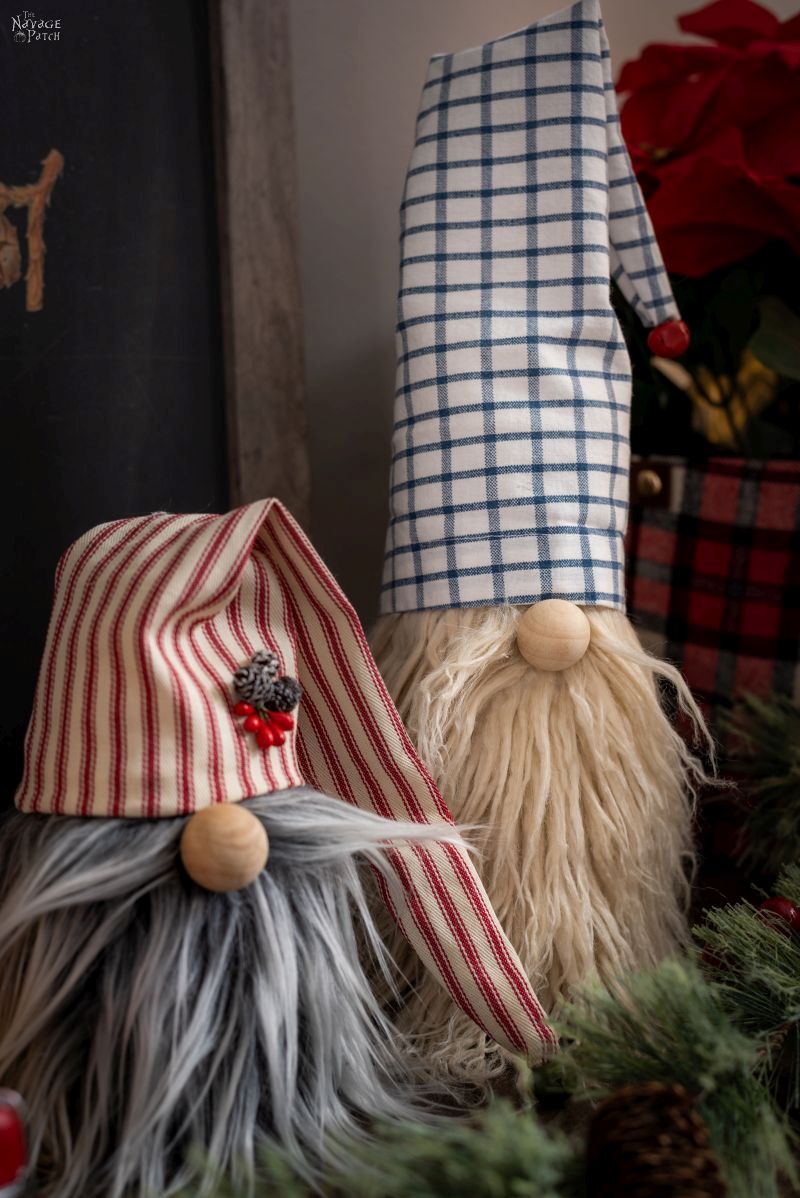 My babes loves them, and they make her smile every time she sees them.
For that reaction, I'd even craft with pink glitter.
(Just don't tell her that. I don't want her getting any crazy notions in her head with Valentine's Day approaching!)
We love to see our craft projects out in the wild! If you try this seasonal craft project, take a picture and post it on Instagram, be sure to tag us @TheNavagePatch!
If you want to make some taller DIY Christmas gnomes like the one pictured below, just stuff some polyfill into the sock after you put in the beans. The polyfill will give him a little more height without making him too top-heavy.
Okay, so maybe you're more of an outdoor gal. Maybe these dinky little indoor gnomes just leave you feeling…I don't know…unfulfilled.
Well, sister, you're in luck.
Holly Grace has you covered with her brilliant tomato cage gnomes. Check out her video tutorial and make a couple for your front porch!
We love it when you share our posts on Pinterest!