DIY Dollar Tree Light-up Wood Stars
These Dollar Tree light-up wood stars are one of the easiest, cheapest and most beautiful crafts that work for Christmas and year-round decor!
I'm getting old.
And as the days melt into weeks and the weeks congeal into months and the months lump together to form years, I find myself yearning for simple things, especially when it comes to crafts and DIYs.
Oh, there may come a time when I'm old and feeble and get a day off here and there, and perhaps then I'll enjoy pottering around my craft room or garden engaging in complex and complicated projects that take up a whole day or more. But until that time, I (well, we, actually) need it fast, quick, speedy and cheap. Life moves pretty fast around here. Pause to yawn, and you may miss a week.
This little Dollar Tree project is just what we're looking for in these hectic times – a simple DIY that looks like so much more than the sum of its parts.
This isn't my first time monkeying around with wood stars that light up. Back in the olden days in Connecticut, I made some rustic ones like this.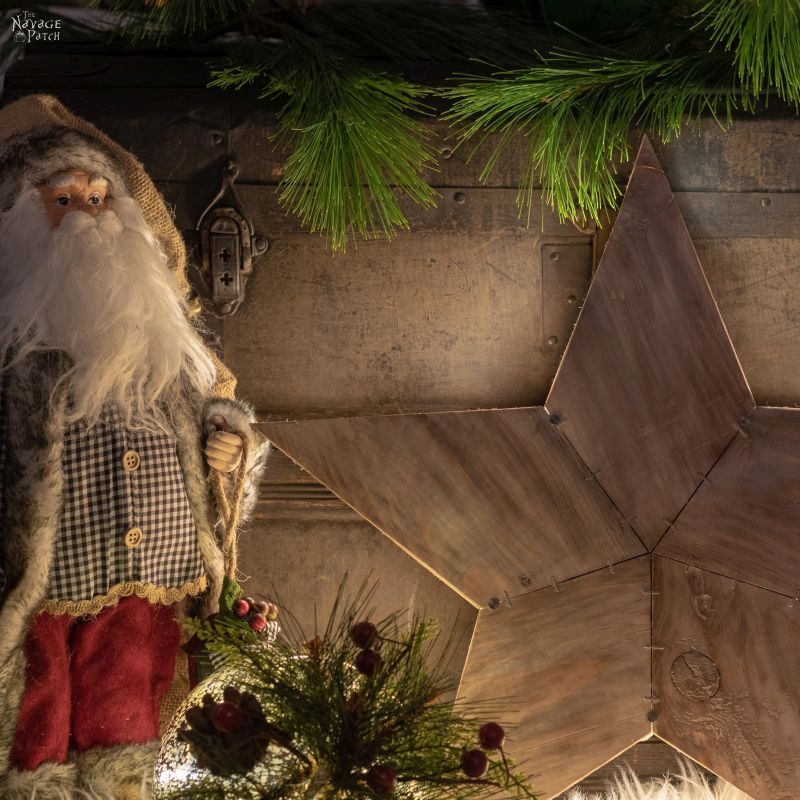 I used saws and sandpaper and staples and stain, and I probably spent a few days making them.
Don't get me wrong, I still think they're beautiful. But jeezum crow, I sure spent a lot of time to make them! When time is cheap, we spend it frivolously. But these days, time is dear, and my babes and I are much more miserly in how we spend it.
Ebenezer Scrooge would be proud.
So enough of my yapping. As I blab on about time, I'm just wasting yours! Let's dive right into these incredibly simple, ridiculously quick, entirely affordable and absolutely stunning DIY Dollar Tree Light-Up Wood Stars!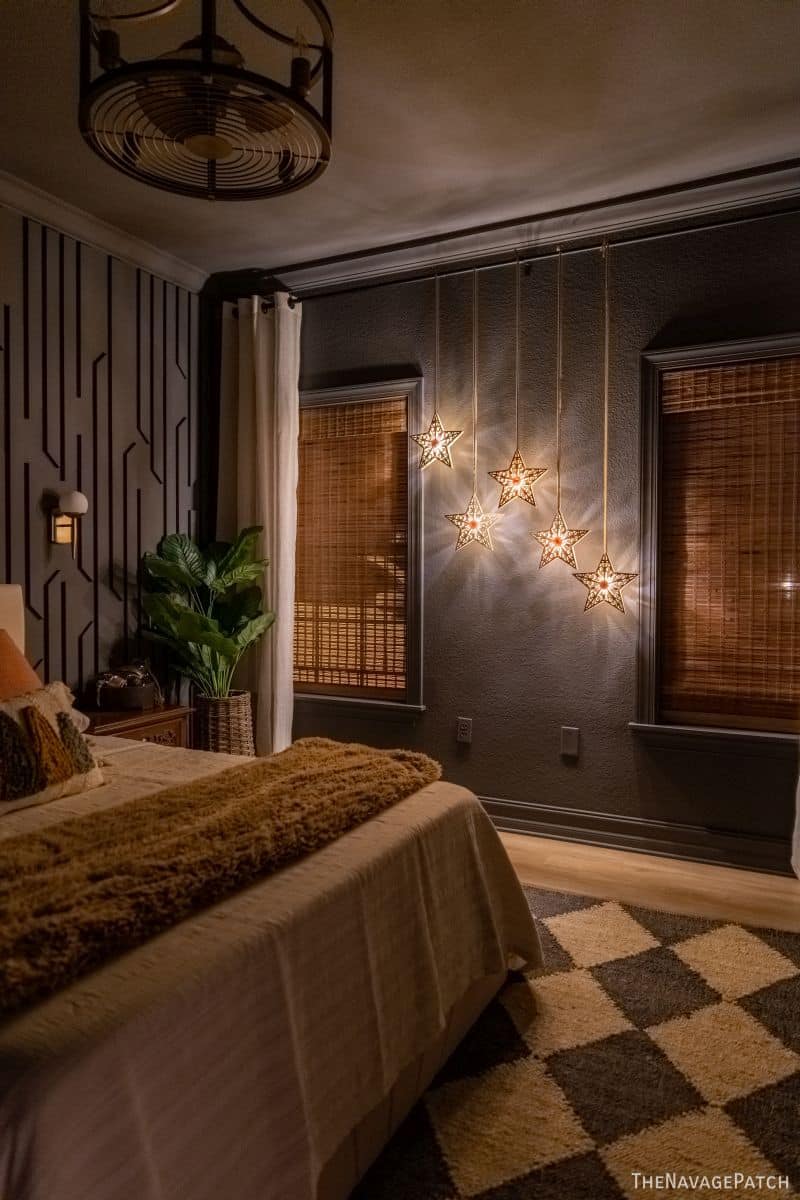 DIY Dollar Tree Light-Up Wood Stars SUPPLIES LIST
Affiliate links are provided below. Full disclosure here.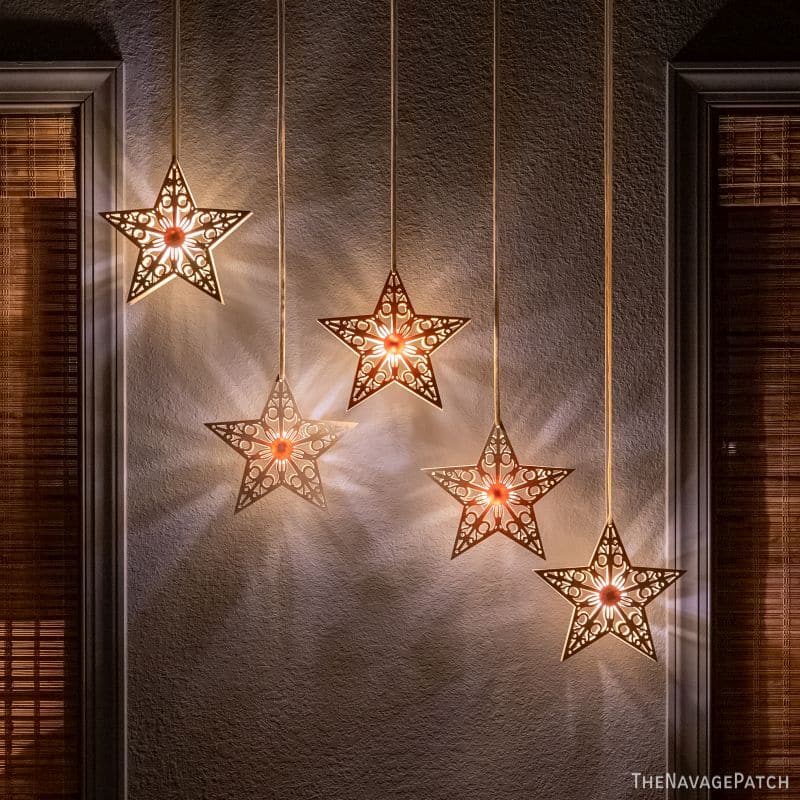 DIY Dollar Tree Light-Up Wood Stars VIDEO Tutorial
Watch our short and fun video below for an overview of our DIY Dollar Tree light-up wood stars before you read the detailed step-by-step tutorial.
DIY Dollar Tree Light-Up Wood Stars Tutorial
Step 1 – Go and get your stars!
Just like what happened after I posted about our duster trees, these stars will probably sell out fast, so go and get 'em before they're gone. Just remember, these wood stars are in the craft section, not with the seasonal decor.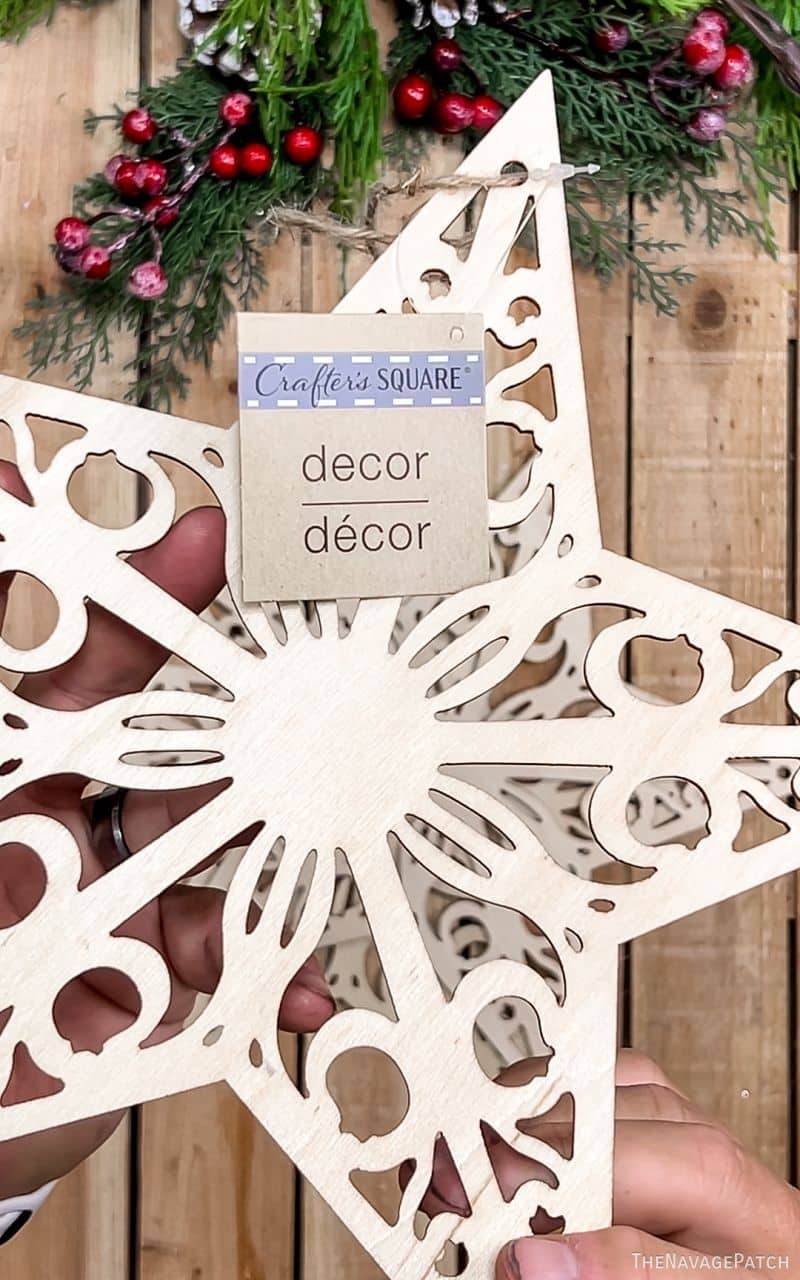 While you're there, get yourself a package of these little wood cubes. They're good for all sorts of fun and creative stuff!
By the way it's black paint under my nails, not dirt 😀
Step 2 – Glue the cube
Put a dab of hot glue on the cube and stick it to the middle of one star. Now go pour yourself a spiked eggnog, because you're basically done!
Step 3 – Wrap the lights
Feed the end of the fairy lights through the back of the star and then wind the strand around the cube.
About LED Fairy Lights
LED fairy lights come in many lengths and colors, and they can be battery-operated or plug-in. For these light-up wood stars, we used battery-operated lights that are 6.5 feet long and remote-controlled. A 6-pack costs about $14.88, so that's about $2.50 per light. (These used to be $13, but it seems the seller is capitalizing on the increased order flow resulting from our social media posts.) You can make these stars with Dollar Tree fairy lights, but they won't be remote controlled, and the battery pack is bigger. We suggest paying another dollar per light for not only the remote feature, but also the 8 different light settings. To see one of the settings in action, please watch our video linked above.
When you reach the end of the strand, secure the tip with a tiny dab of hot glue – just enough to keep the strand from unravelling.
Step 4 – Glue the other half
Put another dab of hot glue on the cube and then press the other star onto it.
You can see the battery pack in the picture above. You can leave it like that or glue it to the back of the star as I did. Just be sure to glue the correct side so you can still access the batteries when it's glued!
Now go pour yourself another eggnog, because all that's left is to hang your stars and enjoy!