Our DIY Vertical Chess Board hangs on the wall, so there's no rush to finish a game. It's a playable piece of art that everyone will love!
I'm in awe of chess players. The ability to think and plan several moves ahead and build ever-changing strategies and contingencies has always seemed like magic to my sputtering and backfiring little brain stem.
When I see people playing chess, I imagine this is going on in their heads:
I see it when I watch Baris and Handan play. There's an intensity I really admire.
Every so often, I'll throw my hat in the ring and offer myself up for slaughter.
After asking again (as I always do) which pieces do what, I sit and contemplate the game board. While Baris's or Handan's brain has probably already anticipated how many moves it will take to destroy me, I just stare at the board with a little drool pooling at the corners of my mouth, while my brain does its thing:
Okay, so I'll never be Bobby Fischer, but at least I have a couple of chess players in the family to make me proud.
One of the things that Handan wanted for Baris's bedroom wall was some sort of permanent chess installation. Since horizontal real estate would be at a premium, she suggested I build a vertical chess board. She started yammering on about metal and magnets and frames and stain, and then before I knew it:
She wanted me to stain a checkerboard pattern on a piece of plywood for the chess board. This required me to come up with a way to create clean lines with stain. Once I had that part figured out, the rest was relatively easy.
The DIY vertical chess board I built for Baris's room has metal platforms for the pieces. This allowed me to add magnets to the pieces to keep them from getting bumped or jostled off the board. Working with metal adds a bit of complexity to this project (I had to buy a metal-cutting blade for my table saw), but this vertical chess board can also be made with wood or Plexiglas platforms.
DIY Vertical Chess Board SUPPLIES LIST
Affiliate links are provided below. Full disclosure here.
3/4 inch plywood
1 x 3 pine for the frame
220 grit sandpaper (for the chess board)
random orbital sander and 400 grit discs (for the sheet metal)
The onyx chess pieces I built the vertical chess board around were part of a set that Handan and I bought during our time in Afghanistan. We bought so many beautiful hand-crafted treasures there that we display all over our house. If you're new to The Navage Patch and haven't read the stories of our time overseas, may I invite you to start here and enjoy the journey with us?
They are beautiful pieces, and we've been wanting to display them for years. This DIY vertical chess board was the prefect opportunity to show them off!
DIY Vertical Chess Board
For my chess board, I chose a piece of 3/4 inch birch plywood with a nice grain pattern. I had a few panels left over from the cabinets I built for our Connecticut house laundry room renovation, so I didn't have to spend any additional money on the board.
Note: you'll see some process pics with a different piece of plywood. I originally made a chess board with a plain-looking piece of plywood that I also had as scrap, but I wasn't happy with how it turned out, so I made another with the piece pictured above. I happened to take many more process pics of the one I didn't use, so you'll see a mixture of the two. The process was the same for both.
I based the size of my board around the size of my chess pieces. Since the metal I'd be using for the platforms was 12 inches wide, I was limited to that for the width, but it turned out to be the perfect size. Each space would be 1 1/2 inches wide.
For the height, I wanted to leave more than enough room for the pieces so the board wouldn't look crowded. 31 inches seemed about right. Dividing that by the 8 spaces on a chess board gives 3 7/8 inches.
I marked the board every 3 7/8 inches for the cuts I would be making for the metal platforms. Since the saw blade has a thickness of 1/8 inch, I market the edge of the board at 3 13/16 and 3 15/16 just to make it easier to line up each cut.
I then adjusted the height of the blade so it would cut through about half the thickness of the plywood or about 3/8 inch.
Then I ran the board over the blade at all my marks.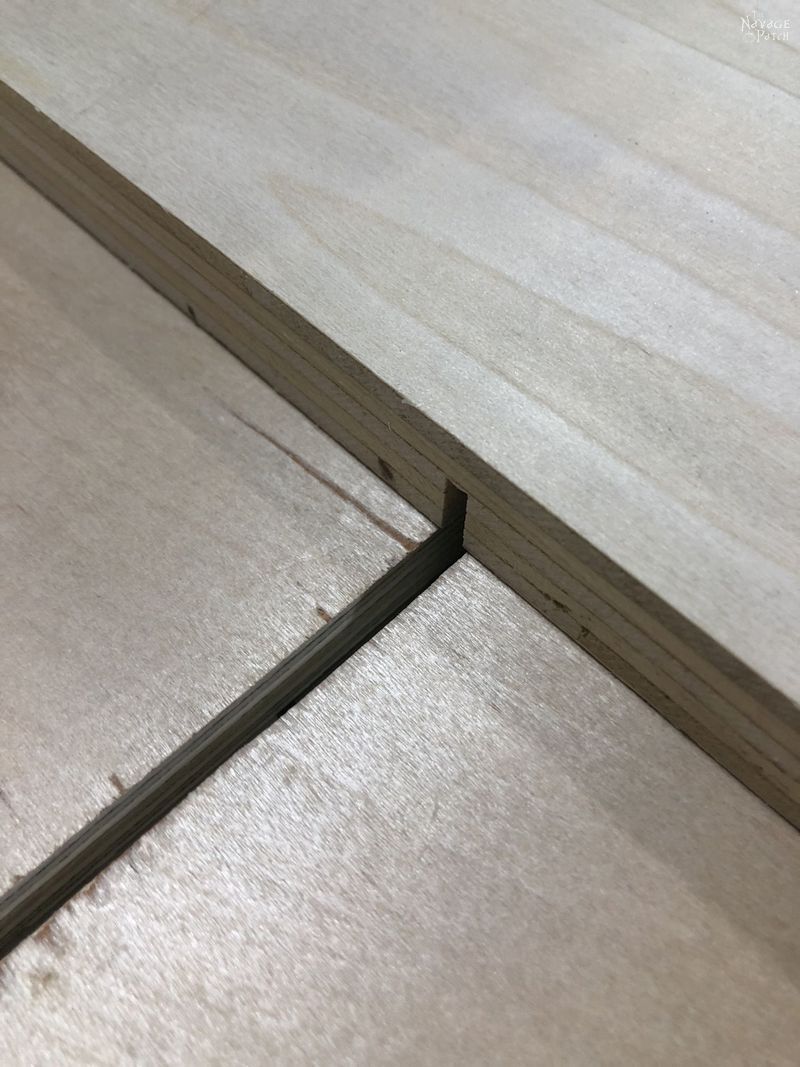 Here's the board with all the grooves cut for the platforms.
Next I used a utility knife to cut vertical grooves every 1 1/2 inches in order to get clean lines when staining the board.
A drywall square was perfect to run the knife against.
After one pass along the drywall square, I ran the knife freehand over all the grooves again. When I finished the lines, I lightly sanded the board with 220 grit sandpaper.
I used 3Ms Platinum tape to mask off the squares. I could have used regular blue tape for this step (the grooves contain the stain, not the tape), but since the Platinum tape tears perfectly straight, it was easier to use for this particular application. You can read more about this in my How to Make Clean Lines with Stain post.
I was careful to cover the grooves with the tape, as explained in my How to Make Clean Lines with Stain post.
Cutting grooves and masking are essential to making clean lines with stain, but the third key to success is not to flood the piece with stain.
Ebony stain would be the perfect color for this vertical chess board.
I applied just enough stain to get color on the piece with no pooling of residual stain.
The moment of truth! I peeled off the tape and was thrilled to see a perfect checkerboard emerge!
Success!
DIY Vertical Chess Board Platforms
Since we wanted the chess pieces to stay in place with magnets, I needed to use steel sheet metal to make the platforms. I chose 16 gauge sheet metal, which is about 1/16 inch thick. As my platform grooves were 1/8 inch wide, I'd need to shim the metal. More on that later.
The quickest way to cut sheet metal is with a carbide-tipped, metal-cutting table saw blade. I ordered one from Amazon for about $35. It made quick work of the sheet metal! I cut eight 1 1/2 inch pieces.
I'm holding up a piece of scrap as a deflector in the picture above. Without it, I would have been peppered with little molten shards of metal.
After a while, I got tired of holding the deflector shield, so I geared up to take the onslaught full force!
See those two little exposed patches of cheek in the photo above? Yep, I think that's where 90% of the molten shards landed, lol!
The platform pieces were a little jagged, so I smoothed the edges with 150 grit sandpaper. This was quicker and easier than using a metal file.
To make the platform pieces look better, I buffed them with a random orbital sander and 400 grit sandpaper.
All buffed and ready to go!
As I mentioned earlier, the metal platforms are only 1/16 inch thick, and the groove is 1/8 inch wide. I made 1/16-inch-thick shims from some scrap hardwood and cut them to about 3/8 inch wide, so they would fit perfectly in the groove.
Installing the platforms…
I used a spare shim to help hammer the other shims in place. It was a tight fit, which is what I wanted.
DIY Vertical Chess Board Frame
After installing the platforms, I cut pieces for the frame. I wanted to keep the frame simple and build it onto the chess board. I used 1 x 3 pine lumber, cut them to size, sanded them and then stained them.
To install the frame pieces, I applied some wood glue along the edge of the chess board and then brad nailed the frame piece in place.
I did this with the remaining frame pieces.
As a last step, I glued the final metal platform piece onto the bottom frame piece, and my DIY vertical chess board was finished!
Handan then cut out little pieces of the magnetic sticker sheet and stuck them to the bottoms of each piece.
To hang the chess board, I installed two D-rings to the back and ran sturdy picture frame wire between them.
Baris's DIY Vertical Chess Board looks awesome on his wall, and it is always ready for a mother-son championship match!
We love to see our DIY projects out in the wild! If you try this DIY project and take a picture and post it on Instagram, be sure to tag us @TheNavagePatch!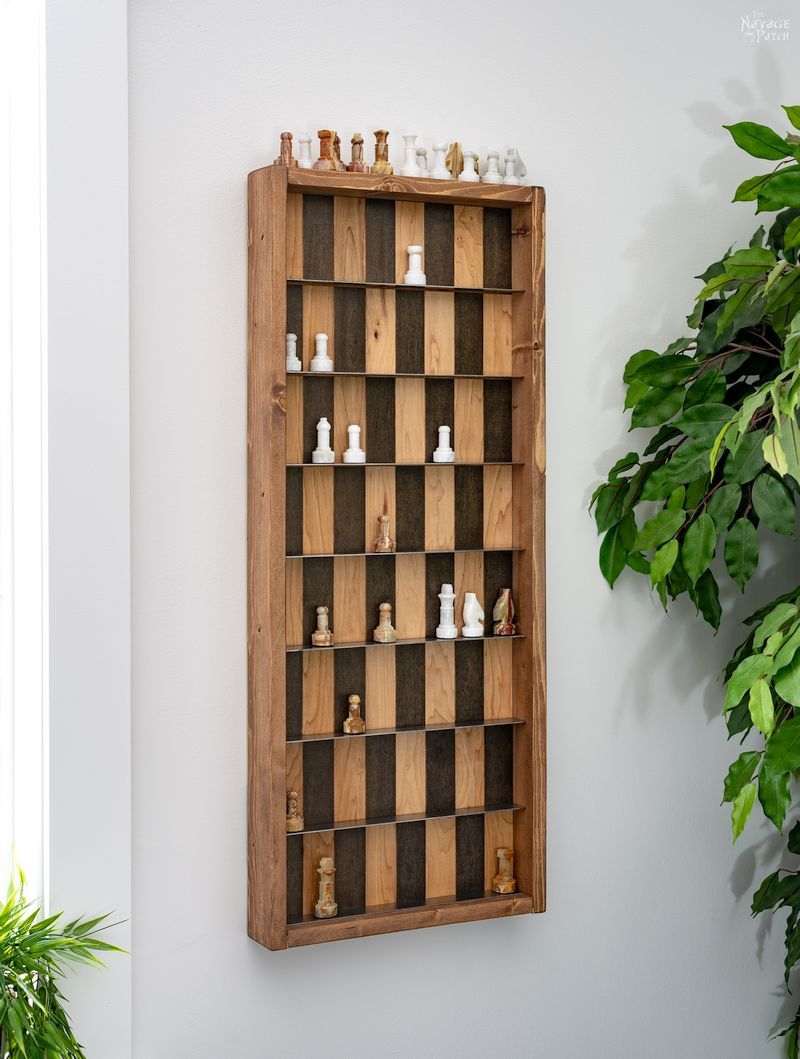 We love it when you share our posts on Pinterest!