DIY Wood Alpine Tree with Jingle Bells
There was a time not long ago when a married man's time was his own. He could wake up on a Saturday and breathe in the crisp morning air, safe in his knowledge that the hours and minutes were his to do with as he pleased.
Time was his dominion, and he was its king.
He ruled his kingdom from two thrones. One was white and gleaming and made of porcelain. From this morning throne, he planned his day, thought Monumental Thoughts and caused loud noises to issue forth from his nethers. Sometimes he read a scroll that informed him of the goings-on within his kingdom.
When the day's strategy was set, he moved to his other throne. It was soft and cushy and covered in velvety microfiber. From this second throne, he issued proclamations to his family, drank strong ale and watched the glowing magic box in the corner.
He was content and satisfied.
But all Golden Ages must end.
Sometimes they end in war or rebellion or coup.
But this Golden Age was killed at the hand of a young upstart named Pinterest.
While the king was relaxing on his thrones and thinking Important Thoughts, Pinterest was quietly seducing his wife.
He showed her pretty pictures.
He promised her a better life.
Before long, the wife fell under Pinterest's spell.
She wanted all that he showed.
But she couldn't do it all herself. She needed the king's help.
And thus the Empire crumbled, one project at a time, until there was no time left.
"HEY BABES!" The shattering cry of Wife reverberated through the cold and empty halls of the once-mighty king.
"Yes, my babes?" I said.
"Oh, right. There you are. Can you make this for me, my babes?" She said and showed me a picture on her tablet.
"What's with the shouting, woman? I've been sitting here next to you the whole time!" I said.
She just smiled and showed me the picture.
"Can my babes make this for me?" She said. "Pleeeeeease?"
I looked at my watch.
Friday night.
Then I saw Saturday jump in its car and speed off into the distance while flipping me the bird and shouting "Sayonara, sucker!" into the wind.
I sighed the sigh I've sighed a thousand sighs before.
"Yes, my babes." I said. "I'd be happy to. It looks really cool." I leaned in and kissed her cheek and then told her how lucky she was that I loved her. Had any other woman made this weekend demand of me, I would have banished her to the Hinterlands.
But this one was special.
DIY Wood Alpine Tree with Jingle Bells
Any board or scrap or plywood that is 1/2 inch to 1 inch thick. I used 3/4 inch.
Alpine tree template (8 inch, 10 inch, 12 inch and 15 inch free tree templates are available in the "Template – Cut Sheet" section of the VIP Patch)
Jigsaw, scroll saw or band saw
Birch log round or scrap wood for base
Handan made an outline of that picture and sized it up and down for different size trees. I picked the 8 and 10 inch trees for this project.
I used a piece of 1 x 8 common pine (actual thickness is 3/4 inch) I had kicking around from a previous project. You can use any thin wood you'd like, from 1/2 inch plywood, to full 1-inch-thick pine. The 8-inch-wide pine board allowed me to fit the two stencils side-by-side so I could get two trees from a single piece.
After cutting the board to the height I needed, I used a kiddie craft glue stick to adhere the stencil to the board.
Yep, the glue is purple. Disappearing purple to be precise. I was Immediately transported back to my childhood and the time I planned to make myself invisible to prank my neighbor, Gussy. If you'd like to read that story, it's at the end of our Hanging Cage Halloween Prop post.
I stuck the tree template on the board and smoothed it out.
The first cuts I made are represented by the red lines below. They are called relief cuts, and they make it easier to cut tight corners with a jigsaw, scroll saw or band saw.
Once the relief cuts were made, it was a simple matter of following the pattern with the jigsaw.
The great thing about kids' glue is that it doesn't really stick all that well. I guess it's a safety precaution. Give a little kid a glue stick, and you better believe that purple goo is going to end up on the walls, the floor, the sister's hair, the dog's tail, quite possibly the ceiling and most likely that new rug you just had delivered. But hey, at least the purple disappears, right?
Next I sanded the trees with 150 grit sandpaper, making sure to smooth and round the sharp edges and corners.
So far, so good! At this point, your options are open. Want it stained? Waxed? Painted? The choice is yours. I kept it Simple Stupid.
We had two sizes of jingle bells kicking around, so I used the big white ones (I use that term loosely – they're still pretty dinky) and the little red ones for the smaller tree.
The white bells were large enough to hang with very small eye hooks. I used pliers to open the eyes.
I then threaded the bell onto the eye and squeezed it closed with the pliers.
Using small needle-nose pliers, I screwed the bells into their places.
The red bells were too small to hang from the eye hooks. The small hooks were as big as the bells and looked out of place.
Instead of the wimpy base in the photo Handan showed me, I went for something beefier – something worthy of these masterful creations. I had some birch logs left over from my Nativity scene.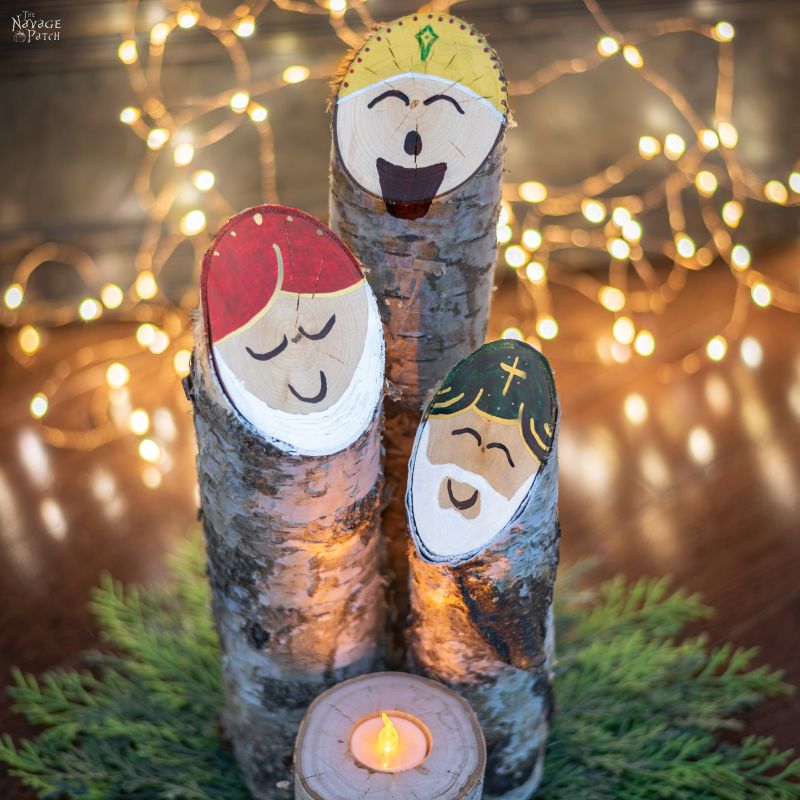 I cut two rounds and then hot glued the trees onto the birch.
It was looking good, but it needed a little greenery.
Handan disappeared into her Crafting Cave and emerged moments later with a bag of moss. I swear that room has more crap than an Amazon fulfillment center.
Just before photo time, I decided the green moss could do with a bit of snow. I suggested cotton to Handan, but she looked at me like I was an idiot.
She may actually be onto something there.
Anyway, she told me that cotton wouldn't work. And then she told me she had a can of fake snow in her Crafting Cave.
Of course she does.
Out she came with a small can. We opened it and peered inside. There was a small blue plastic shovel and a little baggie of white powder. I considered calling the DEA, but the instruction sheet proclaimed that we were to dump the contents of the small baggie into the can and add 8 1/2 ounces of water, whereupon the powder would absorb the water, grow and overflow out of the can.
It all seemed a bit dramatic for the few flakes I desired. Fearing a big white mess, I dumped the faux snow powder into a bigger vessel to contain the promised overflow.
It was impressive, I must admit. And now I have 12 ounces of premium fake snow when all I needed was two pinches.
They say it will eventually dry out and return to its powdered state. Huzzah. Fake snow for years!
So with my wood alpine trees all snowed up, let's see how they turned out.
We love it when you share our posts on Facebook and Pinterest!
Love free SVGs? Then check out our guide on Where to Find the BEST Free SVG Files!