Whimsical Tabletop Christmas Trees
Bring some holiday cheer into your home with a whimsical Christmas tree! These tabletop Christmas trees are easy to make and just the cutest thing ever!
Do you remember my tag sale and Put & Take regime? Well, I have news for you: I spent a whole week tidying up the basement, so now it gives the impression that we don't have as many things – of course everything is still there, but now it's all stacked up to the ceiling! I only tidied enough to give us some room to walk around. But still, that organization must have worked, as Greg finally lifted my tag sale ban! YAY! In his defense, winter is here. So he lifted the ban knowing that tag sale season is pretty much over and even Put & Take is not that bountiful…or so he thought! hehehehe 🙂
After the ban was lifted, when we went to Put & Take, guess what I found? This faux Christmas tree, which had a big note on it saying that it was missing quite a lot of parts.
…and these cheap plastic curtain rod finials. One of them was broken, and the curtain rod wasn't even there. I guess someone must have picked it and didn't want to bother with the broken finials.
Despite Greg's efforts to keep me from taking them by pointing out the missing and broken parts, they both came home with us. I am not sure what was worse for him: trying to fit that big tree box in the already-full cargo area of our car, or realizing that neither snow, nor rain, nor cold will ever stop me from finding the coolest things at Put & Take. LOL. On the bright side, he was pretty happy with my crafting performance, since none of these finds had the chance to see our basement, as they were put to good use straight away 😉
If you're curious how I repurposed that faux tree, I got an outdoor Christmas garland and two other awesome DIY Christmas decor projects out of it, LOL!
Ok, now that you've seen that post, here is how I used the curtain rod finials.
Pretty cool, right? Okay, now you might be thinking, "how am I supposed to find an unused curtain rod finial to make these trees?" Don't worry! As long as you have some crafting wire and some aluminum foil, you are covered. So let's start making some whimsical Christmas trees, shall we?
Whimsical Tabletop Christmas Trees
Here is a little hint on the feather boas: Dollar Store feather boas are only 4 feet long and they are very thin. Therefore I had to use 2 of them. But if you are getting your white feather boa from Amazon or from a craft store, then you can get away with only one of them, because they are 6 feet long and much thicker.
Mossy Whimsical Christmas Tree
First, I started with the moss tree by hot gluing the broken curtain rod finial on the paper-mache cone form.
Then, I hot glued the sheet moss around the cone.
Using my snips, I cut the excess parts and carried on hot gluing the sheet moss until the cone and the curtain rod finial were totally covered with moss.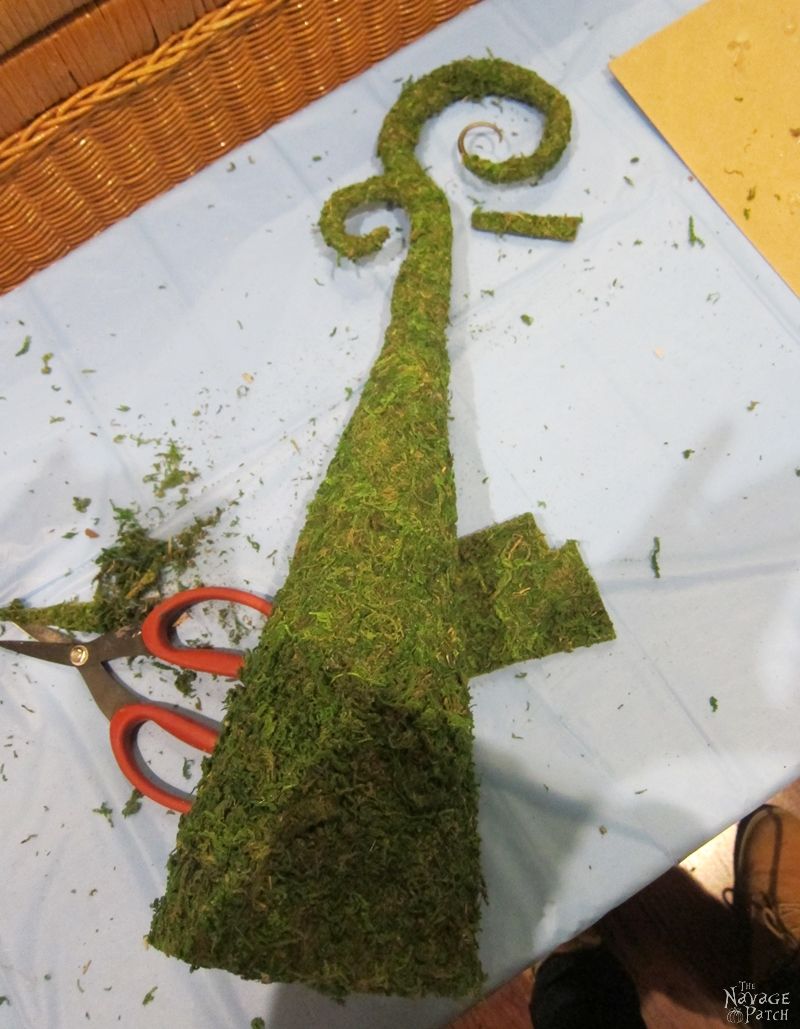 As you can see, this one was pretty easy and straightforward, as it involved only a few steps.
Although the final beauty shots of all will be at the end of the post, here is a sneak peek of the mossy whimsical Christmas tree for you.
Now let's move on to the feather tree.
Click on 'Next' to continue.