These free Blue & White Porcelain Art Printables look every bit as good as the real thing! All you need is a little wall space, and you can create your own stunning collection!
It's no secret that Handan and I love blue & white porcelain.
We filled our living room built-ins with pieces we've collected over the years.
And we even made Dollar Tree Blue & White Porcelain Pumpkins!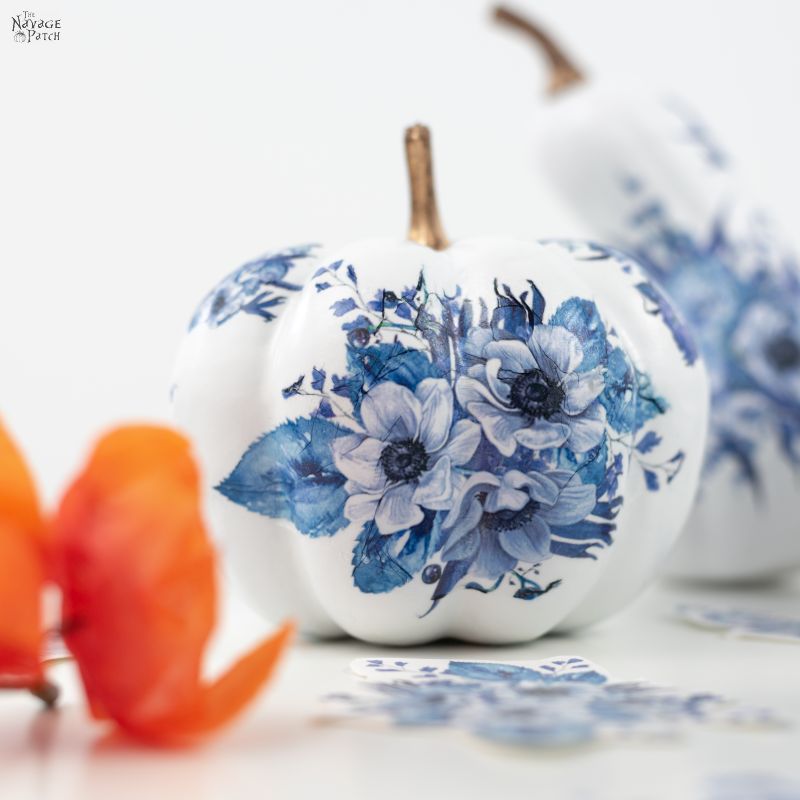 So when my babes told me she'd be making blue & white porcelain art, I knew I would like them.
But when she showed them to me, I couldn't believe how good they looked!
I wasn't prepared for this!
They looked so good, that I put today's planned laundry chute makeover post on the back burner, so I get these beauties published!
I can't wait to get these prints hung in our living room right alongside our real blue and white porcelain!
They are simply incredible, and the inclusion of small gold highlights makes them extraordinary. If I have one complaint about blue and white porcelain, it would be the lack of a simple pop of a complimentary color. So Handan has taken something nearly perfect and made it perfect (at least to me)!
Today, madam, you get a break from my yapping, so you can jump right over to The VIP Patch and grab yourself this absolutely stunning set of free blue & white porcelain art printables!
And just in case gold isn't your cup of tea, we're offering all-blue alternatives as well.
We're also offering each blue and white porcelain printable with a border or without. They both look amazing, and I can't really decide which is my favorite (though I think I'm leaning towards bordered)
In all, there are 32 free printables to choose from!
Once I pick my jaw up from the floor and dust it off, I'll be ready to start babbling again.
Until then – enjoy your free blue & white porcelain art printables, and please let us know in the comments if you like them as much as we do!
FREE Blue and White Porcelain Art Printables
We designed these 32 free blue and white porcelain art printables in two sizes: 11×14 inch and 16×20 inch. But as our JPEG files are high resolution, you can scale them up or down as necessary. If you need help with scaling down these printables so you can print them on your home printer, then make sure you check out Handan's "How To Easily Resize Pictures" post.
Also, if you don't have a large format printer like the Canon i8720 Printer (prints up to 13×19 inches) and are wondering the best place to get these large printables printed bigger than 8×12, we recommend trying Staples in your area or Amazon print shop. Both stores offer custom-sized prints on matte or glossy paper, and they both cost about the same. Staples also offers Engineering Prints, which are really affordable for large-format prints, but in some areas (like ours), they must be ordered from their online print shop.
Now it's time to click on the button below to download today's blue and white porcelain art printables – you'll find them under the "Home Decor" section of The VIP Patch.
If you're not a Navage Patch VIP, you won't be able to access our Freebies Library. But that can be easily fixed! Subscribe for free on the form below and become a Navage Patch VIP. Once you subscribe, a password will be sent to you in our Welcome email, and that will give you access to The VIP Patch [Freebies Library] and today's free printables. If you didn't receive our Welcome email, can't find the password or have any other questions on this process or on our free printables, please check our Printables FAQ page.
If you display our free printables in your home, be sure to take a picture and post it on Instagram! Don't forget to tag us @TheNavagePatch! We love to see our printables out in the wild!
We love it when you share our posts on Facebook and Pinterest!