Stand out with these Free Face Mask SVGs! Use with iron-on vinyl on regular face masks or with Cricut Infusible Ink on sublimation masks.
Like 'em or not, face masks may be here for the long haul, so why not have a little fun with them?
Handan and I decided we've had enough of bland, boring masks, but we're not the type to wear masks printed with photos or graphics. A few choice words can say so much more than a picture, anyway.
So I came up with a list of little mask-sized bits of humor and wisdom (and Handan found a few more online), and we put them to the test on a bunch of masks. We used "regular" cotton/poly masks for iron-on vinyl – both center-seam and no-seam, and we bought special sublimation masks, so we could use Cricut Infusible Ink.
The results are amazing. We love our new masks and plan to make even more!
Oh, and a word about the sublimation masks – they are COMFORTABLE!
So grab some masks, fire up your Cricut or other cutting machine, and inject some fun into this twisted and turbulent chapter in all our lives!
Though you could use any Cricut (or other brand) cutting machine, we chose to use our Cricut Joy. The small size of these face mask SVGs made the Joy a natural fit.
If you're not familiar with Cricut Joy, please check out our Making on the Move with Cricut Joy post.
As always with iron-on (whether vinyl or Infusible Ink), be sure to reverse your image before cutting! Yep, of course we forgot on one!
For the Infusible Ink masks, I used the EasyPress 2 to transfer the design to the face mask. Cricut Infusible Ink transfer sheets get a slightly different treatment than regular iron-on vinyl.
If you're new to Cricut Infusible Ink, please check out our Cricut Infusible Ink – A Heat Transfer Game-Changer post.
Perfect face mask design for this time of year.
Remember, with Cricut Infusible Ink, the design will never fade, crack or peel!
We made several more with Infusible Ink, including one for Baris.
And for the introvert in your life…
Infusible Ink face masks are fun, but we also wanted to make some regular iron-on vinyl ones, too.
I used Handan to help me get the right placement for some of the SVGs.
For these masks, I used our EasyPress Mini instead of the EasyPress 2. Either would work, but the Mini is just fun to use!
This one is my favorite.
Baris didn't get it at all. I had to explain to him about the bumper stickers that seemed so prevalent in the 80s on old beater cars: My Other Car is a Porsche (or Ferrari or BMW or Mercedes, etc…) Has anyone seen one of those bumper stickers this millenium? I don't think I have.
We also bought some face masks without the center seam.
They were perfect for this gem. This is my second favorite!
Seriously though, who else has developed a complex about coughing, sneezing or sniffling in public? You can feel the daggers every time you try to keep a rogue booger in check or just clear out some morning phlegm. And don't get me started on public sneezes! One little Ah-Choo! and everyone within 20 yards runs for the nearest exit as if you're sneezing out anthrax hornets.
And here are some others.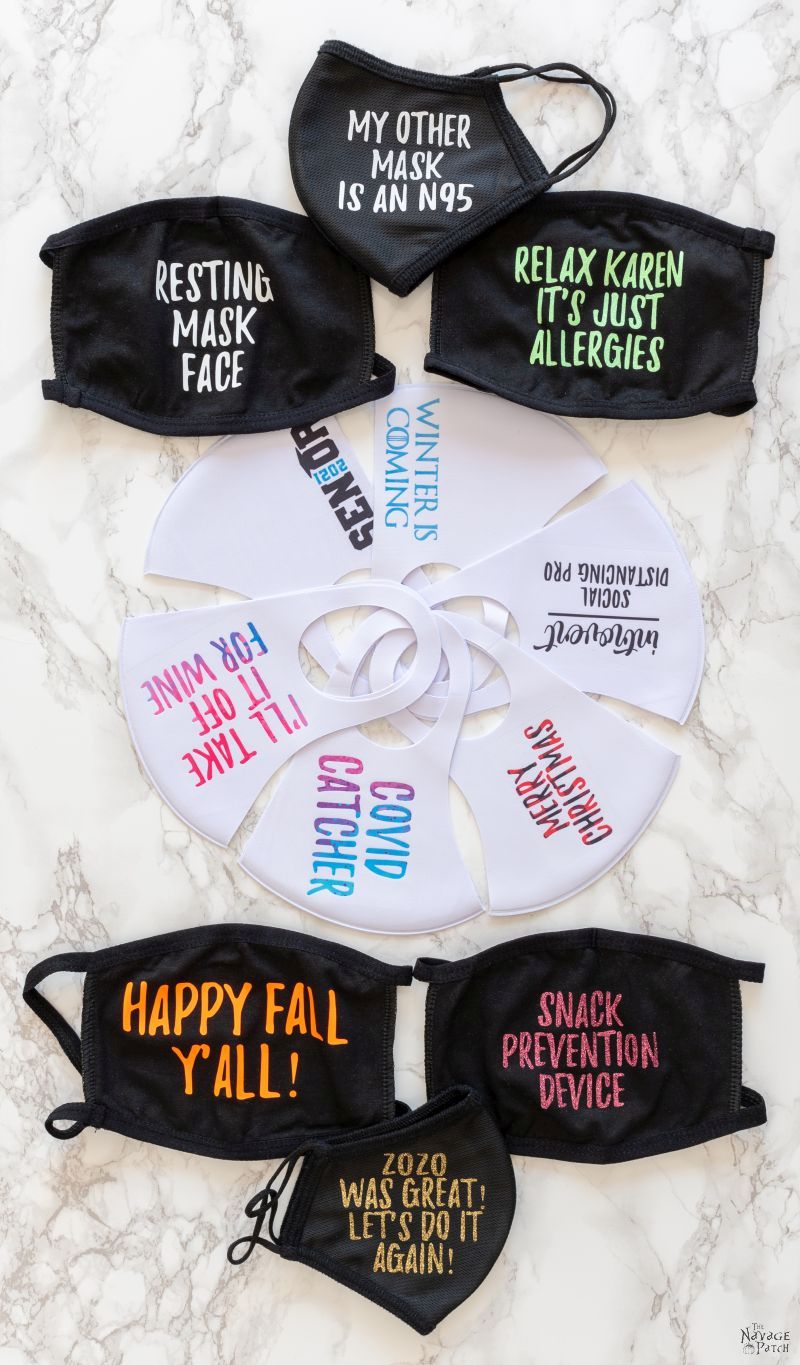 And here's the full collection. Oh, and a note about the N95 Bullshit Filter, as we ran out of masks before we had a chance to make it. It should be positioned so that the arrow points to one of your ears. 🙂
Handan and I had a ton of fun making these personalized face masks, and I know we're going to have even more fun wearing them out in public.
Times may be weird and they may be tough, and that makes it all the more important to face the unknown with a good sense of humor.
As Mister Miyagi would say if he were still with us, "Mask on! Mask off!"
Free Face Mask SVGs
Okay, enough of my blathering! You came here for free mask SVGs, so here they are!
As usual, here is some information on these free face mask SVG designs: we created today's freebies as JPG, PNG and SVG files which are resizable and compatible with Cricut and all other cutting machines.
Now it's time to click on the button below to download today's freebies – they are all in the "SVGs – Stencils" section of The VIP Patch.
If you're not a Navage Patch VIP, you won't be able to access our Freebies Library. But that can be easily fixed! Subscribe for free on the form below and become a Navage Patch VIP. Once you subscribe, a password will be sent to you in our Welcome email, and that will give you access to The VIP Patch [Freebies Library]. 
Get free access to our incredible library of
Free Printables and SVGs
We love it when you share our posts on Pinterest!