This Wood Bead Wreath is a simple DIY that can be easily customized for any season or holiday by swapping out the greens.
I know, I know!
Yeesh, don't you think I know?
It's not even Halloween yet, and here I am throwing a Christmas wreath at you!
But look, it's not my fault, okay? Handan made me do it!
Seriously, she's been chittering like a housecat in a henhouse for the past two months for me to make her a Christmas wood bead wreath.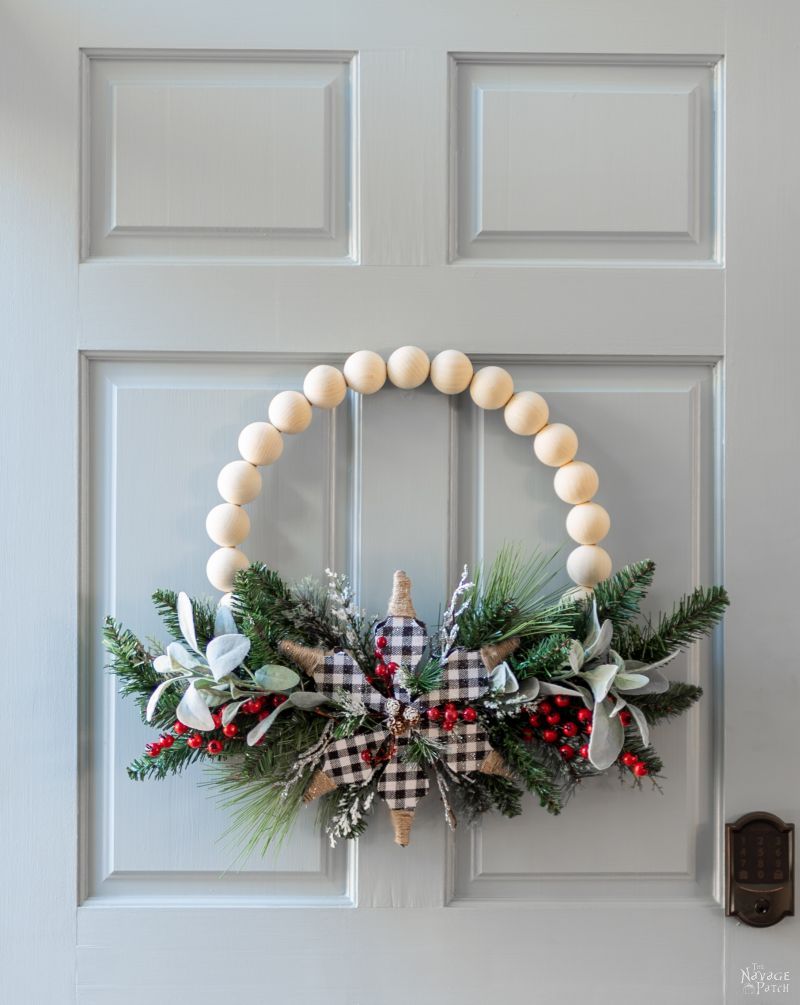 Her reasons?
It's so easy even I could make it in a few minutes.
She can't wait to share it with you.
The reasons I didn't made it sooner?
We had to wait for the wood beads to be delivered from Amazon, and
It was friggin' August! I checked the temperature outside 5 minutes after she asked for the wreath – 92 degrees and humid as a rainforest.
I told her in no uncertain terms that she should march herself to the refrigerator, open the door, fish an egg from the carton and promptly start sucking.
Christmas in August! The nerve of that woman!
But now that we're in October, the Georgia furnace has been turned off, and the weather is pleasant and perfect. Just this morning we were beautifully nested in the 40s. Perfect shorts and sweatshirt weather! You should see the natives though – they're swaddled up in long pants, parkas, and (I swear I'm not making this up) a man just walked by our house as I write this wearing winter gloves (the temp currently stands at 51 degrees Fahrenheit)!
Back to my point – it's now cool enough that I allowed myself to indulge my babes in an October Christmas wood bead wreath.
But that wasn't enough, was it?
Nope. It never is, madam.
It never is.
Not content with one wreath, she wanted me to make another one, because the first one only took me 10 minutes, and god forbid I have some idle time! This time she wanted a more petite and svelte wood bead wreath. I thought the first one was good enough. Big. Tough. Manly. But my babes wanted a second, so who was I to say no?
Anyway, that wasn't enough either, was it, madam?
Nope. It wasn't.
Oh, she loved the wreath – she wasn't asking for another one. But what she did ask for is that I write about it and post it immediately.
As I've done on countless occasions in the past, I tried to inform her that she was loonier than a late summer morning on Lake Michigan.
No madam in her right mind wants to read about Christmas while she's still scrambling to get the Halloween decorations up!
But the loon wasn't having it. She was sure you'd enjoy this Christmas wood bead wreath, no matter the season!
And you know what? Maybe she's right. I mean, it's not like it's hard to make! And you could just as easily make it a fall wood bead wreath, or Halloween or spring or…well, you get the point.
The thing is, this wreath is easy. Like Simple Stupid easy. And with the deals on Christmas florals going on right now at Hobby Lobby, maybe the loon isn't so loony after all. Maybe, just maybe, she's onto something.
You decide.
DIY Wood Bead Wreath
Tutorial
I gathered 17 beads – we found that was the perfect number for our wreath.
This really couldn't be any easier. I put a dab of hot glue…
…and stuck on a bead.
I repeated this 16 more times, and I was halfway finished with the wreath!
Good job, Glue Gun! Time for you to go home now.
For our centerpiece floral, we used a tree topper from Hobby Lobby. Just had to cut the wire…
I made the first wreath with some straightforward Christmas picks – traditional greens and red berries.
I first placed them on the wreath form to get an idea of how they'd look.
Then I joined the two picks with some wire.
Next I attached the picks to the wreath form with wire where my fingers are pointing.
I used a blob of hot glue to secure the tree topper to the greens.
As a final touch, I stuck some lamb's ear to give an offsetting shade of green.
And that's it! I told you it was easy!
I love my Christmas wood bead wreath, and my babes does, too. But you know how she is. As I mentioned earlier, she wanted me to make a more slender version without the deep traditional greens. No problem!
I made another with just lamb's ear and the tree topper.
Well, we hope you like our DIY Wood Bead wreath. It's a little taste of Christmas for you before the leaves fall! Let us know what you think in the comments!
We love it when you share our posts on Facebook and Pinterest!