Freeport Empty House Tour
The journey of a thousand miles begins with a single step.
Laozi ~600BCE
It's a quote we all know and have likely told ourselves or someone else at some point in our lives. Search online, and the scholars will tell you it means that in order to complete a great task, you must first start it. They say it was meant as a warning against procrastination.
I've always looked at it in another way: even the most daunting task can be broken down into a series of simple task. Thus, a foot-journey of 1000 miles may seem ludicrous at first, but it is nothing more than a series of single steps strung together.
During our move from Connecticut to Georgia, and just recently, this move from Georgia to Florida, I turned Laozi's words into a mantra I repeated to myself whenever the specter of moving threatened to overwhelm my resolve:
The journey of a thousand trips to the moving truck begins with a single box.
Or more simply – one box at a time.
It sounds silly, but it worked. One box at a time got me out of Georgia and down to our new Southern Home on a windswept golf course in Freeport, Florida.
We've traded the suburban life for one that is decidedly more rural. But you know what? We're ready for it. Our nighttime sounds are the wind in the pines (and palms), tree frogs, and insects. Our night sky is a vast diamond expanse – the only other places I've lived with skies this dark and stars so piercing are Frasier, Colorado, Middlebury, Vermont, and Afghanistan. Of course there was the night spent in America's forgotten national park when I took a solo motorcycle trip across America.
Freeport is a small town, but it's growing fast, and we're thrilled to be two of its newest residents. Let's take a look at the house as it is now before we get all of our stuff moved in.
There's plenty of room here in Freeport, so the lot sizes are much bigger than they are in the beach towns to our south. Our new home sits on a 0.86 acre lot. It has brick cladding on all sides, and it is desperately crying out for some good landscaping. We're happy to oblige!
Stone pillars flank the entryway. You can rest assured we've already asked the Grand Overlords of the HOA for permission to paint that front door! We'll go with exactly the same color we used in Georgia. Why mess with a winning formula?
Won't you come in? We've so much to show you!
Stepping in and looking back. The entry is north-facing, but the chandelier gives beautiful light.
Similar to our Georgia home, the entry is flanked by the dining room on the left and a guest bedroom/sitting room/office on the right.
Let's take a closer look at the dining…errr…room.
Look, call me old fashioned, call me what you will, but in my understanding, a room is defined by walls, not….columns. I'm not sure I understand what the builder was going for here, but sometimes when I walk by I have an uncontrollable urge adorn my nethers with a fig leaf and strike a statuesque pose. Other times I feel like I should don a toga and call a meeting of the senate to discuss the upcoming gladiator fights in the colosseum.
I mean…really?
Builder Bob: Hey Joe, we're outta walls.
Builder Joe: Waddaya mean we're outta walls?
Builder Bob: No more walls. Fresh out. Still gotta build this dining room.
Builder Joe: No walls, huh?
Builder Bob: Nope.
Builder Joe: How 'bout them columns from the Italian job we did last week?
Builder Bob: Columns, huh?
Builder Joe: Yup.
Builder Bob: Think it would look good?
Builder Joe: Dunno. Let's ask the boss. HEY BOSS!
Foreman: Yeah, what is it?
Builder Joe: We're outta walls. Can we use these columns instead for the dining room.
Foreman: Columns instead of walls, huh?
Builders Bob and Joe: Yup.
Foreman: Think It'll look good?
Builders Bob and Joe: Dunno.
Foreman: Works for me. Make it happen.
Many of the columns built in ancient Greece and Italy stand to this day. Ours will not live as long.
Big changes planned, madam. Big changes.
So the dining room is home to this chandelier. It may not look like much from the photo, but this chandelier could only have been wrought by the hand of a god and hung in the house with witchcraft and voodoo.
Pictures cannot convey the massive scale of this thing. It defies logic when you see it in person, and it strikes fear into the soul when you stand beneath it.
I estimate its weight in the trillions of pounds, and it must have been built in place, because there is no other way it could have been delivered into the house.
It has its own gravity well, and when you walk beneath it, you must take care not to be swept upwards into its maw of glittering glass teeth.
We're in talks with several large construction companies to dismantle it and melt it down. We've asked that the metal go towards building a new space station or perhaps a railway track from Alaska to Tierra del Fuego. The several thousand Victorian era lampshades will be donated to museums across the country.
Hey, but at least the drapery is fashionab….oh, never mind.
Every house we buy has my babes and I asking each other "what on Earth were they thinking?" over and over and over again.
Across the entry is the guest bedroom/sitting room/office.
Well, at least they got the curtains right in this roo…oh, never mind.
Why stop at the windows? These days, it's chic to drape the floor, too!
The foreground in the picture below is a space (room?) for which I have no name. We're going to turn this space without a name into our living room, and in the future it will be swept up in the Colossally Magnificent Kitchen Remodel. More on that in a bit.
There's a half bath off the sitting room that has a second door leading to an alcove before the master bedroom.
This alcove marks the entrance to the master bedroom. It is Penny and Pepper's new bedroom.
The master bedroom has a ton of space.
Without furniture it feels huge. The door on the right in the picture below leads out to the lanai. I've always wanted to have a house with a lanai. Now we have one!
The master back is smaller than the one in our Georgia home, but it has much less wasted space.
The fixtures are pretty good. It's our first house that isn't entirely festooned with brass 'n' glass.
The shower stall and dual shower heads are a huge bonus! Plus, we've never had a shower this big. I could install a seating are in there so I can relax with a newspaper and a cup of coffee between scrubbings.
The master closet is not as big as our last one, but we'll make it much more efficient than it currently is. Anywhere you see wire shelving, you can bet your sweet bippies it'll be removed and replaced with something better!
Here's a look back at the doorway. There's a little more to the closet over there on the left.
Ah, the lanai! We're going to be spending a lot of time out here!
Three doors lead to the lanai from three different parts of the house.
In the back of the house opposite the master bedroom is Baris's room.
By now you'll have noticed the green. Every room to the east of the dining room has it – the kitchen, family room, three other bedrooms and the FROG. The previous owner painted those rooms green just a few months ago. There are many who love this green, but my babes and I do not count ourselves among them.
My first job will be painting them back to their original white.
Baris has his own full bath. He'll be living with us this summer, so I have a couple of months to get his room ready!
Guest bedroom #1 is in the middle of the east side of the house.
GB1 opens onto a sink room that is separated from a full bath – it's some sort of modified Jack and Jill.
The odd thing about this toilet-less bathroom is the preponderance of doors. There's one leading from the bedroom into the washroom and another leading to the adjoining full bath.
And there's yet another door to a small linen closet behind the other doors. All these doors and no place to open.
It's Doormageddon.
Guest bath #2 sink area.
Guest bedroom #2 sits near the front of the house overlooking the driveway. For now, it will be a storage room – something desperately needed now that we don't have basement!
Okay, let's move out to the center of the house and check out the kitchen. It's going to need a total overhaul, but first we need to save up the money to tackle it.
We've got a pretty good idea what we want to do here, but I'll keep the details close to the vest for the time being.
Beyond the open kitchen is the family room.
There's a fireplace, and most people like to hang their TVs over the mantle. As mentioned earlier, we'll be putting our TV in a different room. We've got plans for this room. More details to come on that front.
There's a staircase leading up from the kitchen to the FROG (family room over garage).
In this case, it's not a family room – it's the new world headquarters of Some Dolt Who Makes Mistakes and Writes About It The Navage Patch!
It's just one long room above the garage with a window at one end…
…and a porcelain throne at the other end.
What more could I possibly ask for? This will be the new craft room and my office from which I'll write the words that hopefully keep you coming back for more!
Back downstairs, the laundry room is off the kitchen on the way to the garage.
And last but not least inside – the garage. It's a big one that'll fit 3 cars…or in this case, one car, one truck and a small workshop.
Out back, there's a definite need for some landscaping, and we're just the people for the job!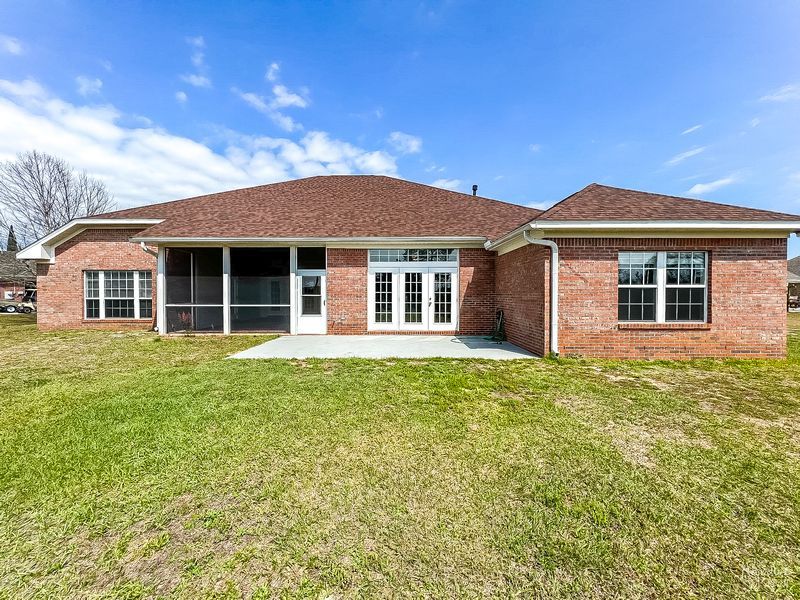 I feel like the lack of landscaping may have kept potential buyers away from this house, but for us, it was perfect! Less crap to rip out before planting what we want to see growing.
Behind the house is a big patch of yard, half sodded and half wild.
There's an earthen berm at the back of our lot – in fact all of the golf course lots have them. For us, it's perfect, as it gives privacy from the golf course. I think we're doubly luck – on the other side of our berm is the far end of the driving range. We'll never have people too close to our land.
We have a lot of big landscaping plans, including a pool, but to save that kind of money is going to take a while. It's definitely not happening while Baris is in college! For starters, we'll focus on some plants and trees and maybe a shed. Storage is a hot commodity around here. Every cubic inch will count!
All in all, we're happy with our new home, and we're excited about its potential. We've already started with small projects (like painting the craft room), but you can expect a post with our short- and medium-term goals very soon.
Within five years, this house will be a showstopper and a head-turner! Until then it's nose to the grindstone – there's work to be done!