DIY Light-up Snowy Village Wreath
No one has this light-up snowy village wreath – so be the first on your block and in your town to make it and be the envy of your neighborhood!
There's gonna be a white foam shortage after this one.
Soon, hordes of foam-sprayers across the land will look down at their foamy creations and realize that they're yellow. Slowly, it will dawn on them that everything they're ever made with spray foam looks like stained yellow teeth.
Yellow.
What good is yellow, especially at Christmas?
Ooooh, it's winter – let's all go outside and play in the yellow snow!
We all know how snow turns yellow.
But then the hordes of yellow-foamers will read this post or watch social media or listen to the buzz in the air, and they will learn of a different foam. A better foam. A foam that is white as un-peed-on snow, and they will rejoice!
They will throw down their cans of that Other Stuff, and they will pick up cans of bright white foam, and together they will usher in a new area of foamy crafting!
(And if they chance upon a gap or a crack, they will fill it and get back to crafting.)
As some of you may have guessed, this light-up snowy village wreath is a direct descendant of our Halloween Fire Wreath. After we thought of the fire wreath back in August, we immediately saw that the technique would be brilliant for Chrismtas!
But our first attempt was…sickly.
You see, we used the same Stuff we used for our fire wreath – that yellow foam that everyone knows. When we put lights behind it – either warm or cool – the wreath was yellow. But we expected that – we were ready for it! I shook up a can of white spray paint, and drowned that hideous yellow beneath a layer of Rustoleum's finest.
And in the end?
A sickly yellow glow. Yellow foam = yellow glow, no matter the paint color.
This yellow conundrum led us to look into spray foam a little deeper, and then we found our salvation: bright white craft foam. This stuff sprays white and stays white. Just look at the difference between the two foams!
If you want to make this wreath without lights, then by all means, use the Cheap Stuff and then spray paint it white. But if you intend to light it, know that the yellow foam will color the light, regardless of the white paint on top.
DIY Light-up Snowy Village Wreath SUPPLIES LIST
Affiliate links are provided below. Full disclosure here.
18 inch wire wreath form (Dollar Tree sells these too)
Plastic sheet or cardboard or tin foil (or anything else that you can spray the foam on)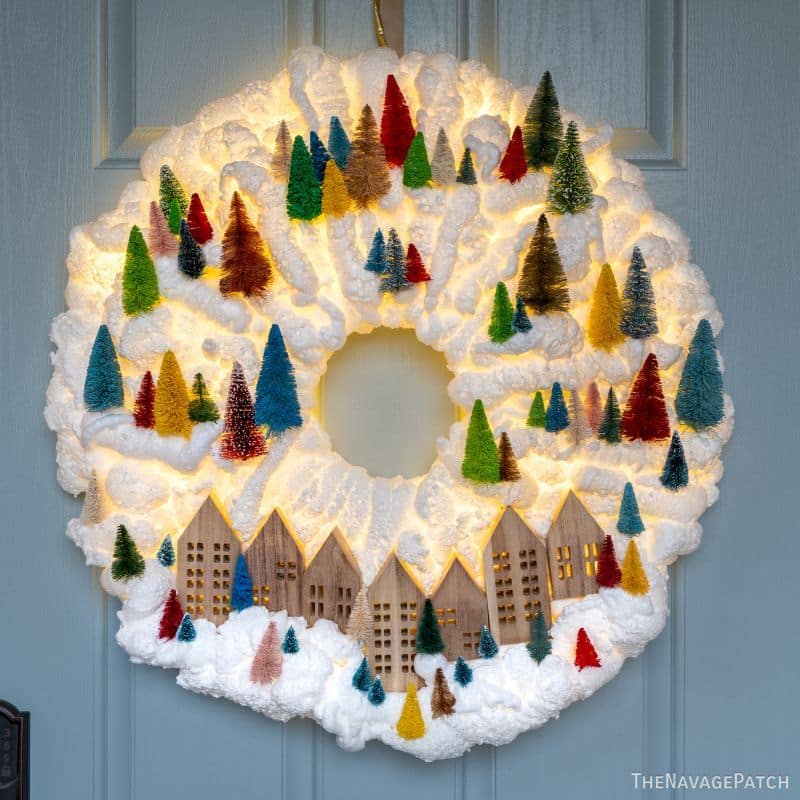 We love to see our craft projects out in the wild! If you try this seasonal craft project, take a picture and post it on Instagram, be sure to tag us @TheNavagePatch!
DIY Light-UP SNOWY Village WREATH VIDEO Tutorial
Watch Our Tutorial On YouTube
More DIY Christmas Decor Ideas
DIY Light-UP SNOWY Village WREATH Tutorial
Step 1 – Prepare the foaming area
First, we laid a heavy plastic tarp on the work table. The foam won't stick to it when dry.
I knew from my first attempt that maintaining a circle shape with a well-defined inner circle is tough when freehand-foaming the wreath form. This is especially true for this wreath, because we wanted the foam to be about 9 inches wide all around.
To help keep a defined inner circle, I covered a bowl with plastic and put it in the middle of the form.
I then measured out 9 inches from the bowl and marked the plastic.
One of the wood houses was the right size to use as a jig to trace out a circle all the way around the wreath form. This line marks where I'd be foaming to.
After tracing my circle, I flipped the form upside down.
Step 2 – Add lights
I secured one strand of 100 warm white LED lights to the form. I used plug-in, but you can also use battery-operated LED lights. As long as they're LED, you're good.
DO NOT MAKE THIS WREATH WITH ANYTHING BUT LED LIGHTS!
I used zip ties here and there on the first pass.
And then I wrapped the rest around the form. Notice I left a good amount of cord coming from the top. This is the plug, so you want to leave enough to go over your door.
I flipped the wreath form over so the lights were against the table. Time to foam!
Step 3 – Foam
I foamed the wreath going back and forth from the bowl to the outer line (wear nitrile gloves and safety glasses). The whole wreath took 3 cans of foam, but I stopped after the first when only the bottom third was foamed so I could nestle in the wood houses before the foam hardened.
I arranged my 7 houses, and then got back to foaming the rest of the wreath.
After the the wreath was fully foamed, I built up more foam underneath the houses. This would let me more easily add trees there when the foam had hardened.
Step 4 – Add trees
I used bristle brush trees of all sizes and colors for my snowy village wreath. I either pulled off or snipped off their wood bases and then stuck them here and there into the foam.
It helps to put a small dab of hot glue on the stem, even if the tree seems to be sticking in firmly. This is especially true if you'll be hanging this wreath outside.
Some of the trees didn't have a place for the stems to stick, so I cut those stems off and glued the trees right on the wreath. The number and placement of trees is totally up to you.
After a while, my babes declared it to be perfect, so I holstered my glue gun and showed her the final product.
And for those curious what the back looks like…
And finally, out on the door near dusk on a rainy day…