Apothecary Jars and Free Printable Labels
Strangleberries Apothecary Jar
Do you remember all that lavender I planted around our pond? Well I finally harvested it, and as I was working on the apothecary jars during the harvest, I thought I could use them as strangleberries. But as you may have guessed, any real or faux berries can be used to make your strangleberry jar 😉
Shrunken Hun Heads Apothecary Jar
This is another one of my favorites! To make the shrunken Hun heads, I used miniature skulls and acorn caps. I dabbed some hot glue into the cap and glued it onto the miniature skulls.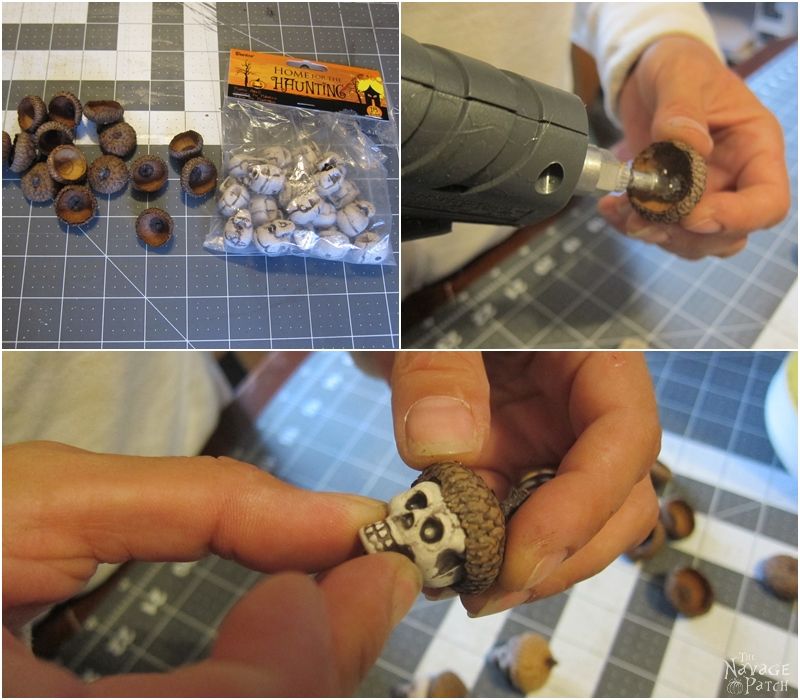 Look at him now: isn't he the cutest miniature skull? I bought my miniature buddies at FactoryDirectCrafts.com, but I know Amazon.com also has some. As an alternative, you can also use just acorns for your shrunken Hun heads jar.
Black Rose Apothecary Jar
For this one, I used two black rose picks I bought from the Dollar Store and placed them in a planter that I found at the Put & Take.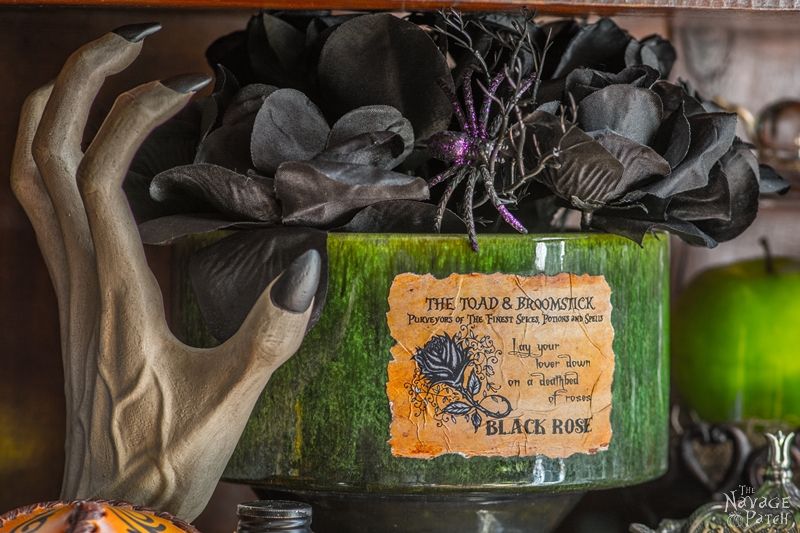 Before I forget, if you like the evil hand, I bought it from Lakeside Collection, and I am loving it. But I know they usually run out of cool stuff quickly, so if they happen to be out of stock, I know similar ones are also sold on Amazon.com.
Bat Guano Apothecary Jar
I think some raisins, whole black peppers, coffee beans or maybe even some chocolate balls are all good candidates to become bat guano. As for me, this one turned out to be pretty much like my instant pointy hats jar. As the jar was stoneware, I didn't have to use anything at all.
Ogre Dandruff Apothecary Jar
Anything like oatmeal or lentils can be used as ogre dandruff. Or you can even use a small bottle of chunky bath salts like I did.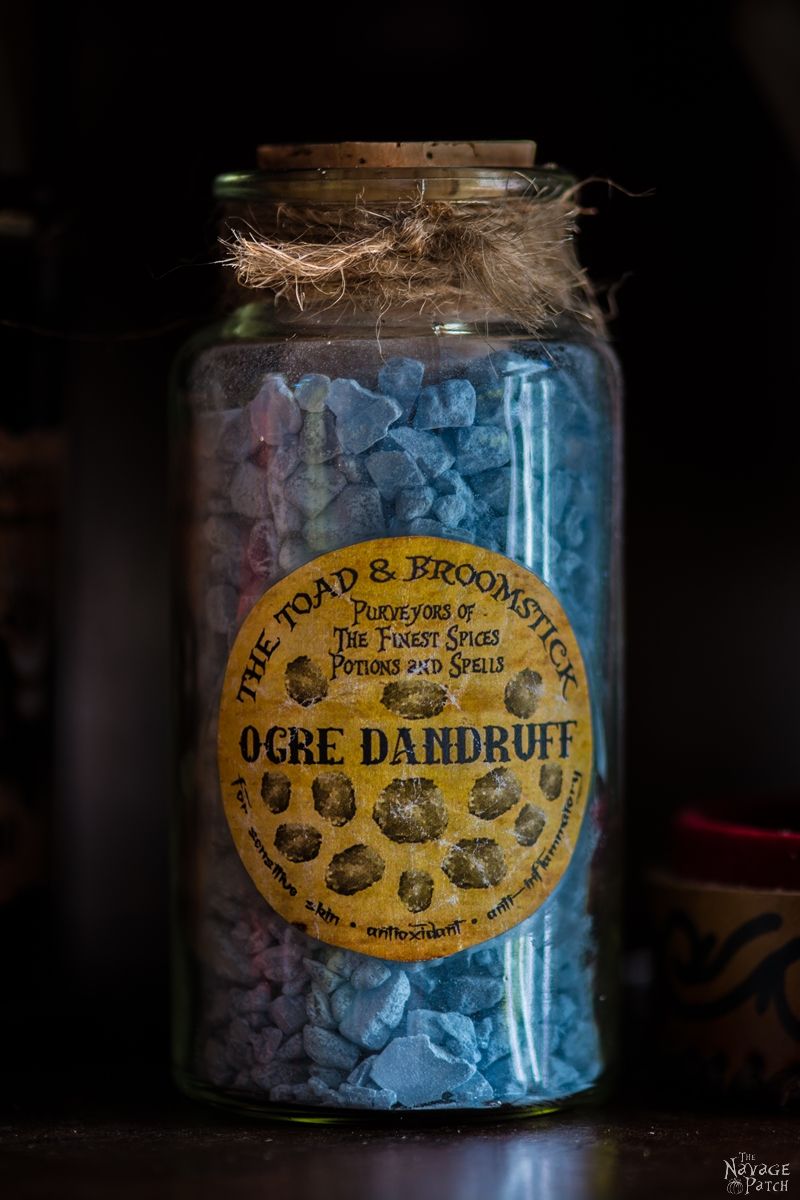 Dragon Scales Apothecary Jar
Mom has a Lunaria, aka silver dollar plant, in her backyard, so I used its seed pods, as they remind me of gigantic fish scales…hahahaha. If you can't find Lunaria, anything from tree bark to large pine cone pieces, or even broken nut shells could be used as dragon scales.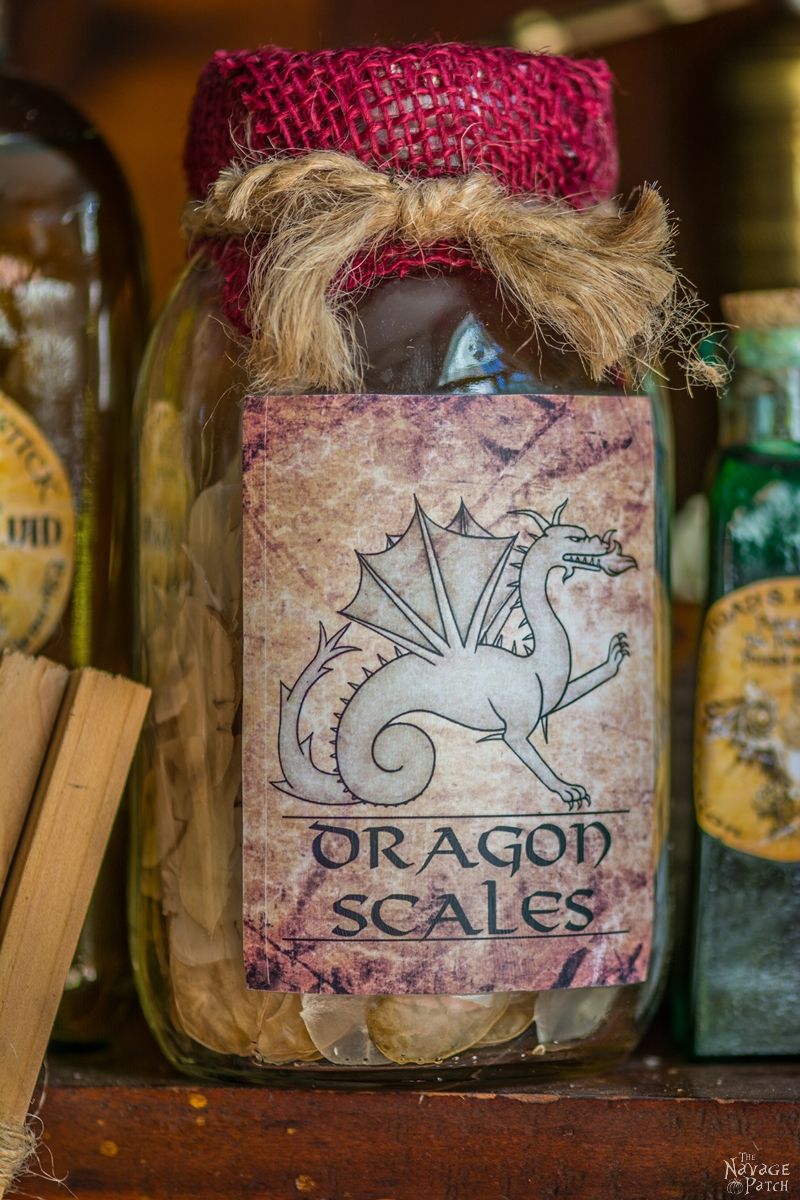 On a side note, I designed a new label for this one, as I don't like the old label (from last Halloween) that much. The new label is included in the free printable file I am sharing with you.
Spider Silk Apothecary Jar
Cheap spider webbing, white polyester batting or white polyester fill are the best options for this jar. If you have spider webbing on hand, you can also use that to enhance the jar lids like I did with this one.
Flummox Powder Apothecary Jar
Normally I don't like glittery things that much, but I have to say, glitter works great as flummox powder. I mixed silver and red glitter for ours, but even single color glitter will do.
Vampire-B-Gone Apothecary Jar
Do you remember the cedar stakes we used for our cheap solar lights until I found a better solution for them? Well… this one is proof that I like upcycling everything I possibly can 🙂 Yes I gathered a bunch of those stakes and tied them up.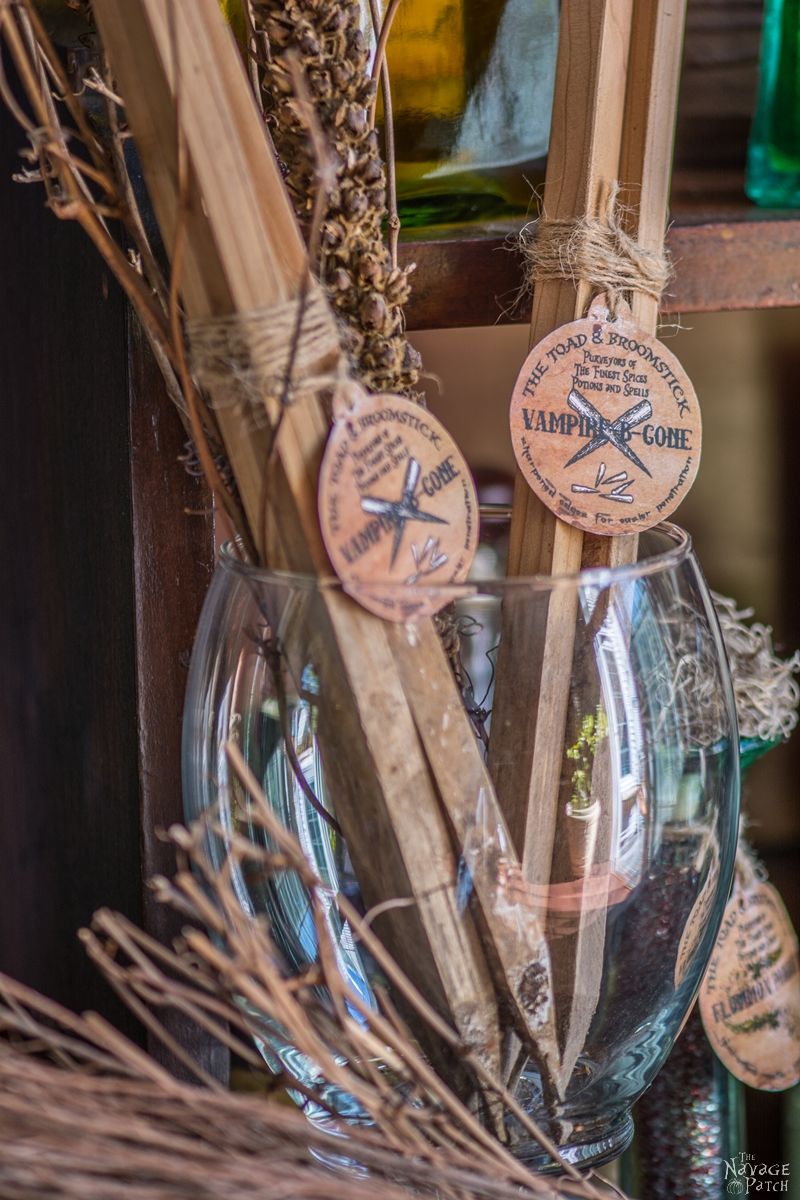 Thick sticks or 6-8 inch-long wooden rods tied in bundles would be great as an alternative.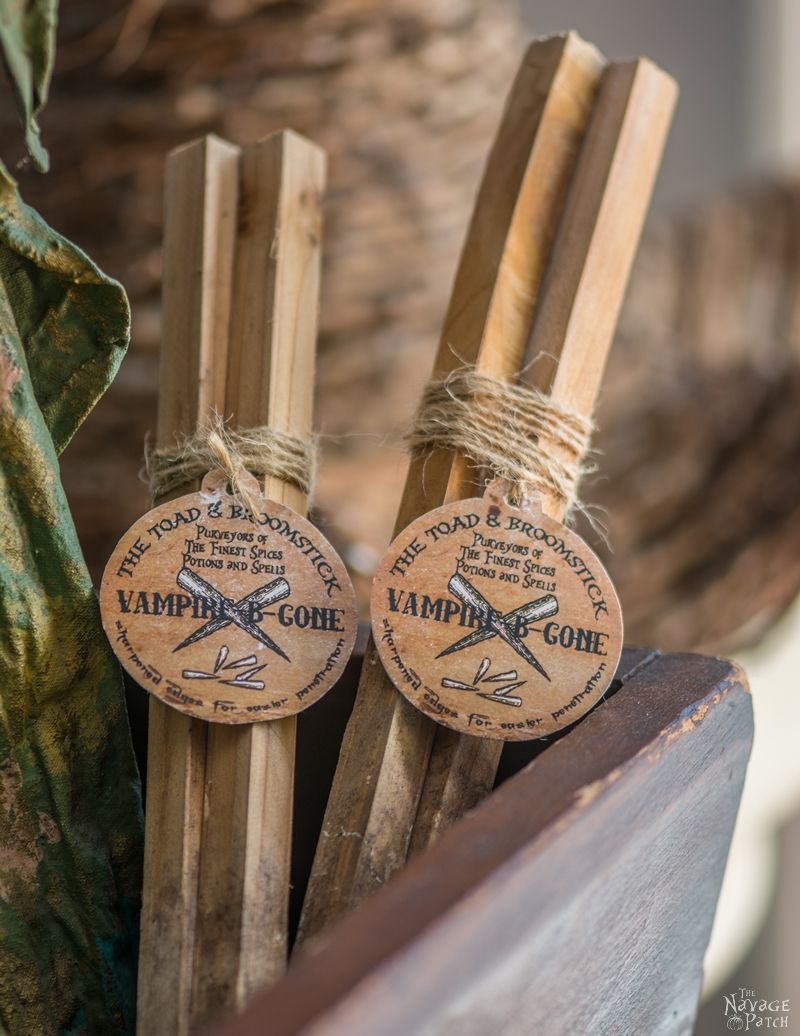 Pickled Eyeballs Apothecary Jar
Ok, maybe mine looks more like an eyeball stew instead of pickled eyeballs. LOL. But it is because I prepared my prop last year, and I was going for the stew look back then. Oh well…
To make a pickled eyeball, fill a jar with some cheap plastic eyeballs which you can find at the Dollar Store or Amazon, and pour fake blood or watered down red and brown paint mixture on the eyeballs. If you will go for the watered down red and brown paint mixture, then I suggest not putting too much water in that mixture, otherwise the eyeballs may float in the jar. Or even better and simpler – just glue our label on a jar of pickled onions! 😉
Hobgoblin Lungs Apothecary Jar
I used dried Grape Hyacinth for this jar. But now that I think about it, dried oak leaves would make an even better jar filler for this one. Then again, really anything can be used, as we'll never get the chance to know what hobgoblin lungs may look like. 🙂
Spells
Last but not least! Apart from the spices and potions, I also wanted our shop to have some spell pages. Just like I did with the spell book Halloween prop, I again searched Google for some spell pages, and after going from link to link, I finally landed on a search page which had a lot of cool spell pages. I printed out a bunch that I liked, then I crumbled the prints. After crumbling them, I straightened the pages slightly to be able to turn them in rolls. As a final step, I rolled the pages and wrapped them with jute twine then placed them in a bowl together with a wand.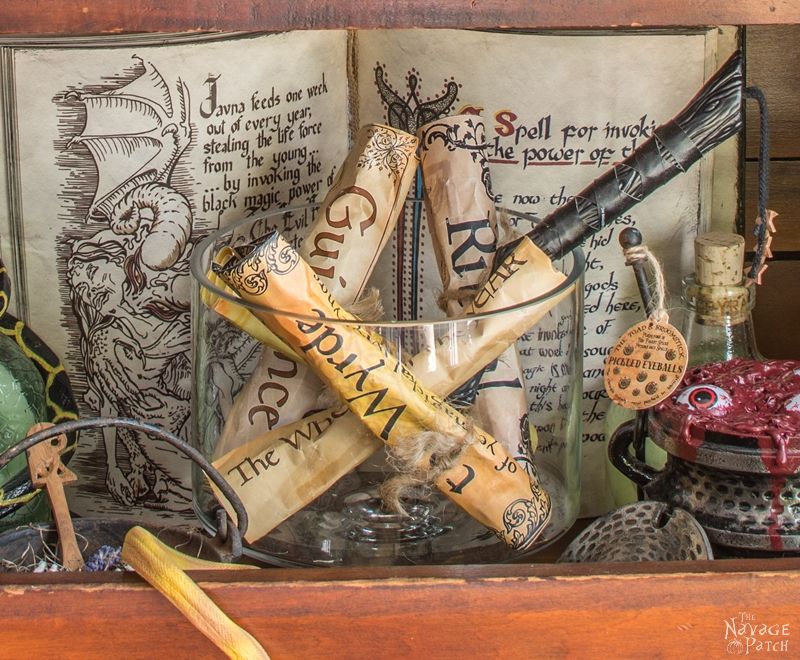 As I didn't have antiqued paper on hand, I had to print on both sides of the paper, otherwise the inner side of the rolls would show white paper, and they wouldn't look authentic. Only after I completed the spell pages did I think of using brown paper bags for printing. LOL. Typical, isn't it? Anyway… If you have antiqued paper or brown paper bags on hand, I suggest that you use those to print some spell pages, as they look great together with apothecary jars.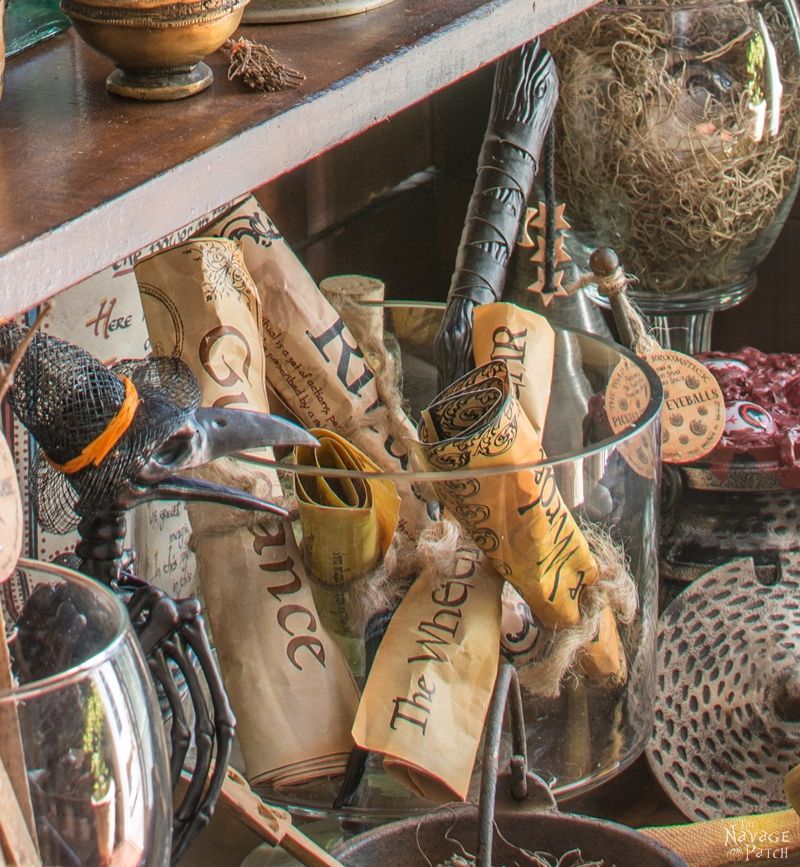 Free Printable Apothecary Jar Labels
Kudos to you if you managed to make it this far! Did you know you went through 2750+ words and 80+ pictures? Hence the "long post warning" at the beginning! But now that you are here, just click on the button below to download your free printable apothecary jar labels from the Halloween section of The VIP Patch. Please remember there are two files which have different sized and shaped labels, so make sure you get them both.
take me to your
amazing freebies library
If you're not a Navage Patch VIP, you won't be able to access our Freebies Library. But that can be easily fixed! Subscribe for free on the form below and become a Navage Patch VIP. Once you subscribe, a password will be sent to you in our Welcome email, and that will give you access to The VIP Patch [Freebies Library].
Now that you have downloaded our first set of apothecary jar labels, click on the picture below to visit our newest apothecary jars post too. Well, we've added a whole new label set for 40+ gross and creepy jar ingredients, and we're offering them in two different sizes, so I don't think you would want to miss those. That set even has special bottle labels…just saying 😉
I hope you liked and got inspired with our little spice shop. I have to say, this was one of those projects I had fun throughout every second of it, and the best part is that there is no right or wrong. All depends on what you want to see in your apothecary jars and how you want to display it, so let your imagination run wild and enjoy the fruits of it.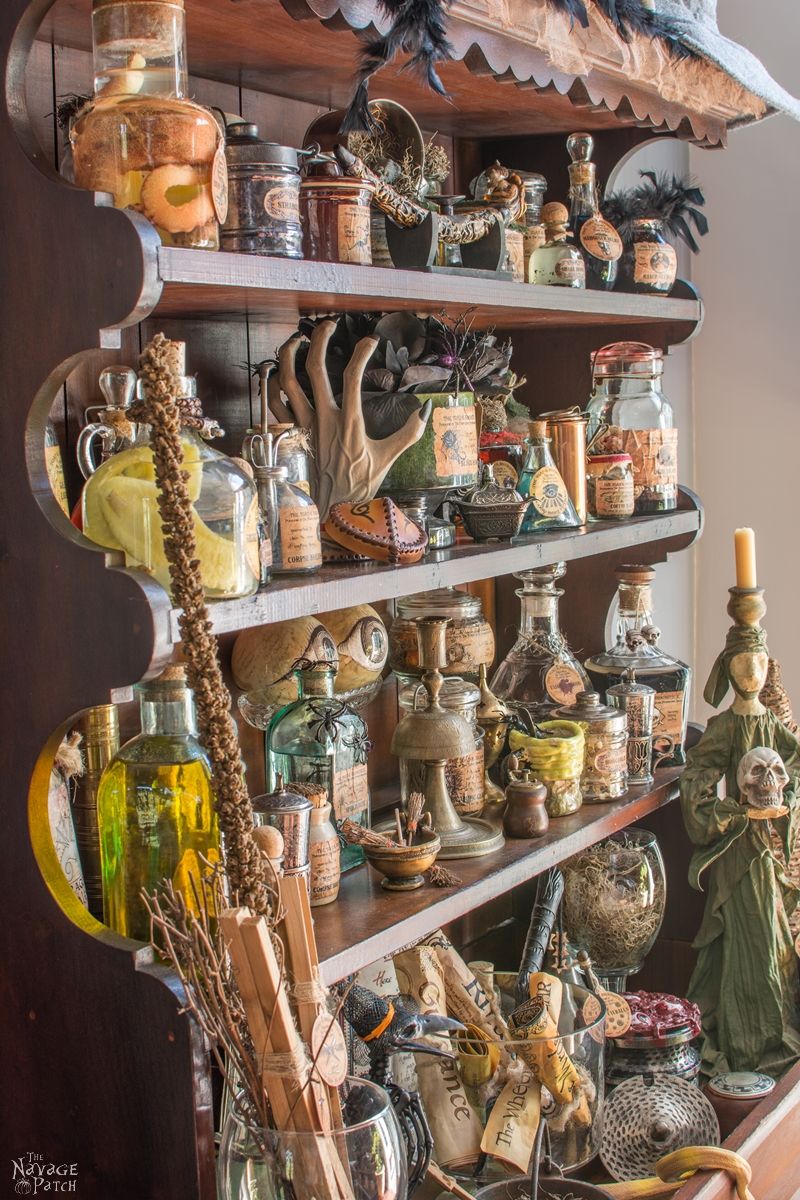 Handan, xo