How to Spray Paint Door Knobs (Without Sanding!)
Learn how to spray paint door knobs and handles the easiest way ever with this simple little trick! Best Part? NO sanding involved!
Live and learn, right?
When we bought our first house in Connecticut, Handan and I had yet to set sail on the wild and stormy seas of DIY. Instead, we nestled in the safe harbor of ignorance, and like obedient little consumers, we paid through the nose for things we wouldn't dream of buying today.
For instance, when confronted with the old brass door handles in our first house, our immediate reaction was to throw up our hands in surrender, hop in the car and hightail it to Home Depot where we plunked down a hefty wad of cash on 16 of these Schlage door handles.
Expensive? Yes.
Necessary? Not at all!
Fast forward seven years, and we're once again faced with a new house and all the expected and unexpected expenses that it comes with.
When it came to assessing the interior door hardware – 20 sets of 20-year-old brass door handles – we knew there'd be some changes.
Big changes.
But we had no intention of going the Schlage route again. That would have put us out over $500. Maybe not much when compared with a new hardwood floor, but it's enough to cover the paint I'll be using on our interior walls.
Our door handles may look a little tired and dated, but they work perfectly.
Press down and pull. Why fix (or replace) what ain't broke?
But they could use a little sprucing up, wouldn't you agree?
So.
Spray painting it would be.
But.
BUT!
Search the web for how to spray paint door knobs and you're going to find a handful of variations on the same theme.
They all go something like this: clean the knobs (or handles), sand them, prime them and paint them.
Sand them.
I'm looking at 20 sets in this house.
That's FORTY handles.
Do you think I'm going to sit around and sand 40 bleeping door handles?
Madam, I'm married to Handan, aka the Commandant!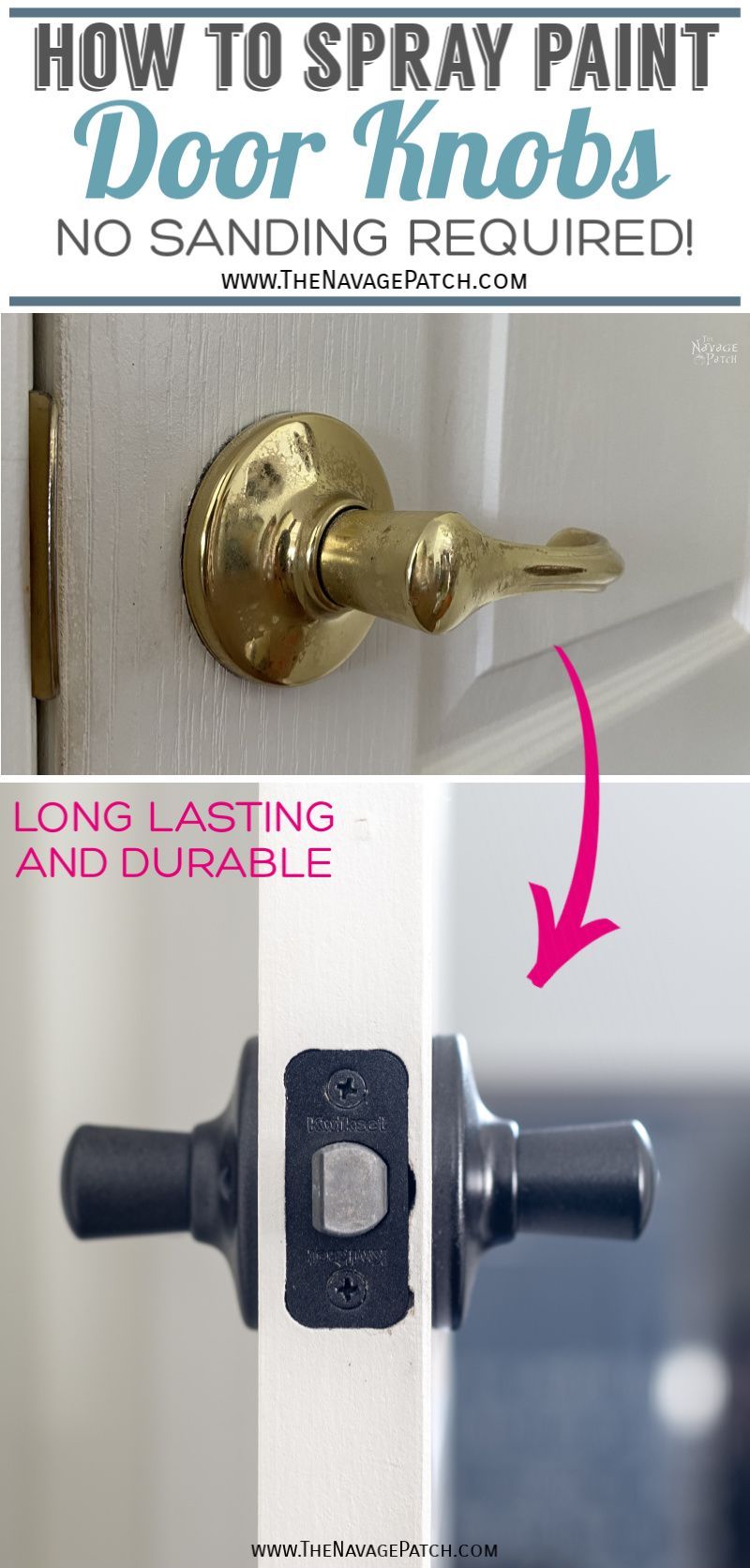 This is a woman with a Honey-Do list (aka the Babes-Do List) that is so long and far-reaching that she migrated it to an interactive online calendar that stretches out for years!
Years, madam!
I suppose it's a blessing though, right?
I'll never suffer a moment of boredom, as one glance at the Babes-Do List will jolt me into action.
Anyway, do you think the Commandant would stand idly by while I lounge about the house scuffing door handles in my underwear while listening to opera music on Pandora?
Please.
She considers my time to be more valuable than that, and so too is yours, madam!
But placing a value on my time doesn't change the fact that sanding is a necessary step to make the paint stick to an otherwise smooth metal surface!
Or is it?
What if there were another way to accomplish what sanding does – scuff the surface so the primer and paint have something to grab onto – without actually sanding?
(there is)
(there totally is)
There is. And I'm going to show you how it's done.
Okay, we've established that scuffing the metal is necessary, because primer and paint won't adhere to smooth, non-porous surfaces (well, not for long, anyway). The trick is to scuff the surface without sandpaper, and this is how we're going to do it.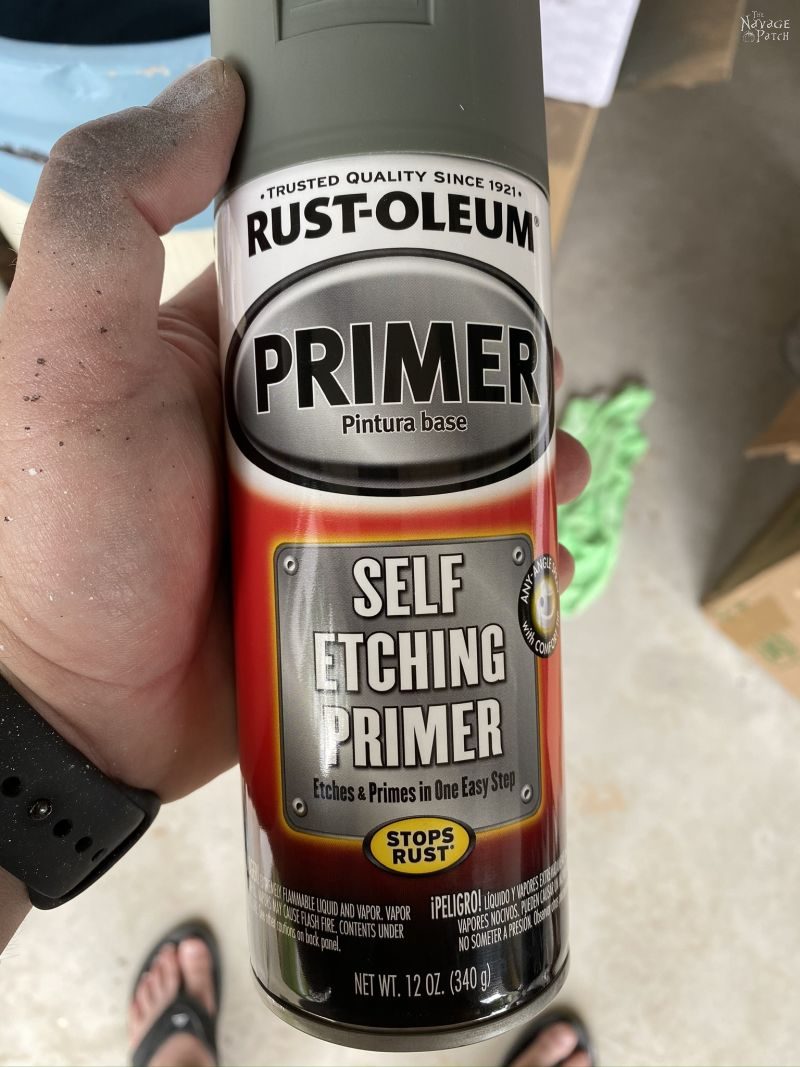 I really wanted to spray paint our door handles, but I really didn't want to sand those handles, so I started thinking about painting metal. In the world I'm familiar with – the DIY world – all the advice about painting metal hinges on the need for sanding.
Like I said – not gonna do it.
So when the world I know fails to offer up a solution, I look to other worlds (Handan is a master of this). In this case, I thought, who paints a lot of metal?
Car guys and car girls.
And then I asked myself, do they sand every fender and body panel first?
And though I didn't know the answer for sure – after all I'm a regular DIY Joe who also dabbles in crafting – I guessed they might not.
A little digging into the painting habits of car guys and car girls led to the discovery of self-etching primer. It's an automotive primer that has an acidic component that etches (scuffs) the metal to allow the primer to bond with it. From there, the paint is able to bond to the primer.
It could work for painting my door handles!
It would work for painting my door handles!
The science was sound, so I bought a couple of cans and prepared to paint our brass door handles.
How to Spray Paint Door Knobs without Sanding
SUPPLIES LIST
Affiliate links are provided below. Full disclosure here.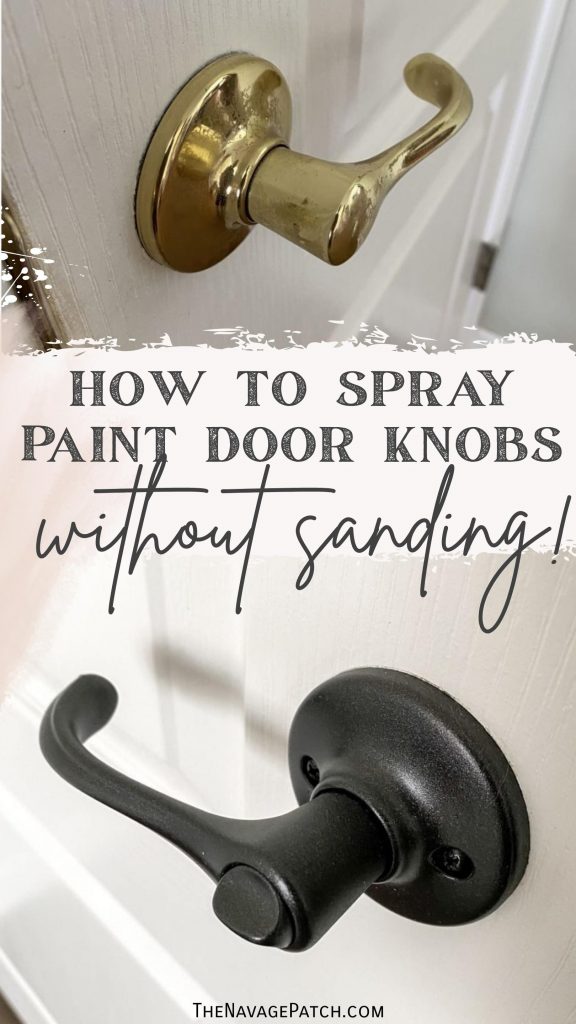 Step 1 – Remove the door knobs
I know, I know – it seems pretty duuuhhhhh, but I'd rather spell it out than have an angry reader bitching at me because her husband sprayed etching primer all over her beloved french doors.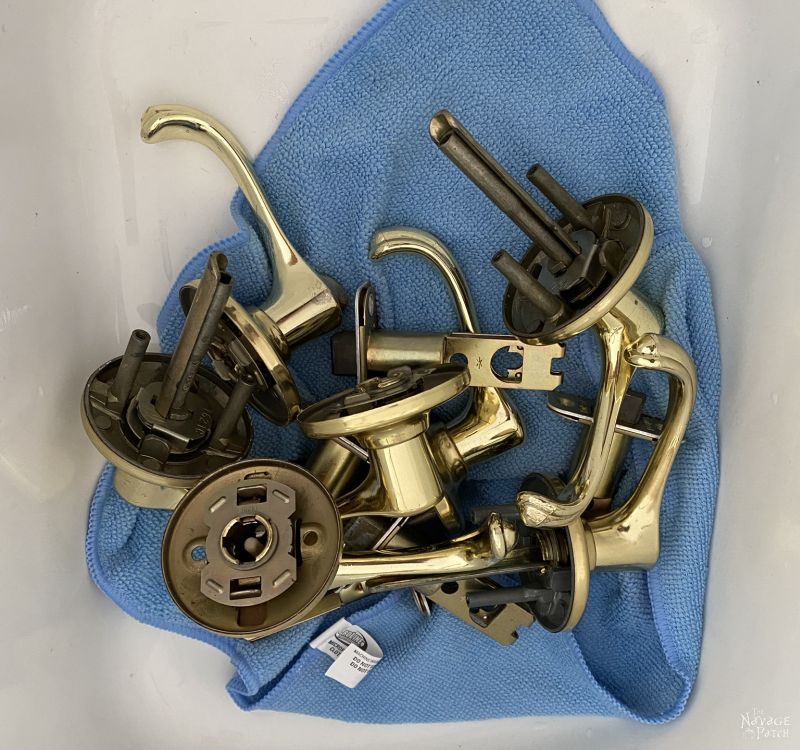 Be sure to keep the screws and the latch mechanism, but you can toss the latch strike plate. There's no paint on earth that will stand up to that much abuse. We replaced our latch strike plates with new ones. They're very inexpensive at Home Depot, or you can pay a little more and get them from Amazon (also linked in the Supplies List).
If your plated door knobs and handles are coated with a protective top coat, the primer won't actually etch, since the acidic component only etches metal. No worries – there is a super easy way to remove the top coat from your door handles. Check our "How to Remove Polyurethane from Door Knobs" post to see how we easily did it without sanding the top coat.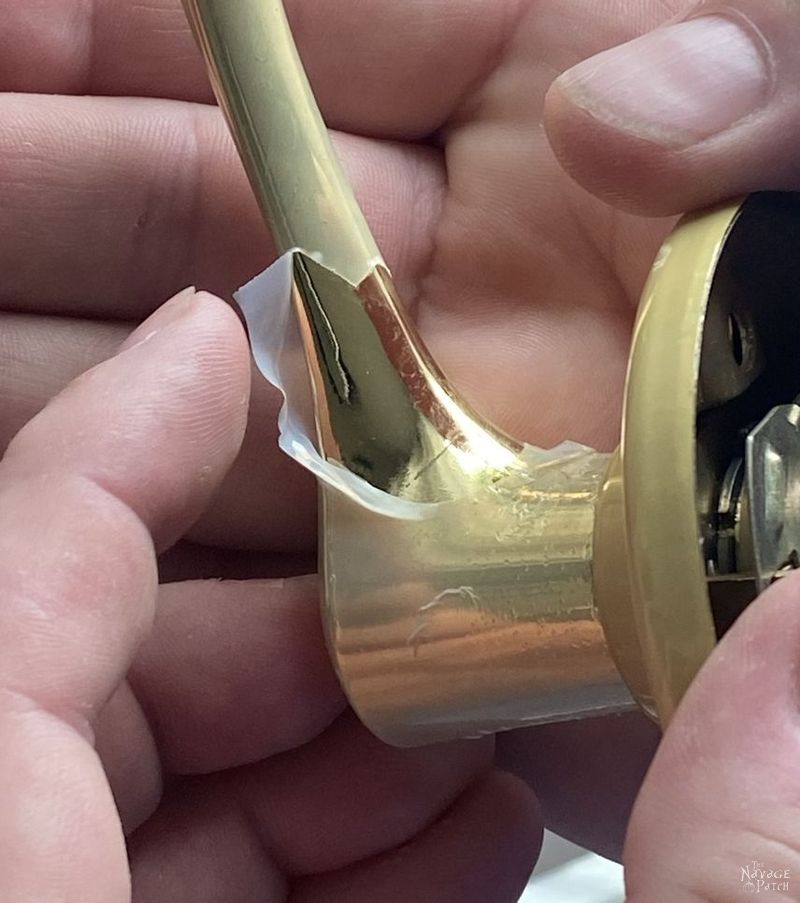 Step 3 – Wash the handles
To clean and degrease my handles, I turned to the world's greatest degreaser – TSP. A teaspoon of this stuff could flatten all the oiled-up pompadours of an Elvis convention.
Updated note about self-etching primer: a couple of readers pointed out that plated door knobs and handles may be coated with a protective top coat. If that is the case, the primer won't actually etch, since the acidic component only etches metal. Depending on what the top coat is, you may be able to dissolve it with acetone (if it is lacquer), or denatured alcohol (if it is shellac). But if they are coated with polyurethane (which is most likely the cast), watch the video below to see how we easily removed the poly from our handles without sanding.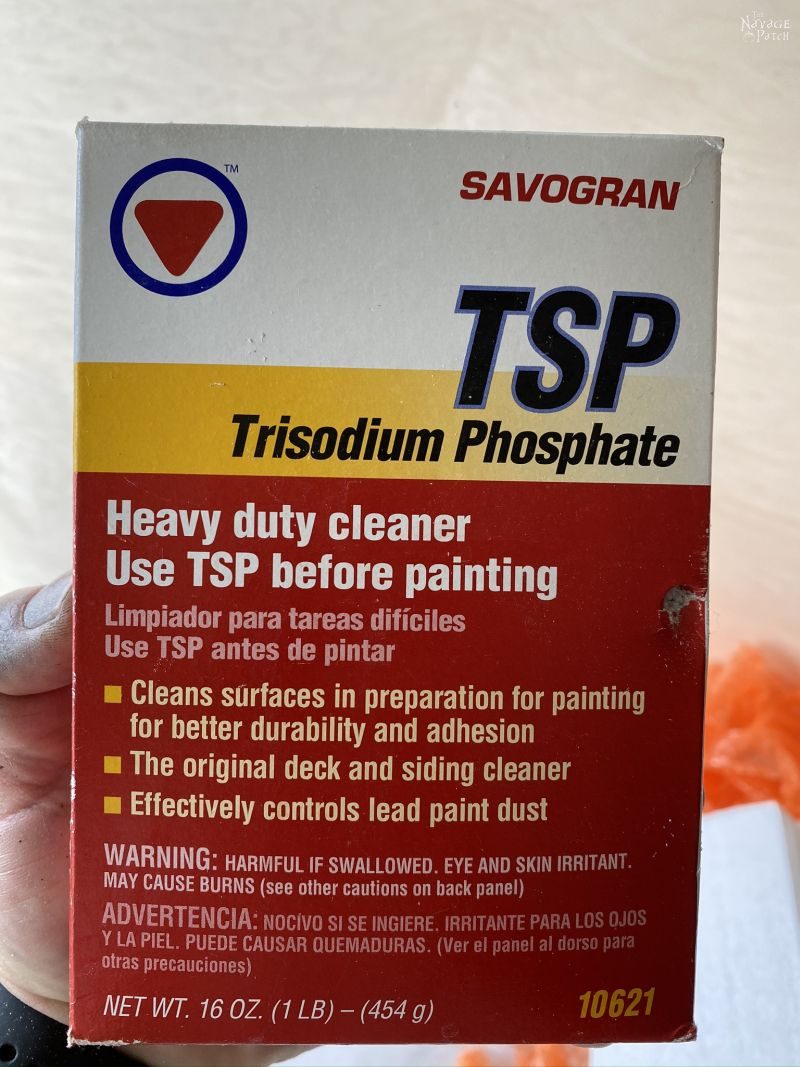 I filled a small plastic tub with warm water and added a bit of TSP.
Next, I dumped in the hardware to have a wee soak.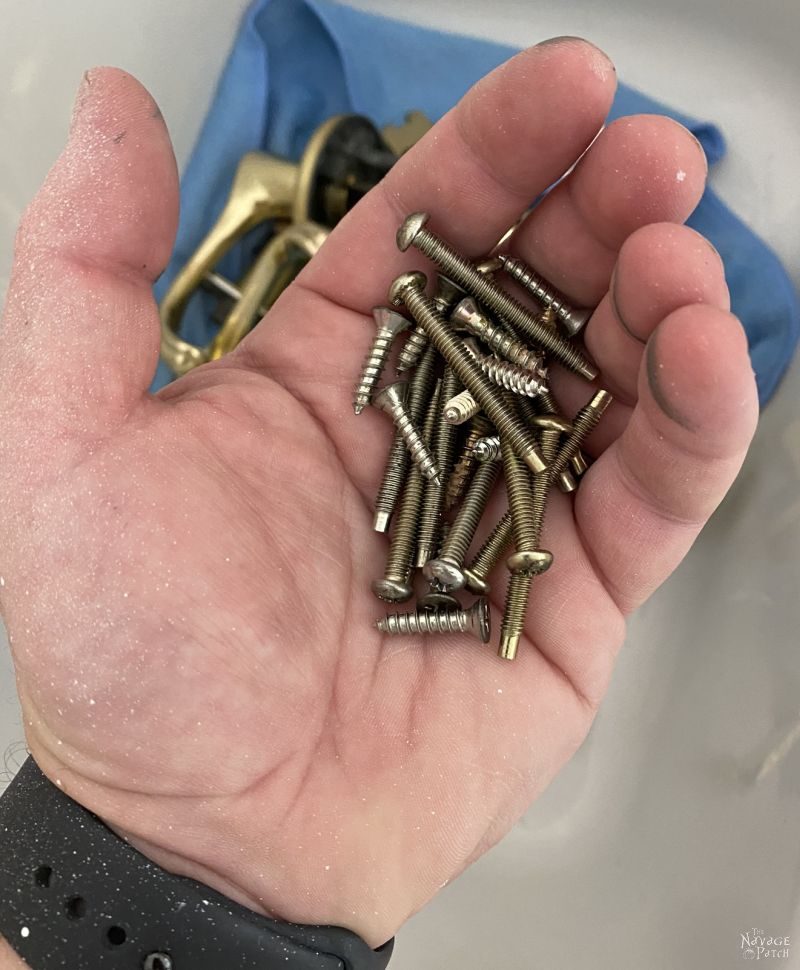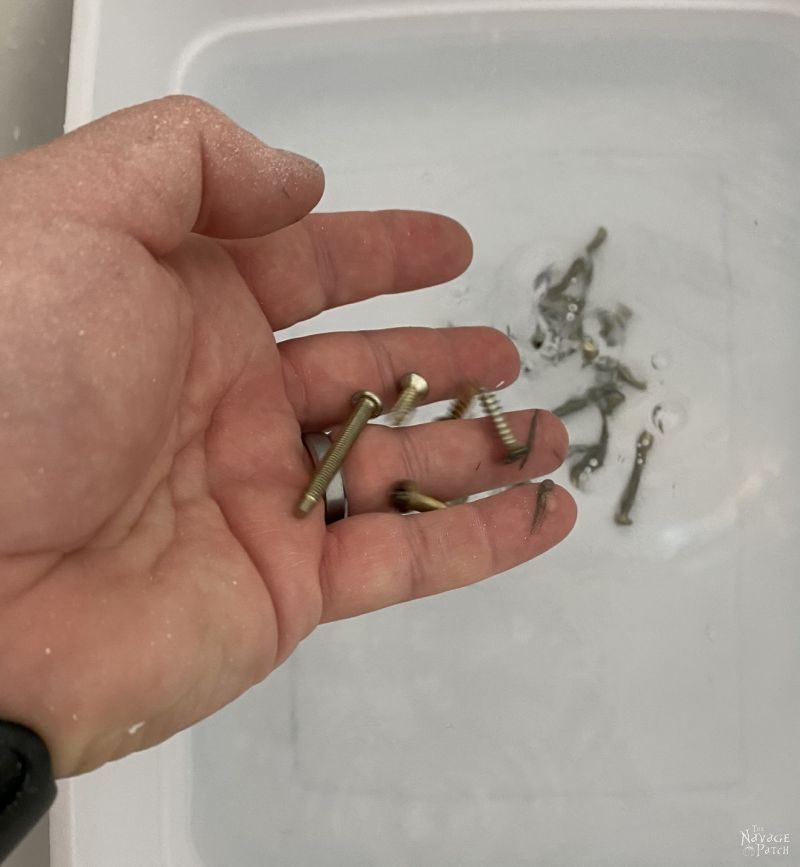 While the screws sat soaking in their chemical bath, I dipped a microfiber cloth in the TSP solution and cleaned the handles.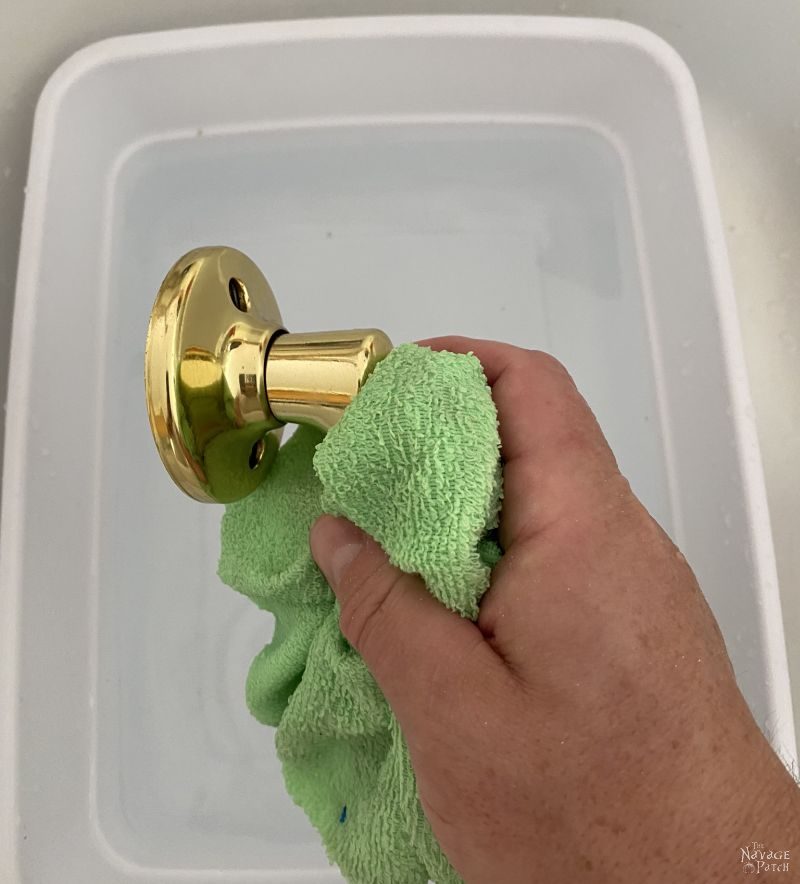 Note about TSP: it's pretty hardcore stuff, and you should definitely wear nitrile gloves when using it.
Why aren't I wearing gloves, you ask?
Madam, I like to live dangerously. My wedding ring is proof of that, amiright? Eh? [You indeed love living dangerously, don't you? – Handan]
Oh crap, she heard me.
RUN!
Step 4 – Tape the latch
Since the latch will be constantly rubbing against the latch strike, there's really no point in painting it. Tape it off with masking tape.
Step 5 – Arrange the door handles and hardware for priming
After the door handles and screws have thoroughly dried, arrange them on a cardboard box or piece of Styrofoam for painting. I used Styrofoam, and I pushed the handles and screws into the foam block. This not only secures the pieces while painting, but it serves to mask off the screw threads and internal components of the door handles.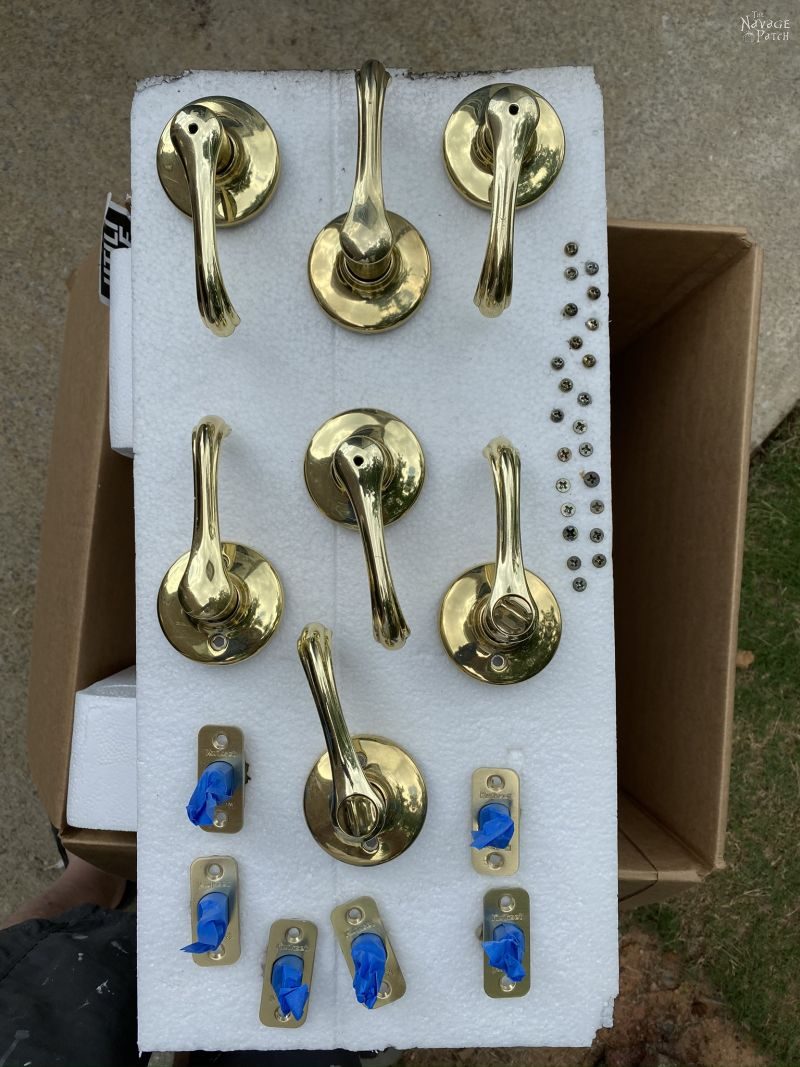 Step 6 – Prime the door handles with self-etching primer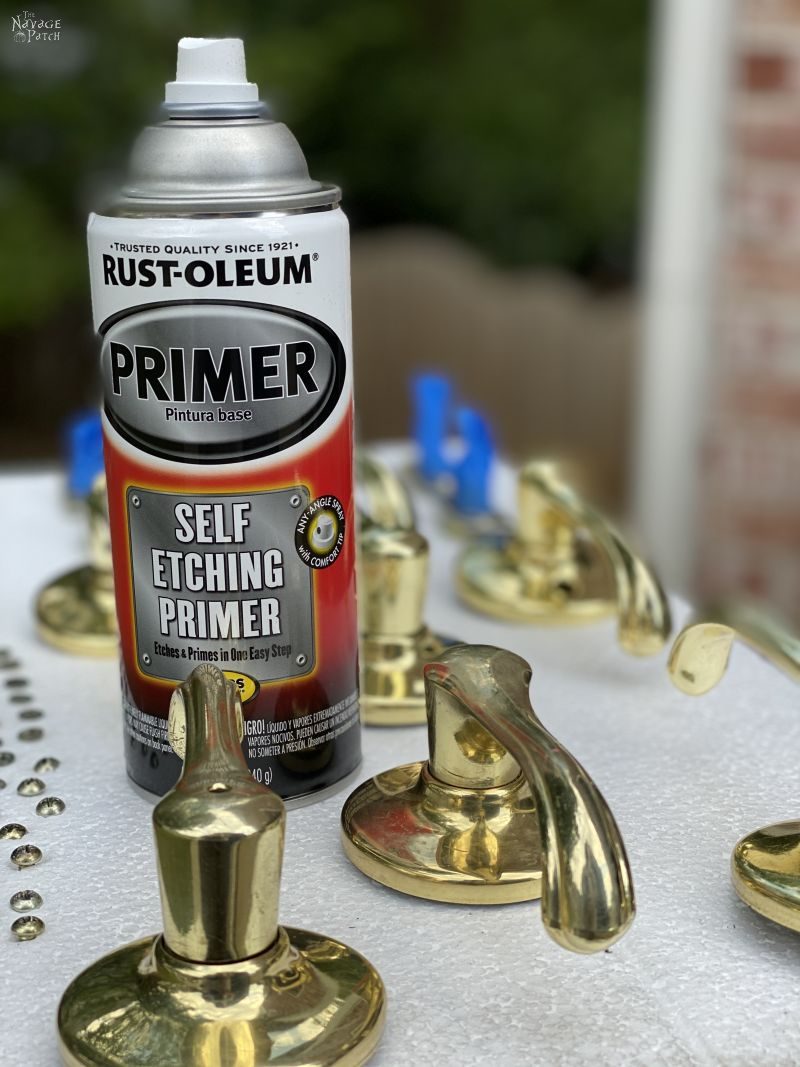 Picking one at a time, I sprayed the underside while holding the handle with a gloved hand.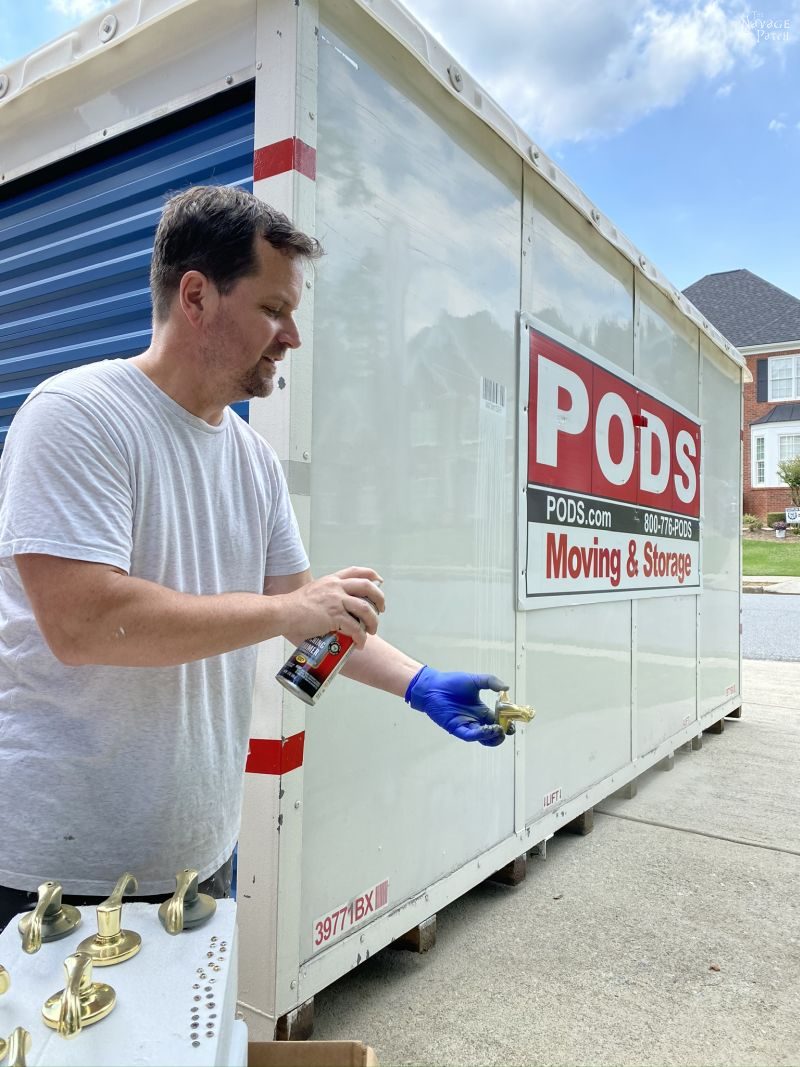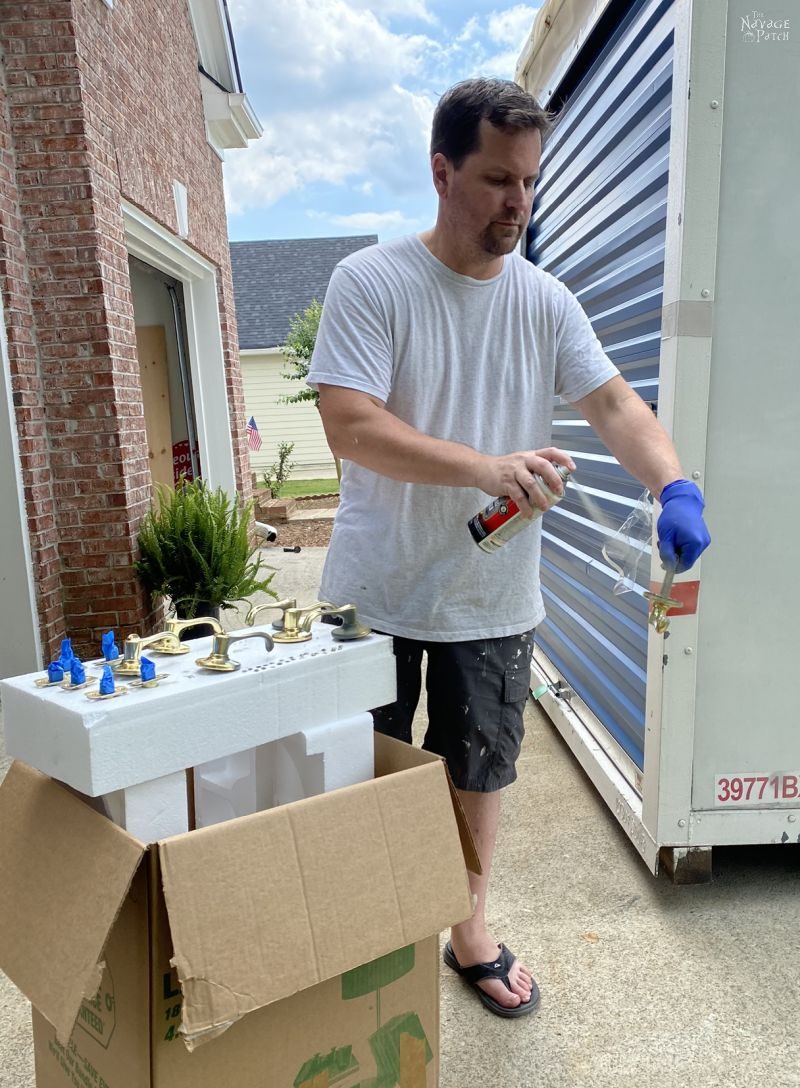 Once I got decent coverage on the underside of the handle, I placed it back on the Styrofoam block. When all the undersides were primed, I sprayed the tops and the screw heads with a light coating of primer. After a few minutes, I gave them a second light coat.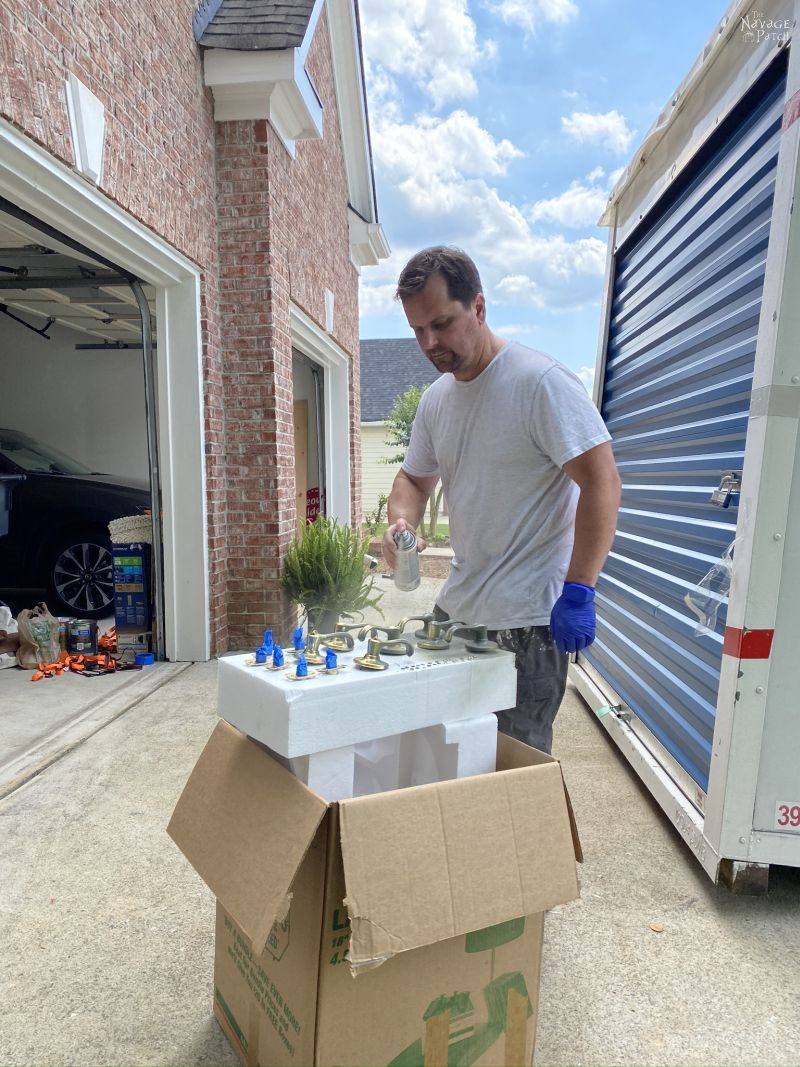 A note about the self-etching primer: the technical data sheet says to either dry or wet sand with 400 grit after the primer has dried. Anyone reading that may be wondering how I can say "no sanding involved" when the technical data sheet says otherwise. But remember, this product is for auto parts, and auto parts need to be smoother than a baby's business end. We don't need that level of extreme smoothness, so we can skip the sanding step and go right to painting.
Step 7 – Spray paint the door handles
After letting the primer dry overnight (this wasn't necessary – you can paint after 4 hours), I spray painted the door handles in the same manner that I primed them. As with all spray paints, multiple thin coats are better than one heavy coat. I sprayed 3 light coats of oil rubbed bronze on my door handles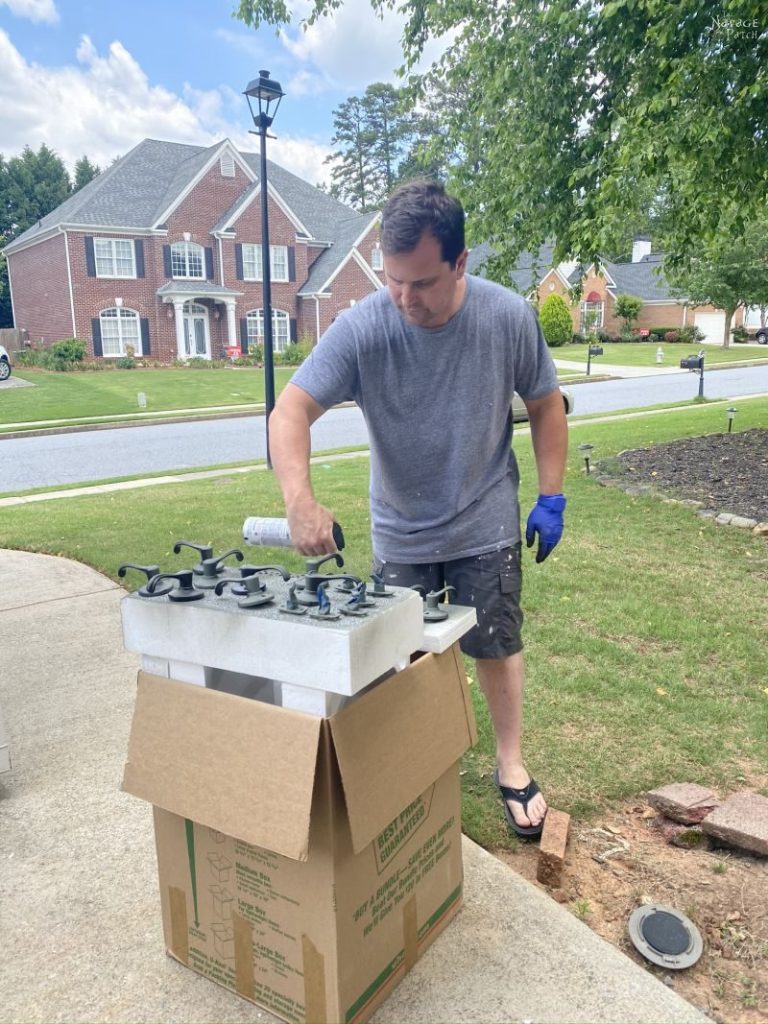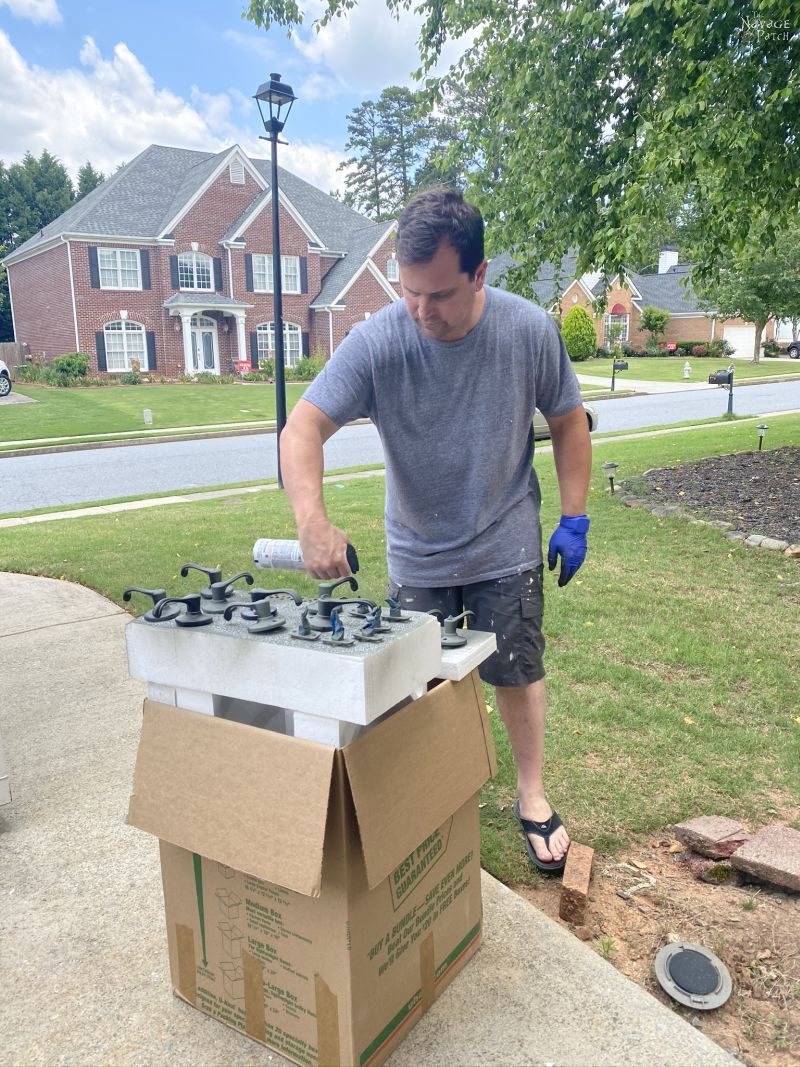 Step 8 – Let cure and reinstall
Because door knobs and handles are high-use items, I like to let them cure for a few days before reinstalling them, and then I use them gently for as long as possible, up to a couple of weeks. Paint dries in a couple of hours, but doesn't fully cure for about a month.
So far, I've only spray painted the door handles to Baris's doors (well, most of them, anyway – I haven't tackled his bathroom yet). Still, that's 6 sets (8 once I get the bathroom done)! The kid has doors coming out the wazoo in this house!
Here's how the updated doors look. You'll catch a few glimpses of The Boy's new Royal Quarters. I'll have more to show you about that soon.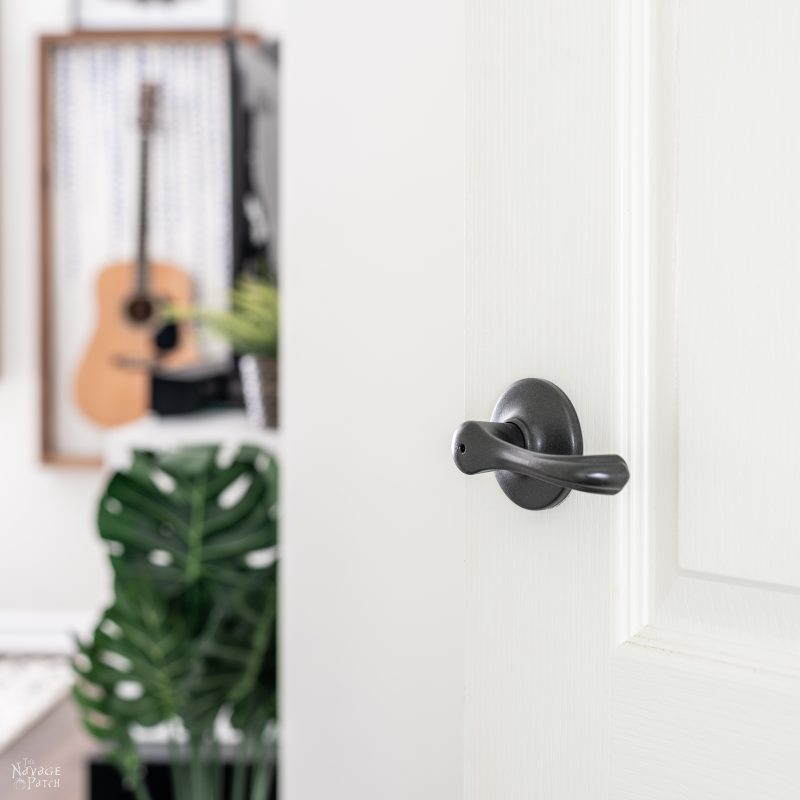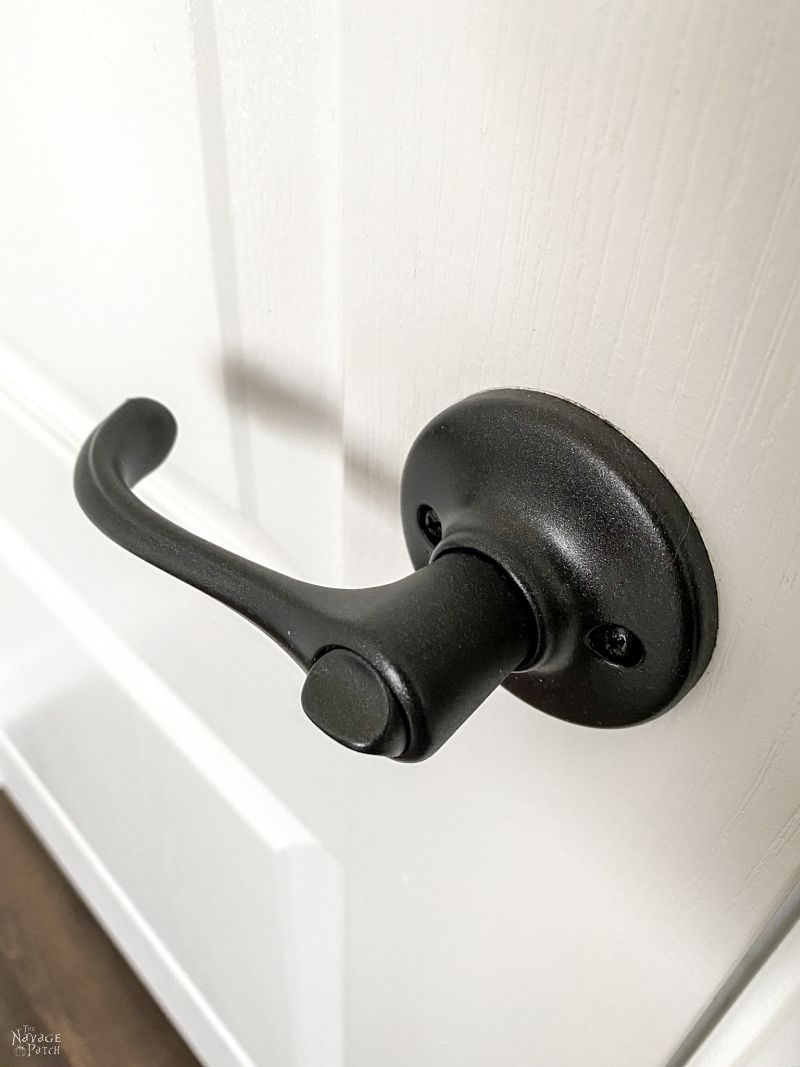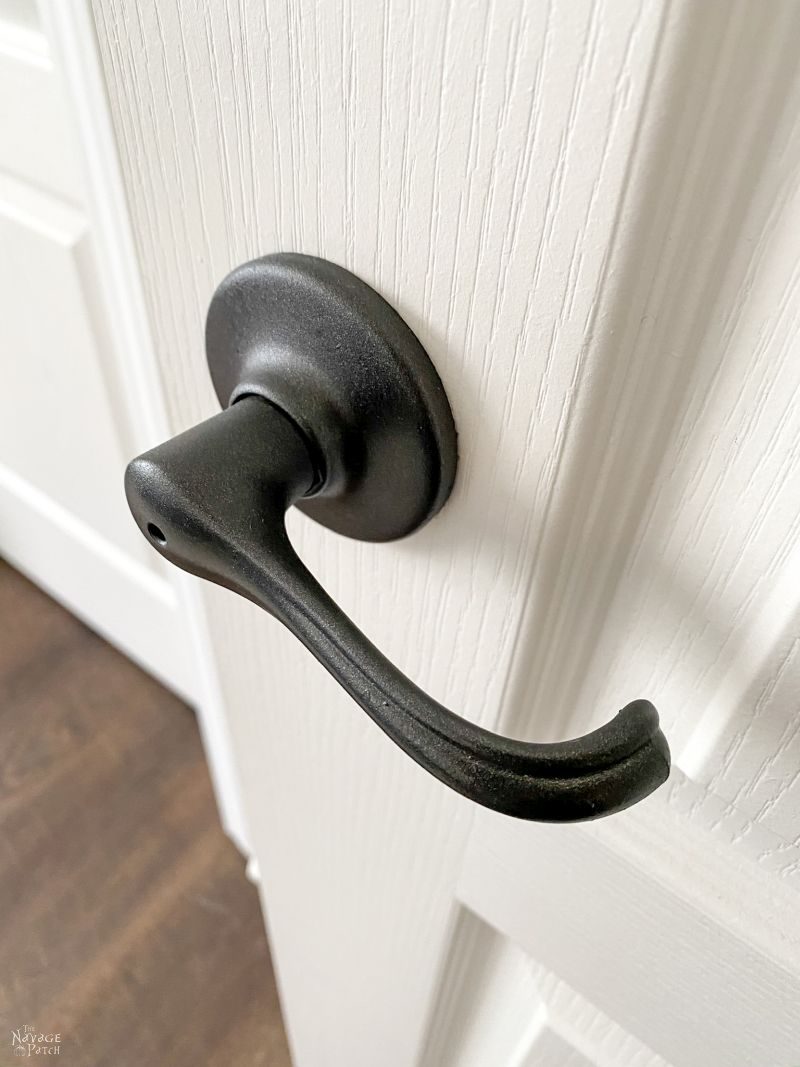 We love to see our DIY projects out in the wild! If you try this DIY project and take a picture and post it on Instagram, be sure to tag us @TheNavagePatch!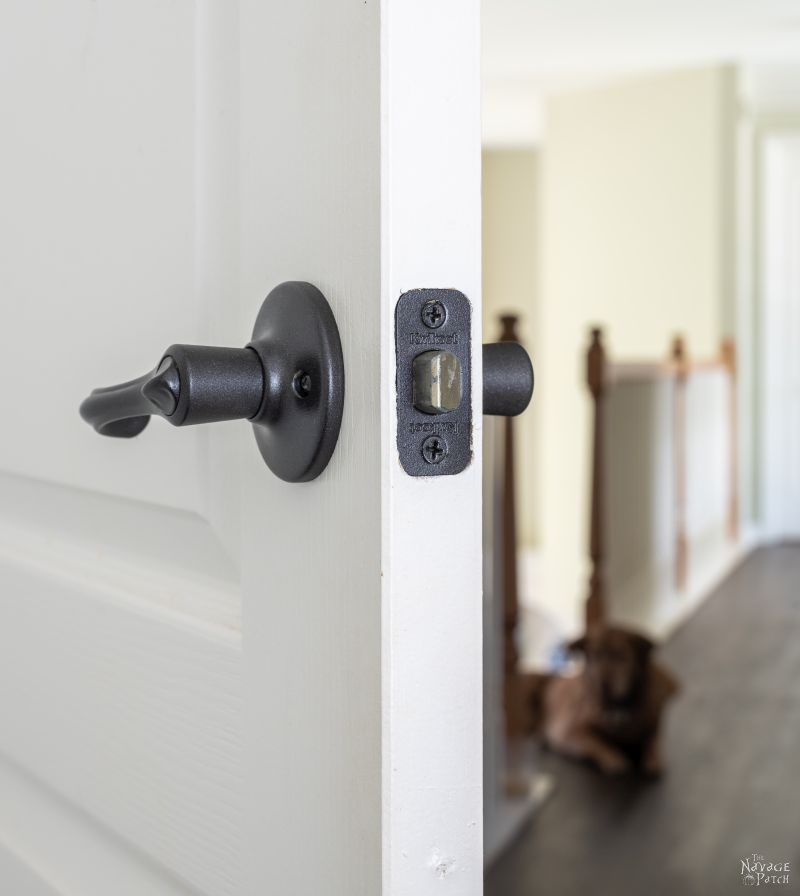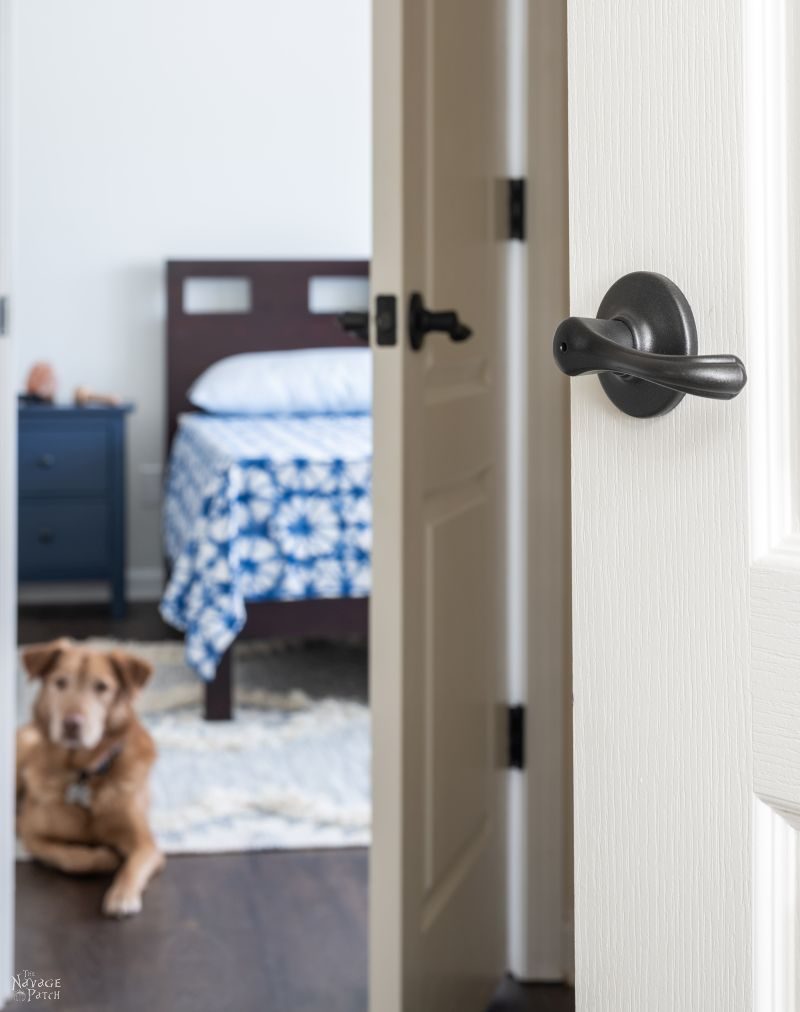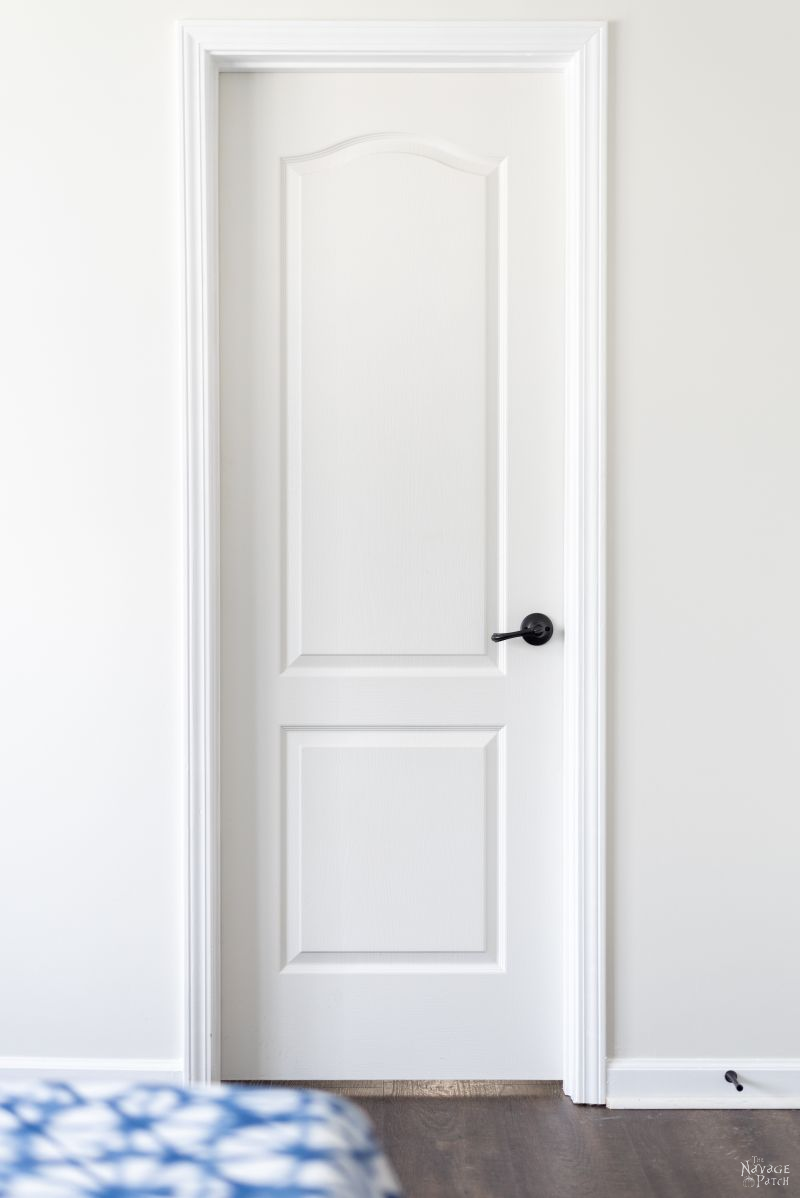 As for the old hinges – I threw them out and bought new oil-rubbed bronze ones from Amazon. They are cheap enough that it made more sense to replace them rather than de-grease, prime, paint, re-grease and re-install.
For those following along, here's how we stand with the short-term project list.
THE NAVAGE PATCH SHORT-TERM GOALS LIST 2020
Build workbenches
Paint interior walls, trim and bedroom ceilings
Change living room fan
Change foyer chandelier
Paint interior door knobs (this post)
Baris's room setup & related projects
Change front door lantern and install a second one
Remove big shrubs near front door
Replace the ghost window
Share it on Pinterest & Facebook!