Our staircase makeover is finally finished! From old carpet to hardwood and golden oak to rich provincial, it's a beautiful update to our new(ish) home!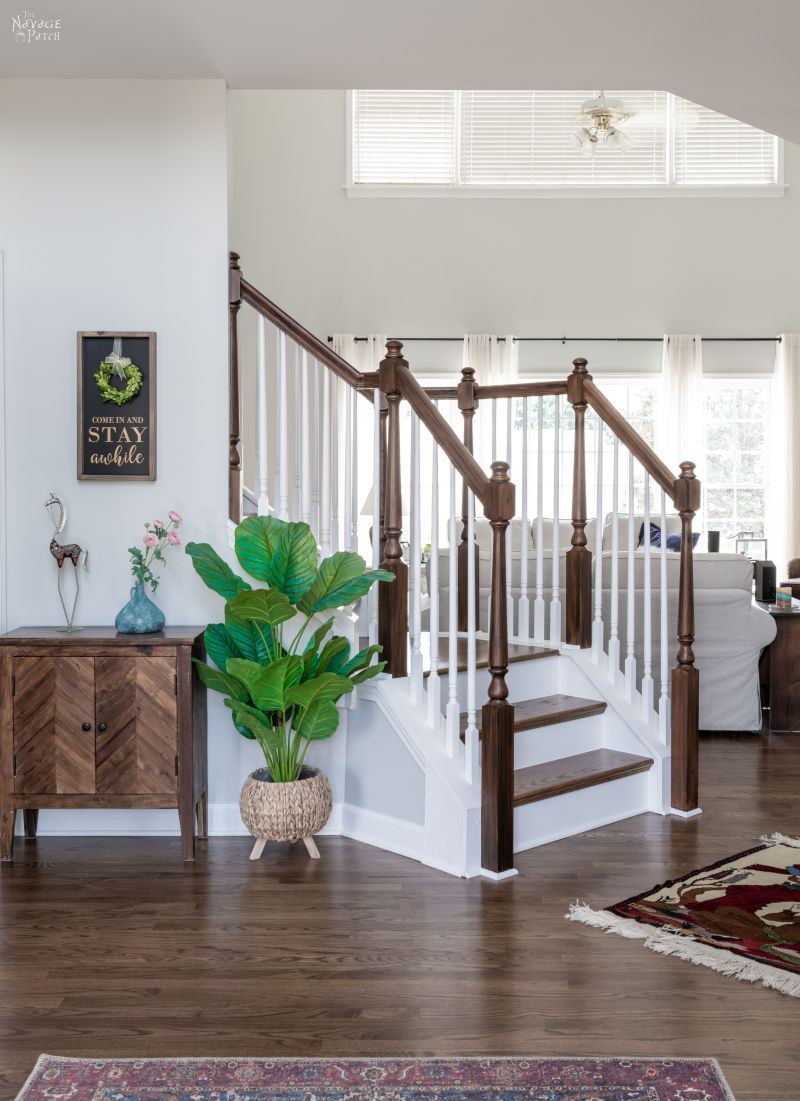 Oh, c'mon, it's not that long!
I mean, if it was a year or more, sure, but this staircase makeover only took eleven months!
On a geologic or cosmic timescale, that's not even the blink of an eye!
But I suppose on a human timescale, it might be a wee bit long for a simple staircase makeover. Okay, look, I may have procrastinated a bit and sat on my butt when I should have been working. And it's certainly within the realm of possibility that I chose a potato chip over a paintbrush on one or two occasions. Aaaand it's entirely possible that I thought more about jelly donuts than gel stain on those cool winter weekend mornings snuggled in my bed.
I will say in my defense though, madam, there were a lot of little things to paint and stain that necessitated a lot of crawling and bending and crab-shuffling and grunting.
So by now, most of you know how this particular makeover story started. You'll recall that when we moved into this house about a year ago, most of the first floor floor was carpeted, including the stairs.
Carpeted stairs certainly feel good (especially on old feet), but this particular carpet was 20 years old. It had served admirably, but it was time to pull it up and put it out to pasture…or wherever old carpet goes to rest.
Besides the carpet, there were the golden oak balusters and handrails.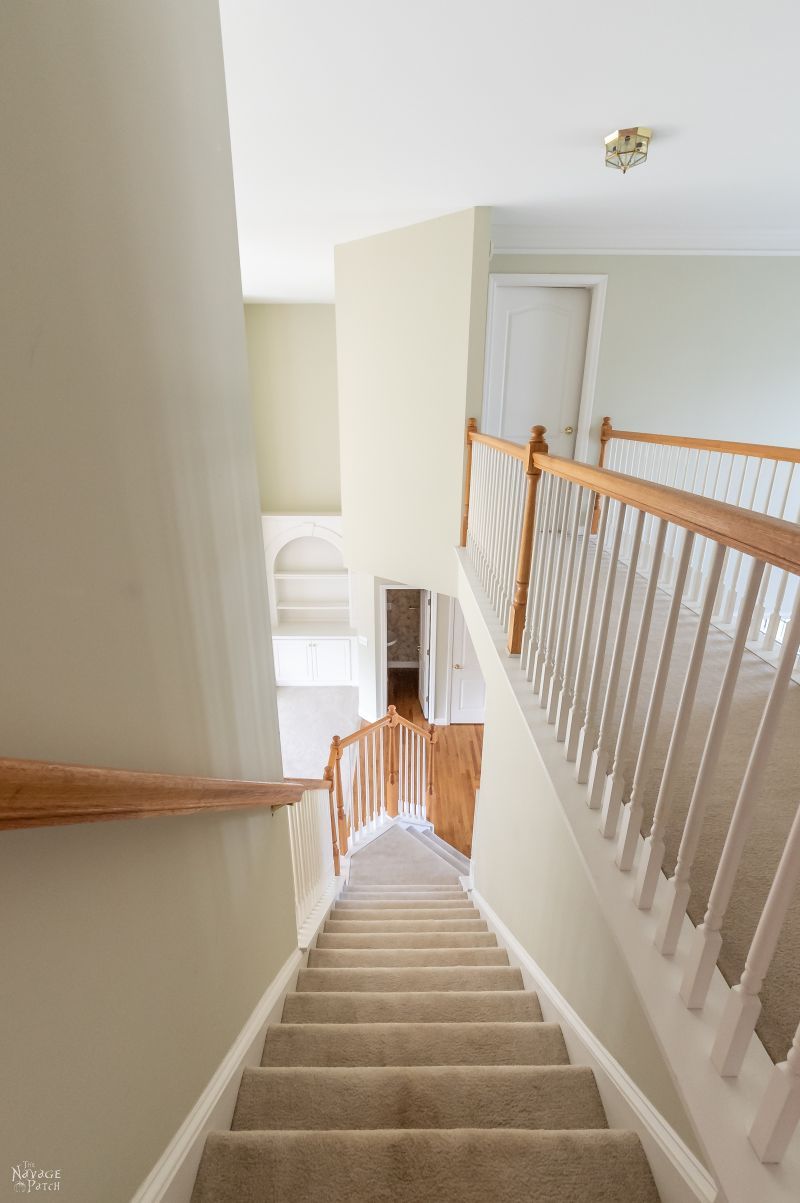 Miles of golden oak, as far as the eye could see! I mean no offense to golden oak and those who love it, but it just doesn't work for me.
Still, it was our new home, and we loved it!
This staircase makeover was officially set into motion when we had all the carpets ripped up and replaced with hardwood floors. This included new oak stairs.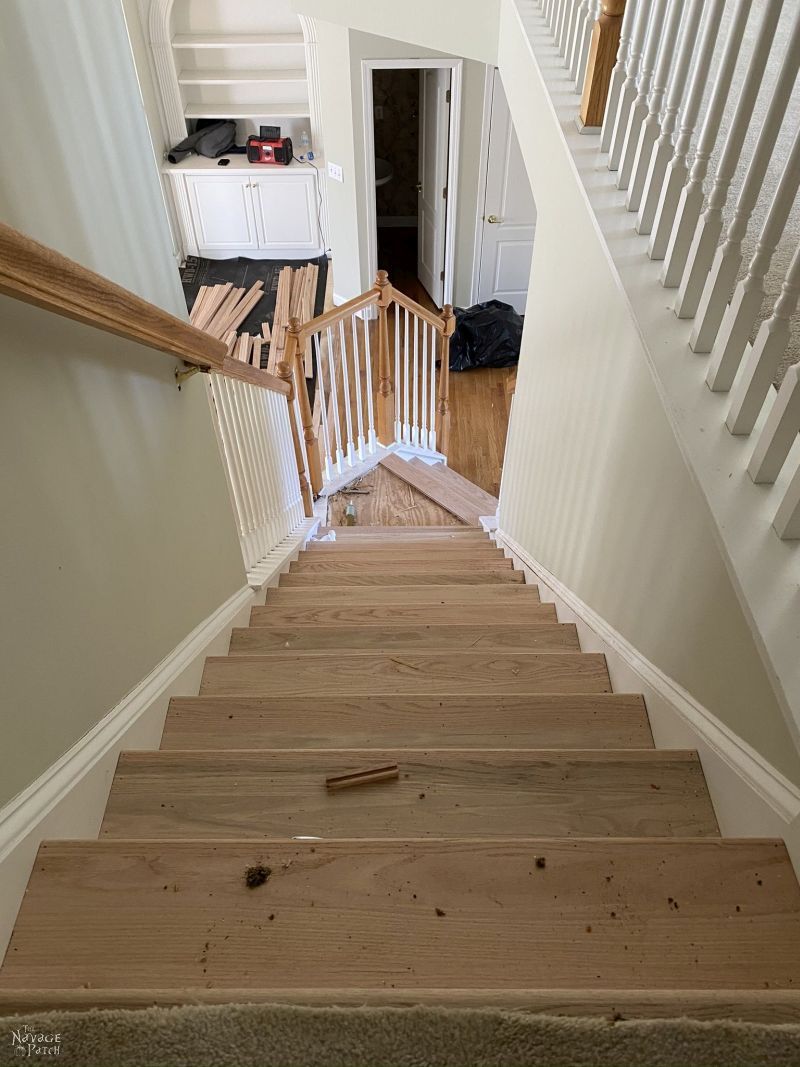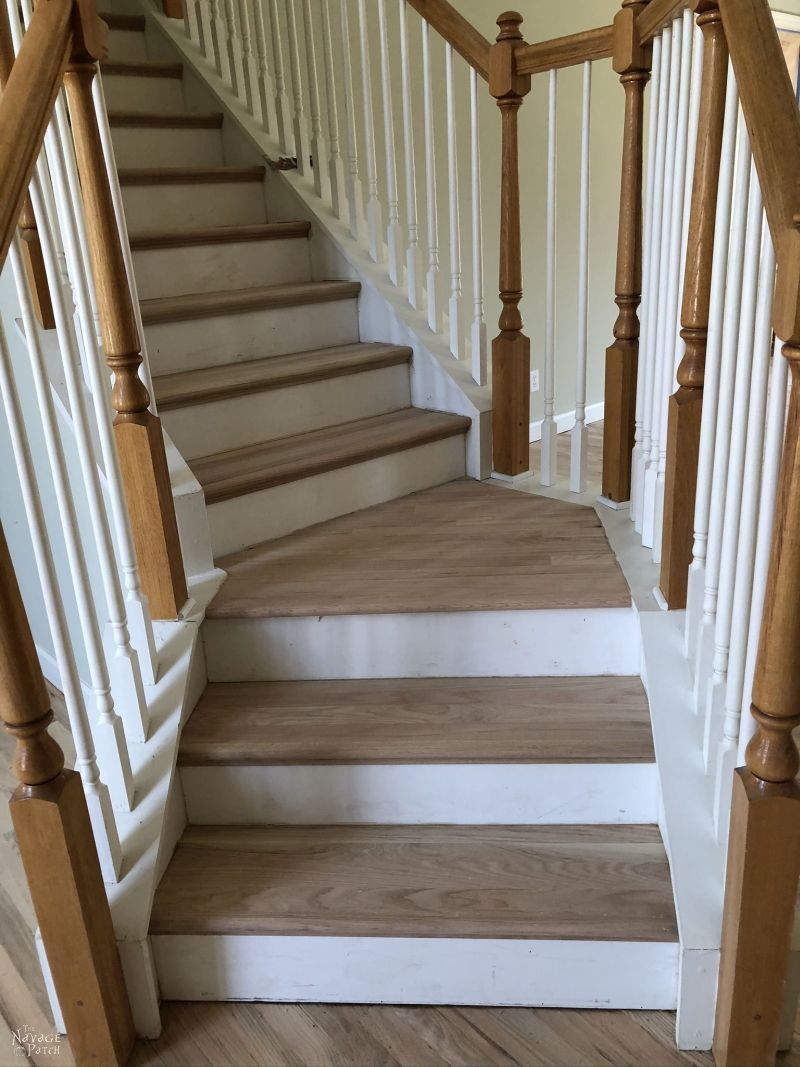 After the flooring crew stained the new floors and stairs, my part of the makeover began. I was left with stained-splattered risers, stained-splattered trim, golden oak balusters and handrails and dirty spindles. Ignore the stained baluster in the picture below. I took this pic after starting the makeover.
So before the flooring crew began their work, the company's owner asked if I wanted the balusters and handrails stained to match the new floors. He said that his guys didn't do that work, but he subcontracts the job out to someone who does. The subcontractor prices by the foot, and this job was estimated to be about $3500. If I'd been drinking milk when he told me that, it would have shot out my nose at an alarming velocity and splattered on the walls.
The price was ludicrous (or so we thought), and I informed him that I'd do it myself. After all, I'm a DIYer, and that's what we do! $3500 indeed!
Right?
Well, let me just preface the rest of this post with the following statement:
For a staircase this size (remember there's a catwalk upstairs, plus another staircase off the kitchen that I'm not showing), I'd advise you to think very carefully before committing to what I did. For a small staircase, I say go for it! Do it yourself! But for a large one like ours, only embark on this, ummm, adventure, if you have more time than money. If you have more money than time, for the love of Pete, just hire someone to do it for you!
So, with that disclaimer, let's proceed!
My first order of business was to stain the balusters, and I was faced with a choice. I could sand every baluster and handrail (they were covered, and I mean glopped with dried and drippy polyurethane) down to bare wood and then stain them. I looked at the number of balusters and all the curves, nooks and crannies and estimated I'd be sanding myself into an early grave if I took that route.
The second method was to use gel stain on top of the old finish. I chose the gel stain.
I played around with a few different methods of applying the gel stain – rag, foam brush, various paint brushes – and discovered that the easiest and best method was to use a small, soft-bristled brush. When I say "soft-bristled," I mean it – like, the absolute softest bristles I could find in the 100 or so small paint brushes we have littered around the house.
Thus began my March of Misery, as I tackled each baluster with a paint brush more suited to kindergarten watercolors than serious DIY.
But needs must, madam, so I soldiered on with my pipsqueak paintbrush and began my labors.
It was a slow and tedious affair. Every stroke had to be re-stroked and stroked again for good measure to ensure proper blending and streaking. I'd call it a labor of love, but that would be unfair to the institution of love.
There is an art to gel staining a baluster. It's not a matter of simply slathering on the goo, patting yourself of the back and calling it a day. The gel stain must be massaged and coddled and handled just so, or you'll end up with a streaked nightmare that will cause children and spouses to scream in terror and and wail in dismay.
When I got to the balusters upstairs, things got even more…interesting.
There were a few balusters over the staircase that I had to get creative with. In hindsight, I probably could (should) have brought out my multi-position ladder to reach those areas, but either I didn't think of it or the laziness was running strong in me that day, because I took a page from the prison handbook and stained them with the help of a mirror.
This was no easy task, as my brain interpreted the signals it received from the mirror entirely backwards.
The stain on the wall was no big deal – I hadn't yet painted that part of the house, so it would all get covered over once I made the final push to finish the living room, foyer and upstairs hallway walls.
When I finally did paint those walls, I did so on the ladder, so it was much easier to paint around the balusters – no mirror needed! In hindsight, I should have used the ladder instead of the mirror when staining the balusters, but it's a handy trick if you ever need to paint or stain something you can't see!
After I finished those upstairs balusters, Handan suggested I use a bigger brush. She thought it might make the job a little easier. I agreed, but I didn't have a suitably soft brush in a bigger size. A quick trip to Michaels gave me a new lease on life – a $25 ultra-soft watercolor brush.
Oh, what a difference! It cut my staining time in half! And just in time, too. I used it for the remaining few balusters, and then it was time to do the handrails – the miles and miles of handrails.
For the handrails with spindles, I found it was much less messy if I first taped all the spindles before the awkward job of staining the underside of each handrail.
For the handrails attached with brackets to a wall, I simply removed them and took them to the basement to stain.
When the staining was finished, I turned my efforts to painting the spindles. I used another small paintbrush – with hard bristles this time. To be honest, I thought the spindles would be much harder than they actually were. They were a breeze compared to the balusters!
As you can see by the tape on the stair treads, I painted spindles concurrently with painting the stair risers – the subject of my last post.
Also during this time, I finally finished all the wall painting that I had started the week we moved in last May. (Well, not all – I still have a guest bedroom, a master bath and a master closet to paint, but close enough!)
I discovered as I painted the trim that sometimes my tape seal wasn't good enough to keep paint off of the balusters, like in the picture below.
I tried scraping, but it tended to remove the gel stain as well, so I turned to another handy trick I have for hiding blemishes with wood and stain.
These repair markers are perfect for minor cover-ups, and they're much easier to use than stain.
First, I taped off the trim and then ran the marker over the white paint bleed.
From eye height, it's a perfect match!
Though it took almost a year working in fits and starts, the staircase makeover is done!
It took longer than I imagined, and it was a lot harder than I anticipated, but my babes and I love the way it turned out!
We love it when you share our posts on Facebook and Pinterest!