Washer & Dryer Hookup and Painting (ORC Spring 2023 Week 3)
I seemed to have blinked and missed Week 2 of One Room Challenge, but when have I let a little adversity get in the way of a good makeover?
It's like trying to play tiddlywinks in a twister around here.
One the one hand, I've got this One Room Challenge obligation. I pledged to the world (my wife) that I'd finished this damn fabulous laundry makeover in the allotted 8 weeks. Should be easy peasy chicken squeezy under normal circumstances.
Normal circumstances.
But these, madam, are anything but normal circumstances.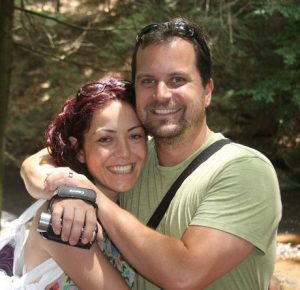 Welcome to The Navage Patch!
If you're joining us from the ORC website – welcome! I'm Greg, this is The Navage Patch, and my wife Handan and I are giving a makeover to the laundry room in our new Florida home. This is our second One Room Challenge, and we can't wait to show you what we have in store for this room!
At the same time I was supposed to have been regaling the world with my "Week 2 Progress," I was engaged in, consumed by, and entirely wrapped up in the following:
Guest bedroom closet makeover (coming soon to a blog near you)
Gazebo build (coming soon to a blog near you)
Patio privacy fence build (coming soon to a blog near you)
Patio landscaping and hardscaping (coming…ah, you get the point)
Lanai makeover
And last but certainly not least, the imminent arrival of my parents (whom we hadn't seen in over 3 years!) for a 10-day visit
But somewhere in there, I was supposed to have made non-trivial progress on the garage laundry room.
Well, I didn't. The world had to wait an additional week until I could scrape and gather enough spare minutes to do anything out there!
But it's not all whiny bitching and doom-and-gloom. During my parents' stay, I made the progress you're about to see, and I cleared my plate of almost everything on the aforementioned list. So from here on out, I'm coming in hot!
Oh, and I've also got a backlog a mile long of content for the blog. Now that things are slightly settling down and my parents are safely back home, I'll have more time to sit and write!
Laundry Room Makeover Week 3 VIDEO
Watch our short and fun video below for an overview of our laundry room makeover week 3 before you read the detailed progress.
Watch Our Tutorial On YouTube
We love to see our DIY projects out in the wild! If you try this DIY project and take a picture and post it on Instagram, be sure to tag us @TheNavagePatch!
Okay, lets' get down to business. The first step of any room makeover is to haul the crap off to various corners of the house. In this case, I hauled it to various corners of the garage – not an ideal situation considering we're also trying to empty the crap and finish the garage makeover!
The newly-emptied space revealed the pre-existing laundry hookups.
I uncapped that dryer vent to have a look. Unlike our indoor laundry room that moronically vented under the craft room stairs, this one vents outside. There's just one catch: the pipe runs through the foundation and pops up from a garden bed like the periscope from some sort of Fresh-Rain-and-Lilac-Scented submarine.
With all the pipe running underground, lord knows what's accumulated through the years. I uncapped the hookup and had a look.
Blech. Well, nothing a shop vac couldn't handle, I suppose.
But what about the rest? What about the underground stretch? Figuring a hard blow was almost as good as a big suck (o_0), I decided the next best solution was to blow that sucker like a New York schnoz during flu season. I hooked up my leaf blower and opened up the throttle.
And out flew the lint!
It was satisfying to watch, but its likely something that I'll have to do every year to keep that line safe. Fortunately, I run the dryer on low heat almost exclusively, so I'm not too worried about a lint fire.
Back inside, I repaired the wall holes I created when I removed the original wire shelving a year ago.
Now, at this juncture, it would normally be time to paint. But we kept hemming and hawing over the color choice, and in the meantime we got impatient about moving the machines.
So with the walls still unpainted, I moved the machines into their new digs.
Dryers are a joy to move. They're light as a feather. Washers, on the other hand, are made of bricks, lead and profanity. I finally got it onto the hand truck with Handan's help.
Moving it into place was a Herculean task.
I switched the door hinges, hooked up the water and vent and then ran a test load.
Perfection.
Now, back to the color selection.
After a week-long struggle, we settled on Sherwin-Williams Pewter Green.
And that brings us to where I am today.
I still need to paint the ceiling to an as-yet-undetermined color, but I'm ready for the next step: building the countertop. After that, I'll turn my attention to the cabinets and the lighting.
Things are about to accelerate with this laundry room makeover as I bring it from the back burner to the front. And not only will I have regular updates for you here on the blog, but I'll be posting about all the other stuff I've been so busy with this past month!
So stay tuned for more fun and insanity!
HERE IS OUR ORC PROGRESS