Washer/Dryer Enclosure and Hutch (ORC Spring 2023 Week 5)
The WD enclosure is built, the hutch is installed and the cabinets have been painted. We're in good shape going into the final 3 weeks of ORC!
I call it the "Wax On, Wax Off" method of ORCing (yes, I've made it a verb).
Alternatively, I could call it "ORC on, ORC off," but ORCing off sounds like it could be shocking, distasteful, harmful and even illegal south of the Mason-Dixon Line. Lord knows I wouldn't want to be caught ORCing off in the garage laundry room.
Tongues would wag, madam. Tongues would most certainly wag.
And maybe you don't like the whole Karate Kid vibe or young Danielson. I get it. He was an insufferable dweeb. Thus, I could call it "Playing the Odds."
Whatever the heck we call it, the simple fact is I can't seem to get with the Draconian "weekly update" thing that literally every single other ORCer has been doing since the dawn of recorded history.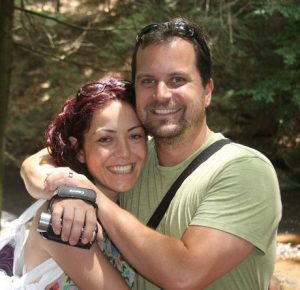 Welcome to The Navage Patch!
If you're joining us from the ORC website – welcome! I'm Greg, this is The Navage Patch, and my wife Handan and I are giving a makeover to the laundry room in our new Florida home. This is our second One Room Challenge, and we can't wait to show you what we have in store for this room!
The thing of it is, no other ORCer has a babes like mine with a project calendar filled out well into the next millennium. Apparently she's banking on some major advances in the fields of Life Extension and Delayed Senescence. She intends to keep my creaking bones and mildewed brainstem active until we've collectively left the Earth and populated the galaxy.
Lucky me.
Anyway, here we are at Week 5. If you're wondering where weeks 2 and 4 are, I'd like you to walk outside on a clear dark night and find the starry river of the Milky Way. Point your finger straight up overhead. Yes, that's it. You're now (probably) pointing right at the heart of our galaxy and the Supermassive Black Hole that lives there.
That is where weeks 2 and 4 went. Sucked into an alternate universe, wiped from existence.
So let's forget about what I'm missing and focus on what I've got! Because now that I've built our beautiful SunJoy gazebo, and now that my parents have returned to the hinterlands of New England, and now that I've been able to take two consecutive breaths without the specter of a dozen unfinished projects breathing down my neck, I'm finally finding time to properly address our laundry room makeover.
Laundry Room Makeover Week 5 VIDEO
Watch our short and fun video below for an overview of our laundry room makeover week 5 before you read the detailed progress.
Watch Our Tutorial On YouTube
We love to see our DIY projects out in the wild! If you try this DIY project and take a picture and post it on Instagram, be sure to tag us @TheNavagePatch!
Building the Washer/Dryer Enclosure
For the WD enclosure and countertop, I wanted something strong but also lightweight and removable. The best way to achieve those goals was to build a frame in place and construct a lightweight plywood countertop to sit atop the frame. This would also give us the required clearance for air flow for our machines.
I installed 1 1/2 x 1 5/8 pine boards along the back and side walls, screwed into studs. The 1 5/8 measurement comes from ripping a 2×4 in half lengthwise.
After a year on the sidelines for betraying me during last spring's Pantry Makeover, I finally got around to calibrating my laser level and getting it back in the game. Still, it'll have to earn my trust again, so I'm still using it alongside a spirit level.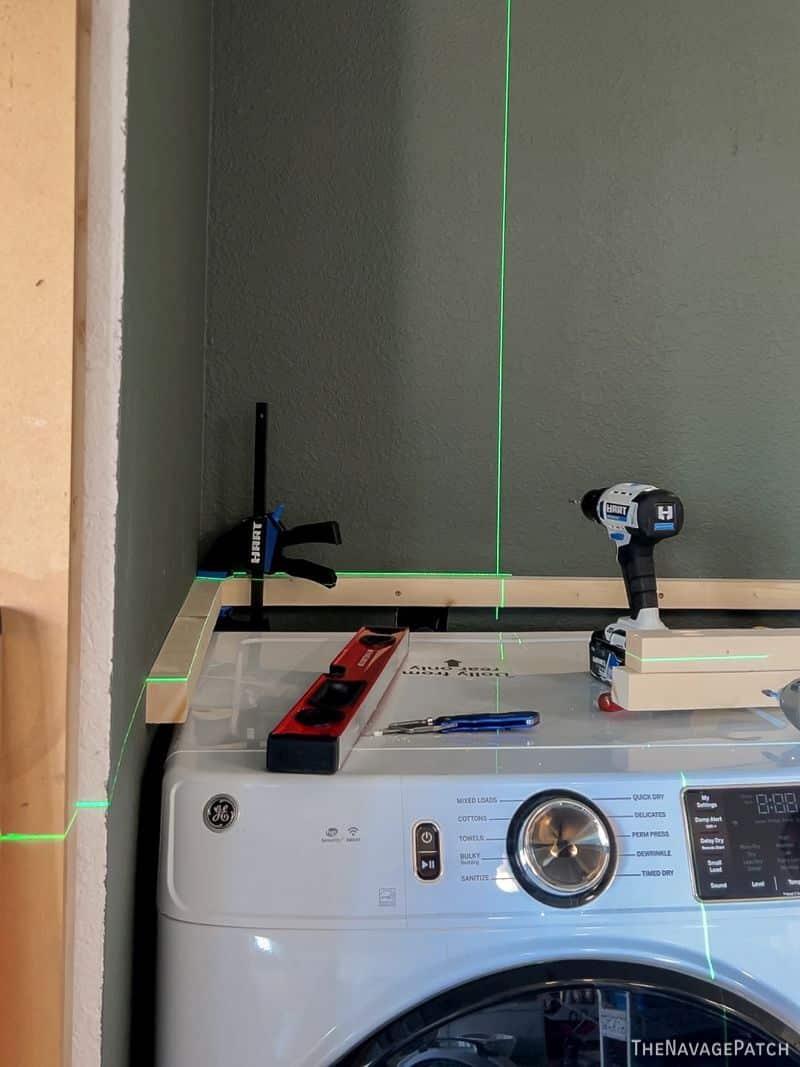 I built legs for the other side. The floor in this part of the garage slopes in two directions which made everything so much more fun and interesting. I mean, who wants to build on flat floors with square walls? Oh, did I mention the walls weren't square? No? Well, I will. Just you wait.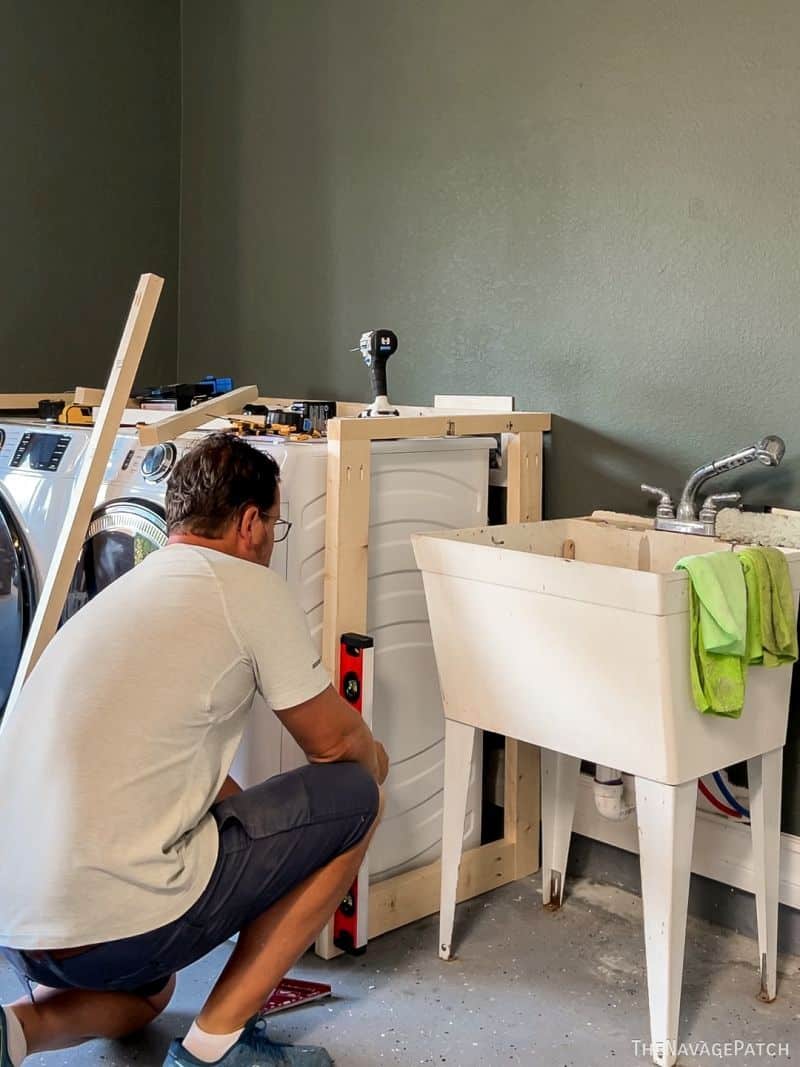 I added a front rail and three supports and secured them with pocket screws.
To keep cost and weight down, I used plywood for the enclosure top. When I made an enclosure in our Georgia home, I used a butcher block, which looks awesome, but it's very heavy and even more expensive. I'll be using a butcher block for the sink countertop (you'll see that next week), but for this one, I settled on plywood with a mitered front edge to which I'll be attaching another mitered piece to give the illusion of a thick slab of wood. Don't ask about my expression below. I have no idea what I'm looking at with such a Judgey-Judy eyeball!
This is the moment I discovered the walls weren't square.
It was the old parallelogram conundrum that plagued us during our gazebo build. A rectangle has short side = short side and long side = long side. So often when we build things, we simply measure sides, and if they're equal, we smile and go on our merry way thinking all is well with the world.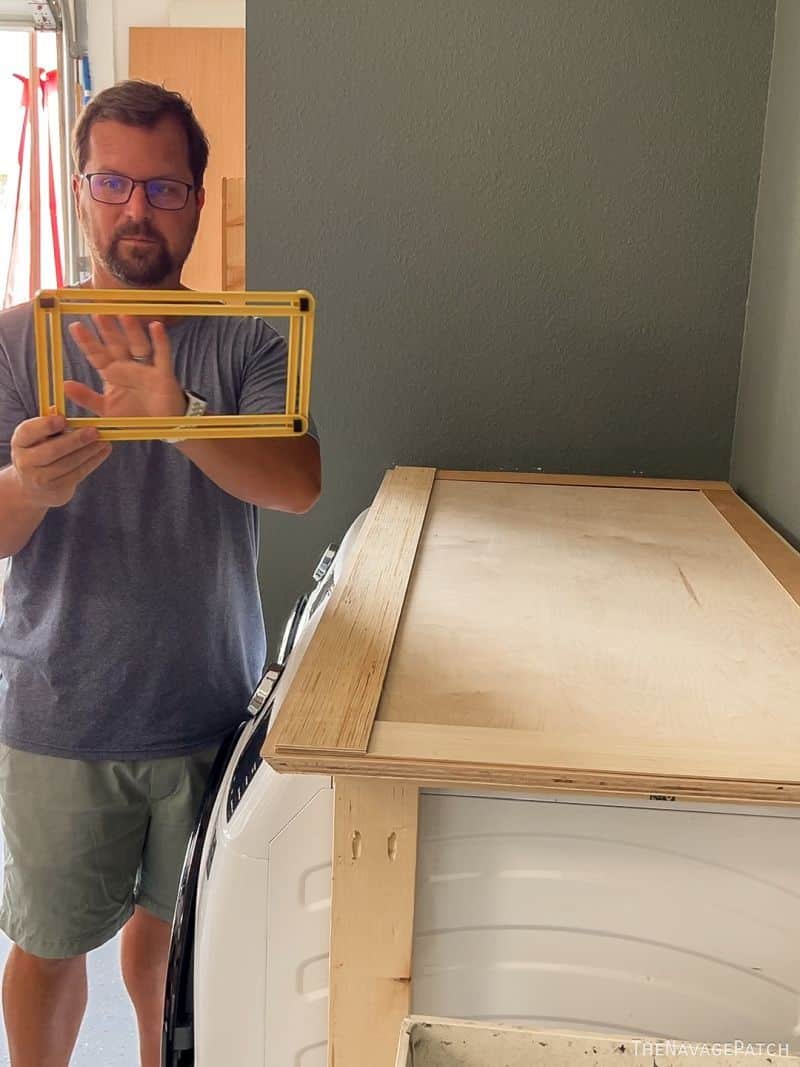 But this shape also has short = short and long = long. But if you constructed a rectangle with those measurements and tried to fit it into the parallelogram shape below…you won't find it very easy nor fun.
And that was the issue with the walls, but on a less extreme scale. Normally, I'd have to scrap the piece of wood I cut, because there's no way I could get the elongated parallelogram from my original rectangle, but we came up with a solution whereby I scooted the back leg closer to the opposing wall, and that gave me the extra space I needed to make an angled cut on the wall-side of my plywood countertop.
To do this, Handan and I constructed a template from thin wood strips hot-glued together (shown in the picture above). We saw this used in Georgia when our new kitchen island was being measured for that huge slab of quartzite we installed.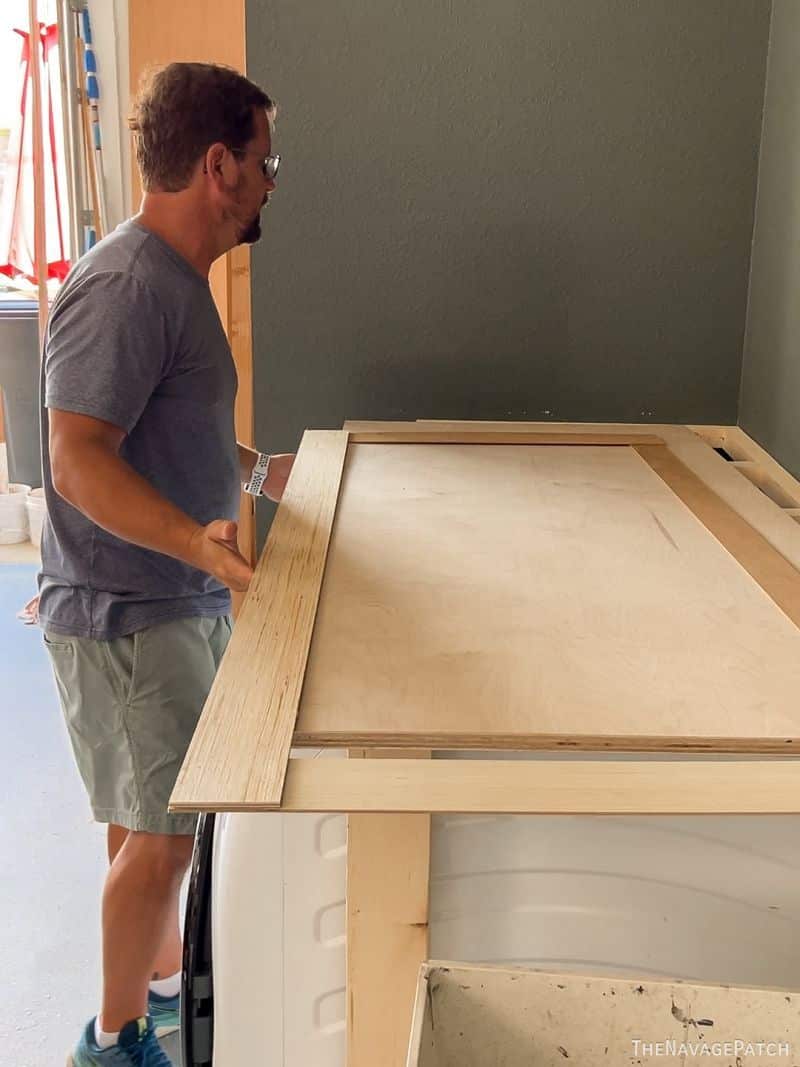 Once we laid the template on the plywood, I marked exactly what needed to be cut, and then my countertop fit perfectly!
Next I made a side panel from 3/16-inch utility panel and installed it with construction adhesive and brad nails.
Then I turned my attention to the sink. There was no easy way to remove this beast, because whoever installed it fused all the PVC pipes together with purple PVC cement. After wrestling with it for far too long, I gave up and sawed through the pipes.
Just add "plumber" to my ever-growing list of skills!
With my babes' help, I installed the front mitered piece of the countertop with wood glue and brad nails.
After filling the brad holes and sanding the whole enclosure, I stained it twice – once with Minwax Weathered Oak followed immediately by Minwax Early American.
After the Weathered Oak…
And after the Early American (side panel not yet stained).
I added a trim piece to bring the front level with the countertop.
Then I added edge banding to the exposed plywood edges and then stained the trim piece and the side panel. I followed that by sealing everything with three coats of satin wipe-on polyurethane.
Cabinets
We wanted something easy and relatively inexpensive for the cabinets. After a lot of hemming and hawing, we finally went to Home Depot to see what they had in stock. I know from experience that their unfinished cabinets can take a very long time to properly sand, seal, prime and paint, so we decided to get pre-painted (not plastic-wrapped) cabinets. We wanted a color called Shiitake from Sherwin-Williams, but obviously we weren't going to find that stock, so we settled on an odd gunship gray they had in stock. We figure, hey, it might work. If not, it's easy enough for me to scuff, prime and paint.
As I suspected, the color was horrible with the colors we already have in the laundry room, so I removed the doors, whipped out my sander and then got busy with my sprayer.
Wow, what a difference!
And finally, my babes and I put the hutch on the enclosure.
And this is where half of Instagram flipped their collective lid.
"I'm not feeling the hutch."
"I don't get it."
"Why?"
And so on and so forth. I guess they'd rather I hang a "Live, Laugh, Love" sign or "You Are Living Your Story," or some other such bland and soulless sentiment.
They don't yet see the final vision, but that's okay – I think most will come around in the end.
For us, this hutch not only looks beautiful and original, but it is also a cabinet. It holds stuff. And compared to the price of two new cabinets that would need to be purchased and painted, this hutch comes in at less than half that price (with none of the effort). So as I've been saying to most of the naysayers – diff'rent strokes – we don't all have to like the same stuff. What a bland and boring world it would be were that the case!
Anyway, this is where we stand, and we'd like your thoughts on the hutch – even if they're negative or uncertain. We don't mind explaining! 🙂
Stay tuned for the final stretch!
HERE IS OUR ORC PROGRESS