Alcohol Ink Bottle Lights (a 10-minute DIY)
Alcohol Ink Bottle Lights are an easy 10-minute project that look great during the day and spectacular at night. Perfect indoors or out!
Look, I get it, you're a busy woman. It's hard to find time to do all the things in a day you'd like to do. What with all the ass-kicking and name-taking you do on a daily basis, who's got time for crafting and DIY? Or maybe you're just lazy like I am (ha! good luck with that one, sister! I'm the KING of lazy!) and want to get some sweet-looking results without squandering your precious energy and time.
Well, madam, this post is for you. I'm going to show you how to make some awesome alcohol ink bottle lights that will only take about 10 minutes of your life, and then you can get back to what you do best: punching life in the gob and stealing its lunch money.
Hell, I'll even cut my usual pre-post yapping to a minimum, so you can get on with your neon life!
Before we begin, be sure to follow us on Pinterest, YouTube, Facebook and Instagram, and click the subscribe button at the top of this page to sign up for our email list so you'll never miss a post!
Alcohol Ink Bottle Lights Supplies List
How to Make Alcohol Ink Bottle Lights
First, grab a bottle.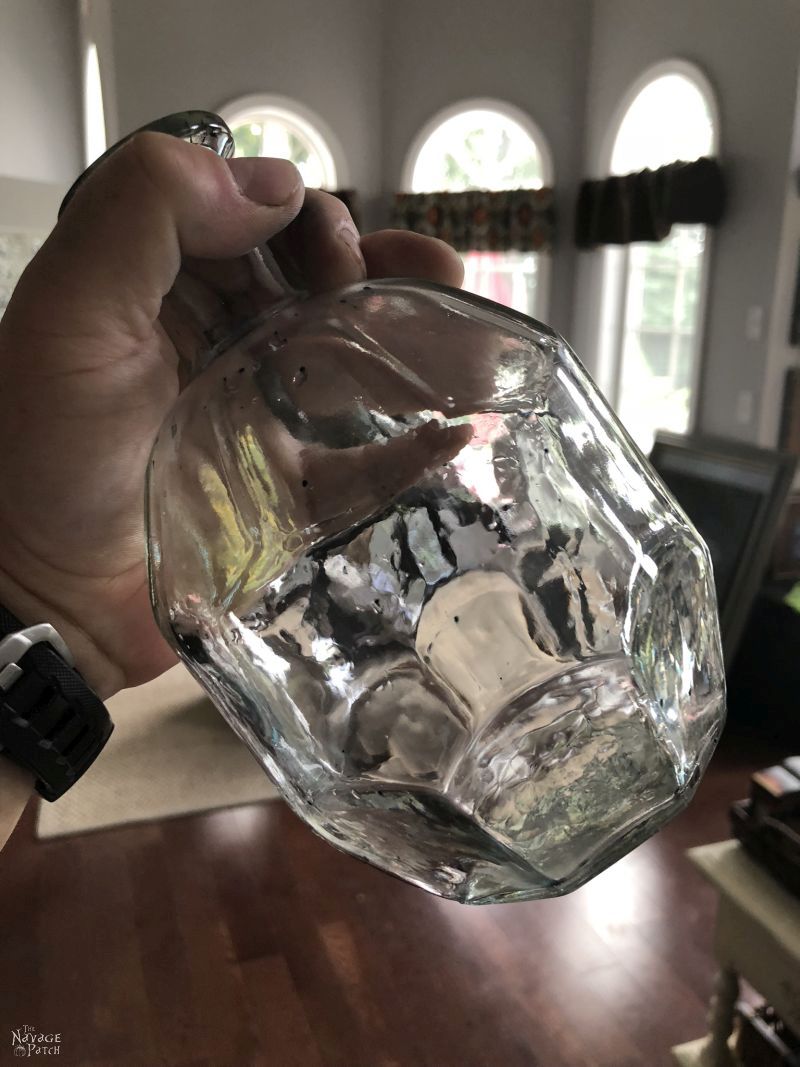 I prefer whiskey or rum, because they come in cool shapes, but if drinking like a pirate isn't your bag, then you grab whatever bottle floats your boat. I used Blanton's Bourbon bottles.
Next, prepare a surface for your project. Alcohol ink can be messy and stainy, so you want to protect your environment. I used a baking tray covered in aluminum foil and topped it with a paper towel.
Pick your colors. I like to keep things simple – some blues and a yellow. They'll mix and make some green. But feel free to use whatever colors you like.
Now, you may have seen some folks do alcohol ink projects where they put the ink inside the bottle. Seems like a good idea, right? Well, I tried it that way, but I had much better results applying the ink to the outside, at least for bottles with narrow mouths like the ones I used. When applied to the inside of a bottle with no ventilation, the alcohol vapors stay in the bottle and keep the ink from drying, and in fact make the ink all run down the sides and pool at the bottom of the bottle.
I started with my darkest blue.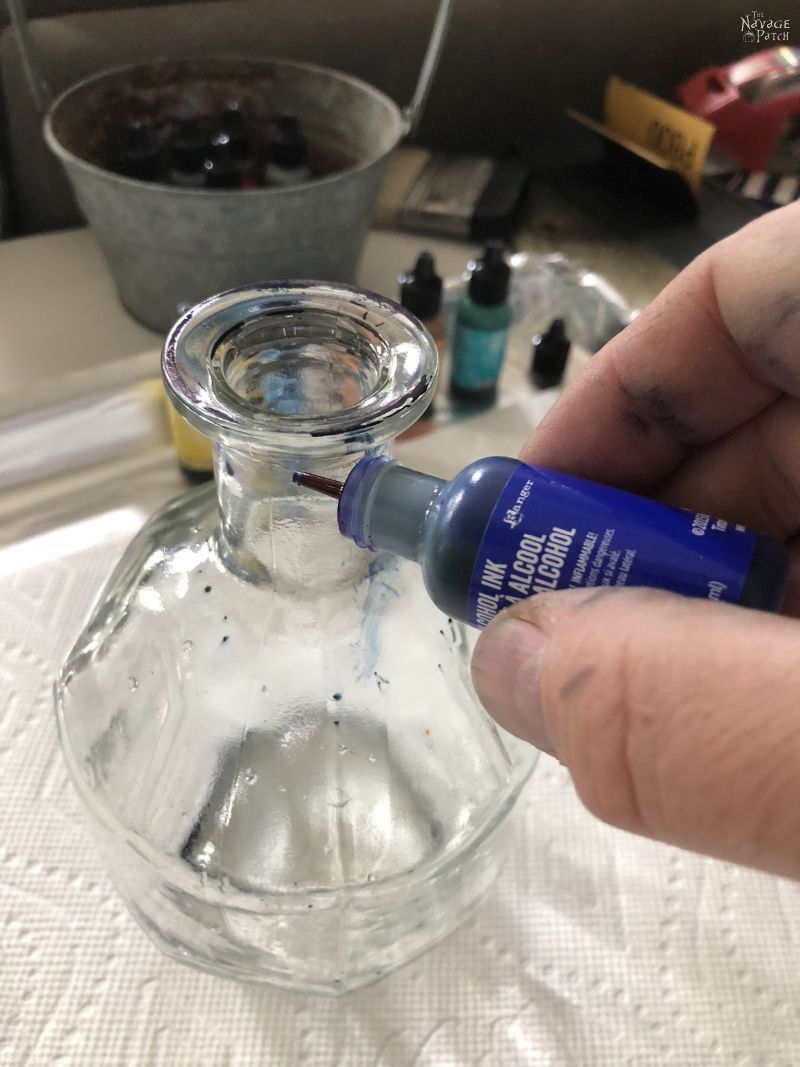 I squeezed it out and let it drip down the side of the bottle. This is easy stuff here, madam. No skill required.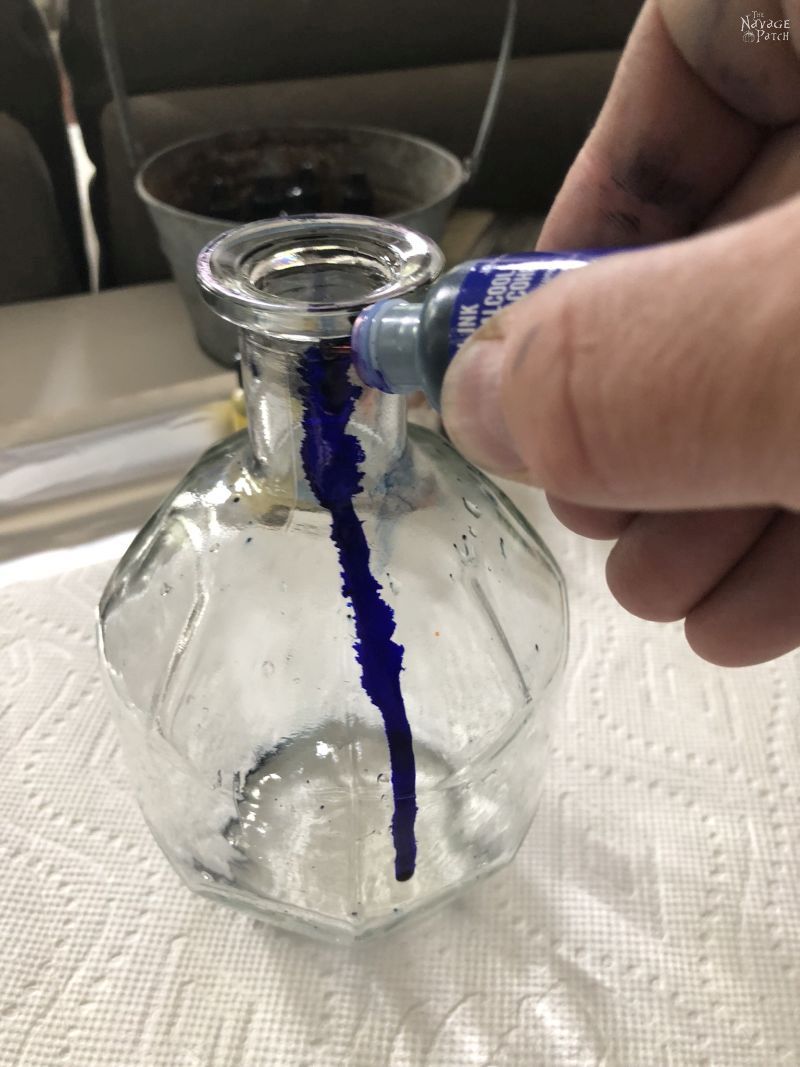 I repeated this about 5 times around the bottle.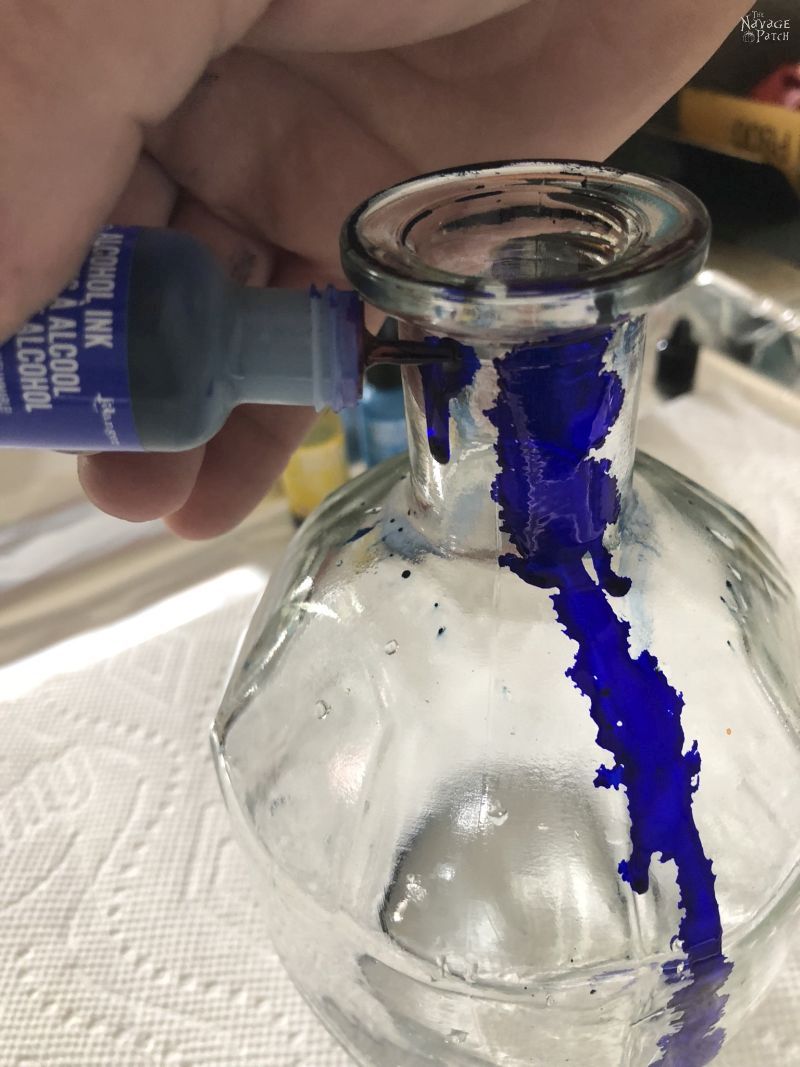 In some places, I started the drip halfway down.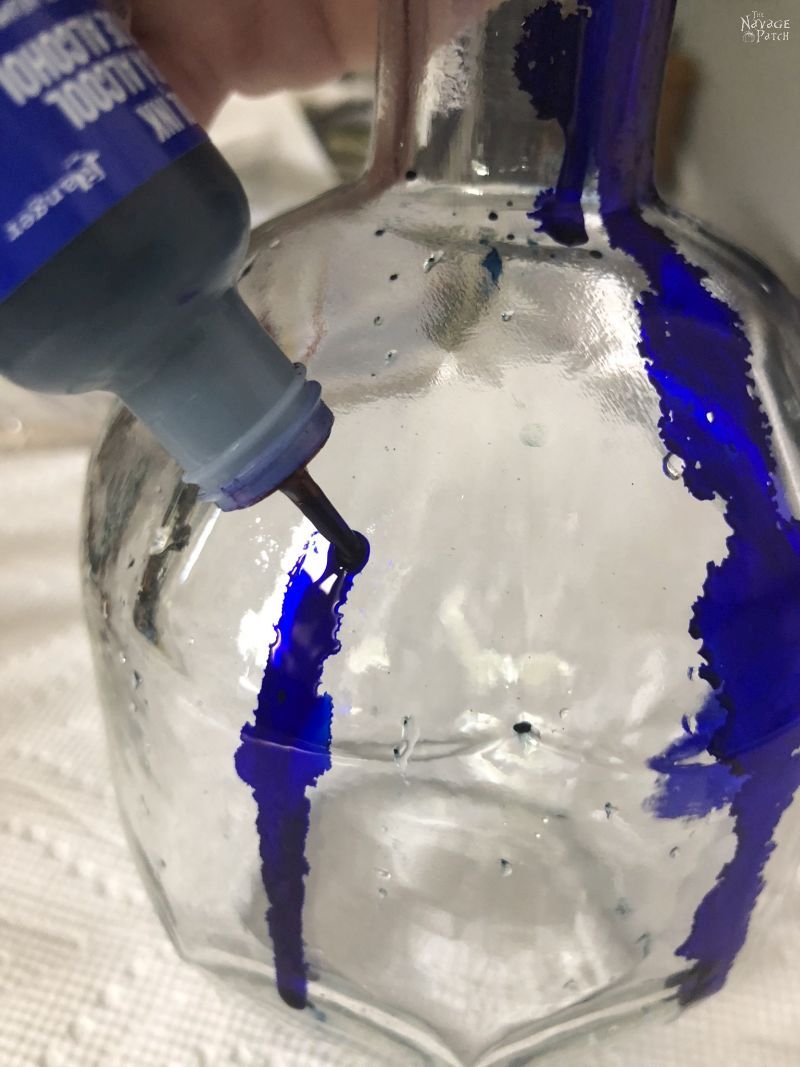 Next, I moved onto the light blue and applied it to the places in-between the dark blue.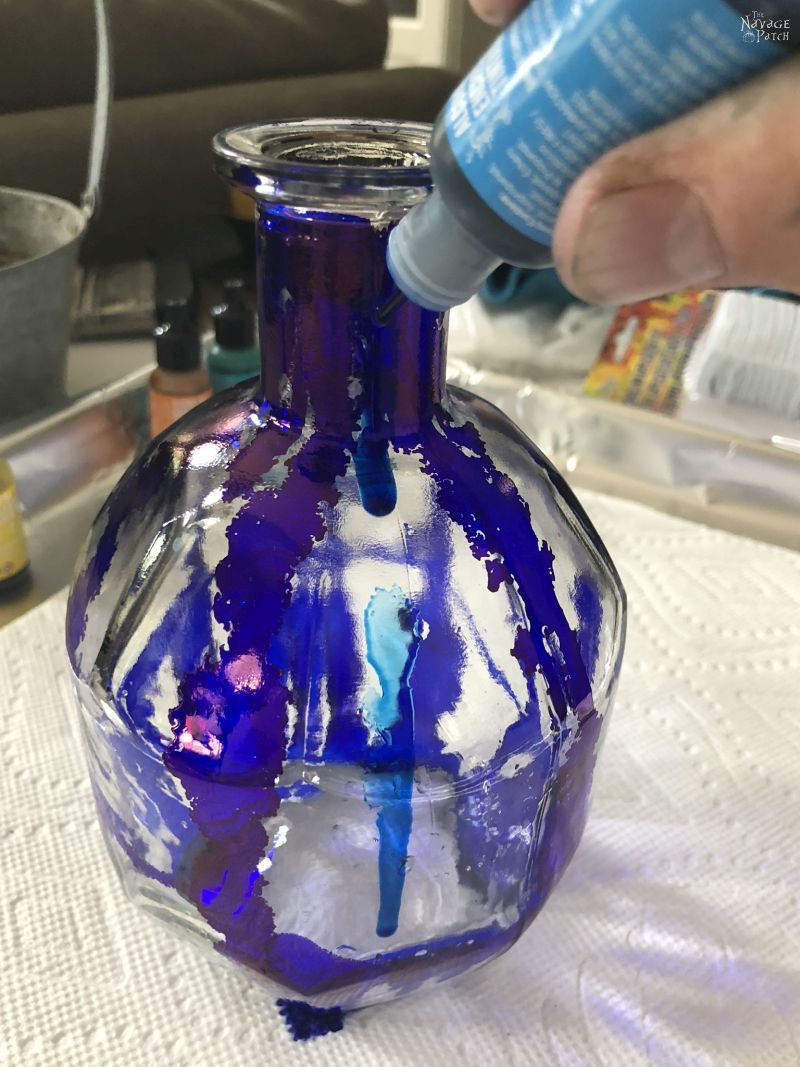 There's no right or wrong here. Just squeeeeeeezin' out some color.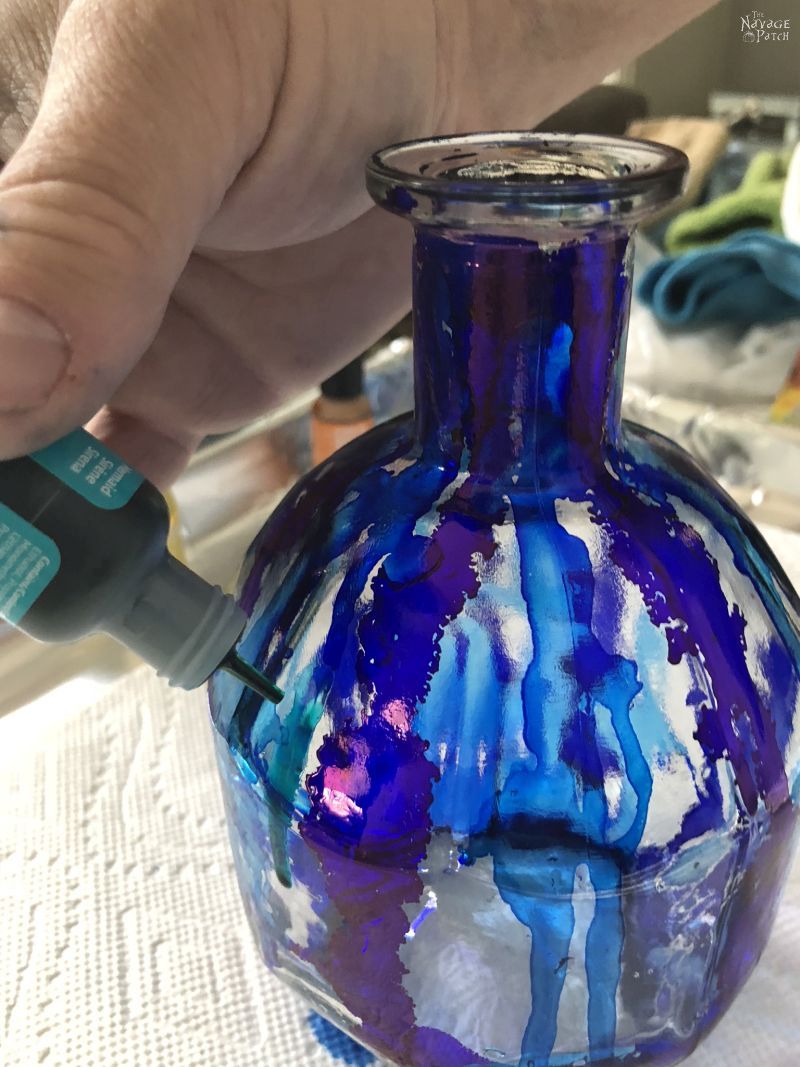 And finally, I applied the yellow in the same way as the blues. Occasionally, I would drip some yellow over the blues to create a green run.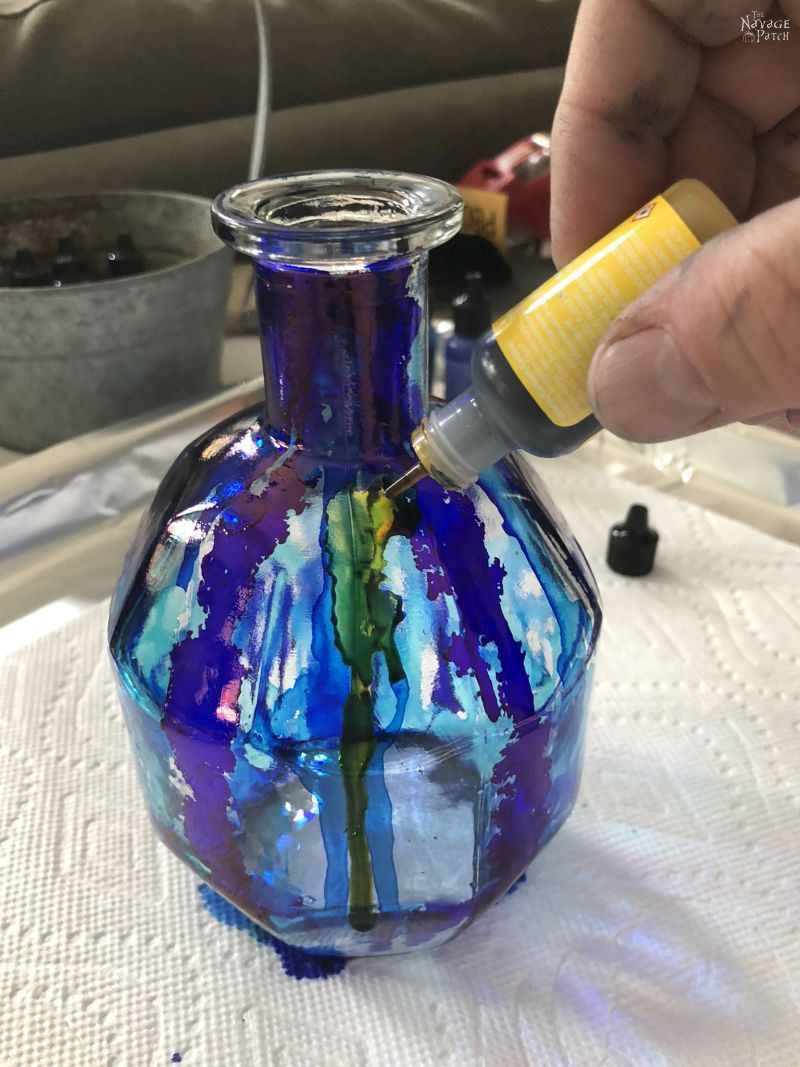 I cycled through the colors again, just filling in dead space.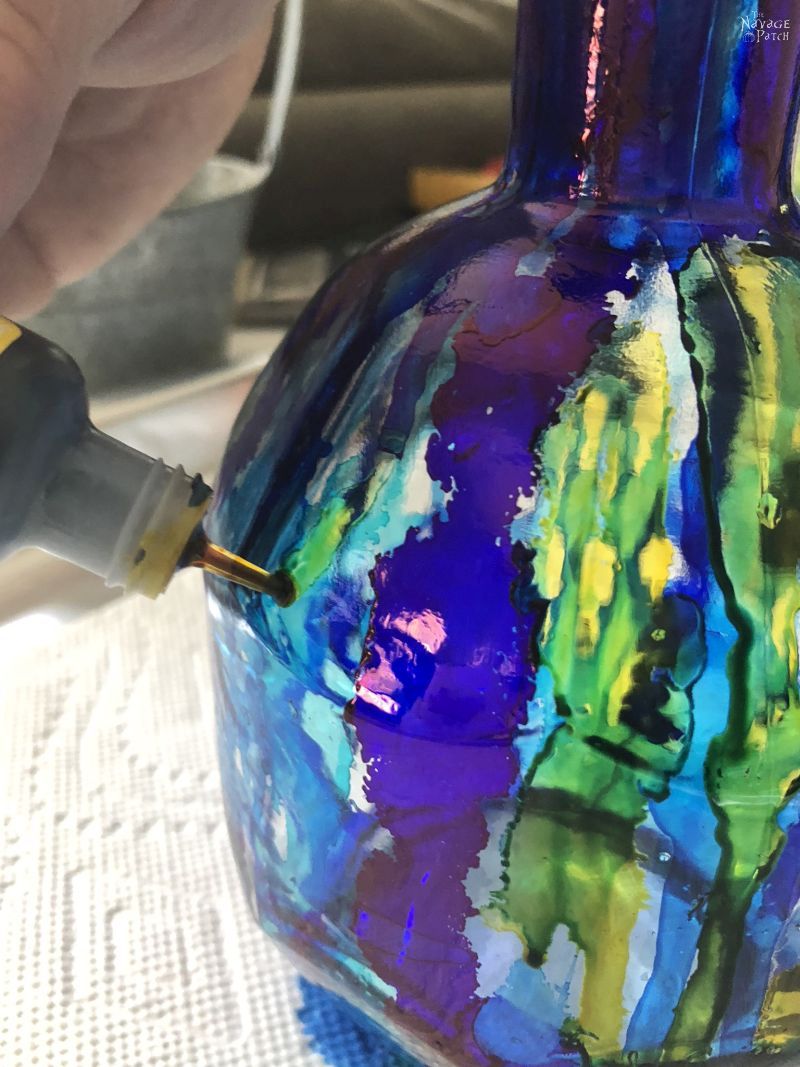 When I was satisfied with the coverage, I gave it about 20 minutes or so to dry.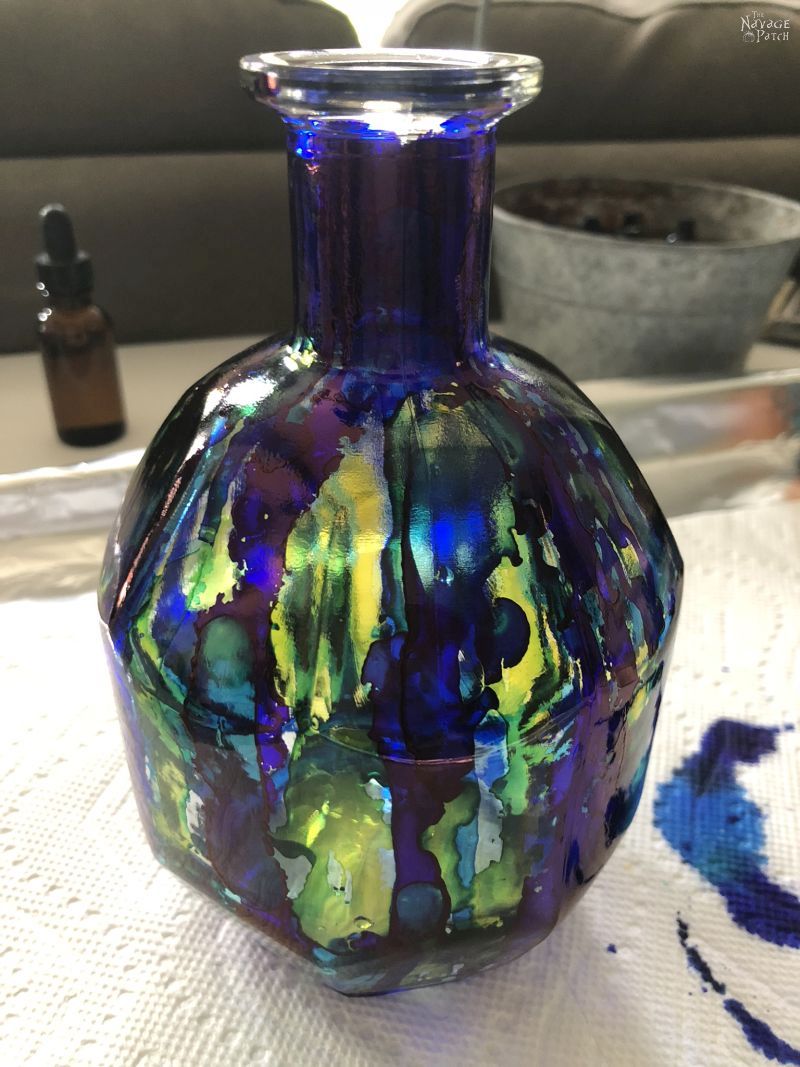 And then I took it outside for 3 coats of Rustoleum Triple Thick Glaze.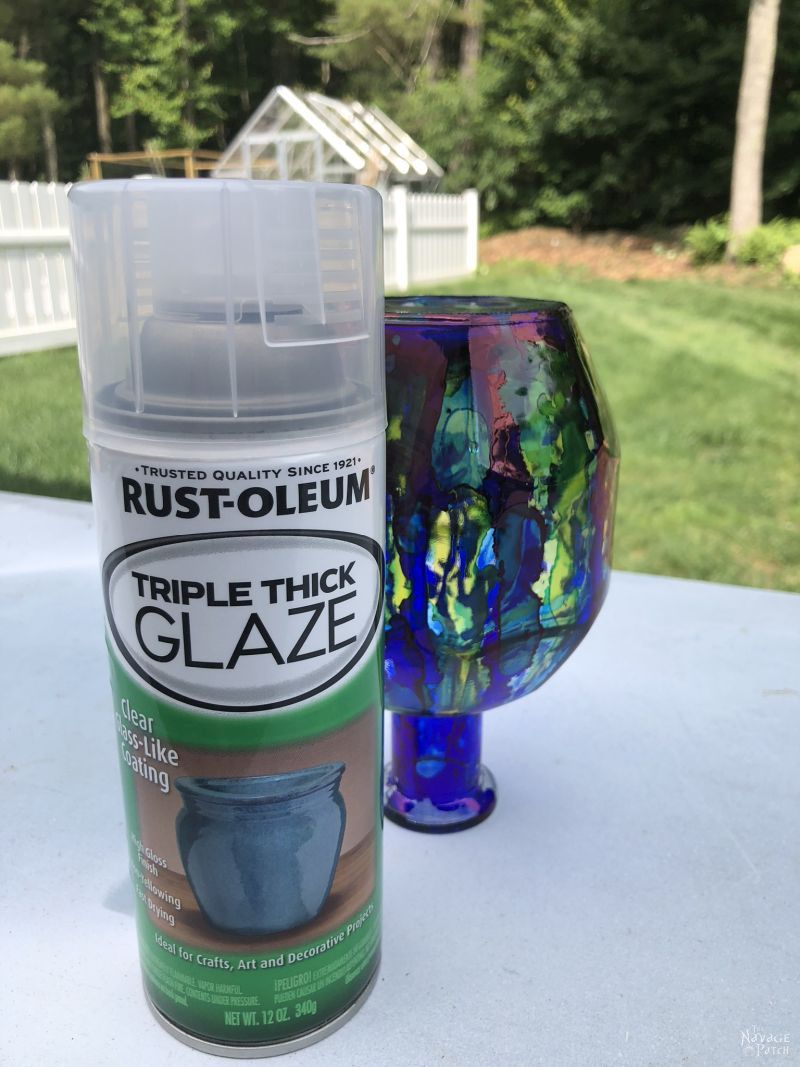 Once the glaze had dried, I inserted the fairy lights…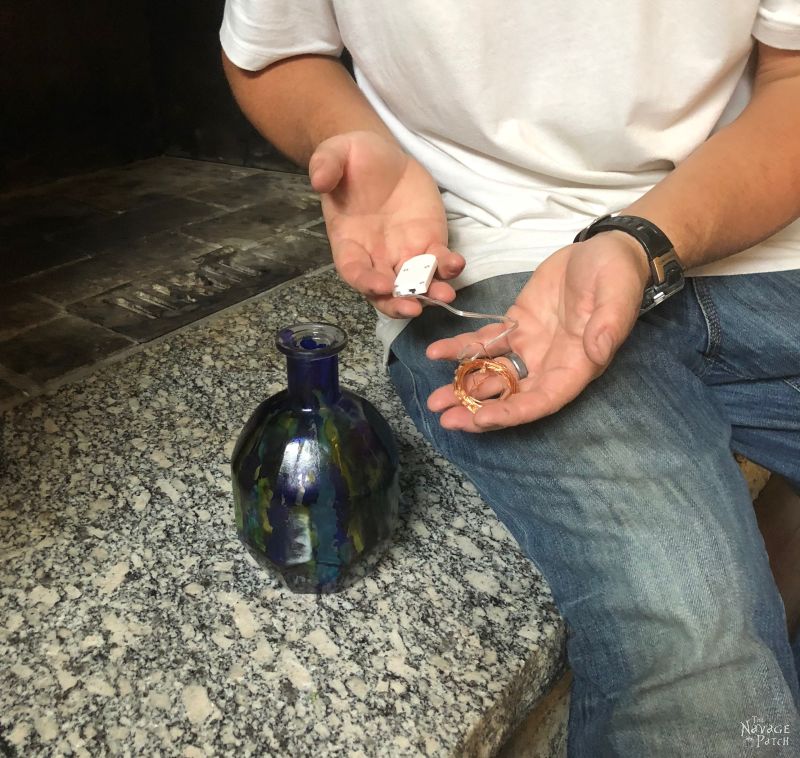 …and my alcohol ink bottle lights were done!
Not including wait times for the ink and glaze to dry, this project took less than 10 minutes. You could make some alcohol ink bottle lights during the commercial breaks of a half hour sitcom! Now that's productivity!
Enjoy the beauty shots, and have fun with your alcohol ink!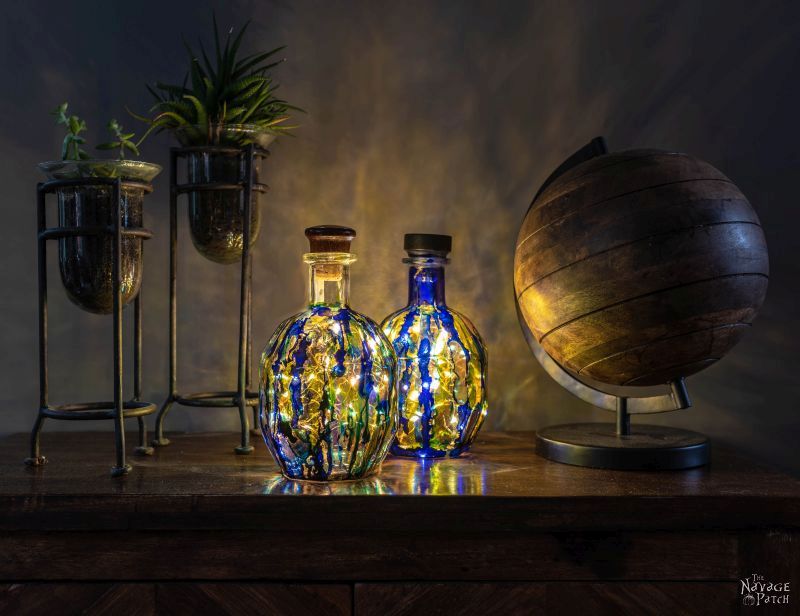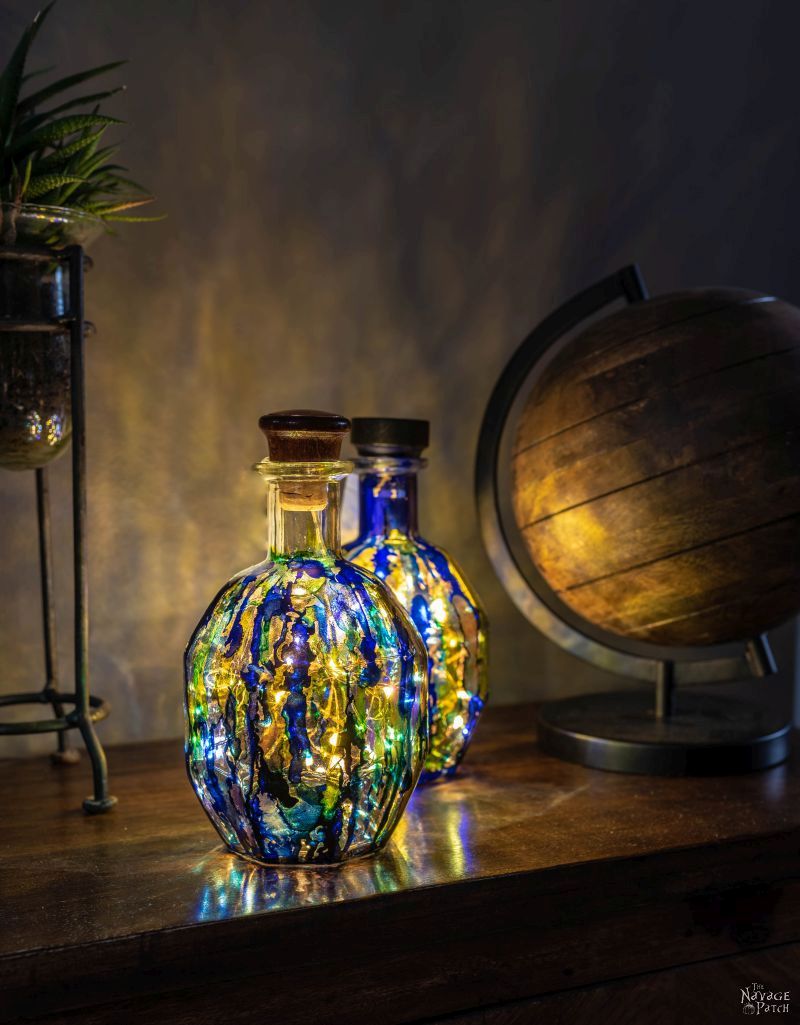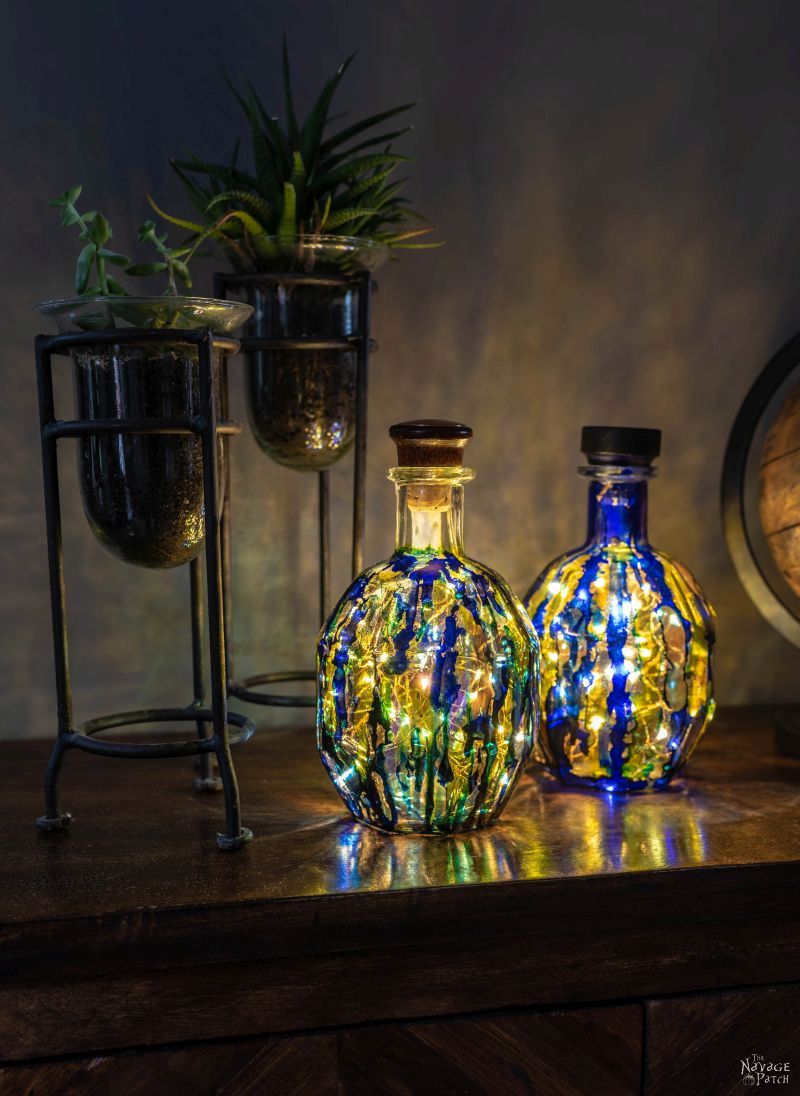 We love it when you share our posts on Facebook and Pinterest!