Lighted Garden Hose Wreath
In this simple, step-by-step tutorial, we'll show you how to make a stunning lighted garden hose wreath. Day or night, on a door or in a garden – it looks fantastic!
Our deck is coming along nicely – we're almost there! Greg is currently working on the outdoor dining table, while I'm trying to finish the smaller items. And once we are done with them, Greg will be doing the reveal. But until then, I wanted share the latest and greatest addition to our deck: a lighted garden hose wreath!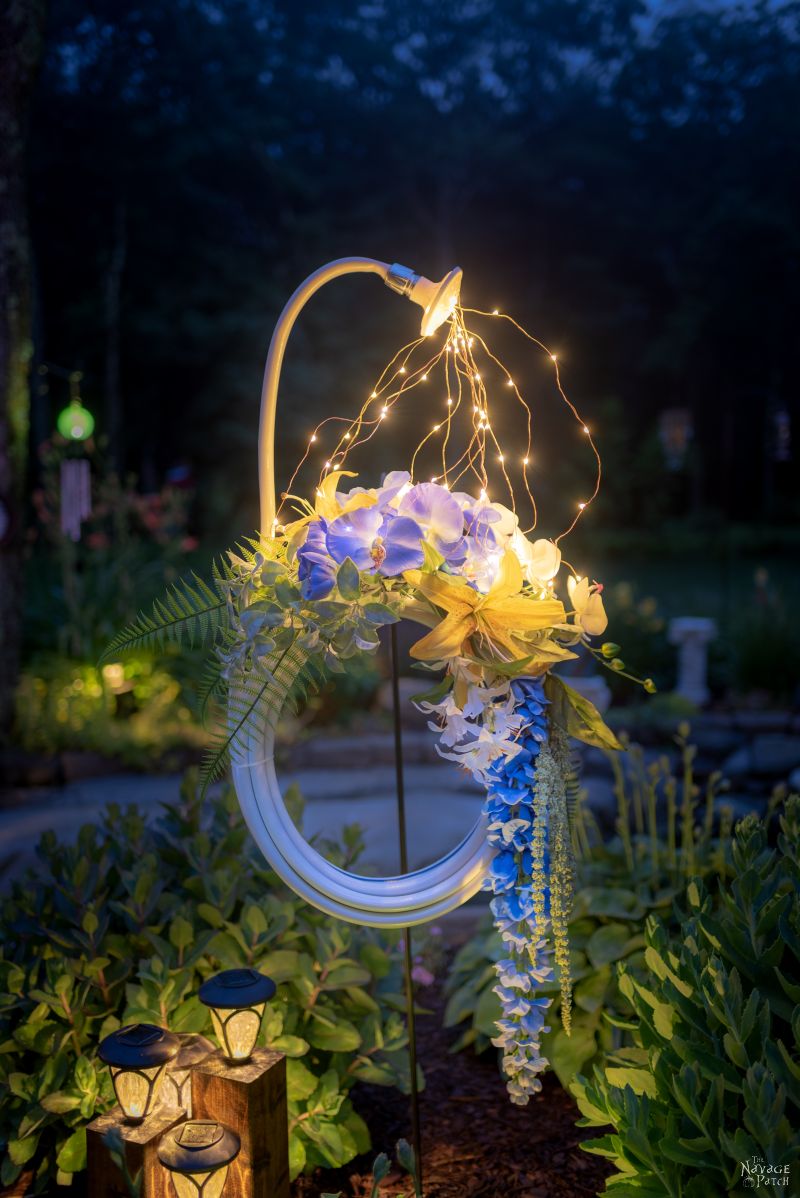 Do you remember my spilling solar lights (aka teapot lights)? Well, in principle this lighted garden hose wreath is similar to that, but since it's a wreath, I didn't use solar lights. And as you can see, instead of using a teapot, I upcycled a garden hose this time! Ok, ok… instead of me yapping about the differences between the two, let's get on with our wreath tutorial, shall we?
Oh also… before going any further, I want to warn you that this a picture-heavy post. But that's only because I really wanted everyone to be able to follow the steps without having any questions about the process. And also maybe because I'm pretty proud of my lighted garden hose wreath, so I couldn't stop myself from putting a ton of beauty shots. Anyway…I'm just letting you know – so you might want to get your scrolling finger ready for some good exercise, hahaha 😉
Now that the long post warning is out of the way, let me give you the materials list for our lighted garden hose wreath.
Before we begin, be sure to follow us on Pinterest, Facebook and Instagram, and click the subscribe button at the top of this page to sign up for our email list so you'll never miss a post!
Garden Hose Wreath Supplies List
An old or new garden hose – I used a 25-foot marine hose. You don't have to stick with 25 feet, but keep in mind that with a shorter hose, your wreath may not look as full, and with a longer hose, your wreath may be too heavy to hang.
30 inch length of copper tubing – it's something that almost all hardware stores carry. But if you can't find it at your local hardware store, here is one I found on Amazon.
Watering can nozzle – last year I bought my watering can for $4.50 at Ocean State Job Lot, and I used the nozzle from that. I suggest looking in your local stores for one, but if you can't find one, here is a nozzle from Amazon.
Flowers of your choosing – we got ours at Michaels, and you can find the list of our floral stems later in the post.
Zip ties – if you don't have it on hand, you can also use wires. Or you can check the nearest Dollar Store, as they always carry them.
Foam wreath form – I bought mine from Dollar Store. But if you don't have a Dollar Store nearby, then you might want to try Amazon.
A drill (or just a drill bit)
And finally our star player: Battery-operated fairy string lights – I used two 10-foot/30-LED warm-white starry lights. If you'd like your lights to be colorful, then you might want to check these string lights out. If you want your string lights with a remote control, then these will do perfectly for this project!
Building The Garden Hose Wreath
After I gathered all the supplies, I straightened the copper tubing.
Then I measured and cut a 30-inch length.
Next, I ran the copper tubing through the garden hose. The reason why I put copper tubing is because I wanted to create a "b" shape with the garden hose. Also, running copper tubing allowed me to bend the top part of the garden hose in the way I wanted. 😉
Once I ran the copper tubing to create the long neck I wanted, I started rolling the rest of the garden hose into a circular wreath shape.
Next, I zip tied the wreath at the two side points (shown in the second picture above) to secure the wreath's circular form.
Now that the hose's shape was nicely set, it was time to adorn the wreath. To do so, I cut a small part of a foam wreath form.
I placed it on top of the garden hose wreath…
… and secured it in place with a zip tie. I have to say, when I am not using hot glue, I love using zip ties with wreaths, as they are very practical and especially with this project, they made my job much easier.
Next, I gathered all the flower stems we bought from Michaels. Michaels always has a great selection of flowers. Luckily, they also had a great coupon selection for this weekend, so it was like hitting the jackpot: great faux flowers at affordable prices.
By the way, believe it or not it was Greg who came up with this floral arrangement. As he is the "beauty shots" photographer of this blog, I trust his eye much better than my own. Hence I asked him to choose all the flowers for this wreath, and he went with the ones listed below.
Before cutting the stems in to pieces, I first did a bunch of trial runs: Greg and I arranged the flowers in different ways to see which one we both liked most. Once we were happy with an arrangement, I took a picture of it (by the way, Greg's arrangement won!). When doing trial runs with a wreath, taking pictures always helps, as you can go back and check how the flowers should be placed. 😉
Now that we had decided on an arrangement, I started cutting the flower stems into parts and building the flower part of the wreath.
Adding Lights To The Garden Hose Wreath
Once I was done with the flowers, I moved on to the last part of the wreath: adding the fairy lights. I took the plastic nozzle off of the watering can…
… and using a step drill bit (by the way any drill bit will do), I enlarged some of the holes on the nozzle. As the plastic was pretty flimsy, turning and pushing the drill bit by hand was more than enough force. But if you will be using a metal or harder plastic nozzle, then you may do this step with a drill.
In total, I enlarged 7 holes: 1 in the center and 6 around that.
Before moving on to adding the lights, I want to answer a question that I know I will receive a lot: I didn't use solar string lights this time, because the ones I have have pretty big the solar panels, so I knew I couldn't hide them properly and still have them get charged with sunlight at the same time.
Therefore I went with the string lights pictured below. I love these, as they are small, their batteries last quite a long time, and you can turn the lights on and off at the time of your choosing. That said, if you really want to use solar lights with this wreath, then you can use these bottle cork solar lights. Cork solar lights have small solar panels shaped like a cork, so they can be hidden easily even on a wreath.
Moving on with the tutorial… As the lights I used are only 10-foot lights, I used one for the center hole and one for the 6 surrounding holes. Also, I wanted to show you that you can attach these lights in two different ways, which is why I used two lights for different holes.
The first way is threading them: I picked the open end of the lights (the end that doesn't have the battery panel) and threaded it through the holes I enlarged, except the center one. And that was it.
The second way is for those who don't like tedious threading. Ok, maybe threading wasn't that tedius, but hey – I don't want to imply that I'm too lazy, ok? Anyway… moving on… For the second way, I folded the light first in half…
… and then again folded it in half…
… and once again, I folded it in half. In other words, I had about a foot or 1 1/2 foot long strings after the last fold – I'm giving the measurement, so if you're not using 10-foot lights, you can figure out how many times to fold 😉
Oh by the way, make sure you turn the lights on to see if they are working before going through these steps. There is nothing more annoying than seeing that the lights don't work after all the work is done. Luckily that didn't happen with these lights, but Christmas experience is talking here – LOL.
After the last fold, I put a thick craft wire through the loop.
The craft wire was to help pull the lights through the center hole of the nozzle as shown in the pictures below.
Once the lights were pulled through the center hole, I cut the craft wire shorter and turned it into what I call a loop-lock (No, this is not a technical term. I totally made this one up! LOL), as shown in the pictures below.
Once I made the loop-lock, I slowly pulled the lights from the other end of the nozzle, and that placed the loop-lock right to the center hole, keeping the lights locked in place.
Now it was time to glue the nozzle to the end of the garden hose. I used hot glue, as it's always easy and quick.
Do you see the copper tubing at the end of the hose in the upper picture? That's where we're going to glue the nozzle – to the end where we slid the copper tubing in from. So it's going to look like the hose is watering the flower wreath from the top 😉
Once the nozzle was secured in place, I started arranging the string lights to make the whole thing look a bit more magical, and that was that!
Ladies and Gentlemen… *insert drum roll here*… may I present to you my lighted garden hose wreath!
So what do you think? Looks dreamy, doesn't it?
I love the flowers, I love the lights, I love everything about it! With this one, I'm really so proud of myself! There I said it 🙂
And the best part is that you can use it as a wreath hanging on a frame or on your front door…
… or you can use this as a garden decor just by hanging it on a shepherd's hook and leaving it in the garden.
And now here are a couple of close-up pictures to show you how real those flowers look.
As I mentioned before, Michaels always has a great selection of flowers. I mean really… look at these… almost real! Don't you agree?
I have to say, I'm not the greatest wreath maker in the world, and I always get intimidated by wreath projects. But as you can see, even I managed to pull this one off. Therefore, trust me when I say this: making this wreath is quite easy! Put it this way – the hardest part for me was to come up with a decent flower arrangement, no kidding! [*ahem* who came up with the flower arrangement? – Greg] So I hope you all give this one a try, because I know you'll love it, as it adds a gorgeous glow to wherever you place it!
Before I leave, In case you are wondering how I hung the wreath on our outdoor chalkboard, I used these magnet hooks. The chalkboard is magnetic, so these magnet hooks make it pretty easy to hang anything on it. If you want to make one similar, check out Greg's outdoor magnetic chalkboard post!
Before you leave, here are some more garden decor and lighting ideas for you: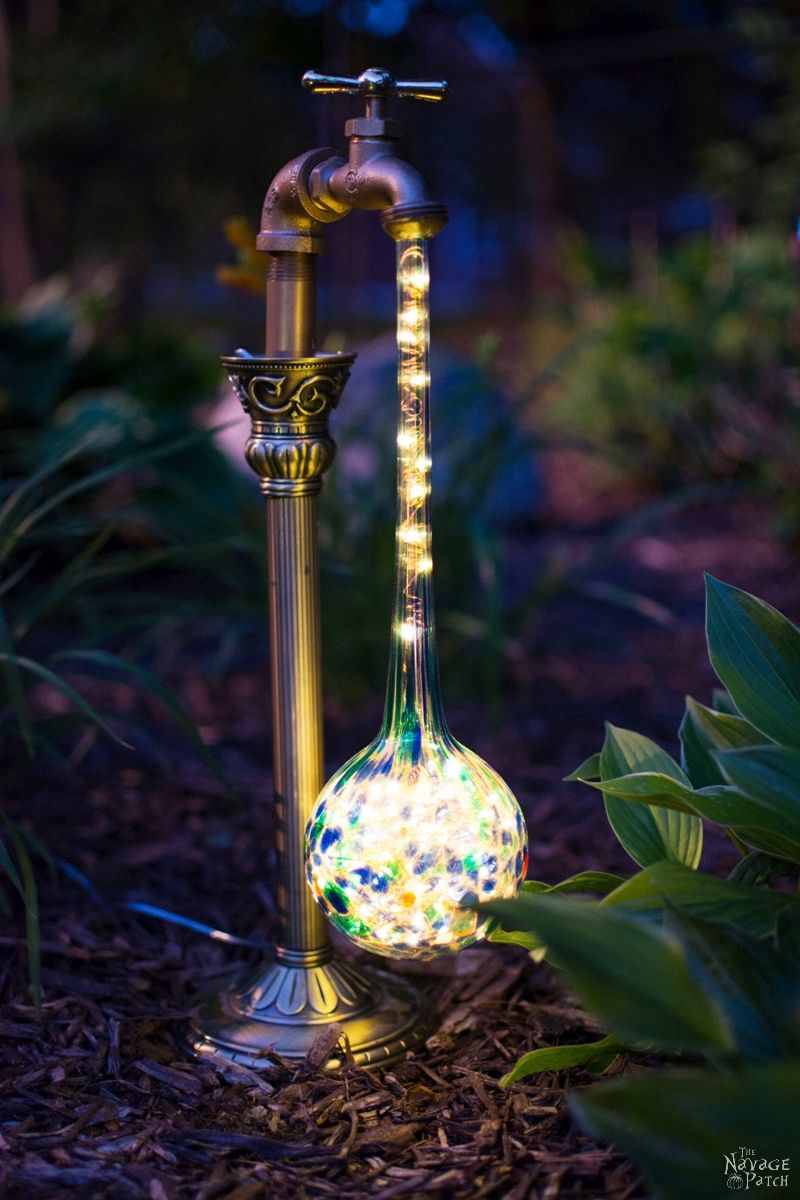 We love it when you share our posts on Facebook and Pinterest!