Florida Home Goals: 4-Month Update
It's been a little over 4 months since we moved into our new Florida home, so it's a fitting time to take a look back at our original short-term goals list and see how we've progressed. Besides, what else am I going to do when my babes and I are under house arrest with the 'Rona? Can't go out. Can't even go past the lanai without donning our bio-suits. Baris is still healthy, and we're doing all we can to keep it that way before he heads back to university next week!
Here's the original list:
Florida Home Short-Term Goals
Install smart deadbolts on all doors
Master closet makeover
Install 3 additional electrical outlets to lanai
Fix screen on lanai
Paint front door
Paint outdoor lantern and run power to it
Install smart and silent garage door openers
Interior wall painting (in progress)
Wage war with fire ants
Deploy snake shield for bukbukbuk snake-averse wife (We expanded the yard and kept the snakes)
Though we didn't finish everything on the original list, we also added a few additional projects:
Back yard expansion
Plant banana trees, grapefruit tree, guava tree, lemon tree, orange tree, pygmy date palms, etc
Patio expansion (in progress)
Let's take a closer look at our progress.
This was number one on our list and our number one priority. we got it done as quick as we could, but not before my babes snuck in another "top priority" project smack dab in the middle of this craft room makeover:
Because having only one major renovation, makeover or project going on is for chicken-sniffing pansies, my babes wanted me to pull off a start-to-finish pantry reno smack dab in the middle of our craft room makeover.
I did it because I'm good like that. Look, I'm not saying I'm Superman or Aquaman or even Iron Man or Captain Florida, but it is an undisputed fact that I've never been seen together with any of them. Just sayin'.
Install smart deadbolts on all doors
When deciding between two options, more often than not, I'll make the wrong choice. For example, when I sold our Georgia house, I had the choice to take the smart deadbolts off the door and replace them with cheap locksets or leave them there as part of the package. I chose to take two and swap them with cheap locks but leave the front door's fancy Schlage Encode. Little did I know that by the time we set up in Florida, supply chain issues and god-knows-what-else depleted the nationwide inventory of Schlage Encode. Home Depot didn't have it. Lowe's didn't have it. No other physical store around here had it. Amazon didn't have it. There were a few listed on eBay selling with a $200+ premium to their retail price. Even with the two I brought, we needed 3 more to secure every door. After an exhaustive online search of every Lowe's and Home Depot in a several hundred mile radius, we found 3 Schlage Encode locks at a Home Depot in Bainbridge, Georgia – 120 miles away. We made the trip, and it was worth it, because I can't find them anywhere anymore (besides privately on eBay for inflated prices).
Master Closet Makeover
Soon. Real soon!
Install 3 electrical outlets in the lanai
I will get to this one at some point this fall. It should be a fairly straightforward DIY.
Fix screen on lanai
Aka, Penny's DIY doggie door. I fixed this earlier in the summer, but I haven't had the change to write about it yet. May come later this year or early next year.
Paint front door
We just bought a new paint sprayer, and this door will be its first project! After that, it's going to get a great workout painting our kitchen cabinets. 🙂
Paint outdoor lantern and run power to it
This will be another late summer/fall project.
Remove columns in dining room and replace with walls
Welp, this one is hounding me. We had professional help to remove the columns and frame the walls. Then came the exciting part: brick!
But the guys provided by our contractor botched the job. They never used their laser level because it had a dead battery, and they were too lazy to call the boss for a new one. This resulted in brick lines that were off-square. Each morning, we had to tell them to remove a portion of the previous day's work and do it over. Not only that, we had to show them how to do it! After three days of this, we had enough. They were not invited back for a fourth day. To top it off, they left a mortar-y mess each night (that I had to clean), they spilled a soda on our new LVP floor and didn't clean it up or tell us, and they dumped grout-water onto our lawn after being instructed to dump it off the property which resulted in a huge white patch of thin concrete on the lawn that I'm still getting rid of.
So yeah, they've been fired since late June, and I've been a little bit dreading the task of finishing their colossal fluff-up.
Fortunately, my babes helped me mark the layout of brick on the main arch yesterday, Covid-be-damned! Nothing like climbing ladders with fever!
I hope to have that dining room finished before Baris heads back to school next Thursday. Actually, hope has nothing to do with it. I have to finish that room. Literally everything else depends upon it, from unpacking to cleaning to having a place to display and photograph our Halloween crafts! We're dead in the water until I can get it sorted.
Look for a few posts about this particular adventure, starting soon!
One of the reasons we're behind schedule (besides my lazy, half-century-old ass) is that I got myself priced into doing a lot of jobs that were earmarked for contractors when they priced themselves out. Case in point: our luxury vinyl plank flooring in the living room, dining room and front sitting room/guest bedroom. We wanted a professional to tear out the carpet and install the LVP, but their prices were so outlandish that we ended up doing it ourselves and saving thousands of dollars. Of course, the trade-off to those savings was time, but around here with a kid in college, money trumps time any day of the week!
Facebook Marketplace to the rescue once again! Gotta love cheap finds that work just as well or better than something pricier from a store. It was a quick project that gave us some much-needed storage space.
Install smart and silent garage door openers
Yeah, this one's gonna need a clean garage, and we're still a ways away from that happening. I have a lot of work ahead of me before we can tackle that particular project. I had hoped in the spring it would get done while Baris was home this summer, but as usual, I squandered the time I could have been working, and now I'm scrambling to catch up.
Interior wall painting
This is an ongoing thorn in my side made worse by the need for three coats to cover the previous green on the walls. Someday I'll be finished. Someday I'll look back on all this and laugh…
Wage war with fire ants
I found a company that does what no other company around here can do: completely eliminate fire ants from a property in a single day. Other companies spot-treat mounds with a chemical that may kill the ants, but more often just drives the nest elsewhere in the yard. The company I found sprays the whole yard – every square inch – with a more dilute concentration of the same chemical they sprayed on our foundation for termites. It wasn't cheap, but it's been 4 months, and we haven't seen a single fire ant. When we moved in, you couldn't take a step anywhere on the property without hitting a mound. Best money we ever spent!
Deploy snake shield for chicken wife
We've reached a compromise. By extending the back yard, we've shrunk Snakeville and moved it far away form the house. And since I've only seen black racers, Handan has agreed to let them live since they eat rattlesnakes. Everyone wins! Well, everyone except the pygmy rattlers. They can rot in a black racer's belly for all my babes cares for them.
Projects not on the original list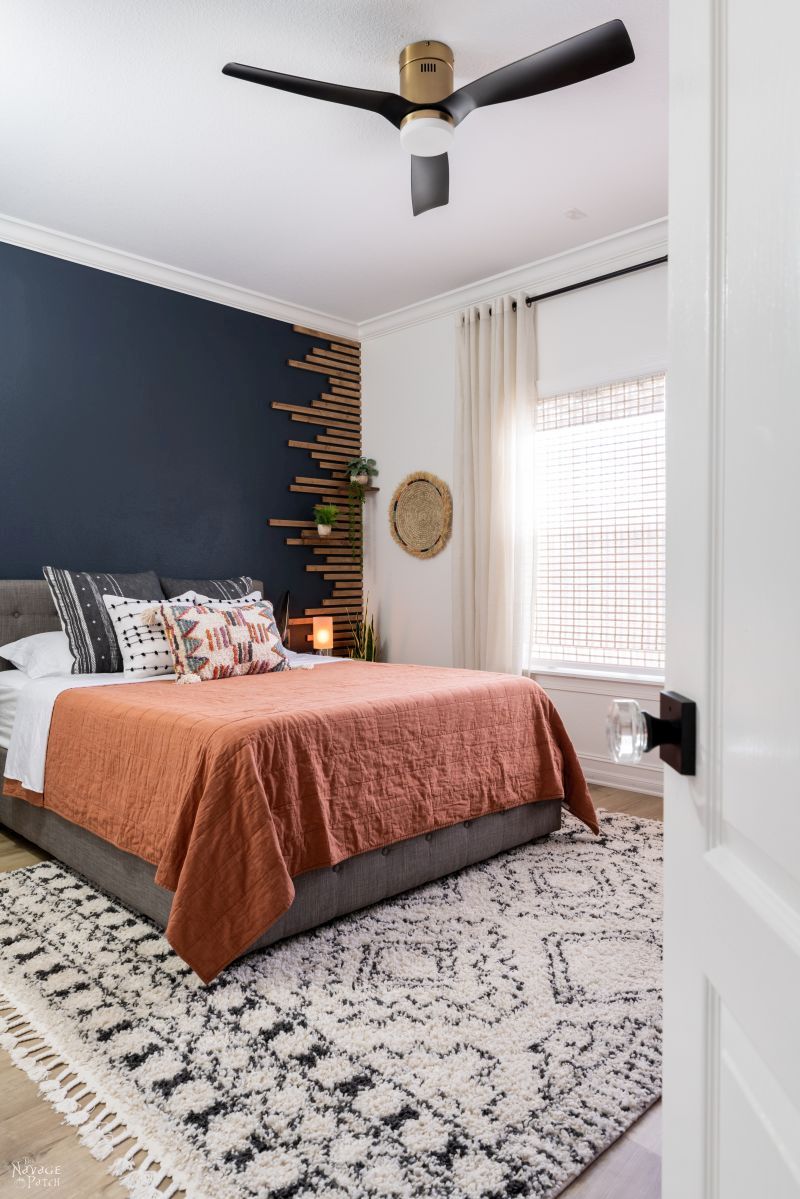 We fit a lot of projects into Baris's bedroom makeover, and the end result is stunning. I underestimated the time it would take to finish it, plus we tore out his carpet and installed new LVP on a whim one day. We wanted it finished for him by the time he got back from school, but it ended up taking half his time with us! But it looks so good, that all is forgiven.
Back yard expansion
It started out like this:
The grass ended less than halfway to the property line, and the back half was all brush and brambles. We hired a crew to root scrape the mess. Simple mowing wouldn't do a damn thing, as the whole area was crisscrossed with tree roots, and the roots of every weed, vine and pricker in the Florida panhandle.
When they were finished, it looked a little something like this:
Now at this point, most would lay sod and be done with it. But after chasing down several quotes (it's like pulling teeth to get a quote down here) and seeing all of them north of $10,000, we decided to seed it ourselves. It was hot work with rakes and a tilling machine (heroically operated by Handan), but we got it done.
They wanted $10,000. We did it for about $500.
The left portion still hasn't filled in, as we seeded that one more than a month after the first area. By next year, I'll have the weeds under control and a vibrant Bermudagrass back lawn. Hopefully, the aggressive Bermuda will spread and choke out the Centipede grass that's everywhere else.
Here's another one for the They Wanted Too Much So We Did it Ourselves file. A thousand bucks, can you believe it? We preferred the sound of no bucks and an angle grinder!
*******
So that's where we stand just over 4 months in. Once I kick this Covid, I'll be full-throttle working on the dining room brick wall and finishing it before my boy heads back to school. After that, we'll knock out those remaining entries on the original list and start in on a whole new list, all while making and sharing some awesome Fall, Halloween and Christmas crafts!