If you're looking for creative and easy DIY outdoor lighting ideas, then we've got you covered with this collection of gorgeous landscape lights. Whether you prefer solar or wired, you're sure to find something to light your desire!
Summer is our favorite season here at The Navage Patch. Oh, we're not beach-goers nor boaters nor vacationers. Nope. In fact, we tend to work like dogs on landscape and gardening projects all summer long. And given my aversion to back-breaking labor and excessive heat, you'd think that I, at least, would hate the season. But summer is the one season when Handan and I can slip outside at night to enjoy our new deck and our landscaping all lit up by our DIY outdoor lighting.
But enjoyment is fleeting, and progress never sleeps. My lovely wife, Progress Handan, has even more landscaping ideas for us this summer which will require even more landscape lighting. I guess the only blessing is that we don't work after dark, so I'll have my martini, and she'll have her spiced rum, and we'll both be outside every night under the stars listening to the frogs and crickets sing their summer songs under the warm glow of our landscape lights.
Since we've been scouring the web looking for the absolute best ideas for our DIY outdoor lighting, we figured we'd round 'em up and share 'em with you!
Before we begin, be sure to follow us on Pinterest, Facebook and Instagram, and also click here to sign up for our email list so you'll never miss a post!
Oh my, would you look at that! Our first DIY outdoor lighting idea comes from my wife! Now, what are the odds….
Even though we already have two of these beauties in our yard, her post deserves a spot on this list, because there is nothing like them, anywhere. There's a lot of borrowing and influencing and outright stealing of ideas in this competitive world of blogging, but Handan's Waterdrop Solar Lights are 100% original. That's why they went viral, and that's why they're on this list. They are among the most beautiful additions to any garden, and they're pure magic at night!
Moving on from the "wow" to the "practical and pretty," we have a great solution for all those broken ground spikes that plague the inexpensive solar path lights sold in big box stores. Oh, hey, wow, this one is ours, too. Hey, wait a minute…is this list rigged? Two in a row from The Navage Patch? Yeesh, talk about "fair and balanced!" But seriously, we have tons of awesome lights that aren't from us, I swear, so stick with me. Anyway, back to these awesome Cedar Cube Solar Landscape Lights – Handan made me make these a while back, and they've been a fantastic solution for us. Bonus: I show you an easy little trick to clear up those hazy and degraded old solar panels!
Okay, enough of me tooting our own horn (though I may try to sneak another one of ours in later), let's move on to our next easy outdoor lighting idea, courtesy of Karen at The Art of Doing Stuff. She's taken a couple of old glass shades and turned them into glowing garden orbs.
Handan hit upon that same idea a couple of years ago, but with color-changing solar lights.
For a simple but dramatic lighting solution, rope lights are perfect for illuminating long stretches of landscaping or a deck with beautiful soft light.
It's like a line of fire through your yard! All you need to create this stunning look is a rope light and some landscape staples.
Let's move from lights in a rope to lights on a string. It's amazing the magic you can create with a set of simple string lights, especially when they're strung between two wooden poles. They give any outdoor space a rustic, old-timey feel.
When hung under a pergola, string lights create a cozy and inviting environment that is perfect for entertaining.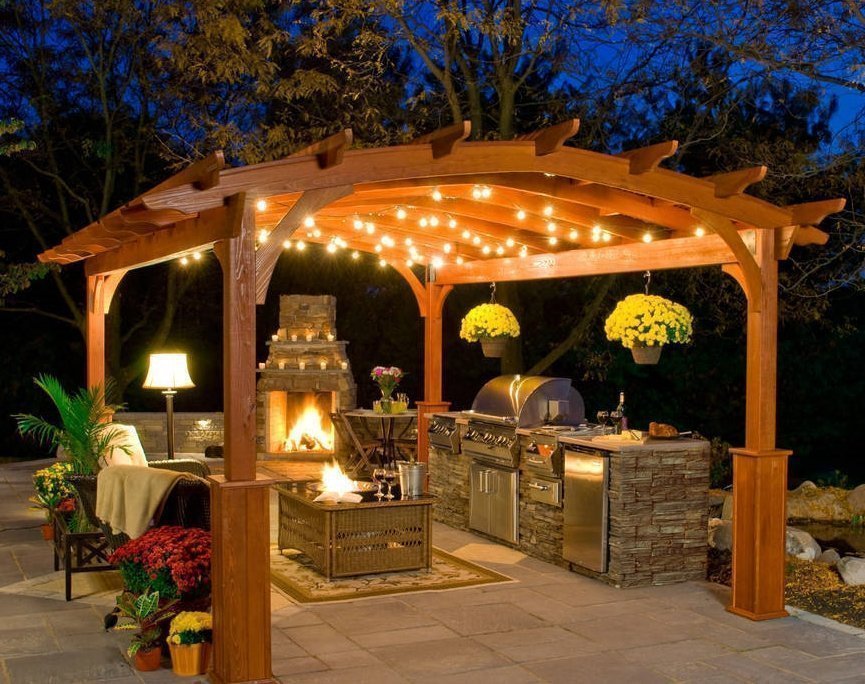 If you shrink the bulbs way way down, you get starry string lights. These little guys are perfect for smaller landscape lighting needs. Handan used them to create her Spilling Solar Lights, and they look great in the garden.
For another awesome project using starry string lights, check out the Anthropologie hurricane knock-off that Sarah of Sadie Seasongoods made using an old brass 'n' glass hanging chandelier!
If you have wild grapevines growing in your area, Lynne Knowlton shows you how you can make lighted grapevine balls for your yard. No grapes growing nearby? No problem! You can buy grapevine ball here, and make these beautiful tree-hangers.
Or you can pick up two metal planters from Lowe's and DIY these outdoor globe lights.
If you have trees in your yard, you can simply wrap lights around them. I love this look – especially in the tropics when palm trees are wrapped this way!
Click on 'Page 2 of 2' below to see more creative and easy DIY outdoor lighting ideas.