The Pond Project – Part 3: The Reveal
CONTINUED FROM>>
Look, I know you just want to get to the final reveal pictures, but bear with me a little while longer, so I can walk you through the landscaping. I promise not to yap as much in this post, so you can get right on to those fancy glamour shots. Actually, I promise nothing. Let's carry on. But first, let's have one more look at the "Before" pics.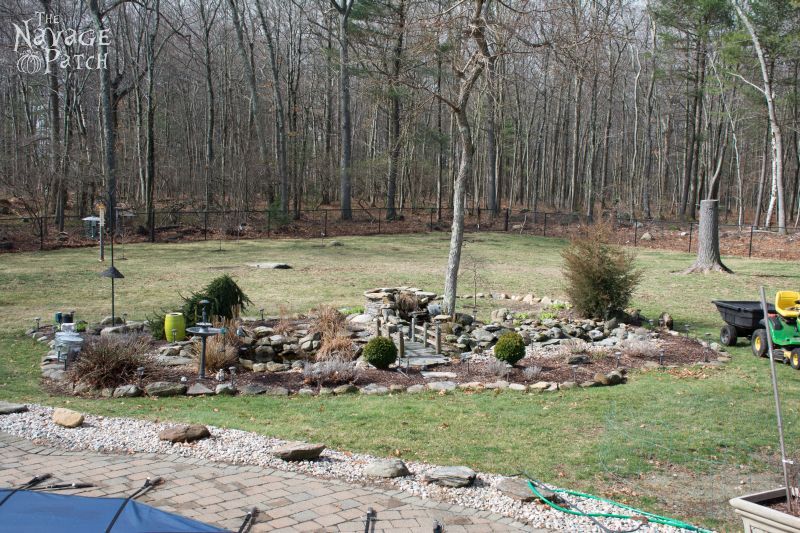 One of the primary goals of this undertaking was to replace the Haphazard Ring of Lumpy Stones with a sleek, uniform border made from retaining wall bricks.  This would not only look better, but it would hopefully deter our dogs from walking all over our plants and flowers. Handan started by removing a ring of sod from the border so she could have a slightly larger area to landscape.
I started laying the bricks early in the project, working a little bit at a time.
While I carried on with the wall, Handan started the landscaping. Working section-by-section, she removed much of the old mulch and most of the old plants. She then carried over endless wheelbarrow-loads of topsoil to raise the whole level of the landscape area. Next, she laid down landscape fabric, secured it with landscape staples, planted her flowers, plants and shrubs, then covered the area in mulch and decorative stones. She had the tougher job, by far!
The dirt patch in the photo below was once covered in daylilies.
They were a pain to remove when I was doing it myself using a regular shovel. Then Handan gave me a scrawny-headed shovel that she claimed was made for that sort of thing. Meh, couldn't hurt, so I gave it a whirl.
Wow, what a difference! Those daylilies practically leaped out of the ground.
We decided to leave a few daylilies around the waterfall, but we relocated the rest. We also removed all that sod from under the Japanese Maple.
Using flat rocks, we built pathways to and from the footbridge, to the pump and to the bird feeders.
Handan worked every day on this part or that. Here she is picking up little stones.
I'll bet you she's smiling. Wanna check?
Yep. I knew it!
During this time, I ordered a bio filter for the pond to help clear the dead algae from the water. We partially buried it behind the waterfall and covered the rest with a fake rock. If the rock doesn't weather on it's own, Handan will weather it to make it blend a little better. For now, it's okay, and it looks better than the filter.
Making progress – we removed the grass from the Japanese Maple, filled in some dirt, covered it with landscaping fabric, and Handan started planting.
Handan planted a lot of bulbs. To keep them safe from our feet and especially from the dogs, she marked their locations with the white flags used for marking invisible dog-fencing. Since our dogs already know that white flags equal pain, they steer well clear of the nascent bulbs.
When she finished planting and mulching, Handan turned her attention to setting lights and decorating with statues and ornaments.
Some decorations were found and some were made by Handan, like this one.
She also made this awesome birdbath, which she wrote about earlier this week.
For lighting, we mostly used inexpensive Home Depot solar lights, many of which are now on their third season. When we first installed them, we quickly realized what the one-star reviewers were bitching about: the stakes that came with the lights broke almost immediately. To fix this, I made new ones from cedar.
The cedar stakes were a huge improvement, but they still broke whenever the dogs barreled into them while chasing squirrels or whenever I kicked them over while not paying attention. Handan's solution this year was to make little cedar cubes to hold the lights. If they get knocked over, we just stand them back up. It's a simple and elegant solution to the problem.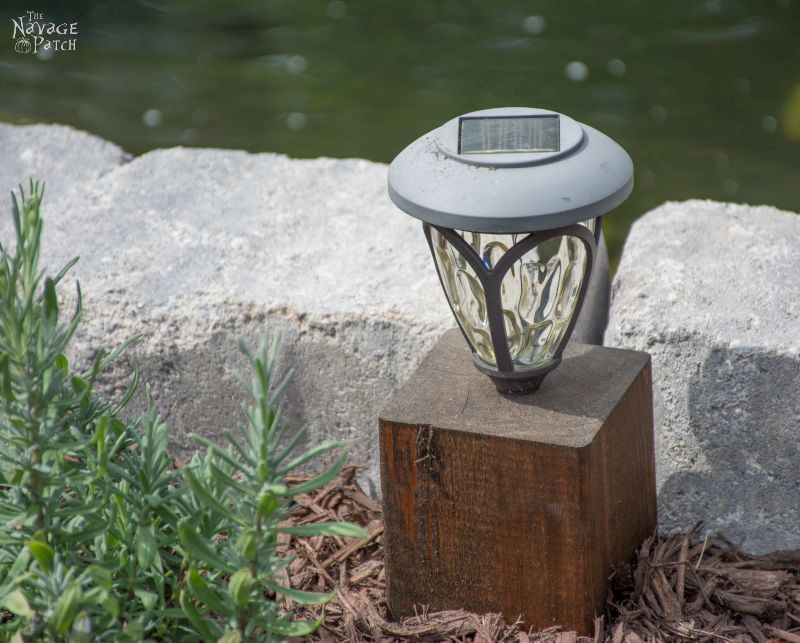 I also made some of these guys…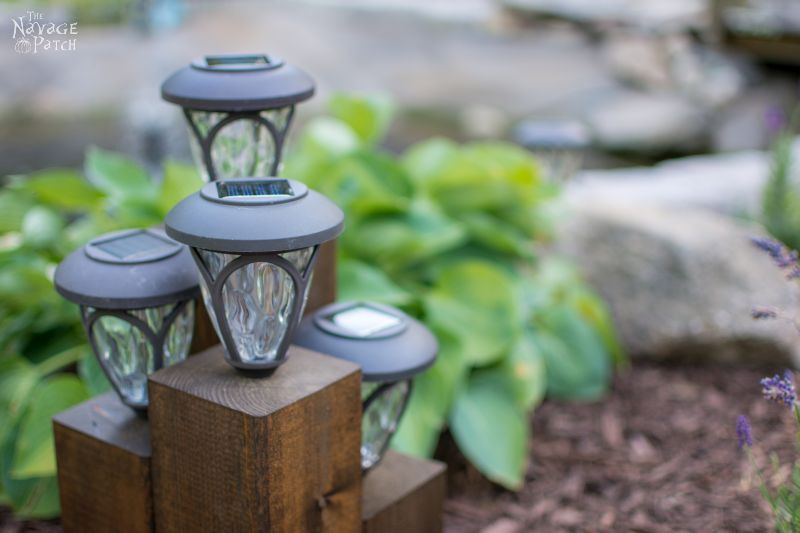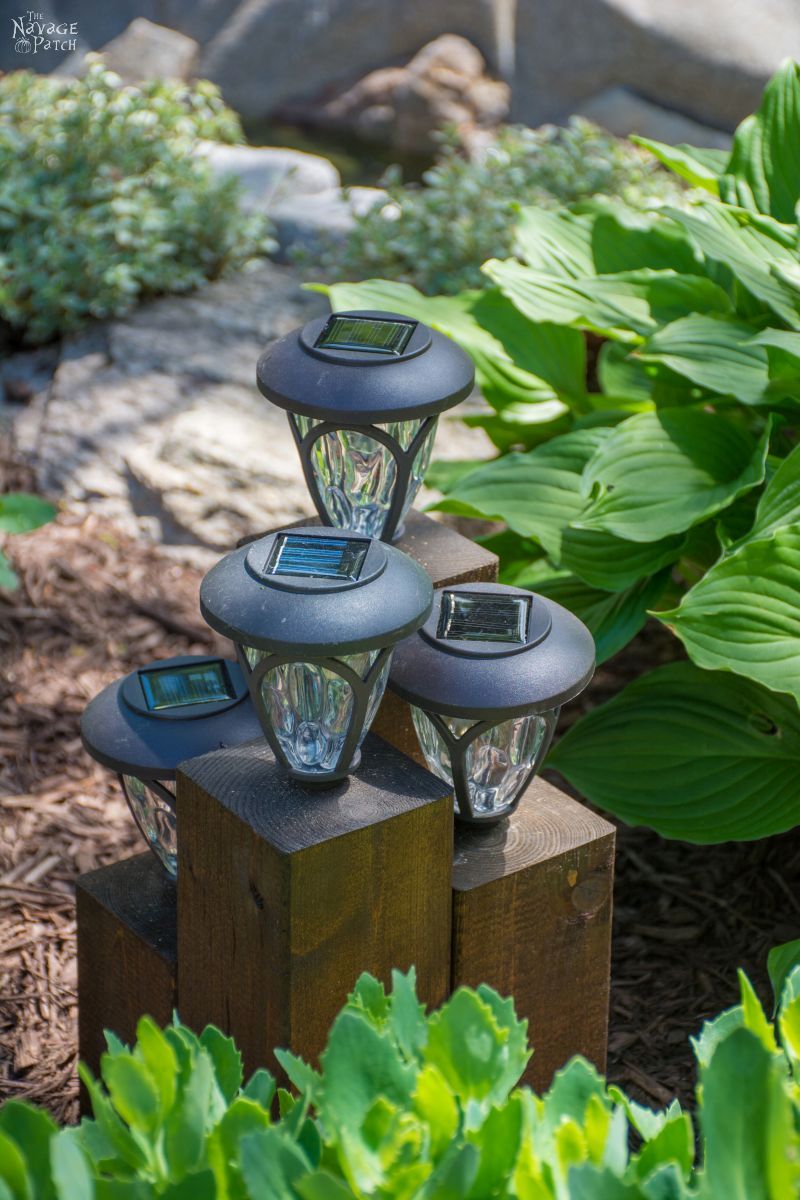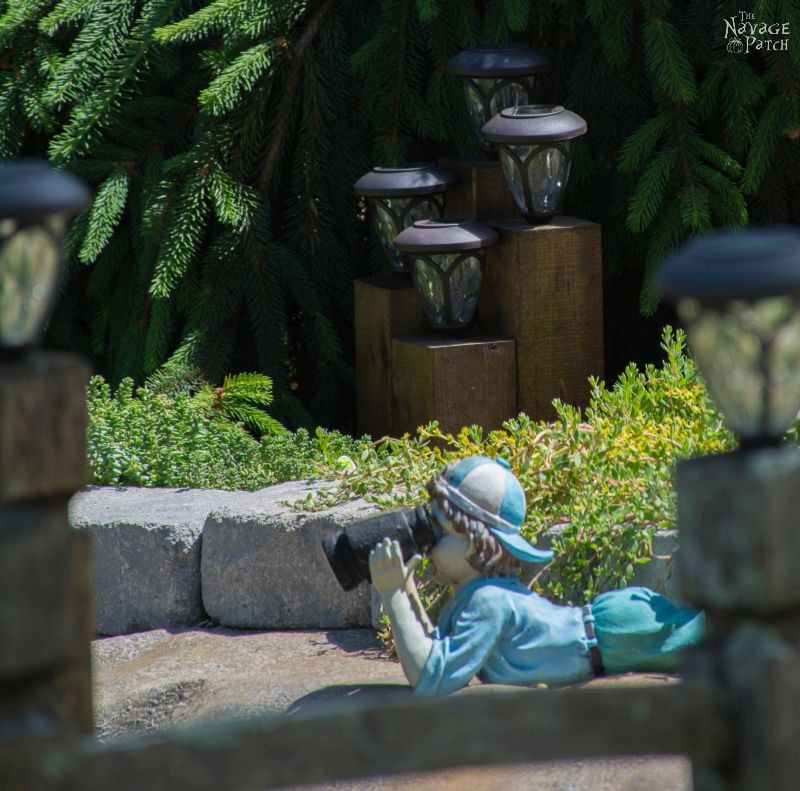 Handan ordered a fountain for the pond that makes The Bellagio water fountains in Las Vegas look like a bunch of spitting clams. Behold!
Revel in its Glory!
Eventually all those succulents around the rim of the pond will start to grow down the sides. We will keep them trimmed just above the waterline.
Okay, okay, you've waited long enough. It's time for the final pictures…the Big Reveal! (and one picture of me with a weed whacker between my legs…seriously!)
Click on 'Next' to continue.