DIY Spilling Solar Lights (aka Teapot Lights)
DIY Spilling Solar String Lights will make your garden sparkle at night! This is a quick and EASY project that you'll love to look at each and every night! 
Summer nights are all about light here at The Navage Patch! And we've found that the best way to bring some sparkle to our garden is by using solar fairy lights in our DIY garden lighting projects.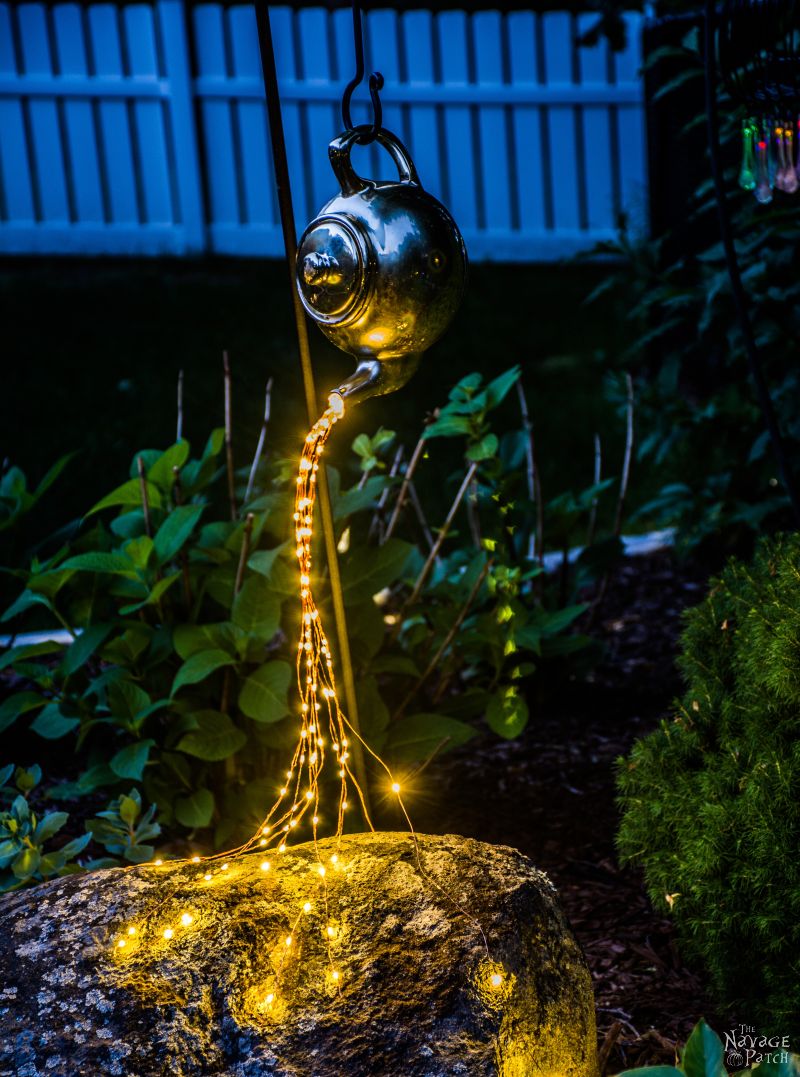 Do you remember the coffee pot garden decor I posted about last year? The one with the gems pouring from the spout? Well, last year, I actually wanted to make a solar light with that coffee pot. But by the time I received the solar lights I bought, I already finished my DIY Garden Decor post, hence that project had to wait for our side yard makeover. And now with our side yard done, I finally put that idea into action and made my DIY Spilling Solar Lights.
So what do you think? It does make a big statement, doesn't it?
By the way, making this one is much easier than making the DIY Waterdrop Solar Lights.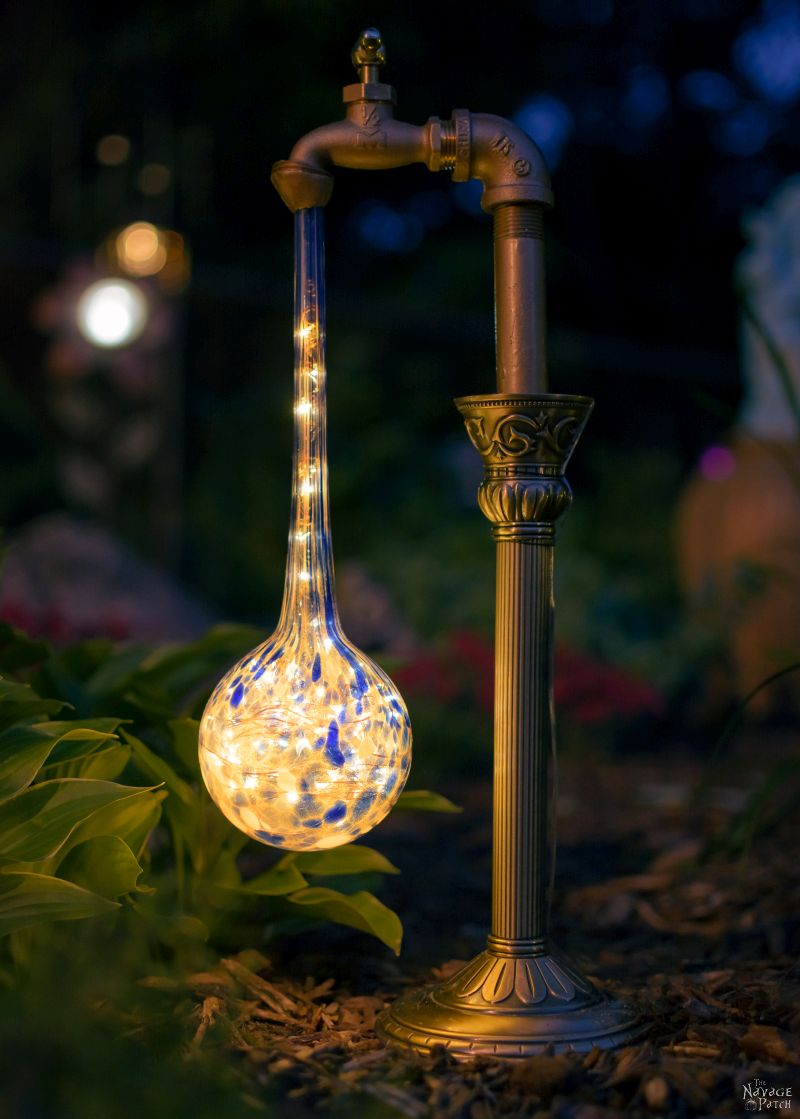 I know, right? How much easier can it get? Well, let's get on with the tutorial so you can decide for yourself, shall we?
Before we go any further, be sure to follow us on Pinterest, YouTube, Facebook and Instagram, and click the subscribe button at the top of this page to sign up for our email list so you'll never miss a post!
DIY Spilling Solar String Lights Supplies List
Before getting into the steps, let me tell you up-front: this is a very easy project, but the post is picture heavy! You see, due to my limited English (as it is not may native tongue) I had a hard time explaining the steps, hence I had to take a lot of pictures along the way [*ahem* – who took a lot of pictures along the way?? -Greg] which makes it a long post. But I promise, this is one of the easiest projects ever! 😉
Ok, now that my long post and language disclaimers are out of the way, let me show you how I made my spilling solar fairy lights.
DIY Spilling Solar String Lights Tutorial
Step 1 – Make streamers from the solar fairy lights
I started unwrapping my string lights to have a 40-inch-long section to work with.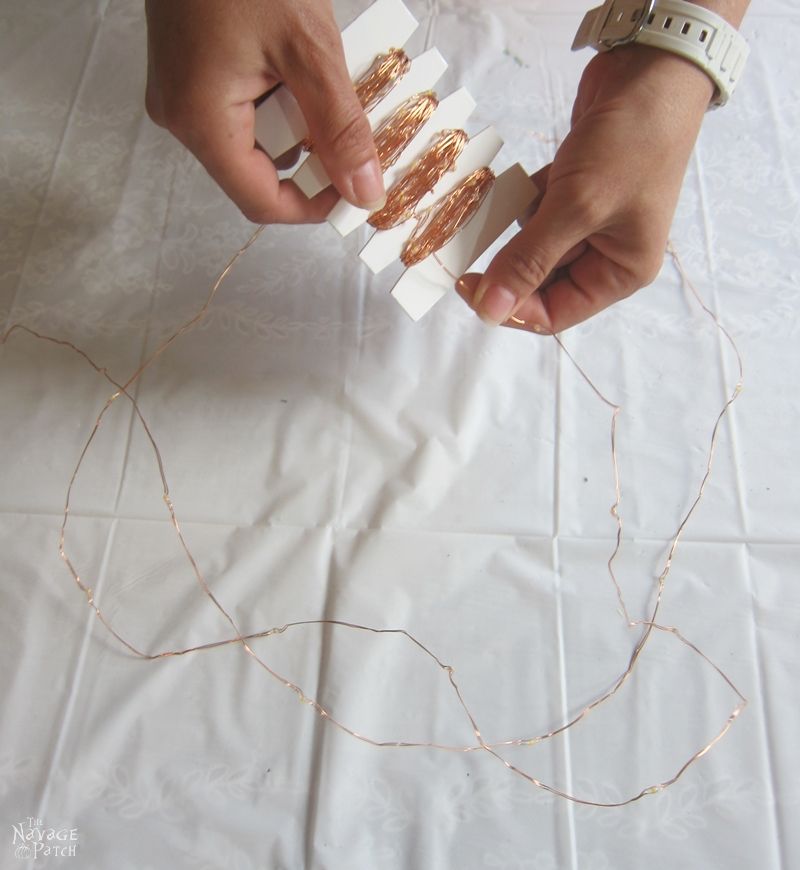 Once I had about 40 inches unwrapped, I slightly bent it into two as seen in the picture below.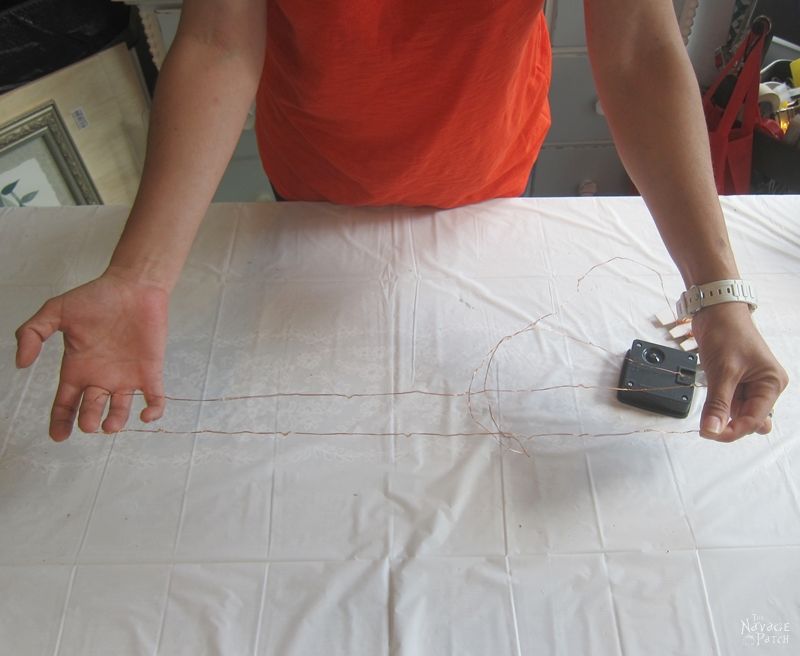 Then, while holding one end of the string lights steady, I started winding the other end. That was so the 40-inch-long section of string lights would act and behave as a 20-inch-long single streamer of light.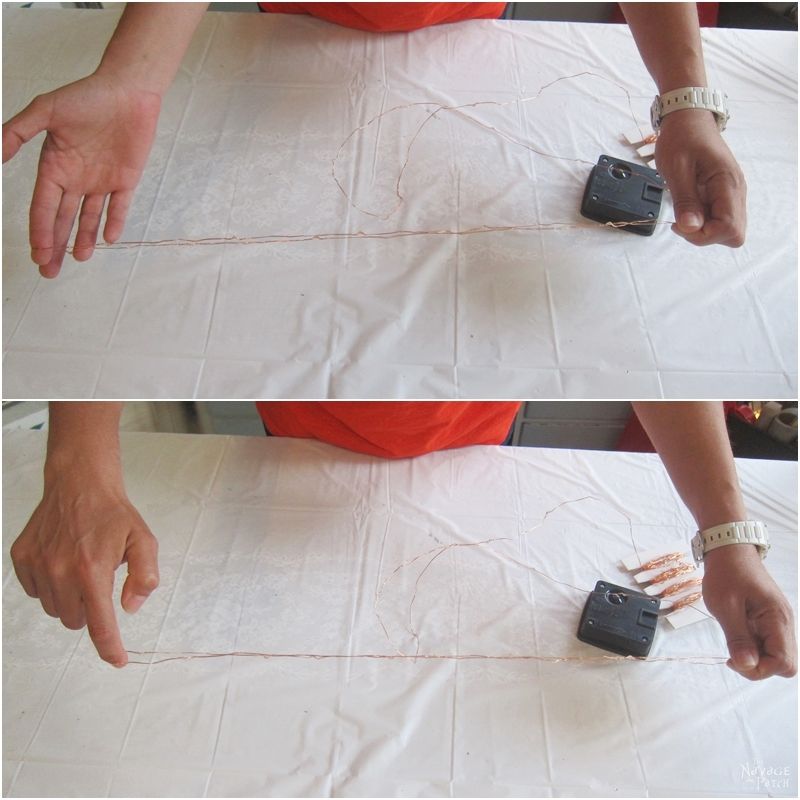 Once I was done with the first section, I unwrapped and measured another approximately 40-inch-long section of string lights by holding it against the first wound string (or the first streamer, as I would say).
Then again, I started winding that second section of string lights as shown in the picture below.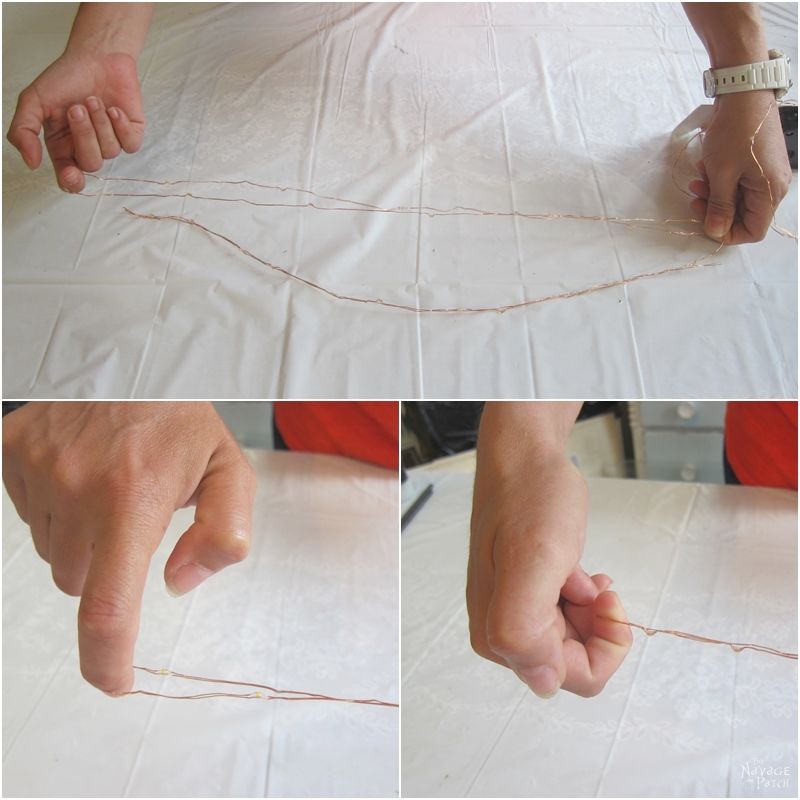 And as you may have guessed, I carried on with the same steps until the whole coil of string lights were wound and turned into streamers as shown in the picture below. As you can see, the streamers have 2 different ends: one is free floating, while the opposite ends are connected/bunched.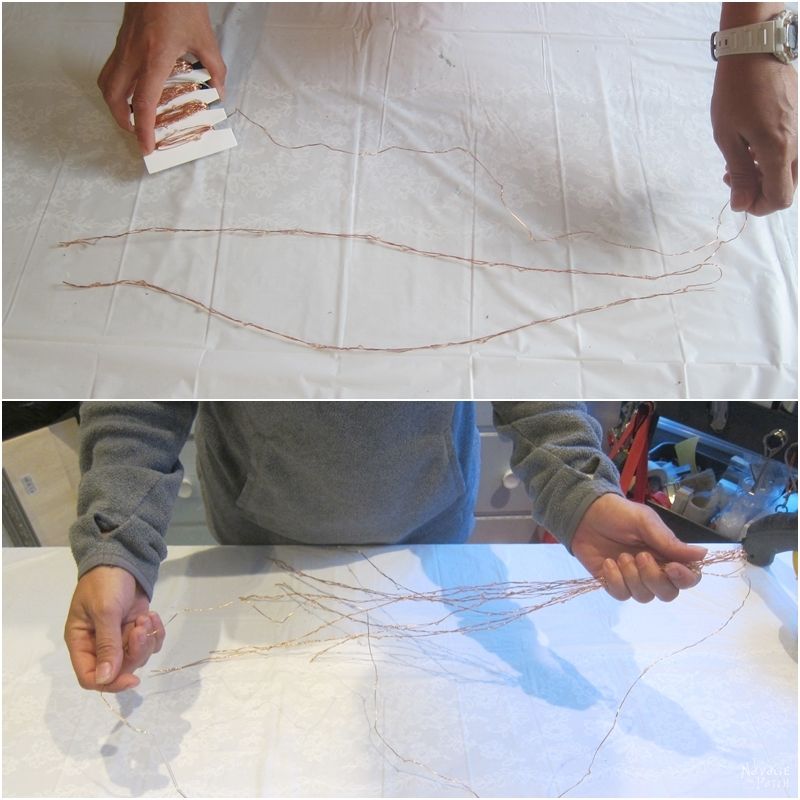 What to do with excess solar string lights
When I reached the end, I realized that my measuring wasn't accurate enough, hence I was left with some excess lights -excess as in it was not enough to make another (approx) 20 inch long streamer. If you also have any excess lights, instead of redoing the whole thing all over again, you can do what I did: I made a small circle with that part, and placed it at the bottom of the streamers. That little circle now looks like a small water puddle (or should I say light puddle) and gives the whole thing a greater bling  😉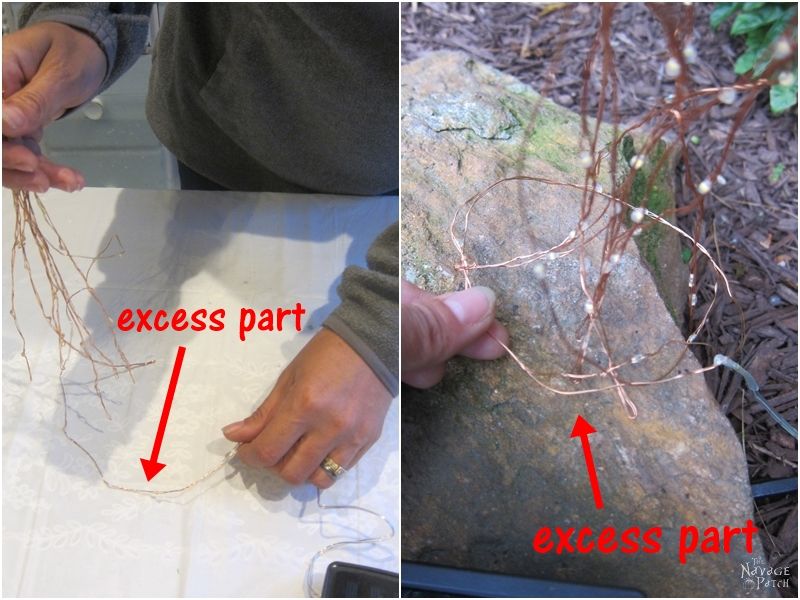 Step 2 – Gather and secure the streamers
Once I finished making all the light streamers, I started working on putting the whole thing together. With my snips, I cut approximately 20-25 inches of craft wire.
Using the wire I just cut, I wrapped the connected/bunched ends of the light streamers as shown in the pictures below.
Step 3 – Insert solar string light streamers into teapot
Next, I pushed the other end of the craft wire through the spout.
Step 4 – Secure streamers
To secure the lights' position right where I liked at the spout, I wrapped the craft wire around a large washer as shown in the pictures below.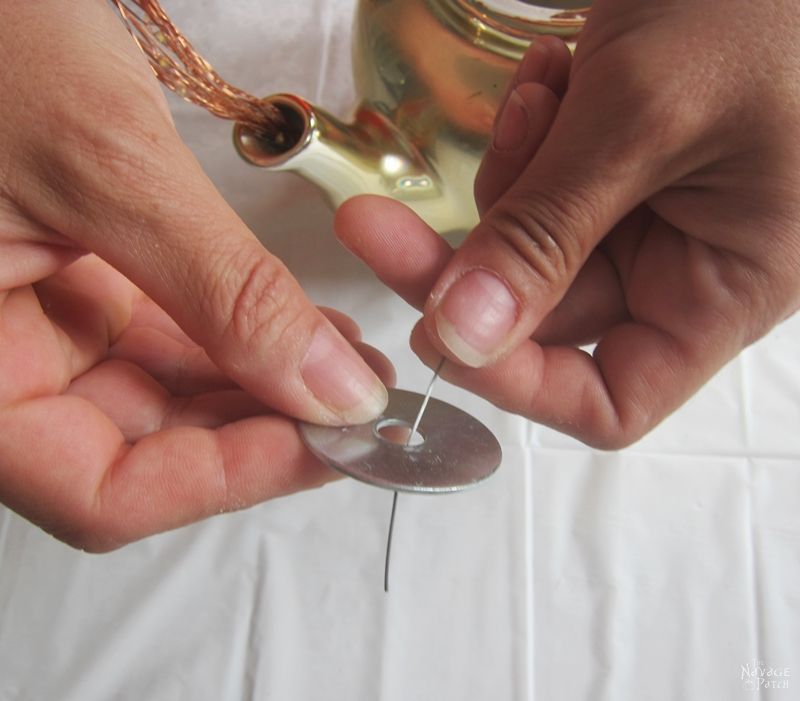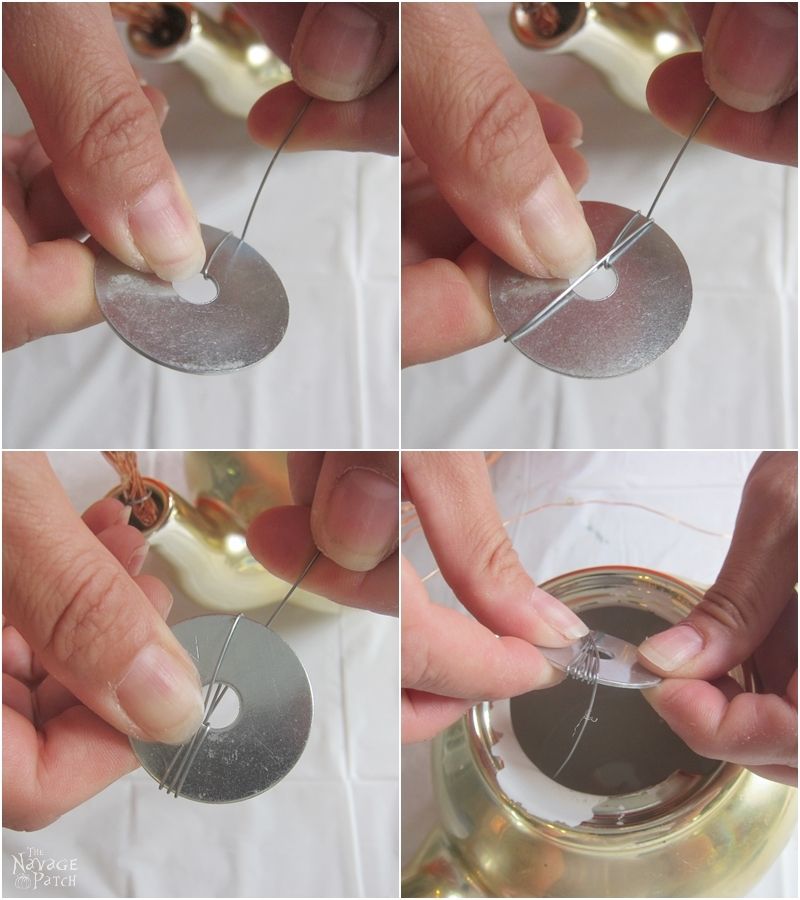 I carried on wrapping until the washer was holding the lights in place.
Step 5 – Glue teapot lid
When I was done with the wire and the washer, I hot glued the lid on the pot, and with that my DIY Spilling Solar Lights were ready.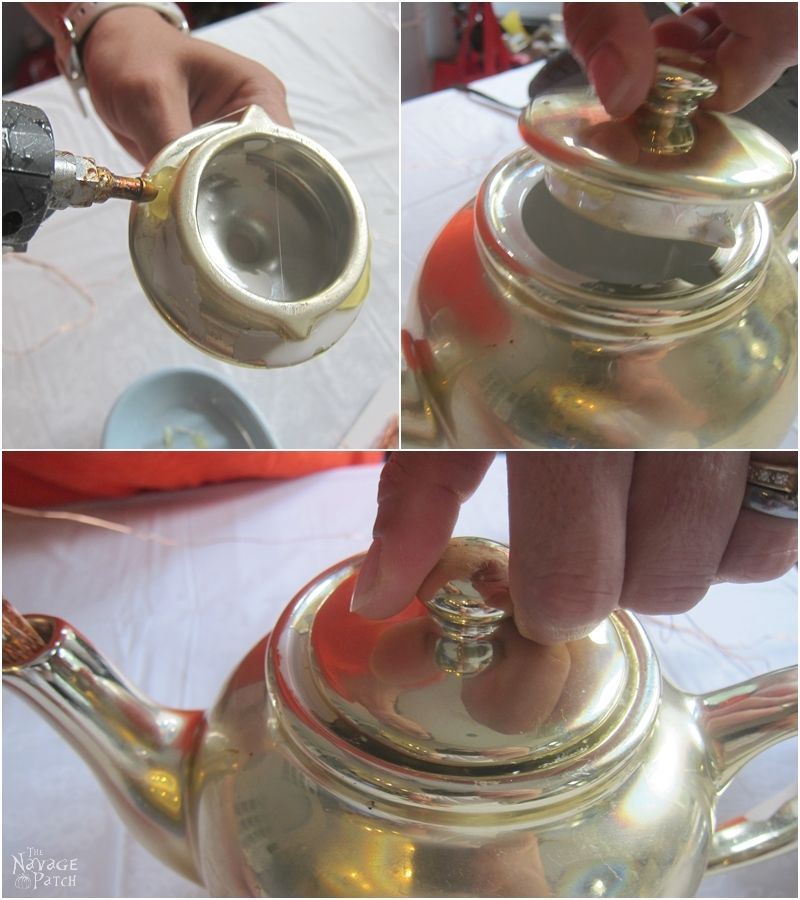 Before placing it in our garden, I tested my lights to see if everything was working. By the way, this is off topic, but it kind of reminds me of the Aladdin's lamp. I wish it was…maybe then I could finally have the money tree that I keep dreaming about since last fall. hahahaha 😀 Anyway…back to the tutorial…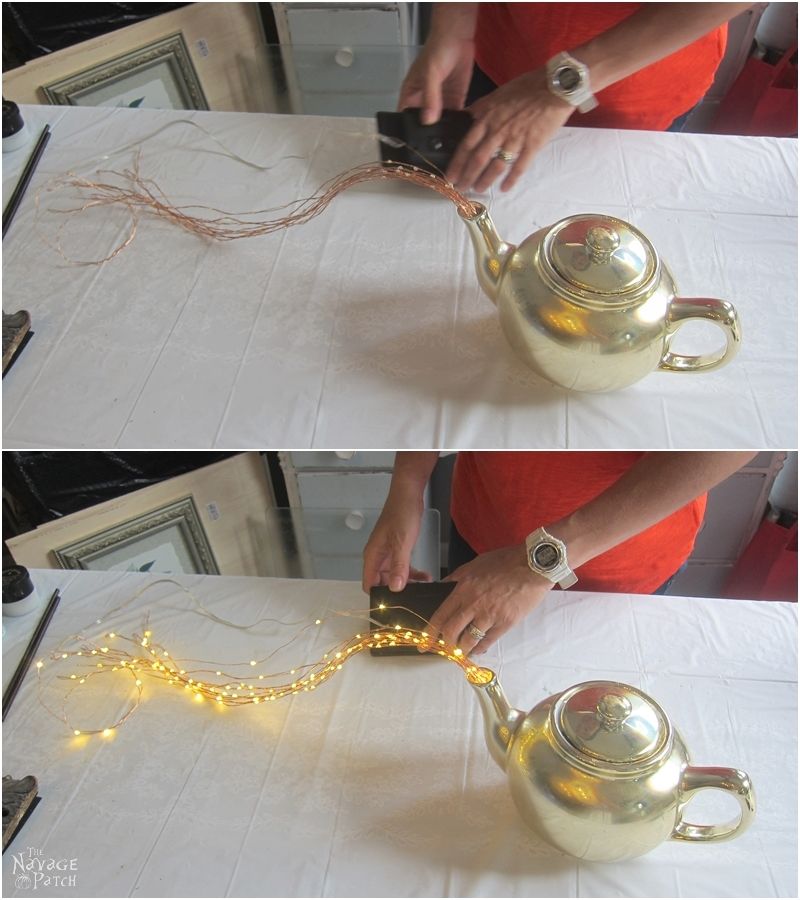 Step 6 – Place DIY spilling solar fairy lights in garden
As the last step, I took the teapot out in the garden, hung it on a 48 inch shepherd's hook, arranged the streamers to my liking and placed the solar panel on the mulch (somewhere behind the rock) where it can get charged easily.
Annnndddd ladies and gentlemen….(drum roll!) I present to you my magical teapot lights, aka DIY Spilling Solar Lights 😀
I am so enjoying the night scenery of our side yard – when these spilling lights turn on at night, I feel as if I am in a fairyland.
Let's hope Greg gets back to earth soon enough, so you can see the complete look of our side yard.
Before you leave, here are some more garden decor and lighting ideas for you: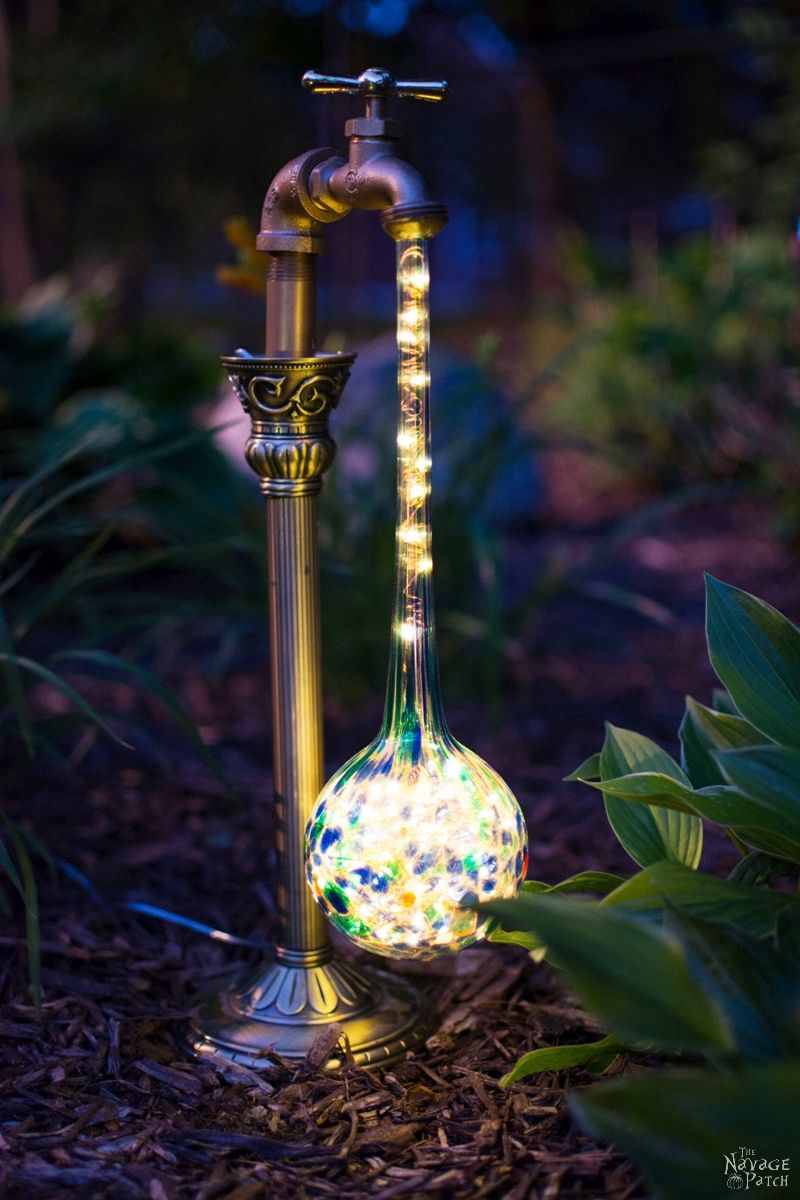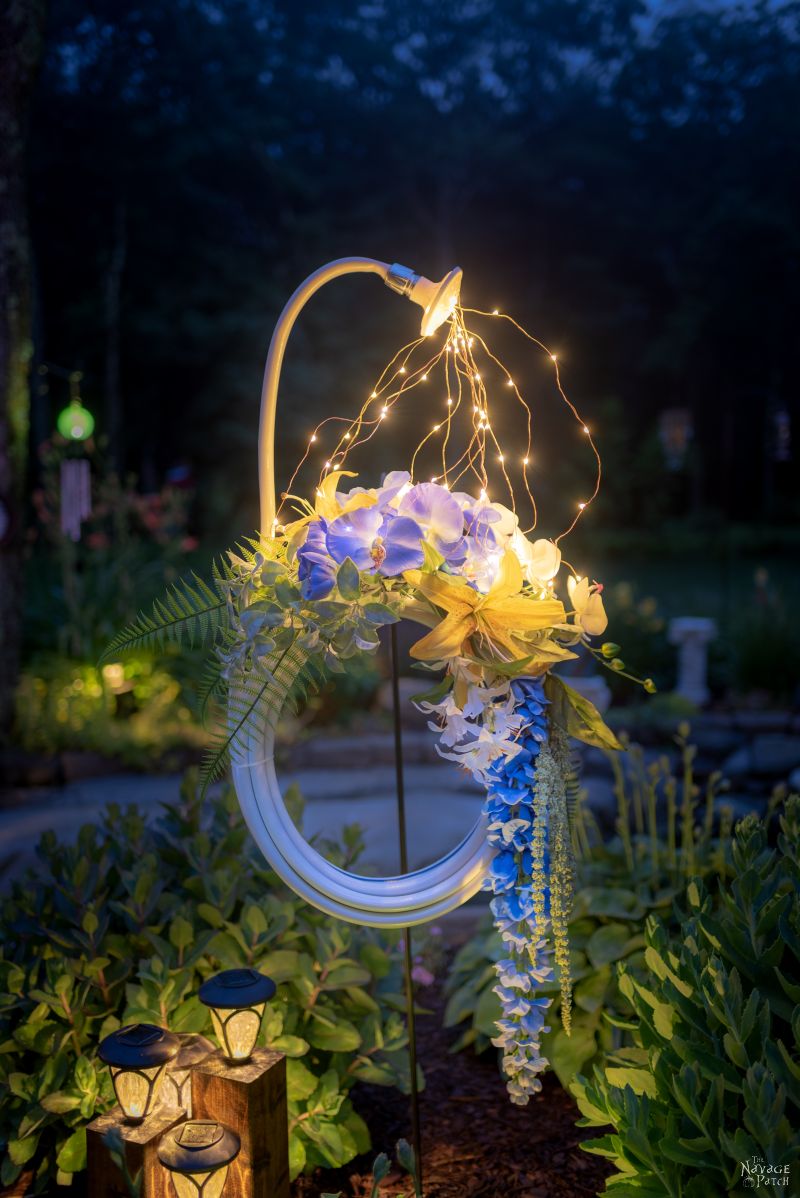 DIY Cedar Cube Landscape Lights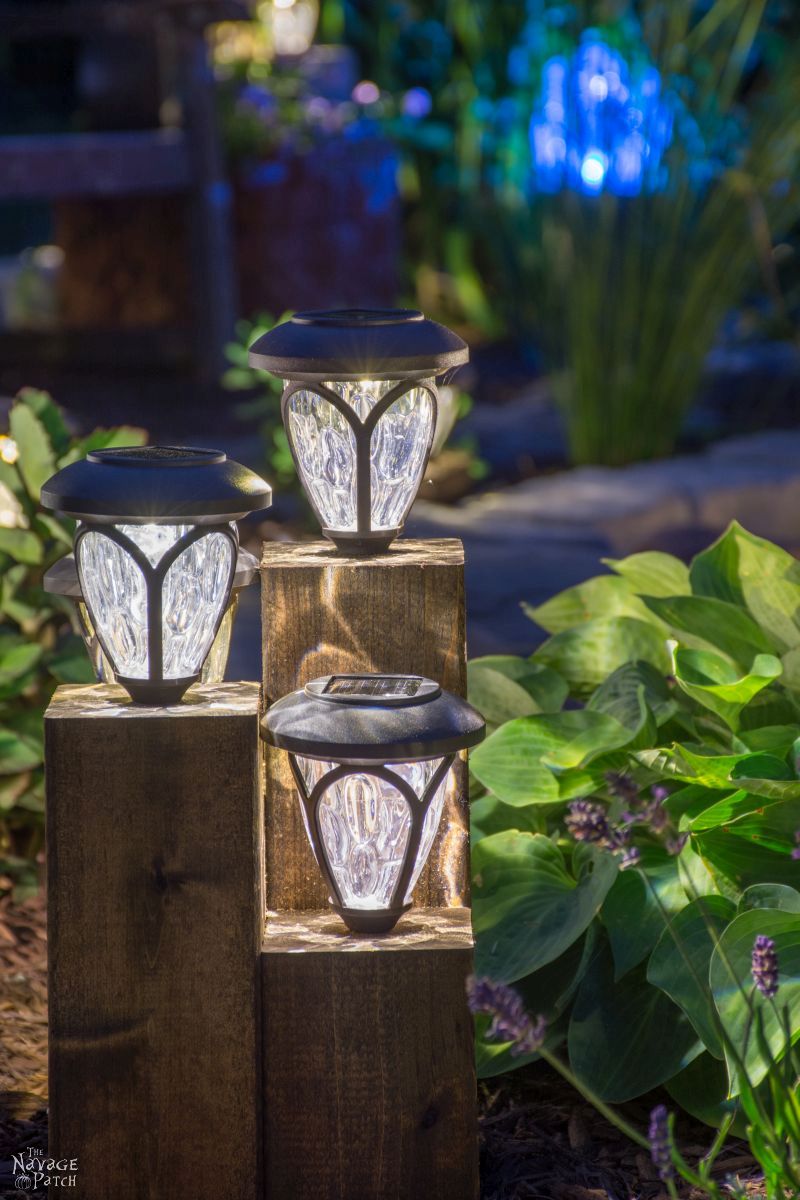 Handan, xo
We love it when you share our posts on Facebook and Pinterest!