Add some bling to your garden this summer with these DIY Spilling Solar Lights. This is a fun and easy project that will make your garden sparkle at night!
I know you are waiting for our side yard pictures from Greg, but unfortunately you'll have to wait a little while longer. Well, it is because I happened to gift Greg with a kamado grill for Fathers' Day, and ever since that thing arrived, we are pretty much like "Earth to Greg! Earth to Greg! Can you hear us?" He is daydreaming about what meat he'll be smoking next on his new grill all day long. Yes, he loves his new toy so much! So much that he could take it to the bed with him if he could. hahahaha 😀
I keep telling him that any other love than mine will burn him badly, but does he listen? Of course not! I am telling you – the man is in love with his new kamado grill! 😀
Hence I was saying, it will take a little while longer  for him to get those side yard pictures ready. LOL. But that is ok – in the meanwhile, I can share the other solar lights with you. Oh yes – apart from the waterdrop solar lights, I also made these lovely teapot lights, aka DIY Spilling Solar Lights, for our side yard.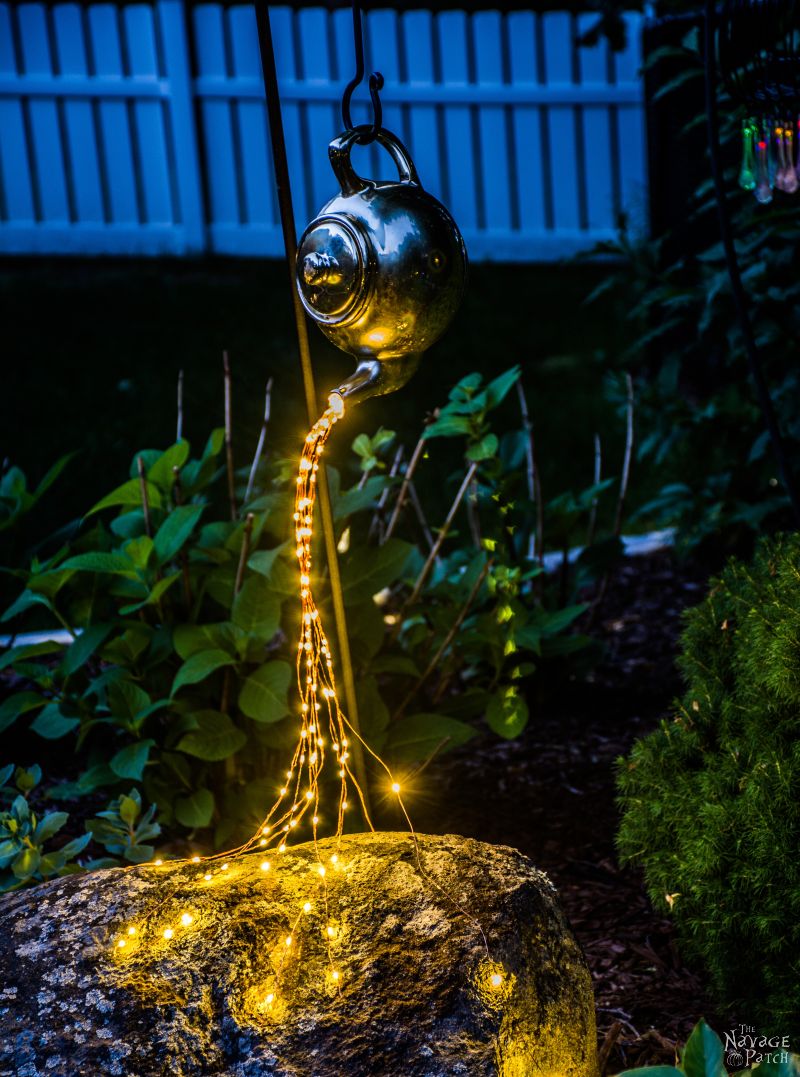 Do you remember the coffee pot garden decor I posted about last year?…you know…the one with the gems pouring from the spout? Well, last year, I actually wanted to make a solar light with that coffee pot. But by the time I received the solar lights I bought, I already finished my DIY Garden Decor post, hence that project had to wait for our side yard makeover. And now with our side yard done, I finally put that idea into action and made my DIY Spilling Solar Lights.
So what do you think? It does make a big statement, doesn't it? By the way, making this one is much easier than making the DIY Waterdrop Solar Lights? I know, right? – how much easier can it get? Well, let's get on with the tutorial so you can decide for yourself, shall we?
Here are the supplies I used to make the DIY Spilling Solar Lights.

Before getting into steps, let me tell you up-front: this is a very easy project, but the post is picture heavy! You see, due to my limited English (as it is not may native tongue) I had a hard time explaining the steps, hence I had to take a lot of pictures along the way [*ahem* – who took a lot of pictures along the way?? -Greg] which makes it a long post. But I promise, this is one of the easiest projects ever! 😉
Ok, now that my long post and language disclaimers are out of the way, let me show you how I made my spilling solar lights.
I started unwrapping my string lights to have a 40-inch-long section to work with.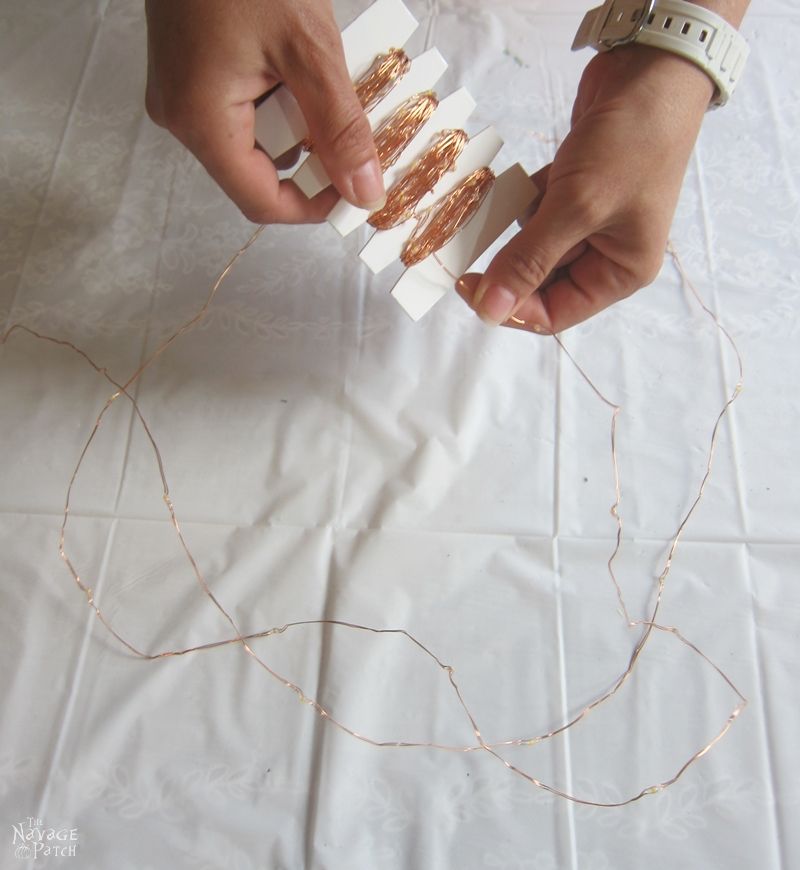 Once I had about 40 inches unwrapped, I slightly bent it into two as seen in the picture below.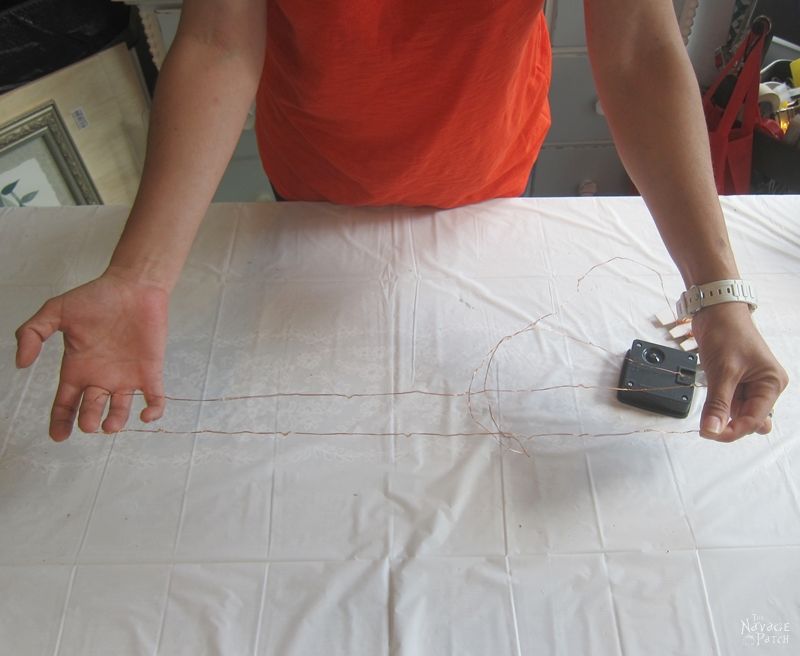 Then, while holding one end of the string lights steady, I started winding the other end. That was so the 40-inch-long section of string lights would act and behave as a 20-inch-long single streamer of light.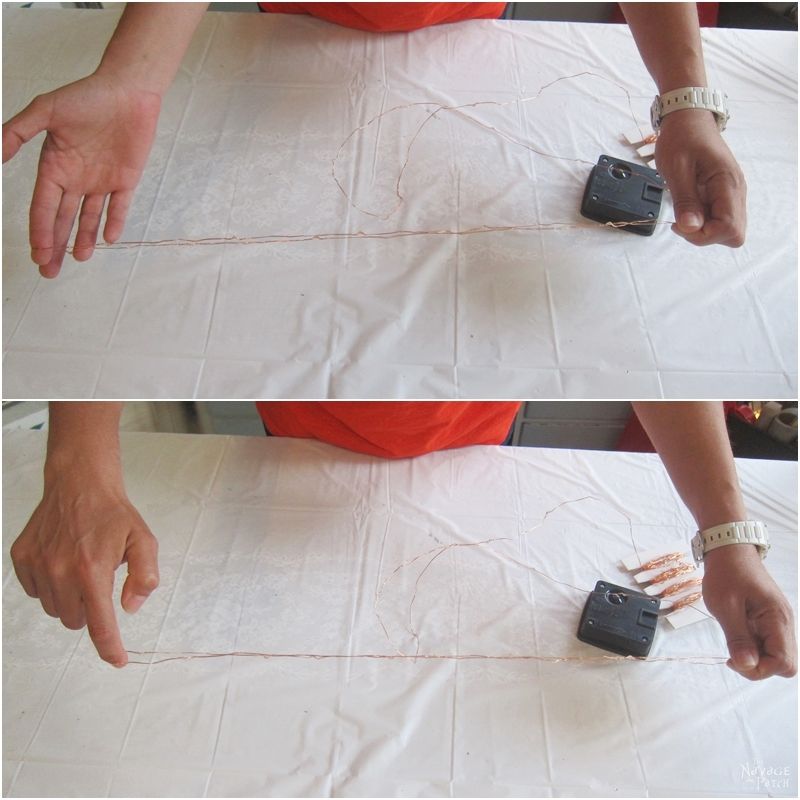 Once I was done with the first section, I unwrapped and measured another approximately 40-inch-long section of string lights by holding it against the first wound string (or the first streamer, as I would say).
Then again, I started winding that second section of string lights as shown in the picture below.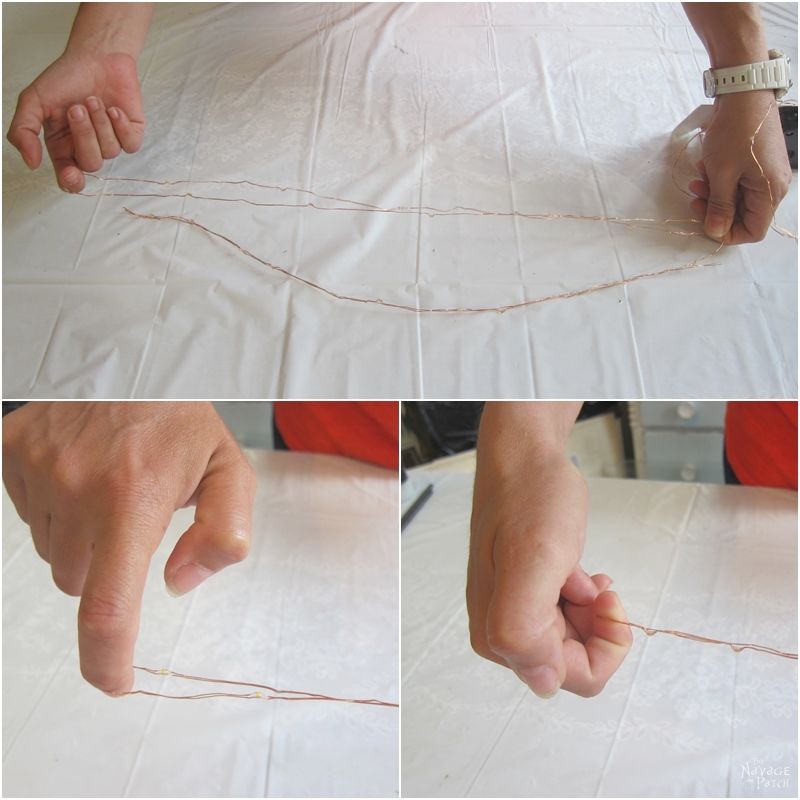 And as you may have guessed, I carried on with the same steps until the whole coil of string lights were wound and turned into streamers as shown in the picture below. As you can see, the streamers have 2 different ends: one is free floating, while the opposite ends are connected/bunched.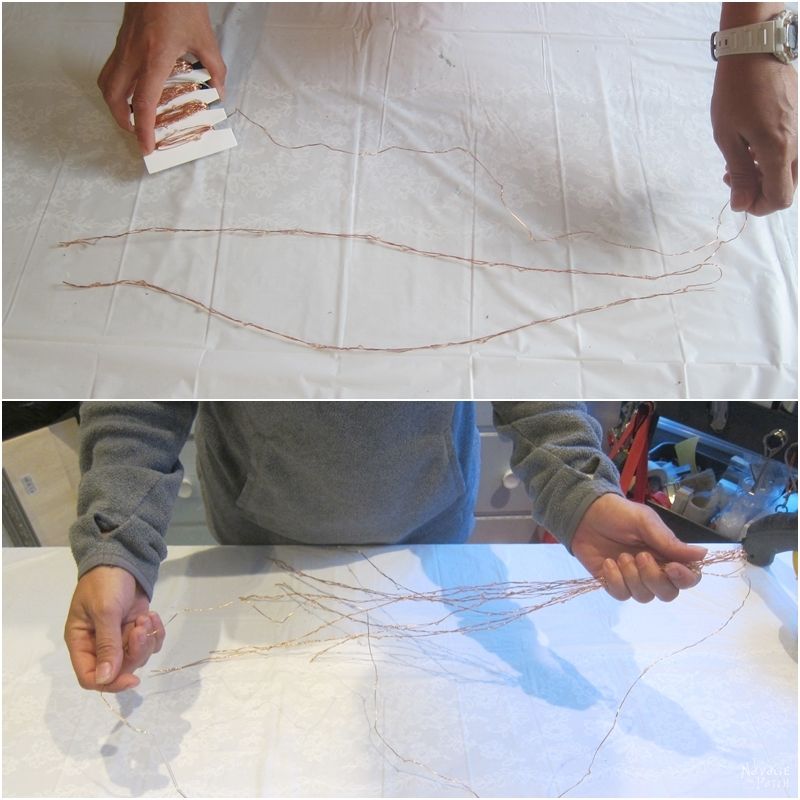 When I reached the end, I realized that my measuring wasn't accurate enough, hence I was left with some excess lights -excess as in it was not enough to make another (approx) 20 inch long streamer. If you also have any excess lights, instead of redoing the whole thing all over again, you can do what I did: I made a small circle with that part, and placed it at the bottom of the streamers. That little circle now looks like a small water puddle (or should I say light puddle) and gives the whole thing a greater bling  😉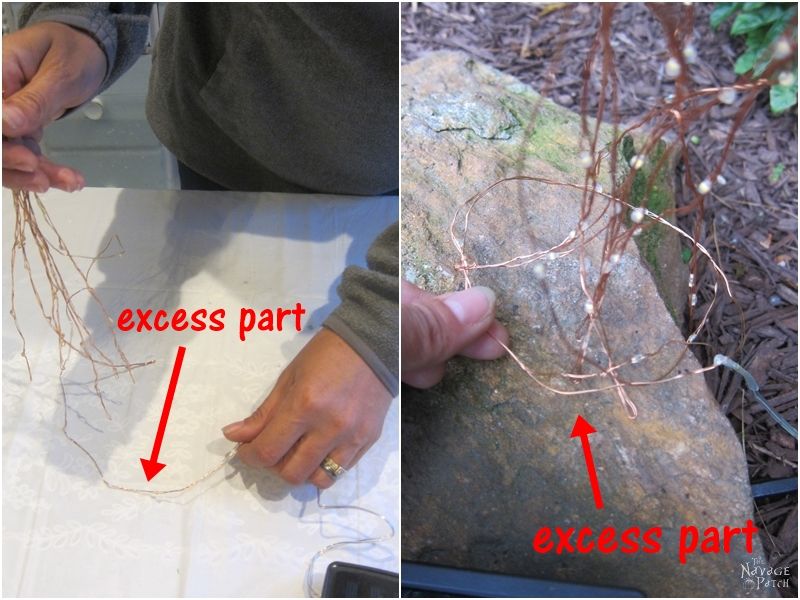 Click on "Page 2 of 2" below to continue.
We love it when you share our posts on Facebook and Pinterest!