Crispy Chewy Brownie Recipe
This crispy chewy brownie recipe is to die for! But they're so good, you'll have to resurrect yourself so you can have just one more!
Jump to Recipe
When I was small and my world was shaped by shades of sugar, I thought that all cakes and brownies came from a box. Even cookies seemed to appear from prepacked tubes of sweetened goo.
To say that I am not descended from a line of legendary chefs is a colossal understatement.
It was a narrow worldview I possessed in the late 70s and early 80s as a rakish lad in the hinterlands of suburban Connecticut, and it led to all sorts of epiphanies later in life as my youthful ignorance was supplanted by the newfound knowledge.
Brownies didn't, in fact, originate from a box, I learned. Who knew? Apparently Old Man Duncan and Lady Hines weren't the be-all and end-all for tasty baked goods.
But having grown up with that particular style of brownie – the kind that is crispy on the outside and chewy on the inside – I tended to reject the doughy, spongy, and cakey brownies that others made from scratch. They may not have come from a box, but neither did they taste particularly good. Nor did they have the box brownie mouthfeel. You know it when you taste it.
So how about a recipe – from scratch, because we don't play with boxes anymore – that captures that DH magic mouthfeel?
Turns out, it's not so hard to make crispy chewy brownies. In fact, it's easy as can be! For this recipe, I used Hershey's special dark coca powder – I really like the deeper color and the dark chocolate taste. But if dark chocolate isn't your thing, just sub in the regular cocoa powder.
And as I was throwing these ingredients together, I decided to use up some old Halloween candy – particularly Reese's Peanut Butter Cups, as neither Handan nor Baris like them. I figured they'd be a perfect addition for this crispy chewy brownie recipe. Feel free to substitute chocolate chips, crumbled chocolate bars, any other candy of your choice, or simply leave it out. Any way you make it, these brownies will be awesome.
Crispy Chewy Brownie Recipe
First, crumble the peanut butter cups, if you are using them.
Then combine them in a medium bowl with the other dry ingredients. I recommend sifting both the cocoa powder and the powdered sugar.
Mix the dry ingredients with a wooden spoon.
Then whisk together the eggs, oil, water and vanilla and add the wet ingredients to the dry.
Mix gently until the wet and dry are fully combined.
When combined, the batter will look like this.
Scrape the batter out into your greased pan.
And spread it evenly.
Bake at 325 for about 40-45 minutes, but start checking after 30 minutes. You want to cook these until just before a toothpick comes out clean. The key is to have them just a little gooey in the middle.
Remove from the oven and let them cool for a bit.
Then, seriously, do yourself and everyone else in the house a favor and serve them right away!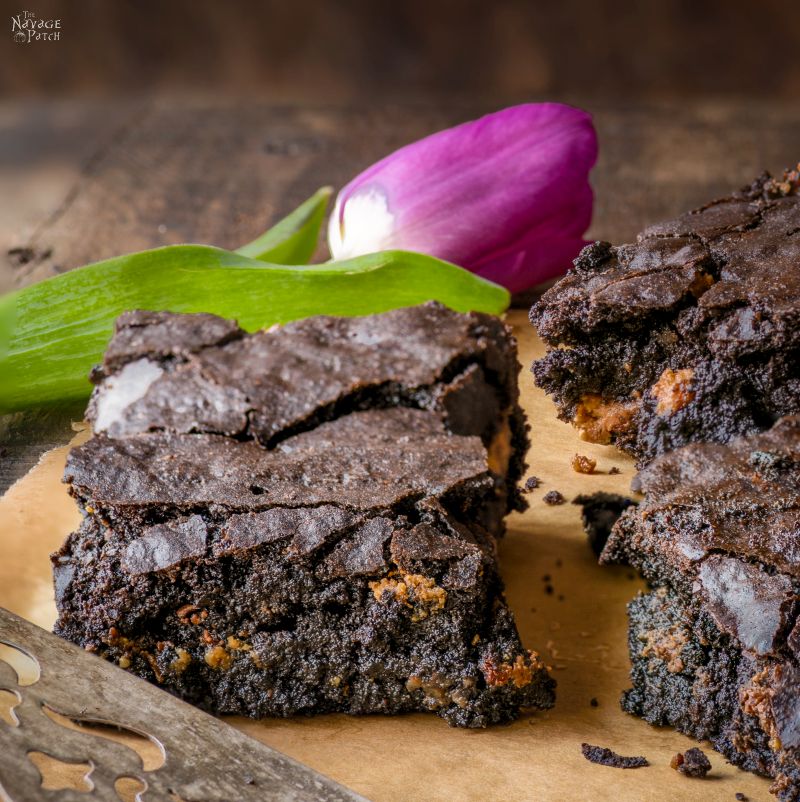 This crispy chewy brownie recipe is to die for! But they're so good, you'll have to resurrect yourself so you can have just one more!
Ingredients
1½

cups

granulated sugar

¾

cup

all-purpose flour

⅔

cup

Hershey's special dark cocoa powder

-

sifted

½

cup

powdered sugar

-

sifted

1

cup

Reese's Peanut Butter Cups

-

(optional – can sub choc chips, other candy or leave it out altogether)

1

teaspoon

kosher salt

½

cup

sunflower oil

-

(or other vegetable oil)

2

eggs

2

tablespoons

water

1

teaspoon

vanilla
Instructions
Preheat oven to 325 degrees Fahrenheit.

Grease your brownie pan – I use butter, but feel free to use whatever fat you'd like. An 8 x 8 brownie pan would be ideal for this recipe, but I just used one of my Pyrex baking dishes.

Crumble peanut butter cups.

Mix together all dry ingredients (including peanut butter cup pieces) in a medium bowl.

Mix wet ingredients together and pour into dry ingredients.

Stir until just combined.

Pour batter into brownie pan and distribute evenly.

Bake at 325 for 40-45 minutes or until a toothpick comes out almost clean. Start checking after 30 minutes. You don't want to overcook to overcook the brownies – slightly underdone is preferable to slightly overdone.
Nutrition
Calories:
366
kcal
Carbohydrates:
59
g
Protein:
3
g
Fat:
15
g
Saturated Fat:
2
g
Cholesterol:
1
mg
Sodium:
301
mg
Potassium:
131
mg
Fiber:
3
g
Sugar:
46
g
Vitamin A:
1
IU
Vitamin C:
1
mg
Calcium:
13
mg
Iron:
2
mg