It's a wonder any light at all manages to get through. The efficacy of the solar panels to charge the batteries is severely impacted. How to solve this issue? I had read that people were using clear nail polish to cover the solar panels. This seemed reasonable to me. Nail polish is kept in solution with acetone – that's the nasty smell. It's also what nail polish remover is made from. Acetone is one hell of a good and nasty solvent. It will melt plastic with ease (which is exactly what it's doing in that nail polish bottle). Well, if nail polish worked to restore the panels, and nail polish is mostly acetone, I wondered if straight acetone would also work. It would certainly be cheaper, as one gallon of acetone costs about $15, where as one gallon of clear nail polish would run about $2700 (not kidding, I did the math). I went to the basement and grabbed my can of acetone, some cotton wipes and a pair of nitrile gloves (acetone is a really nasty organic solvent – it's a wonder it's legal for beauty use – oh wait, no it's not. Our government has a long history of green-lighting dangerous products, especially women's beauty products).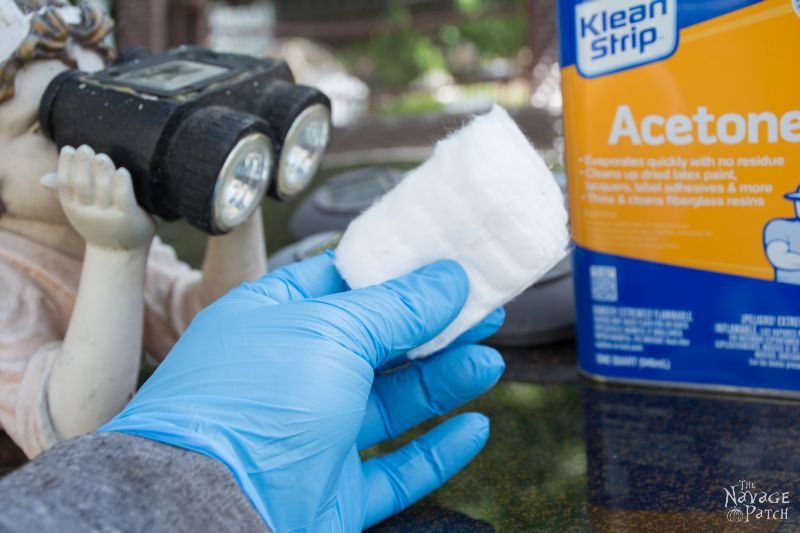 I wiped half…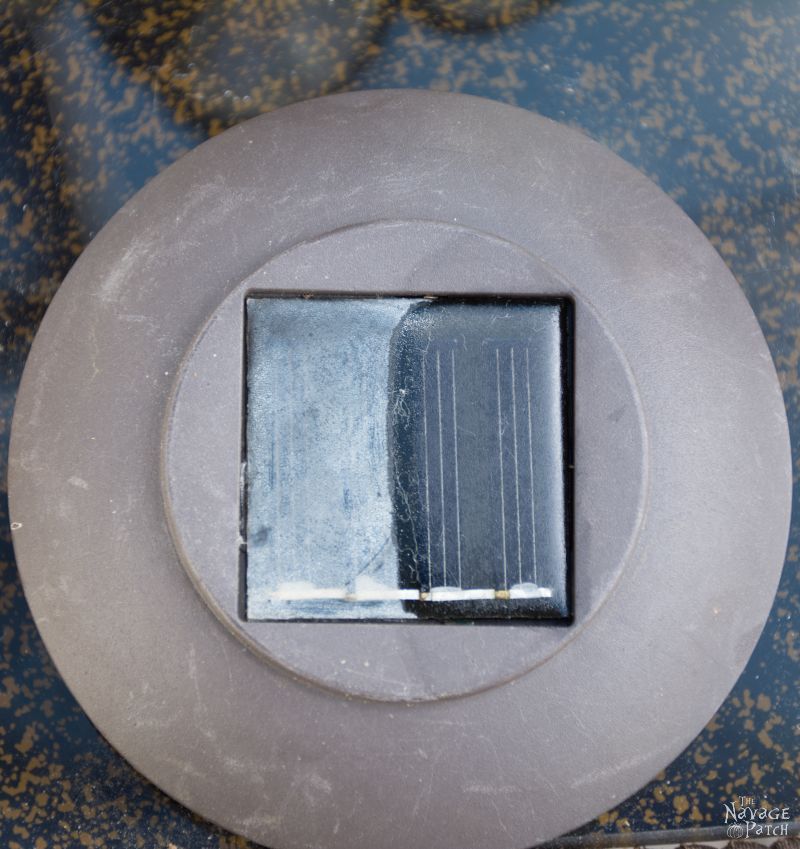 It did a beautiful job of melting away the imperfections, and while it was still wet, it looked great. But acetone is incredibly volatile, which means it evaporates quickly. Because of this, it leaves the surface of the plastic totally matte. It will still allow light to pass, but not as much as a clear or shiny coat. The whole point of a matte finish is to disperse the light waves in all directions. We want light to travel through to the solar cells below. Okay, so acetone wasn't the best solution. What else could I try? I remembered I had a can of lacquer in the garage, leftover from my umpteenth attempt at finishing an antique dining table we picked up at a tag sale last year. Hopefully I'll finish that project and write about it this summer. Anyway, I went and got the can of lacquer. If you think acetone is gnarly stuff….hooooooey! Lacquer makes it seem like roses in comparison. Do NOT use lacquer indoors! I knew that lacquer could also melt plastic, and it would leave a shiny coating, so I grabbed a brush and got ready to try.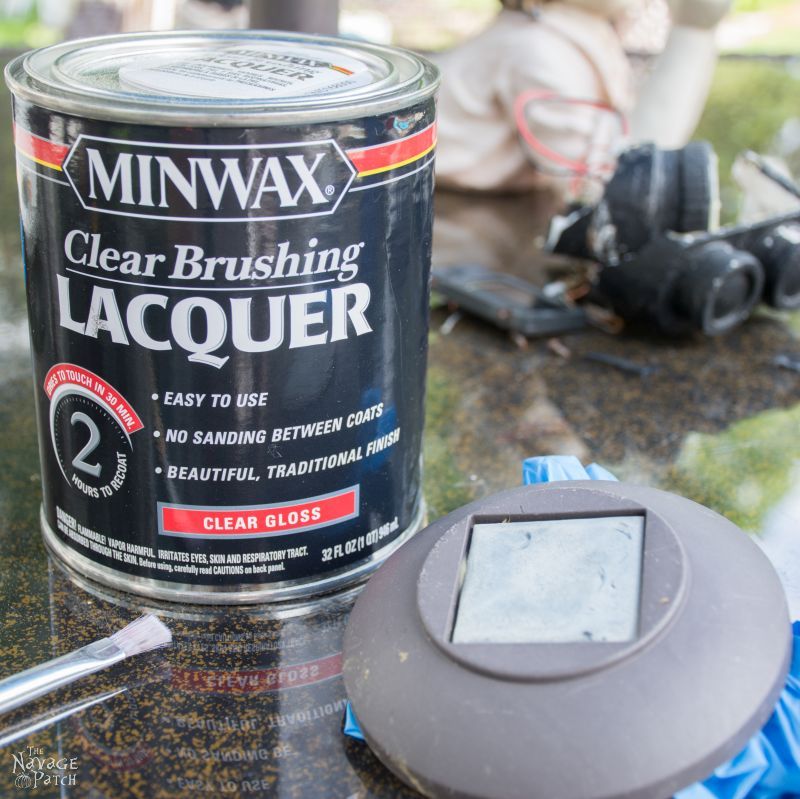 Oh, what a joy this was! It was like melting butter with a blowtorch!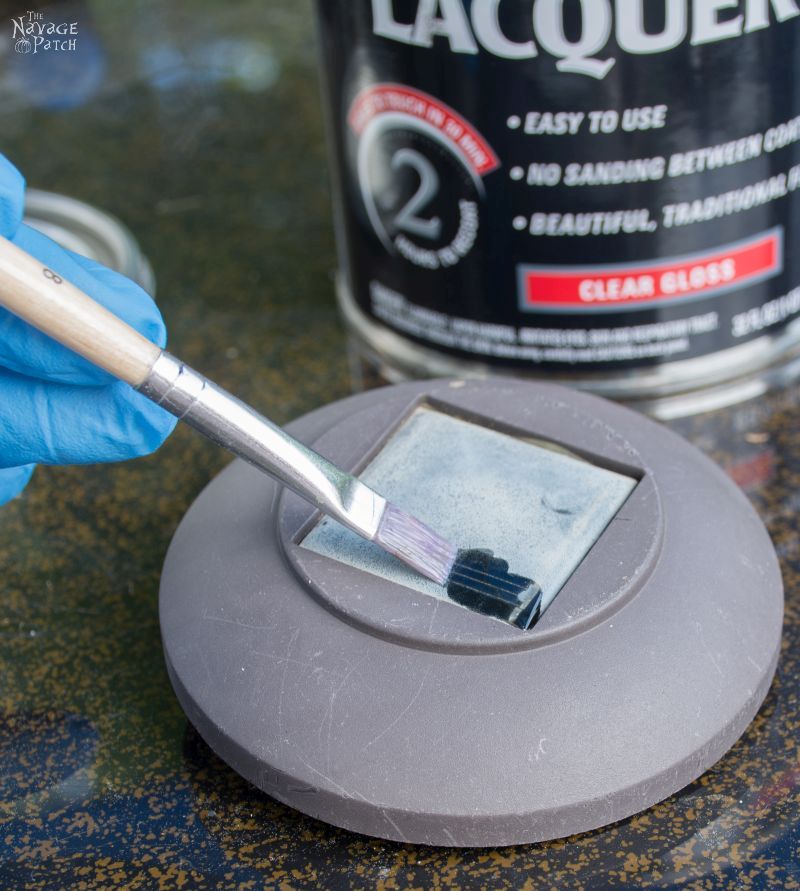 Look at that! Perfectly melted.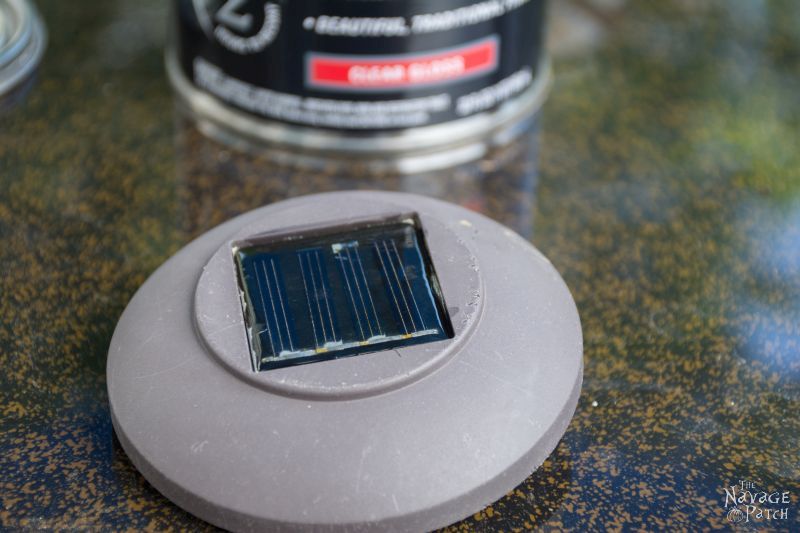 But…what's that white spot? Did I apply so much lacquer that it completely melted through the plastic and started to eat away at the solar cell? Since I couldn't see the panel through the haze before I started, I couldn't be sure. I decided to lacquer another panel, being careful to use less. It turned out great. I decided to experiment on the two panels that seemed like the solar cells may have melted. I installed new rechargeable batteries that I had drained the charge from, then exposed the panel to the sunlight. The batteries recharged fine. I'm still unclear as to whether I melted the cells or not, but applying lacquer with a lighter touch solved the problem.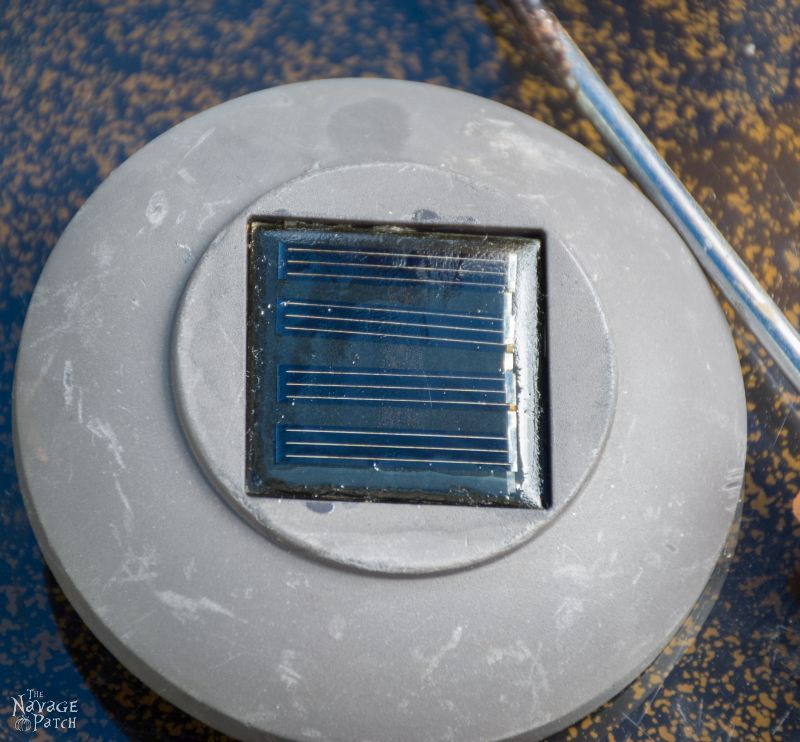 The lacquered cell was shinier than the acetone, but not as shiny as the pics I saw of people using clear nail polish. I thought that I could up that shine with another coat, but I wanted this process to be quick, as we have over 100 lights all around the yard. Cost per gallon: about $50. Much cheaper than nail polish!
Next I wanted to try nail polish, so I went to the drug store and started rooting around in the cosmetics section. I may as well have been a donkey shopping in an electronics store for all I understood in that vibrant and sparkly aisle. I was rather unwashed and smelly, having come straight from yard work, and I must have appeared to the female patrons of that aisle like some sort of barnyard animal rooting through a buffet table. At last I found a real bargain: two bottles of clear polish for $3. In fact, the deal seemed a little too good to be true, since all the other bottles were in the $6-$9 range for one measly bottle. Whatever, I grabbed the cheap stuff and galloped to the register, braying as I went.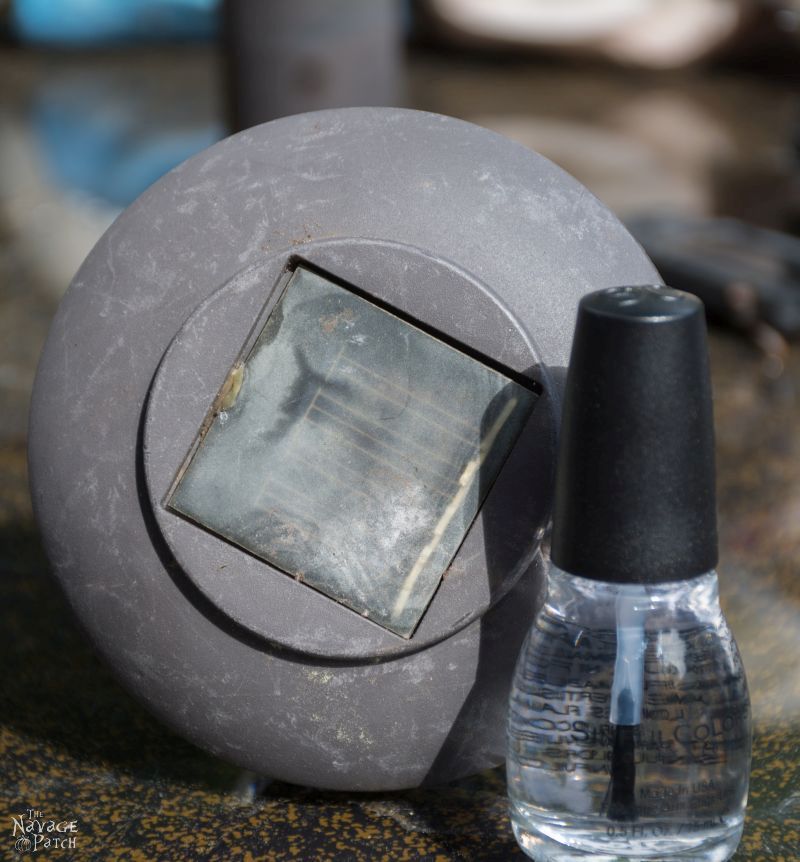 My hopes weren't high, as "you get what you pay for" kept running across my mind.
I was right. This is how it looked after I painted it.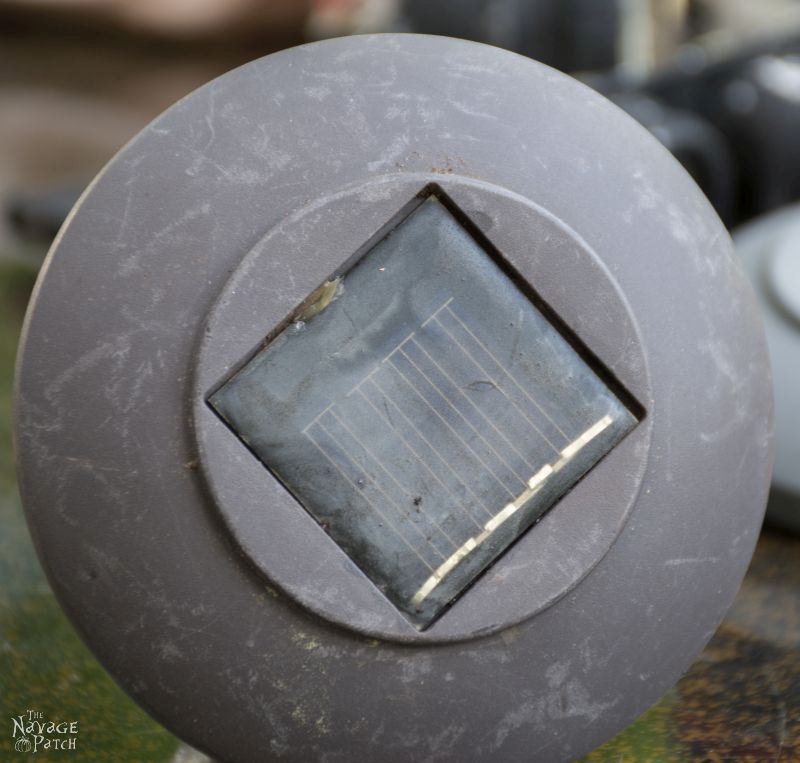 No difference. What the hell was that stuff? No wonder it was two for $3.
My mom gave me a bottle of Sally Hansen clear nail polish so I could try again. This time, it worked. For this experiment, I was able to employ the services of my minion. Oh, didn't you know I had a minion? Indeed. He's currently on summer vacation, thus haunting my workspaces. Now that he's practically 13, I feel okay mentioning him in the blog. Handan and I aren't ones to plaster our kid all over the internet, so you probably haven't seen him before. His name is Barish, and he's my step-son, but from now on and forevermore, he will be referred to as my son, because that is how I see him. And like every tradesman must serve an apprenticeship to a master, every son must serve a minionship to his dad.
"Boy!" I called
"Yes, Dad?"
"Come and sit. I need your hands."
"Okaaaaayyyyyy…?"
"Hold this. Okay, now take this and start brushing it on there. Excellent!"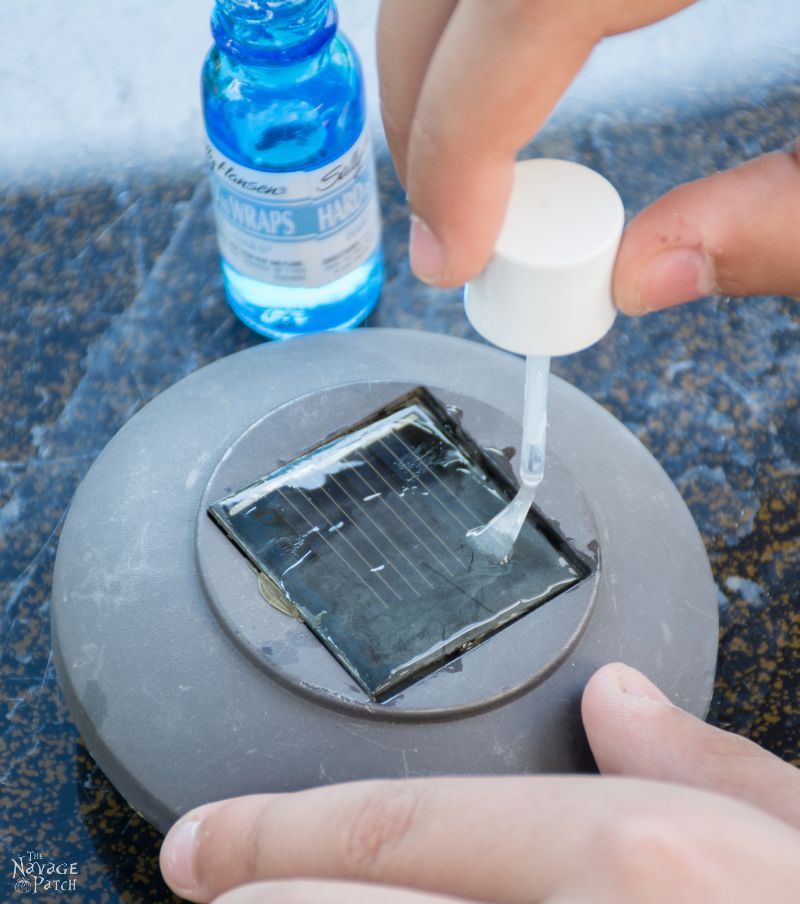 Not bad, not bad! The finish was clear and glossy, though the nail polish didn't completely melt the plastic, as you can still see some haze underneath the gloss.
I'm torn between the nail polish and the lacquer, but I'm leaning towards the lacquer.
It is cheaper and quicker to apply, but it requires nitrile gloves and good ventilation.
Okay now that we've learned how to revive our faded cells and now that you've met my minion son, let's get back to those cedar cubes and pillars.
Handan placed them around the garden…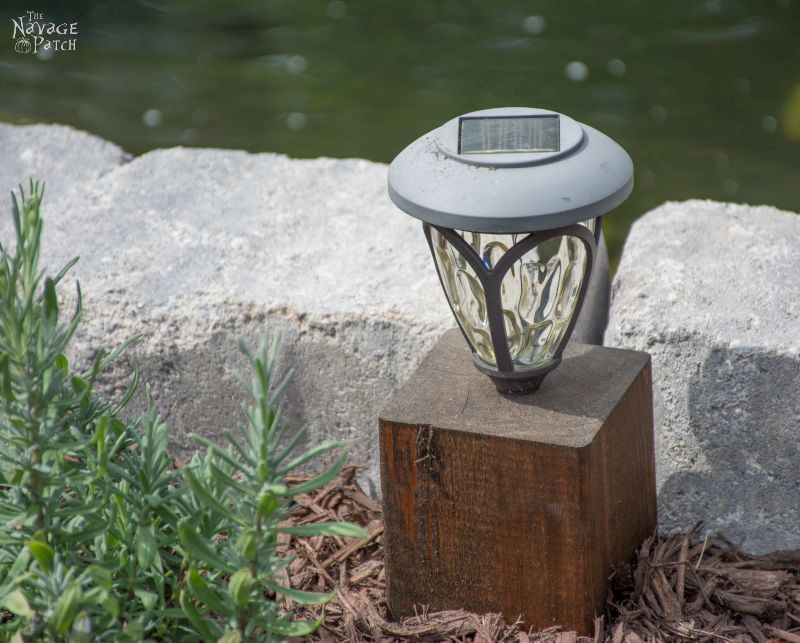 The best part (aside from their handsome and distinguished looks) is that when my clumsy feet or the dogs' frantic paws knock these lights over, nothing breaks! We need only to right them, then all is well again.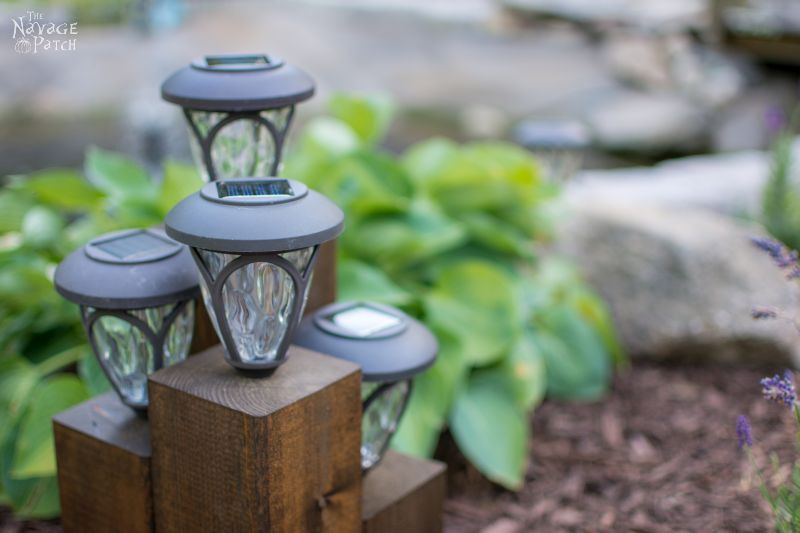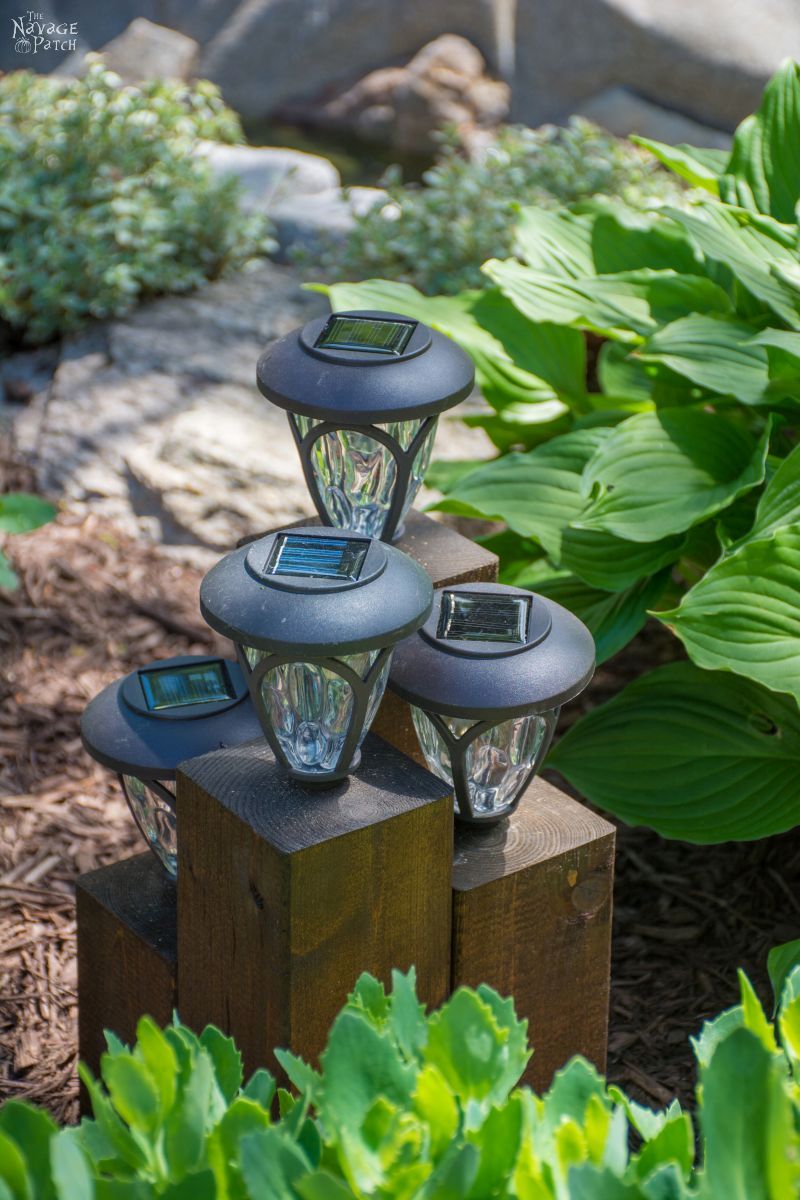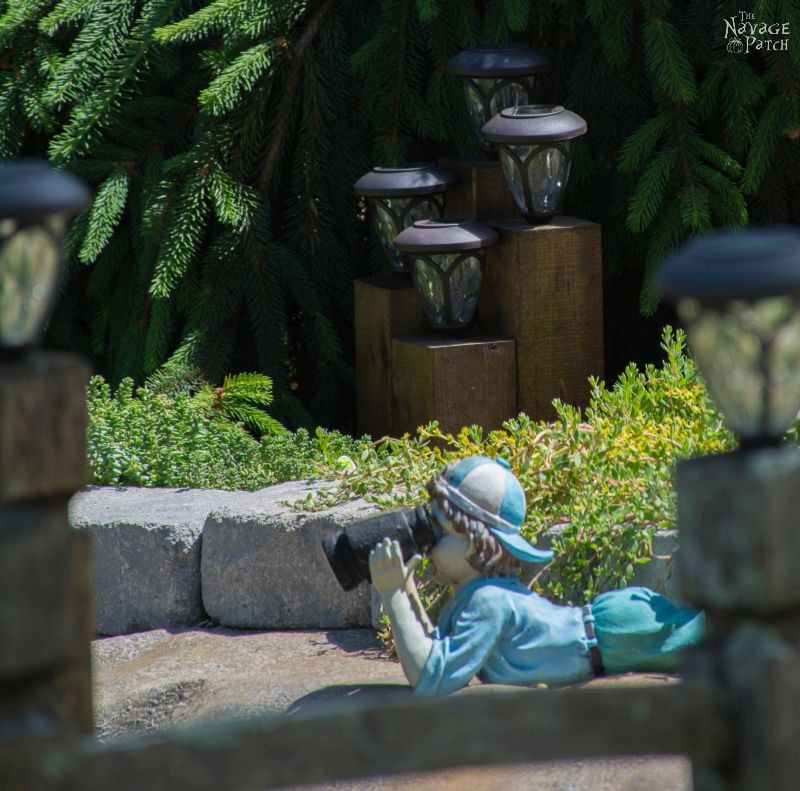 And we waited for nightfall…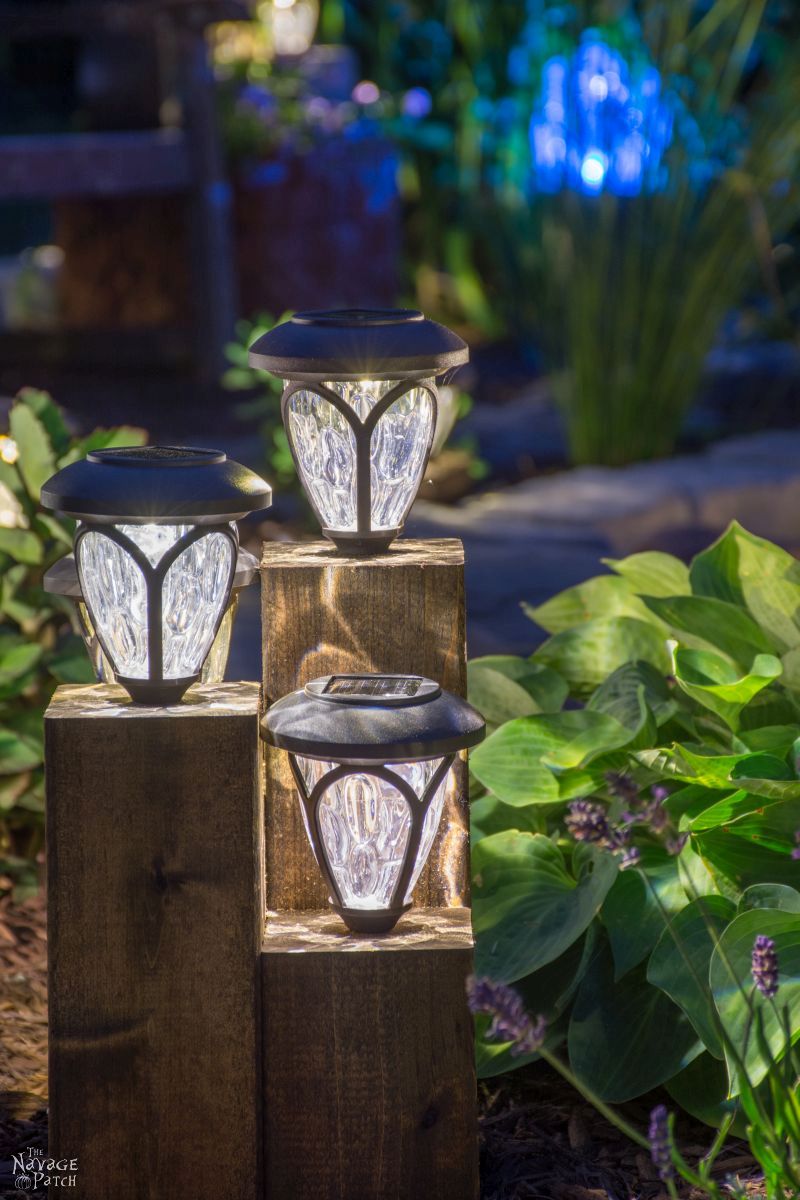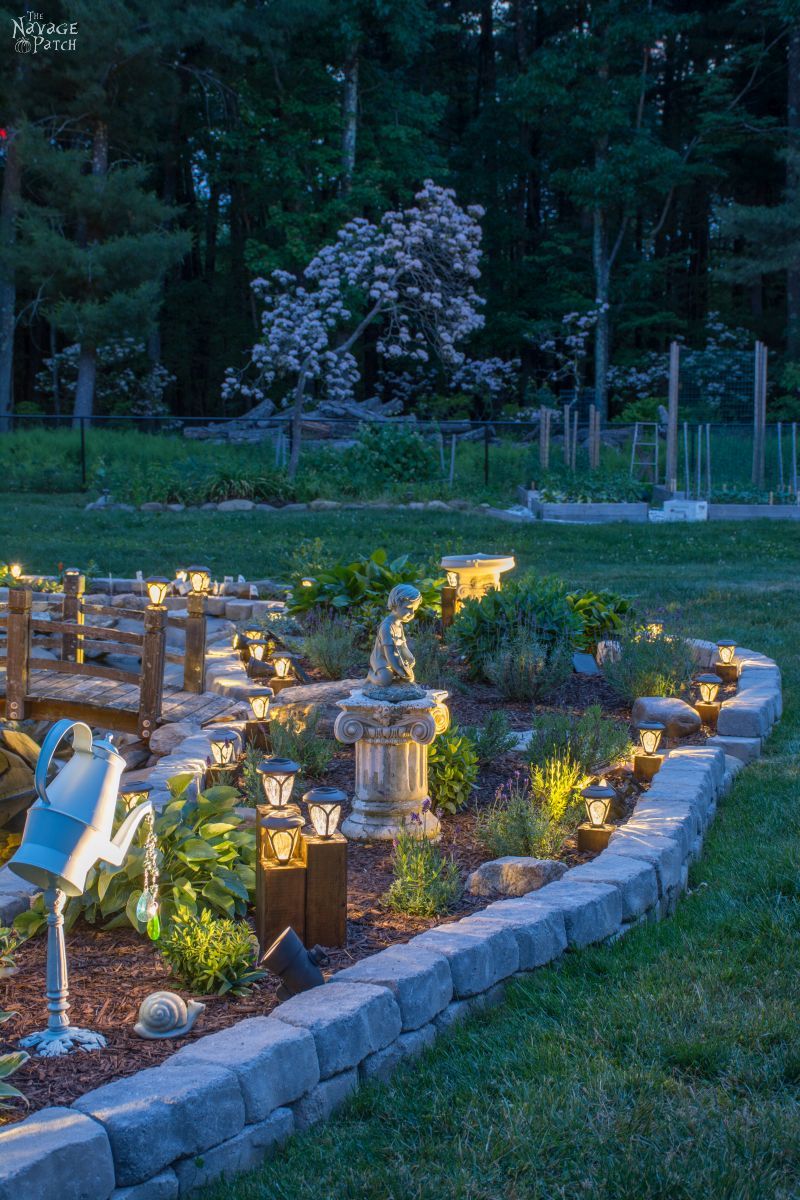 If you like solar garden lights, then you might want to try our DIY Waterdrop Solar Lights or DIY Spilling Solar Lights. Or perhaps you'd like a lighted garden wreath. Click on the pictures below to see the tutorials of our most popular garden solar lights.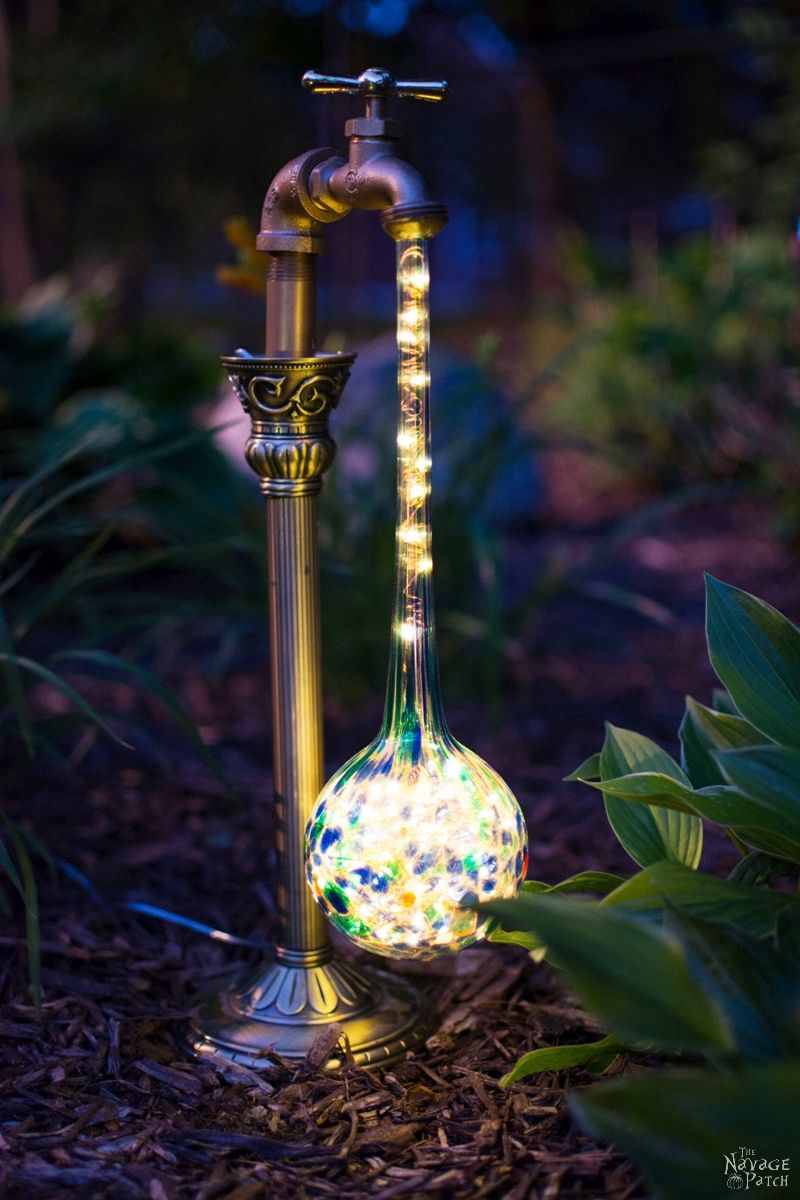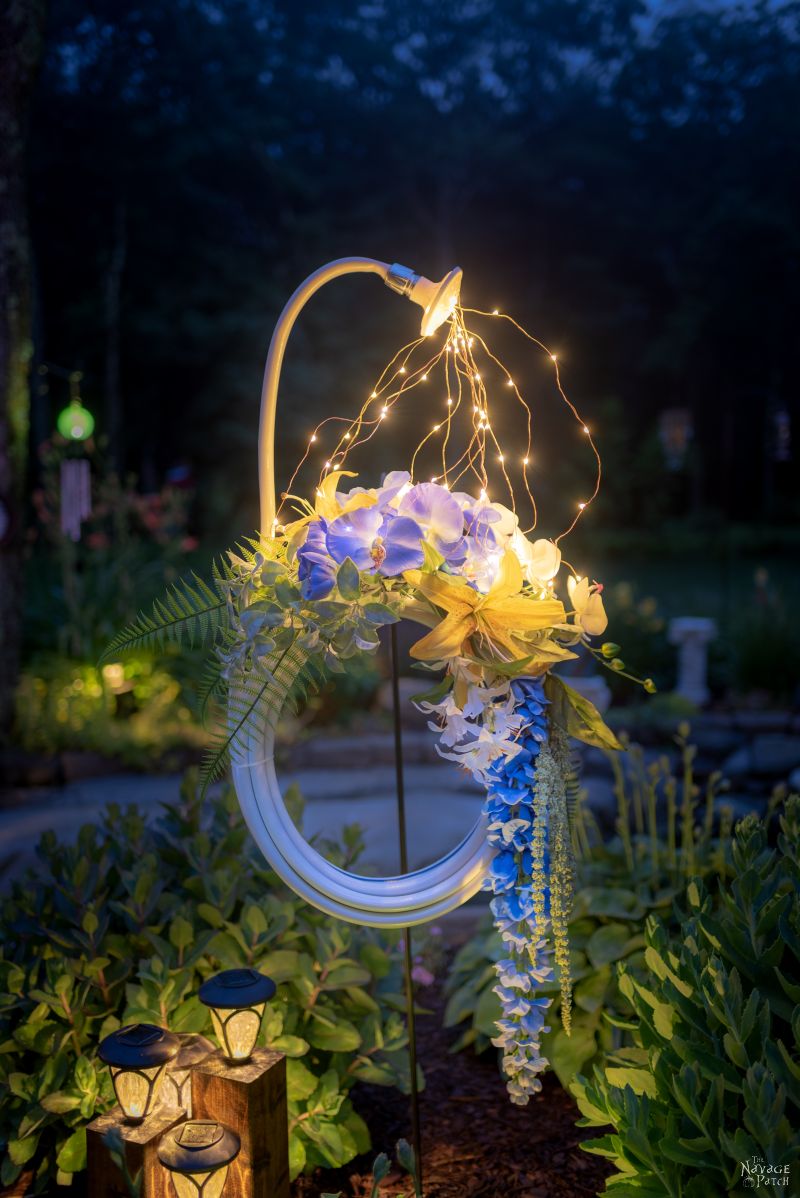 We love it when you share our posts on Facebook and Pinterest!